Cookwell Bullet is a budget-friendly blender cum mixer grinder that has highly positive reviews online. How well does it perform? What are the noise levels? How are their aftersales service? Let us explore in detail.
Pros
Budget-friendly pricing
Has ample number of cups and blades
Sufficient for blending soft ingredients.
Cons
Not suitable for blending leafy or tough ingredients.
Right out of the box, the jars have an unpleasant smell.
Ideal for: Blending soft ingredients like banana, mango, berries etc to smoothies. It is also a good option for making chutney and for pureeing baby food. As there are numerous cups and lids, you can take them along when you go out as well. However, it wouldn't be an ideal replacement for a mixer grinder owing to the low power and jar capacity. Also, it may not be suitable option for those who want to make smoothies of dry fruits or leafy vegetables.
Related reading: Best Smoothie Blenders In India
Design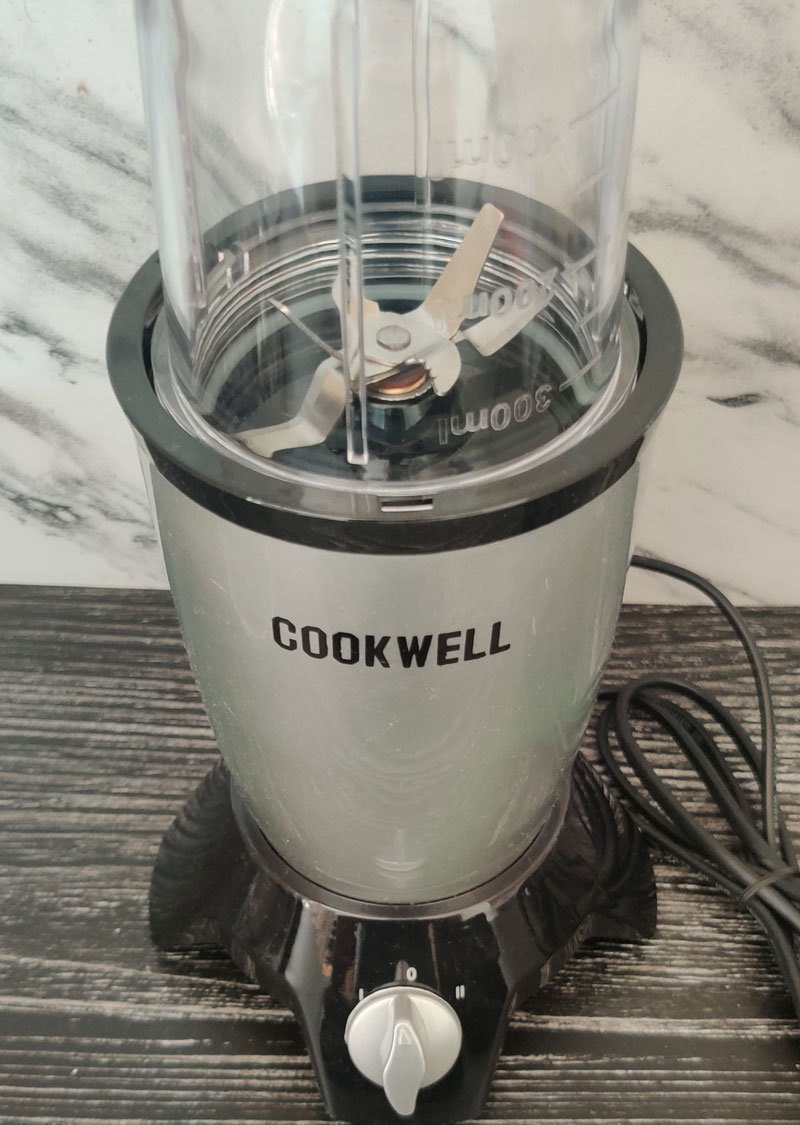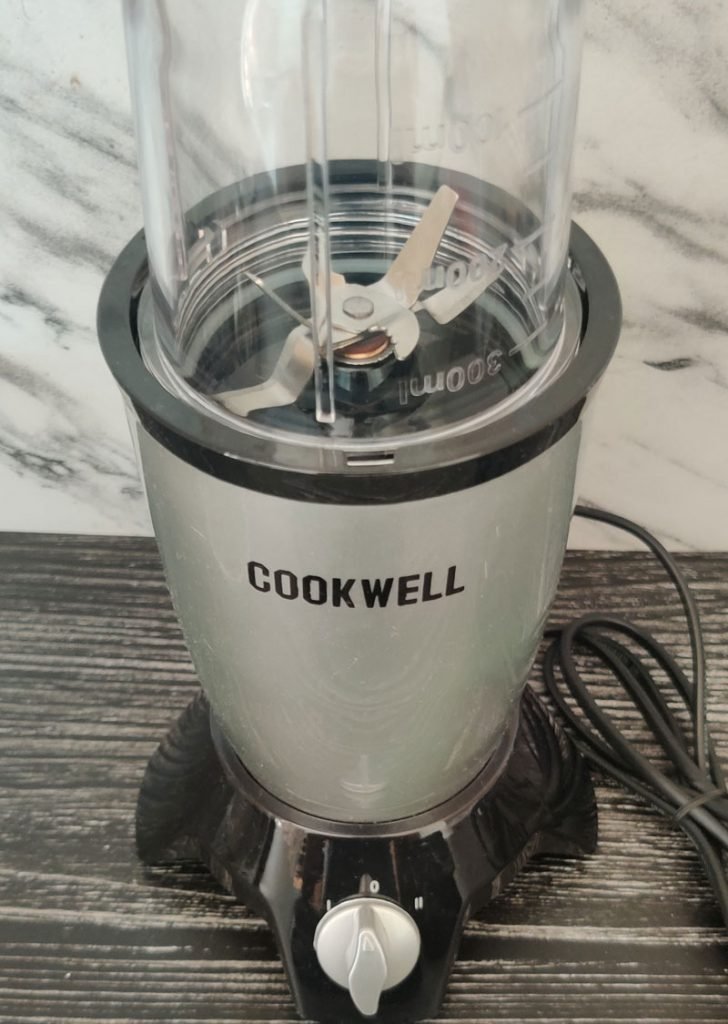 Cookwell Bullet Mixer Grinder comes with a compact motor base and numerous jars, lids and blades, making it a versatile appliance. The motor base has a rotary knob, which you can turn left to pulse and right to blend continuously. The manufacturer suggests running it for just 1 minute and then providing rest before resuming further. While options like Agaro and Balzano stop on its own after a minute of operation, Cookwell doesn't. So, you need to be wary of not running it over time.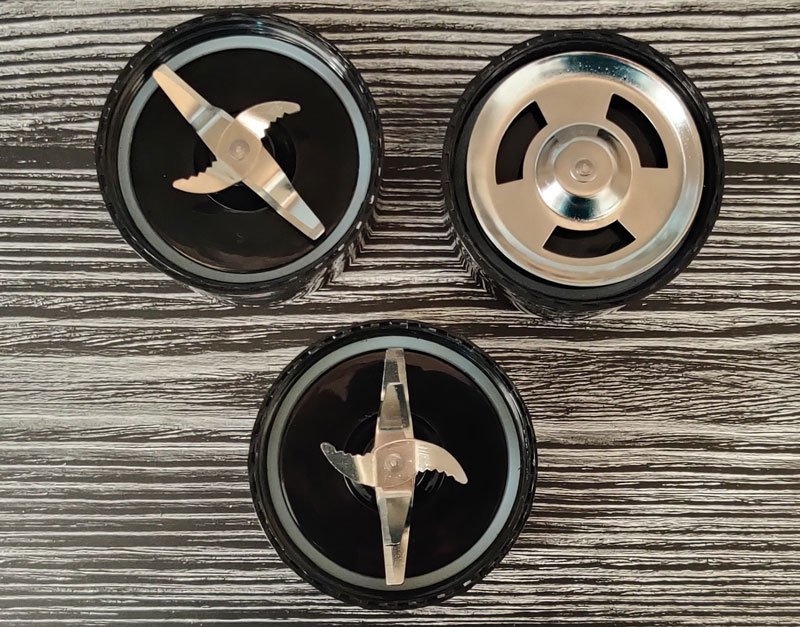 You get 3 blade assembly with the unit- an extraction blade, a dry grinding blade and a whisking blade. Using the extraction blade, you can blend smoothies and make purees. With the dry grinding blade, you can make spice powders, make nut butter etc. The whipping blade can be used for whisking buttermilk, lassi, beating eggs etc.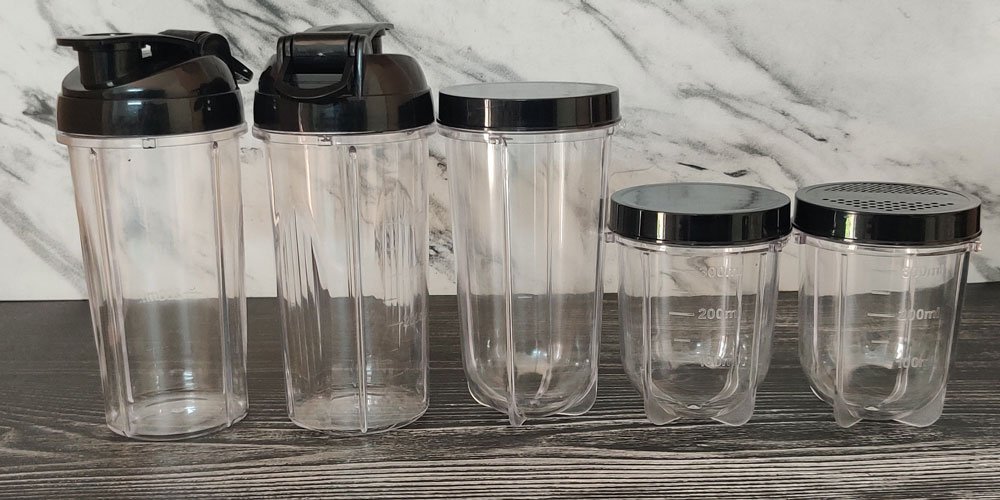 There are 5 jars that come with the blender. The two smaller ones measure 300 ml in capacity, while the three larger ones measure 500 ml in capacity. All jars have measurement markings- something which options like Balzano, Agaro and Nutribullet don't have.
You get 5 lids along with the unit. The two are resealable lids, two come with spouts and one with perforation for sprinkling spice powders, cocoa or coffee powder. You also get a lip ring. The lids with the spout have a tendency to misalign with the cup. So, you need to be careful while fixing the lid in order to prevent leakage.
Overall, the build quality seems just above average. A real turn-off was that the jars reeked of varnish. It smelled like a new Bata shoe. But fortunately, it goes away with a few thorough washing.
You may also like our article on 7 Best Hand Blenders In India
Blending Performance
High-performance blenders cost about Rs. 4-5K onwards. As Cookwell Bullet costs just around half of that, you cannot expect it to be super-efficient at pulverizing tough ingredients. This blender is rather apt for making smoothies from soft fruits like bananas, musk melon, berries etc. It is also a good choice for pureeing baby food.
We followed the standard set of methods to test the blending performance of the Cookwell Bullet and started off with a green smoothie. The recipe booklet instructs to chop the spinach for blending. However, we have put it as a whole to compare it fairly with the other options. For the smoothie, we added spinach, frozen banana, apple, ice and milk. We blended it for a minute and assessed the mouthfeel. Though there were no unprocessed chunks, the spinach was not blended into a smooth consistency. Bits of fibre remained in the mouth after drinking it.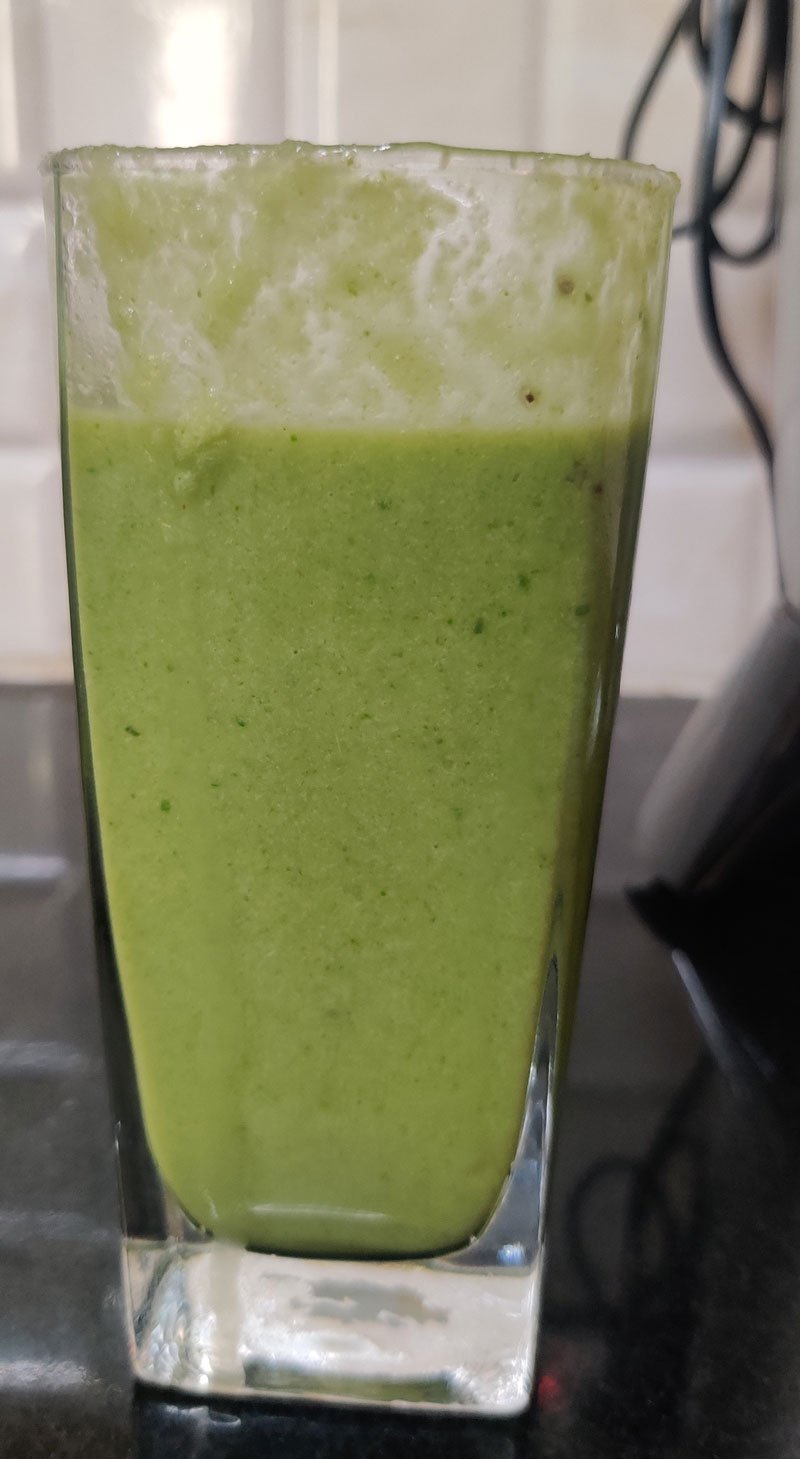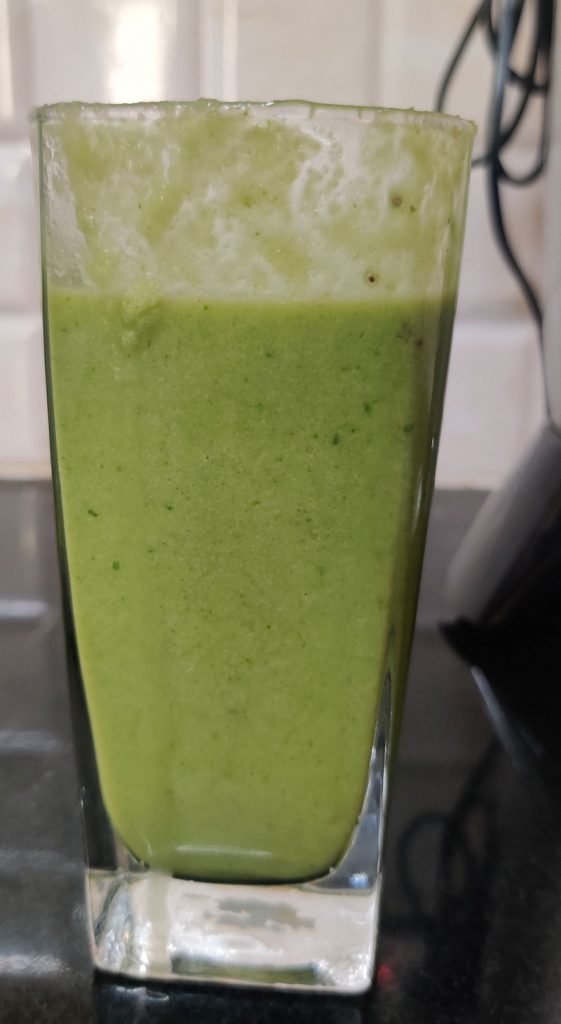 We also tried making dry fruit shakes. But, as the blender had a tough time with the green smoothie, we reduced the quantity of dry fruits. Though there were no unprocessed chunks, the texture was too grainy.
From what we can understand, as the blender has a low power of just 600 watts ( in some places in the instruction manual, it says 500 watts), it is not able to blend tough ingredients finely. So opt for it only if you make smoothies using soft ingredients.
Dry Grinding Performance
The dry grinding performance too was average. It was able to grind garam masala into a coarse consistency. After grinding and sieving, there was a lot of coarse residues left over. Unlike Balzano or Agaro, it is not exactly the best option for dry grinding tough spices. However, you can use it to grind softer spices like pepper, cumin etc. into powder.
Multiple Functionality
Given the numerous jars that come along, we do expect it to go beyond making smoothies. And it delivers to an extent. You can make chutney and mayonnaise quickly in it.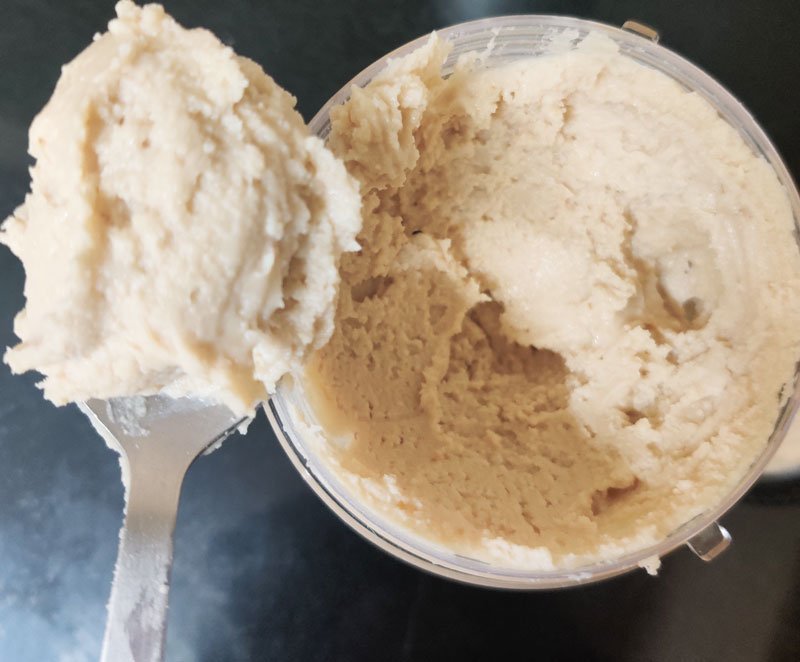 The cups are narrow in design. So when making peanut butter, you find the content close to the blade blends smoothly and the peanuts at the top in coarse chunks. We had to scrape the content several times and pulse it to blend it into peanut butter. Even then, the results were not exactly the best out there. Comparatively, we find Balzano the best option for making peanut butter.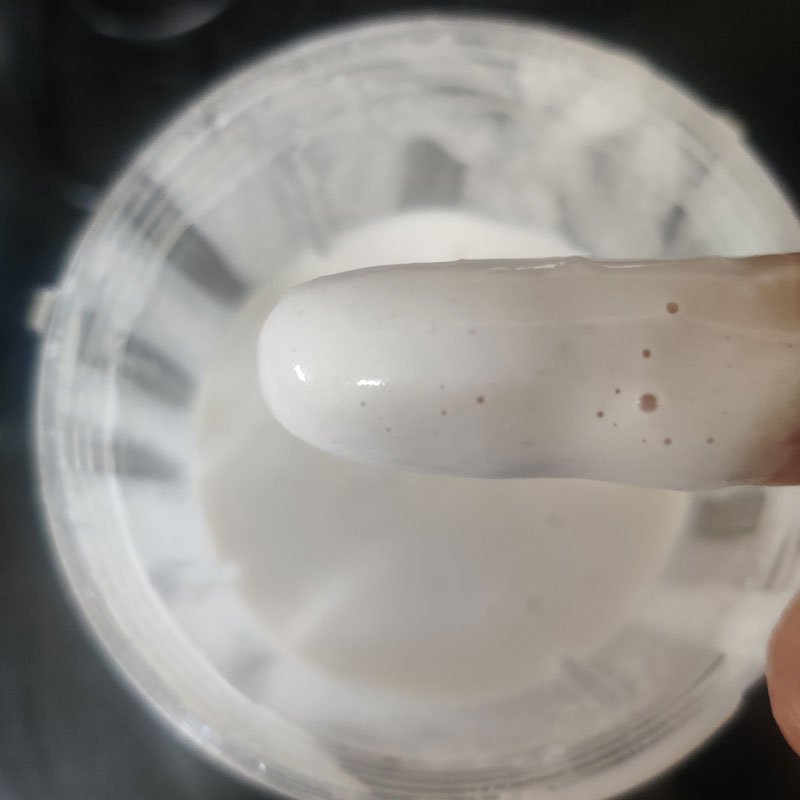 We also tried making dosa batter in it. Though you can make just enough batter for 3-5 dosas, it was ground to a fairly smooth consistency in a minute.
Noise Level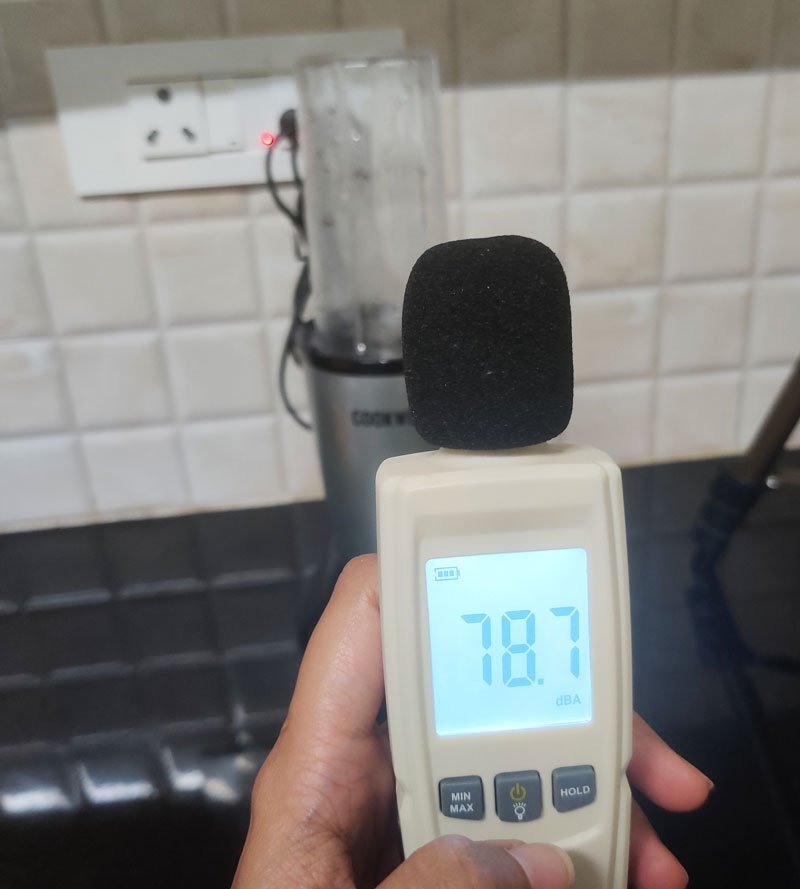 The blender is comparatively silent. It makes just about 78-82 dB noise when running. This is quite low compared to high-power blenders like Balzano and Nutribullet.
Ease of Cleaning
The unit is fairly easy to clean. The gasket can be easily removed to clean the gap and space under the blade. Even after grinding batter and peanut butter, it wasn't too difficult to clean the cup and the blade.
Flaws, But Not Deal Breakers
Given the pricing, you cannot expect it to grind tough ingredients into a smooth consistency. The built quality of the appliance is average. As mentioned earlier, the lid with spout tends to get misaligned when closing. Also, the jars reeked of varnish and that was a real turn off. But otherwise, there aren't really huge complaints about the product.
Aftersales Service
From the user reviews, we understand that the aftersales service seems to be prompt. Their team seems to be responsive and quick to resolve complaints.
Conclusion
Overall, the blender is quite an apt choice for those who need an option for making smoothies out of soft ingredients, protein shake and pureeing baby food. It is quite budget-friendly too. Depending on your need, you can opt for a blender with 2,3 or 5 jars and 1,2 or 3 blades. However, if you expect to blend nuts or leafy ingredients with it, you may be disappointed.
Was this post helpful?
Let us know if you liked the post. That's the only way we can improve.