Compared to regular fruits, the juicers for carrot and beetroot require more power and a better design. Else, there will be a lot of uncrushed pieces left in the pulp. Based on our tests and on the basis of user reviews, we bring to you a list of the best juicers for carrots and beetroot. The key aspects we considered for this list are their juicing performance, design, ease of cleaning and noise levels.
The list comprises both cold press juicers and centrifugal juicers. Cold press juicers are more expensive. But, they crush the fruits in such a way that hardly any more juice can be extracted from them. They work at a low RPM of fewer than 100 cycles and hence don't make much noise.
A centrifugal juicer on the other hand is comparatively inexpensive. But they leave a little bit of juice in the pulp. Often, a few uncrushed pieces of fruits or vegetables can also be found in the pulp. As the blade spins at a high speed and due to the high power, they make as much noise as a mixer grinder. However, contrary to popular thinking, research has shown that juices from both centrifugal and cold press juicers retain the same level of nutrition.
Out of the options, our top recommendation for those who are looking for a centrifugal juicer is Havells Stilus. It is comparatively bulky. But owing to the excellent design and wide mesh filter with extraction blade, they make an excellent option for carrot and beetroot as well as other fruits. It is a comparatively inexpensive option as well. Moreover, in our tests, we find it to be one of the best juicer mixer grinders in India.
If you are looking for the best option out there and are willing to splurge a bit then Kuvings B1700 would be an ideal choice. It is a cold press juicer that extracts with maximum efficiency. The large feeding chute, external pulp collector and low RPM result in the best performance out of the available options.
Cold Press vs Centrifugal Juicers For Beetroot and Carrot
Generally, a cold press juicer gives a better yield than a centrifugal juicer. It is especially great for extracting juice from nuts and leafy vegetables. But if you specifically compare the yield of beetroot and carrot juice, you will find that the difference is just marginal. This is because, in centrifugal juicers, the ingredients get shredded. So, beetroot and carrot being hard and firm get thoroughly shredded, unlike apple or pomegranate which retains juice even when shredded. As a result, its juice extraction efficiency is pretty good. The only drawback is that sometimes, you find a few uncrushed pieces in the pulp.
But most people don't buy a juicer for just beets and carrots, they tend to juice many other ingredients too. For such people, and if they can afford it, a cold press juicer would be better as it is more versatile and offers generally better yield.
Related reading: How To Make Nannari Syrup?
Juicing vs Consuming Beets and Carrots A Whole
Juicing, as you know results in fibre loss ( or wastage). A glass of carrot juice can be obtained by juicing 4 large carrots. A glass of carrot juice contains just 2 gm of fibre, while 4 large carrots would contain around 8 gm of fibre. So, you tend to lose this fibre. But, as most people won't eat 4 carrots in a day, but can easily drink a glass of carrot juice, you needn't be bothered too much about it. Other nutrients like Vitamin A, Potassium and Vitamin K are not really lost in juicing.
Which are the Best Juicers For Carrots and Beetroots In India?
Best Juicer For Carrots and Beetroots In India
Pros
Cons
Centrifugal juicer with one of the best juicing
efficiency out of the options tested.
Comparatively bulky
Large mesh filter blade.
A bit noisy.
Comes in a variety of models
Havells Stilus is a centrifugal juicer with a 500-watt motor. Out of the various juicers we tested, Havells Stilus had the largest mesh filter extraction blade. Also, the juicing chamber's cover has a low height. You might be wondering how that helps. Let us explain. Fruit and vegetable pieces tend to bounce off the extraction blade that spins at high speed. When the distance between the blade and the top cover is low, the pieces that bounce off land back on the blade itself. But if there is a significant gap, the pieces may bounce off into the pulp container and end up wasted.
By design, Havells Stilus is a bit bulky. But it is quite elegant and is the only option that has a juice collection container. The squarish container has a functional spout that makes it easy to pour the juice too.
Coming to the performance, we tried making a variety of juices in the Havells Stilus, including carrot and beetroot. The feeding chute measures just 4.5 x 6.5cm. So, you have to cut beetroot and large carrots into smaller pieces. Havells Stilus XL is a model with a large feeding chute that can take in a whole apple at a time.
The extraction efficiency of the juicer is pretty good. While juicing carrots, it is able to crush the carrots thoroughly to extract juice efficiently. With beetroots, however, you find a few uncrushed pieces among the pulp. Havells Stilus is especially great for pomegranates too.
The unit makes a moderate noise of 87-90dB. It is fairly easy to clean too. However, the spout cannot be closed. So, after juicing, you may have to leave the container ther
e for 5-15 minutes to get the last few drops.
Overall, it is an excellent option for those who are looking to have fresh carrot and beetroot juice on a frequent basis.
Read our detailed review of Havells Stilus
| Pros | Cons |
| --- | --- |
| Can run continuously for up to 90 minutes, making it apt for commercial use | Tends to leak from juicing chamber. |
| Excellent juicing and grinding performance | Difficult to clean |
Sujata Powermatic is one of the most powerful centrifugal juicers available in the market. It comes with a 900-watt motor which results in the extraction blade spinning a lot faster. As it has a deep pulp container and a heavy-duty motor that can work for 90 minutes at a stretch, you can juice huge quantities of juice at a stretch. This makes it an ideal option for commercial establishments too.
The Sujata Powermatic also has a wide extraction blade, like Havells Stilus. Its feeding chute measures about 4 cm x 6 cm. So, here too, you have to cut the ingredients into smaller pieces.
The juicing performance is pretty good for carrot and beetroot. Its extraction blade shreds the ingredients finely and extracts juice efficiently. With carrots, the juicer does a pretty fine job. The leftover pulp doesn't have any uncrushed pieces. Though not as wet as cold press juicers, it does a neat job overall. However, with beetroots, you sometimes find some uncrushed pieces.
A drawback of Sujata Powermatic is that sometimes juice tends to leak from the top cover. This happens especially when juicing pomegranate, watermelon, cucumber and such water-rich ingredients. Just like Havells, it does not have a dip stopper. Also, it is a bit noisy.
However, if you are looking for a versatile option that can make juice and act as a powerful mixer grinder too, then Sujata Powermatic is the best option for you.
Read our detailed review of Sujata Powermatic
Related reading: Juicer Mixer Grinder vs Mixer Grinders- Key Differences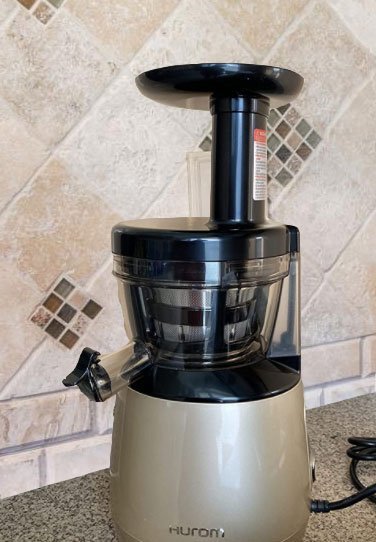 | Pros | Cons |
| --- | --- |
| Better juicing efficiency compared to centrifugal juicers | Expensive |
| Fairly silent | Difficult to clean |
While centrifugal juicers spin their extraction blade at a speed of 10-20K RPM, cold press juicers extract juice by squeezing the ingredients with an auger at a slow speed. Hurom's auger rotates at just 43 RPM. As a result, the juice obtained has a thicker consistency with minimal foam and also the pulp is quite compact and dry.
The Hurom HP Series comes with two mesh filters. The one with larger sized pores is for having thicker juice with higher pulp content and also can be used while extracting juice from water-rich fruits. The finer mesh can be used for extracting light and thin juices. As the spout has a cap, you don't have to worry about making a mess on the countertop. Also, unlike centrifugal juicers mentioned above, Hurom makes hardly any noise.
Coming to the performance, Hurom HP series extracts juice from carrots and beetroot quite efficiently. Comparatively, the yield is much higher than centrifugal juicers. Also, the foam produced is lesser too. As the vegetables get squeezed by the auger, you won't find any uncrushed pieces in the pulp either.
The Hurom is also quite effective for juicing nuts and leafy vegetables- something centrifugal juicers mentioned above fail miserably.
Talking about the drawbacks, sometimes, it is difficult to take out the dry pulp from the extruder. Compared to centrifugal juicers, the assembly and unassembling is a bit more complex.
As the feeding chute is small, you have to cut the ingredients into smaller pieces too. Whereas, with Kuvings, you can feed even a whole apple without cutting.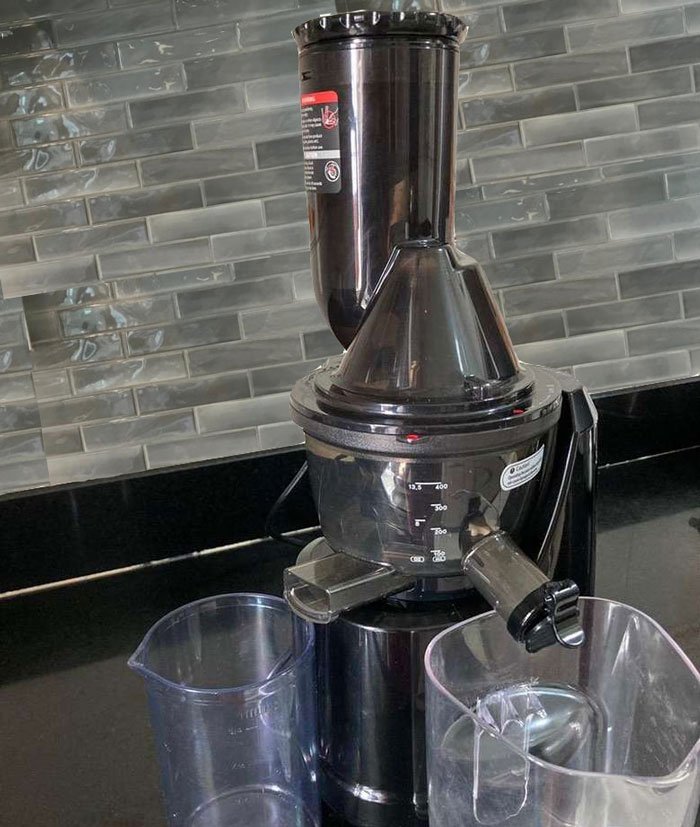 | Pros | Cons |
| --- | --- |
| Wide feeding chute- As a result, less prep work | Ingredients tend to get stuck |
| Additional attachments are available. | |
| Better aftersales service | |
Kuvings B1700 has excellent built quality and a wide feeding chute that makes it a pretty good cold press slow juicer for carrot and beetroot. The juicer has an RPM of 50 cycles and can run for up to 30 minutes at a stretch.
Essentially, the design of Hurom and Kuvings is the same. They both have a rotating basket with a sieve and an auger that squeezes the ingredients. The main difference is the large feeding chute that takes in ingredients once after the other slowly.
The extraction efficiency of Kuvings B1700 is pretty good. You can add a whole carrot, cut a large beetroot into just two halves and feed them into the chute. This saves a lot on prep time. Though the unit takes more time to extract the juice, it does so with excellent yield.
A drawback however is that sometimes when you add a large fruit without cutting, it may get stuck. You may then have to use the reverse button to dislodge the pulp. Also, as with any other cold press juicer, citrus juice may get bitter as seeds get crushed in the process.
Another advantage of Kuvings is that you can get additional attachments for making sorbet, ice creams and milkshakes. But, they are a tad expensive.
When you compare Kuvings B1700 and the former Hurom cold press juicer, you find that Kuvings has a larger chute. It has just a single strainer. But, the sieves are a bit large so the pulp has a bit more fibre content. The aftersales service of Kuvings is better than Hurom too.
Overall, it is definitely one of the best options not only for carrot and beetroot but also for other nuts, leafy vegetables and fruits.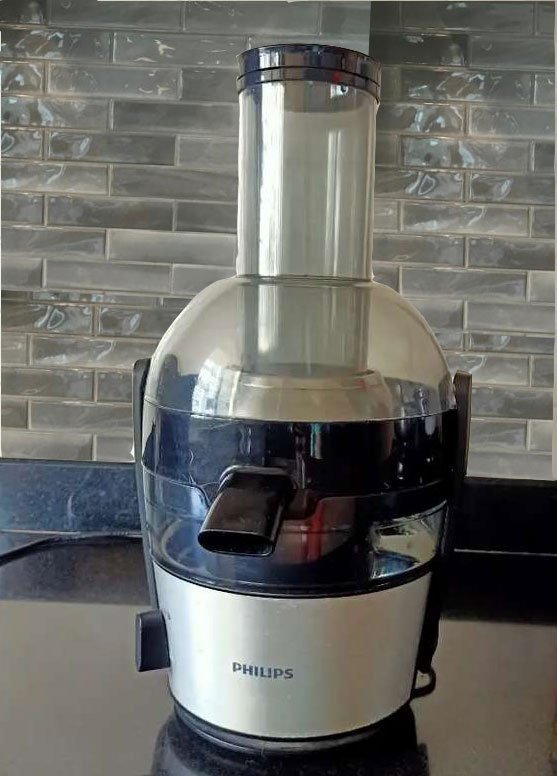 | Pros | Cons |
| --- | --- |
| Large feeding chute | Expensive for a centrifugal juicer. |
| Thoughtful design | Small pulp container. |
Philips Viva HR1863/20 is a centrifugal juicer that is fairly good at juicing all varieties of fruits and vegetables. It comes with a 700-watt motor, which makes it one of the powerful juicers available in the market.
The main difference you notice compared to other juicers is that its mesh filter is fixed upside down. Philips claim that this enhances the juice extraction efficiency. However, when you compare the leftover pulp from juicing beetroot and carrots, you find that it is as dry as what you find from Havells Stilus or Sujata Powermatic.
One of the main advantages we found compared to other centrifugal juicers is that it has a 7.5cm wide circular feeding chute. So, you can add fruits and vegetables without having to cut them into pieces. Thus, it saves a lot of time you would have otherwise spent prepping.
Also, you get a 500 ml juice jar into which you can collect the juice. After juicing, you can turn the spout upwards to avoid the last few drops from messing on the countertop. The pulp container is comparatively smaller. You may be able to make juice of 1-1.5Kg fruits at a stretch and after that, you may have to discard the pulp.
Just like other juicers, here too you may find small uncrushed pieces of carrot and beetroot among the pulp. The unit is fairly compact. However, it may take a few tries to get the hang of assembling. Also, though Philips claim that you will be able to clean the unit in a minute, it takes a bit longer than that.
The noise level is at par with any other mixer grinder available in the market. When you look at the pricing, it falls between most centrifugal juicers and a medium-range cold press juicer. It is a fairly decent option. But, if you are price-conscious, we would recommend that you go ahead with Havells Stilus or Sujata Powermatic instead, which are also pretty good for juicing beets and carrots.
Was this post helpful?
Let us know if you liked the post. That's the only way we can improve.