Philips Viva Collection HL7701 is one of the top-selling mid-range mixer grinders available in the market. It is compact, elegant and equipped with a 750-watt motor, it can take care of all dry and wet grinding needs.
In this review, we shall take a look at its built quality, performance, safety, ease of use and other factors to help you make an informed decision.
Summary:
When you look at Philips HL7701 independently, it is a pretty good option to consider. It grinds wet and dry ingredients finely and the built quality is above-average at the pricing. However, competing brands like Vidiem and Preethi offer much better options, making you rethink this option.
Pros
Excellent grinding efficiency
Aesthetically pleasing
Cons
Built quality could have been better
How We Test?
To test the mixer grinder, we used the mixer grinder for 10 days in a South Indian kitchen. We ground everyday ingredients like coconut, masala, ginger-garlic paste, dosa batter etc. Then to make a comparative analysis, we ground a fixed quantity of spices, ginger-garlic, raw rice and urad. We also made juice and extracted coconut milk to understand the juicing efficiency.
Related reading: Best Mixer Grinders In India
Jars
The mixer grinder comes with 4 jars. They are-
400 ml chutney jar
1 litre multi-purpose jar
1.5 litre Juicer Jar
1.75 litre Wet grinding jar
The main jars come with stainless steel bodies. The chutney jar and multi-purpose jars have plastic lids, while the large wet grinding jar comes with a polycarbonate lid. All lids have a rubber gasket.
The built quality of the mixer grinder is just above average. The stainless steel is comparatively thin measuring 0.6mm, while the blades measure about 1.4mm thickness.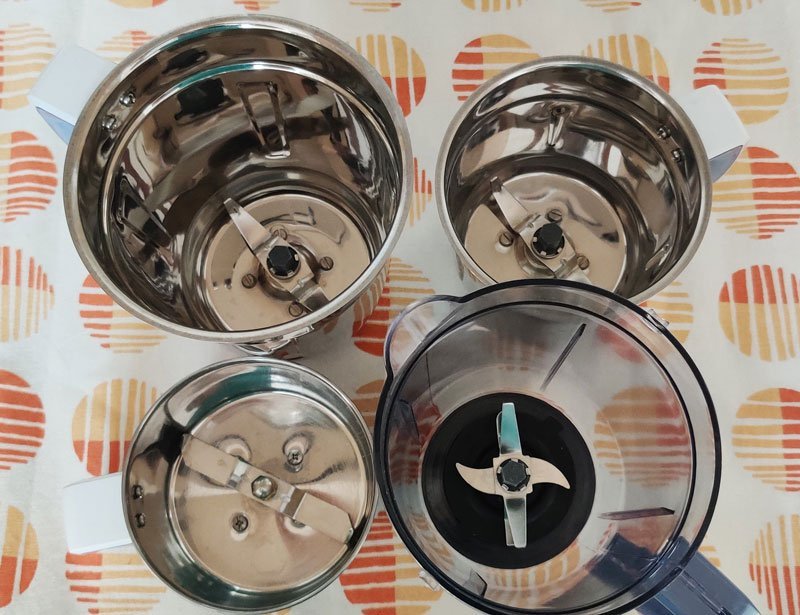 The blades of the larger jars are removable. But that of the chutney jar is not. The juicer jar design is pretty much common with a short sieve.
Though the jars are thin, they are durable. But, the gaskets tend to get loose within a year or two. So, you will have to replace them. Even when it is brand new, the jars are not leakproof.
Related reading: Best Mixer Grinder Under Rs. 5000
Motor Housing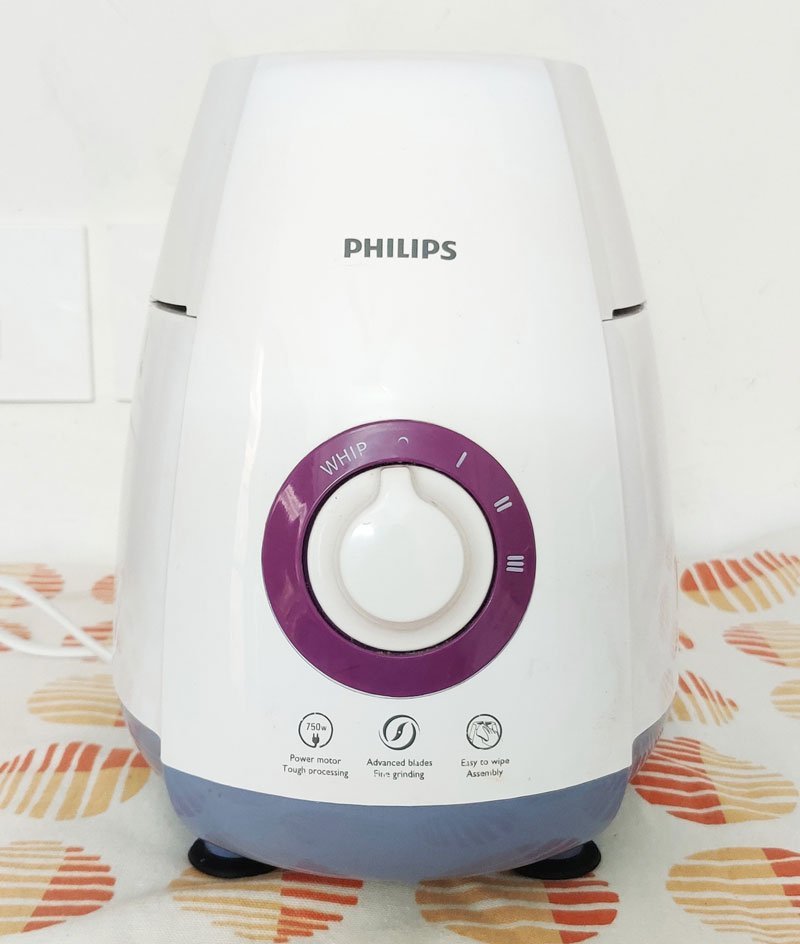 The motor housing design of the Philips Viva Collection is pretty much standard. It is compact with a rotary knob to pulse and set the speed at three levels. Philips uses the same design, albeit in a different colour for its Avance series which has the HL7707 mixer grinder with a food processor.
A drawback is that it doesn't have a power-on indicator.
We have noticed in Philips HL7701, the same design flaw we saw in Preethi. The gap at the top through which water or any spillage flows outside is so narrow that you can't clean it properly. You can't even insert a toothbrush through this gap to clean it well enough. Other than Bosch, no other manufacturers have given thought to this design aspect.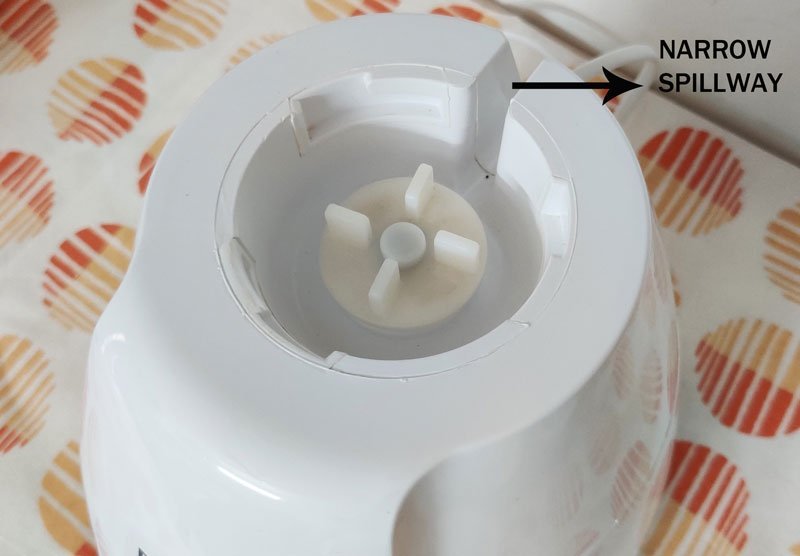 Related reading: Preethi Blue Leaf Platinum Mixer Grinder Review
Performance
The mixer grinder comes with a 750-watt motor. It has a continuous run time of 5 minutes after which it needs a 2-minute rest. This way, it can run for a maximum of 30 minutes, after which it needs 45 minutes of rest.
The mixer grinder attains a maximum RPM of 17-19K cycles without load. With load, the manufacturers claim that it can run at up to 11K cycles per minute.
Considering the price, the mixer grinder does a fairly decent job of grinding various wet and dry ingredients.
With a brand new mixer grinder, you can make turmeric and garam masala powder easily. Though you get some coarse leftovers after sieving, it still does a neat job. But we wouldn't recommend engaging in heavy-duty grinding if the mixer grinder is more than 2-3 years old as you could end up damaging the blades and the jar coupler.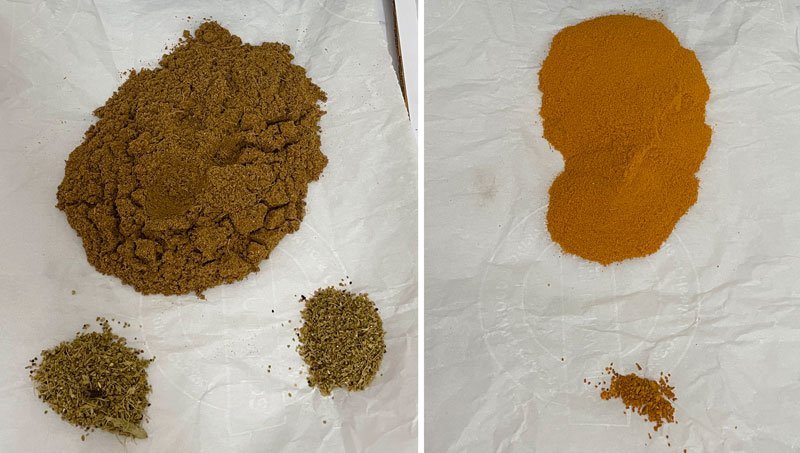 The wet grinding efficiency is also fairly good. You can make dosa batter for 4-6 people or more at a single go. The wet grinding jar doesn't make a perfect vortex-like Vidiem. So when grinding batter, the ingredients tend to splash all over. But, even so, the consistency of the batter is fairly good. And it doesn't heat up the batter too much.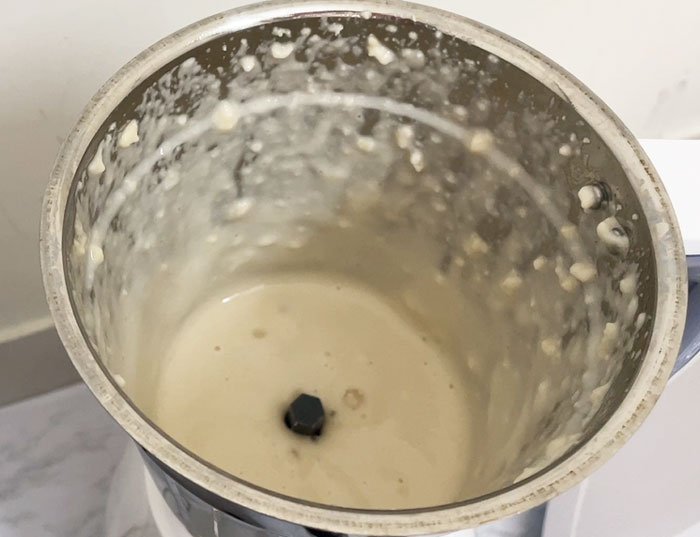 It makes ginger-garlic paste too in a fairly smooth consistency with very few coarse chunks.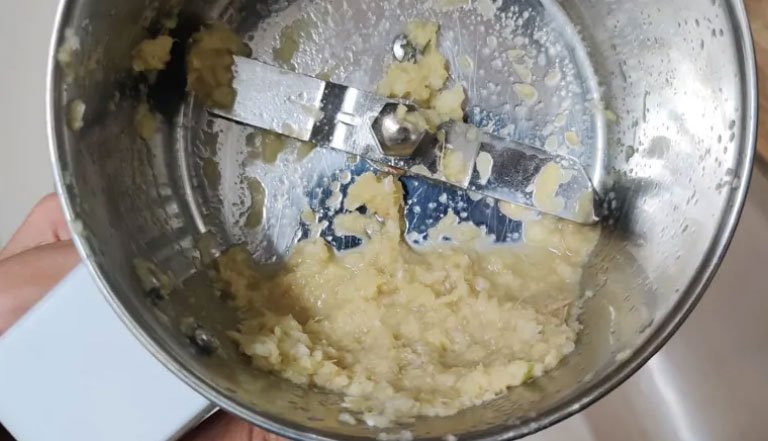 The juicer jar design is pretty much the standard. It can make juices of watermelon, apple, pomegranate etc. But it is not suitable for extracting coconut milk or making juices from citrus or starchy fruits. The juice yield is too low for regular use.
Overall, the mixer grinder can take care of daily chores like making chutney, curry masala, batter and you can even occasionally grind spice powders. But, it isn't exactly something that you should use for regular heavy-duty grinding.
Safety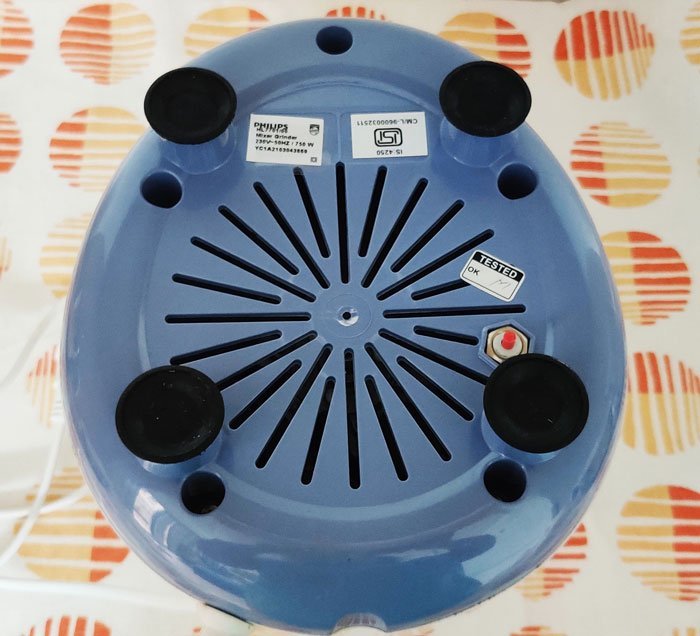 The mixer grinder has standard safety features like a shockproof ABS plastic body, vacuum suction feet and overload protection switch. Its ventilation is also fairly good.
But, the jars are not leak-proof. Neither does it have lid locks for hands-free operation.
Noise
Preethi and Philips have almost similar noise levels ranging around 90 dB. It is moderate, but fortunately, not as loud as Bosch Truemixx or Hamilton Beach.
Ease of Cleaning
The mixer grinder design is pretty much standard. It is fairly easy to clean. The manufacturers recommend running the mixer grinder for 30 seconds adding a few drops of dishwashing liquid and filling the jar to half its capacity. This helps dislodge food particles underneath the blades and around the screws well.
If you choose to hand wash it, it might be difficult to remove food residue caught around the screws at the bottom.
Dishwashing is not recommended as dirty water would get accumulated in the jar lock, around the coupler. This could damage the coupler quickly.
The plastic lids, being white in colour, stain quickly. But, after a few washes, it regains back its colour.
Durability
The stainless steel used for the jars and blades is of fairly good quality. But, we noticed that it had a tendency to rust along the joint connecting the blade to the jar. Also, the plastic lids are a bit fragile.
The gaskets tend to get loose quick. So, you may have to replace it after a few years of use. Comparatively, options like Vidiem have better built quality.
Many users have used it for around 4-5 years or more. But have had to replace the gasket or coupler in between.
Warranty and Aftersales Service
The mixer grinder comes with a 2-year warranty and a 5-year warranty on the motor. The aftersales service is fairly good with Philips offering service at doorsteps in certain cities.
It is fairly easy to find spares in local shops. And for added convenience, you can opt for an extended warranty too, whereby technicians take care of the repairs at your doorsteps.
Comparison With Other Models At This Price Range
If you do not want a juicer jar, then you can opt for Philips HL7769 which costs about Rs. 500 lesser. It is actually a great pick, considering most people don't use the juicer jar once its novelty fades away.
Comparable models at this price range from Vidiem and Preethi are better in terms of built quality. Vidiem MG 521 A, especially is quite good considering its excellent built quality and above-average wet grinding performance.
Yet another option to consider is the Preethi Blue Leaf Diamond, which is one of the best sellers. It is a basic, yet an excellent option for those who need a mixer grinder for everyday chores like making chutney, masala paste, batter etc.
Conclusion
The Philips HL7701 is a fairly good option at this price range. It can take care of all grinding chores with ease. But of late, competing brands like Preethi and Vidiem offer options with better built quality, making you re-think this choice.
Was this post helpful?
Let us know if you liked the post. That's the only way we can improve.