A spinach side dish with rice or chapati may not be appetizing to many, including me. But, a green smoothie made with spinach? Bring it on!
Smoothies are a convenient way to consume your daily dose of fruits and vegetables. But only if you have the right smoothie blender.
There are high-performance blenders available in the market with 900+ wattage and then there are ones with 400-600 watt motors that are more economical. So, which one do you choose? Let us find out in this in-depth buying guide that talks about how to choose a smoothie blender, the top picks and more.
If you need a quick look at our top recommendations, here they are-
Our Recommendation
If you need a powerful smoothie blender to make green smoothies with leafy vegetables and blend nuts for your smoothies, Balzano High-Speed Blender with 1200 watt motor is the right choice for you. It has 3 jars, is easy to use, convenient and moreover powerful enough to blitz through tough ingredients in less than a minute. Compared to Nutribullet PRO, they are economically priced too. But they are noisy.
On the other hand, if you are looking to make smoothies only out of soft ingredients like berries, banana, mango, musk melon etc, then you don't really have to pay so much for a powerful blender. A suitable option would be Cookwell Bullet Mixer Grinder, which comes with 3-5 jars and 1-3 blades depending on the configuration you choose. They are comparatively less noisy, can blend soft ingredients in less time, and is even a great option for pureeing baby food.
Table of Contents
Which Are The Best Smoothie Blenders In India?
| Model | Power | No. of Jars | No. of Blades | Ideal For |
| --- | --- | --- | --- | --- |
| Nutribullet PRO | 900 Watts | 3 | 2 | Those who need a compact and powerful smoothie blender for making smoothies with leafy vegetables, and nuts and also take care of chores like making chutney, dips, mayonnaise, spice powders etc. |
| Balzano High Speed Nutriblender | 1200 Watts | 3 | 1 | Those who need an economically priced high-performance blender for making smoothies with leafy vegetables and nuts. Also capable of other grinding chores for Indian cooking. |
| Agaro Marvel Nutriblender | 1000 Watts | 2 | 2 | Those who need a comparatively silent moderate-powered blender for making smoothies. Also capable of making batter, chutney etc. |
| Cookwell Bullet Mixer Grinder | 600 Watts | 5 | 3 | Those who need a blender for making smoothies with soft ingredients. Also capable of making chutney, mayonnaise and pureeing baby food. |
| Wonderchef Nutri blend | 400 Watts | 2 | 1 | Those who need a blender for making smoothies with soft ingredients and for pureeing baby food. Can also grind soft spices to a powder. |
How We Tested?
A good smoothie blender should be capable of pulverizing any ingredient into a creamy consistency in less than a minute. That is exactly what we tested. We made numerous smoothies with the blender. Mainly, we focussed on a green smoothie that was made of spinach, frozen banana, apple, ice, and coconut milk. We analyzed its consistency and whether it had a fibrous or grainy texture. Also, we specifically checked if there were any unprocessed chunks of fruits or leafy vegetables in the smoothie.
Next, we made a dry fruit smoothie with cashew, almonds, banana, apple,s and coconut milk. This helped us test how well the blender would be able to power through tough ingredients like nuts. Again we analyzed the consistency, texture, and whether it felt grainy in the mouth.
Most users look for the multifunctionality of the appliance and wouldn't want to buy a blender just for making smoothies. So, we tried using the blender for making a variety of food like chutney, mayonnaise, dosa batter, and importantly peanut butter. We checked the consistency and how each compared with the other options. Further, we used it for dry grinding spices as well. Then, we sieved it to check how much coarse residue was left over.
We also checked the noise level, which is a crucial consideration for most users. Then we also looked at how easy it was to use and clean. Further, we checked user reviews to understand how the aftersales service of each brand fared.
You may also like our article on Best Food Processors in India
How To Choose A Smoothie Blender?
Power
Smoothie blenders come with a power rating from 400 to 1200 watts or more. Higher power results in higher RPM when ingredients are loaded. As a result, it will be able to blend even tough ingredients into a smooth consistency.
We have found that blenders with high power ratings are ideal for blending leafy vegetables and nuts. The smoothies made in them have a fine consistency too. But, the ones with 400-600 watts motor aren't able to blend tough ingredients finely. They can make smoothies only with softer ingredients.
High-power blenders are also quicker.
Related reading: Best Electric Choppers in India
Capacity and Number of Jars
Smoothie blenders come with cups (a.k.a jars) with 300 ml to 2-liter capacity. Choose a blender depending on the quantity of smoothies you consume a day and other chores you intend to do with it. If you make just a glass of smoothie, a cup with a 500 ml capacity would be sufficient for you. If you are a bachelor who intends to use a smoothie maker for chores like making idli batter, opt for a blender that has at least a 1-litre cup. If you intend to grind masala, make spice powder and use it for multiple purposes, opt for smoothie blenders that have 3-4 jars or more.
Ease of Use
Smoothie blenders have mainly two types of operations. The first is just like how a mixer grinder works, with a knob or button to switch on/off, blend and pulse. The other variety has an activator tab. If you push the jar into the motor base and twist it, the motor starts running. They don't have buttons or knobs for operation. We felt that the ones with buttons/knobs are much easier to operate. The other one could be a bit intimidating and many people switch on and off from the switchboard while operating it, which is a hassle. In both types, the blender does not start running until the jar is securely locked in place.
Related reading: Best Hand Blenders In India
Ease of Cleaning
The design of the jars and blade play a key role in how easy it is to clean. Some of the blade kits have a gasket that is not removable. These options have a tendency to accumulate food underneath the gasket and as a result, mold may grow in the long run. Other options have a notch that helps easily remove the gasket, which in turn makes it easy to clean the blade and the jar. Generally, cleanup after making smoothies is fairly easy. But not quite so after making batter, peanut butter, and such sticky food.
Lids
Most smoothie blenders come with cups and suitable lids. Mostly you get resealable lids, lip rings using which you can sip directly out of the cup and also you get lids with a spout. Ensure that they are all leakproof, failing which your bag will be a mess when you take smoothies on the go.
Multifunctionality
When you spend 3 to 7K or more on a smoothie blender, you obviously expect it to make more than just smoothies. Powerful smoothie blenders are able to make peanut butter, chutney, grind spices and do much more. But a drawback of making spice powders, especially garam masala powder in smoothie blenders is that they can permanently discolor the plastic jars and give them a cloudy appearance.
Related reading: Best Juicer Mixer Grinders In India
Best Smoothie Blenders In India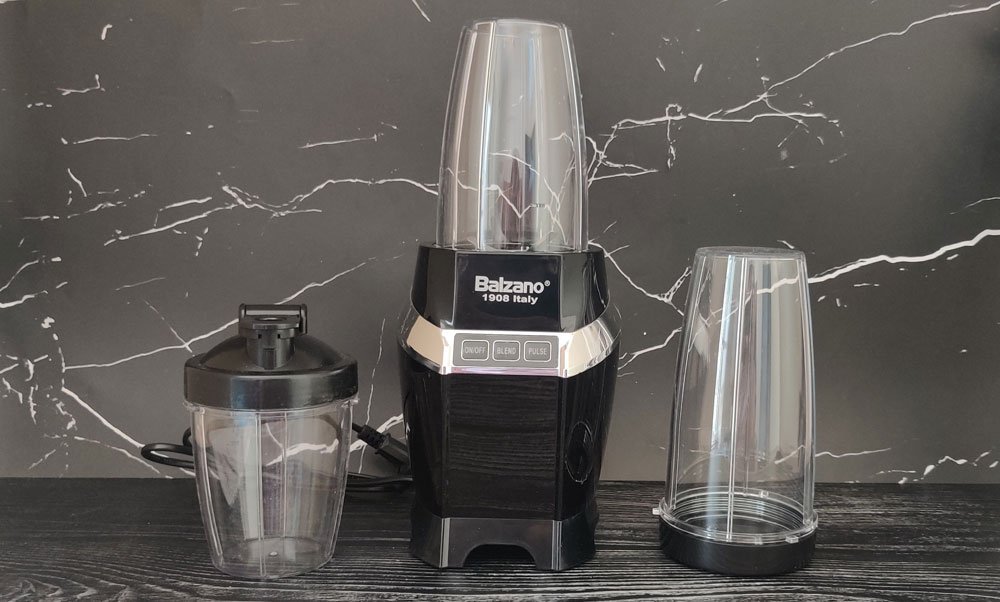 Powered with a 1200-watt motor, Balzano Nutriblender is the most powerful smoothie blender on the list. It comes with 3 jars with a gross capacity of 700 ml, 950 ml, and 1.1 litres. Their net capacities are 350 ml, 600 ml, and 700 ml respectively. You get just one blade assembly, which is an extraction blade. It suffices for blending and dry grinding.
The unit is fairly easy to use. It comes with an on/off switch, which switches on the device, and also you can run it continuously at the highest speed using it. Then, you have a pulse button. Finally, you have a blend button. In this mode, the blender runs at a slow and fast speed at regular intervals to thoroughly blend ingredients into a fine consistency.
Unlike Nutribullet PRO which switches on by pushing and twisting the jar to the base, Balzano is far easier to use. It also offers more speed settings, making it quite functional. The blender works for just 1 minute at a stretch, after which it switches off on its own. And that is sufficient for making most smoothies.
The blender does an excellent job of pulverizing any ingredient into a smooth and silky consistency. The green smoothies made using spinach and the dry fruit smoothie made with almonds and cashew came in a smooth consistency without a grainy texture.
The powerful unit is also able to make peanut butter into desired consistency. With the pulse function, you can blend it in such a way that the crushed nuts fall back on the blades. We were able to make peanut butter in desired consistency in less than 5 minutes using the blender.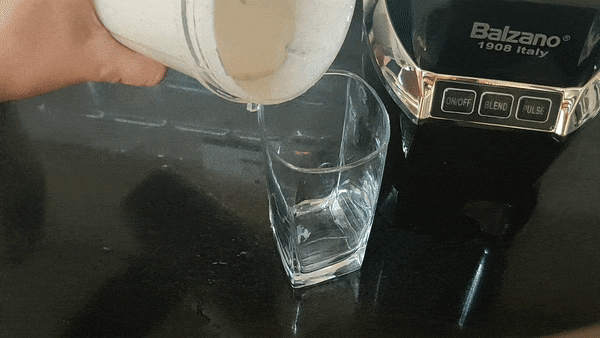 The unit is also capable of dry-grinding ingredients to a fine consistency. We ground 30 gms of garam masala spices into a smooth consistency in less than a minute. After sieving, we obtained just 1.5 teaspoons of coarse residue, which is within an acceptable range.
You can also make mayonnaise, grind batter, chutney, dips, etc. But will be able to make batter for just 1-2 persons at a time.
Price-wise, it is more competitive than Nutribullet PRO. And when it comes to blending efficiency, it is almost as good as Nutribullet PRO.
The main drawback we found is that the unit is quite noisy, making almost 93-100 dB of noise.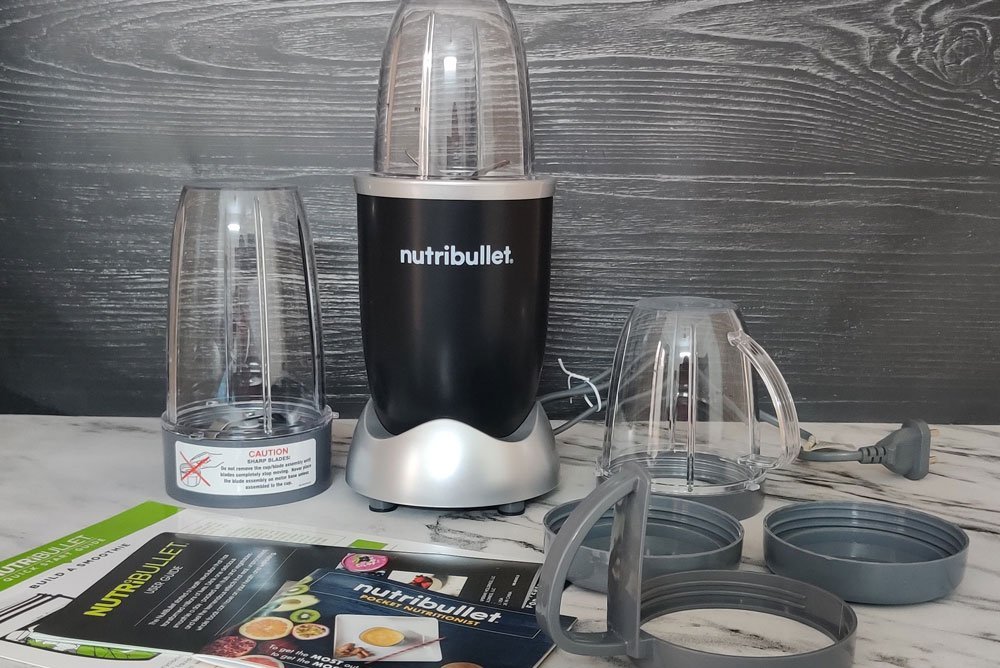 Nutribullet is one of the leading lender brands in the West. In India, they are imported and sold by Matrix Distributors.
The blender comes with 3 jars, 2 blades, resealable lids, lip rings and handles to make it easy to have smoothies on the go. The manufacturers recommend changing the cups every 6 months, which could result in a higher cost of ownership if you use them on a daily basis.
In the West, the blender is sold with a single blade. However, to suit Indian needs, they have included an extraction blade for smoothies and a milling blade for dry grinding.
Nutribullet PRO is the most compact high-power blender out of the options we tried. So, if you have space constraints, it would be an apt choice for your needs.
While Balzano has buttons for blending and pulsing, Nutribullet PRO doesn't. It comes with an activator tab that works when the jar is pushed and twisted onto the motor base. This could be a bit intimidating initially. To pulse the ingredients, you should push and release the jars at constant intervals. This too is not as convenient as having a pulse button.
Talking about blending efficiency, Nutribullet is absolutely the best out there. It can blend tough and leafy ingredients into a smooth silky consistency without leaving any unprocessed chunks behind. The blender is quick too as you can make smoothies with difficult ingredients in less than 45 seconds. They don't have any grainy texture either.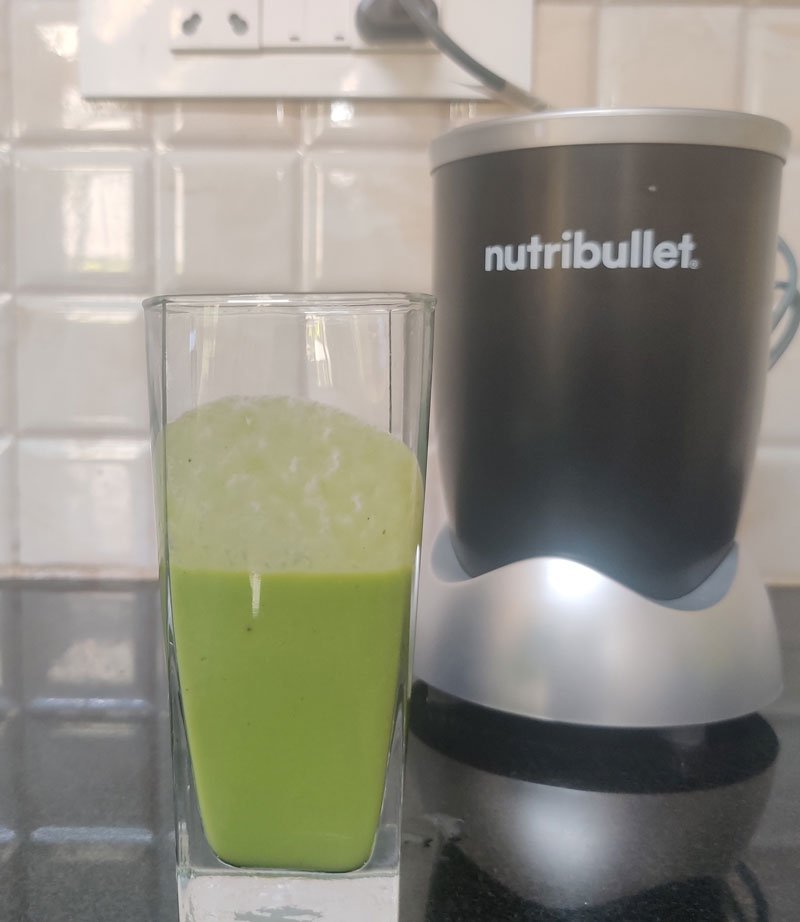 It is also capable of dry grinding spices into a fine consistency in a short time. Upon grinding and sieving garam masala, we got just 1 teaspoon of coarse residue.
Be it making chutney or mayonnaise, the blender does a fairly quick job. But when it comes to peanut butter, you need to scrape down the ingredients several times to blend it into a smooth paste. Pulsing by pushing down the jar doesn't give sufficient control either. Also, as the jars are narrow compared to Balzano and Agaro, you find the peanut butter at the top of the jar coarse and the butter near the blades in a smooth consistency.
The blender is fairly noisy, making 90-95 dB noise, which is better than Balzano but not as silent as Agaro.
Price-wise, it is pretty expensive for a personal smoothie blender. Had it been priced a bit more competitively and if it had buttons for operation, we would have rated it above Balzano.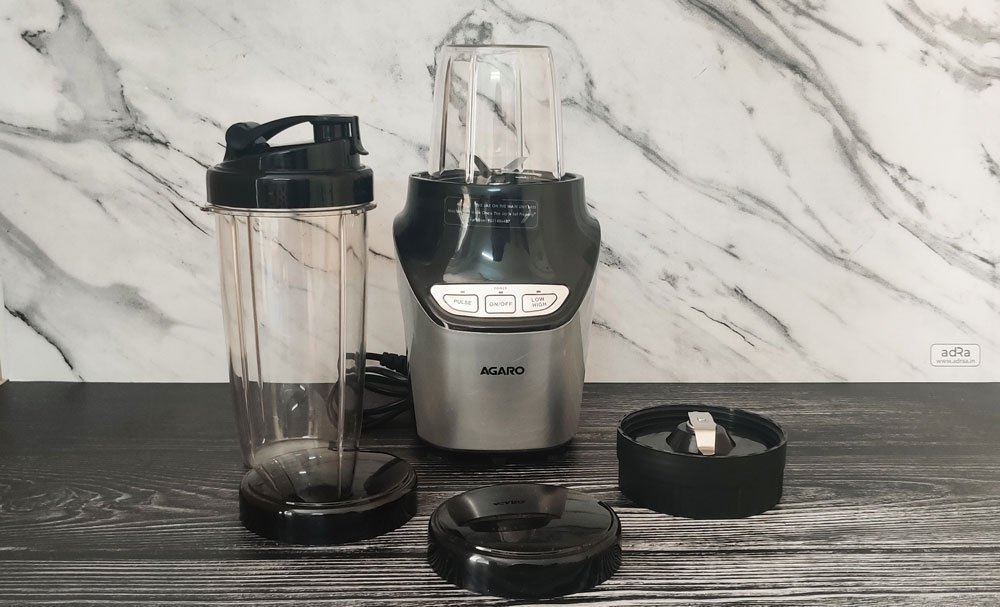 Agaro Marvel is a smoothie blender that has a 1000 watts motor. It comes with 3 jars and two blades- one for making smoothies and the other for dry grinding.
Among the options so far, it has the largest jar measuring close to 1.3 litres in gross capacity and 1 litre in net capacity. This makes it an ideal option for bachelors and small families who may occasionally want to grind batter in it. But, you need to grind it for at least 2 minutes, giving breaks in between to get the desired consistency.
The blender comes with an on/off button, blend button using which you can run it at slow or fast speed. When you press the pulse button, it runs for 3 seconds at a stretch and stops. Though many user reviews find it positive, we felt that it gave lesser control over the blending process. Just like Balzano, it too runs for 1 minute and stops operation.
Talking about the blending performance, it makes green smoothies in a minute in fine consistency. Compared to Nutribullet PRO, it is a bit grainy. But this is noticeable only if you make a side-by-side comparison. On its own, you don't really feel the texture too bad.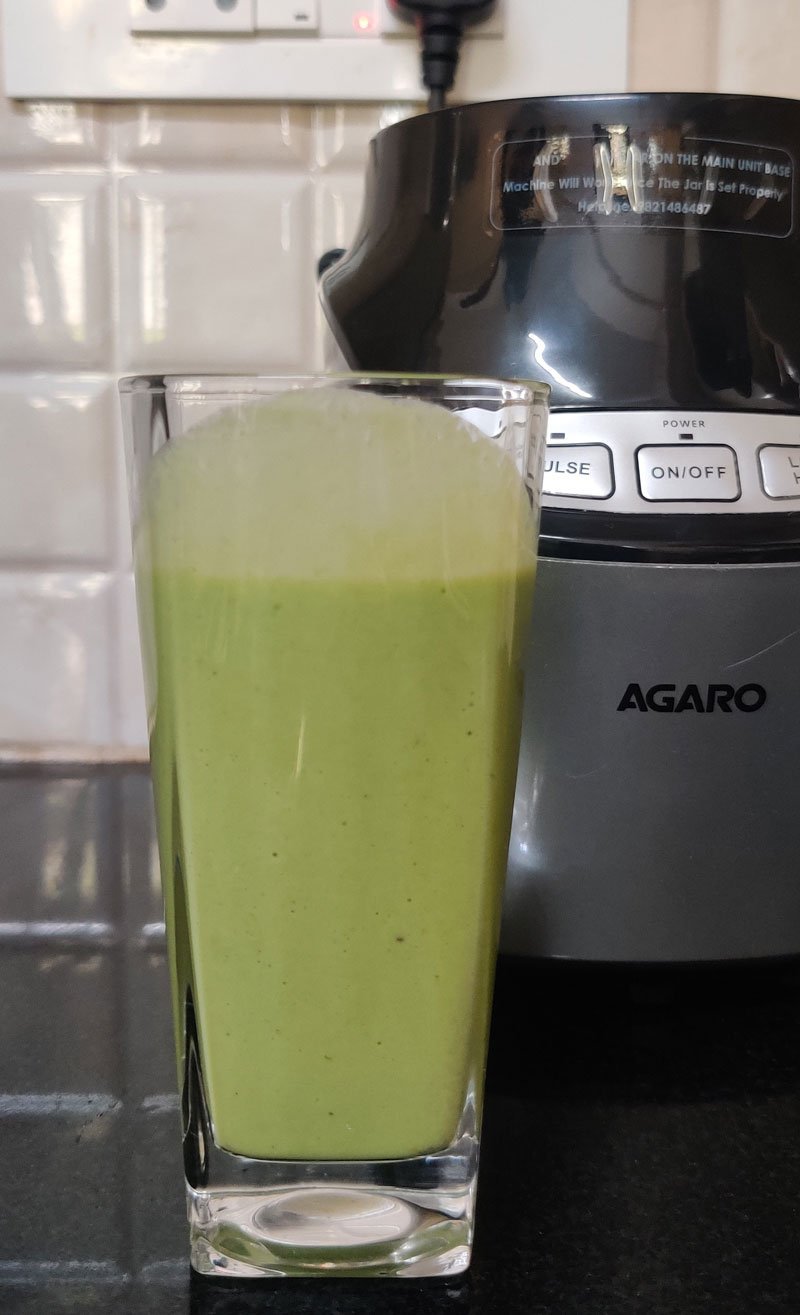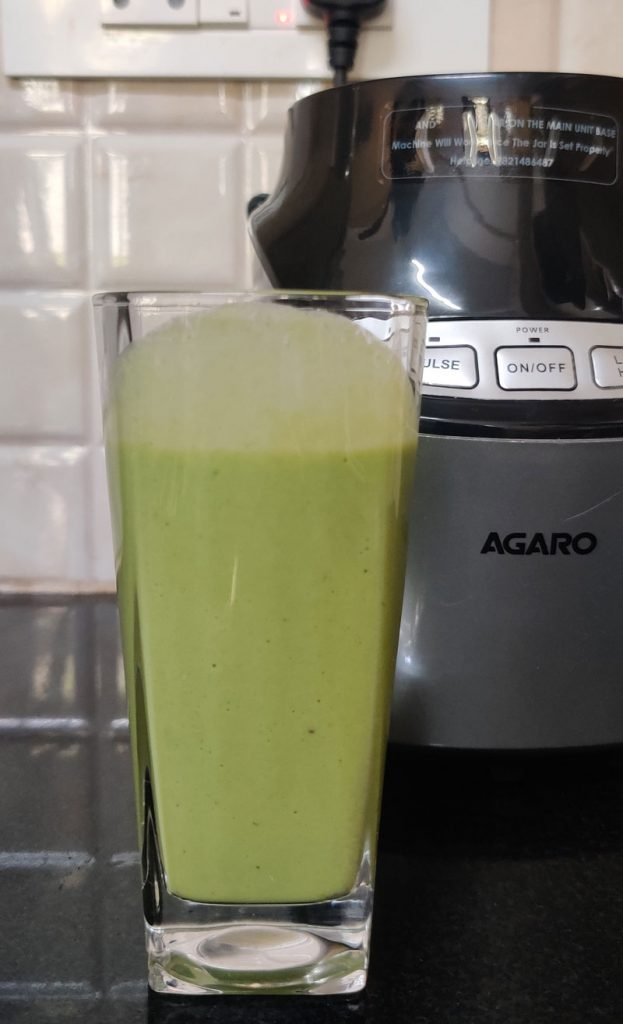 But when making a thick shake with dry fruits, the grainy texture was significant and noticeable even without a side-by-side comparison. Though it did not leave any unprocessed chunks of nuts, the performance wasn't as good as Balzano or Nutribullet.
Even when grinding dosa batter, you had to run it twice to grind it to a fine consistency. It did a fairly good job when making mayonnaise. But, the chutney was a bit coarse to our liking and had to be ground for 2 minutes to get it in a smooth consistency.
As the pulse button works for 3 seconds, it did not give sufficient control for blending peanuts into desired consistency for making peanut butter. We had to scrape and run it several times to blend it. Even then, it was crumbly and not in a spreadable consistency.
One of the biggest advantages of Agaro Marvel is that it makes comparatively less noise than Balzano and Nutribullet PRO. It makes just about 81-84 dB noise.
So, if you are looking for a silent and economical high-power blender that is able to make green smoothies and shakes with little quantities of nuts and other regular chores, Agaro would be a good choice to consider.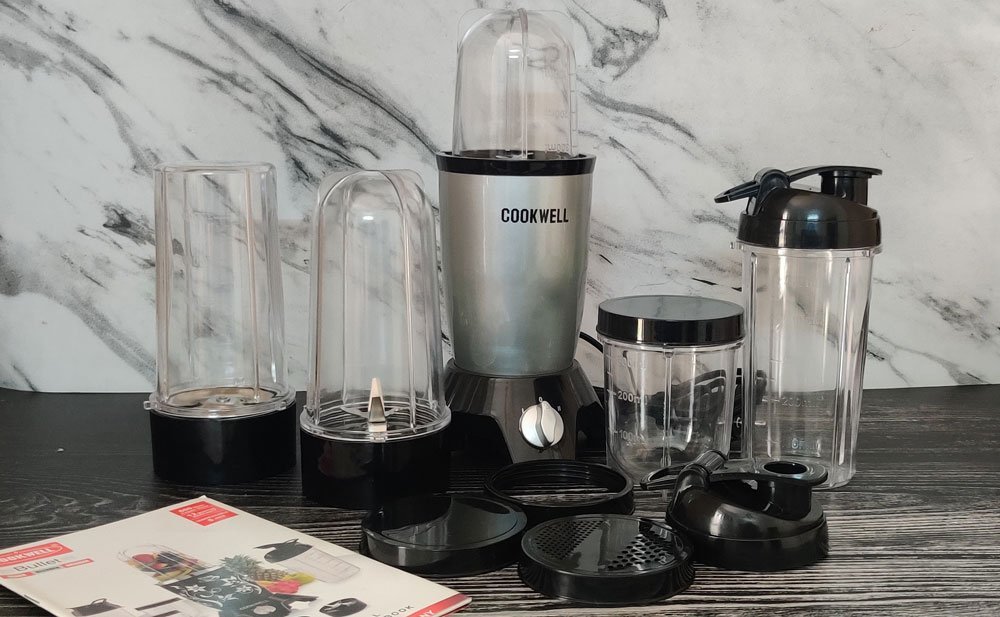 Cookwell Bullet comes with a 600-watt motor. It comes in 3 configurations with 1-3 blades and 3-5 jars, which you can choose depending on your needs.
The blades are for extraction, dry grinding and whipping. 2 of the jars come in 300 ml capacity and 3 of them with a 500ml capacity. Something you like about the jars is that it has measurement markings in 100 ml increment, which takes the guesswork out when feeding ingredients to the jar. But what we did not like was that the jars had a varnish smell that needs thorough cleaning to get rid of.
The blender has a knob which on turning to the right runs continuously and on turning left, pulses.
You get 5 lids along with the blender. Two are resealable lids, the other two come with a spout and one come with perforation using which you can sprinkle cocoa, spices or coffee powder on the smoothies and other food. The lids with the spout have a tendency to misalign and not fit properly. So, you need to be careful when fixing it.
Considering that it is a low-power blender, you shouldn't really expect it to make silky smoothies with leafy vegetables or nuts. When we made green smoothies, it was grainy with a lot of fibrous bits left in it. After drinking the smoothie, the mouthfeel too wasn't pleasant because of this. So, it is rather suitable for making smoothies with softer ingredients.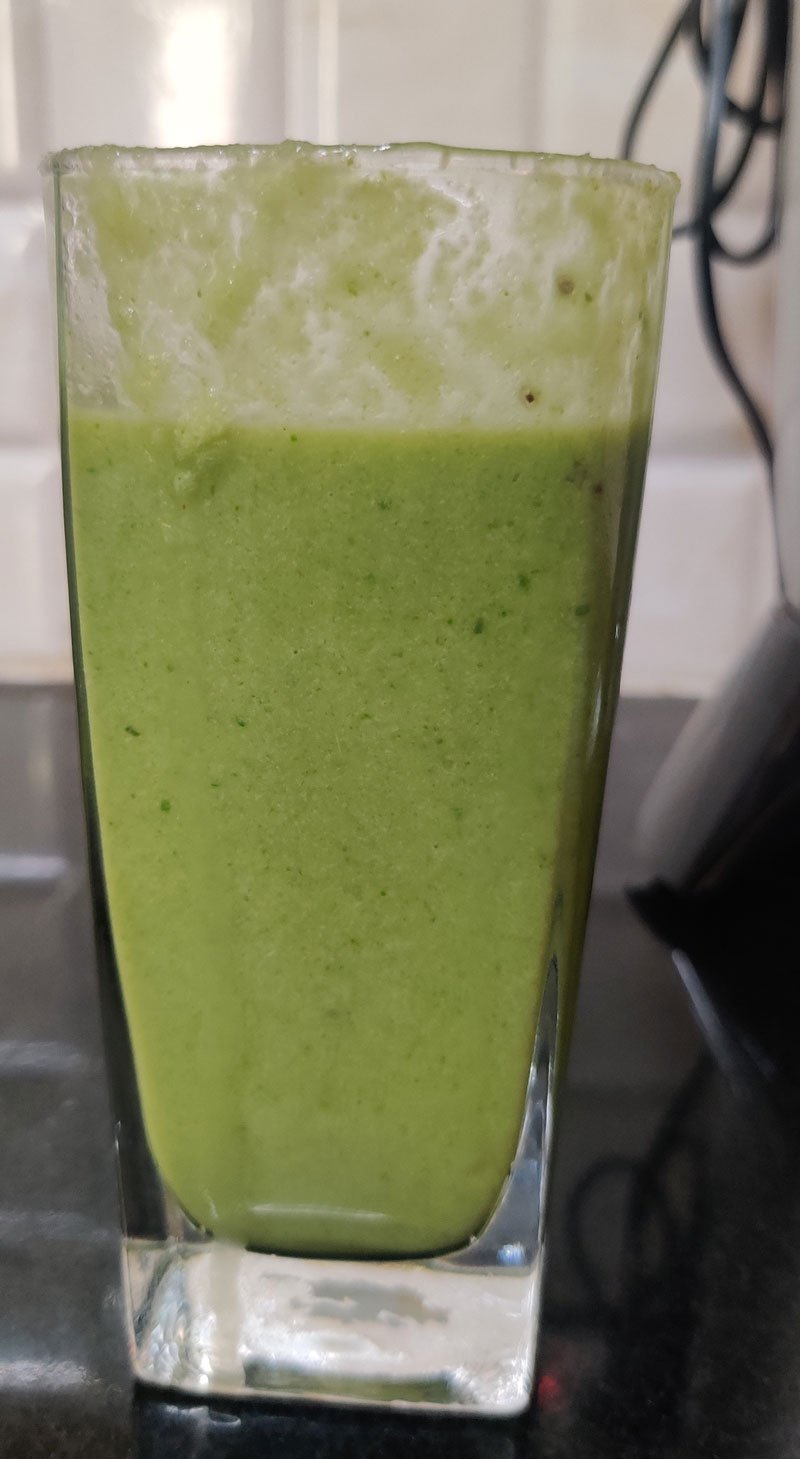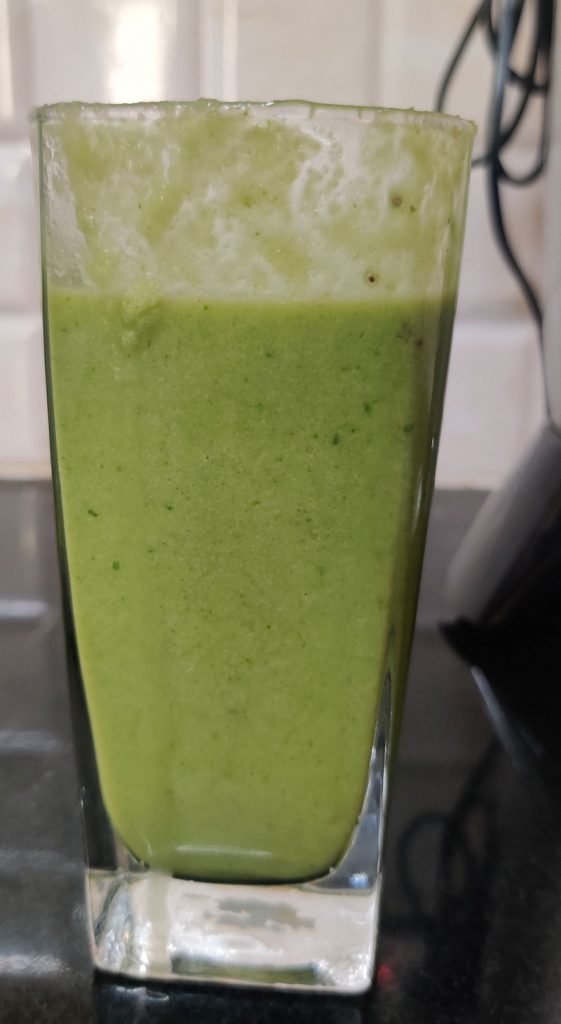 The blender is fairly multifunctional. You can make chutney and batter for 3-5 dosa in it within a minute. But when making peanut butter, it is a bit of a hassle as the nuts don't get ground to a fine consistency. Even after scraping down the sticky butter from the jar walls, it doesn't do an efficient job at it.
The blender makes less noise too, at just around 78-82 dB.
Overall, it is a great choice for those who need smoothies with softer ingredients. It is also sufficient for pureeing baby food. The compact size makes it a portable option on travels too.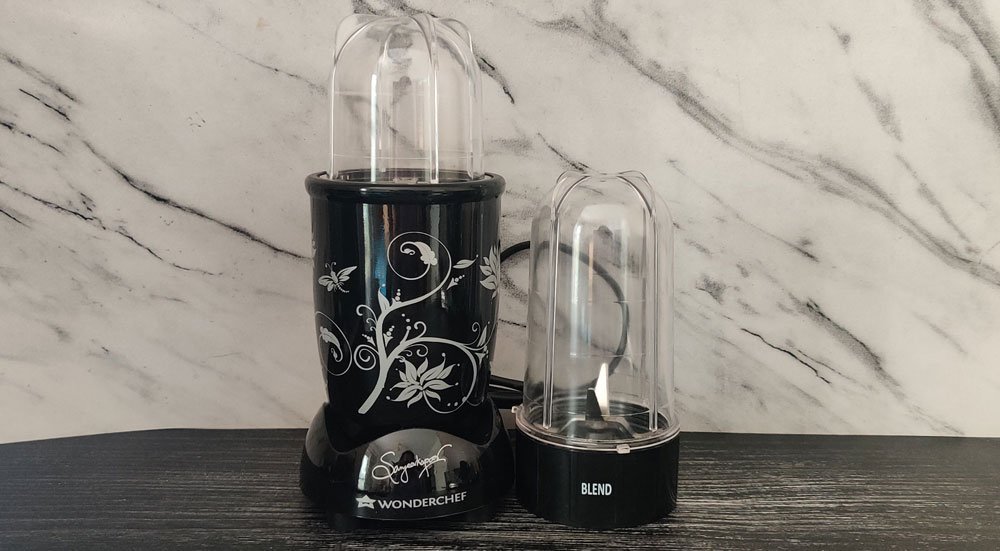 Similar to Cookwell Bullet, Wonderchef Nutri Blender too is an excellent option for those who need to make smoothies with soft ingredients or for pureeing baby food.
The blender comes with 2 small jars. One has a capacity of 300 ml and the other has a 500 ml capacity. You get two blades- one for extraction and the other for dry grinding. You get two lids with it. One is a resealable lid for taking smoothies on the go. The other is a seasoning cap that you can use to sprinkle powdered masala on dishes or smoothies.
The small jars make it an apt choice for grinding smaller quantities of spices. But, as mentioned earlier, when grinding garam masala into powder, the cups become permanently discoloured.
The blending efficiency is sufficient for smoothies with soft ingredients. The small size also makes it an apt option for pureeing baby food. But, if you try making green smoothies or thick shakes with dry fruits, the results may not be quite satisfactory. It isn't an apt choice for wet grinding batter, or anything into a really smooth consistency.
The unit makes around 85-97 dB noise.
Conclusion
A high-powered blender like Balzano or Nutribullet is what you need for blending vegetables and nuts. If on the other hand, you are looking to make smoothies with soft fruits, one like Nutribullet or Cookwell would be enough for your needs.
Was this post helpful?
Let us know if you liked the post. That's the only way we can improve.