Sujata Dynamix and Bosch Truemixx are two of the best-selling heavy-duty mixer grinders available in the market. They both have a similar power rating. But, grinding efficiency is not just about power and RPM. The design of the jars and blades also play an important role in the grinding efficiency of the mixer grinder.
So, let us compare various factors of both the mixer grinders so that you can understand which suits your needs better.
Performance
Wet grinding and dry grinding efficiency are important aspects we consider when analysing the performance of a mixer grinder.
Bosch Truemixx Pro comes with a 1000 watt motor. Without load, it has an RPM in the range of 21-23.5K cycles. Sujata Dynamix on the other hand has a 900-watt motor. Its RPM is comparatively lower ranging between 19-21K cycles.
Even though Bosch Truemixx Pro has higher power and RPM, its grinding performance isn't as good as Sujata Dynamix because of its jar shape and blades.
When dry grinding spices like turmeric and garam masala, Sujata Dynamix did a finer job. The residue left over after grinding and sieving were lesser. You find a substantial difference when grinding smaller quantities of ginger-garlic paste too.
In our analysis, this is because, in the Bosch chutney jar, there is a significant gap between the blades and the bottom surface of the jar. So, ingredients may sometimes lie in this gap without coming in contact with the blade.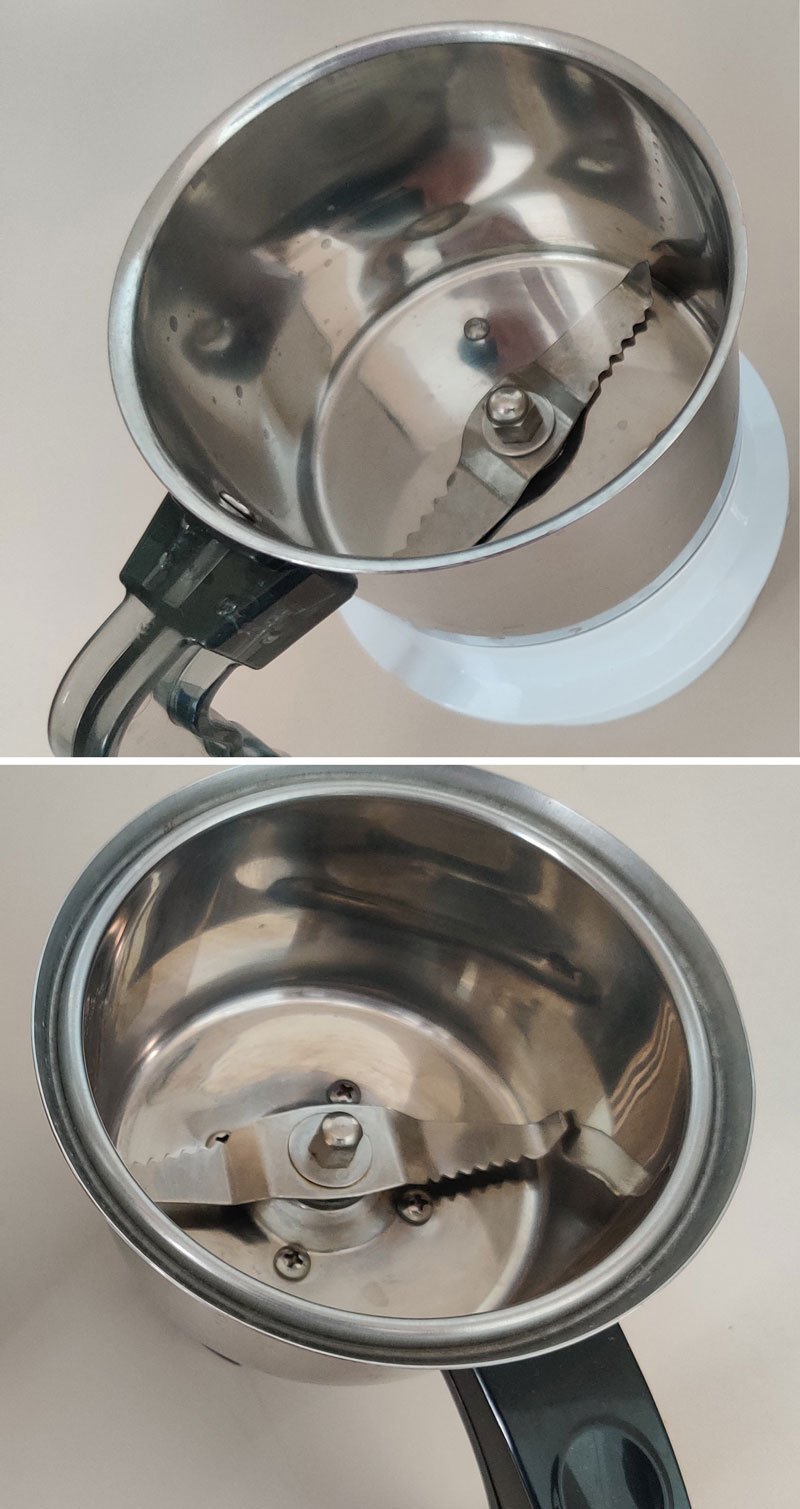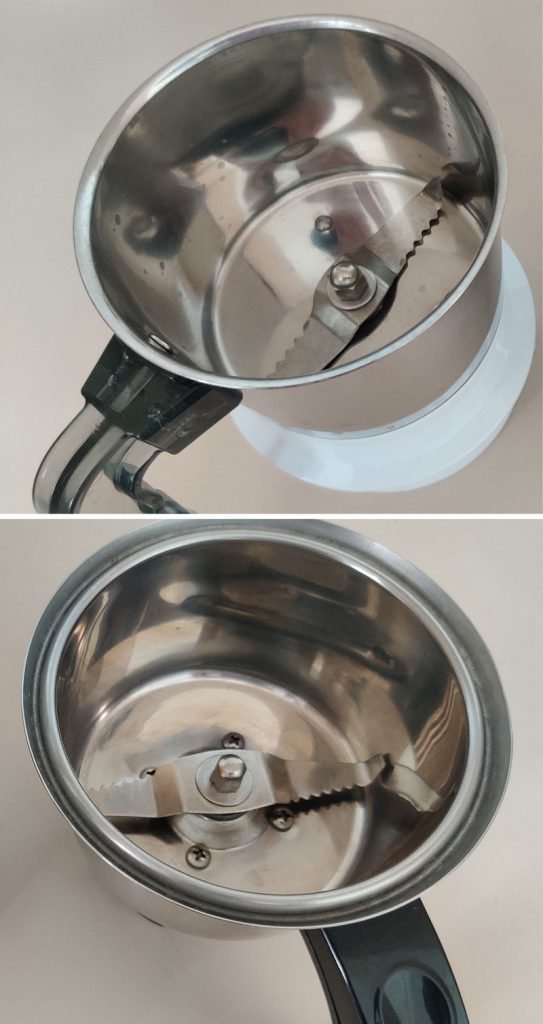 When it comes to wet grinding, the Bosch Truemixx does a fairly neat job. The wet grinding jar has a flow breaker that is supposed to aerate the batter. But, in our experience, grinding with and without flow breaker, we couldn't find any significant difference in aeration. In fact, we felt it is better to remove the flow breaker and grind as it would after all be one less thing to clean!
Sujata too does has an equally good wet grinding performance. It is quick, efficient and grinds ingredients thoroughly into a fine consistency.
So in terms of dry grinding, Sujata performs better. But for wet grinding, they are both equally good.
Winner: Sujata Dynamix
Related reading: Preethi Zodiac Mixer Grinder Review
Jars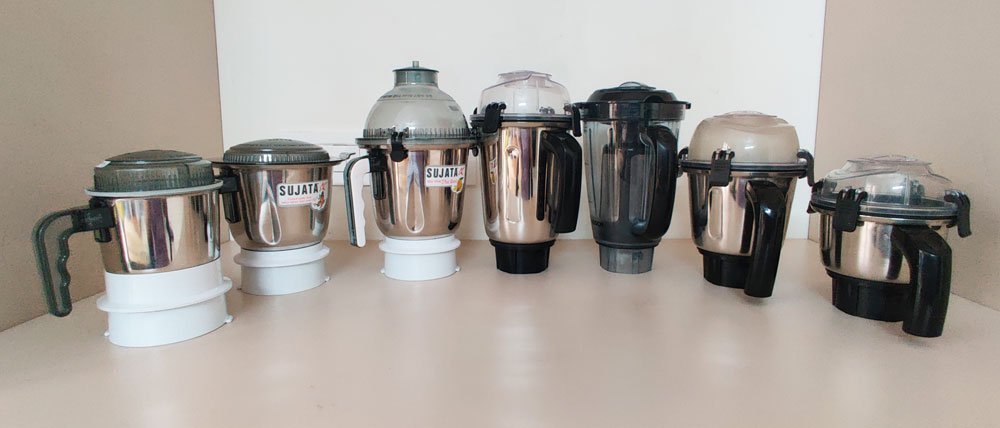 Sujata Dynamix comes with 3 jars- a 400 ml chutney jar, 1-litre multipurpose jar and 1.5-litre wet grinding jar.
They are all made of stainless steel with a polycarbonate lid. The largest wet grinding jar comes with a lid lock. You get an extra chopping blade and a whipping blade that can be fixed to the wet grinding jar.
A notable feature of Sujata's jars is that its jar lock is made of metal with white paint. The paint may flake off within a few years. But, the metal lock is more durable. It also enhances the life of the coupler.
Bosch Truemixx Pro comes with 4 jars. The 3 main jars have a capacity of 500 ml, 1 litre and 1.5 litres. They are made of stainless steel and have polycarbonate lids with locks. You also get an extra pounding blade that can be attached to the 1-litre multipurpose jar.
The juicer jar is made of polycarbonate and has a plastic lid. The lid also has an opening through which you can add fruit pieces for juice extraction. An advantage of Bosch Truemixx is that all its jars are leakproof.
When it comes to cleaning, Sujata's jars are easier to handle. The tinted polycarbonate lids don't stain easily. But, Bosch Truemixx had lids with a lot of curves that make them more difficult to clean.
When you compare the thickness, you find that the jars of Bosch are a tad thinner at 0.6mm, while Sujata's jar is 0.8mm thick. But the blades of both are equally thick at 1.4mm.
So overall, the built quality of both brands are good. Sujata's is easier to clean, while Bosch's jars are leakproof. So we rate them both equal in this aspect.
Winner- Both
Related reading: Sujata Dynamix Review
Motor Housing
The motor housing of Bosch comes in black and stainless steel finish. It is tall at around 25cm, while Sujata Dynamix's base has a height of 22 cm.
Bosch Truemixx doesn't have a power-on indicator. But Sujata has it.
Being taller, Bosch Trumixx wobbles a bit more compared to Sujata when grinding in the 1.5-litre wet grinding jar.
On the other hand, a drawback of Sujata is that it doesn't have an overload protection switch.
So, both have their own pros and cons, which makes it difficult to say one is superior to the other.
Winner- No clear winner.
Related reading: Bosch Truemixx Pro Mixer Grinder Review
Noise
Bosch Truemixx is one of the noisiest mixer grinders we have tested. In fact, it is a bit annoying. Sujata Dynamix on the other hand has a smoother noise which isn't as uncomfortable or annoying as Bosch. When we measured with a decibel meter, we found that Bosch Truemixx makes 100-105 dB noise, while Sujata makes 90-95 dB noise.
Winner- Sujata
Safety
Sujata Dynamix doesn't have vacuum suction feet or an overload protection switch, while Bosch has both. In addition, Bosch has lid locks for all its jars, while Sujata has a lid lock only for its wet grinding jar.
That being said, even though Sujata Dynamix doesn't have vacuum suction feet, it never moves around, even with heavy-duty grinding. But the lack of an overload protection switch is definitely a concern.
Winner- Bosch
Ease of Cleaning
The jars of Sujata Dynamix have a cleaner design, with lesser grooves and curves. The tinted lids conceal any stains. The gaskets are easy to remove and clean too.
Bosch on the other hand has lids that are prone to permanent discolouration. It has a lot of curves and grooves that are difficult to clean. Also, it is difficult to scrape off spice powders from the lids.
Further, the jars of Bosch are deep and narrow and food may get stuck in the flow breaker. So, it too isn't that easy to clean.
Winner- Sujata Dynamix
Related reading: Sujata Dynamix vs Supermix
Ease of Use
Bosch and Sujata Dynamix are both fairly easy to use. Whether it is locking the jar to the base or operating the mixer grinder, they are almost at par. It is tiny details like lid locks in Bosch, power-on indicator in Sujata that makes a difference.
Winner- Both
You may also like: Ultimate Guide to Cold Press Juicers
Warranty and After Sales Service
Bosch Truemixx comes with a 2-year product warranty and a 5-year motor warranty. Sujata on the other hand has just a 2-year product warranty and no extra warranty on the motor.
In terms of after-sales service, Sujata has limited service centres. You have to mail/call Sujata's Delhi office and get the contact of the local service technician and take the product to them for repair.
Bosch on the other hand has a wider network of service centres. You can mail Bosch and the service technician will reach you at the convenience of your home for repairs. My mom uses Bosch Truemixx and the chutney jar had to be replaced as its blades got loose. Upon e-mailing them, the service representative came over and replaced the jar free of cost as it was under warranty.
Winner- Bosch
Related reading: Best Juicer Mixer Grinders In India
Pricing
Bosch has recently increased the price of the Truemixx 1000 watt model. At the time of publishing this article, Bosch Truemixx 1000 watt mixer grinder is sold for about Rs. 6,500-7000 depending on the store. Sujata Dynamix on the other hand is sold at just about Rs. 5500. Considering the superior performance of Sujata and its economical pricing, it is definitely the winner.
Winner- Sujata
Conclusion
Bosch Truemixx and Sujata Dynamix are powerful mixer grinders that have their own positives and negatives. If you are looking for a mixer grinder for grinding spices in addition to everyday wet grinding chores, then, Sujata Dynamix is a better option than Bosch Truemixx.
If good wet grinding performance, handsfree operation and easy aftersales service is your priority, then Bosch Truemixx is the better choice. In our analysis and comparison, we find Sujata Dynamix to be the best mixer grinder overall.
Feature
Sujata Dynamix
Bosch Truemixx Pro
Power
900 Watts
1000 Watts
No. of Jars
3
4
Juicer Jar
No
Yes
RPM
( without load)
19-21K
21-23K
Overload Protection Switch
No
Yes
Vacuum Suction Feet
No
Yes
Extra Blades
Whipping and chopping
Blade
Pounding Blade
Lid Locks
Only for wet grinding jar
For all jars
Opening in the lid
Only for wet grinding jar
For all jars
Wet Grinding
4.5/5
4.5/5
Dry Grinding
4.5/5
4/5
Noise
90-95 dB
100-105 dB
Safety
4/5
4.5/5
Leakproof Jars
Only wet grinding jar
For all jars
Ease of Cleaning
4/5
3/5
Warranty
2 years on product
2 years on product and
5 years on motor
Aftersales service
3.5/5
4.5/5
Price
5XXX
6XXX
Check the latest price
Amazon
Flipkart
TataCliq
Amazon
Flipkart
TataCliq
Was this post helpful?
Let us know if you liked the post. That's the only way we can improve.