Slicing, grating, chopping and kneading are the main functions you can expect from a food processor. But newer models come with citrus and centrifugal juicer attachments, a whisk tool, a french fries cutter, and so on. In trying to do everything, most food processors fail to do a perfect job at anything.
For this list of best food processors in India, we tried 4 of the top-selling models. The first two options were tried for our mixer grinder reviews. And the third and fourth, we bought specifically for this list.
We would have liked to try a few more. But, when we checked, several models were pretty much the same. They have the same attachments, blades, bowl and jar designs. The aesthetics may be different, with different colours. But when it comes to the things that matter, they are pretty much the same. For example, Inalsa Inox 1000, Usha FP3810, Morphy Richards Icon, Bajaj FX-1000 DLX, all have the same design.
So, without much ado, we shall get into our top recommendation, our testing process, and the review of the products we tried.
Our Recommendation
Out of the options, Preethi Zodiac is our top recommendation. With a 750-watt motor, 4 jars and a 2.1-litre food processor bowl, Preethi Zodiac can be a helpful assistant in your kitchen. It chops ingredients in quick bursts with very good consistency. The kneading performance is also adequate. As the pusher has markings for water and flour levels, comparatively, you have a lower chance of getting sticky dough. The slicing and grating attachments are fixed to a plastic disc. But, it does its job well. Though food gets stuck in between the pusher and the slicing/grating disc, it is lesser than what you find in other options. Preethi, being a reputed brand with a good service network, provides better service comparatively too. If you don't want a juicer jar, you could opt for Preethi Zion, which is available at better pricing.
Usha FP3811 too is a good choice. It slices, grates, shreds and kneads as well as Preethi Zodiac. In fact, it has one extra shredding attachment compared to Zodiac. Its centrifugal juicer, though not perfect, is better than what other food processors offer, including Preethi Zodiac. But, its grinding performance is inadequate. It doesn't grind the ingredients as thoroughly as Preethi Zodiac.
Snapshot of Best Food Processors in India
Model
Food Processor
Attachments
No. of Jars
Wattage
Editors Rating
Preethi Zodiac
Slicing, grating, kneading, chopping, citrus juicing
4
750
4.2/5
Philips HL7707
Slicing, grating, kneading, chopping, citrus juicing
3
750
4/5
Usha FP3811
Slicing, grating, shredding, kneading, chopping, citrus juicing, centrifugal juicing, whisking
3
1000
3.7/5
Inalsa Inox 1000 Plus
Slicing, grating, kneading, chopping, french fries, citrus juicing, centrifugal juicing, whisking
3
1000
3.5/5
If you already own a mixer grinder, then you could consider buying a separate food processor attachment instead of buying the complete package. Options like this fits several models from Preethi, Bajaj and Morphy Richards, while ones like this fits Sujata. However, do check the coupler design before buying to ensure compatibility.
Table of Contents
How We Test?
As most food processors come with jars for grinding, we test both food processing and grinding thoroughly. For testing the food processor, we first slice tomatoes and onions. Slicing ripe tomatoes help us understand how sharp the blades are. And onions are the most commonly sliced ingredients in a food processor. We check how uniformly the food processor slices them. Then, we grate carrots, onion, and cheese to check the uniformity. Also, we check the size of the ingredient stuck to the grating disc which remains unprocessed. We also chop carrot, onion, herbs, minced chicken, and kneaded dough. Of course, when they have different functions like whisking, juicing, etc, we try them as well.
To check the grinding performance, we powder garam masala, make idli-dosa batter, ginger-garlic paste and so on and analyzed them side-by-side to understand how well they perform in this aspect.
Related reading: Best Electric Choppers in India
Best Food Processors In India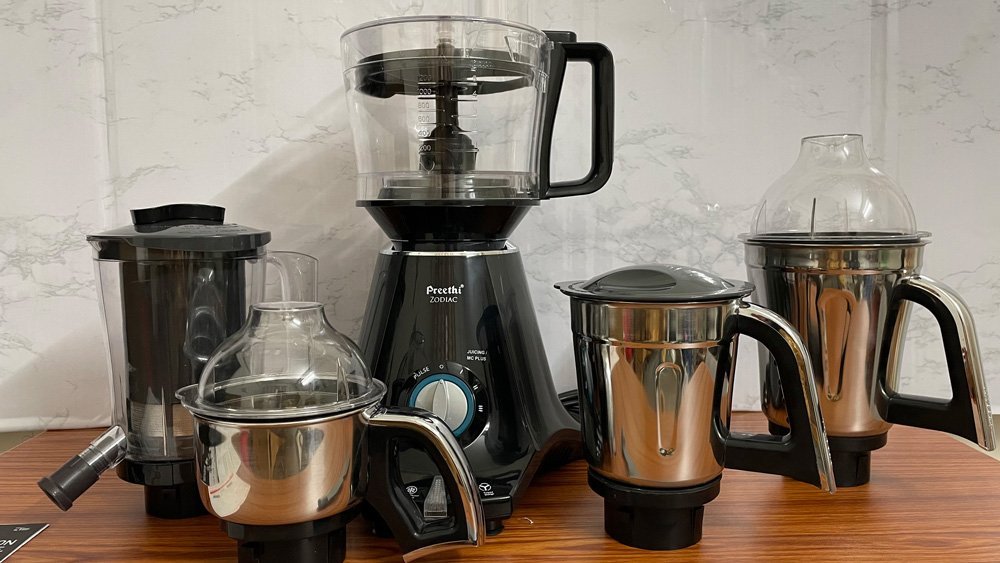 Preethi Zodiac has a 2.1-litre food processor bowl with basic attachments. The slicing and grating attachments made of stainless steel can be fixed onto a plastic disc. You also get chopping, kneading blades and citrus juicing attachment.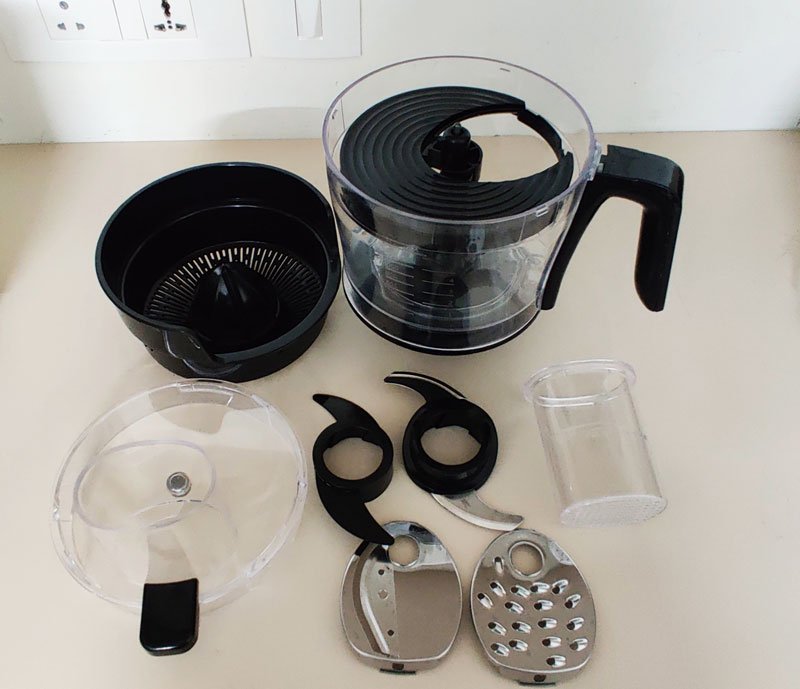 The performance of the food processor is fairly good. Be it carrot, beetroot, cheese or onion, it grates and slices uniformly. However, you need to feed the ingredients properly in the chute else, they may get sliced in the wrong orientation. Also, a little bit of the ingredients get stuck on the disc.
The chopping performance is among the best. It chops the ingredients uniformly and minces chicken too to a fine consistency.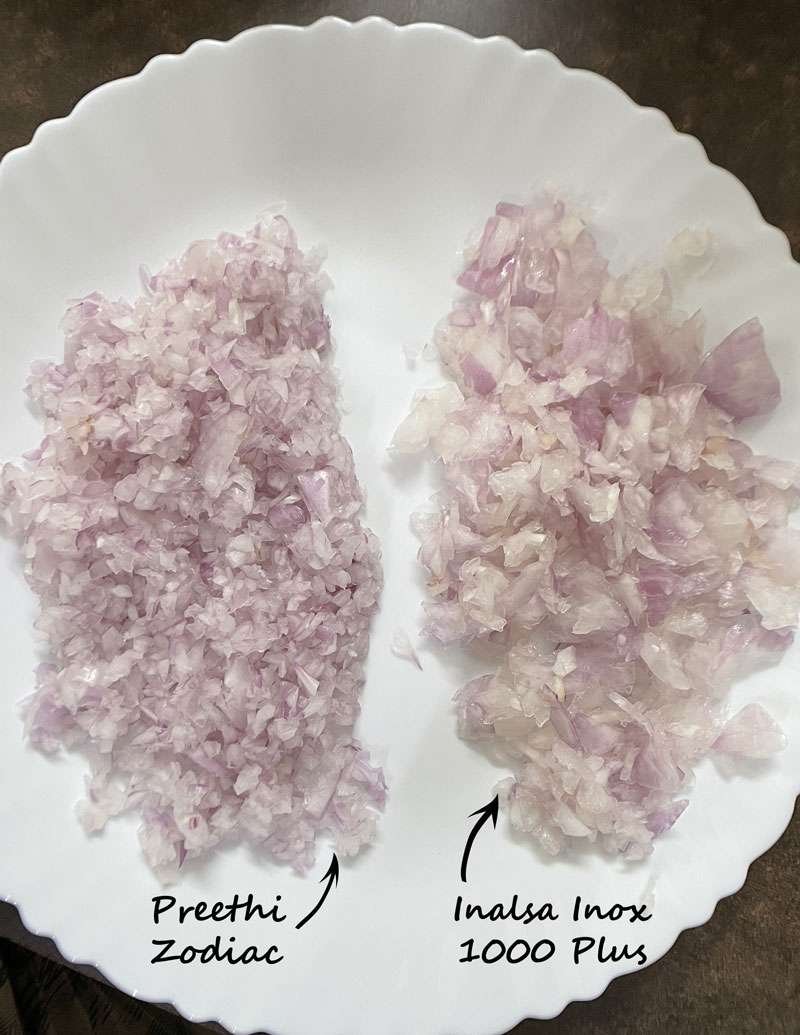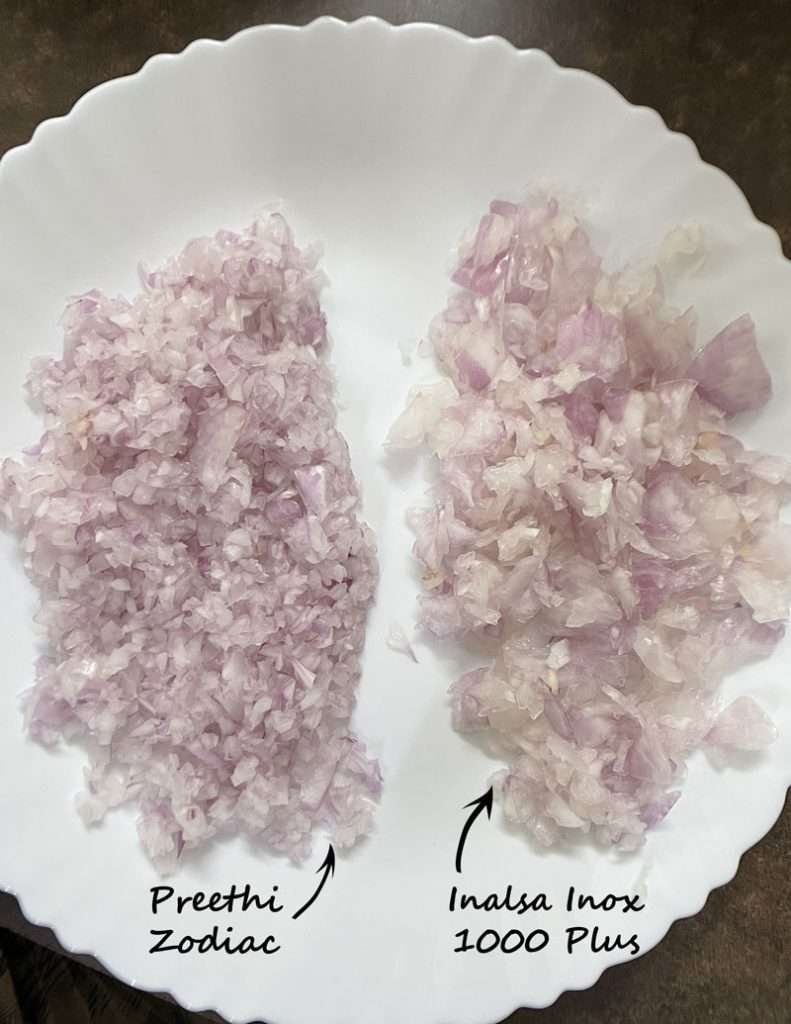 The pusher comes with markings for wheat flour and water needed. This gives a good idea and avoids getting sticky dough. But, even then, you should pour water little by little in frequent intervals and keep an eye. Often, you don't need as much water as marked in the pusher.
The last attachment is the citrus juicer, which again is helpful in juicing sweet lime and oranges. You can extract juice from an orange in less than a minute. So, a glass of juice can be obtained in just 2 minutes.
The grinding performance of the mixer grinder is also adequate. You can make idli-dosa batter in just a minute and grind garam masala and turmeric into fine consistency. However, the juicing attachment isn't up to the mark for extracting juice from apple, pomegranate and starchy fruits and vegetables. It is just alright for watermelon, pineapple, cucumber and such water-rich ingredients. Also, it is difficult to change the blade assembly to change the juicer jar to a blender jar. So, you would be better off using it just for juicing and use the wet grinding jar for blending smoothies and shakes.
You can read our detailed review of Preethi Zodiac here.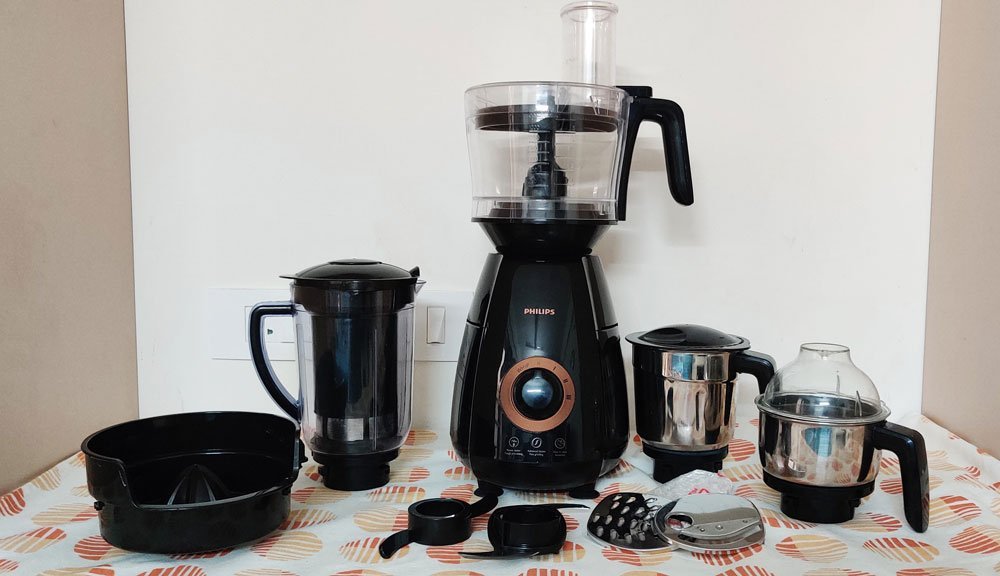 Philips HL7707 has jars and a food processing bowl which are similar to Preethi Zodiac. The food processing bowl has a 2.1-litre capacity and has attachments for kneading, chopping, grating, slicing and citrus juicing. It has 3 jars for grinding- a 400 ml chutney jar, 1-litre multi-purpose jar and 1.5-litre juicer jar.
The food processor performance of Philips HL7707 is pretty much the same as Preethi Zodiac. But, there are a few differences between the two. First of all, in Zodiac, the food processor bowl can be detached from the jar lock easily. But, in Philips HL7707, they are permanently fixed. It is a lot easier to take out Zodiac's bowl and keep it on the countertop, fill the ingredients and place it back on the jar lock again.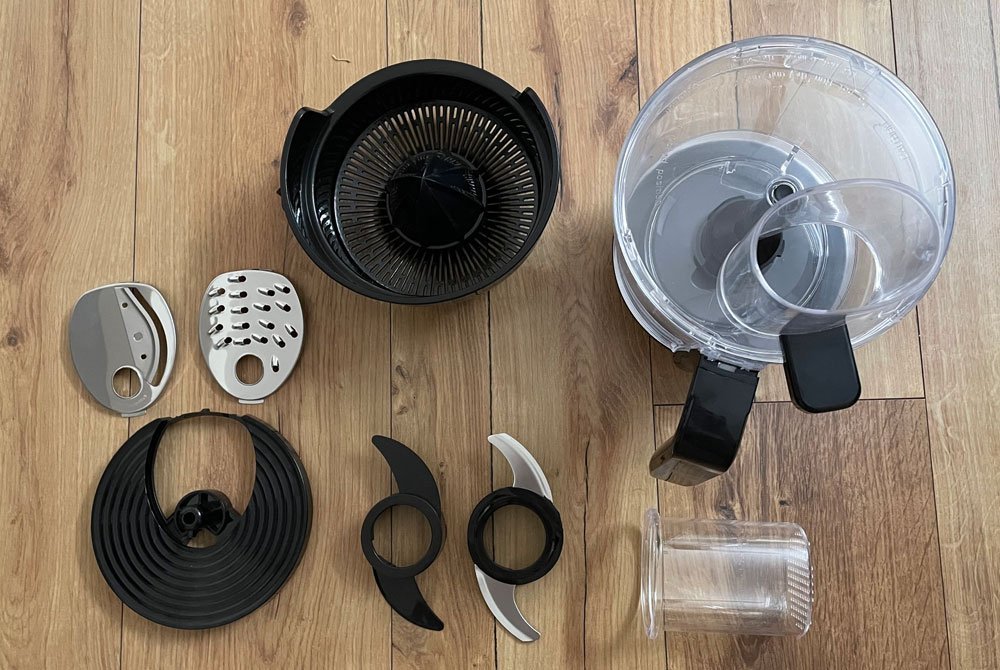 Next, Zodiac has a 3-in-1 Insta-juicer cum blender which has a sophisticated design compared to the ordinary juicer jar in Philips HL7707. But the juicing yield of both isn't as good as centrifugal juicers. And they have a lot of limitations in terms of the ingredients they can juice.
Another noteworthy difference is that Zodiac has a 1.5-litre wet grinding jar, which is missing in Philips HL7707.
Philips Hl7707's motor consumes 750 watts of power. The housing is compact, unlike Zodiac. But, it doesn't have a power indicator.
The grinding performance is adequate and pretty much similar to Preethi Zodiac. You can grind all sorts of wet and dry ingredients with comparative ease. The durability of the jars too seem to be good.
Overall, when you look at the performance of the food processor, it is as good as Preethi Zodiac. Though basic, it does each job well. However, just like Zodiac, you find a small chunk of ingredients stuck to the disc while grating and slicing.
Read our detailed review of Philips HL7707
Related reading: Best Hand Blenders In India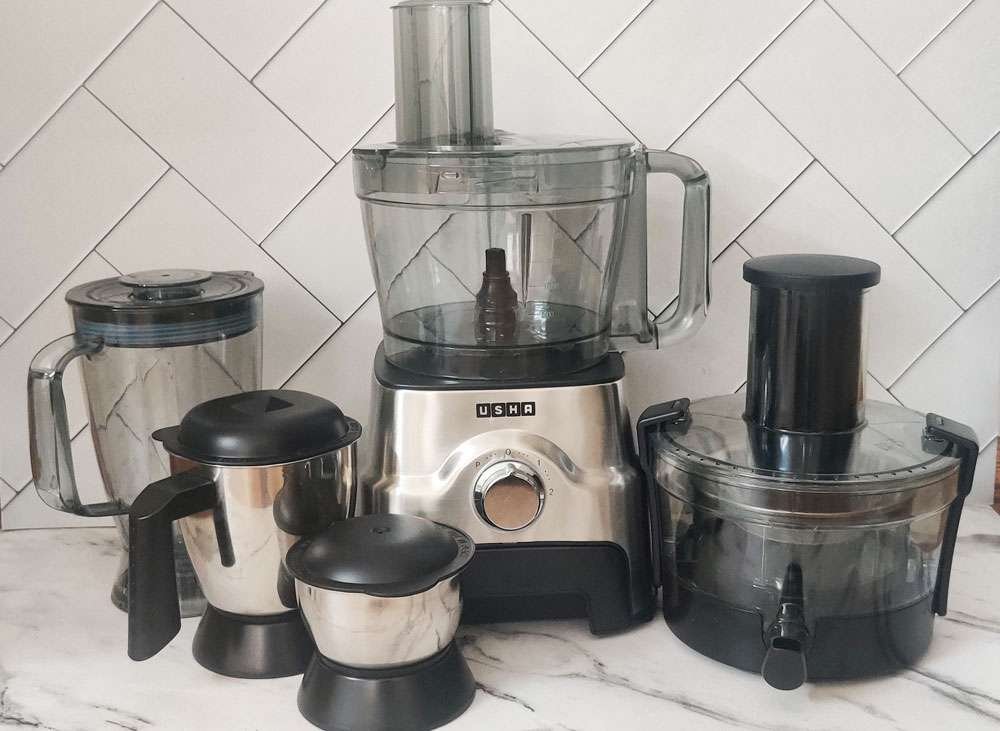 Usha FP3811 is the most expensive food processor we have tried. It comes with a variety of attachments and features to make up for the expensive price tag. It has a separate centrifugal juicing bowl and a food processing bowl. You get 3 jars for grinding. The attachments include discs for slicing, grating and shredding; a whisker disc; blades for chopping and kneading and a citrus juicer.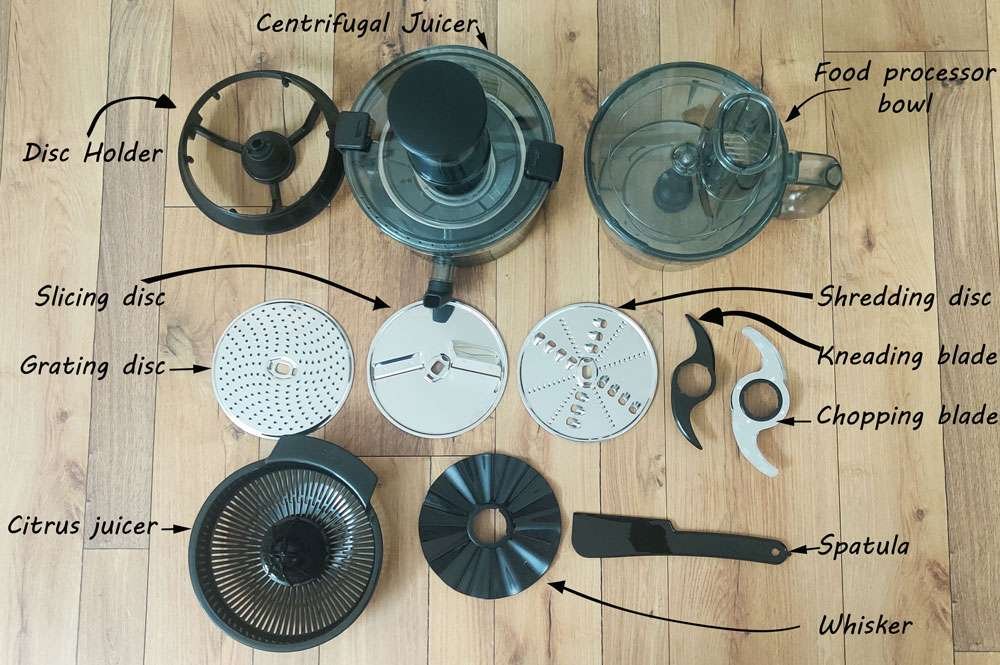 Something we really liked about the design of the food processor is that its motor housing has storage space for keeping the three discs that come with it. Else, you can keep the two blades and keep the discs inside the food processing bowl. The chopping blade too comes with a plastic guard. Further, the motor does not start unless the jar/bowl is correctly locked in place. Thus, it has superior safety features compared to other food processors.
Coming to the performance, the food processing capability is as good as Zodiac. You can chop, mince, slice, grate and shred a variety of ingredients in little to no time. The feeding chute is wide enough measuring 7.5 x 5.5cm. So you can insert the fruits and vegetables cutting them in half only if necessary. The kneading blade too works fairly well. The pusher comes with measurement markings. So, you can measure and take enough water for making dough. The manual says 100 gm of flour needs 60 ml of water. Even so, there may be some trial and error before you figure out the right ratio.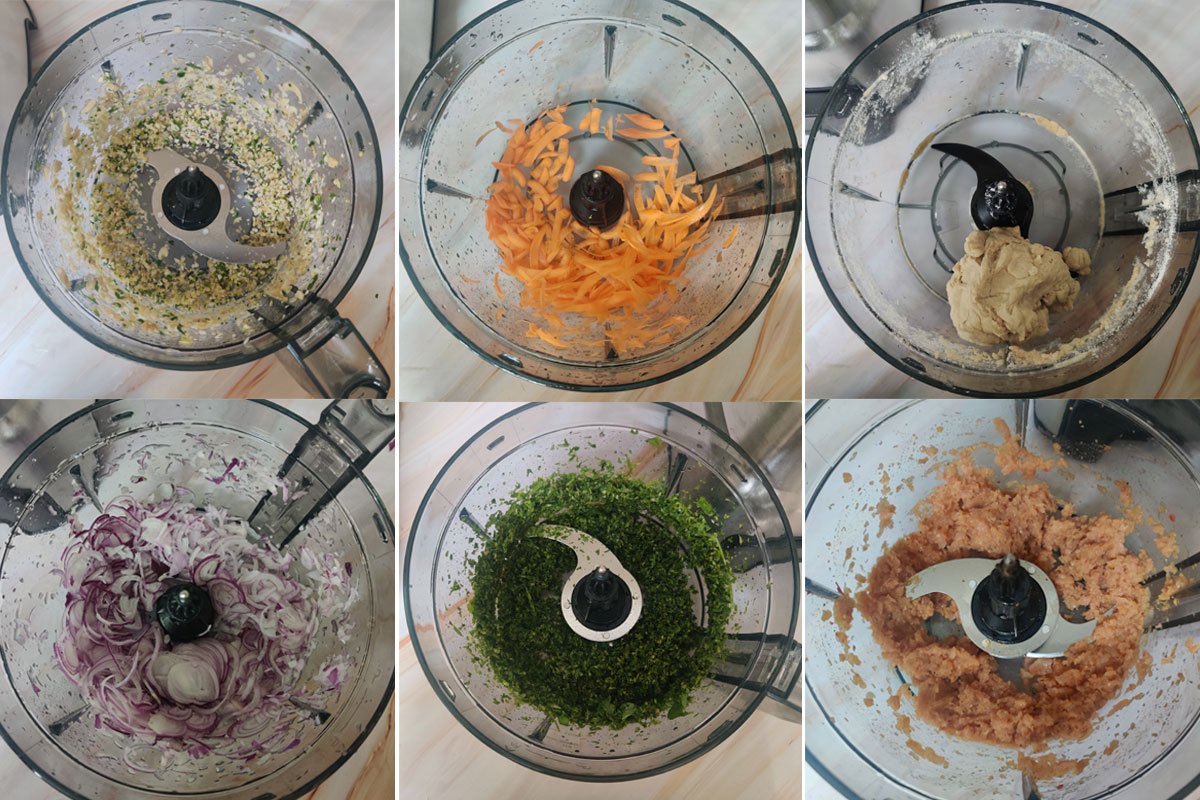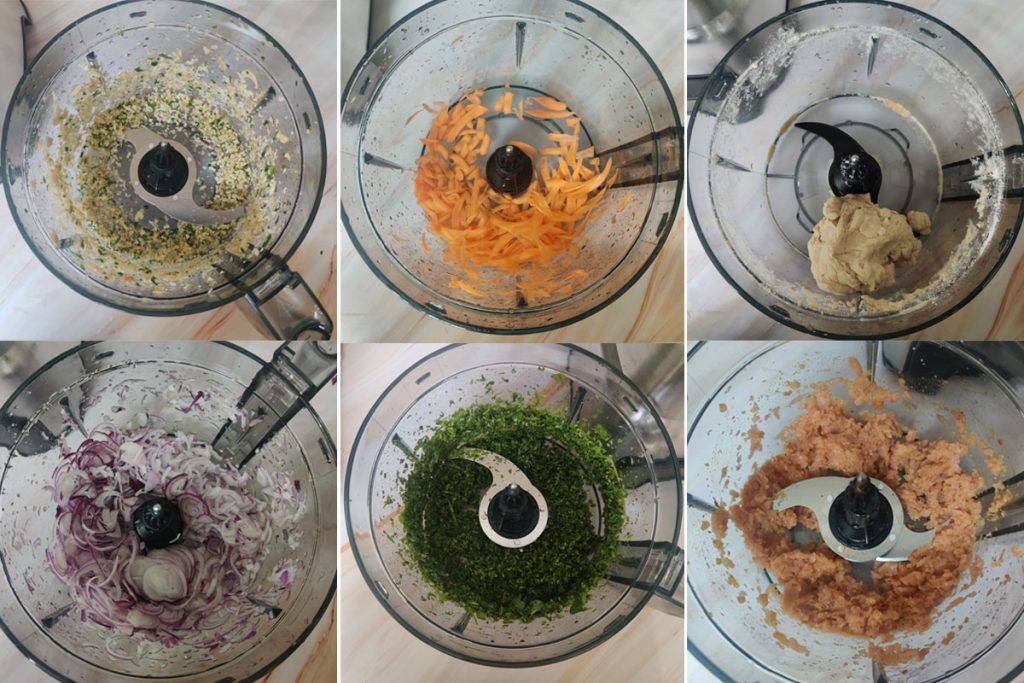 The centrifugal juicer does not work to expectations. After juicing the leftover pulp retains a lot of juice- much more than what you find when juicing with our top rated juicer mixer grinders like Havells Stilus, Sujata Powermatic etc. But, it is way better than juicing attachments in food processors like Zodiac and Inalsa Inox 1000.
The citrus juicing attachment works efficiently, just like every other food processor we have tried. The attachment locks perfectly in place. The whisking disc can be used to whip cream or egg whites in a soft peak. Otherwise, it doesn't offer much value.
The grinding performance of the mixer grinder jars is just average. The jars measure 500 ml, 1.2 litre and 1.8-litre capacity. You can make dosa and idli batter in the multipurpose jar and blending jar. But, comparatively, you have to run it a bit longer for grinding in a smooth consistency. Otherwise, it works well.
The chutney jar too does not grind as smoothly as we would have liked, especially with smaller quantities of ingredients. Even dry grinding spices like garam masala is not recommended as a lot of pieces remain crushed and not grinded even after running the mixer grinder for 1-2 minutes.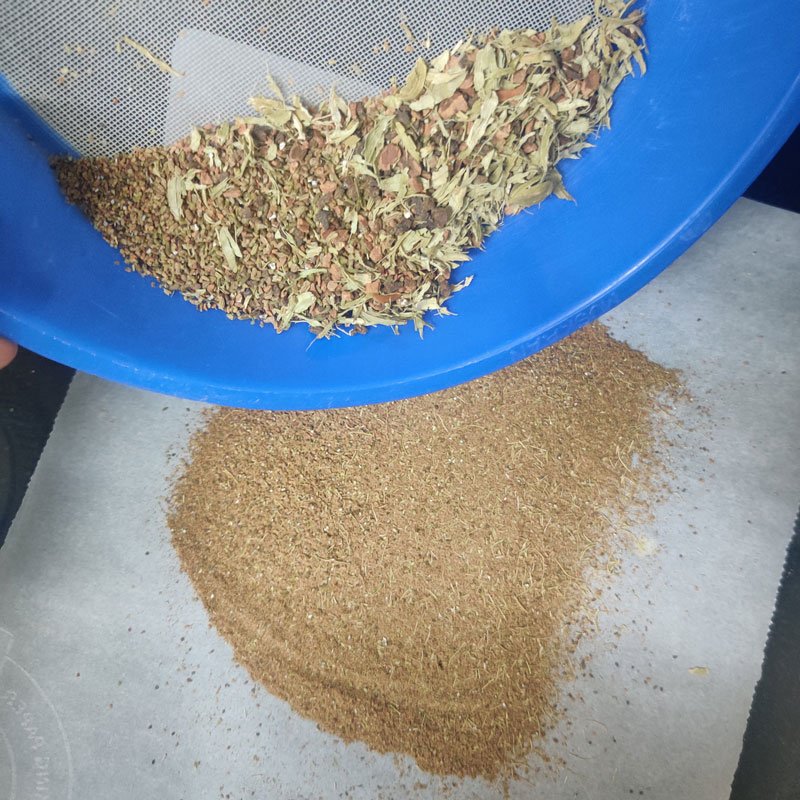 The other variant Usha FP3810 comes with similar attachments to Inalsa Inox 1000. But, it doesn't have centrifugal juicer. Also, though similar, the designs of the blades and discs are different. They look more or less like Inalsa Inox 1000.
You can read the detailed review of Usha FP3811 here.
Among the options we tried, Inalsa Inox 1000 Plus is the one that has the maximum number of food processor attachments and a large food processor bowl of 3.2-litre capacity.
Just like the other options, it also has a 400ml chutney jar, 1-litre multi-purpose jar and a 1.5-litre blending jar.
The food processor comes with standard attachments like blades for kneading, chopping, grating, slicing and citrus juicing. In addition, you can slice for french fries, and whisk and also you get a centrifugal juicer attachment.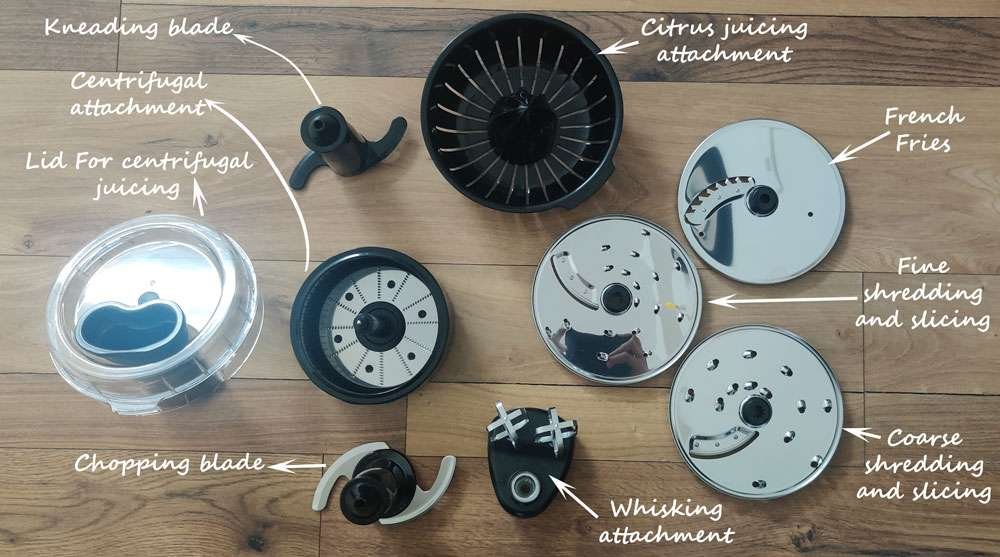 In Zodiac, the grating and slicing blades have to be attached to a plastic disc. But in Inalsa, they are standalone stainless steel discs. You get two discs for fine and coarse grating/slicing with one side for grating and the opposite side for slicing.
While it certainly appears to be more resourceful compared to Zodiac, its performance is not adequate. It can slice ingredients in a fine consistency. But when it comes to grating, a large chunk of the ingredient gets stuck to the disc. There is a significant gap between the pusher and the disc. As a result, the ingredient sometimes rotates on the disc without getting grated. The same problem exists even when slicing french fries. The last bit of potato gets stuck in the blade.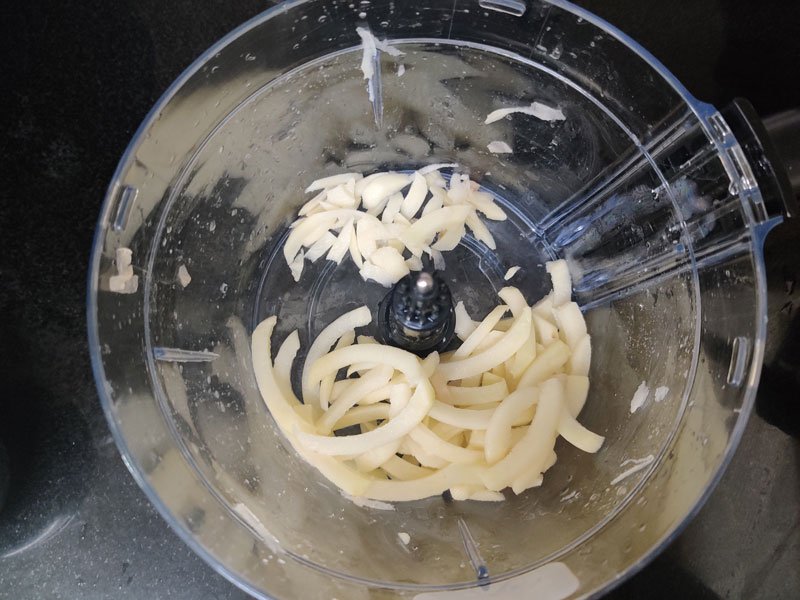 Similarly, the chopping is also not uniform. Comparatively, Zodiac does a far better job. Similarly, centrifugal juicing is also a sham with most of the fruit pieces getting stuck to the strainer. Juice does not get efficiently extracted from the fruits.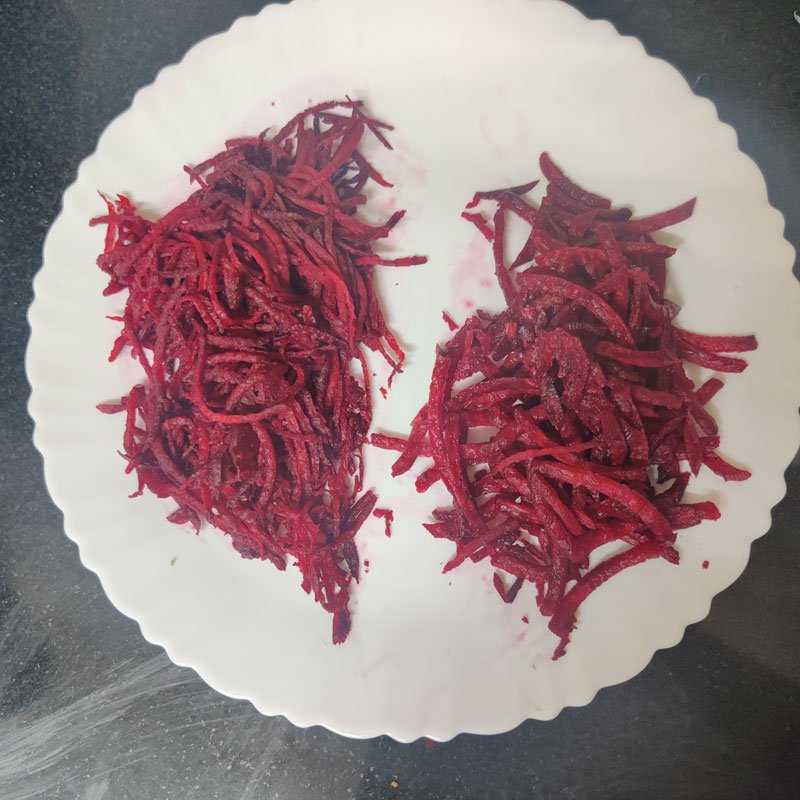 The whisking attachment works well for whipping egg whites to a soft peak. But, if you try whipping butter and icing sugar or anything in a thicker consistency, the whisking attachment struggles and there is a high chance of the spindle getting damaged.
The grinding performance too is just average and not comparable to what a 1000 watt mixer grinder can do. On the motor housing, you find buttons for kneading, grinding, ice blending and pulsing. But these functions runs the mixer grinder at a set speed forever. Unlike Hamilton Beach, the duration is not preset, making the buttons just a gimmick.
Overall, we don't feel it's worth spending close to 11K on this food processor that fails to do what it has to do with perfection.
When you look at many other food processors available in the market like Morphy Richards Icon Superb and Bajaj FX-1000 DLX, you find that the design of the food processor attachments is pretty much the same as Inalsa Inox 1000 Plus. Hence, you can expect similar results, which is not satisfactory considering the price.
Read our detailed review of Inalsa Inox 1000 Plus Food Processor
Other Options We Considered
As most food processors have mixer grinder jars too along, we chose only those that have at least 750-watt motor. Else, they may not do a satisfactory job grinding tough ingredients. This meant, we did not look at Bajaj Food Factory FX 11, which otherwise seemed promising.
That being said, as and when we get recommendations of products worth inclusion, we will definitely get them and report about the same.
How To Choose A Food Processor?
Attachments
The most important aspect to consider while buying a food processor is the attachments as it decides what all functions can be achieved with the appliance. Most options come with blades for chopping, slicing and grating. The ones made specifically for India have a kneading blade. For example, Hamilton Beach Food Processor doesn't have a kneading blade as it seems to be an imported model.
Other attachments available in higher-end models are blades for french fries, centrifugal juicer, whisking tool etc. But some of them, by design, fail to work properly. For example, unless the centrifugal attachment has a proper extraction blade with a mesh filter, it won't extract juice efficiently. Usha FP3811, for example, has a proper centrifugal juicer attachment and that makes a huge difference in its performance compared to other centrifugal attachments.
Bowl Size and Design
Most food processor bowls come with a capacity ranging between 2-3.5 litres. A 2 litre bowl is usually sufficient for a nuclear family. The important aspect with the design you should consider are with respect to the gap between the pusher and slicing/grating disc, which affects the quantity of ingredients stuck on the disc unprocessed and the gap between the chopping blade and the edges of the bowl, which affects the uniformity of chopping.
Ease of Cleaning
Clean lines without many grooves and indents are crucial when it comes to the ease of cleaning the food processor bowl. Many manufacturers claim it to be dishwasher safe. But, over a period of time, the bowl develops a lot of scratches, thus affecting the aesthetics. Further, the blades shouldn't be kept in the dishwasher as they could go blunt over a period of time.
Jars
Most food processors come with 2-3 jars for dry and wet grinding. So, they can easily replace a mixer grinder in a home. Ideally, the chutney jar should have blades close to the base so that it can grind even smaller quantities of ingredients finely. Next, the wet grinding jar should have a wide mouth that tapers down so that a strong vortex is formed which can grind ingredients to a fine consistency.
Storage
Food processors come with a lot of attachments which makes storage a hassle, especially in a small kitchen. Most of the blades and attachments of certain models like Zodiac and Philips HL7707 can be stored inside the bowl itself. In Usha FP3811, there is a drawer underneath the motor housing to keep the slicing and grating discs.
Also, unfortunately, most brands do not offer a proper storage solution for sharp blades that come along. Hence, opting for something that is compact would be ideal for those with space constraints.
Motor Power
If you are looking for a food processor exclusively, then a 400-600 watt motor would be sufficient. However, if you are opting for a food processor with a mixer grinder, then at least 750 watts would be ideal for grinding tough spices, dosa batter etc on a regular basis.
FAQs
Which is the best 1000 watts food processor in India?
Preethi Zodiac 2.0 MG 255 is one of the best 1000 watt food processors in India. It comes with preset functions for batter, coconut chutney, atta kneading and puree. Also, it comes with food processor blades for chopping, kneading, slicing and grating.
Which is the best food processor in India?
Preethi Zodiac is the best food processor in India. It is priced competitively and comes with sufficient attachments for grating, slicing, chopping, juicing etc. Further, it is also an excellent mixer grinder capable of grinding tough and soft ingredients with equal ease.
Are food processors stronger than blenders?
Blenders are capable of blitzing ingredients into a smooth drinkable consistency. Be it nuts, ice or seeds, they can all be blended finely. A food processor on the other hand is able to knead, chop, grate and slice different ingredients. It is able to do these functions because of different blades and attachments that come along. Even a 500 watt food processor will be able to do these functions easily. But, if you need to blitz ingredients to smoothies, the blender needs to have higher power. Considering these factors, we can say that power is more important for blenders than it is for food processors.
Is it worth investing in a food processor in India?
Yes, a food processor is definitely worth investing in, in India. It can be a helpful sous-chef that can grate, slice, knead and take care of different prep works. Be it chopping ingredients for veg side dishes, slicing onions for biriyani or kneading dough for different types of rotis, a food processor can help you do it all.
What should you not put in a food processor?
You shouldn't put those things in a food processor that you typically cannot slice or chop with a knife.
How many watts is a good food processor?
Considering the tasks that a typical food processor takes up, anything higher than 500 watts is sufficient for a food processor. But, in India, you commonly get food processors with mixer grinder jars that come along. As mixer grinders need higher power to grind batter, powder spices etc, it would be a good idea to opt for something with at least 750 watts.
Can you slice onion in a food processor?
Yes, you can slice onion in a food processor. First peel the onion and cut it in half vertically. Then, feed it in the chute in such a way that the blades slice length-wise. Hold and push with the pusher and slice it. If you do not hold it properly in place, onion may get cut in the wrong orientation.
Which is better? Food processor or mixer?
A food processor and mixer have very different functionalities. A mixer can typically whip cream, egg whites, make cake batter and dough. A food processor on the other hand chops, grates, slices and kneads. Considering the different functionalities, it is not possible to say if one is better than the other.
Which is the best mixer grinder cum food processor?
Preethi Zodiac and Philips HL7701 are some of the best mixer grinder cum food processors available in India.
What are the advantages of a food processor?
The main advantage of a food processor is that you can save time in the kitchen. Moreover, it grates, chops and slices very uniformly, which in turn helps in the cooking process.