Sujata Dynamix is one of the high-performing mixer grinders available in India. Does their juicer mixer grinder- Sujata Powermatic too follow suit? How does it perform in terms of juicing efficiency, ease of assembly, grinding, noise and other factors? Let us explore in detail.
Product
Sujata Powermatic 900 Watt
Juicer Mixer Grinder
Power
900 Watts
Jars
2 ( 1 litre multipurpose jar and
1.75 litre liquidizing jar)
RPM
19-21K
Pros
Excellent grinding efficiency
Superior juicing efficiency
Good built quality
Cons
A bit difficult to clean
May leak when juicing fruits with high
water content.
Price
Amazon
Flipkart
Related reading: Best Juicer Mixer Grinders In India
Jars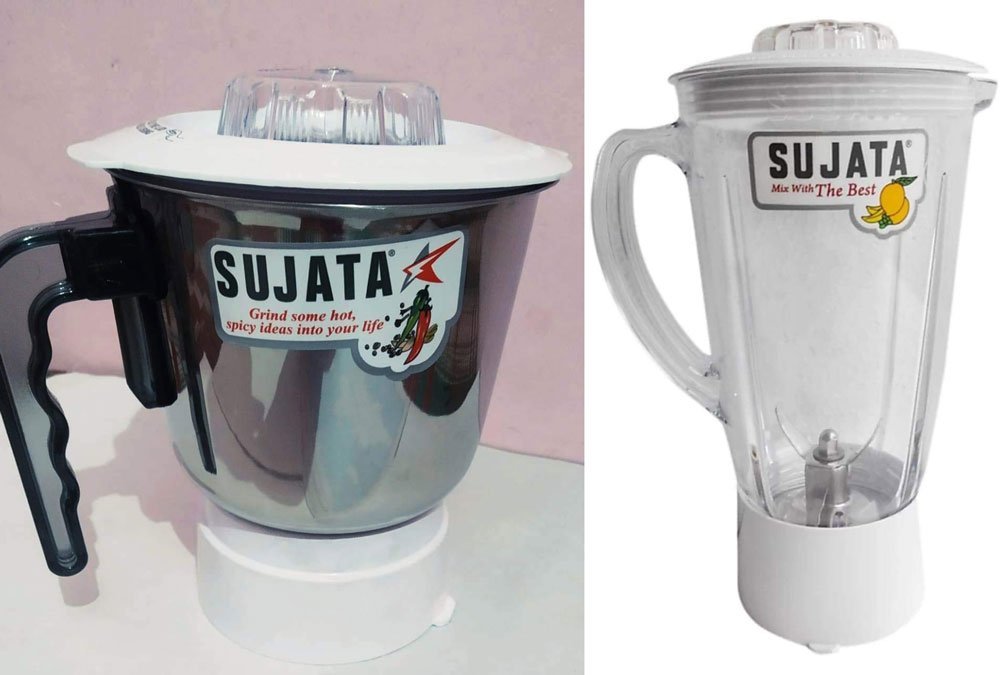 Sujata Powermatic comes with two jars- a 1-litre multipurpose jar and a 1.75-litre liquidizing jar. The multipurpose jar is made of stainless steel, while the larger one is made of polycarbonate.
The lids of both jars are made of plastic and they have an opening through which you can add ingredients. Sujata Dynamix, on the other hand, has polycarbonate lids and only the wet grinding jar has an opening.
The only drawback we found with the jars is that when grinding or blending anything liquid, it sometimes spills from the opening at the top.
Motor Housing
The motor housing of all Sujata mixer grinders is the same. They have a 900-watt motor and using the knob, you can set the speed at three levels. In addition, there is also a whip button at the bottom of the knob using which you can pulse and grind ingredients. The unit also has a power indicator.
It weighs close to 4 Kg. Even though it doesn't have vacuum suction feet, the housing doesn't move when grinding or juicing. One thing you find lacking is an overload protection switch, which is a norm in all mixer grinders.
Related reading: How To Use A Juicer Mixer Grinder?
Juicer Attachment
The juicer attachment of Sujata Powermatic is made of ABS plastic. It can be attached to the motor housing with clips. The extraction blade with mesh filter is wide and heavy and the top cover is made of polycarbonate.
You will notice that the pulp collector is quite huge that you can juice 8-10 glasses of juice or even more continuously without having to discard the pulp in between. Sujata's juicers are generally preferred in restaurants, juice bars and such commercial establishments. Seeing the pulp container and the juicer mixer grinder's ability to run for 90 minutes at a stretch, we can see why they are preferred over other options.
The only drawback we found is that while assembling, you need to fix the top cover and the pulp container correctly and with care. Even then, while juicing fruits like watermelon and pomegranate, which has high water content, you find a little bit of leakage from the top cover. Also, the spout is not leakproof. So, after juicing, you may have to keep the container below the spout for longer to capture those last few drops.
Related reading: Sujata Dynamix Vs Supermix Comparison
Juicing Performance
As mentioned, Sujata Powermatic is a preferred choice in many commercial establishments. This is owing to its superior juicing efficiency. It can extract juice from a variety of fruits and vegetables with incredible ease.
First, we tried juicing apples. The juice yield was among the best. We tried making juice using two apples and we got a little more than a glass of juice. It was incredibly quick too. What we really loved is that the pulp was drier compared to other options. In all other juicer mixer grinders, the leftover pulp had peels with flesh. But, Sujata was able to completely extract the flesh from the peel. You can take a look at the below picture to get a better understanding of what we mean.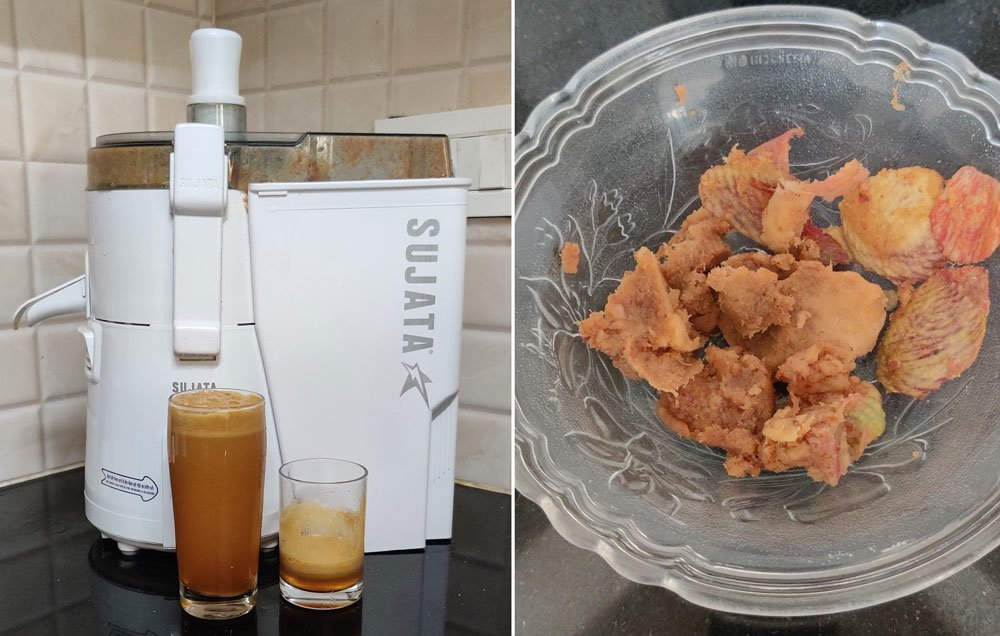 Next, we tried pomegranate. You need to add them through the feeding chute and close it quickly, or else the seeds may bounce out of the juicer. Here also we were quite impressed with the juice yield. As you can see in the image below, the pulp retained a bit of juice and some of the seeds were crushed too. But this did not affect the taste of the juice. Havells Stilus was the only option that fared better in this aspect.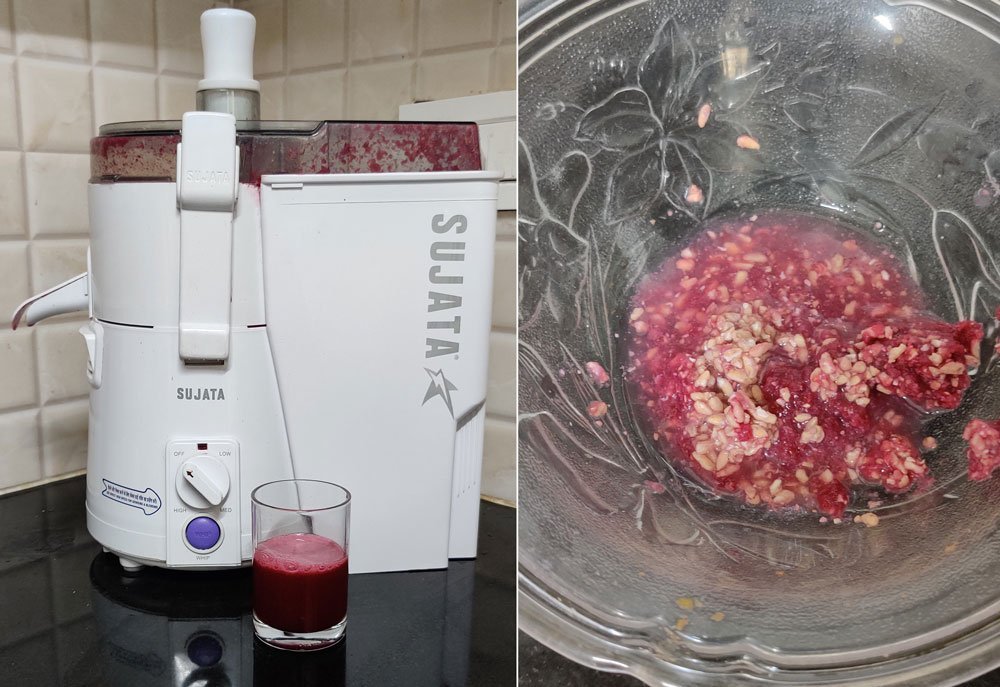 Finally, we tried making carrot and beetroot juice. The pulp was dry. But, with beetroot, there were a few pieces that were not crushed completely. However, the carrots were completely crushed and efficiently juiced.
Overall, the juicing performance of Sujata Powermatic is quite positive. It is quick, efficient and the pulp, though not completely dry, retained less juice than most other options. But the leakage from the top cover is a letdown.
Grinding Performance
The grinding efficiency of Sujata Powermatic is among the best. It is one of the few juicer mixer grinders that has given equal importance to both grinding and juicing efficiency.
Thanks to the 900-watt motor and well-designed jars, you can grind a variety of ingredients in no time. Be it garam masala, turmeric or such spices; chutney or curry masala; dosa batter or milkshakes, you can make them all in Sujata.
Owing to the powerful motor, the consistency of milkshakes and idli batter are super smooth. Often, in other mixer grinders, you find the batter to have a grainy texture or sometimes fruits don't get blended completely in the milkshakes. But, in Sujata, you don't find any such problems.
Overall, it ranks the best in terms of grinding performance. But, as mentioned earlier, when grinding anything liquid, sometimes, you find a leak from the top cover on the lid.
Noise Levels
Compared to other juicer mixer grinders, Sujata Powermatic was louder. It made around 94-98 dB noise when juicing and wasn't quite pleasant. But, when grinding, the noise was a bit lower.
Ease of Cleaning
The juicer attachment of Sujata Powermatic was not the easiest to clean. The shape of the juice chamber and the spout design made it a bit difficult to clean. You get a toothbrush along for cleaning and that is helpful. But as the pulp container is quite deep, cleaning its bottom takes more effort. This is one of the negatives of Sujata Powermatic.
Other Models
If you already have a mixer grinder and need just the juicer, Sujata sells it that way without the jars. They also sell with 2 jars– a multipurpose and liquidizing jar. It is also available with three jars. The additional one is a 400 ml chutney jar, which makes it a complete package for an Indian kitchen.
It is better to buy it as a package and not add the jars separately as the juicer has a different coupler from the juicer mixer grinder.
Conclusion
Sujata Powermatic is an option for those who need a powerful juicer and mixer grinder. You can make juice in no time and also grind a variety of ingredients into a fine consistency. Though a tad expensive compared to the rest of the options, it is definitely worth the money owing to its durable construction and efficiency.