Preethi Blue Leaf Platinum is one of the top-selling mixer grinders in India. Close to 2000 users have given an average rating of 4.2 stars, making it one of the above-average offerings from Preethi.
In this review, we take a look at its build quality, performance, safety, ease of cleaning, noise and other aspects to help you make an informed decision.
Summary:
Though a bit expensive, Preethi Blue Leaf Platinum is a fairly good option for a family with 4-6 members. It comes with versatile jars to cater to a wide range of needs. The grinding efficiency and built quality is quite good. So is the aftersales service. The noise levels are moderately high.
Pros
Excellent grinding efficiency
Fairly good built quality
Prompt after-sales service
Cons
Poor juice yield
Grind-n-store jar is not very easy to clean.
Expensive
How We Test?
To test the Preethi Blue Leaf Platinum mixer grinder, we used it in a regular South Indian kitchen for 10 days. Then, to make a comparative analysis of its performance viz-a-viz other models, we measured and ground various ingredients. We also measured the noise levels, RPM, blade thickness and other factors to give a comprehensive overview of the product.
Related reading: Best Mixer Grinders In India
Jars
The Preethi Blue Leaf Platinum Mixer Grinder comes with 4 jars. They are-
300 ml Grind N Store Chutney Jar
1.2 litre Multi-purpose Jar
1.7 litre Wet Grinding Jar
1.5 litre Juicer Jar
In addition, you get a 400 ml storage container that can be fixed on the Grind N Store Chutney jar.
The smallest Grind N Store jar has stainless steel interiors and exteriors made of ABS plastic. The lid is made of food-grade plastic.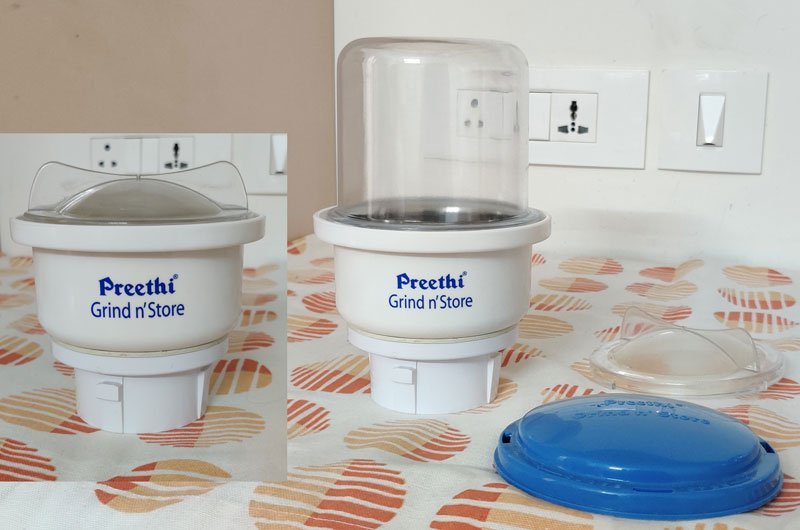 The main jars are all made of stainless steel with polycarbonate lids. The lids are shatterproof. But, they are prone to scratching.
The juicer jar is made of polycarbonate with a plastic lid.
All the jars have strong plastic lids that are fixed using screws from the inside of the jar. So, food tends to accumulate around it after a while.
The built quality of all the jars seems pretty good. The jars have 0.8mm thickness and the blades have 1.2 mm thickness.
The Grind N Store jar has blades with a zig-zag edge, while the multi-purpose jar has 4 prong blades of different lengths to evenly grind all ingredients.
You get an additional chopping blade with the mixer grinder. It can be fixed on the wet grinding jar to chop vegetables or even mince the meat.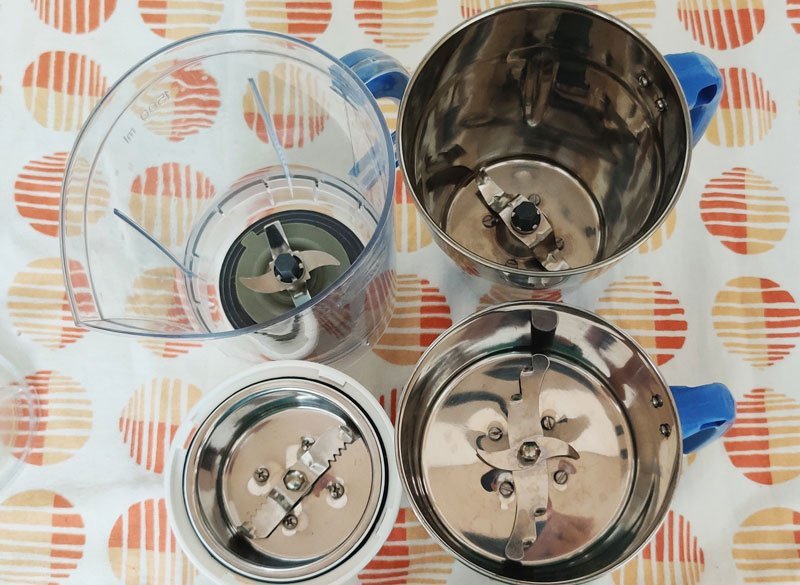 Unlike Bosch Truemixx, sold at similar pricing, the juicer jar of Preethi Platinum doesn't have a tall strainer at the centre. The sieves are just about a few centimetres tall.
What we did not like about the jars is that the screws at the bottom and the side ( fixing the handle) have bulging heads which are prone to accumulating grime. Also, it has a higher chance of getting loose with constant use. Sujata Dynamix on the other hand has a flat head which gives it a tighter fit and lesser grime accumulation.
Related reading: Sujata Dynamix Vs Bosch Truemixx Mixer Grinder Comparison
Motor Housing
The Preethi Blue Leaf Platinum comes with a 750-watt motor. It has pure copper motor winding which is superior in quality and performance compared to ones with Aluminium winding.
The motor housing is uniquely designed in a tear-drop shape. It has a power-on indicator and using the knob, you can set the speed at 3 levels and also pulse. All models under the Preethi Blue Leaf range come with the same motor housing.
A drawback with the design is that the gap at the top through which water or any spillage flows outside is narrow that you can't clean it properly. Bosch Truemixx, on the other hand, has a 2 cm wide gap which is sufficient to clean the area around the coupler comfortably.
Related reading: Preethi Zodiac Mixer Grinder Review
Performance
The mixer grinder with 750 watt motor is fairly powerful for everyday needs. It can run continuously for 5 minutes after which it needs 2 minutes of rest. This way, it can run for 30 minutes after which it needs 45 minutes rest.
As per the manufacturers, it can run at a maximum speed of 11,000 cycles with load. When we checked the RPM using a tachometer, we found that at the 1st speed, it has an RPM of around 17K and at the 3rd speed level, it runs at an RPM of 18.5K cycles.
The mixer grinder does a fairly good job of grinding pepper and hard spices like turmeric and garam masala. Very few coarse residues were leftover after sieving. It can grind ginger-garlic paste too into a fine consistency. But there were a few unground chunks.
Wet grinding is a major win. As the wet grinding jar has a whopping 1.75-litre capacity, it can grind idli and dosa batter for 4-7 members at a go. The batter consistency is smooth. As you can make the batter in less than a minute, it doesn't get heated up either.
The USP of the product is its Grind N Store jars. It works pretty well. You can easily grind spices, chutney or anything else you want. Then turn it upside down, remove the jar and close it with the container's lid. It is airtight and is an excellent option to store powdered spices for a long time.
The juicer jar has a common design like most other options available. It is fairly good at making watermelon and cucumber juice. But, not that good with citrus juices as you will end up grinding the seeds, thus imparting a bitter taste to the juice. Similarly, it does a shoddy job extracting coconut milk as the leftover pulp retains a lot of milk. You have to manually pass it through a sieve to extract the milk. So, it ends up a waste of time and more bowls and tools to wash! Overall, we are not very impressed with the juice yield. This is not particular to just Preethi Blue Leaf Platinum, but with almost all juicer jars that come with mixer grinders.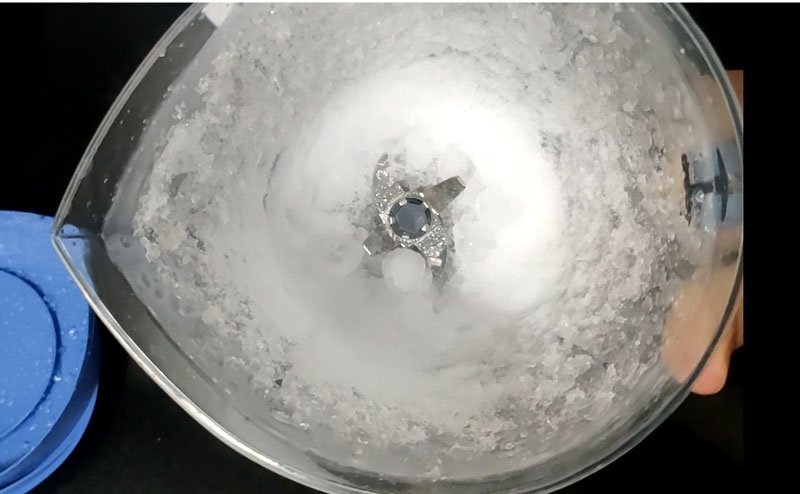 Using the juicer jar and the wet grinding jar, you can crush smaller ice cubes comfortably. But, not so much with larger ice cubes.
Safety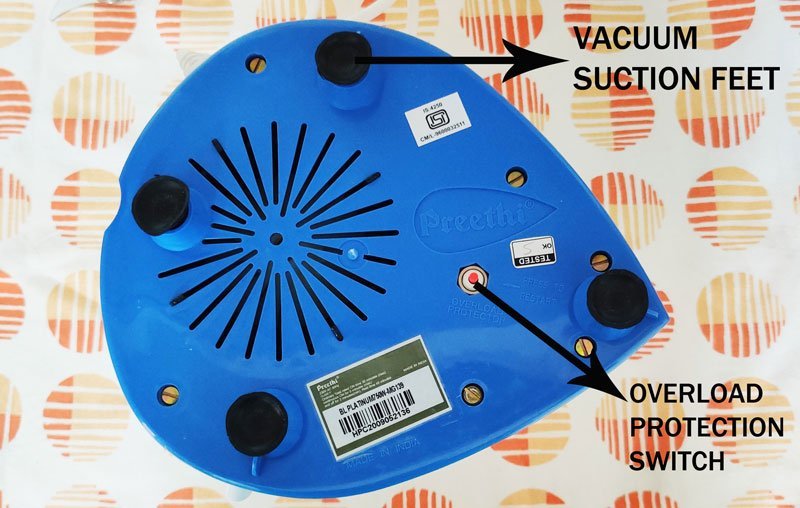 Preethi Blue Leaf Platinum comes with standard safety features like a shock-proof body, insulated wire, overload protection switch and vacuum suction feet.
But unlike Bosch Truemixx, it doesn't have leakproof lids or lid locks for hands-free operations.
Noise
Just like most other Preethi mixer grinders, it makes a fairly loud noise. It measures around 90dB using our decibel meter.
Ease of Cleaning
The main jars are fairly easy to clean. Preethi recommends adding a few drops of dishwashing liquid and filling water to half its capacity and running it for 30 seconds to clean it thoroughly. And it truly does a good job.
The Grind N store chutney jar however is a bit more difficult to clean as food could get stuck in the gap between the plastic and stainless steel sides. So, if you are not careful every time, food could get accumulated in the space become unhygenic and unpleasant.
Similarly, the screws used to fix the handle and the jar lock base protrude in such a way that it makes it an easy spot for accumulating grime. The screws at the bottom are hard to reach too.
But then, when you compare it with most other options available at similar pricing, they all have the same design.
Warranty and Aftersales Service
The mixer grinder comes with a 2-year overall warranty and a 5-year warranty on the motor. During the first two years, Preethi takes care of any manufacturing defects by replacing/repairing the parts free of cost. Even after this period, they don't charge a service fee, but levies part cost.
Unlike Bosch, they don't provide service at your doorsteps. You will have to take it to their service centres. In South India, almost every city has at least one authorized service centre. After the warranty has expired, you can take it to the local shop for repair. Most technicians are skilled at repairing Preethi mixer grinders. Spares are also easily available.
Yet another option is to opt for an extended warranty plan, which comes into effect after the manufacturer's warranty has lapsed. They offer service at your doorsteps.
Comparison with Other Products of Similar Price Range
Some of the popular options available at this price range of around Rs. 6000 are Bosch Truemixx, Sujata Dynamix and Preethi Zion ( purchase links).
Comparatively, Bosch Truemixx ( link to review)offers better built-quality, user-friendly features like lid locks and leak-proof jars. In terms of grinding performance, they are almost the same. Preethi Blue Leaf Platinum, however, makes much lesser noise than Bosch Truemixx.
Sujata Dynamix ( link to review) doesn't have a juicer jar. But, in terms of grinding efficiency and built quality, Sujata Dynamix is simply the best.
Preethi Zion costs a bit higher at around Rs. 6500. You don't get a juicer jar. But, the food processing jar you get along with is immensely helpful. In terms of grinding efficiency and other aspects, they are more or less the same.
Other Variants From Preethi
Preethi Blue Leaf range has a few variants which are immensely popular. Out of them, Preethi Blue Leaf Diamond is the most sought-after. It is priced economically at less than Rs. 4000 and comes with 3 jars. It offers fairly good grinding performance and the built quality is also quite good.
Preethi Blue Leaf Gold is yet another option to consider. It doesn't have a Grind N Store jar or a juicer jar. Instead, it has 3 normal jars with stainless steel bodies and polycarbonate lids.
Conclusion
With fairly good built quality, grinding performance and safety features, Preethi Blue Leaf Diamond is a pretty good option at this price range. It is an apt choice for those who really like the Grind N Store feature. Otherwise, you could consider Bosch Truemixx or Sujata Dynamix sold at a similar price range, that has a much superior performance and built quality.
Was this post helpful?
Let us know if you liked the post. That's the only way we can improve.