Among the various juicer mixer grinders we reviewed, Havells Stilus is an option we really loved for its performance and price. It is a bit bulky in design. But, given its excellent performance and functionality, it is definitely an option worth considering as your next juicer mixer grinder. In our tests, we rate it as one of the best juicer mixer grinders available in India.
In this review, we talk about its juicing efficiency, design, performance, noise and other factors to help you make an informed decision.
Product
Havells Stilus JMG
Power
500 Watts
Jars
3 ( chutney jar, multipurpose jar, blending jar).
Plus juicing container
Max RPM
19000
Pros
Excellent juicing and grinding efficiency
Moderate pricing
Juicer has an excellent built quality
Cons
A bit bulky in design
Pulp container is not seperate
Purchase link
Amazon
Jars
The Havells Stilus juicer mixer grinder comes in several configurations. The one we have comes with 3 jars. They are a 400 ml chutney jar, 1-litre multipurpose jar and 1.5-litre blender jar. The smaller jars are made of stainless steel with a plastic lid. The lids don't have a gasket. Rather, the edges have these ribbed concentric circles that provide a snug fit. However, it is quite likely that the jars will become loose over a period of time. Considering the price, the built quality is above average.
Motor Housing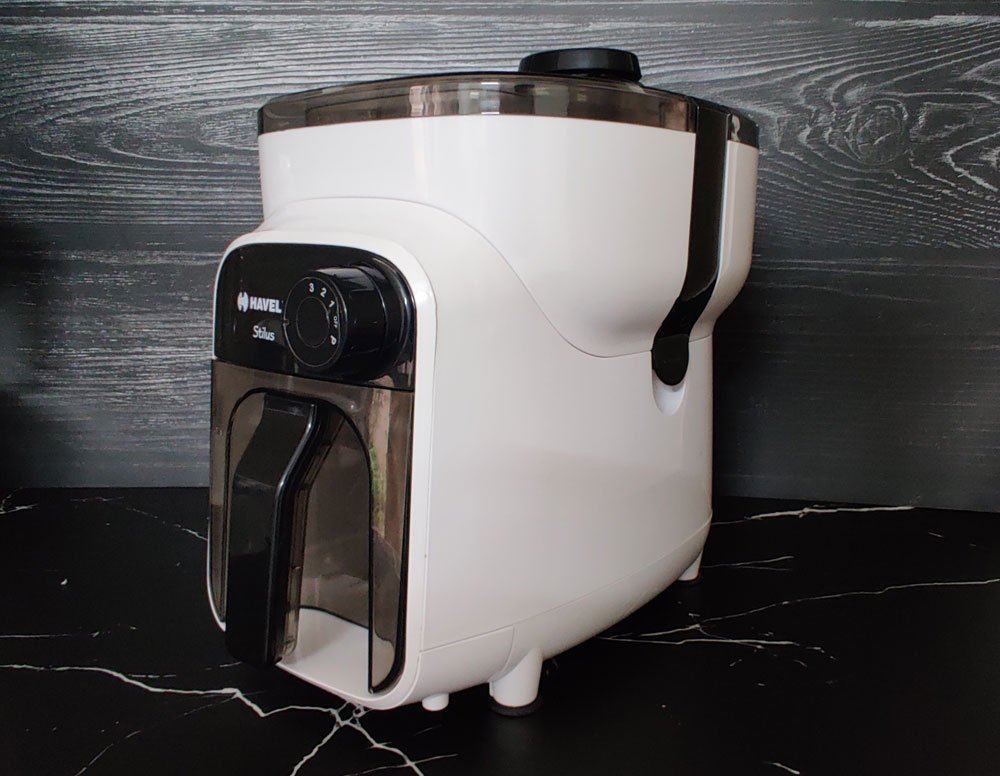 The first thing you notice about Havells Stilus is that it is bulky compared to other juicer mixer grinders. It measures almost 23 cm deep and 22cm wide. It comes with a container for collecting juice- something that most other juicer mixer grinders don't have. This container has about 1 litre capacity, which is usually sufficient for a juicing session.
The motor housing comes with vacuum suction feet. Also, the large speed knob has an indicator light that shows the speed level.
The built quality is quite good and it looks sturdy and durable.
Juicer Attachment
The juicer chamber is attached to the motor housing using clips. You have to first place the chamber on the housing and then fix the extraction blade with mesh filter. The pulp collector is inbuilt in the juicer chamber itself. It has fairly good capacity that you won't have to stop in between to discard the pulp.
The mesh filter is fairly wide and it is quite close to the top cover. So, even if smaller fruit pieces bounce off, they land back on the blade itself and not in the pulp collector.
As mentioned, it is comparatively bulky. Even so, it is well-designed, practical and functional.
Related reading: Philips Amaze HL7576 Juicer Mixer Grinder Review
Juicing Performance
We make a variety of juices with each juicer to understand how well it scores in its juicing efficiency. And we are truly impressed with Havells Stilus.
First, we made a glass of apple juice with 2 large apples. It was fairly quick and we were able to extract the juice in about a minute. Though it had some froth, comparatively, it was lesser. The pulp was a little bit wet, which is expected from a centrifugal juicer. But, it is well within the limits. Even if you squeeze the pulp, you wouldn't get a significant quantity of juice from it, which is impressive.
Next, we made some pomegranate juice. Usually, when making pomegranate juice, a lot of juice will get thrown off the extraction blade and get collected in the pulp container. However, with Havells, it wasn't too much. Though there was some juice and pulp, it was less compared to other options.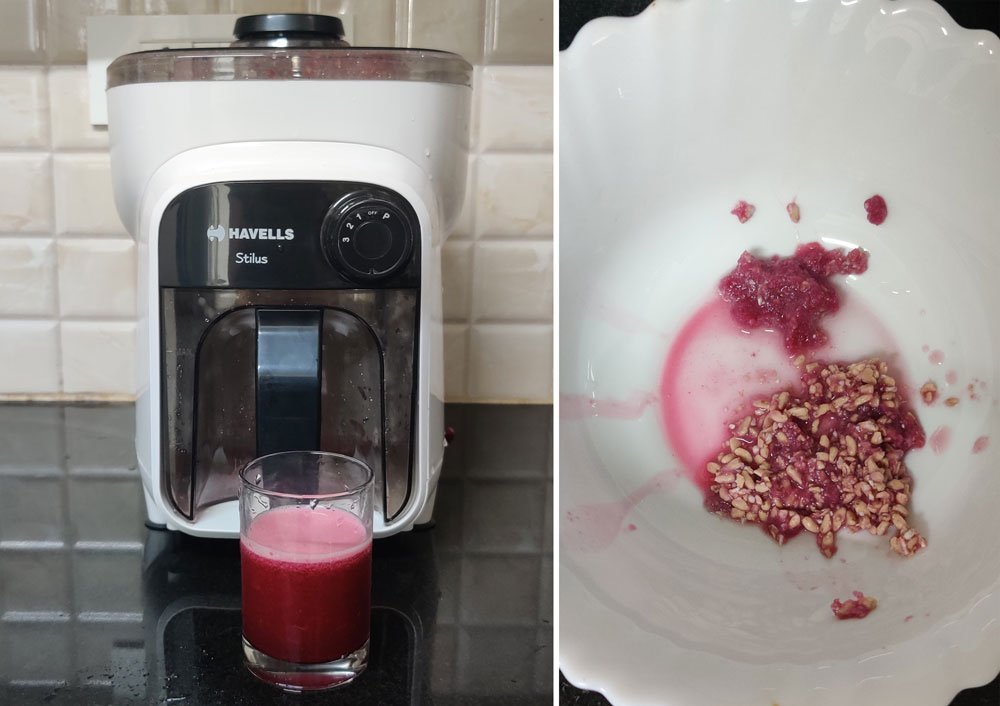 Similarly, with beetroot and carrot juice too, the juice extraction was good and the pulp collected in the container did not contain many unground pieces or chunks.
We felt that the 500-watt motor was just right for crushing the fruits and vegetables without throwing off uncrushed pieces into the pulp chamber.
The juice container comes with a comfortable handle and has a spout which makes it easy to pour. However, remove the container from the juicer only after about 5-15 minutes so that it collects juice to the last drop. Else, it may spill inside the juice chamber.
Overall, its juicing performance is quite impressive justifying the pricing.
Related reading: Usha 3345 Juicer Mixer Grinder Review
Grinding Performance
The grinding performance of the Havells Stilus juicer mixer grinder is fair. You can make chutney, curry paste, ginger garlic paste in the chutney jar. However, compared to 750-watt mixer grinders, it takes more time. Also, the blades are a bit away from the bottom. So, you need to fill the jar at least half full in order to grind effectively.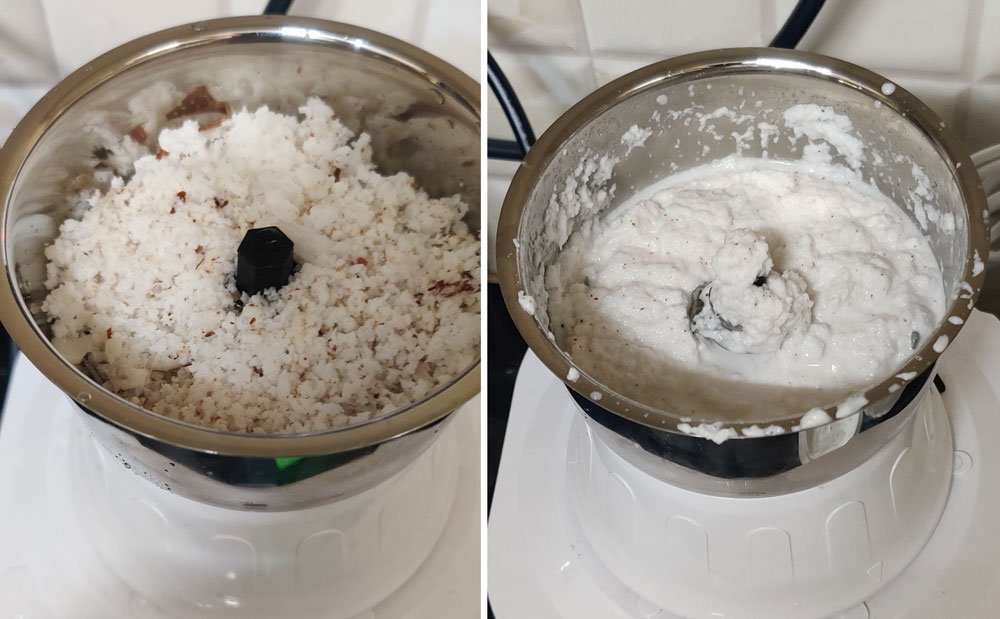 The multipurpose jar is also the same, with fairly decent grinding efficiency. Using the blender jar, you can make milkshakes, grind idli batter etc. Here too, you take a bit more time for grinding into a smooth consistency.
You may be able to grind soft spices like pepper in the mixer grinder. But, we wouldn't recommend trying to grind tough spices like garam masala and turmeric as it may affect the durability of the coupler and blades.
The only reason why we haven't rated Havells Stilus above Sujata Powermatic is that the latter has excellent grinding performance capable of making even turmeric and garam masala powder in no time.
Related reading: Havells Vitonica Juicer Mixer Grinder Review
Noise Levels
The juicer mixer grinder has a fairly moderate noise level of 87-90 dB. It is not the most silent but isn't unpleasantly loud either.
Ease of Cleaning
Even though the juicing chamber doesn't have a separate pulp collector, it isn't that difficult to clean. Sometimes, a few drops of juice drip below the juice-collecting container or onto the coupler on the motor housing. But, that too can be wiped off easily.
The mesh filter is easy to remove. It is wider than many other options and that results in better juicing efficiency. That means more area to clean. You can use an old toothbrush and easily clean the mesh. But, you need to clean up immediately after use, else, it may get stained and become difficult to manage.
Similar Models
Depending on whether you need a juicer or a juicer mixer grinder, Havells Stilus has various options to offer. Their best-selling model is the Havells Stilus with 3 extra jars that include a chutney jar, multipurpose jar and a blender cum juicer jar with a removable mesh filter. They also sell the same model with 2 extra jars. They are a 750 ml multipurpose jar and a blending jar.
Now, if you are looking for just the juicer, that is also available as Havells Stilus sells just the juicer without any jars.
Further, Havels Stilius XL is also available with a wider feeding chute into which you can feed an entire apple at a time without cutting.
Note that in the product description on Amazon, Flipkart and other sites, you see that the juice container is considered a separate jar. So, when they mention 4 jars, it is including the juice container. But for grinding you actually get just 3 jars.
Conclusion
Overall, considering the price, built quality, and excellent performance, Havells Stilus is without a doubt one of the best options to choose from. Its juicing efficiency is quite commendable. The grinding effectiveness is good. But, it takes a bit more time compared to a 750-watt mixer grinder. Overall, given the competitive pricing and performance, it is an option we really loved.