If you are in the market for a mixer grinder with a food processor, then two of the prominent options you may consider is the Preethi Zodiac and Philips HL7707. They have a lot of identical features and functions, which shouldn't come as a surprise considering that Preethi is owned by Philips. But there are some notable distinguishing features too. We shall explore them in detail to help you make an informed decision on which is the better one for your needs.
Summary
Preethi Zodiac and Philips HL7707 have almost identical food processor jars with exactly the same blades and attachments. While Preethi Zodiac comes with a 3-in-1 juicer jar with dedicated extraction and blending blades, the juicer jar from Philips is ordinary in design with a blending blade for juice extraction. Also, you will find that Philips HL7707 doesn't have the 1.5-litre wet grinding jar, which Preethi Zodiac has. If you often make idli-dosa batter and if you plan to make juices frequently, then opt for Preethi Zodiac by all means. However, if you can do with a 1-litre multipurpose jar and juices are not a priority, then opt for Philips HL7707, which is comparatively lighter on your pockets. We have found Preethi Zodiac and Philips HL7707 to be among the best food processors available in India.
Jars
Preethi Zodiac comes with 5 jars. They are a 500 ml chutney jar, 1-litre multipurpose jar, 1.5-litre wet grinder jar, 3-in-1 extraction jar and 2.1-litre food processor jar.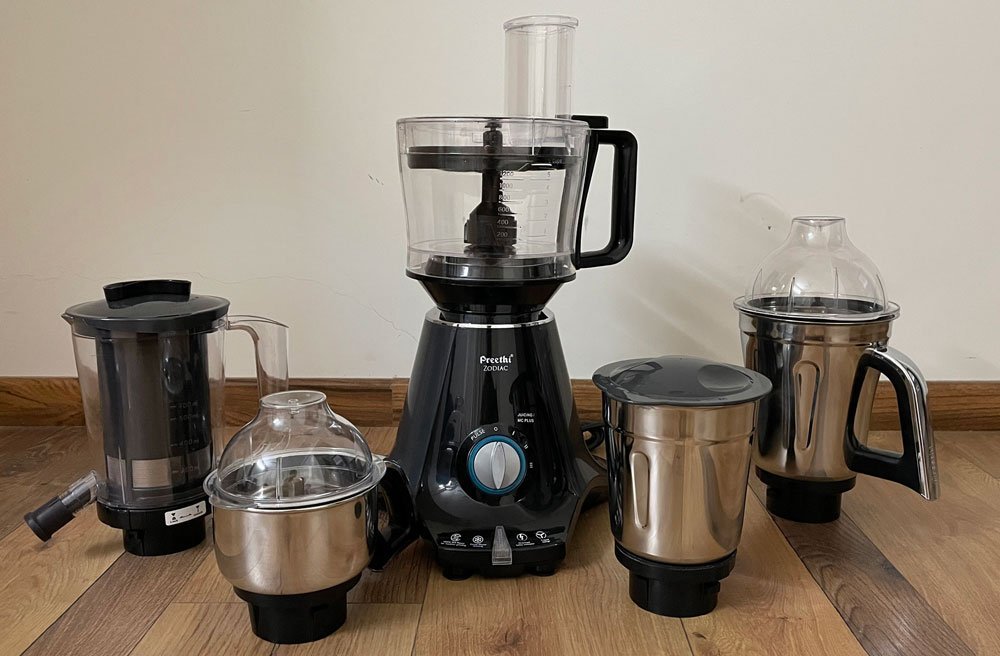 Philips HL7707 comes with 4 jars. They have the same 500 ml chutney jar and 1-litre multipurpose jar. The food processor jar is also quite similar in design. The juicer jars are however quite different. Also, you don't get a 1.5-litre wet grinding jar.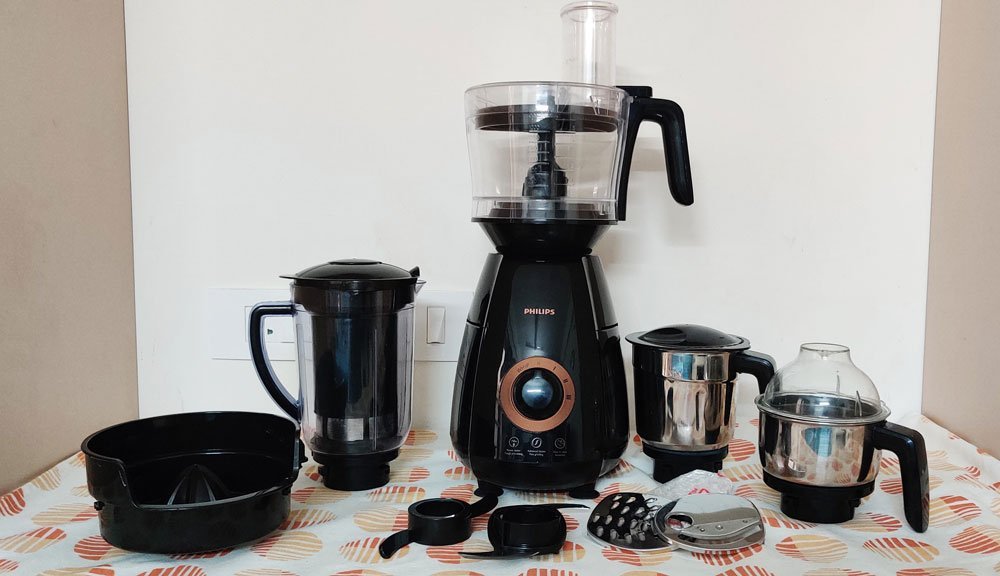 In terms of differences between the Preethi Zodiac and Philips HL7707, you will find that the handles of the Zodiac are screwed from the outside. So, screw heads can be found inside the jar's walls. This minor difference has a major implication because this means the Zodiac's jars are comparatively easier to clean because, over a period of time, the screw heads accumulate a lot of grime.
The blades, jar shape other design elements of the 500 ml chutney and 1-litre multipurpose jars are the same. The dry and wet grinding performance of both models are almost at par.
The juicer jar comes in totally different designs. Zodiac comes with two blade kits- one for extraction and the other for blending. The HL7707 however comes in a standard design with the blending blades for juice extraction.
As mentioned, the food processor jars, their blades and attachments are almost identical. The only difference noticed is that the Preethi Zodiac's food processor jar can be detached from the jar lock. This is easier when you need to slice or grate one food after the other, as you needn't remove the whole thing from the motor base.
Related reading: Preethi Zodiac Vs Zion Comparison
Motor Housing
Though both options have 750-watt motor, the housing designs of Preethi Zodiac and Philips HL7707 are totally different.
HL7707 comes in a standard design and it doesn't have a power indicator. Using the knob, you can set the speed to 3 levels and also pulse/whip.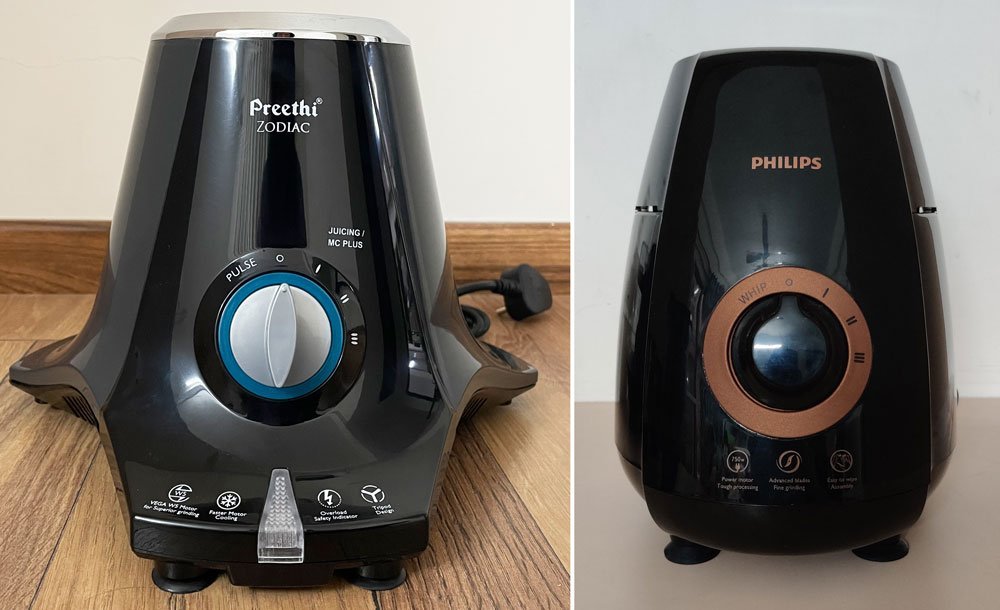 Preethi Zodiac on the other hand comes in a tripod design. It has a power indicator, which is blue in colour and turns orange when the overload protection is triggered. Compared to HL7707, it is more elegant, but also space consuming.
They both have the same standard safety features like vacuum suction feet, overload protection switch and shockproof body.
Food Processor Performance
Both the models have the same attachments and blades for slicing, grating, kneading, chopping and juicing citrus fruits. As mentioned, except for the difference that Preethi Zodiac has a jar that can be detached from the motor lock, there is no difference in their performance.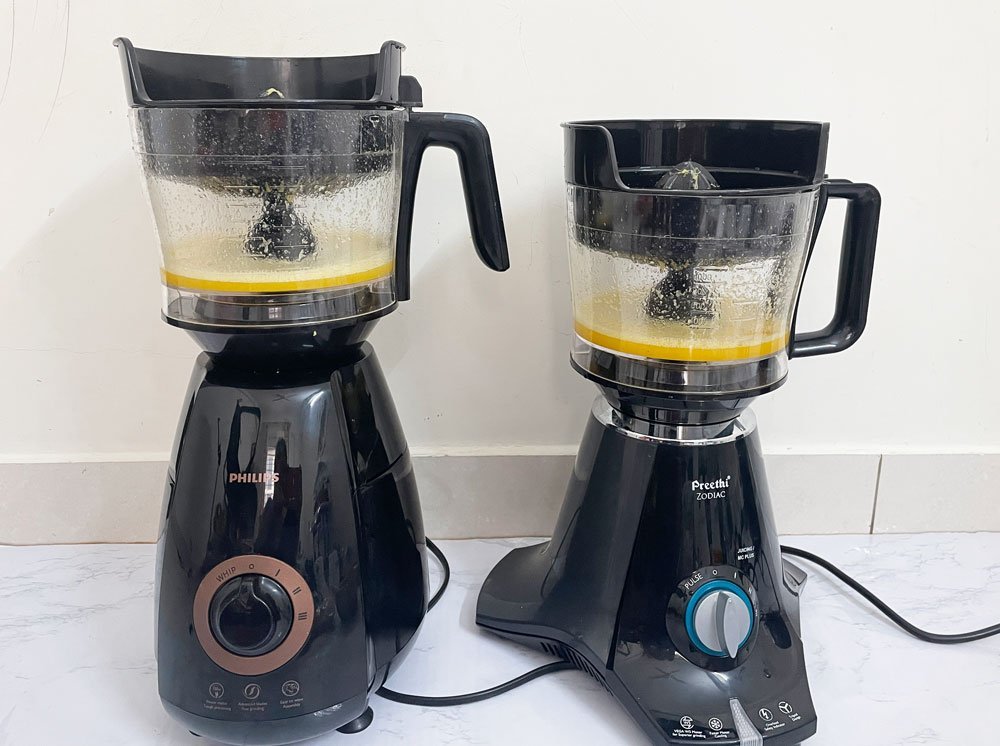 You can read in detail about the food processor performance in the individual reviews of Preethi Zodiac and Philips HL7707.
Related reading: Best Electric Choppers in India
Juicer Jar Performance
The juicer jars of Philips HL7707 and Preethi Zodiac are quite different.
Philips HL7707 comes in quite an ordinary design. It has a 6 prong blending blade, with a cylindrical strainer around it. Unlike Bosch Truemixx, it doesn't have an opening on the lid through which you cannot feed fruits through the opening while the mixer grinder is running. Its juicing performance is above average for pomegranate, watermelon, apple and such fruits.
Preethi Zodiac comes with a unique juicer jar design. They call it the 3-in-1 extraction jar. It has two sets of blades- an extraction blade for juicing and a blending blade for making smoothies and shakes. You also get two lids- one for blending and the other has an opening through which you can feed the fruits and a pusher too. Preethi Zodiac's juicer extraction efficiency is quite superior. It leaves lesser leftover pulp compared to Philips HL7707. Also, as it has a spout, you can juice large quantities of fruits at a go.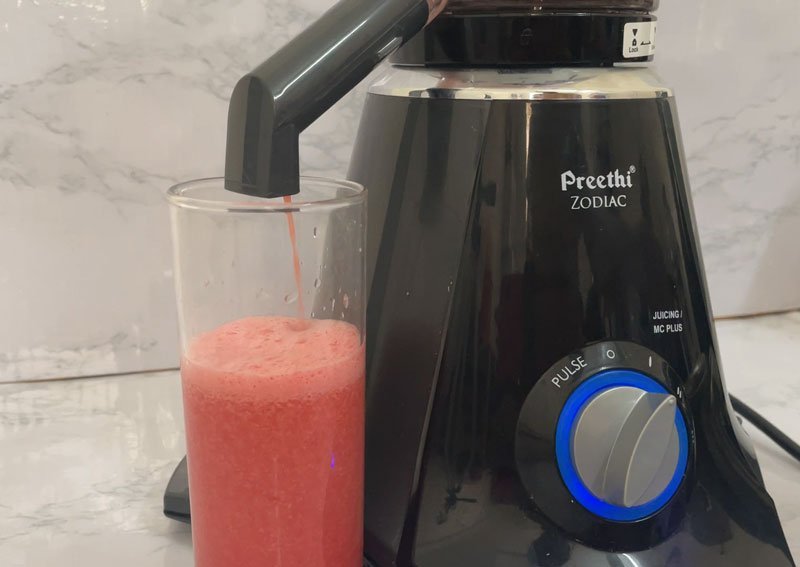 But, the overall design isn't quite appealing. It is pretty difficult to change the blades of the jar. In fact, you may even accidentally break the jar if you change the blades frequently. Also, the blending blades aren't that great with dry fruits. When making dry fruits shake, the dry fruits don't get ground properly. So, you would be better off using the juicer jar for juicing exclusively and using the wet grinding jar for making shakes and smoothies.
Related reading: Best Juicer Mixer Grinders In India
Safety Features
The safety features of both models are the same. They both have standard safety features like an overload protection switch, shockproof body and vacuum suction feet.
While Philips HL7707 comes with a 2 pin plug, Preethi Zodiac has a 3 pin plug, which is better.
Both brands don't offer any storage options for the sharp food processor blades, which is a letdown.
Noise Levels
Both HL7707 and Preethi Zodiac has similar noise levels ranging from 90-100 dB. They are moderately loud. But, not as annoying as Bosch Truemixx or Hamilton Beach.
Features
Preethi Zodiac
Philips HL7707
Motor Power
750 watt
750 watt
No. of Jars
5
4
Chutney jar capacity
500 ml
500 ml
Multipurpose jar capacity
1 litre
1 litre
Wet grinding jar capacity
1.5 litre
Not available
Food Processor Jar capacity
2.1 litre
2.1 litre
Juicer Jar capacity
1.5 litre
1.5 litre
Food processor attachments/blades
chopping, slicing, grating, kneading and citrus juicing
chopping, slicing, grating, kneading and citrus juicing
Price
8xxx
7xxx
Find the latest price
Amazon
Flipkart
Amazon
Flipkart
Was this post helpful?
Let us know if you liked the post. That's the only way we can improve.