Havells Vitonica is one of the budget-friendly juicer mixer grinders available on the market. It comes with 3 jars for grinding and a juicer attachment. Its juicing performance is fairly good for the price. The jars too grind ingredients into a fine consistency, but it takes time. In this review, we talk about its juicing performance, grinding performance, design, ease of cleaning and other aspects to help you make an informed buying decision.
Product
Havells Vitonica
Juicer Mixer Grinder
Power
500 Watts
Jars
3 ( 400 ml chutney jar, 750 ml multipurpose jar
and 1.5 litre blending jar)
RPM
19K
Pros
Budget-friendly pricing
Leakproof spout
Fairly good juicing and grinding efficiency
Cons
Plastic body
Small feeding chute
Price
Amazon
Jars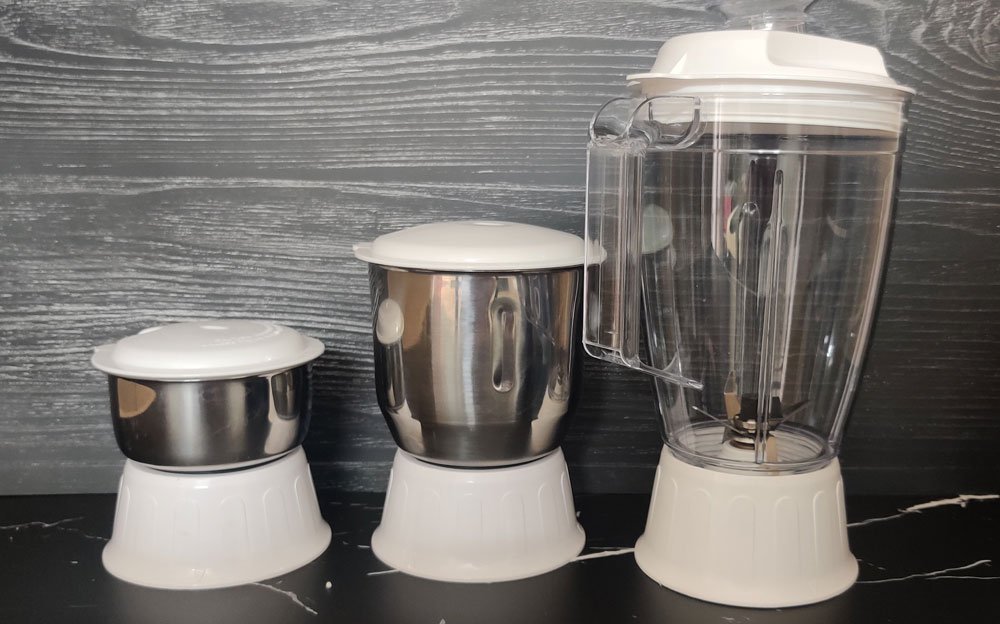 Havells Vitonica comes with 3 jars. They are a 400 ml chutney jar, 750 ml multipurpose jar and a 1.5-litre blending jar.
The smaller jars are made of stainless steel, while the blending jar is made of food-grade plastic. When you compare the design, you see that they look similar to the jars that come with Havells Stilus, which we rate as one of the best juicer mixer grinders in India.
The lids are all made of plastic and they fit snuggly. But, they are not leak-proof.
Motor Housing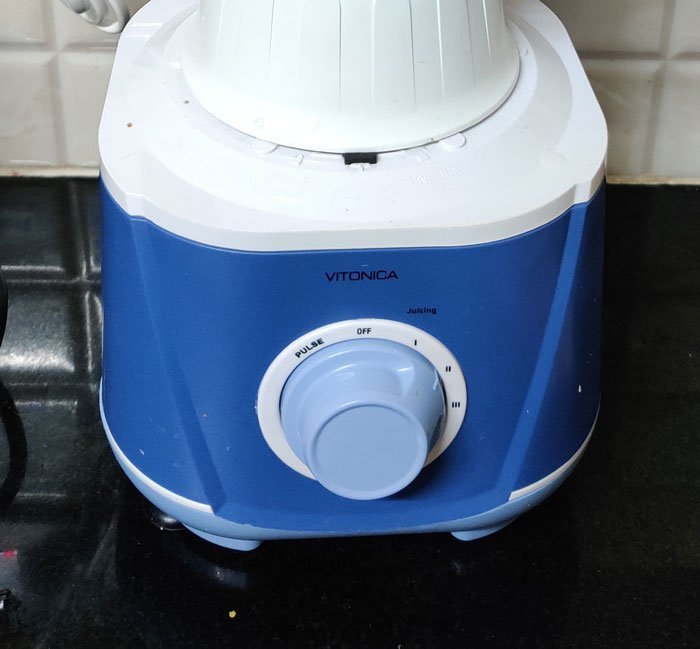 Havells Vitonica is powered by a 500-watt motor. The motor housing as such is very compact and lightweight. Even though it has rubber feet, the unit has a tendency to move a few centimetres when grinding full load. The speed knob control is also not ergonomic in design. It is a bit difficult to turn the knob if your hand is wet, which is something that happens quite often in a kitchen.
Juicing Attachment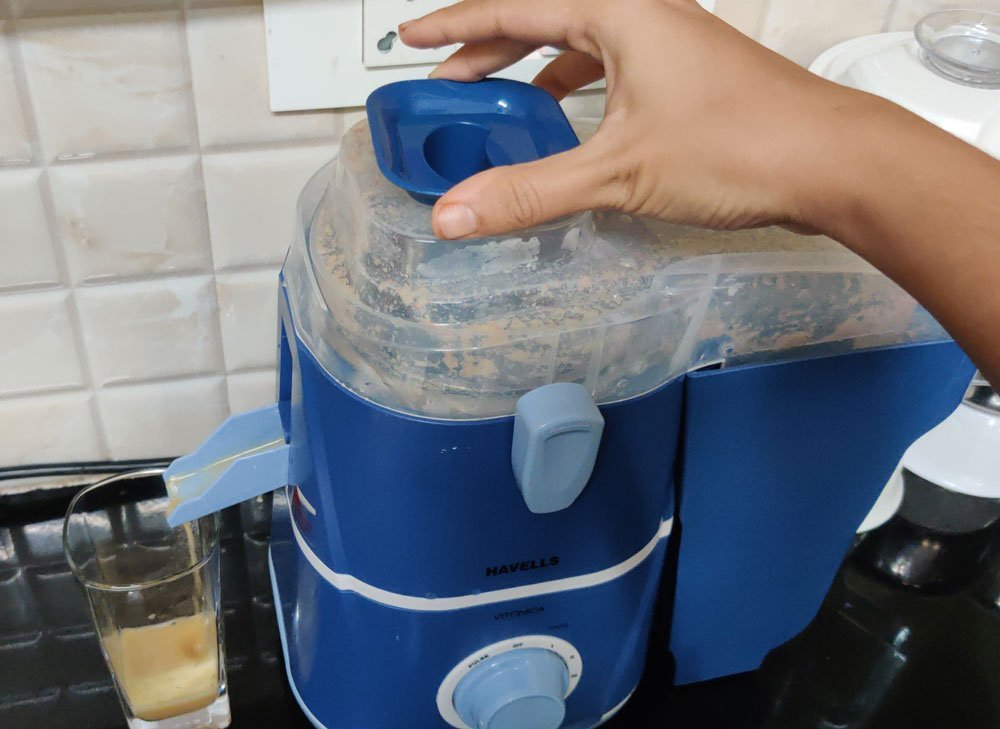 The juicing chamber, pulp container and the top cover of Havells Vitonica are all made of plastic. Most other options, on the other hand, are made of ABS plastic and polycarbonate. Also, while other options have a clip-on mechanism to attach the juicing chamber, in Vitonica, you have to twist and lock the juicing chamber to the motor housing. You also notice that the mesh filter is not as wide as Philips Amaze.
The pulp container is moderate in size and you can remove it without having to unassemble the whole set-up.
Other than that it is made of plastic, you can't really find any fault with the juicing attachment.
Juicing Performance
The juicing performance of Vitonica is pretty much like other budget-friendly options like Philips Amaze. But, a drawback is that its feeding chute is smaller than other options. So, you have to cut the fruits into small pieces before feeding them into the appliance. With Philips Amaze, we had to cut a large apple into just 6 pieces. But, in Vitonica, we had to cut it into 8-10 pieces to fit the chute. This is something you notice in Preethi Zodiac too.
We first made juice with apples. We were able to extract 3/4th glass of juice and it did have some foam on top. The pulp did have some uncrushed pieces of apple too. Comparatively, it was a bit more than what you find in Philips Amaze, which comes at a similar price range.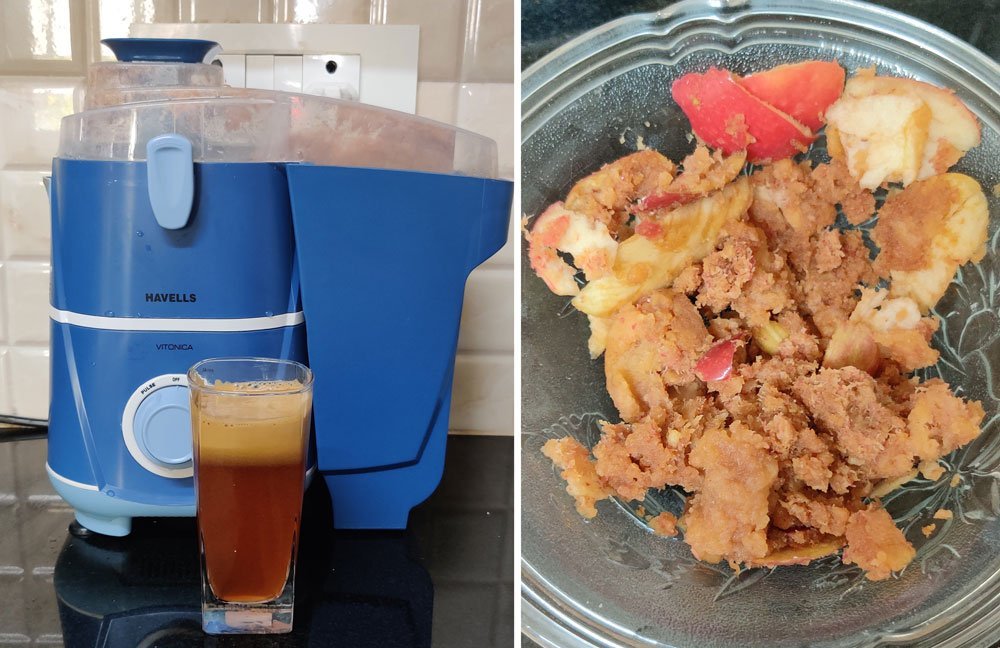 When making pomegranate juice, you find some juice too gets collected in the pulp container. But in this case, it is better than Philips Amaze.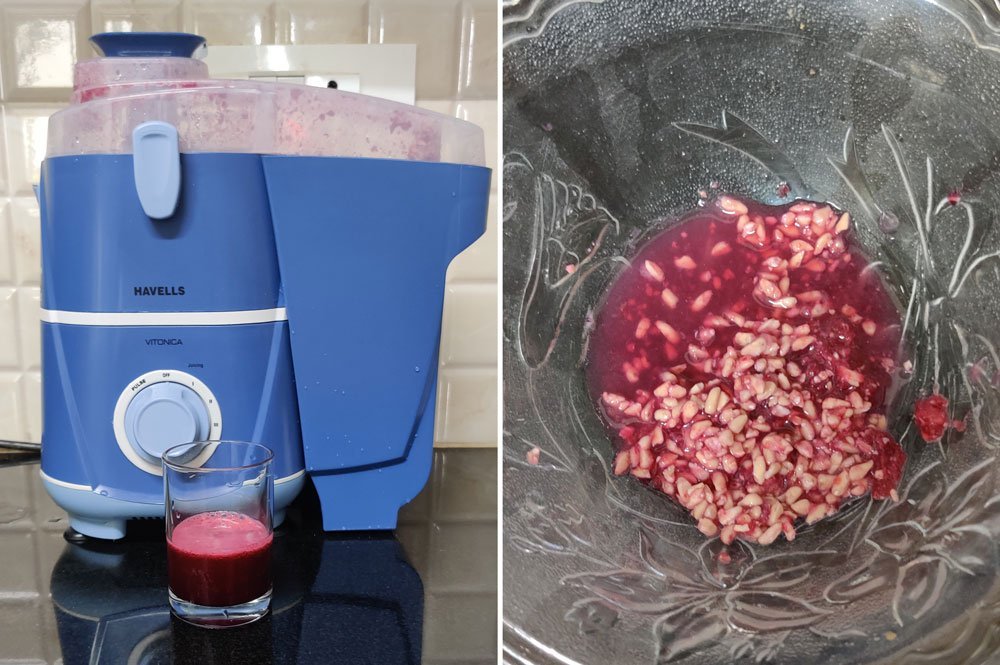 Similarly, when making juices of vegetables like carrot and beetroot too, you find a few uncrushed pieces among the pulp. This is something observed in all other juicer mixer grinders as well.
An advantage we found compared to other juicer mixer grinders is that in Vitonica, you have a foldable spout which you can close after juicing. So, the last few drops don't spill on the countertop and make a mess.
Grinding Performance
The grinding performance of Vitonica is fair. You can make chutney, grind coconut, masala etc into a fine consistency. But, it takes time. You can also make batter, milkshake and smoothies in the blending jar. And the consistency is smooth. However, when trying to make a dry fruit milkshake, we found that a lot of nuts remained unground. Overall, it is a good option for those who are looking to do just lightweight grinding.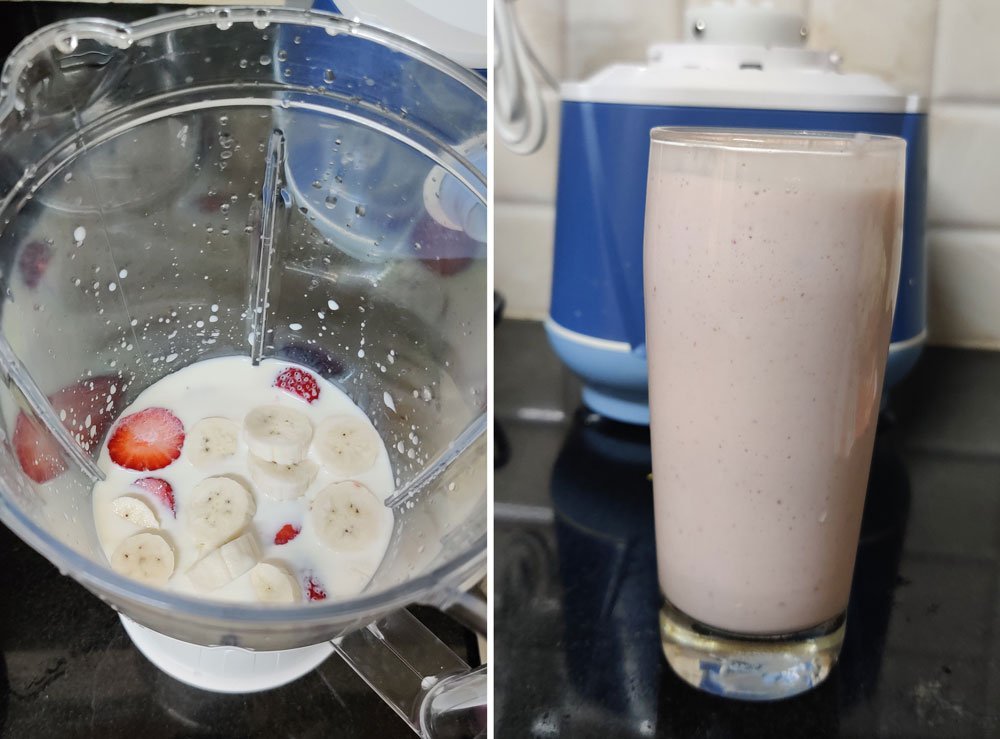 However, as mentioned, being lightweight, you have to keep your hand on the jar else it may move a few centimetres.
Noise Level
The noise level of Havells Vitonica is moderate. It makes just 87-90dB noise, which is lesser than options like Philips Amaze, Usha 3345 and the like.
Ease of Cleaning
As mentioned, the juicing chamber of the juicer mixer grinder is made of plastic. They are not that prone to staining. You can clean the mesh filter using a toothbrush. Overall, it isn't that much of a hassle to clean it. However, sometimes the juice leaks a bit on the motor housing. While cleaning, you will have to wipe the motor housing too with a damp cloth. The pulp container isn't too deep like Sujata Powermatic. So, that too is easy to clean.
Conclusion
Overall, Havells Vitonica is a fairly good budget-friendly option to choose from. Its closest competitor is Philips Amaze. What we liked about Vitonica over Amaze is the spout which minimizes mess on the countertop. But the advantages of Amaze are better built-quality and a large feeding chute.
Havells Vitonica Juicer Mixer Grinder
Was this post helpful?
Let us know if you liked the post. That's the only way we can improve.