With around 5700 users giving a 4.4/5 stars rating, Bosch Truemixx Pro is one of the best selling mixer grinders in India. But, is it truly the best among the available choices? How does it fare in terms of performance, noise level, user-friendliness and aftersales service? Let us explore in this in-depth review of Bosch Truemixx Pro Mixer Grinder with 1000 Watt Motor.
Summary:

Bosch Truemixx Pro has fairly good grinding efficiency and built quality that makes it a desirable choice for an Indian kitchen. Its wet grinding efficiency is excellent. The dry grinding is above average, but with flaws. 

The manufacturers have given due consideration to ensure the safety and user-friendliness. All its jars have lid locks and are leak-proof. But, the jars are not easy to clean.  The noise levels are high too.

However, the warranty and aftersales service are definitely major positives.
How We Test?
Unlike most publishers who compare specifications and product descriptions to write reviews, we use and test the products. So, our reviews are genuine and authentic.
To test the mixer grinders, we use them in a kitchen for 7-10 days to understand how it fares in a real-world environment. Then, for comparative analysis, we test it by grinding a set quantity of spices, batter and making juices. We also test the RPM using a tachometer and sound using a decibel meter. Further, we also measure the thickness of the jars and blades so that you can have an idea about their build quality.
Jars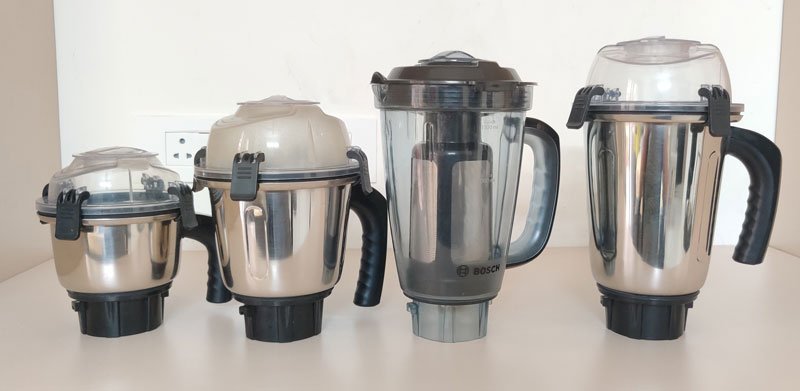 Bosch Truemixx Pro Mixer Grinder comes with 4 jars. They are-
400 ml chutney jar
1 litre multi-purpose jar
1.5 litre wet grinding jar
1.5 litre juicer jar.
The 3 main jars are made of high-quality stainless steel with polycarbonate lids that have lid locks. The juicer jar is made of polycarbonate with food-grade plastic lids that can be twisted and locked.
All lids have an opening on the top. So, you can pour water or add ingredients while grinding. Further, the lid locks facilitate hands-free operation too.
Something we really loved about the jars is that they are all leak-proof. But, you have to fix the gasket correctly- and that may be a bit of a hassle when you are in a hurry!
The coupler design is pretty much the standard. And it looks sturdy and well-built.
The jars measure about 0.6 mm thickness, while the blades have 1.4mm thickness.
The chutney jar has blades with a zig-zag edge for better grinding efficiency. The two other jars have 2 prong blades designed to create a good vortex to pull down the ingredients and grind them finely. The juicer cum blender jar has a 4-prong blade.
The blades of the 1-litre multi-purpose jar and 1.5-litre wet grinding jar are removable using the spatula that comes along. You get a pounding blade that has blunt edges which you can fix in any of these two jars.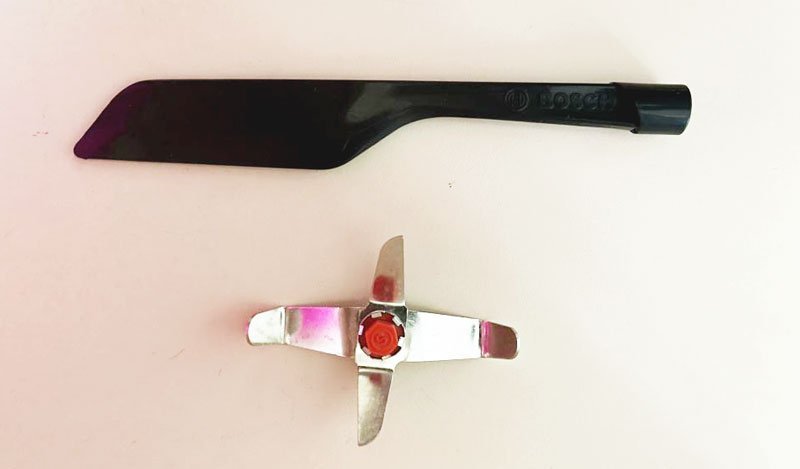 The handles of the jars are strong and firmly attached to the body. It is ergonomically designed with finger grips so that it doesn't slip away from your hands.
Another feature marketed by Bosch is the flow breaker in the wet grinding jar. Bosch claims that it helps aerate the batter well, resulting in softer idlis. But, we weren't really able to find much of a difference between the batter ground in a wet grinding jar with and without the flow breaker. Moreover, the flow breaker makes cleaning a bit more of a hassle.
Related reading: Preethi Zodiac Mixer Grinder Review
Motor Housing
Bosch Truemixx's motor housing comes in a black and stainless steel finish. It is fairly tall, measuring 25 cm in height. Its motor has pure copper winding, which means better performance and heat dissipation.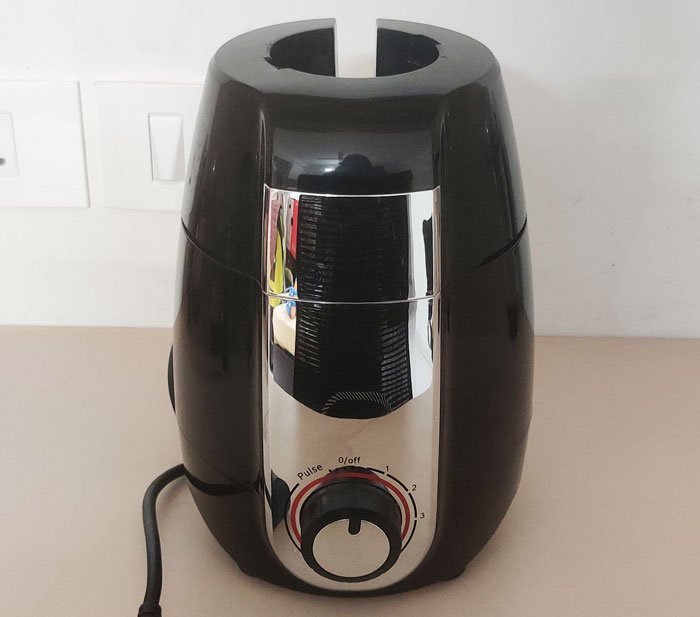 The height comes with drawbacks though. When you place the wet grinding jar on it, the total height measures around 50 cm. So, if the kitchen cabinets above the countertop don't have sufficient height, you may find it difficult to pour water or other ingredients when it is running.
Also, the unit as a whole tends to wobble a bit when grinding batter in a large quantity. This is despite having vacuum suction feet.
The housing has a large knob using which you can set the speed at 3 levels. Rotating it to the left, you can use the pulse function.
Nowadays, almost all mixer grinders have a gap at the top slot of the motor housing where you fix the jar. This allows you to clean the area around the coupler easily. Something we have noticed in Preethi and Vidiem is that this gap is too narrow that you can't slide your finger to clean the area properly. But, in Bosch, the gap is sufficiently wide that it allows you to clean the space easily.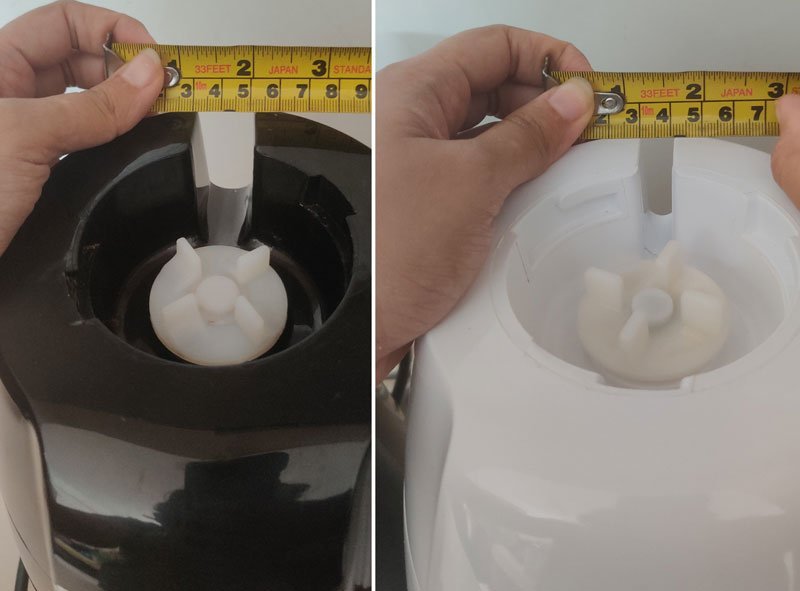 Related reading: Best Mixer Grinders In India
Performance
The Bosch Truemixx Pro Mixer Grinder that we tested comes with a 1000-Watt motor. It can run continuously for 5 minutes, following which it needs a 2-minute rest. This way, it can run for 6 cycles, totalling 30 minutes of run time. After that, you need to allow 45 minutes of rest.
At the first speed, the mixer grinder has an RPM of 21,000 cycles and at the third level, it reaches up to 23,500 cycles.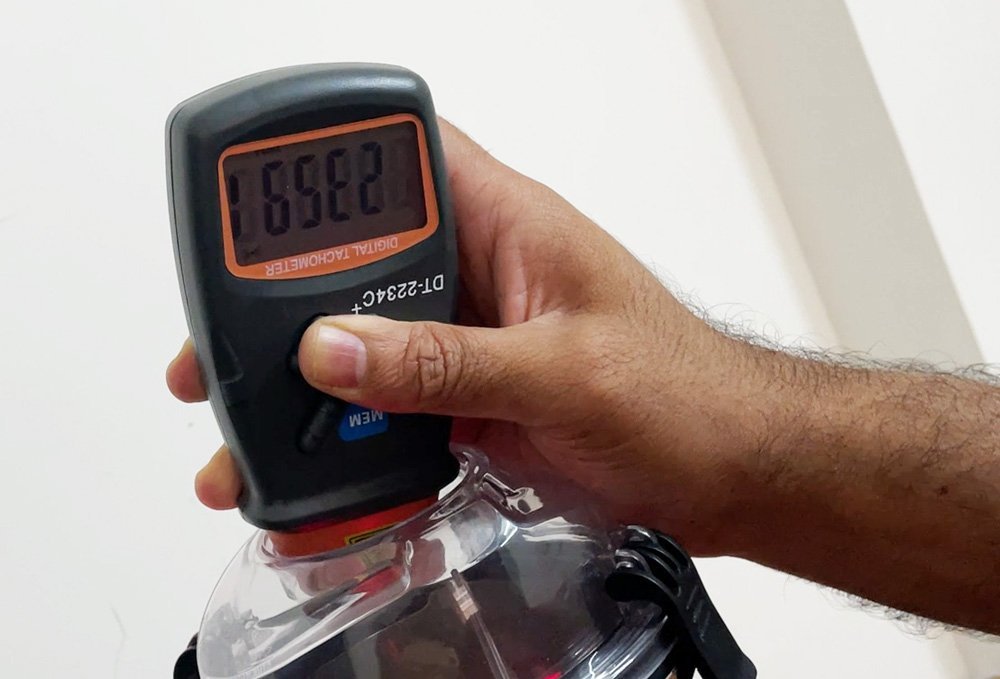 Despite the high power and RPM, it doesn't have the grinding efficiency of Sujata Dynamix. A probable reason is that there is about a 1 cm gap between the bottom surface and the blade. So the food that lies in the gap could remain there without getting ground properly.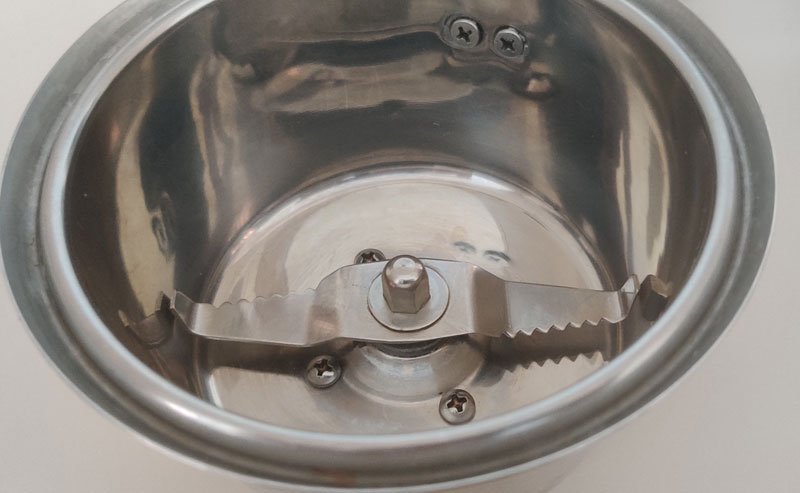 You notice this significantly with the chutney jar when grinding ginger-garlic paste and turmeric. But in the 1-litre jar, you don't really notice it because usually a larger quantity of ingredients is added. Thus, it forms a proper vortex with the blades at the centre. So, all ingredients get pulled towards the blade and grinds properly.
A positive of this 1cm gap is that there are lesser chances for the blades getting jammed due to food getting stuck in the blade. But, the cons outweigh the pros.
The wet grinding jar is also pretty good in terms of its grinding efficiency. You can grind idli-dosa batter into a pretty smooth consistency in less than a minute. The batter doesn't get heated up too. But, as mentioned earlier, the flow breaker is a farce that is best avoided.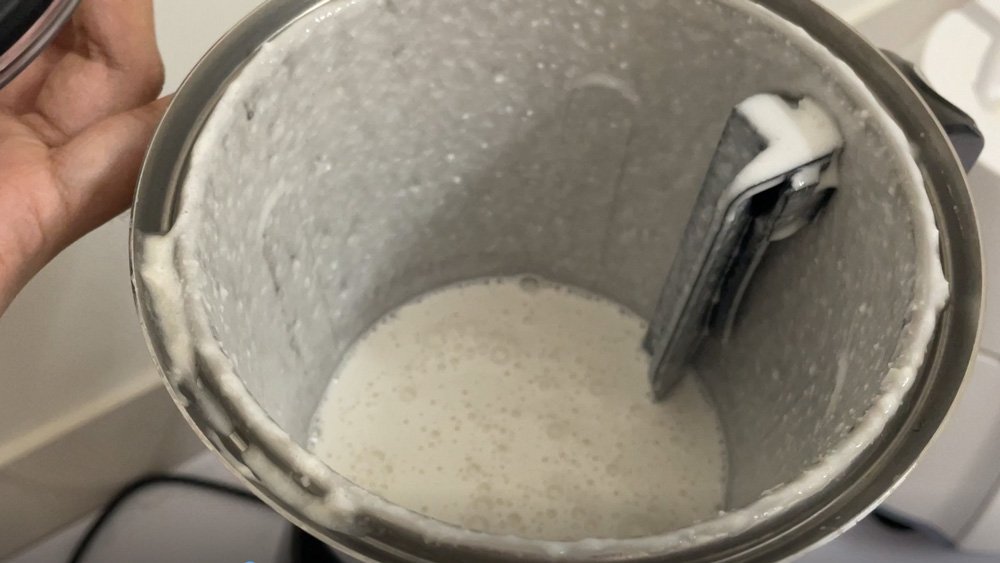 You buy a 1000-watt mixer grinder only if you plan to occasionally or often grind spices. Using the multipurpose jar and the regular blades, you can grind spices like garam masala and turmeric finely. The results are truly commendable. But in the chutney jar, as mentioned earlier, large unground chunks remain after sieving.
The mixer grinder comes with a pounding blade as well. Using it, you can grind masala and spices to a coarse consistency.
Though the manufacturers claim that it results in spices with better fragrance and flavour, we didn't find any significant difference. This is because the heat produced using both types of blades is similar. Pounded spices have a better flavour because the heat generated is minimal in the process. It can't be replicated in a mixer grinder.
Due to its narrow base, the mixer grinder isn't that efficient at crushing larger ice cubes. But, with smaller ice cubes, it does a fairly neat job.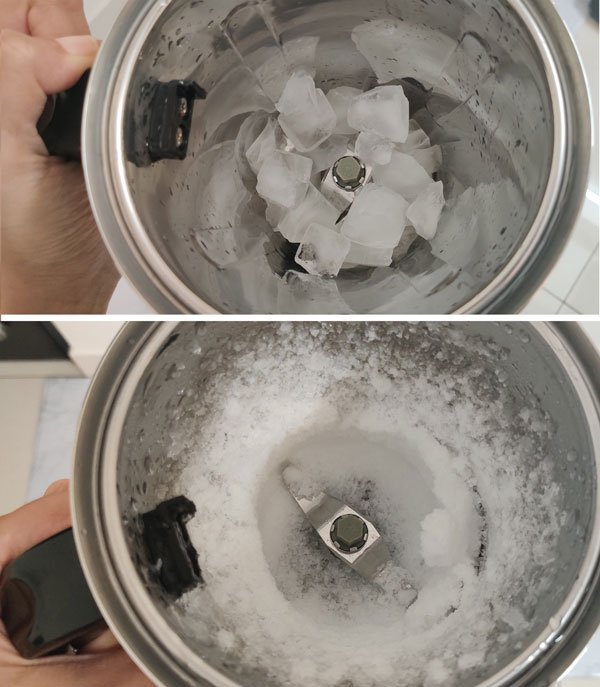 The juicer jar is well-designed. The strainer at the centre has a sieve that is very tall. Comparatively, Preethi and Philips have a shorter sieve. So, juice extraction is better. But, just like every other juicer jars, the pulp does retain a lot of juice, thus adversely affecting the juice yield.
You can make juice from watermelon, apples, pomegranate etc using this juicer jar. With oranges, the seeds too get ground imparting a bitter taste to the juice.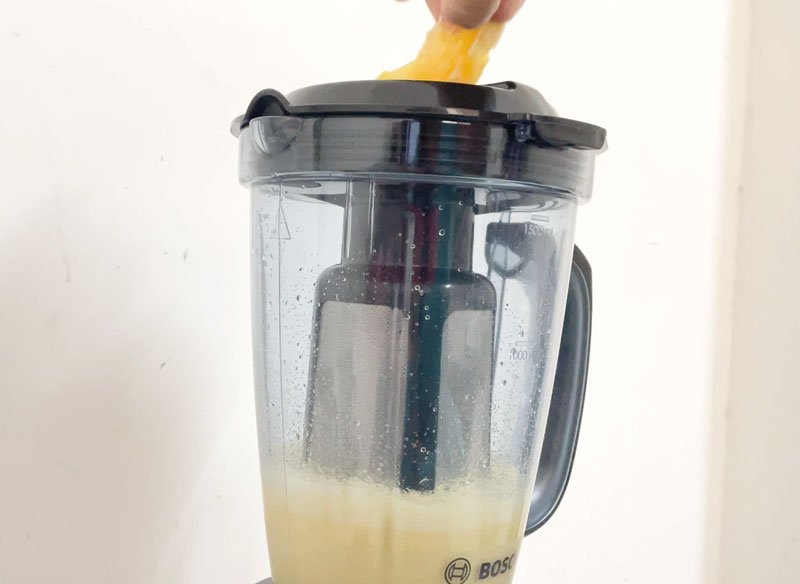 Many brands market their juicer jars for extracting coconut milk. But, it doesn't work well enough. After grinding, the pulp at the centre remains wet with a lot of milk in it. So, you will have to manually pass it through a sieve to extract the milk completely. It is rather better to extract milk the conventional way.
Related reading: Sujata Dynamix vs Bosch Truemixx Pro Mixer Grinder
Safety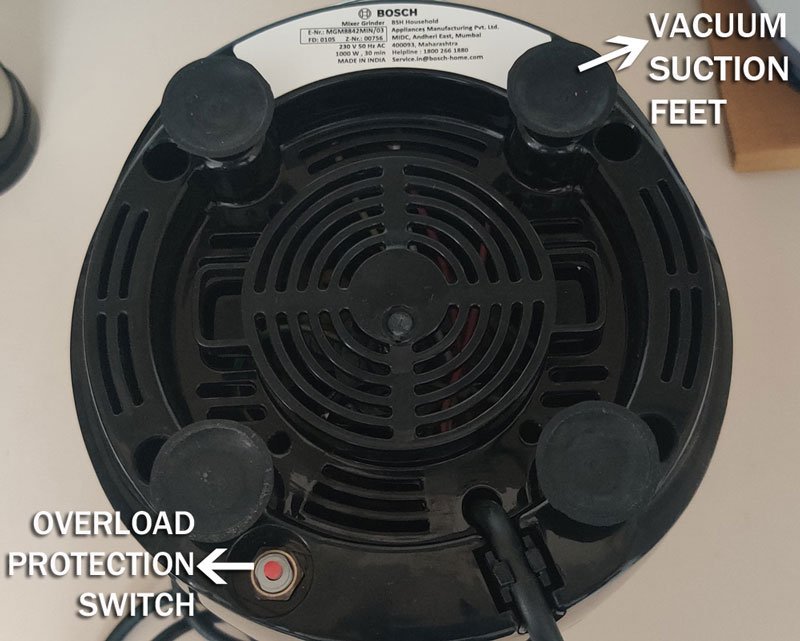 The Bosch Truemixx Pro comes with all standard safety features. It comes with vacuum suction feet that ensure the mixer grinder doesn't 'walk around' when grinding at full capacity. There is an overload protection switch that cuts off the power when the motor is overloaded or heated up. The wires are well-insulated and the body is shock-proof.
All jars have lid locks and they are leakproof too.
Noise
The noise is perhaps one of the biggest negatives of Bosch Truemixx Pro. It makes an annoyingly loud noise. We found that its noise comes to around 95-100 dB, which is the highest among the various options we tried.
Ease of Cleaning
The mixer grinder is not easy to clean. Unlike other brands, rubber beadings are easy to remove. But. the wet grinding jar is so deep that you can't put your hands in comfortably to clean the bottom. You would be better off whipping some soapy solution to clean it thoroughly. The flow breaker too tends to accumulate food residue on it.
The jar lids have many curves and grooves, which also make them a bit difficult to clean. They are very prone to scratches and discolouration. The jars are not dishwasher friendly either.
Warranty and Aftersales Service
The Bosch Truemixx Pro comes with a 2-year overall warranty and a 5-year warranty on its motor. It is the same as what Philips and Philips provide.
The aftersales service is hassle-free. The service agent picks up and drops back the product at your doorsteps. So, it is quite easy, compared to Sujata and Preethi.
Variants
Bosch Truemixx Pro comes with a motor capacity of 750 and 1000 Watts. The jars and design of both models are the same.
It is also available in white with and without the juicer jar. But on Amazon, the 1000 watt model with 3 jars is more expensive than the model with 4 jars. So, it doesn't make much sense to buy the 3 jar model.
Conclusion
Overall, the mixer grinder has fairly good grinding efficiency, especially with wet grinding. Dry grinding efficiency is good with the medium-sized jar. But not so much for the chutney jar. The noise levels are high and it isn't that easy to clean either. But, the ease of use, lid locks, leak-proof jars and hands-free operations are definitely positive.
If you are looking for an easy-to-use, hands-free mixer grinder with excellent wet grinding efficiency and fairly decent dry grinding efficiency, then Bosch Truemixx is definitely one of the best options to consider.
Was this post helpful?
Let us know if you liked the post. That's the only way we can improve.