Philips HL1655 is one of the top-selling hand blenders in India. Unlike other hand blenders, it comes with removable blades for whipping and whisking. Let us explore how well it performs, its ease of use and how it compares with other models that fall in a similar price range.
Pros
Powerful blending performance
Has extra blades for whisking and whipping
Ingredients don't get stuck in the blade guard.
Cons
Being thick, it is not very easy to hold
Design and Features
Philips HL1655 comes with a 250-watt motor. It comes with 3 blades and a remover tool that can be used to easily change blades. The blades are suitable for blending, whisking and whipping.
Just like the Orpat hand blender, Philips too comes with a non-detachable blending stick. It has a single speed control, while options like Kent come with variable speed adjustments.
Compared to options like Kent and Orpat, the Philips hand blender is shorter, but also thicker. It has a curved design for better ergonomy. But even then, it is not as comfortable as the thinner blenders available in the market.
Performance
The blending performance of Philips HL1655 is excellent. It can make milkshakes and smoothies with soft ingredients and a few nuts into fine consistency in less than a minute.
Most of the hand blender's blade guards have a restricted opening in which ingredients may get stuck. But, in Philips, the edges of the blade guard are just curved. So, you don't have to worry about nuts or other ingredients getting stuck. This also helps in thorough blending.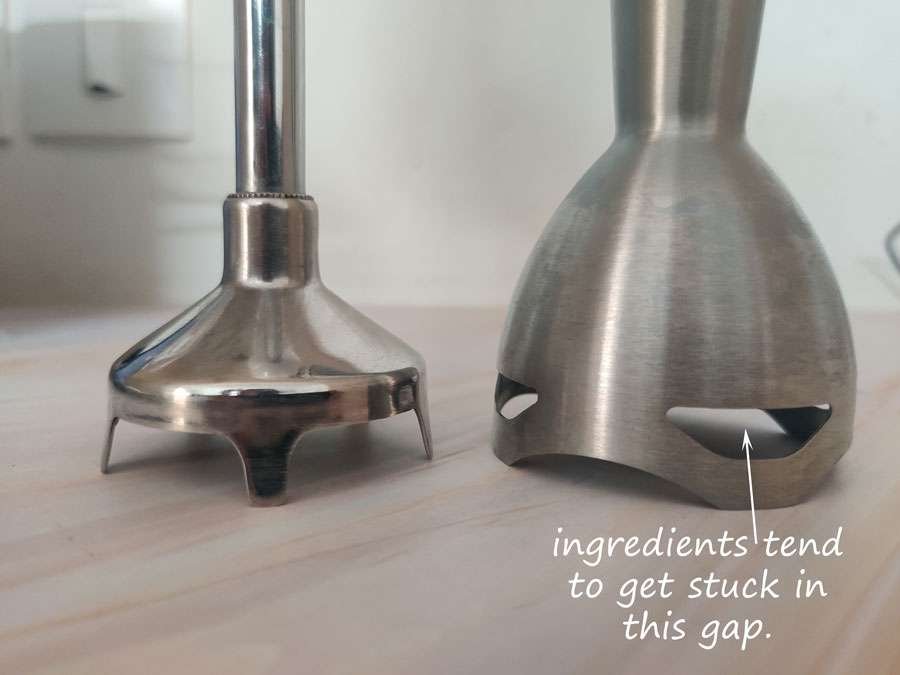 The unit also blends hot ingredients with ease. We were able to blend a cup of hot boiled dal with tomatoes and 500 gm blanched tomatoes for soups in a minute or so. It doesn't splash around the food uncontrollably either. This makes it an ideal option for not just regular household chores, but also for blending and pureeing baby food.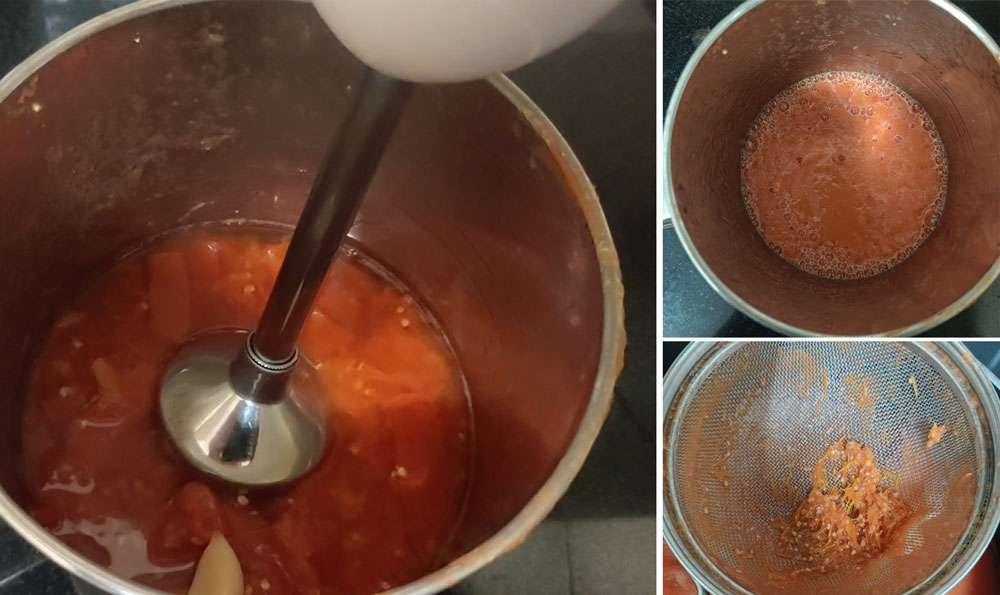 Now, coming to the whipping and whisking tool, first let us look at the difference between the two. Whipping tool is for beating ingredients like pancake or crepe batter, while the whisking tool is for lassi, egg whipping etc. Unlike hand mixers, you cannot expect to whisk cream and egg whites to soft or stiff peaks using these tools. Rather, it just whisks enough for omelettes, Dalgona coffee and cream for beverages.
Related reading: 7 Best Hand Blenders In India
Ease of Use and Cleaning
As mentioned, being thick, the blender is not the easiest option to hold on to, especially if you have to use it for long stretches. Thankfully, it can blend milkshakes, smoothies, mayonnaise etc in a minute or so.
As the blender stick is not detachable, you need to be careful while cleaning it, ensuring the blade and motor don't come in touch with water. But, as the blades are removable, it is easy to clean the blade guard and the area surrounding it.
Comparison With Other Models
When it comes to the blending performance, Philips HL1655 is almost at par with other models like Kent 16044 and Inalsa Inox. It may not be as ergonomic as these two models, but that the ingredients won't get stuck in the blade guard is an advantage. Though the Philips blender comes with two extra blades, it may not be that useful for most.
Price-wise, Philips HL1655 is more expensive than Kent 16044. But, while Philips has a 2-year warranty, Kent has just one.
The blender is also available with a more powerful 650-watt motor and a chopper like the Philips HL1600 model.
Conclusion
Overall, if you are looking for an option to not just blend, but also whisk buttermilk, lassi, and eggs and make batter for crepe and pancake, then, Philips HL1655 would be an apt choice for your needs. But, if you intend to have just a blender, then, Kent 16044 would be the better way to go.
Was this post helpful?
Let us know if you liked the post. That's the only way we can improve.