Preethi Zodiac MG 218 and Preethi Zion MG227 are two of the best selling mixer grinders from the house of Preethi. Though they may look similar, there are a lot of differences in terms of their design and functionalities. Let us take a look at it in detail.
Jars
Preethi Zion MG227 comes with 4 jars including the food processor unit. We shall talk about the food processor in detail in the next section. Let us take a look at the rest of the jars.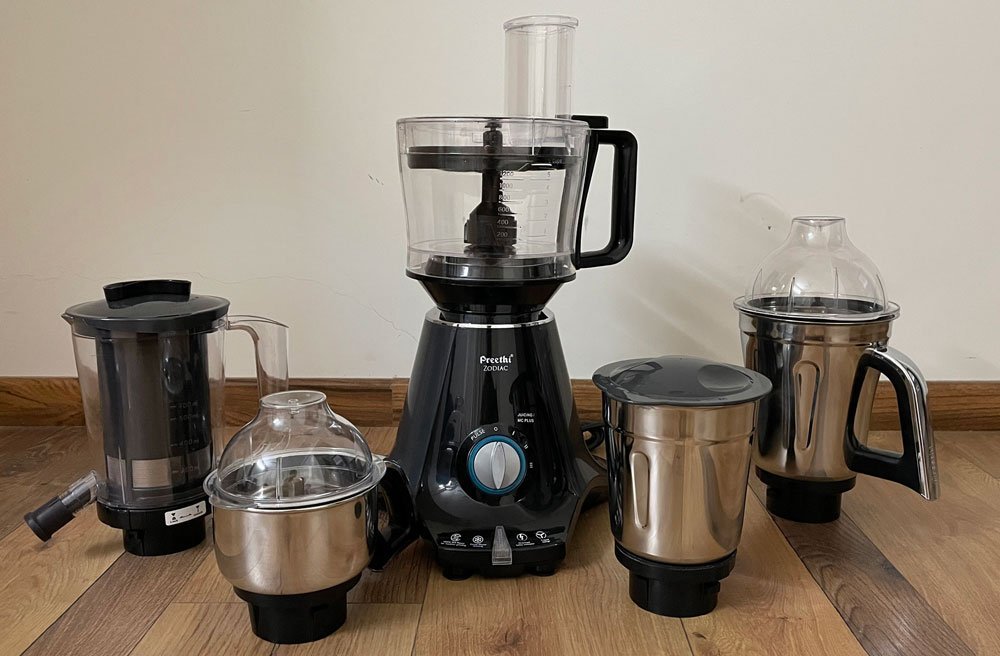 Zion MG227 has a 200 ml dry grinding jar, 500 ml chutney jar and 1.5 litre wet grinding jar.
Preethi Zodiac on the other hand comes with 5 jars. They are a 500 ml chutney jar, 1-litre multipurpose jar, 1.5-litre wet grinding jar, 1.5-litre 3-in-1 juicer jar and a food processor jar.
An advantage of Zion over Zodiac is that its 200 ml dry grinding jar can be used for grinding small quantities of ingredients. In Zodiac, when you grind, say 50 gm of ginger-garlic paste in the chutney jar, you get it in a coarse consistency with unground bits and pieces. But when you grind them in Zion's 200 ml dry grinding jar, it gets ground to a finer consistency without many coarse bits. It is not just the small size, but also the dual-edged blades that help grind the ingredients finely.
Similarly, Zion's 1.5-litre wet grinding jar too has a dual-edged blade that is perfect for grinding batter, masala paste and such wet ingredients. Its blade is in fact similar to Preethi Blue Leaf Diamond's 1 litre multipurpose jar.
Though you don't get a separate 1-litre multi-purpose jar, Zion makes up for it with the Flexi lid that can convert 1.5-litre jar to 1 litre capacity.
Related reading: Best Mixer Grinders In India
Food Processor Unit
Both Zion and Zodiac come with the same food processor unit that can be used for grating, chopping, slicing and kneading. You also get a citrus juicer attachment along.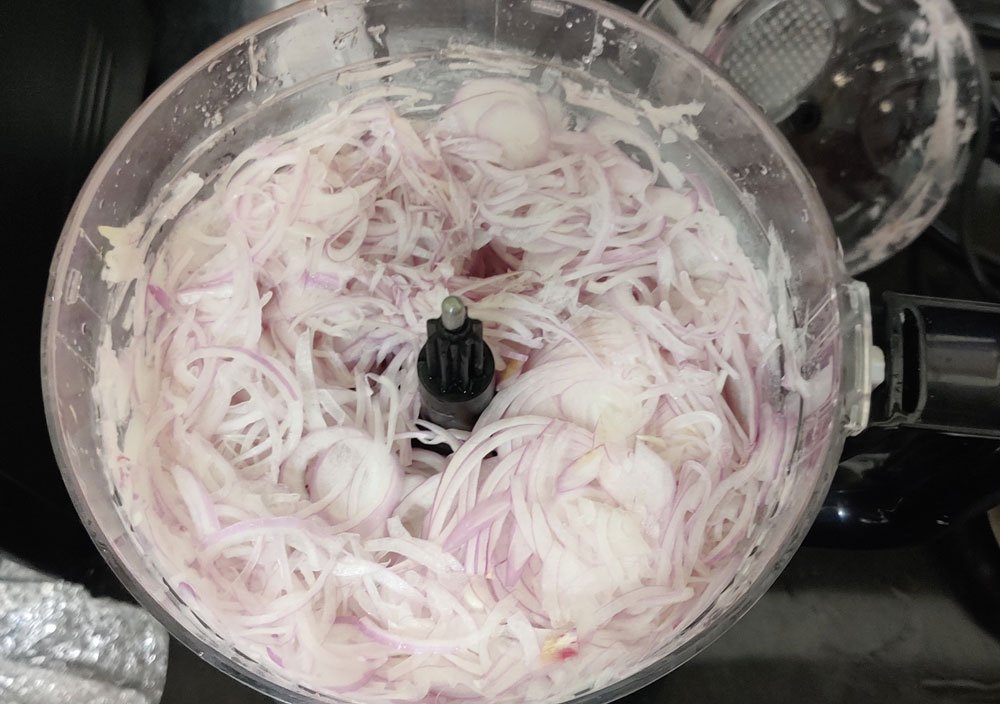 You get separate blades for kneading and chopping. Being sharp, the chopping blade should be handled with special care. It can be used for chopping onion, garlic, ginger, chilly, tomato and such vegetables and also for mincing chicken.
The grating and slicing blade has to be fixed to a separate disc-like attachment. Using it, you can slice and grate firm vegetables like onion, carrot, cucumber, green banana, beetroot etc. However, you can't grate ginger, garlic, chilly or such smaller vegetables with it.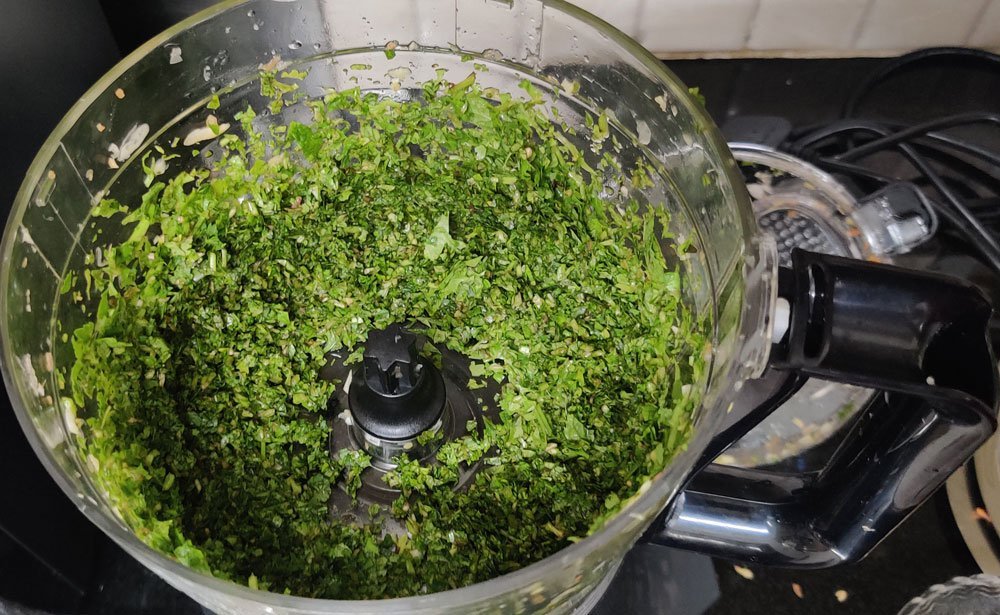 The citrus juicer attachment is also quite helpful as you can make a glass of juice in less than 2 minutes.
Similarly, using the kneading blade, you can make dough for chapati with ease. To make methi or paneer paratha, you can chop the ingredients first using the chopping blade and then change to kneading blade and add sufficient flour, oil, salt and water to make a nice dough. However, take care to pour water little by little as the kneading progresses because when you take water as per the measurements given in the pusher, the dough ends up a bit sticky.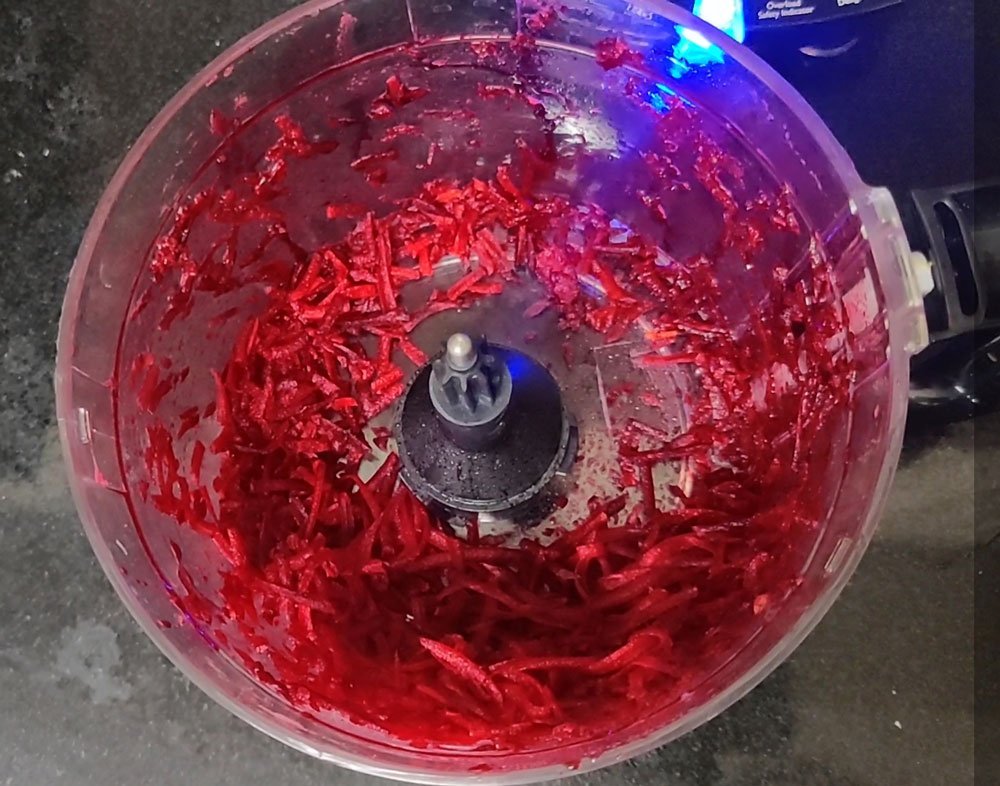 You may also like our article on Best Food Processors in India
Juicer Jar
Preethi Zion doesn't come with a juicer jar. But that shouldn't really put you off from buying Zion because most people stop using the juicer jar within the first 2 to 3 months of buying the mixie.
The 3-in-1 juicer jar that comes with Preethi Zodiac has two sets of blades- an extraction blade for juicing and a blending blade for making milkshakes and smoothies. It extracts watermelon juice efficiently, but not so well with other fruits. It has a spout using which you can collect the juice as it is being made. It also has a pusher to move the fruit pieces towards the blades. But a drawback is that changing the blade is tough and complex. It requires a lot of effort and if you don't do it right, you may even break the polycarbonate jar.
So, you are better off using the 3-in-1 jar only for juicing and using the wet grinding jar for making milkshakes.
Related reading: How To Choose A Mixer Grinder?
Motor Housing
The motor of both Zion and Zodiac comes with 750-watt power. Except for a slight difference in the colour, there is hardly any difference in terms of the design, performance and functionality.
They both have a tripod design, vacuum suction feet, a similar knob and a power indicator that glows red when the overload protection switch is triggered.
Noise Levels
As both the mixer grinders have the same motor, their noise levels are also the same. It is moderately high at around 90-95 dB.
Price
Preethi Zodiac is more expensive as it comes with 5 jars including a juicer jar and a 1-litre multipurpose jar which Zion doesn't have. At the time of publishing this article, Zion costs about Rs. 6800, while Zodiac costs Rs. 8900.
Whom Is It For?
So, should you buy Preethi Zion or Zodiac? Our recommendation is to opt for Zodiac only if you feel you will make use of the juicer jar. Else, opt for Zion. It is less expensive and moreover, the 200 ml dry grinding jar is practical for Indian cooking where we freshly make masala powders and ginger garlic paste for curries.
Features
Zion MG227
Zodiac MG218
Power
750 watt
750 Watt
No. of jars
4
5
Dry Grinding Jar
200 ml
Not available
Chutney Jar
500 ml
500 ml
Multipurpose Jar
Not available
1 litre
Wet Grinding Jar
1.5 litre
1.5 litre
Flexi Lid
Yes, Suitable for
the wet grinding jar
No
Food Procesor Jar
2.1 litre
2.1 litre
Juicer Jar
No
1.5 litre
Noise Level
90-95 dB
90-95dB
Price
7xxx
9xxx
Purchase Link
Amazon
Flipkart
Amazon
Flipkart
Was this post helpful?
Let us know if you liked the post. That's the only way we can improve.