Philips HL7756 is one of the best budget-friendly 750-watt mixer grinders available in India. It is a basic model, yet, owing to the competitive pricing and fairly good performance, it has garnered a high user rating. In this review, we talk about its design, grinding performance, noise, ease of cleaning and other aspects to help you make an informed buying decision.
Summary
Philips HL7756 is a budget-friendly option with fairly good grinding performance and above-average built quality. It is moderately loud. Using it, you can take care of all daily chores including making chutney, grinding batter etc, with ease.
Jars
The Philips HL7756 comes with 3 jars made of stainless steel. The large wet grinding jar has a polycarbonate lid, while the smaller ones have plastic lids. Their blades are not removable.
The chutney jar is the smallest among the options we have tested, with just 300 ml capacity. Most chutney jars come with 400 or 500 ml capacity. The dry grinding jar has a 1-litre capacity and the wet grinding jar has a 1.5-litre capacity.
The dry grinding jar does not have a gasket. Rather, it has a striped edge which gives it a tight fit. However, many users say that after a few years of use, the lid becomes loose and won't be able to close it tightly.
The blade of the chutney jar is two-pronged with small wedges that help grind uniformly. The wet and dry grinding jars have similar blades as shown in the image below.
Comparatively, the jars are thin, measuring just 0.6mm in thickness. As the jars don't have lid lock, you have to hold it in place while grinding. They are NOT leak-proof.
A drawback is that the rivets at the centre of the blades have a tendency to rust. So you need to dry the jars immediately after use.
Motor Housing
Philips HL7756 comes with a 750-watt motor. It is compact and lightweight. The locking mechanism is typical of what you find in most mixer grinders. The black, glossy finishing is elegant but prone to smudges.
Just like every other mixer grinder available in the market, it has vacuum suction feet and an overload protection switch.
A drawback you notice is that while all other options at this pricing can run for 30 minutes with breaks in between, Philips HL7756 can run for just 25 minutes. This makes you doubt if the motor is robust enough in the long run.
Also, the base tends to vibrate when grinding a full load of ingredients.
You may also like our article on Best Hand Blenders In India
Grinding Performance
The grinding performance of Philips HL7756 is pretty good given its attractive pricing. We tried grinding the standard set of ingredients we usually do while testing mixer grinders and were quite impressed by the results.
Upon grinding about 50 gm of garam masala in dry grinding jar and after sieving, we obtained just 3/4th tsp of coarse residue, which is quite impressive. We pulsed it 5 times and then ran the mixie for 1 minute for grinding garam masala.
The mixer grinder is not the best option out there for turmeric. But then, it isn't something you expect from a budget-friendly grinder. Upon grinding and sieving 30 gm of turmeric in the chutney jar, we got large chunks. Also, the blades got stuck on turmeric pieces and the jars got very hot too. For the sake of durability, we don't recommend grinding turmeric in it.
What really impressed us was that it was quite a good option for grinding smaller quantities of ingredients. Whenever we try grinding 20gm of ginger garlic paste ( a quantity sufficient for making 1-2 tablespoon ginger garlic paste for a dish), we get coarse chunks that don't really get blend to a paste. But, owing to the small size of Philips' chutney jar and fairly good blade, we were able to grind ginger and garlic to a smooth paste by adding a tablespoon of oil. The consistency was just right for marinating fish, meat and paneer for fried dishes.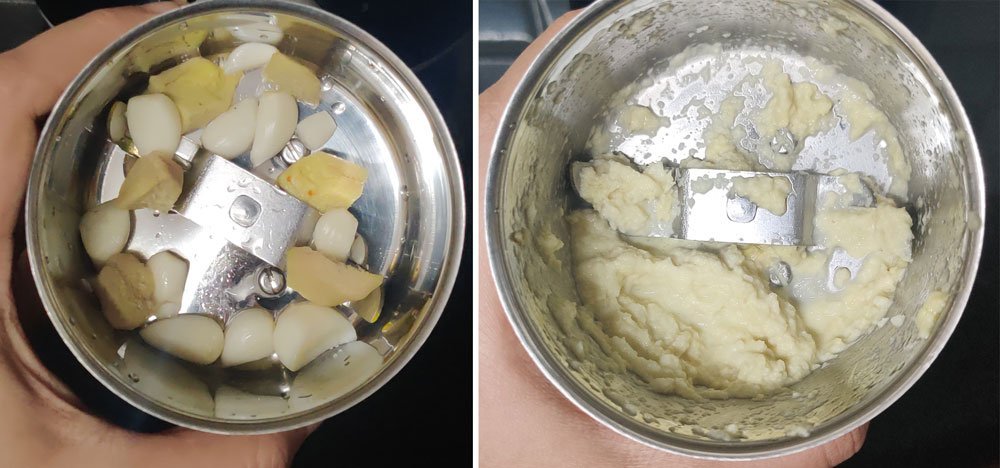 Finally, we tried grinding urad and rice separately in the wet grinding jar for idli batter. We soaked urad and batter for 5 hours and ground them. It took about a minute each to grind them into a smooth paste. We had to add a cup of water to urad to grind it smoothly, else, it was grainy and lumpy. But, rice was ground to a fine consistency. More expensive options from Sujata and Preethi takes just 45 seconds to grind urad and rice. A drawback however is that the wet grinding jar wobble a bit when it is fully loaded with ingredients
Overall, given the pricing, Philips HL7756 is a pretty good option. It does a good job taking care of day-to-day grinding chores.
Noise Levels
The mixer grinder makes a moderate noise. Keeping the decibel meter 15 cm away from the mixer grinder, we recorded noise level of 90-95dB. It isn't as noisy as Bosch Truemixx. But, you can't really expect it to be that tolerable either.
Safety
The mixer grinder has standard safety features like vacuum suction feet, shock-proof body and an overload protection switch. The overload protection switch gets triggered when the motor gets heated up due to jammed blade or excess load. When triggered, you may have to wait for 5-10 minutes for the motor to cool down before you start operations.
Comparable options from Prestige has a 3 pin plug. But all Philips models, irrespective of the price has a 2 pin plug.
Ease of Cleaning
The mixer grinder jars are fairly easy to clean. The smaller jars have plastic lids that don't stain easily. Polycarbonate lids on the other hand retain masala stains badly. The chutney jar blades have a wedge kind of shape and sometimes food may get stuck in it. So, you need to be careful while cleaning it.
The jars are not dishwasher friendly. But then none of the mixer grinder jars, irrespective of the brand, are. This is because the blades may lose sharpness and also because water gets accumulated in the jar lock, which can damage the coupler in the long run.
Durability
As mentioned, the jars of Philips HL7756 are comparatively thinner. We have generally observed that within 2-3 years of use, the plastic lids tend to get loose. At that time, you may have to either change it or get a new gasket. If used for just regular chores and not for grinding tough ingredients, Philips HL7756 can last you for a few years without any trouble. But, if you plan to grind spices on a regular basis, it may not be the best option for you.
Warranty and Aftersales Service
The mixer grinder comes with 2 year product warranty and 5 year motor warranty. As Philips has fairly wide network of service centres, you wouldn't have much hassle getting it repaired in case any trouble arises. Also, spares of Philips mixer grinders are fairly easily available.
Comparison With Other Models In The Similar Price Range
Compared to Prestige, Butterfly and Havells mixer grinders sold at a similar price range, Philips HL7756 definitely has an edge. The performance and user rating of Philips HL7756 is far better than many other options sold at this pricing.
Also, they have a wider network of aftersales service centres.
Conclusion
Available at a budget-friendly price, Philips HL7756 is a pretty good 750-watt mixer grinder to choose from. Its jars are thin and the built quality is just above average. But, the grinding performance is fairly good. It is an excellent option for those who like to freshly grind a small quantities of spices and other ingredients for each dish. It may not be suitable for tough spices like turmeric but can handle other daily chores including grinding idli batter with ease. The mixer grinder is also available in bright red colour.
Was this post helpful?
Let us know if you liked the post. That's the only way we can improve.