Philips Amaze is one of the best selling juicer mixer grinders in India. There are two variants available- Philips Amaze HL7576/00 is the complete package that comes with the chutney jar, while Philips Amaze HL7575 doesn't have one. It only has the blending and dry grinding jar.
For this review, we have bought the Philips Amaze HL7576/00. In this review, we talk about the jars, motor housing, juicing & grinding performance, ease of cleaning and other aspects in order to help you make an informed decision.
Product
Philips Amaze HL7576/00
Power
600 W
No. of Jars
3 ( 400 ml chutney jar, 750 ml multipurpose jar, 1.5 litre blending jar)
Max. RPM
19000 cycles
Pros
Budget-friendly pricing
Juices fruits like apple, pineapple, watermelon etc efficiently.
Grinding efficiency of jars is also quite good.
Cons
Not good for making pomegranate juice.
The spout is not drip-proof.
Fairly noisy
Purchase link
Amazon
Jars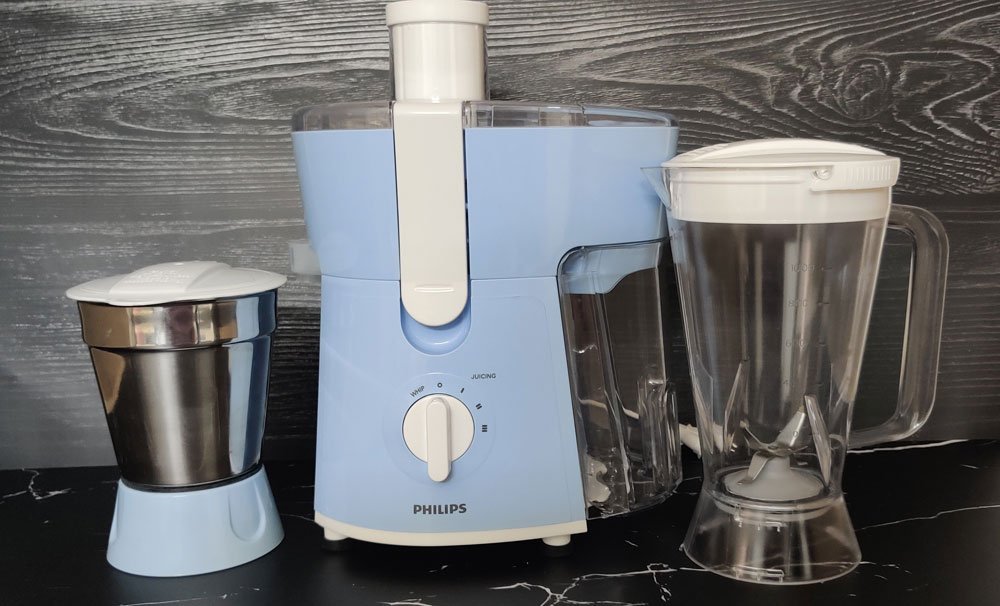 Philips Amaze HL7576/00 comes with three jars in addition to the juicing attachment. The smallest is a 400 ml chutney jar, the middle one is a 750 ml multipurpose jar and a 1.5-litre blending jar.
The blending jar is made of polycarbonate with a plastic lid. The lid has a locking mechanism offering hands-free blending. The multipurpose and chutney jars have a stainless steel body with plastic jar locks and lids. Being a budget-friendly option, the smaller jars don't have a handle.
The built quality is just about average. Despite being new, the lids are a bit loose. And in all likelihood, considering the general nature of Philips' mixer grinders, it is quite possible that the lids will become further loose in a year or two.
Related reading: Best Juicer Mixer Grinders In India
Motor Housing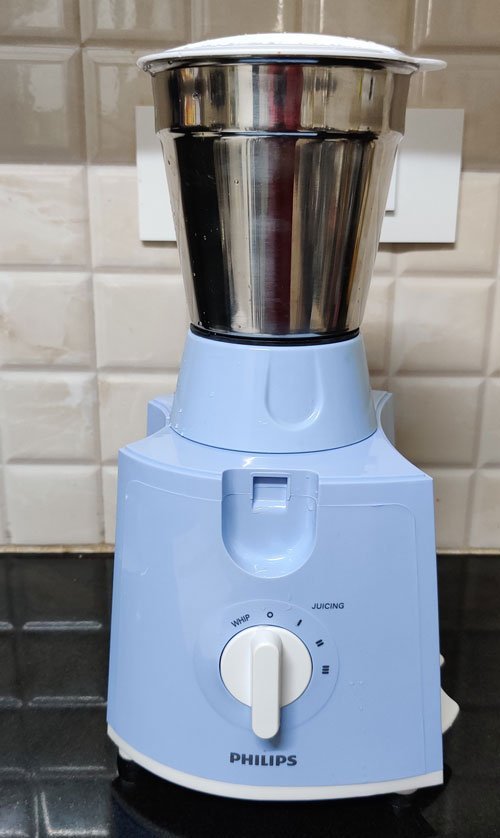 The mixer grinder has a 600-watt motor. Just like other offerings from Philips, this one too doesn't have a power-on indicator. Using the knob, you can set the speed at three levels. You also have a pulse option. While juicing the unit needs to be set at the first level speed and for other blending and grinding chores, it can be set at second or third speed as per your needs. 
The motor housing is quite compact. If you remove the juicing attachment, it is quite short. It doesn't have a typical jar lock holder. But that doesn't affect your user experience in any way.
Being lightweight, the motor housing has a tendency to move 2-3 cm when grinding a full load of idli and dosa batter in the 750 ml jar.
Juicer Attachment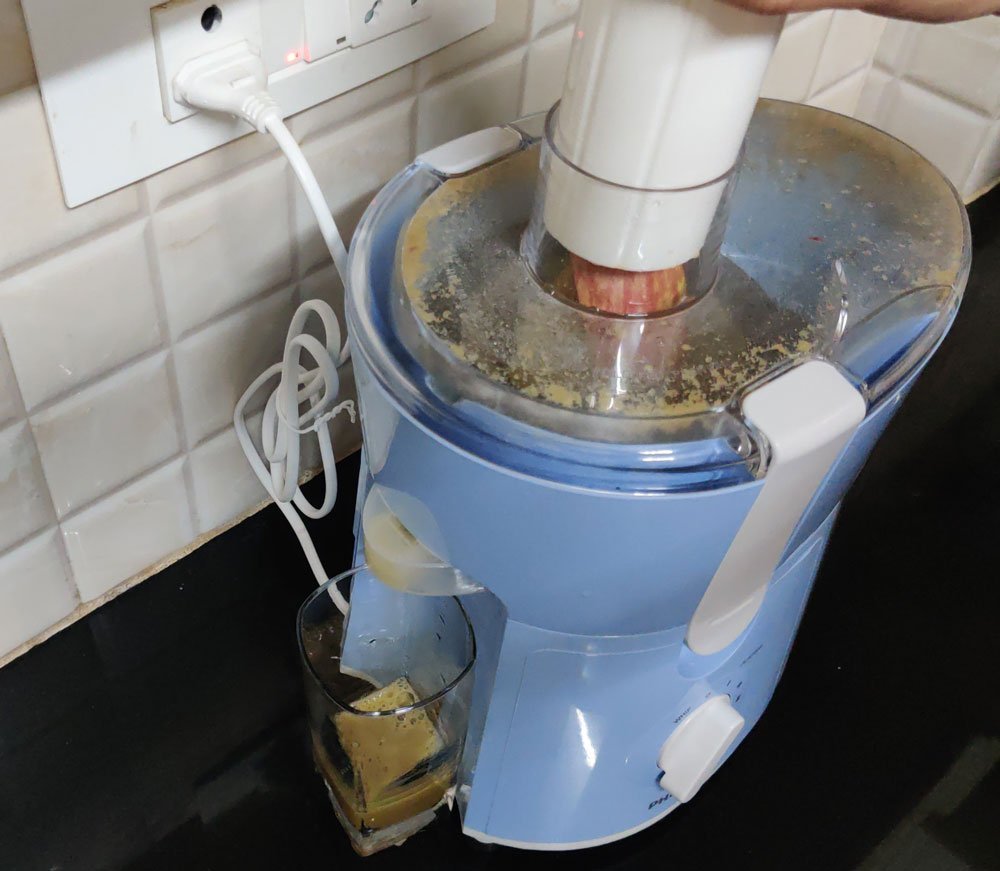 The juicer attachment design is quite alike other juicer mixer grinders in the market. It has a juice chamber and on it, you fix the extraction blade that has a mesh sieve attached surrounding it. On top, you have a cover with a feeding chute and pusher and on the side, you have the pulp collector.
The juicing attachment is attached to the motor base using a clip.
When the juicer mixer grinder operates, the extraction blade and mesh filter rotate at a high speed. The juice passes through the sieve, into the spout and can be collected by keeping a container on the outside. Due to the centrifugal force, the pulp gets thrown out at a tangent and moves to the pulp container. Of course, it gets splashed on the top cover too in the process.
Related reading: Havells Vitonica Juicer Mixer Grinder Review
Juicing Performance
To test the juicing performance of the Philips Amaze, we tried making juice with various fruits and vegetables.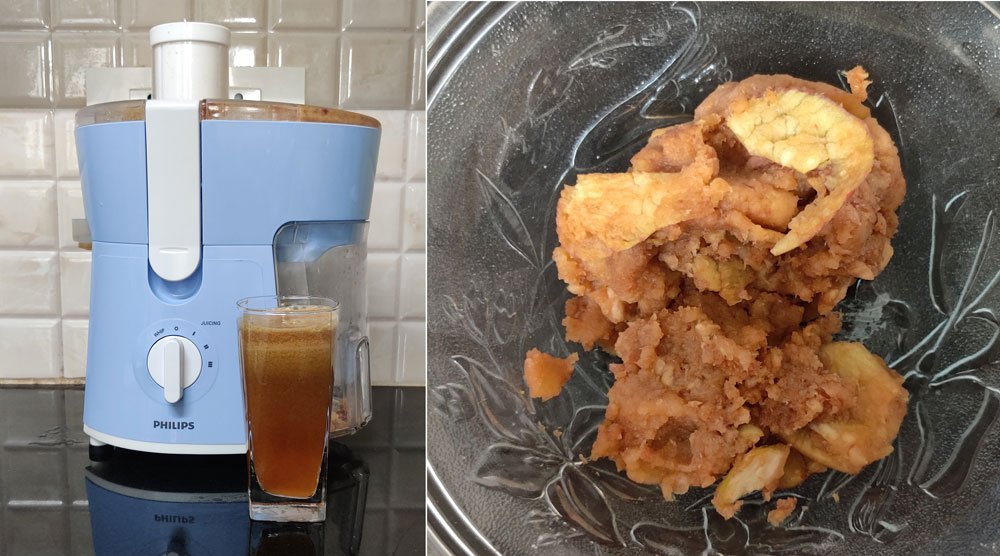 First, we tried making apple juice. We did not peel the apple, as it isn't a necessity. To fit comfortably through the chute, we cut the large apple into 6 pieces. In options like Havells Vitonica, you have to cut a large apple into 8-10 pieces.
With two large apples, we were able to get a medium-sized glass of juice. The juice had a lot of froth, which is something expected when juicing on a centrifugal mechanism. The whole process is pretty quick. You can make a glass of juice in just about a minute. . And when we checked the pulp after juicing, we found a few pieces of peels that were not crushed by the extraction blades. Also, the pulp as a whole was more wet compared to Havells Stilus and Sujata Powematic.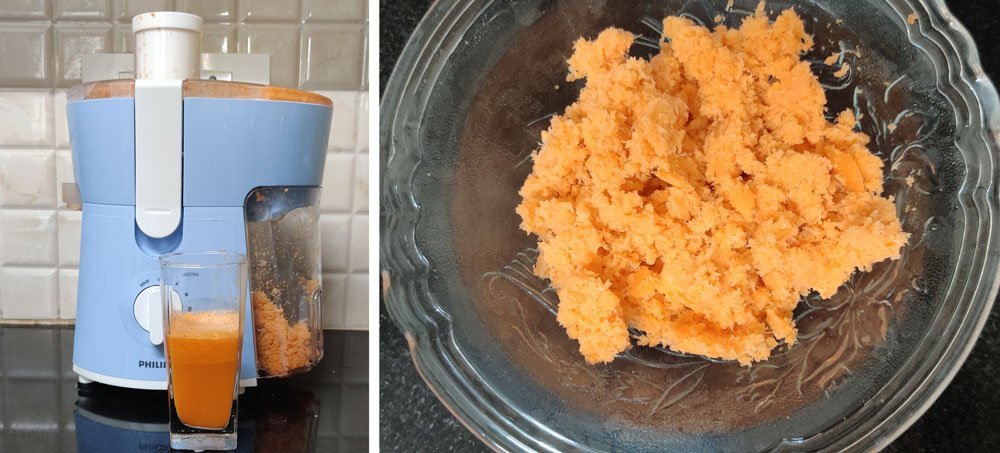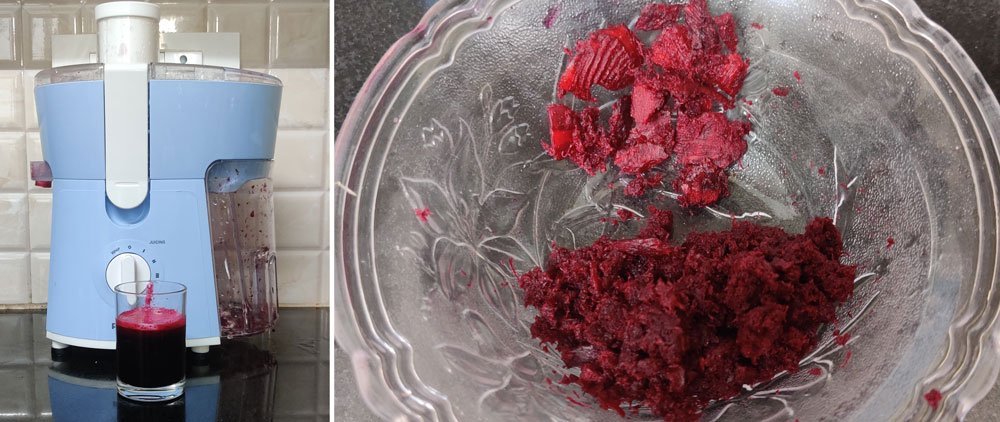 Next, we juiced carrots and beetroots. With carrot, the pulp was really crushed and it retained quite less juice. But that wasn't quite the case with beetroots. We found a lot of beetroot chunks in the pulp that wasn't crushed while juicing.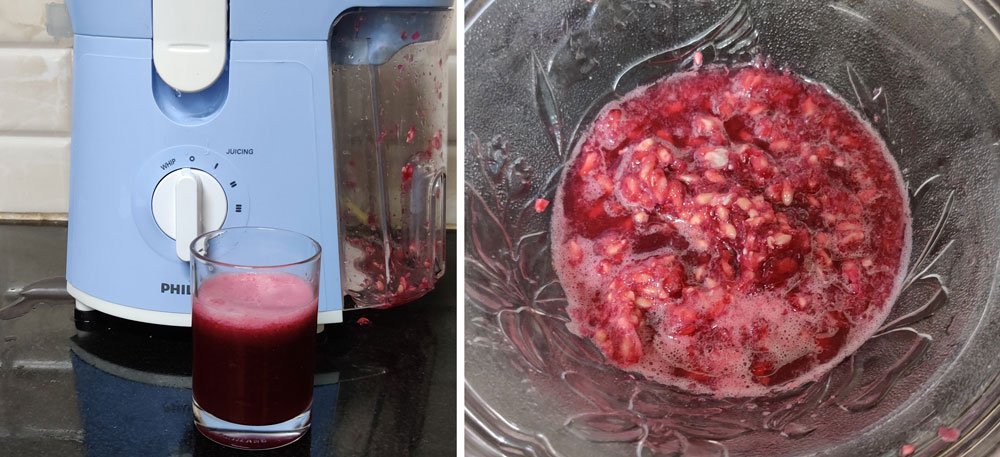 The juicing performance was the worst for pomegranates. When the blades rotate, the seeds and juice are thrown all over the place. So, the pulp in the container had not just seeds, but as you can see in the picture below, it had a lot of juice as well. So, we ran the pulp through the chute once more to extract as much juice as possible. Even after that, the pulp retained a lot of juice.
A drawback is that the spout is not drip-proof. After juicing, a few drops drip and your countertop end up messy.
Overall, the performance is above average for a centrifugal juicer. If you are looking for something better, Sujata Powermatic or Havells Stilus would be a better choice.
Grinding Performance
As you can see, Philips Amaze is not just a juicer, it is a juicer mixer grinder. So, it's only fair that we test the grinding efficiency of the mixer grinder too. For this, we made idli batter, milkshake and chutney. As it has just 600 watts of power, we did not want to burden it by grinding garam masala or any such spices.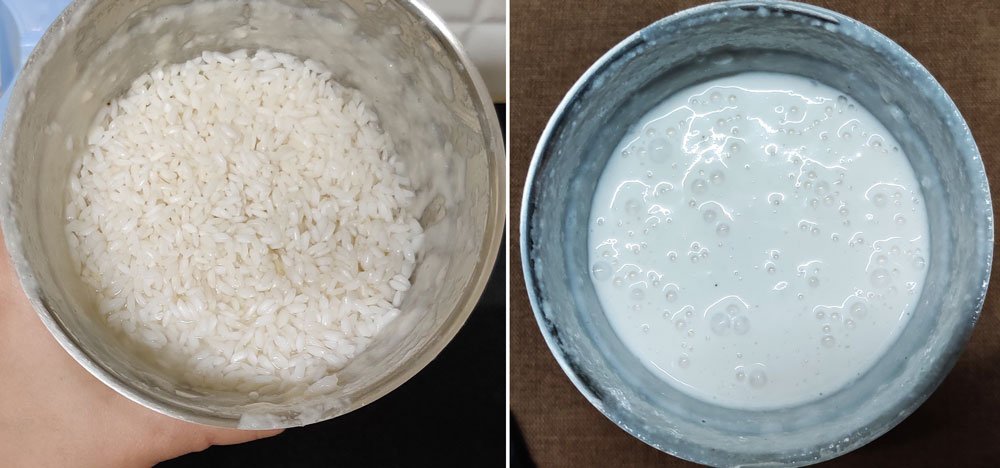 To make dosa batter, we soaked rice and dal for 5 hours. We were able to grind 3/4 cup of urad dal into a smooth consistency in about 2 minutes. It took about the same time for grinding rice too. But the consistency was a bit grainy. However, the idli came out pretty well the next day. 
We were also able to grind chutney in the small jar into desired consistency. However, as it has just 600-watt power, it took a bit more time compared to a 750-watt mixer grinder.
Ease of Cleaning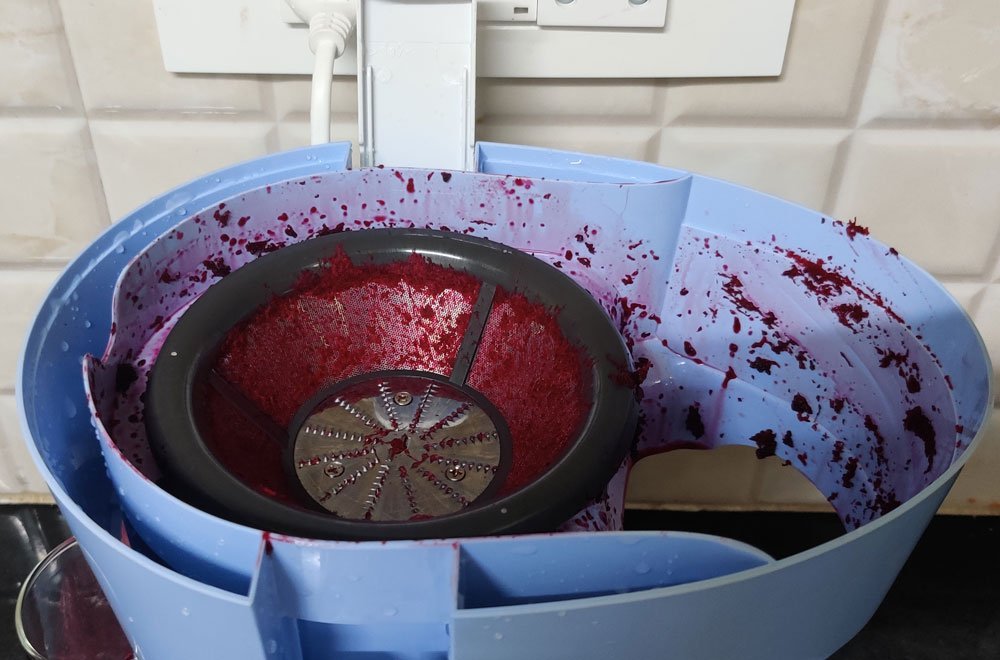 The jars are designed in such a way that it is easy to clean. They have a fairly simple design without many grooves and curves.
The juicing chamber comparatively takes a bit more effort. The juicer cover has a few areas which are hard to reach with a brush. You may have to use a toothpick to clean.
The mesh filter as expected is a bit difficult to clean. Cleaning it will scrub and sponge doesn't work. You have to use an old toothbrush and diluted soap to clean it thoroughly. And then also, there is a possibility that residues may remain behind. So, you need to be meticulous while cleaning the mesh.
Ideally, clean everything immediately after juicing so that the juicing chamber and mesh doesn't get stained by the fruit pigment.
Noise Level
The Philips Amaze is almost as noisy as any other regular 750-watt mixer grinder. It makes around 90-95 dB noise. While it isn't the noisiest option out there, it isn't that pleasant either.
Conclusion
Overall, the Philips Amaze Juicer Mixer Grinder is a fairly good option for juicing fruits like apple, watermelon, pineapple. It works moderately well for beetroot, carrot and such vegetables. But has a tendency to leave some chunks uncrushed.
The mixer grinder works effectively at grinding idli dosa batter, chutney and blending milkshakes. But, it is slower than a 750-watt mixer grinder.
Considering the economical price, and the fairly decent built quality, it is definitely an option worth considering.
Was this post helpful?
Let us know if you liked the post. That's the only way we can improve.