When you are in the market looking for a mixer grinder, you would have stumbled upon juicer mixer grinders too. Though many of the functionalities overlap, there are a few distinct differences between the two. Let's explore.
Power
One of the main differences you notice between juicer mixer grinders (JMG) and mixer grinders available in India is their power. In India, most of the JMGs are available with a motor that has a power of 500-600 watts. The only exception is Sujata Powermatic which comes with a 900-watt motor.
Mixer grinders on the other hand come with motors that have power ranging from 500 to 1400 watts. The higher the power, the faster it can grind.
Functionalities
A juicer mixer grinder, as the name suggests come with a juicing chamber attachment that converts it into a centrifugal juicer. It is capable of juicing a wide variety of fruits and vegetables. Except for starchy fruits like mangoes and bananas and fibrous vegetables, it can juice from almost everything.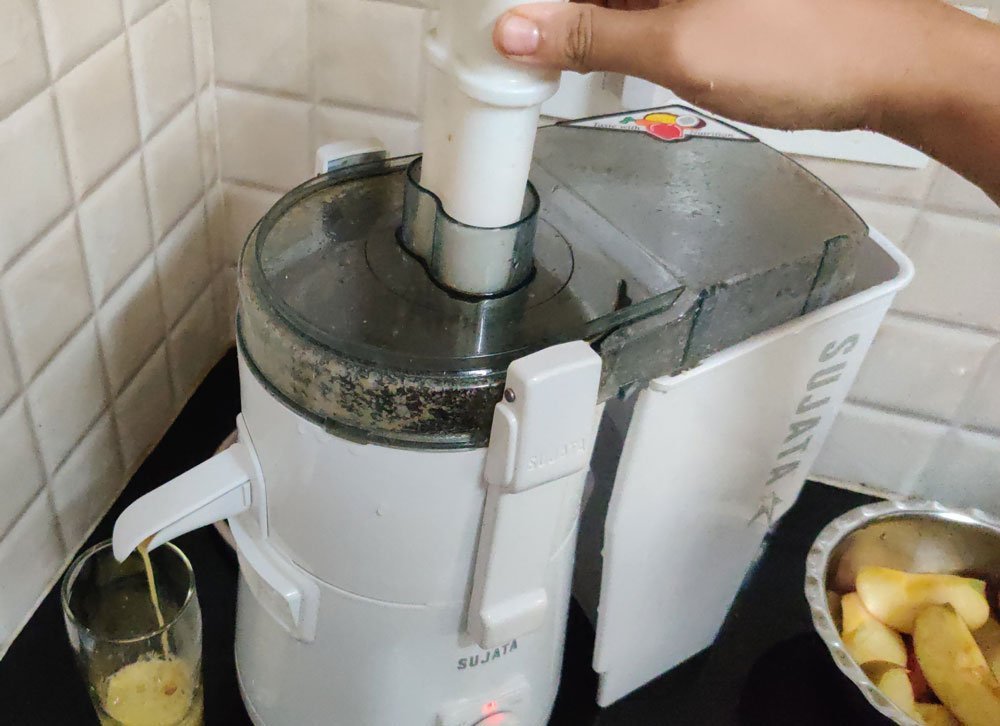 As it has lower power, they are not capable of carrying out heavy-duty grinding chores like making spice powders. Further, it takes more time to grind batter, chutney, masala etc. This isn't really a limitation of juicer mixer grinders as such but happens so owing to the fact that most juicer mixer grinders available in India have low power.
A mixer grinder, on the other hand, is not the best option for making juices. Rather, depending on the power, you can use it to grind a wide variety of ingredients ranging from tough spices like garam masala and turmeric to chutney, masala, ginger garlic paste and everything else.
Juicer Jar vs Centrifugal Juicer
As many mixer grinders come with a juicer jar, you might wonder if it would be enough instead of buying a juicer mixer grinder. But unfortunately, that is not the case. 
A juicer mixer grinder comes with an extraction blade attached to a mesh filter. Both rotate at a high speed and as a result, the juice extraction efficiency is comparatively high. You can make juice of a variety of fruits, vegetables and leaves.
In juicer jars of mixer grinders, they have a blending blade and a cylindrical sieve around it. The sieve doesn't move while juicing. It only acts as a barrier between the juice and the pulp. As a result, the pulp retains a lot of juice. This doesn't happen in a centrifugal juicer.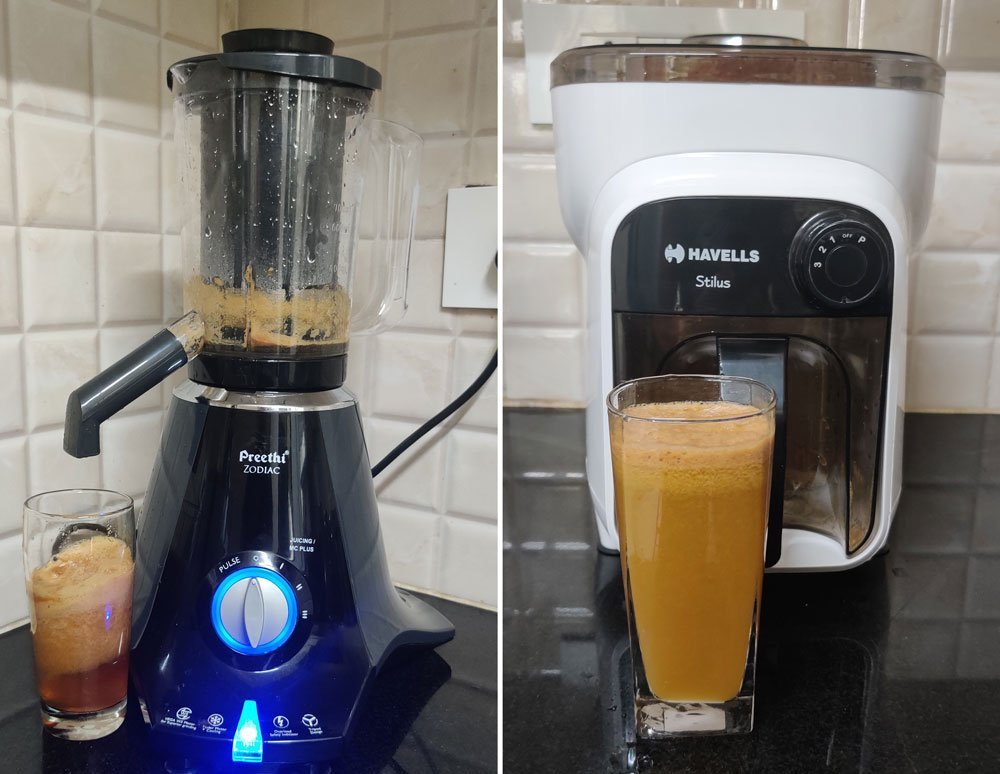 Also, the juicer jar is not effective at extracting juice from vegetables like beetroot, carrot, spinach, Kale etc. Even when extracting juice from apple, pineapple, pomegranate and such fruits, it creates a lot of froth and the pulp retains a lot of juice. The only fruit that it can extract efficiently is watermelon as it is quite water-rich and doesn't have much leftover pulp.
Conclusion
So, if you are someone who plans to make fresh juice frequently, then we would highly recommend that you get a juicer mixer grinder. Sujata Powermatic would be an excellent option if you want a powerful juicer and an equally capable mixer grinder for grinding spices, batter, masala etc. ( Read the detailed review of Sujata Powermatic)
If your priority is having an excellent juicer and a moderately good mixer grinder, then Havells Stilus would be an excellent choice ( Read the detailed review of Havells Stilus) On the other hand, if you are looking for just a powerful and durable juicer mixer grinder, Sujata Dynamix would be a great choice ( Read the detailed review of Sujata Dynamix).
Was this post helpful?
Let us know if you liked the post. That's the only way we can improve.