Nutribullet Pro is a premium-priced smoothie blender available on the market. The brand is one of the market leaders in western countries. In India, they have slightly modified their product to include a milling blade in addition to the extraction blade to make it suitable for dry grinding spices and masala. Let us take a look at various aspects like design, ease of use, blending and dry grinding performance, noise levels and more to see if it is an option suitable for your needs.
Pros
Top-notch blending performance with tough and leafy ingredients.
Compact unit
Fairly good build quality
Cons
Expensive
No power switch. Instead depends on the activator button that works when the cup is fixed to the blade.
Ideal for: Those who need a compact alternative to mixer grinders. Though it doesn't have the capacity to make idli batter, it is an ideal solution for 1-2 member units that need an option for making smoothies, chutney, masala and other ingredients. It is suitable for Indian cooking. However, as the cups are small, it may not be an apt choice for making batter for idli, dosa or appam.
Design
The Nutribullet Pro smoothie blender comes with a 900-watt motor base, an extraction blade, a milling blade, a 700 ml cup; a 500 ml cup with a handle; a 500 ml cup with a lip ring and handle; 2 lids and a separate lip ring. In addition, you get a user guide with a recipe booklet to guide a newbie into the world of smoothie-ing. For example, it details how to build a smoothie and talks about various ingredients that could be added to the smoothie to enhance its nutritional value.
The unit is compact and takes minimal space. So, whether you leave it on the countertop or inside the cabinet, it doesn't take up a lot of your precious space.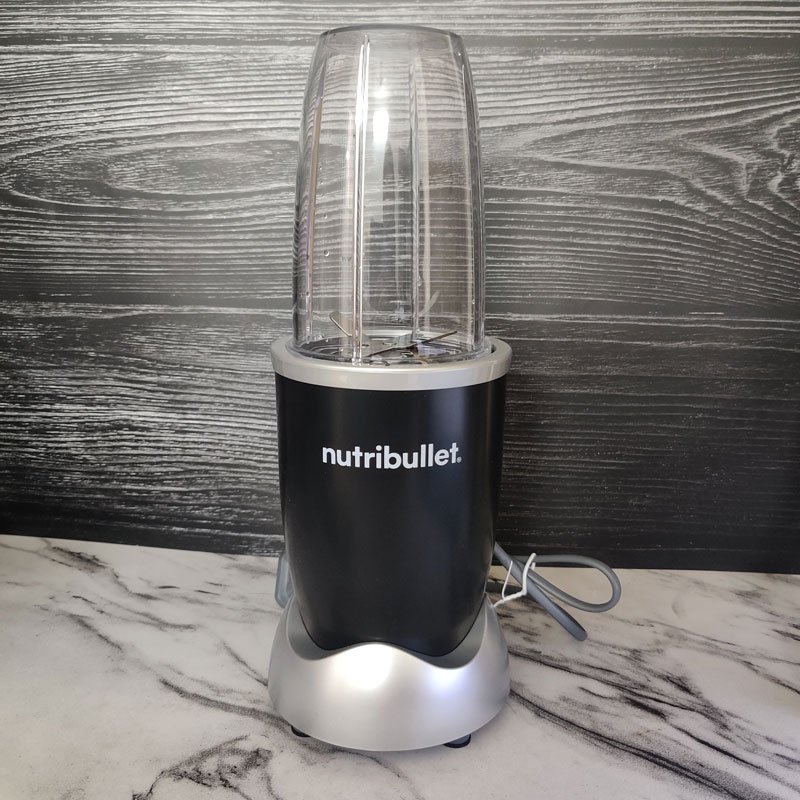 The cups and other accessories are made of food-grade plastic. The 700 ml cup has a maximum capacity of 550 ml, while the 500 ml cups can be loaded up to 300 ml capacity. You get 2 lids and a cup with a holder. So you can take your smoothie on the go, thus making it an apt choice for gym-goers and those who are on the go.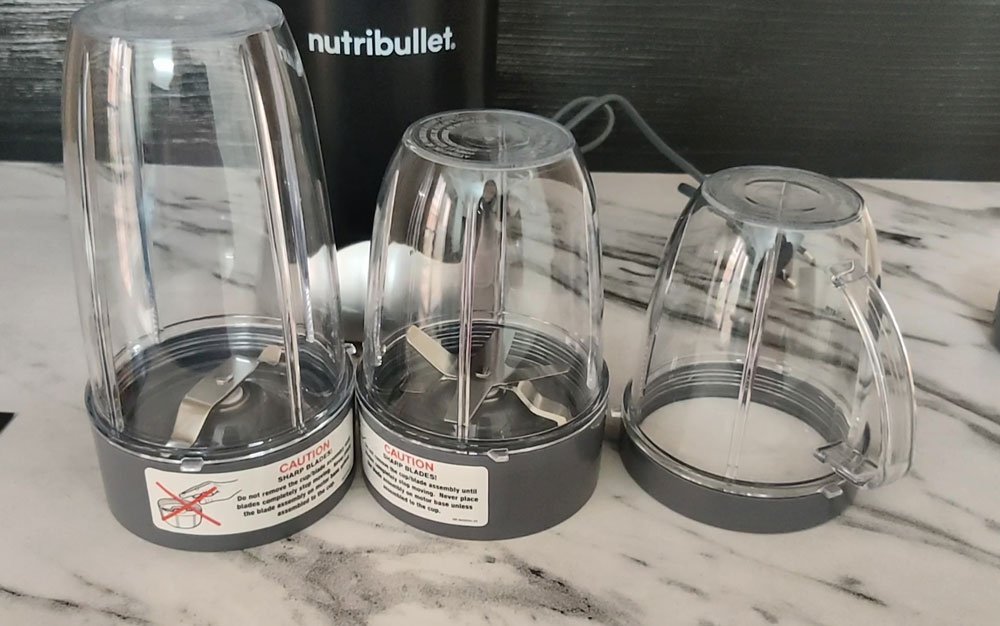 The blades are made of high-quality stainless steel. As mentioned earlier, you get an extraction blade for making smoothies and a milling blade for dry grinding spices.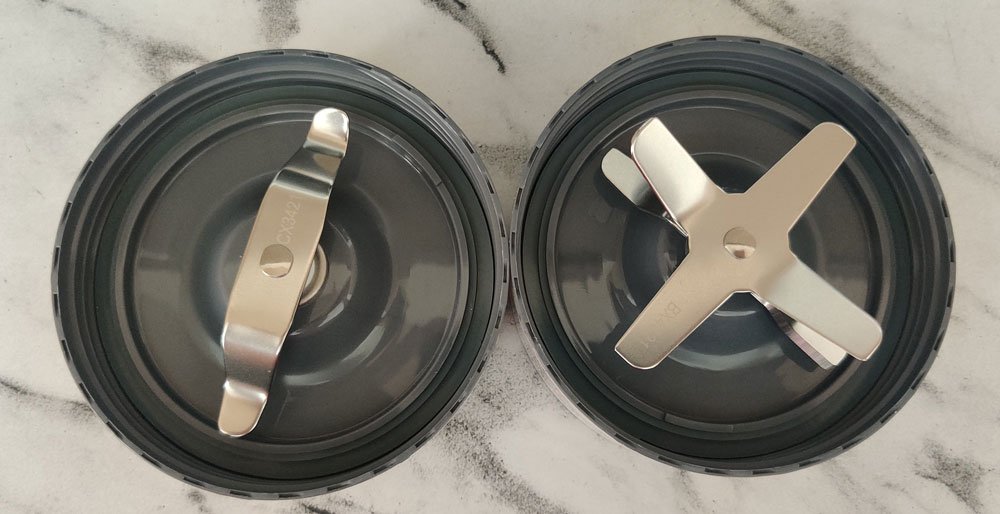 Talking about the motor base, it is made of aluminium and plastic. Its base has small vacuum suction feet to hold the unit in place.
Overall, the unit looks elegant and is compact too. The built quality too appears to be good. A drawback however is that the manufacturers say the cups need to be replaced every 6 months for optimal performance. This means a higher cost of owning the appliance in the long run.
The unit we have is black in colour. The same is also available in gold, but at Rs.400 premium. Other than the colour, there is hardly any difference between the two models.
Related reading: Best Smoothie Blender In India
Blending Performance
To blend smoothies, make chutney, nut butter etc, you need to use the extraction blade. First, the blade needs to be fixed to the cup. Then, you need to insert the cup into the motor base and push and twist it slightly in the anti-clockwise direction so that the activator button gets triggered. Once triggered, the blades start running. To stop operation, push and twist the other way and it stops running. If you push and leave at fixed intervals, you can pulse the ingredients.
The cup and extraction blade together has to create an airtight condition to prevent leakage. In mixer grinders, there is a tiny vent at the centre of the lid to let off the pressure. But, blender jars don't have it. Hence, it is important that you avoid running it for more than a minute at a stretch. Also, ensure that the blade is correctly fixed and there is no leakage before you start running it. Initially, you notice a burnt smell of varnish when you run the blender. But with time, it goes away
The booklet with Nutribullet Pro guides you on the sequence in which ingredients should be added for best results. It says to add leafy vegetables, followed by fruits, then nuts, chia seeds or any other booster, followed by ice and any liquid.
Our first attempt was to make a green smoothie with spinach, frozen banana, apple, ice and coconut milk. We used the 700 ml cup and loaded the ingredients in the recommended sequence. Within 30 seconds, Nutribullet pulverized the ingredients into a smooth and luscious consistency without any unprocessed chunks. The leaves and even the green stems were blended finely without any grainy texture.
The green smoothie showed that the blender is capable of pulverizing frozen and leafy ingredients into a fine consistency in less than 30 seconds. Next, we wanted to see how it works on tougher ingredients.
So, we made a dry fruit shake with 1/2 cup each of almonds and cashew, a few dates, and a cup of apple and banana, along with milk. We added just a little quantity of liquid, so the shake was of thick consistency. Even so, the shake was smooth without any unprocessed chunks of nuts. All that within just 45 seconds!
Overall, Nutribullet does an excellent job blending any ingredient into a fine consistency without any unprocessed chunks. So, if you are looking purely for a smoothie blender, you will be wowed by Nutribullet Pro.
One of our reviewers was a first-time user of blenders. The instructions given in the manual were sufficient to guide her. But, when the blade is not fixed tightly enough, it has a tendency to leak. Too tight and you have a difficult time opening it. Compared to options like Agaro and Balzano which have blend and pulse buttons, Nutriblend is a bit more complex to use. However, to ease it up the brand arranges for a virtual demo that guides you through how to use the unit correctly.
You may also like our article on Best Hand Blenders In India
Dry Grinding Performance
The dry grinding performance of the Nutribullet PRO is fairly good. But, if you have a 750-watt mixer grinder, it is enough to grind spices and masala into a fine consistency.
We tried grinding just 30 gm of garam masala in the 500 ml jar to see how well it can grind smaller quantities of ingredients. It was ground finely and left 1.5 teaspoons of coarse residue. This is similar to what you can expect from a fairly good mixer grinder. So, we wouldn't recommend you buy it solely for dry grinding masala and spices. If in case your mixer grinder is too old for dry grinding spices, then you could opt for a new mixer grinder at a cheaper price instead, unless you plan to have smoothies on a daily basis.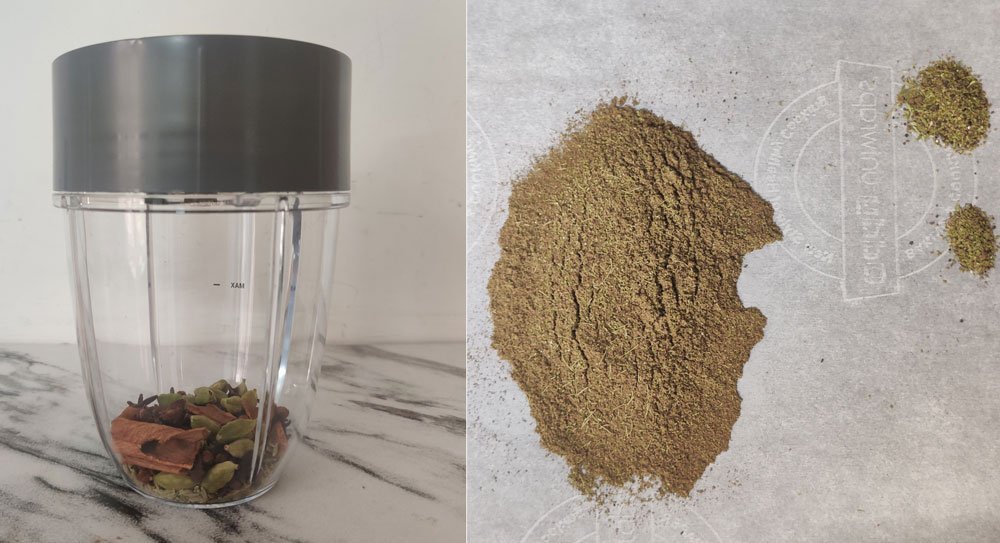 A disadvantage of dry grinding in Nutribullet PRO is that the cups are all made of plastic. So, they get irreversibly stained, especially when grinding garam masala.
Multiple Functionality
In addition to blending smoothies and dry grinding, Nutribullet PRO can be used for multiple functionalities. You can make chutney, grind wet masala, make mayonnaise, peanut butter etc. using the blender.
It can make chutney, mayonnaise etc in less than a minute. If you are grinding chutney in thick consistency you need to pulse a few times to get it in the right consistency. But if it is watery, you can grind it smoothly in 30-45 seconds.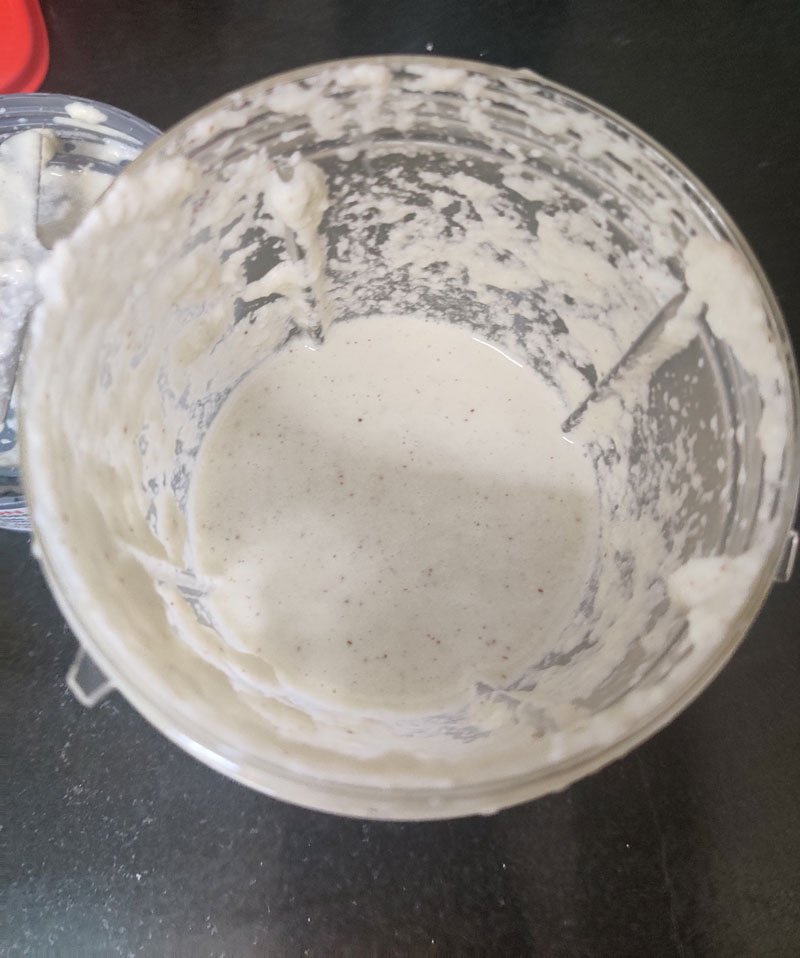 Peanut butter was a bit tricky. We made peanut butter with 200 gm of peanuts. The blender was able to powder the peanuts and release the oil in just 20-30 seconds. Then, you need to scrape the ingredients from the jar walls, add vegetable oil and then further pulse to blend it to a fine consistency. The problem was that the ingredients that were scraped to the centre of the cup has to fall into the blades due to gravity. But the stickiness prevents it from falling down. The blender is powerful. No doubt about it. But a blender design is not really convenient for making peanut butter. You could rather use a food processor or even a mixer grinder which gives better access to sticky ingredients.
You can make idli batter too in it. But then, the maximum volume you can make is just 500 ml, which would be sufficient for just 1-2 person. The clean-up afterwards is also cumbersome.
Noise Level
Though small, the unit is just as noisy as a mixer grinder. It makes around 90-95dB noise when the decibel meter is kept a foot away from the blender.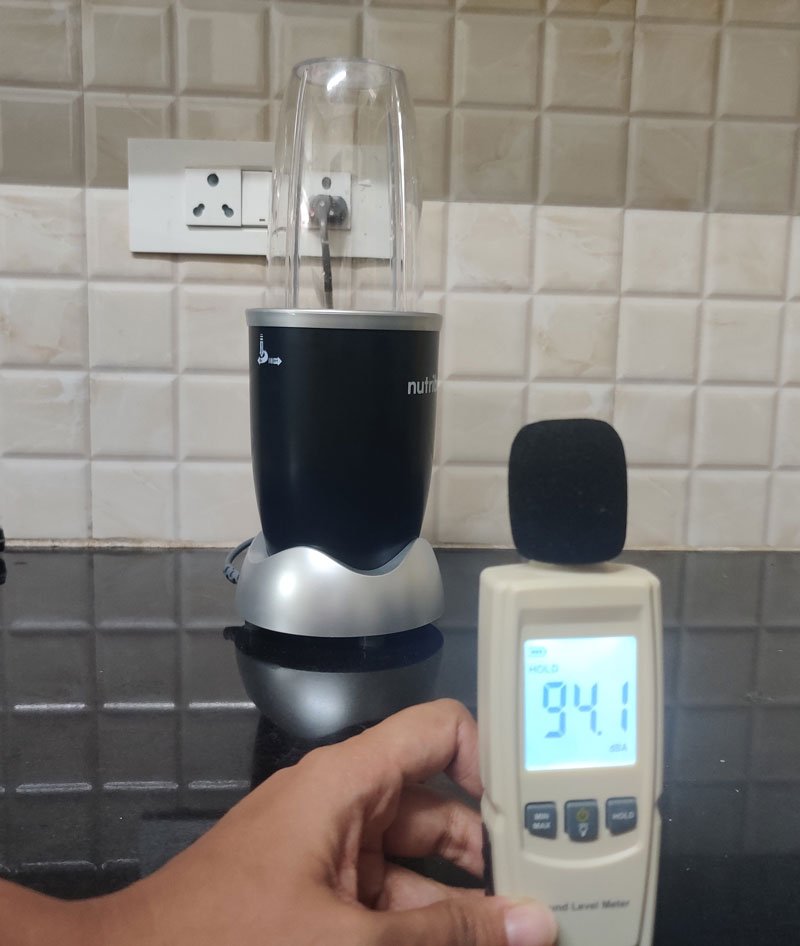 Ease of Cleaning
The cups and the blade unit are fairly easy to clean. You just need to use a sponge to slightly rub the surface and rinse it clean. But when you make peanut butter or if you make dosa batter in it, the tiny bits get stuck in grooves in the blade kit, which is a bit difficult to clean. We used a toothbrush to clean the area below the blades. But, if you use the blender just for making smoothies, clean up is incredibly easy.
Flaws, But Not Deal Breakers
One of the main drawbacks of the unit is that it doesn't have an on-off switch. Instead, the activator gets triggered when the cup is attached to the motor house. The whole system depends on the tiny tabs on the cup to work seamlessly. If the tabs break, the blender will stop working. Also, as it doesn't have an on-off switch, it could startle you when it suddenly starts working upon twisting the cup.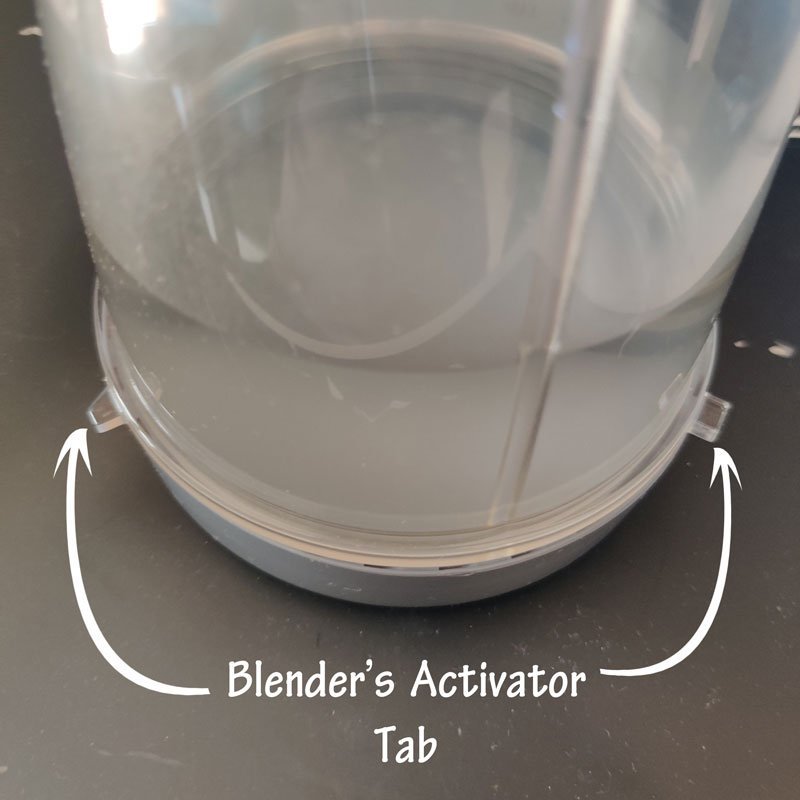 The manufacturers recommend changing the cups every 6 months for optimal performance. If you are using Nutribullet PRO instead of your regular mixer grinder, you may have to follow the said recommendation. But otherwise, if you use it just for making a smoothie a day or less regularly, then you can alternate between the cups and prolong its life.
Aftersales Service
Nutribullet is represented in India by Matrix Distributors. They are based in Thane, Maharashtra. After buying the product, you have to register on their website for availing the 2-year warranty. In this period, if there is any problem with the unit, you have to ship it to them and get it serviced. Note that cup replacement is not covered in the warranty.
Conclusion
Being a powerful blender with 900 watts motor, Nutribullet PRO is definitely one of the best options for those who need a quick smoothie on the go. You can make them in 30-45 seconds and the blender does an extremely fine job without leaving any unprocessed chunks. It can be used for blending and dry grinding other ingredients too, making it an apt choice for a bachelor or a 2 member unit. The blender appears to have a fairly good built quality too.
Was this post helpful?
Let us know if you liked the post. That's the only way we can improve.