Once you become accustomed to using a sharp, expertly crafted knife, it's impossible to settle for anything less. While there are numerous types of knives like paring knife, serrated knife, butcher's knife and so on, chefs knife stands out for its excellent versatility. In fact, if you were to buy just once knife for your kitchen, we would recommend you to opt for a good chef knife. Be it finely chopping herbs or butchering a whole chicken, a good chef knife will serve you well in all your cutting and chopping chores.
In this article, we take a look at some of the top kitchen knives in India. First, let's take a look at our top recommendation. Then, we talk about our testing methods and finally our detailed review of the top choices.
Our Recommendation
Considering aspects like sharpness, ease of use, weight and balance, we highly recommend Kai Hocho Premium Santoku Knife which has around 6.7 inch long blade. It glides through almost 3/4th width of paper effortlessly. Be it ripe tomatoes or tough ingredients like pumpkin, the knife cuts them all with ease. If you want something bigger, then AmazonBasics Chefs Knife with an 8 inch blade too is an option worth considering. It is also quite sharp, well-balanced and comfortable to use. However, it tends to get blunt sooner than Kai Hocho.
Table of Contents
How We Tested?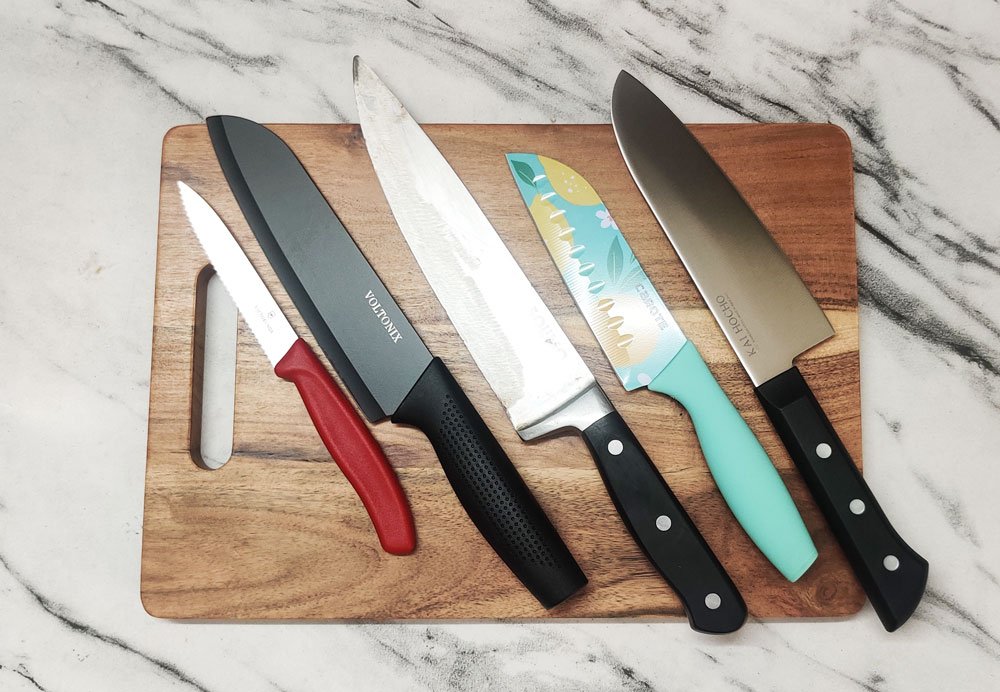 To find the best kitchen knives in India, we analyzed the physical parameters, sharpness and comfort of using. First of all, we checked if the knives were well-balanced with the handle and the blade being of fairly equal weight. We also checked their overall weight, length of blade and built quality. To analyze the comfort, we checked the grip of the handle and knuckle clearance, which meant there needs to be sufficient gap between the handle and the chopping board so that your knuckles don't hit the cutting board when chopping.
Next, and most importantly, we checked the sharpness of each knife. First, we sliced a ripe tomato to compare sharpness between knives. Then, we did this using the classic paper test, whereby we cut a standard 80 GSM paper using the knife. A sharp knife will be able to cut through the paper straight and clean without any jagged edges. The best performing knives on the list cut through almost 3/4th of the paper effortlessly. After that, the edges were slightly jagged. To be fair, this is something you ought to expect from knives at this price range. In videos, you do see knives effortlessly gliding through paper. But most of them start at a price point of $50 onwards ( Rs.4000+). Such knives are usually found only in supply channels for professional kitchens in India.
Further, we cut firm vegetables like pumpkin to understand how easy it was to use the knife on tougher ingredients. Also, we tried cutting onion, coriander leaves and more to understand how each knife worked on different vegetables.
You may also like our article on Best Food Processors In India
Best Kitchen Knives In India
Kai Hocho Premium Santoku Kitchen Knife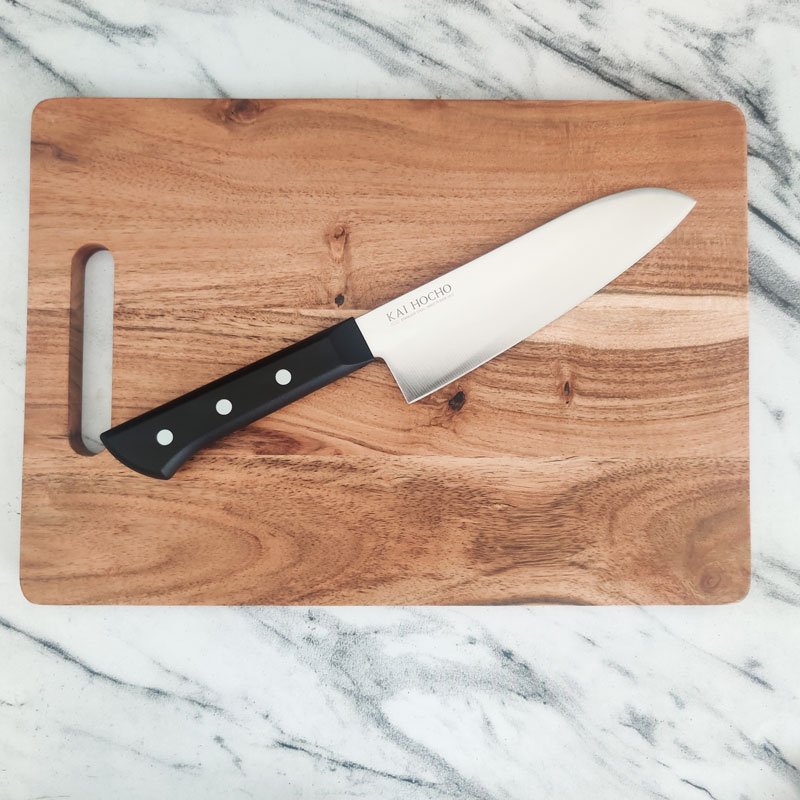 Check the latest price on Amazon
The Kai Hochu knife with 6.7-inch blade length, stands out as it was the sharpest among the knives we tested. It's not only exceptionally sharp but also relatively lightweight and easy to handle. The difference in sharpness between the Kai Hochu knife and the others is striking, as it effortlessly glides through ripe tomatoes and to almost 3/4th the width of the paper.
When it comes to build quality, this knife boasts a full tang that extends to the end of the handle, ensuring excellent balance. While the resin handle may not be as comfortable as a rubberized grip, it still offers a decent level of comfort. Additionally, the blades are quite thick.
An added advantage of this knife is its carbon steel composition, which helps it maintain sharpness for longer periods and makes sharpening a breeze.
With this knife, you can effortlessly chop a variety of ingredients, from tough vegetables like sweet potatoes and pumpkin to delicate herbs and onions. Although it's not as large as a standard 8-inch chef's knife, it remains one of the top choices for an Indian kitchen. Kai Hocho also sells chef knife that measures around 7.36 inches in length.
AmazonBasics 8 Inch Chefs Knife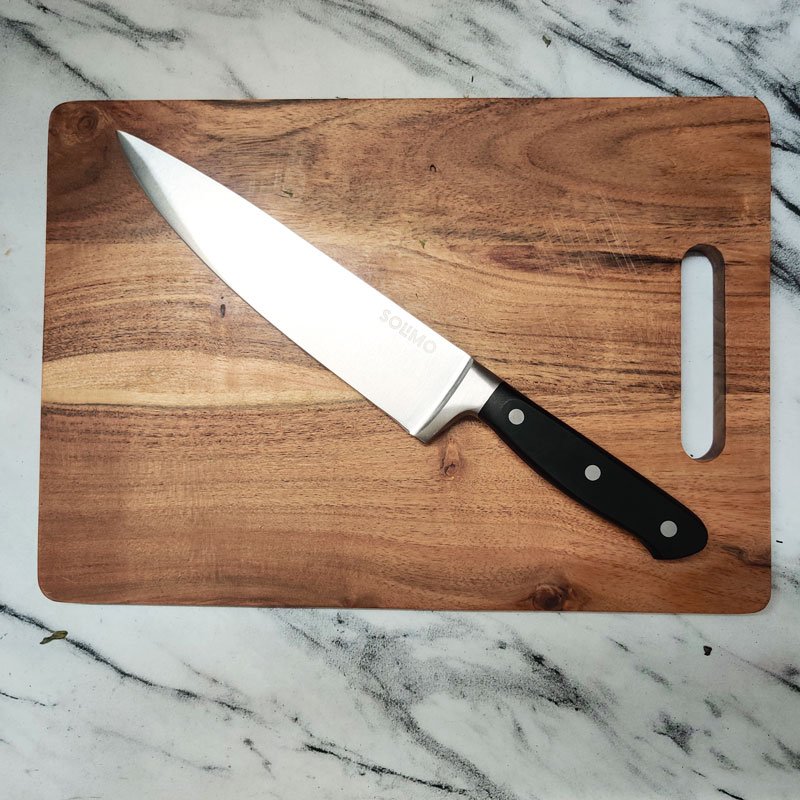 Check the latest price on Amazon
The AmazonBasics Chef Knife, while slightly heavier than the Kai Hochu, boasts an extended 8-inch blade, making it another strong contender among our top choices. It has a thicker spine and a slightly less pointed tip compared to the Kai Hochu. But similar to the Kai, it features a full-length tang secured to the handle with rivets, ensuring durability and a robust build.
In terms of sharpness, this knife is at par with the Kai Hochu. It effortlessly slices through paper to 3/4th the width, and achieves wafer-thin tomato slices. Whether you're finely mincing ginger and garlic, chopping herbs, or tackling the task of butchering a whole chicken, this versatile chef knife handles it all with ease. It can also handle tougher ingredients like pumpkin, bottle gourd, and sweet potatoes without a hitch.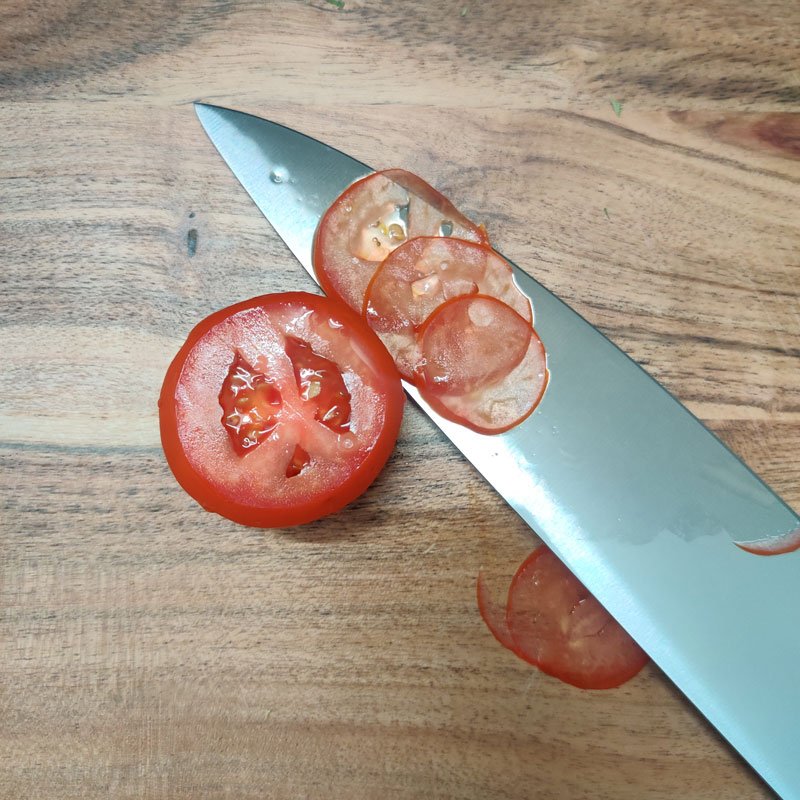 However, one drawback we've noticed using it for a year is that it tends to lose its sharpness relatively quickly and isn't the easiest to sharpen at home. This is probably because the blade is made of stainless steel which isn't as easy to sharpen as carbon steel.
Price-wise, it's a bit more expensive than the Kai Hochu, but it frequently goes on sale. Considering its larger size and overall performance, it's a worthwhile investment.
Victorinox Paring Knife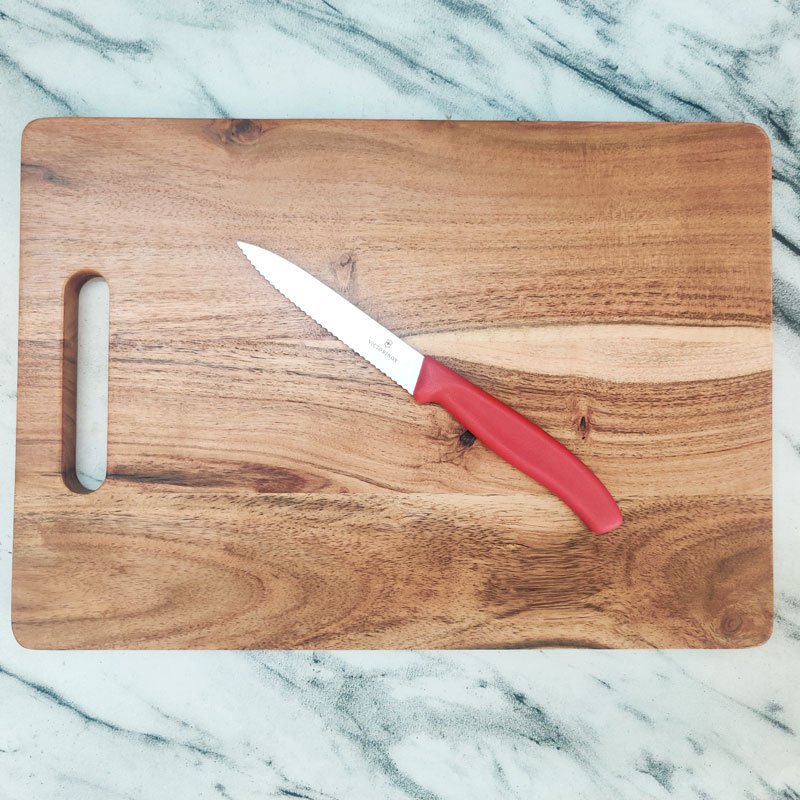 Check the latest price on Amazon
If you are looking for a mini-chef knife for cutting varieties of ingredients and offering versatility and precision, then Victorinox paring knife won't fail you. It boasts a 4-inch serrated blade that, despite its small size, is impressively sharp and easy to wield.
Much like the previous two options, it effortlessly handles tasks like slicing tomatoes, dicing onions, mincing garlic and ginger, and finely chopping herbs. Thanks to its compact dimensions, it's also adept at peeling potatoes, apples, as well as onions, garlic, and ginger.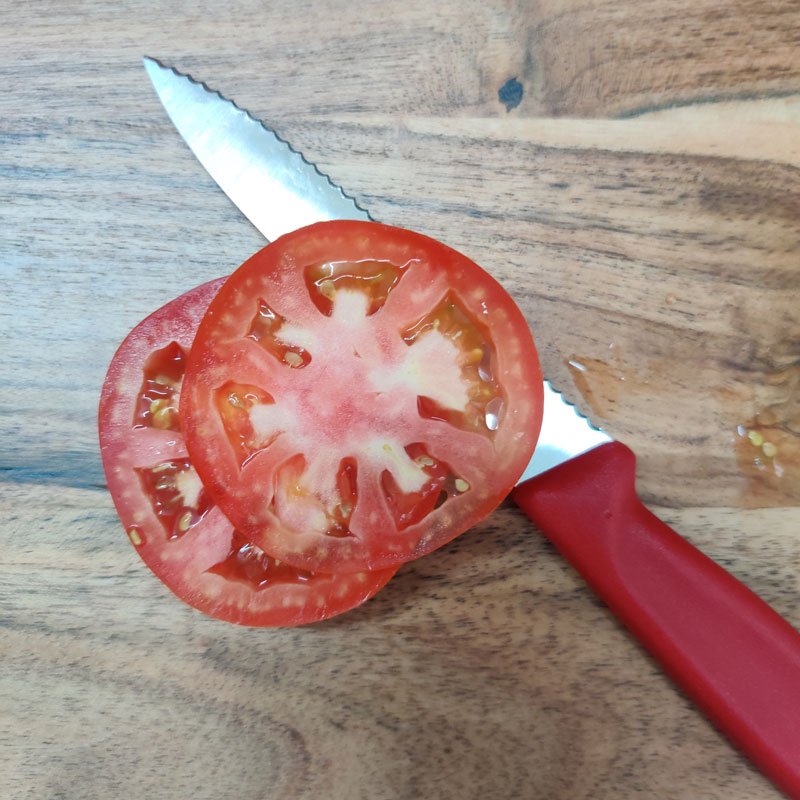 The knife features handles made from resin, and due to its serrated design, it maintains its sharpness quite well. Victorinox uses stainless steel with a high carbon content for their blades, making them easy to sharpen and resistant to breaking.
When it comes to knives, Victorinox is a prominent global player, and their paring knife lives up to their reputation for excellence.
Carote Chefs Knife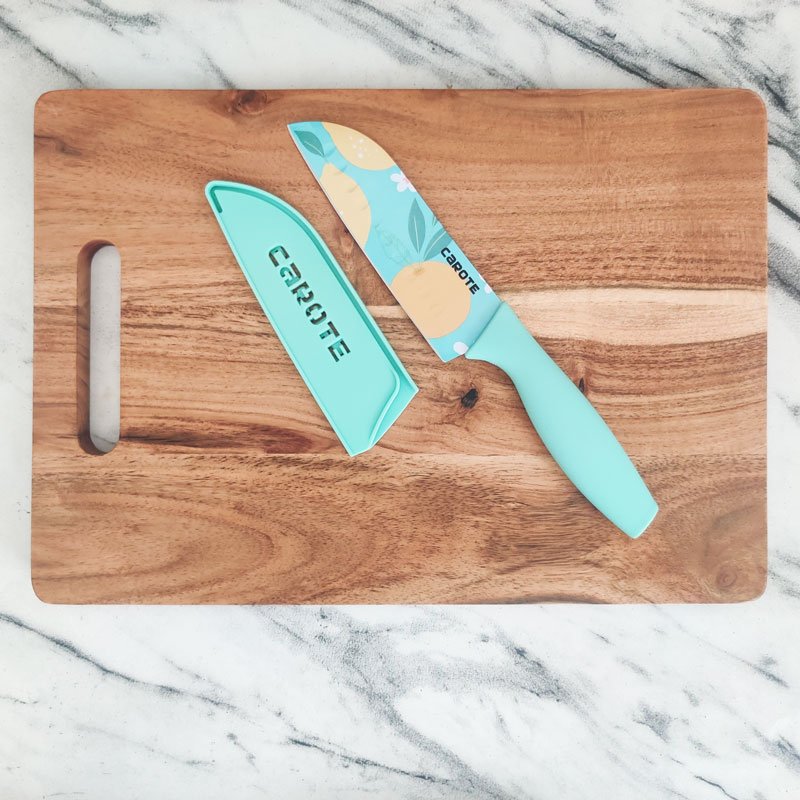 Check the latest price on Amazon
Undoubtedly, the Carote Chefs Knife, with its 5-inch blade, stands out as the most visually appealing option on our list. Despite its name suggesting it's a Chef's Knife, it's evident from its design that it's more of a Santoku knife.
This knife comes in a variety of attractive colors and prints and includes a blade cover for safe storage in your cutlery tray. The handle features a comfortable rubberized grip. However, a drawback is that the space between the handle and the cutting board is limited, which can result in your knuckles hitting the cutting board, especially when finely mincing ginger, garlic, or herbs.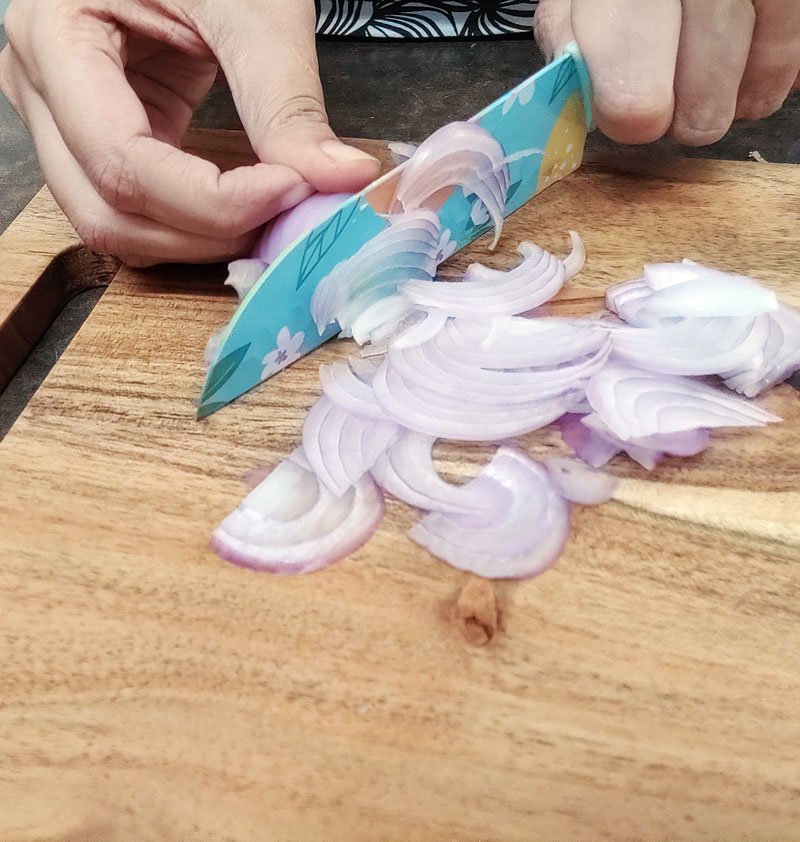 The knife's blades have dimples along the sides, which are intended to prevent cut ingredients from sticking to the blade's edges. However, in our experience, we didn't notice a significant difference between the Carote knife and others in this regard.
The paint on the knife blade is relatively durable but tends to come off when you sharpen the knife.
Regarding sharpness, it doesn't quite match up to the previous options on the list. When slicing through paper, the edges can be somewhat jagged. When compared side by side with the Kai Hochu, it doesn't glide through tomatoes that effortlessly. However, when it comes to cutting herbs or onions, the difference isn't very noticeable.
If you aren't overly concerned about sharpness and the knuckle clearance issue, the Carote Chefs Knife could be an attractive choice. Their 3-piece set, in particular, priced at Rs. 600 offers excellent value for money.
Voltonix 3 Piece Kitchen Knife Set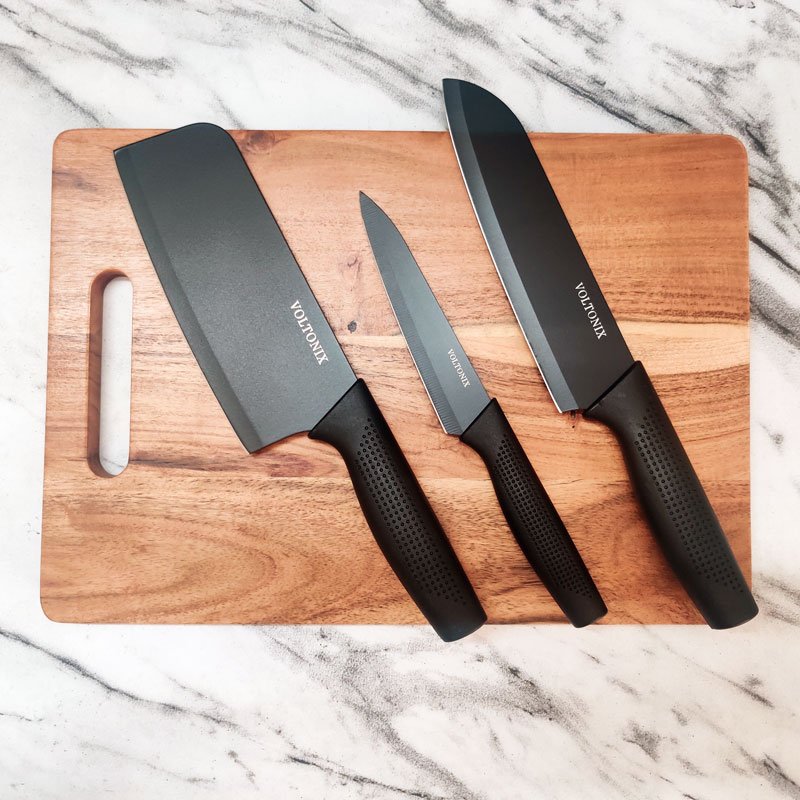 Check the latest price on Amazon
Voltonix presents another budget-friendly option on our list. Their 3-piece knife set comes in at a price of less than Rs. 700 and includes a Chef Knife, Paring Knife, and a Butcher Knife. It's available not only in classic black but also features various printed designs.
The Chef Knife boasts a blade that measures approximately 7 inches in length, and its textured handle ensures a solid grip. Although it's the heaviest among the options discussed, it maintains good balance, preventing slicing and chopping from becoming tiring.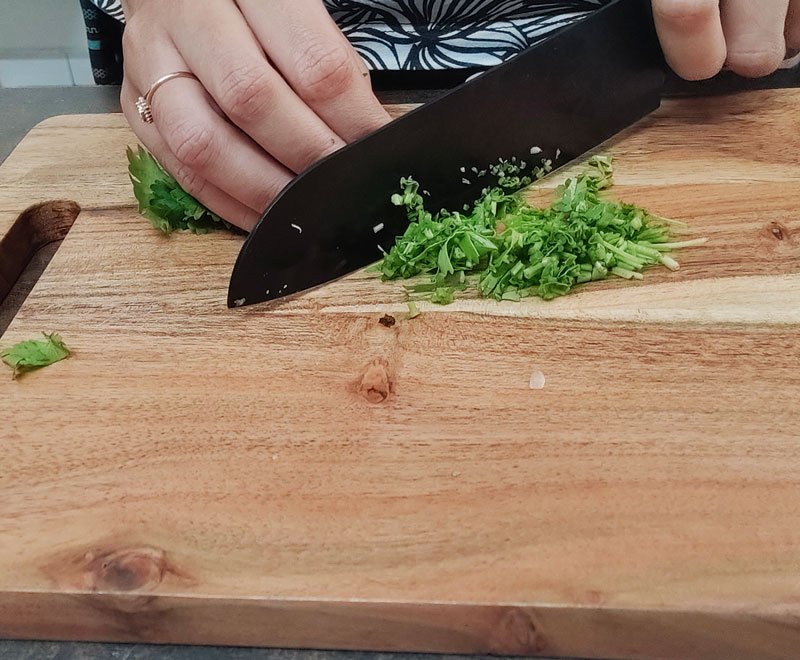 In terms of sharpness, the Voltonix knives are comparable to the Carote option. They don't quite match the sharpness of the Kai Hochu or AmazonBasics knives. You'll find a noticeable difference in the effort required, particularly when cutting tough vegetables like pumpkin and sweet potato, in direct comparison with the other choices.
Overall, the Voltonix set is a suitable choice for individuals seeking a set of knives without straining their budget too much.
How To Choose A Kitchen Knife?
Sharpness
The first and foremost aspect to look at when buying a knife is its sharpness. A sharp knife will be able to slice through paper and glide through tomatoes with ease. Equally important is its ability to retain the sharpness. Certain knives come with sharp blades, but they become blunt in just a month's use. With regular honing, a good knife will retain its sharpness for 4-6 months.
Comfort
Considering that a significant time in the kitchen is spent in prep work chopping and slicing various ingredients, comfort is a crucial aspect to consider. The handle should have a nice, firm grip. There should also be sufficient gap between the handle and the cutting board so that its easy to finely chop ingredients. Further, it should be of the right weight so that using it doesn't strain your wrists.
Material
Knife blades are usually made from stainless steel. According to experts, blades made of stainless steel with higher carbon content retain sharpness for longer and are easier to sharpen at home. On the other hand, the ones with high Chromium content are difficult to resharpen at home. So, look for carbon steel or stainless steel with more than 2% carbon content.
Length
If you plan to use a chef knife to cut tough vegetables, fish and meat, then it is better to opt for an 8 inch blade. On the other hand, if you are going to mainly chop, slice and dice vegetables, then a 6-7 inch Chef or Santoku knife would be enough. If you are buying a paring knife, 4-5 inch long knife would be a good size. Butchers knife on the other hand needs to be at least 8 inch in size, else, you may find it difficult to use.
Durability
If you're willing to invest a minimum of Rs. 400 or more in a chef's knife, you can secure a decent option that should serve you well for at least 2-3 years. In the case of more expensive choices like the Victorinox Chef's Knife, with proper care, they can last considerably longer. Conversely, cheaper knives tend to lose their sharpness or, worse, break within a year of use. By diligently practicing good care and maintenance, such as avoiding dishwashers, you can ensure your kitchen knives have a longer lifespan and maintain their sharpness for your continued use.
Conclusion
To wrap up, our top recommendations are the AmazonBasics Chefs Knife and Kai Hocho Santoku knife for its excellent built quality, sharpness and comfort of use.
Was this post helpful?
Let us know if you liked the post. That's the only way we can improve.