Prestige Iris Plus is one of the best-selling mixer grinders in India. However, when you take a look at the user rating on Amazon, you find that almost 30% of users have given it a rating of 3 stars and below. So, does it have any inherent problem that is disappointing customers? How does it fare in doing daily chores like making batter, masala, chutney, ginger-garlic paste, juice, shakes, and so on? Let us explore this in detail through this hands-on review.
Pros
Budget-friendly pricing
Apt for basic grinding chores for a nuclear family.
Compact footprint
Cons
Below-average juice yield
Not ideal for making smoothies and shakes
Jars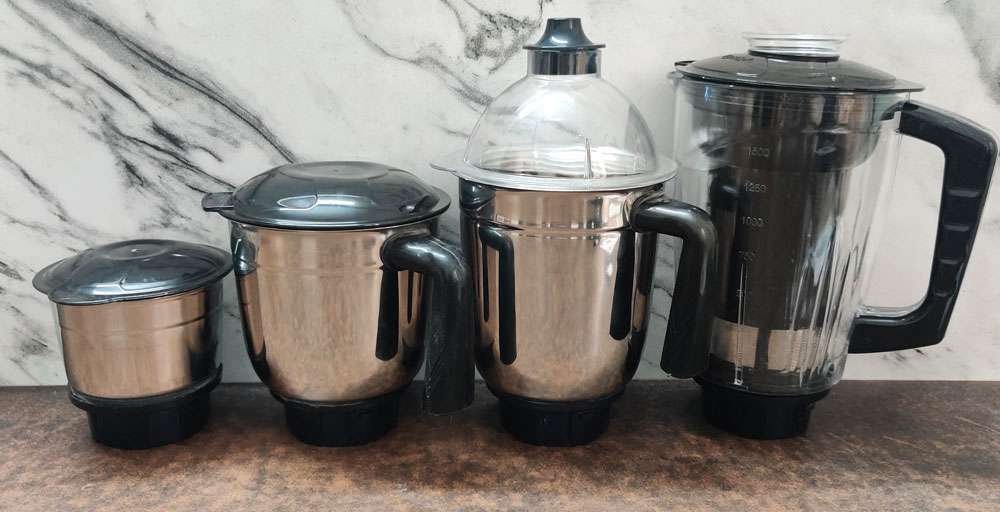 Prestige Iris Plus mixer grinder comes with 4 jars. They are –
300 ml chutney jar
1-litre dry grinding jar
1.5-litre wet grinding jar
1.5-litre juicer jar
The three main jars are made of stainless steel with a polypropylene lid. The manufacturers claim that it is unbreakable. However, when we dropped the transparent dome-shaped jar, it did chip a little bit.
The juicer jar has a polycarbonate body and polypropylene lid.
Initially, the lids appear a bit tight. But, it loosens up in a while. Also, as soon as you open it, it has an unpleasant smell of varnish. You need to clean it thoroughly using dishwashing liquid and lukewarm water 2-3 times to completely get rid of the smell.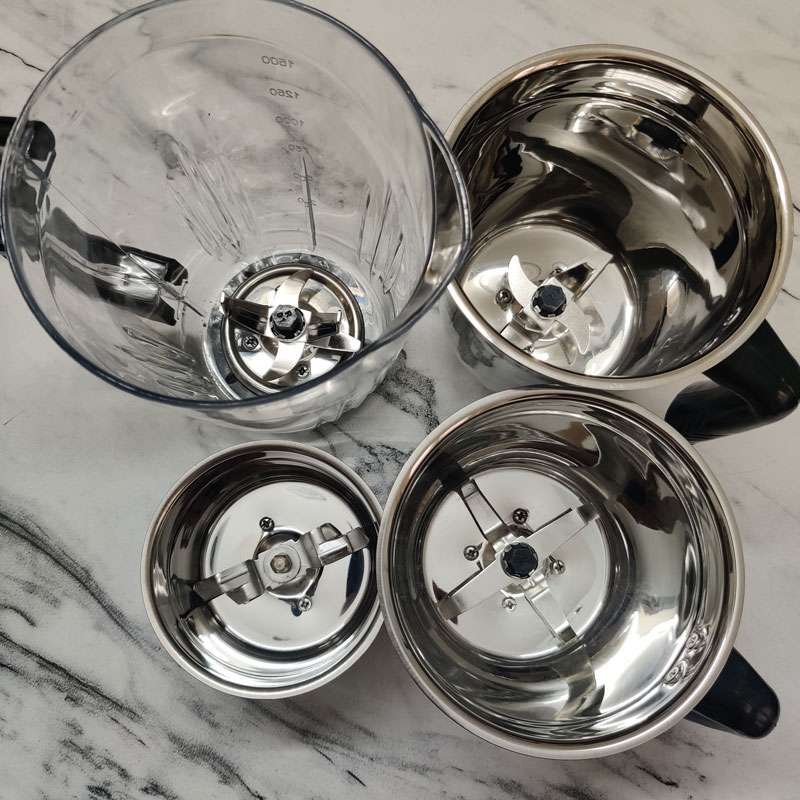 Each jar has specific blades that are made to suit the jar's purpose. Whether it actually does what it claims is something we shall look at in the later part of this review.
Except for the chutney jar, all others have a strong handle that is firmly attached to the body using screws. Overall, its built quality seems adequate.
Related reading: 10 Best Mixer Grinders In India
Motor Housing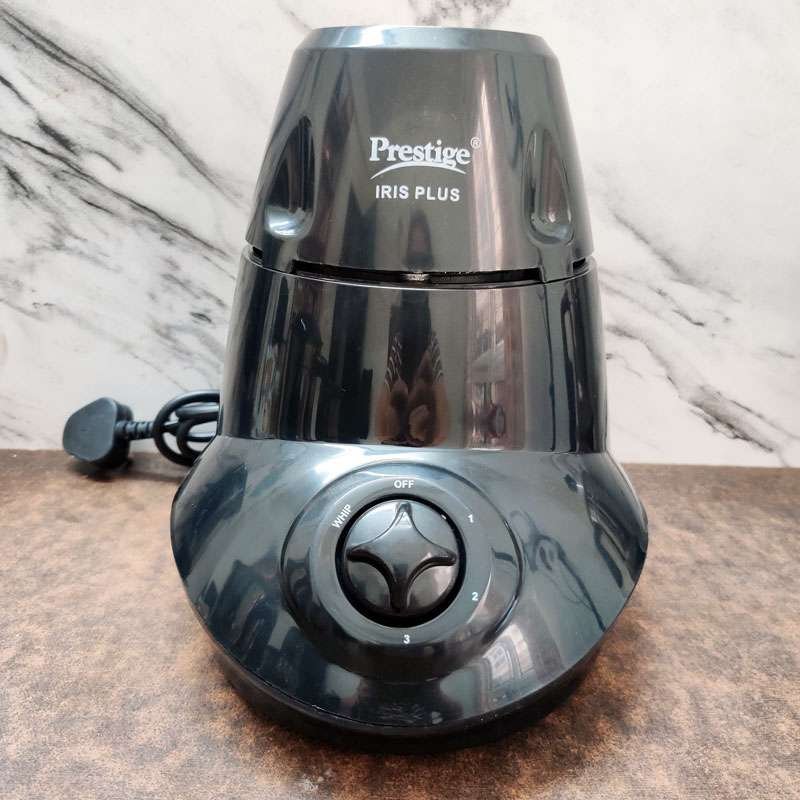 Prestige Iris Plus comes with a 750-watt motor. The motor housing looks elegant in its black finish. It has a knob which can be used to adjust the speed to three levels and for whipping/pulsing.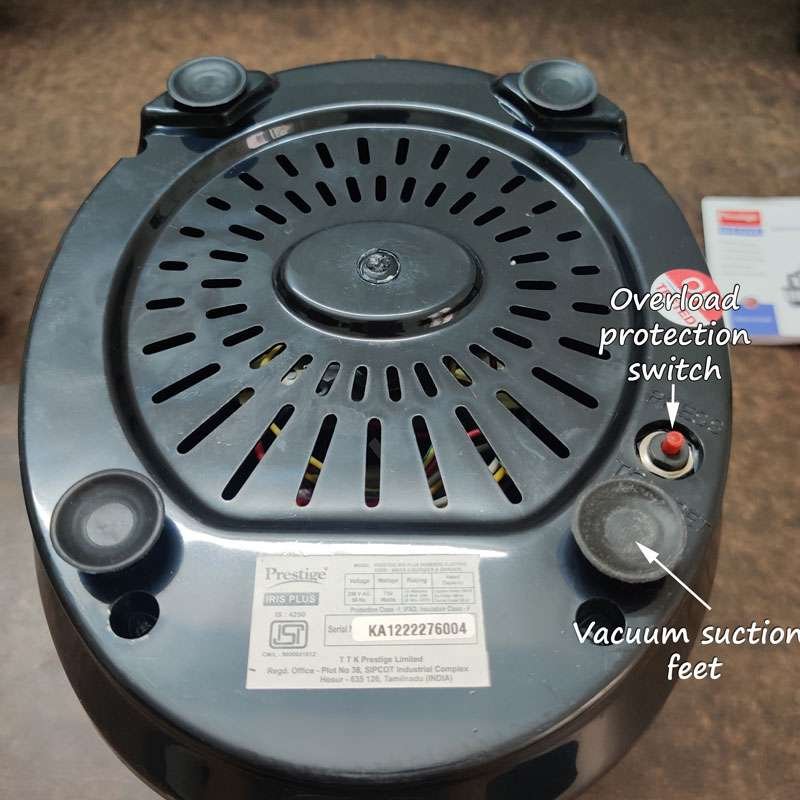 Just like every other mixer grinders, it has suction feet to prevent the housing from moving around when doing heavy duty grinding. It also has an overload protection switch which gets triggered when motor is about to get overheated.
Grinding Performance
We tried grinding several ingredients in the Prestige Iris Plus to ascertain and compare its grinding performance with other options. While some results were to our expectations, a few were totally surprising.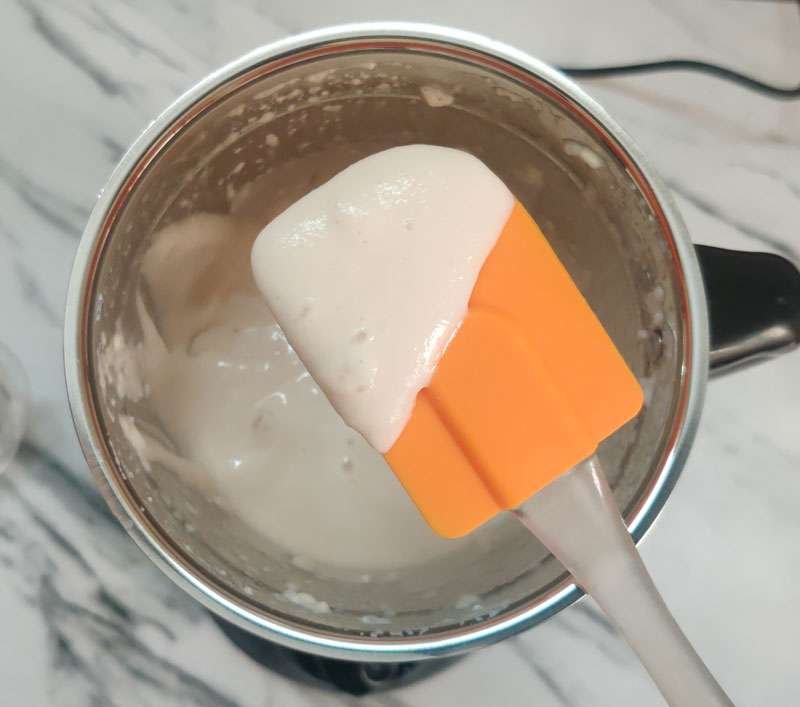 First, we made idli batter in the wet grinding jar. For this, we soaked 1 cup of urad and 3 cups of rice in water for 8 hours. We ground them separately. Generally, inexpensive mixer grinders have a tough time grinding idli batter to perfection. However, Prestige Iris Plus did a fairly decent job. In 1 minute, it was able to grind the urad to a thick, fine consistency. But running the mixer grinder for 1 minute, the rice was a bit coarse in texture. Even so, it was overall satisfactory.
Then, we tried making ginger garlic paste in the chutney jar. As the blades need to be completely covered with ingredients for optimal performance, we used 15 gm each of ginger and garlic- a quantity sufficient for making a curry or marinating about 1/2- 1 Kg of chicken or fish. We added some oil to help blend the paste. Every 15 seconds, we pushed the ingredients towards the blade using a spatula. After 45 seconds, ginger and garlic was ground to a fairly fine consistency. Again, it was a win!
Next, we tried making green corriander chutney in the chutney jar. We used about 50 gm of coriander, cumin powder, an inch of ginger, 1 chilly and a little water to make the chutney. We ran it for about 2 minutes. Even then, there were some coarse bits of coriander stem in the chutney, which was disappointing.
As expected, the mixer grinder was not really the best option for dry grinding garam masala. In Philips HL7756, we were able to grind garam masala and just 3/4 of a tablespoon of coarse pieces were left. But, in Prestige Iris Plus, we got several tablespoons of coarse bits left. The only consolation was that it wasn't so coarse that you cannot use it for your food preparations. But, when you compare the performance, we see that Pretige Iris was not as good as Philips HL7756 or Butterfly Jet Elite.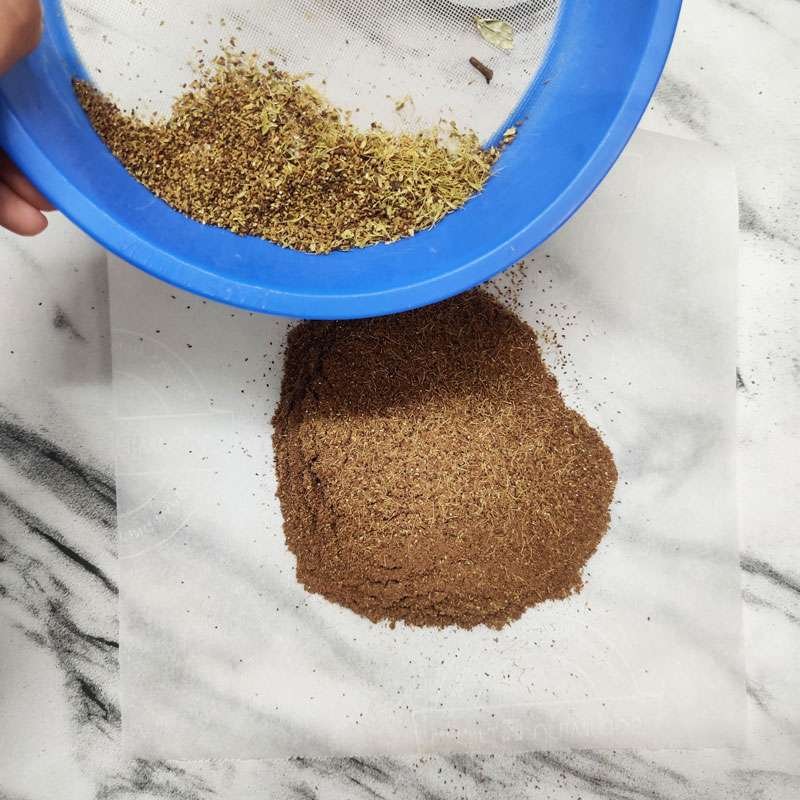 What surprised us was how the Prestige Iris made milkshakes. Considering that it did a good job with the idli batter, we expected good results with milkshake. But, we were disappointed. We made a milkshake with banana, strawberry and a cup of milk. However, even after running the mixer grinder for 2 minutes, a lot of strawberry and banana pieces were left in the jar without getting blended! We tried reducing the quantity of milk to see if it would be of any help. The results were just marginally better.
This is because the blade design makes it difficult to create a strong vortex that pulls all ingredients toward the blade. We found strawberries stuck at the sides of the jar and underneath the blades without getting blended properly.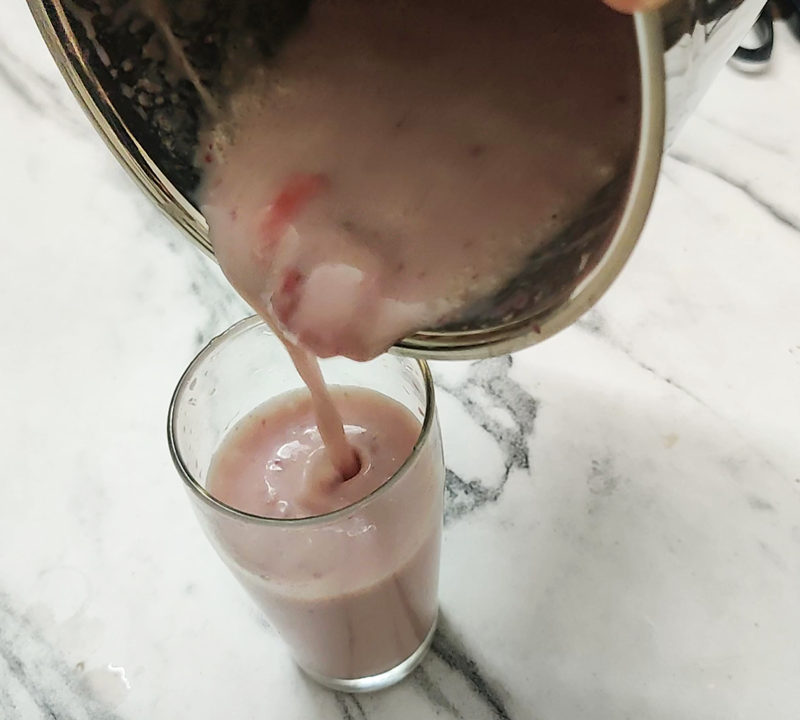 Juicing Performance
Juicing performance, was expected was abysmal. We tried juicing 2 oranges and its net weight was 220 gm. We were able to extract just 90 gm of juice from it using the juicer jar. Upon squeezing the leftover pulp, we got about 35 gm of juice. Overall, we wouldn't recommend using the juicer jar for extracting juice as the waste is too much.
Safety
The mixer grinder has the bare minimum safety features needed for safe operations. The motor housing comes with an ABS body that is shockproof. It has overload protection switch to prevent motor from getting overheated. Also, it has vacuum suction feet to prevent it from moving during heavy-duty grinding.
Ease of Cleaning
The mixer grinder housing can be wiped clean using a damp towel. The jars should be cleaned immediately after use. If not, food left to dry underneath the blades would be difficult to clean. The same applies to the juicer jar too. It is recommended that you run the jar with some soapy water for 30-45 seconds so that any debris stuck underneath the blades get dislodged.
Noise Levels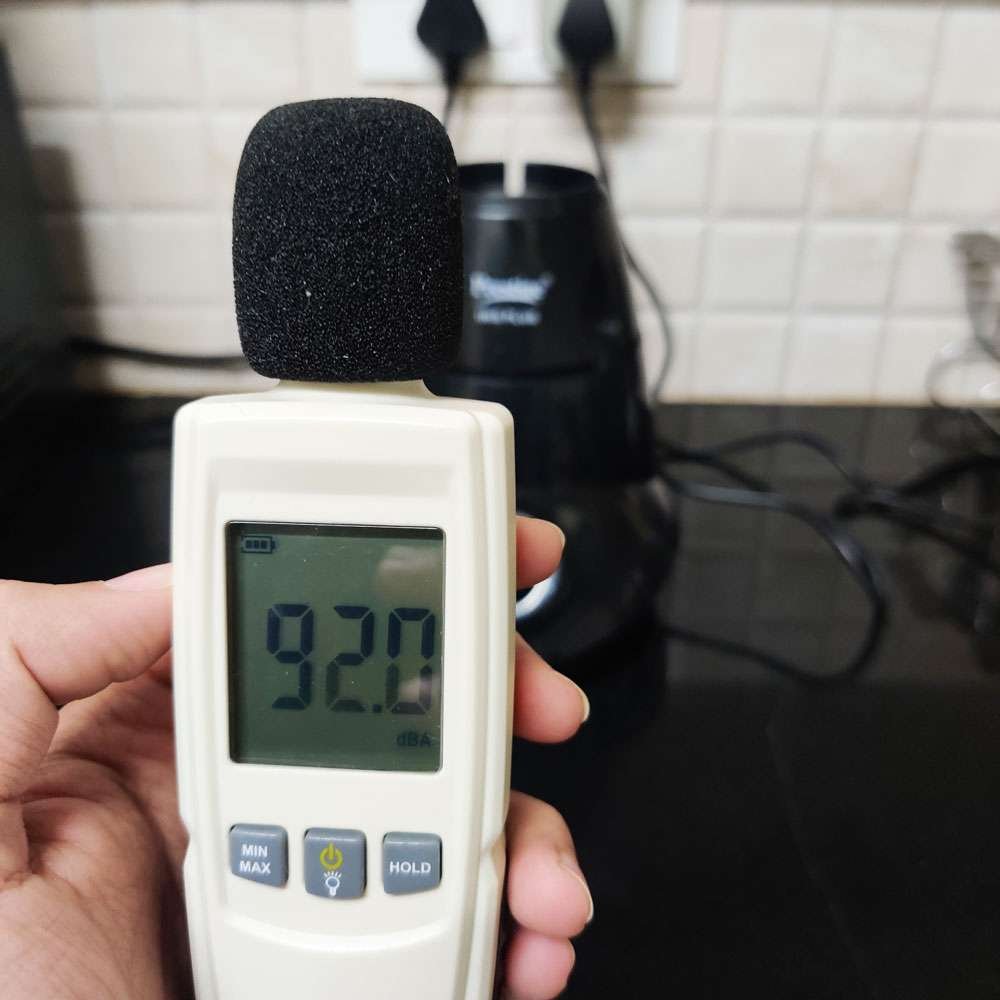 The mixer grinder is fairly noisy making 89-92 dB while running. Comparatively, Prestige Delight Plus is a bit less noisy. But when you compare with other options from Preethi, Sujata etc, it is almost at par.
Durability & Aftersales Service
The mixer grinder's jar built quality seems to be satisfactory. The motor housing, though elegant is just basic. In the manual, it is mentioned that the unit can be run for a maximum of 5 minutes, after which it needs 2 minutes break. This way it can be run for 30 minutes at a stretch and then should be given 45 minutes rest. However, we recommend running it for just 2-3 minutes at a stretch, else, it may affect the durability of the product. There are a few complaints online about the product stopping working after a year or so. But, it isn't clear if they are talking about the overload protection switch getting triggered or if the product stopped working all together.
But, one thing seems to be clear. Their aftersales service is not that positive. Getting hold of the service executive and getting the product serviced seems to be an uphill task.
Flaws, But Not Dealbreakers
To be fair, Prestige Iris Plus is a budget mixer grinder. Hence, you cannot expect it to work like a much superior Sujata or Preethi. This mixer grinder seems to be apt for basic grinding chores like making dosa batter, chutney, masala, ginger-garlic paste etc. It isn't the right product for dry grinding tough spices or making smoothies and shakes. Even the juicer jar is a letdown as the leftover pulp retains a lot of juice.
Comparison With Other Models
First of all, Prestige Iris and Prestige Iris Plus are pretty much the same product, except for the colour. The jars of Prestige Iris closely resembles that of Prestige Delight Plus. Compared to Philips HL7756, its grinding performance is not that satisfactory. We would rather recommend you to opt for the former.
Conclusion
If you are on a tight budget and are looking for a basic mixer grinder for light-duty grinding chores, then Prestige Iris Plus will not disappoint you. You need to treat the mixer grinder gently and avoid running it for long duration. Neither should you overload it. These will affect the durability of the product without a doubt. But, if you are willing to slightly stretch your budget, we would recommend you to opt for Philips HL7756 instead, which offers a much better performance.
Was this post helpful?
Let us know if you liked the post. That's the only way we can improve.