Inalsa Inox 1000 Plus is one of the top-selling food processors in India. It comes with attachments to grate, slice, chop and knead, for citrus and centrifugal juicing. Also, you get along 3 jars for dry grinding, wet grinding and blending.
In this review, we take a look at the features, food processing and grinding performance, ease of use and cleaning, noise level and other aspects to help you make an informed buying decision.
Pros
Has numerous attachments
The feeding chute size is adjustable
Good built quality
Fair food processing and grinding performance
Cons
Ingredients get stuck between the pusher and the slicing/grating disk.
Chopping not even.
Centrifugal juicing is not efficient.
Jars
Inalsa Inox 1000 Plus comes with 3 jars. The smallest is a chutney jar with a 400 ml capacity made of stainless steel with a plastic lid. It has two-prong blades with zig-zag edges. The blades lie close to the bottom surface and almost cover the jar's edge-to-edge.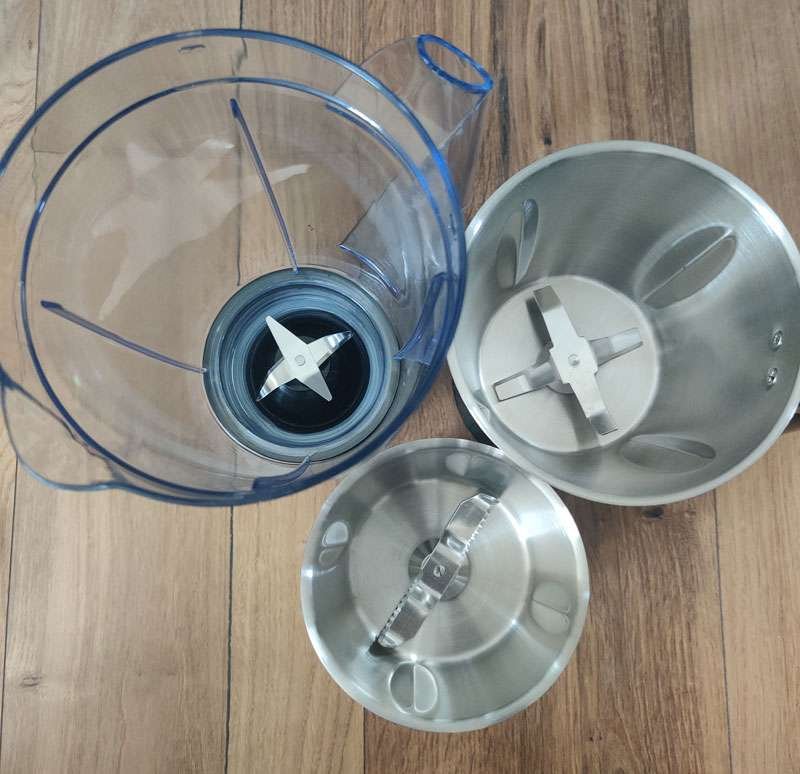 The multi-purpose jar with similar construction has a 1-litre capacity. And the biggest is a 1.5-litre plastic jar for liquidizing. It has a blending blade and the lid has an opening through which you can add water or other ingredients while grinding/blending.
Overall, the built quality and construction of the jars seem strong and robust. However, none of the jars have lid locks.
You may also like our article on Best Food Processors in India
Food Processor Attachments
Inalsa Inox 1000 Plus comes with a food processor bowl that has a 3.2-litre gross capacity and 2-litre net capacity. According to the manual, the liquidizing jar and the food processor bowl are made of SAN which means Styrene acrylonitrile resin. These plastics are safe and do not leach toxins, according to experts.
The food processor is multi-faceted with enough attachments to replace several appliances in your kitchen like citrus juicer, centrifugal juicer and hand mixer. You get a separate lid and pusher for the centrifugal juicer.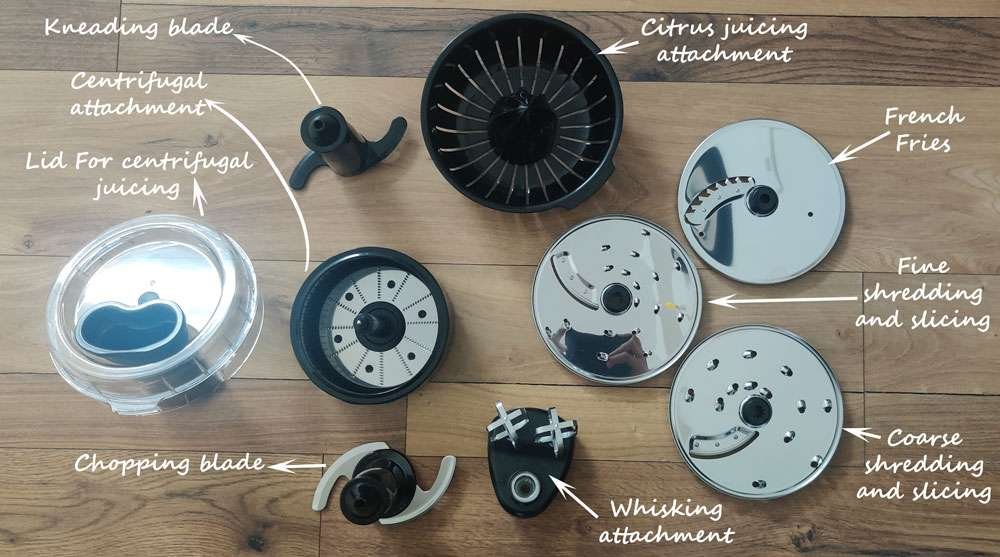 There are 3 discs for slicing, grating and cutting potatoes for french fries. The slicing and grating discs are incorporated into one. One side slices and the other grates. While one disc slices thinly and grates in fine consistency, the other one slice a bit more thickly and grates in a coarse consistency.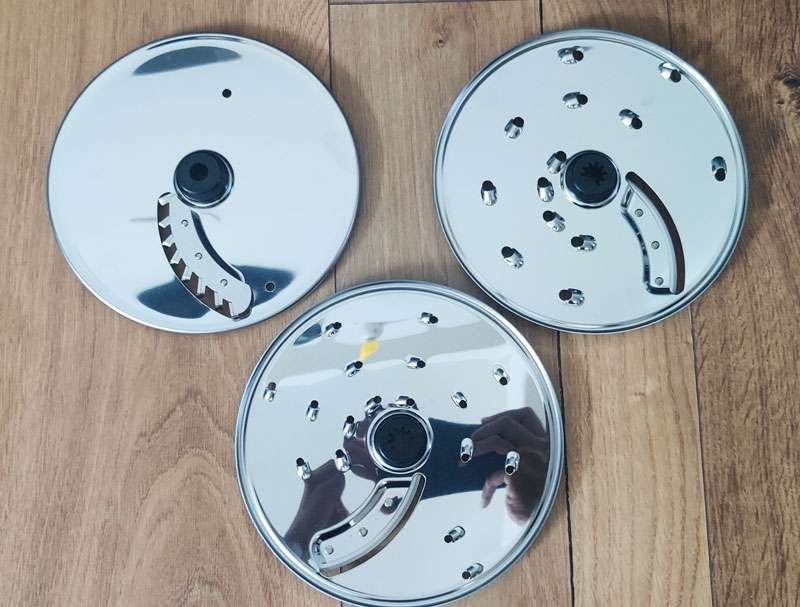 It comes with a blade for chopping and another one for kneading dough and making mayonnaise.
The feeding chute is size adjustable as you get a pusher with 2 parts. A part of it can be inserted into the feeding chute to reduce its size. This becomes helpful when you need to feed in narrow vegetables like carrot, English cucumber etc.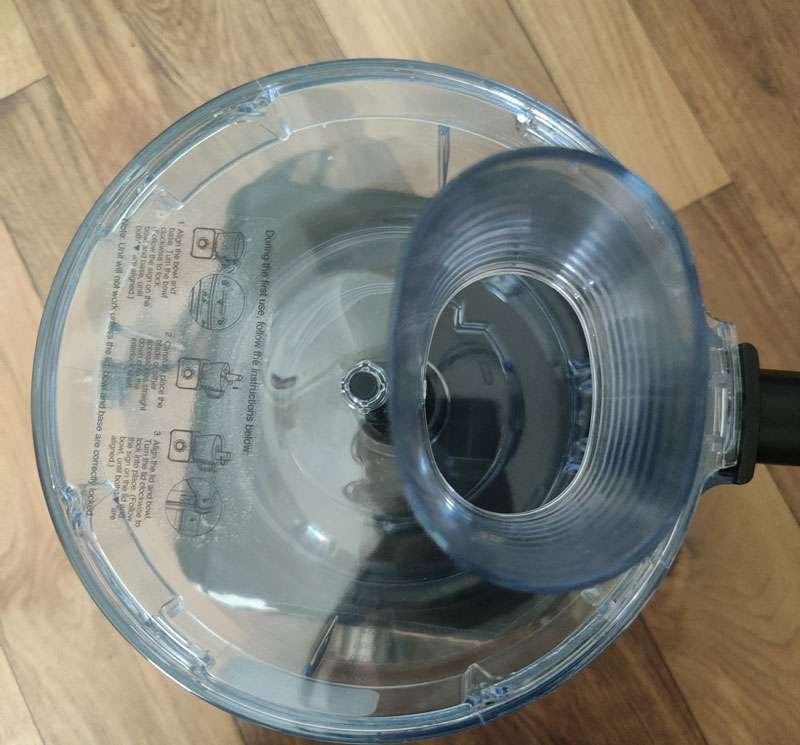 It may initially appear a bit complex to understand how and where parts of the food processor go, especially if it is your first food processor. But, you get the hang of it in no time.
Overall, as the food processor has multiple functionalities, it comes with a lot of parts which makes storage a bit of a pain. Especially if you have a small kitchen.
Also, as you don't get any dedicated storage solution for the sharp discs and blades, you need to be careful and store them away from kids' reach.
Motor Housing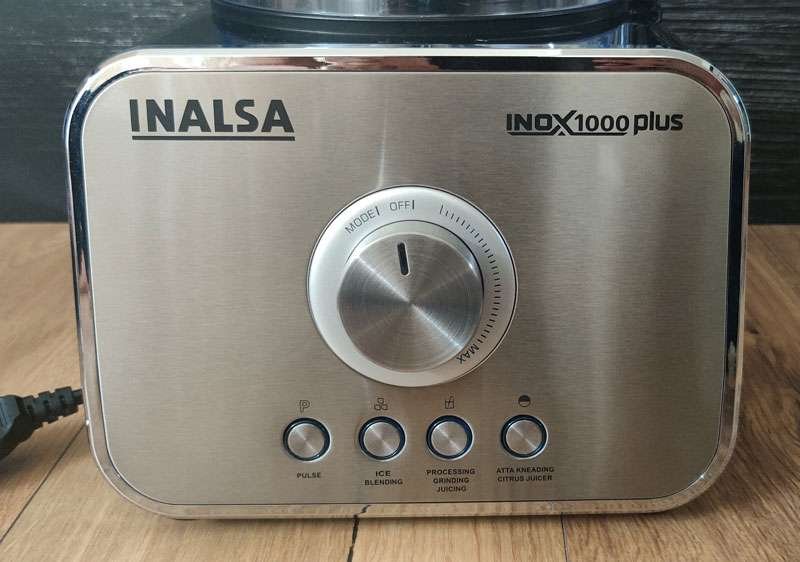 With a 1000-watt motor, the motor housing of Inalsa INOX 1000 Plus is wide and a bit bulky. It comes with a knob that can adjust speed in 25 levels. But, practically, it doesn't make much difference in performance. There is a pulse button and different modes for kneading/ citrus juicing, processing, grinding & juicing and ice blending.
Food Processor Performance
Slicing
We tested the food processor grating and slicing a variety of ingredients. One of the first tests was slicing tomatoes and the food processor did a commendable job. Each slice was clean and crisp and not at all mushy.
Next, we tried slicing onions. Here again, Inalsa Inox did a neat job. There was hardly any unsliced bit stuck onto the slicing disc and the sliced pieces were fairly uniform.
Beans were next on our list. Generally, you cannot slice beans properly in a food processor because of their uneven shape and size. Some videos and articles suggest making a bunch and stuffing inside the chute and pushing it to slice it in food processors. As Inalsa's pusher has a size adjustable part which can be placed inside the chute, we thought of trying it out to slice beans. However, as expected, the performance was not up to the mark. Though a lot of them were sliced properly, some of them were left untouched or cut in the wrong orientation. Overall, slicing beans wasn't a job well done. This is not just for Inalsa, but also for most food processors.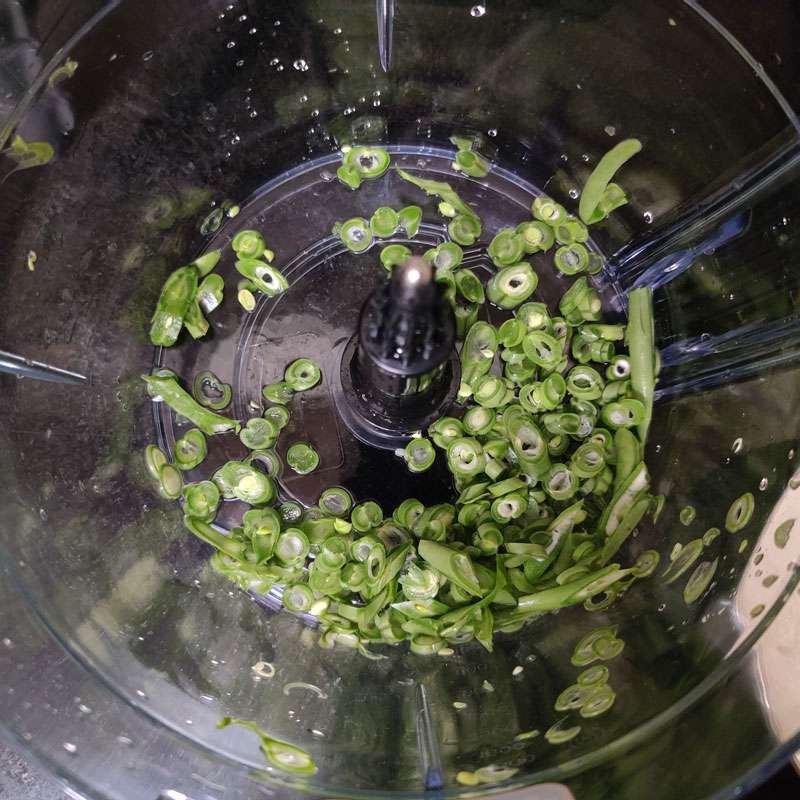 Slicing For French Fries
The food processor comes with a separate disc for french fries slicing. But, it was a disappointment. A potato got stuck on the slicing blade and just wouldn't budge. We had to take it out using a fork and then resume the slicing. Even the sliced pieces were not uniform. Anyone who has made french fries from scratch knows that uniform slicing is key to getting it right. But a lot of bits and pieces were left. Some pieces were thick and some were thin. Overall, it isn't really worth it. An inexpensive french fries cutter would do a much better job.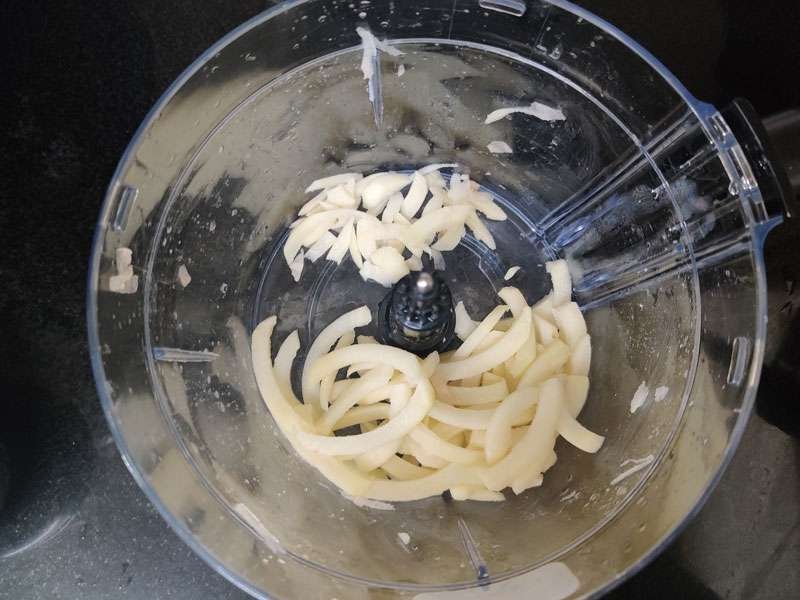 Grating
As mentioned earlier, the opposite side of the slicing attachment can be used for grating. However, this setup has a few drawbacks. If you are not mindful, you may place the disc the wrong side up resulting in vegetables getting sliced instead of chopped or vice versa.
Next, you will notice that the sharp edge of the slicing blade is a bit raised compared to the grating blade in the same disc. So the distance between the lid of the food processor bowl and the slicing disc is very less. As a result, you don't find a big unsliced chunk of the ingredient stuck to the disk. But this is not the case while grating. There is around 1-2 cm gap between the end of the feeding chute and the grating blade. As a result, a sizeable piece of the ingredient fed remains ungrated and stuck on the disc.
We tried grating beetroot in fine and coarse consistency. As mentioned, there were chunks left on the slicing disc. But otherwise, they were grated in uniform consistency. We also grated cheese and carrots and the results were satisfactory. But again, as mentioned earlier, a large chunk was stuck onto the grating disc and the pusher wasn't able to touch it to exert enough pressure for grating it.
Chopping and Mincing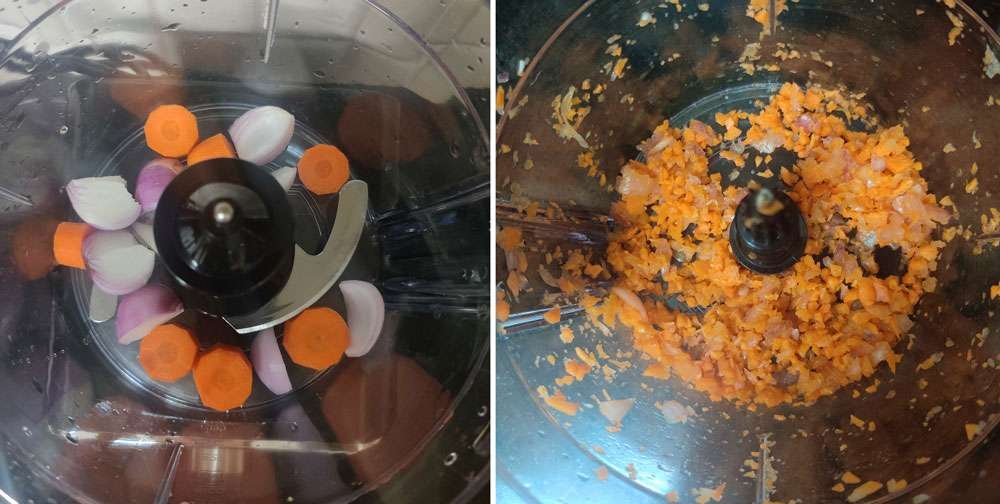 Chopping is one of the most used applications of a food processor. Inalsa does just an average job at it. We tried chopping carrot and onion together for making a sandwich filling. It wasn't chopped as uniform as we would have liked. To further check if it did a better job with a single ingredient, we chopped some onion.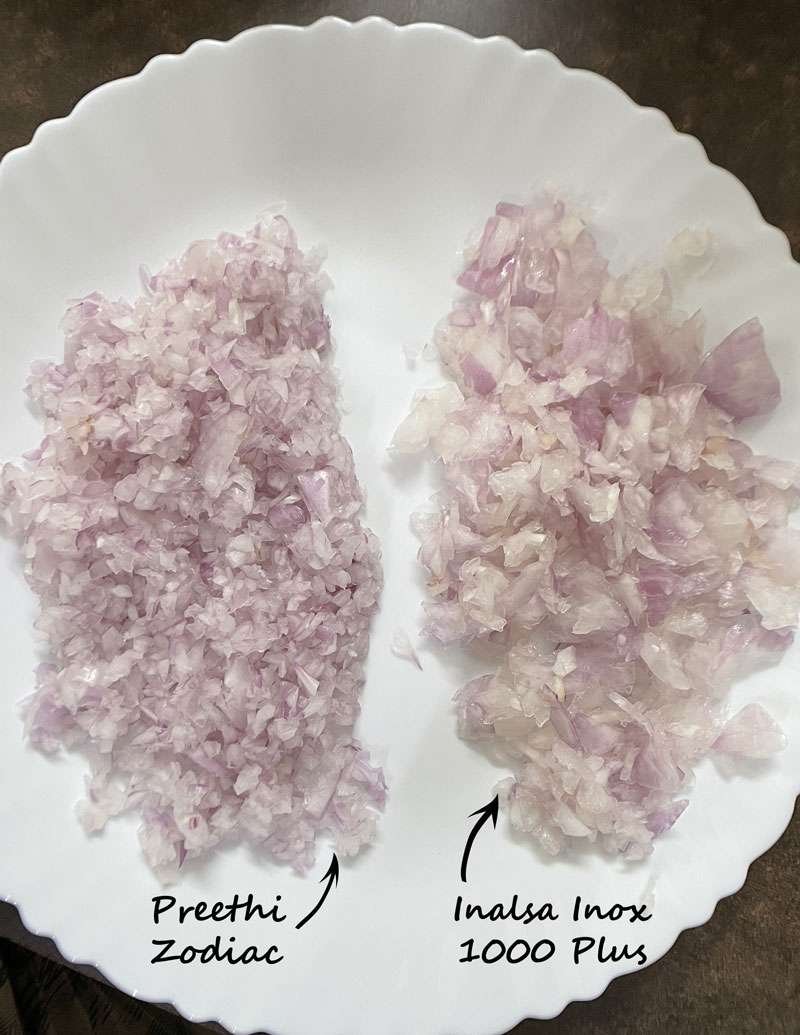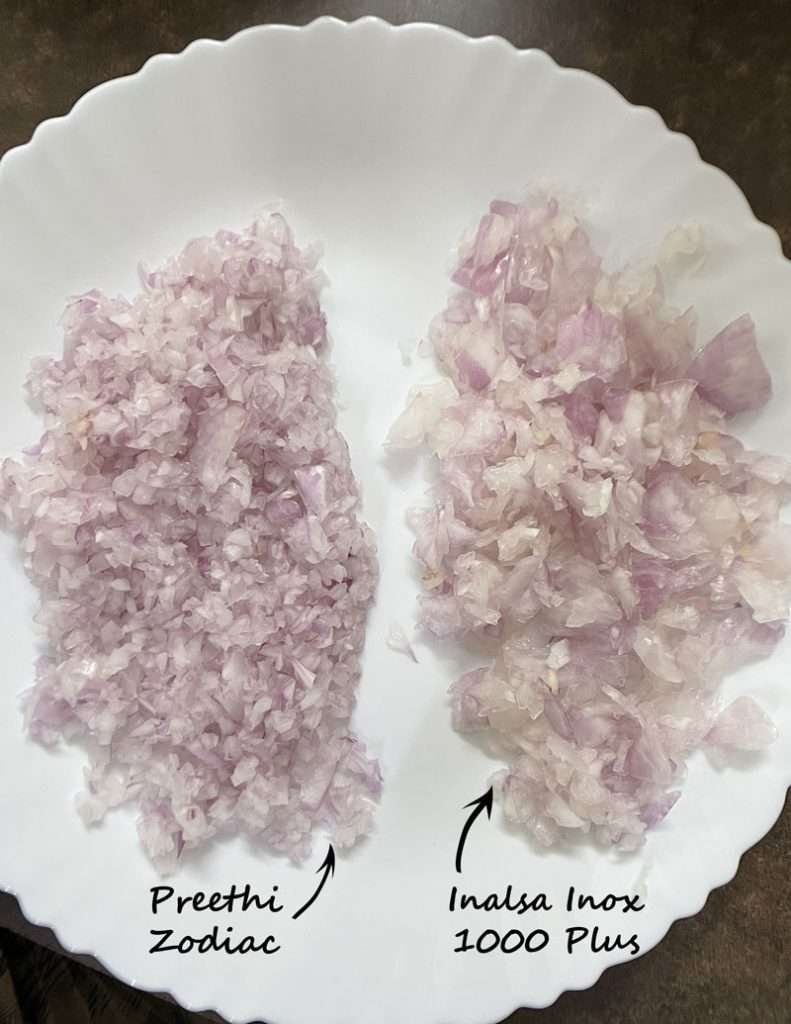 Yet again, we were not quite impressed with the chopping as it wasn't uniform. This is probably because there is a gap of around 5 mm between the blade and the bottom of the bowl and same gap at the edges too. So, ingredients could get stuck in this gap and not get ground properly.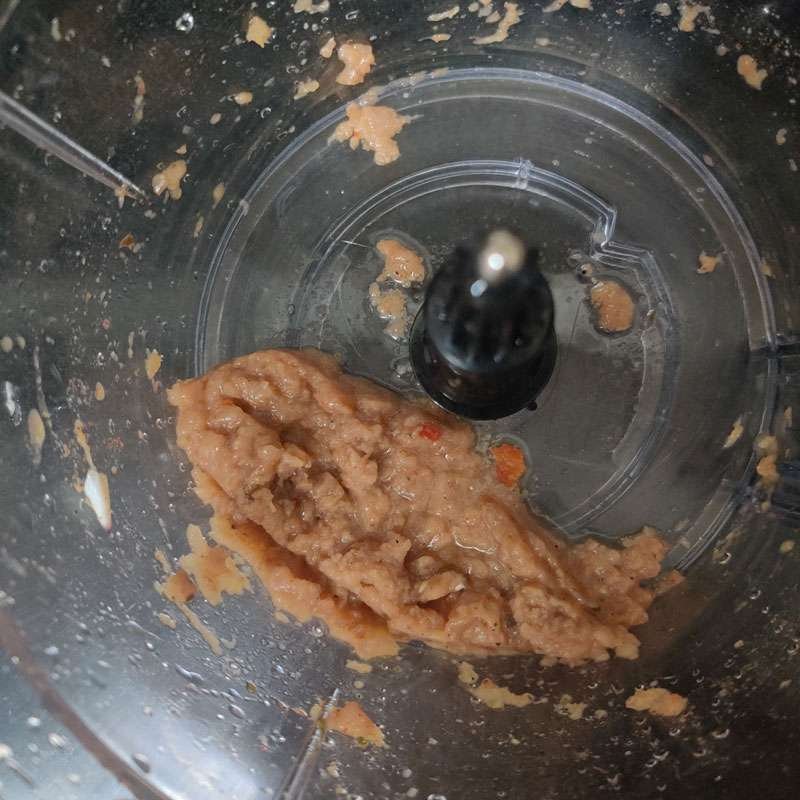 But when it came to mincing meat, the results were satisfactory. We tried mincing just 100 gm of chicken and it was minced finely to satisfaction.
Kneading
According to the manual, you can knead a max. of 350 gm flour at a go in Inalsa Inox 1000 Plus food processor. This is more than enough for 4-6 people.
In Preethi Zodiac and Philips HL7701, the pusher has a marker indicating the quantity of water and flour to be added. But you don't have any such markings on Inalsa's pusher. So, getting the quantity of water right may be a challenge initially. Once you overcome that, soft well-kneaded dough will be ready in just a minute.
The food processor has a separate button for atta kneading. Upon invoking it, we expected the food processor to work for a preset duration and stop. However, that was not the case. Only the speed of the blade rotation is preset in these functions. Duration is not. But in mixer grinders like Hamilton Beach, speed varies as grinding progress and time are also pre-determined in the function.
Citrus Juicing
The citrus juicing attachment that comes along is fairly sturdy and locks in place firmly. Just like Preethi Zodiac, you can extract juice from a medium-sized orange in a minute. So usually one glass of orange juice will be ready in 2 minutes.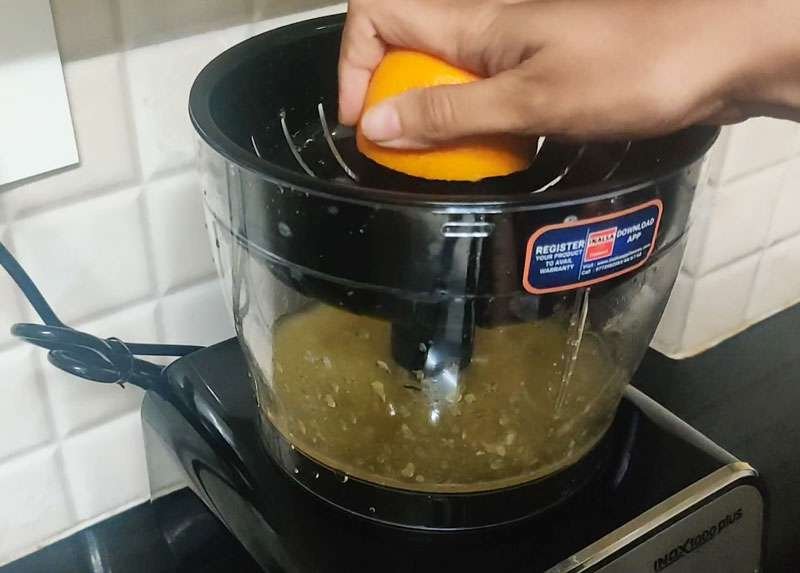 Centrifugal Juicing
Centrifugal juicing is a simple attachment which can be fixed directly onto the food processor. Unlike usual centrifugal juicers, there is no mesh filter.
The juicing performance was not quite adequate. First, we made pomegranate juice. The juicer was not able to crush the seed properly. A lot of flesh remained in each seed, resulting in inefficient juice extraction, even after passing it through the feeding chute twice.
Similarly, when making apple juice, the peel had a lot of flesh and the pulp was wet too.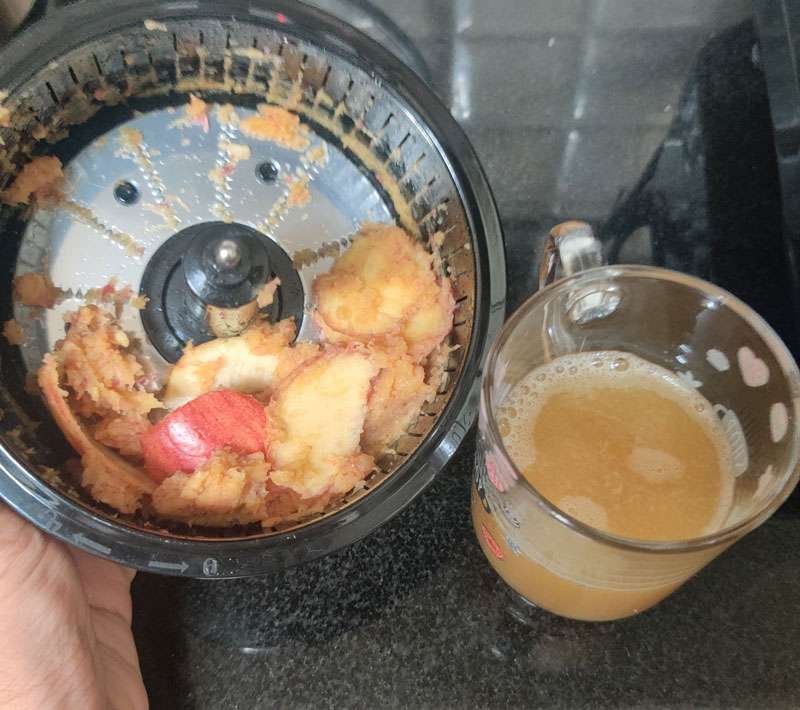 Overall, the centrifugal juice extraction was not really up to the mark, especially when you compare it with other juicer mixer grinders.
Whisking
Inalsa Inox 1000 Plus comes with a whisking attachment. It can be used to beat eggs and cream. However, it is not suitable for cake batter or anything of thick consistency as the resistance may damage the spindle that connects the whisking attachment to the food processor. The unit does a fairly neat job whisking eggs, egg whites and cream in 2-3 minutes or even lesser depending on the quantity. We tried whisking 3 egg whites and were able to get it in stiff peak consistency in about 2 minutes. However, when we tried beating butter with icing sugar, there was resistance which made us give up mid-way lest it may damage the appliance.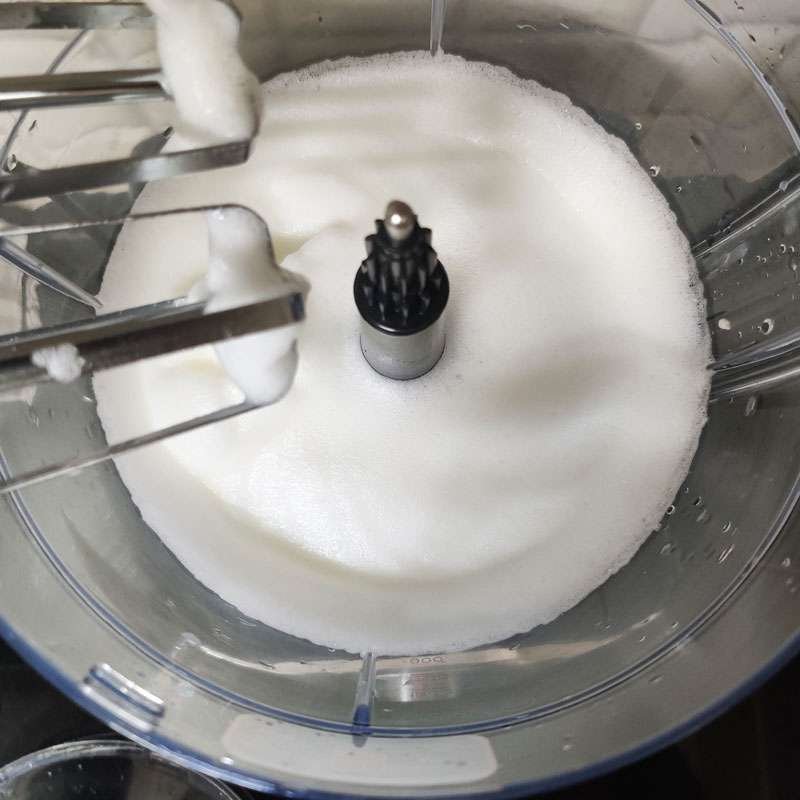 Grinding Performance
To test the grinding performance, we first made dosa batter with 3 small cups of rice and 1 small cup of urad in the liquidizing jar. It was filled to half its capacity. Usually, in a mixer grinder with 1000 watt motor, the batter would get ground in less than a minute. But in Inalsa Inox 1000 Plus, we took about 1.5 minutes. The batter was ground uniformly and into a fine consistency.
Be it chutney or spices, the blender does a fairly decent job of grinding various ingredients finely. However, still it doesn't surpass our top-ranked mixer grinder Sujata Dynamix.
Noise Level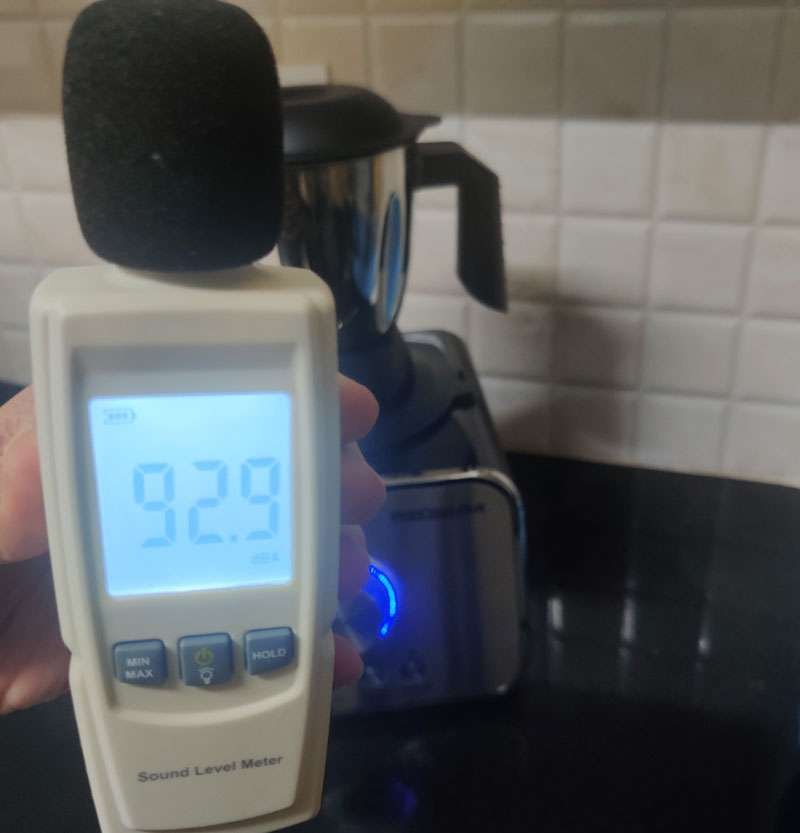 With a 1000-watt motor, the Inalsa Inox Plus is not a silent food processor. It makes around 90-93 dB noise while running. Even at the lowest speed, the food processor is fairly noisy. But, this is more or less the same as any other mixer grinder/food processor available in this segment.
Ease of Cleaning
The jars have a minimalist design and are fairly easy to clean. So is the food processor bowl. But ingredients tend to get stuck while grating and slicing for french fries. Cleaning the bits of food stuck near the sharp edges and corners of the blades is a bit difficult and needs to be done with care using a fork, toothpick, or toothbrush.
Safety Features
The grinding jars and food processor bowl don't start operation until it is properly locked to the base. The motor housing also has a thermal overload protection system to prevent overheating of the motor. In most mixer grinders, you find a switch at the bottom of the motor housing which needs to be turned off once the overload protection system is triggered. But Inalsa Inox Plus doesn't have one. Instead, the manual recommends waiting for 10-20 minutes or reducing the load to restart the appliance.
A Safety features the unit lacks is a proper storage solution for blades and disc attachments. Options like Preethi Zodiac too don't have it. The only option with such a storage solution for slicing and grating discs is the Usha FP3811. Yet another feature it lacks is lid locks for the mixer grinder jars.
Warranty and After-Sales Service
The food processor comes with a 2-year comprehensive warranty. You can avail extra 6 months' warranty by leaving an unbiased review on the e-commerce portal from where you have bought it.
Soon after delivery, we got a call from the after-sales service team asking if there were any challenges in operating the unit. To avail of any aftersales service, you can contact them through the given mobile numbers. The reviews about the aftersales service are rather mixed. While some users report prompt redressal, many aren't happy with them.
Other Similar Models
Inalsa Inox 1000 is a similar model that is sold at about Rs. 2500 less than Inalsa Inox Plus 1000. The food processor bowl is smaller in size measuring 2-litre capacity, while the latter measures 3.2 litres. This however doesn't make much of a difference to a nuclear family. Also, it doesn't have a whisk attachment. Other attachments are the same. Another difference is that the former has just 3-speed settings and no buttons to invoke functions like pulse, kneading etc. But this doesn't really make a significant difference while using.
Compared to options like Preethi Zodiac available at similar pricing, Inalsa Inox 1000 Plus has a larger bowl and extra attachments too. Even so, when you compare the performance, Zodiac is a tad better than Inalsa. When it comes to grating, we found Preethi Zodiac to be slightly better. Also, Zodiac is a lot more compact too, which is helpful if you have space constraints. The juice extraction of both models isn't that great. The only advantage we found with Inalsa was that its citrus juice attachment and top lid fix more firmly to the bowl and also, its discs are easier to use.
Conclusion
By trying to be several things at the same time, Inalsa Inox Plus fails to excel most of them. It is a food processor with an average performance. But, it is an expensive option. If you are not lured by the whisking, centrifugal juicing, and french fries attachment, you could rather opt for Preethi Zodiac, which has a much better grinding and food processing performance.
Was this post helpful?
Let us know if you liked the post. That's the only way we can improve.