Preethi Zodiac MG 218 is one of the best mixer grinders available in the market. It comes with a food processor jar and a 3 in 1 extraction jar which makes it a resourceful appliance. In our tests, we rated it as one of the top choices, owing to its excellent performance and versatility.
Through this review article of Preethi Zodiac Mixer Grinder, we take a look at its overall performance, features, pros and cons.
Summary
Preethi Zodiac is one of the best options for those who need a mixer grinder with a food processor. Its grinding performance is fairly good and the food processor is helpful in kneading, slicing, chopping and grating. The 3-in-1 extraction jar is better than the juicer jars found in other mixer grinders. But, it is a bit difficult to change the blade assembly kit. At about Rs. 8900, it is a bit expensive. But, the food processor makes it worth it.
Pros
Fairly good grinding efficiency
Versatile food processor
Good built quality
Prompt aftersales service
Cons
Blade assembly kit is difficult to change

Doesn't grind small quantities well.

Jars
The mixer grinder comes with 5 jars. They are-
500 ml chutney jar
1 litre multi-purpose jar
1.5 litre wet grinding jar
2.1 litre Masterchef jar
1.5 litre 3-in-1 extraction jar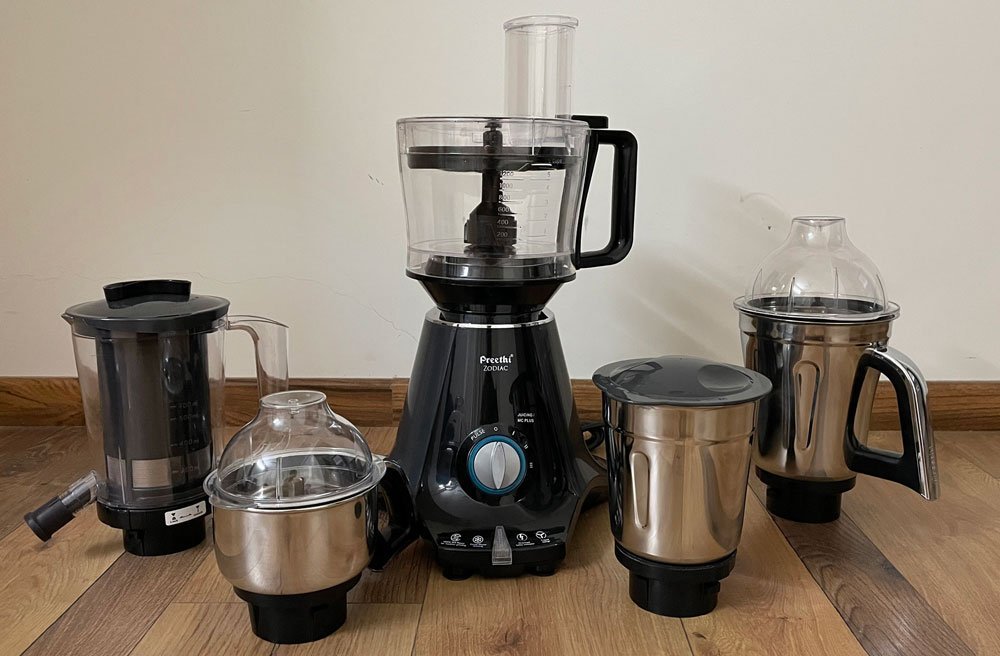 The 3 main jars have stainless steel bodies. The chutney jar and wet grinding jar have polycarbonate lids, while the 1-litre multipurpose jar has a plastic lid.
The jars are lightweight and they look quite elegant. The handles especially are beautifully designed in such a way that it is screwed from the outside. So, screw heads don't appear inside the jar walls, making them easier to clean. But screws are seen at the bottom.
The Masterchef jar is made of polycarbonate. It comes with citrus juicer attachment, chopping and kneading blade and attachments for slicing and grating.
An advantage of its design is that the food processor bowl can be detached from the jar lock. So, if you need to use the food processor a few times in a row, it is easier to remove it from the motor housing, scrape out the ingredients and then fix it back to the housing.
The 3-in-1 extraction jar is another USP of Preethi Zodiac. It comes with 2 sets of blades- one for blending and the other for extracting juice. You also get a pusher which helps you insert the fruit pieces into the jar while it is running.
Related reading: Philips HL7707/00 Mixer Grinder Food Processor Review
Motor Housing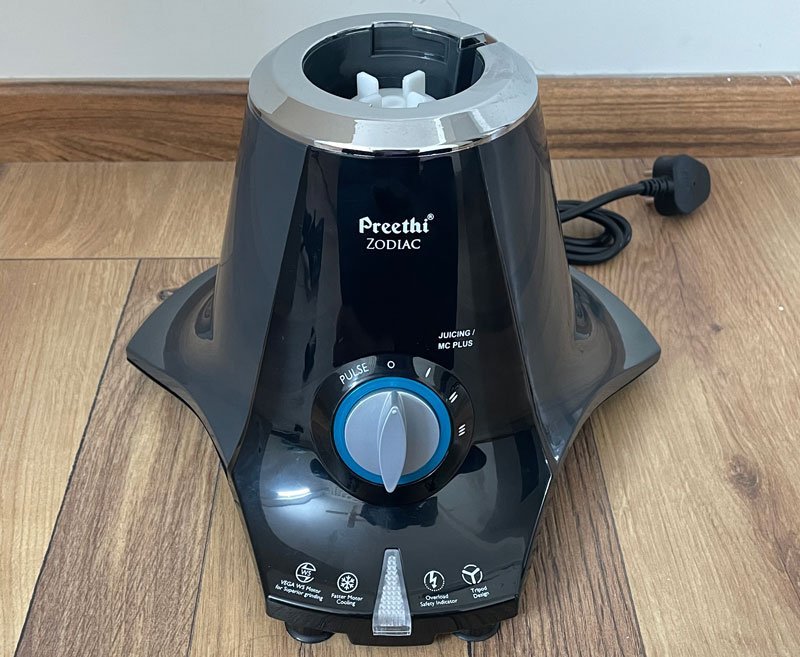 The motor housing of Preethi Zodiac comes in elegant black colour. It has a knob for setting the speed to three levels and also for whipping/pulsing. The housing also has a power-on indicator that glows blue in colour. If the overload protection switch is triggered, the indicator turns orange in colour.
Just like every other option, Preethi Zodiac has vacuum suction feet and an overload protection switch at the bottom.
Grinding Performance
The three main jars can be used for grinding various ingredients. And it does a fairly neat job.
You can make powders of spices like garam masala, turmeric, pepper etc in the chutney jar and the 1 litre multipurpose jar. As the polycarbonate lid has a tendency to stain, you have to clean it immediately after grinding spices to avoid permanent discolouration. So it is better to use the 1-litre jar with the plastic lid for grinding spices.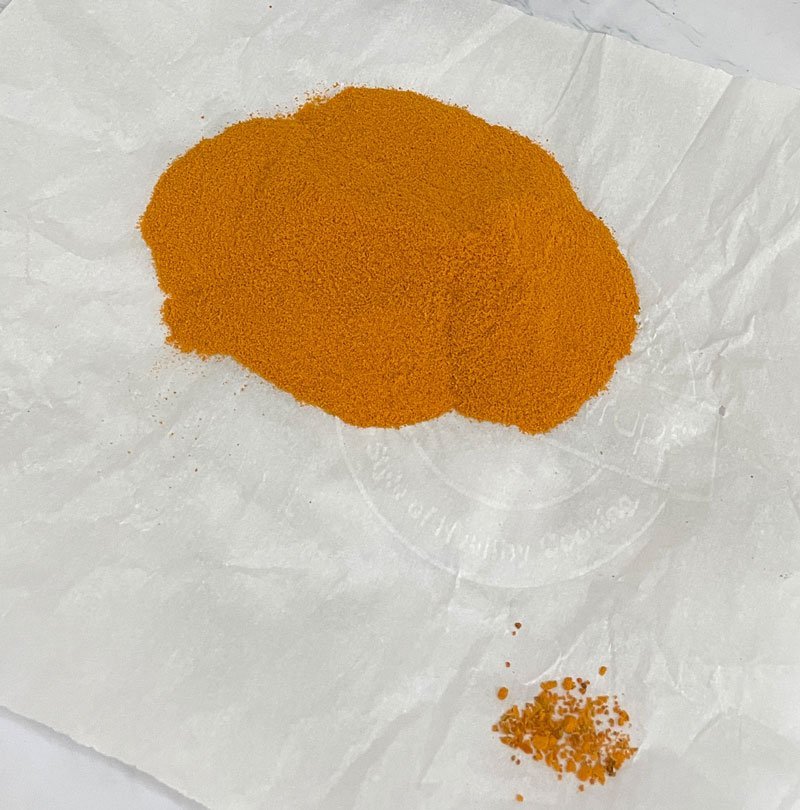 Upon grinding and sieving garam masala, we got just 1-2 teaspoons of coarse residue. The residue doesn't really affect the dishes in terms of their flavour or consistency. Upon grinding turmeric, we hardly got 2-3 pinches of coarse residue.
Even the wet grinding efficiency of the mixer grinder is top-notch. You can make dosa or appam batter for 4-5 people in just around 45 seconds in a smooth consistency. We also tried making urad batter with minimal water for making Vada.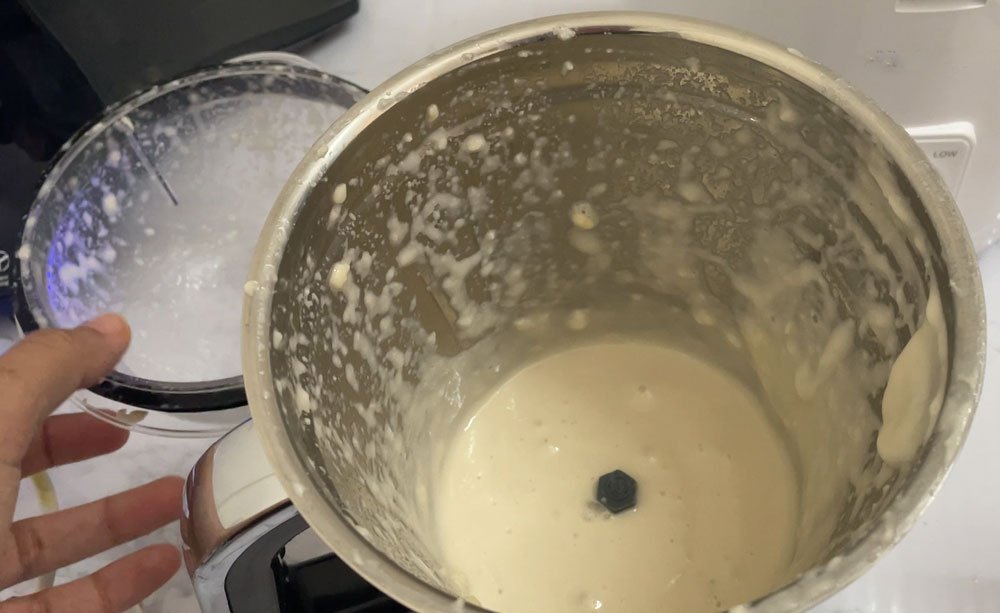 But, it doesn't have the brutal power of Sujata Dynamix. When we tried crushing ice cubes, it did not do a thorough job. A lot of ice cubes remained uncrushed. If you are planning to buy Zodiac after using Sujata Dynamix, you may notice a distinct difference which may sometimes disappoint you.
Even so, standing alone, the mixer grinder has fairly good grinding efficiency, making it an excellent option for everyday use.
Related reading: Bosch Truemixx Mixer Grinder Review
Food Processor Performance
As mentioned earlier, the food processor jar comes with various attachments for kneading, chopping, slicing and grating. It also comes with a pusher that has measurement markings for water and wheat flour.
To knead the dough, you have to add wheat flour, oil and salt to the jar. Then, drip water little by little through the opening to knead dough to desired consistency. If you add water as per the measurement level on the pusher, the dough becomes a bit loose in consistency.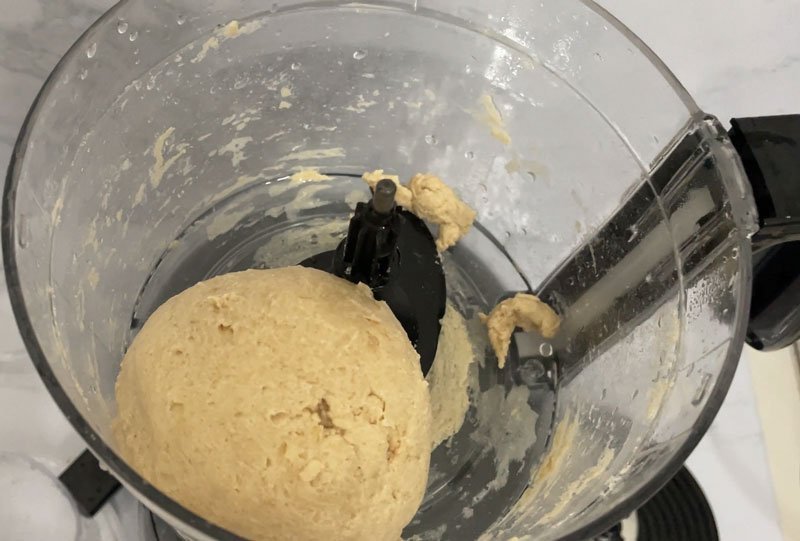 Using the food processor, you can also make dough for paneer roti, methi paratha etc with minimal effort. Paneer and methi can be grated and chopped to a fine consistency using the grating and chopping attachments. Then, you can add the wheat flour to it and drizzle water to knead the dough.
Using the chopping blade, you can coarsely chop carrot, onion and tomatoes for making salsa. The grating attachment is quite useful when you need to shred paneer or vegetables like carrot and beetroot for making side dishes. However, they should be at least 2-3 inches tall and thick. You can't grate ginger or garlic using the grating attachment.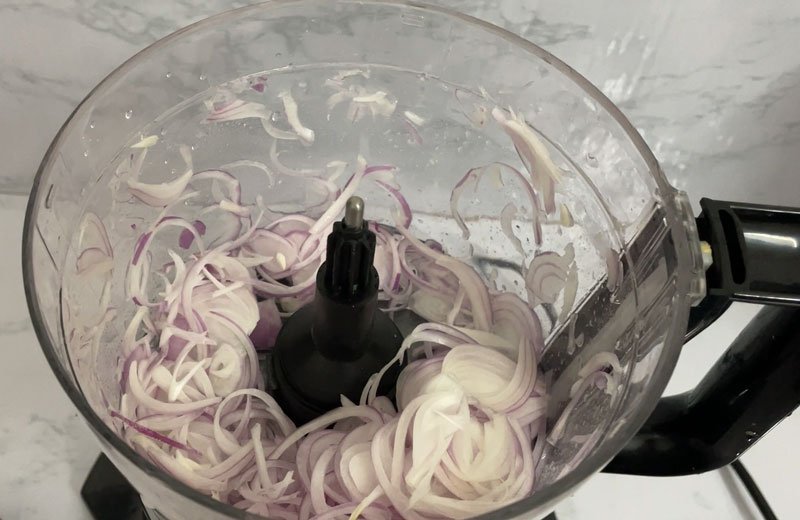 The slicing attachment is immensely helpful for slicing onion for biriyani. You can also slice tomato, carrot for salad and green banana for making banana chips. However, you have to be careful to place the larger chunks in the right orientation so that they are sliced the way you need them to. Otherwise, instead of slicing horizontally, the blades may slice it vertically or vice-versa.
In addition to these, you also get a citrus attachment. Using it, you can extract juice from orange and sweet lime without worrying about crushing the seeds and imparting a bitter taste to the juice.
You can juice a medium-sized orange in about 30 seconds. So, it takes just less than 90 seconds to make a glass of orange juice.
We had tried using it for grating, chopping and slicing ingredients for making a Biriyani. Generally, we take about 2 hours from start to end without using food processor for prep work. With food processor, we were able to finish it off in about an hour and a half. Overall, it is a huge time saver that is immensely helpful in an Indian kitchen.
You may also like our article on Best Food Processors in India
3-in-1 Extraction Jar Performance
The 3-in-1 extraction jar comes with 2 sets of blades. One is for extracting juice from fruits. The other is a blending blade for making smoothies and shakes.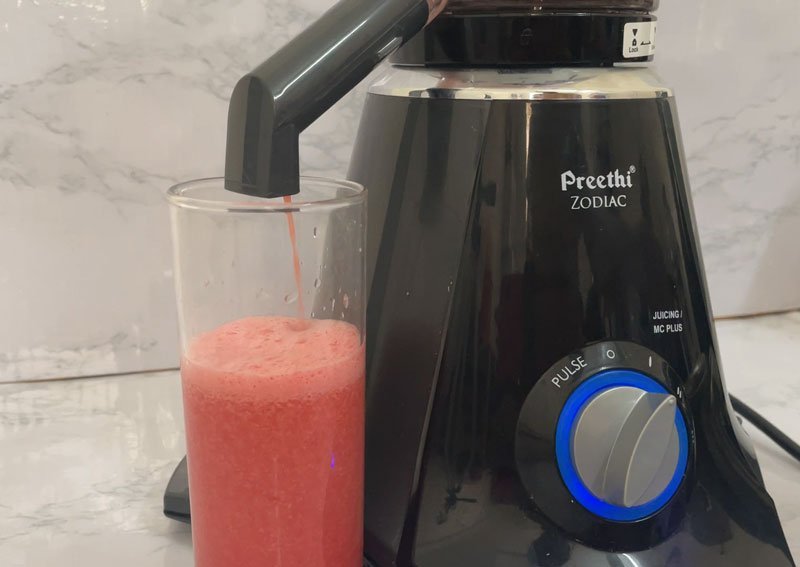 The extraction efficiency of the juicer jar is fairly good. As there is a spout outside the jar, you can collect the juice into a glass. So you can juice large quantities of fruits at a go without having to stop and pour from the juicer jar.
The extraction is pretty quick too. You can make juice from a 2 Kg watermelon in less than 2 minutes. It works well with watermelon. But with apple, pomegranate, beetroot and carrot, the juicing efficiency is not that good. The pulp retains a lot of juice and a lot of froth is produced. While it is better than many other mixer grinders with juicing jar, it is not as good as a centrifugal juicer or a juicer mixer grinder.
Also, you can't use it for starchy fruits like banana and mangoes.
We did not really like the blending blades either. When you try making a milkshake with nuts and fruits, the nuts don't get ground properly.
The 3 in 1 approach looks brilliant on paper. But, its design isn't that user-friendly. Changing the blade set of the jar is pretty difficult. You need to apply a lot of force to twist and remove the blades. And if you apply excess force, you risk damaging the jar too.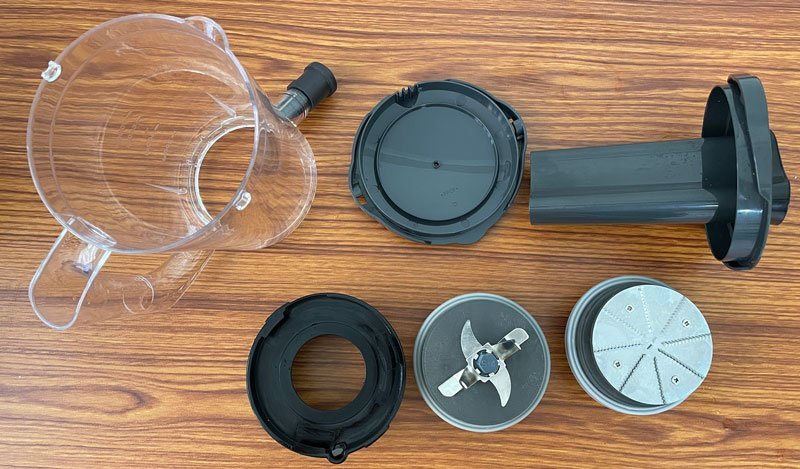 So, we would rather advise using the jar just for extracting juices and if you need to make smoothies or shakes, you can use the 1.5-litre wet grinding jar instead.
Ease of Cleaning
The main jars are fairly easy to clean. If you use the multipurpose jar with the plastic lid for grinding spices, you don't have to worry about it getting stained either.
When you clean the extraction jar, you may have to take care as the pulp could get stuck between the blade and the bottom base. We don't advise removing the extraction blade for cleaning the jars because the lock may get damaged.
The food processor jar is moderately easy to clean. But you need to be careful while cleaning the blades as you could get hurt. It would have been a lot better if the food processor jar was dishwasher safe.
Related reading: Sujata Dynamix Mixer Grinder Review
Safety
The mixer grinder comes with standard safety features like a shockproof body, vacuum suction feet and an overload protection switch.
What we found lacking is a proper storage solution for the blades. The chopping blade comes in a plastic mould. The grating and slicing blades are wrapped in bubble wrap. Considering that they are sharp, it isn't prudent to keep them in the cutlery tray along with other kitchen tools.
Warranty and Aftersales Service
Preethi Zodiac comes with a 2-year product warranty and a 5-year motor warranty. During this time, you just need to visit the authorized service centre and they will repair or replace the parts free of cost. Even after the warranty period, Preethi doesn't levy service charges. They only charge for the spares.
Other Similar Models
Different variants of Preethi Zodiac are available in the market.
The upgrade is Preethi Zodiac 2.0 which comes with preset buttons for chutney, batter, kneading and puree. We wish the jars had a lock to facilitate hands-free operations. Without it, the buttons don't seem quite useful.
To solve that, Preethi came up with the Preethi Zodiac Cosmo that has a double lock mechanism like Panasonic. Also, using the food processor, you can dice vegetables too.
If you don't need a juicer jar, then you could opt for Preethi Zion, which comes at a more attractive price. It is quite a sensible option as most people don't use the juicer jar after the first month. And if you don't want the food processor jar, you could opt for Preethi Taurus.
Related reading: Preethi Zodiac Vs Zion Comparison
Conclusion
Overall, Preethi Zodiac is an excellent option for those who need a powerful mixer grinder with a food processor. It is quick, efficient and easy to use. Though it costs close to Rs. 9000, it is definitely worth it considering the convenience it offers.
Was this post helpful?
Let us know if you liked the post. That's the only way we can improve.