Flooring is undeniably an integral part of the interiors. It must be functional as well as appealing to the eyes. Depending on the purpose of the building, you can compromise a bit on the aesthetics of the flooring and still maybe get away with it. But if for any reason, the functionality is taken lightly, it may even lead to the failure of the building itself.
The living room is one of those crucial spaces that turn a house into a home. After all, most inhabitants spend a considerable time here. And flooring is an inevitable part of this special space.
When you think about the flooring for a living room, you are bombarded with a plethora of options. And a popular option is tiles. So, if you are considering opting for tiles for your living room, here is what it brings along to your platter:
Benefits Of Using Tiles
It is always good to opt for a flooring option after giving a keen thought to its pros and cons only. Those of using tiles are as follows:
Maintenance
Amongst the best parts of using tiles as flooring in the living room is that it is easy to maintain. It hardly absorbs any dust or water. Such particles can be wiped off without leaving stains. A soft brush attachment with the
vacuum or an ordinary broom can be used to remove debris and dirt from the surface of the tiles. If still any stains tend to remain, a cleaner can be used to get rid of them without fearing damage to the flooring. All in all, it is not much of a hassle to keep tiles neat and tidy.
Easy On Pocket
Usually, tile flooring is reasonably priced. The lesser expensive ones are made of cheaper material whereas the costlier ones are made up of good quality materials. Tile flooring proves to be the perfect choice in most cases, if it is installed properly and aesthetically fits in the interiors. Its price range falls somewhere in between that of hardwood and carpet.
Water-Resistance
An add-on to the list of benefits with tile flooring is its resistance to water and stains, thanks to the protective layer on its top surface, that is. Although this fact comes handier while using floor tiles in bathrooms and kitchens, it enhances the experience of using them in living rooms too. The reason being that it makes it easier to clean.
However, if the grouting between the tiles is not done correctly the excessive moisture in the environment or water from mopping can seep deep into it. This can give rise to the risk of mold growth as well as an installation failure. This could lead to an expensive problem that is difficult to rectify.
Related reading: Types of Flooring Materials In India
Durability
Tiles are pretty tough and don't develop cracks in normal circumstances. If all the do's and don'ts of installation and maintenance are taken care of, its life can be used for decades with minimal maintenance.
Even if a tile cracks, it can be replaced keeping the rest of the area intact. So, your maintenance cost will be much lesser.

Types Of Tiles
A wide range of floor tiles choices is available in the market, making it almost challenging for the customers to pick the appropriate one for a particular area. There are vitrified tiles, ceramic tiles, porcelain tiles, cement tiles and so on. When you are looking to choose tiles for your living room, it becomes a confusing task to choose the right one for the space. Here are the ones that suit best for a living room:
Ceramic tiles
Ceramic tiles can be used in a variety of environments. Natural clay, pigments, minerals, chemical agents and water are combined and baked at high temperatures to form ceramic tiles. Although they have good resistance to water and stains, they can crack comparatively easier than other options. So, the use of ceramic tiles should
be avoided in areas with high footfall. Rather, it is an excellent option for walls.
Porcelain tiles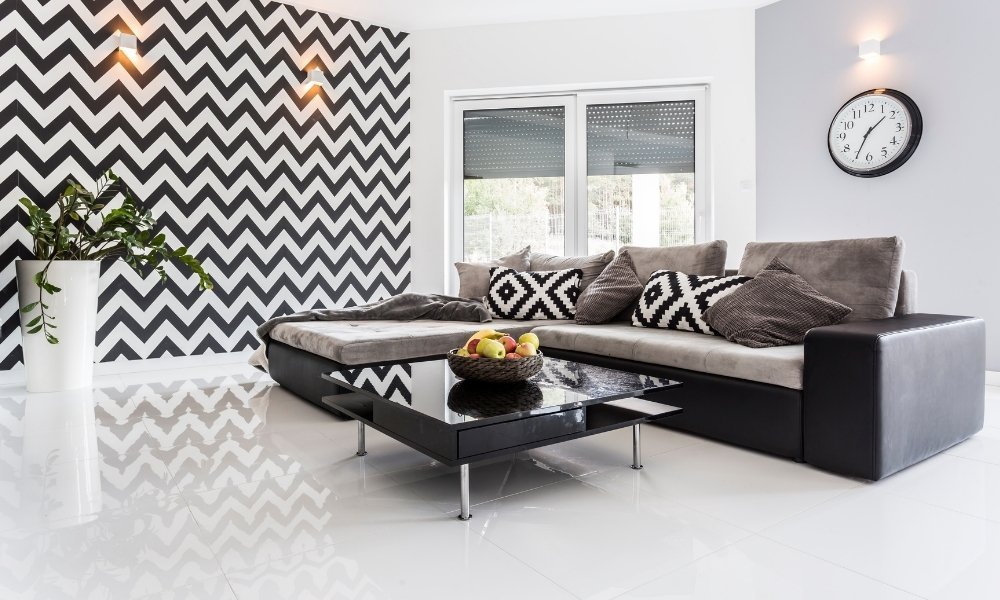 Porcelain tiles are well-known for more strength, purity, porosity and durability as compared to ceramic tiles. It is formed of clay and mineral components, heated to very high temperatures. The excellent strength of porcelain comes from its detailed manufacturing process. It is considered a suitable option for living rooms.
Vitrified tiles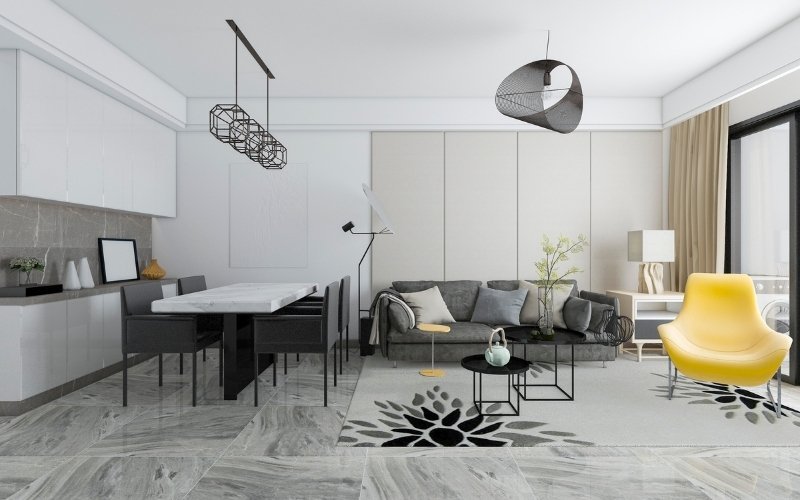 Vitrified tiles are made of clay, feldspar, silica and quartz through a different type of process called Vitrification. They are well-known for their exceptionally low porosity. The looks of these tiles can be altered to make them appear like marble or granite.
Vitrified tiles are often considered superior to Ceramic tiles and Porcelain tiles. They are a good choice for living rooms because of their incredible capacity to endure movement and pressure.
Terrazzo tiles
Another great choice for the living room is the Terrazzo tiles, which dates back to the 15th century. Its traditional
design makes it stand out among other options. It consists of a cement foundation with gleaming marble flecks laid on it and smoothed to a perfectly polished finish. Being a bit old-fashioned, they are rarely found in homes nowadays.
Terracotta Tiles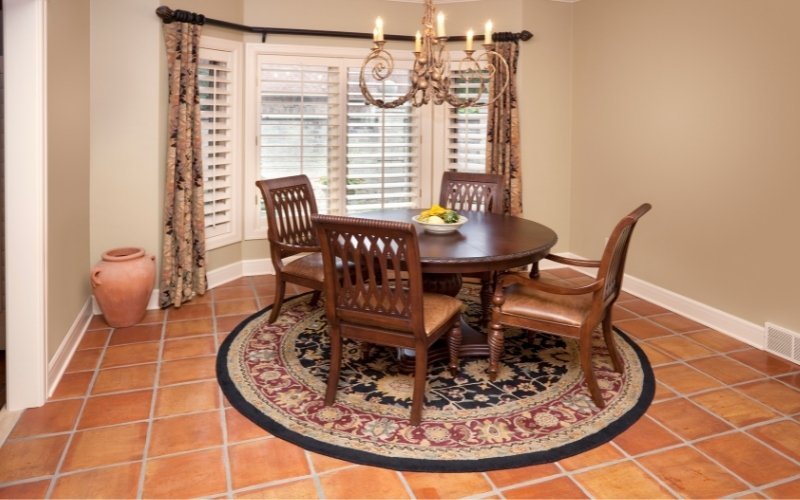 Terracotta is made up of natural clay and the term means 'cooked earth'. They make a cosy choice for the floor of a living room. It is a perfect choice if an old school setup is what you are looking for. It radiates an earthy invigorating warmth. These tiles beautifully fit into a variety of aesthetics.
However, it is important to seal them from time to time to ensure that they endure.
General Tips To Choose Flooring For Living Room
Type Of Flooring
The first step towards selecting the best fit for the floor of a living room is to decide its type. Usually, vitrified tiles come in the handiest for the purpose. But you should also consider other options before zeroing in at one.
Size In General
Flooring options like tiles, granite and marble are available in a wide range of options when it comes to sizes. The numerical specifications of these sizes come later. Firstly decide whether you would like to go for a larger unit tile or a smaller one.
Durability
One thing that must be properly taken care of, is the ability of the material to endure wear and tear, especially that caused by water and chemicals. If it's not a good quality material, a lot of defects may develop over not a very long period of time as well. It's always good to check all these things and only then make the decision.
Specific Guidelines On Choosing Tiles For Living Room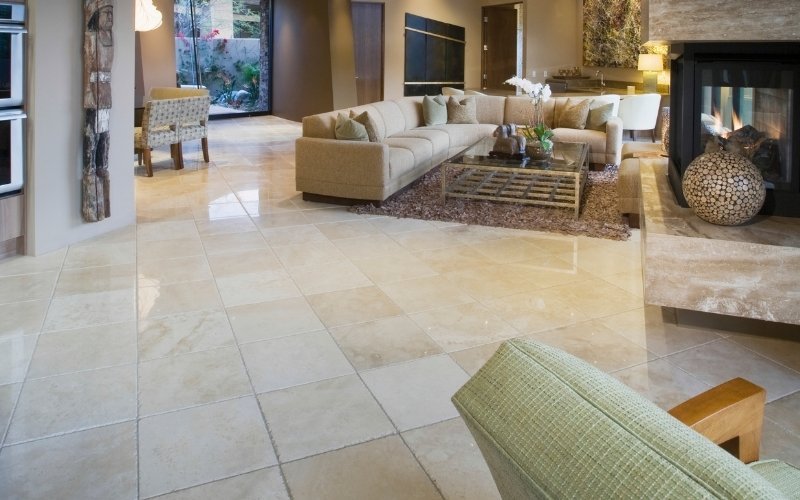 Furthermore, here are some specific tips on choosing the tiles for the space you probably adore the most when at home.
Appropriate Size
The most popular tile sizes for floors are 300 X 600 mm, 600 X 600 mm, 800 X 800 mm, and the likes. According to experts, the size of a unit floor tile should be decided based on the room size. Usually, a large size tile makes a room look larger in size. But if a large size tile is used in too small a room, it might make the room look even smaller.
Also, the most appropriate size of a unit tile is one that leads to the least cutting and wastage of all tiles combined together.
Finish Matters
These days almost any design can be printed on a tile, with digital printing. However, this design is not the only thing that keeps value. The finish of the tile also matters – For example, glossy or matt. The most recommendable design and finish for living rooms are naturals.
Color Selection
Usually, light colour tiles are advised by experts for indoors, including the living room. The light colour makes the room look more spacious and well-ventilated than dark colors.
Purchase Extra
It is always advisable to buy a little extra number of tiles than actually needed, so as to replace any broken piece in the lot if any. Generally, companies don't mind refunding for the tiles not used.
Right Angle Borders
Everything else said and done, if the edges of the tiles have not been cut and finished properly, it can hinder the grouting process which in turn can cause many problems like water seepage after installation. For this reason, inspect the tiles thoroughly before installation.
Was this post helpful?
Let us know if you liked the post. That's the only way we can improve.