Philips HL7707/00 is one of the options considered by those who are looking for a well-built mixer grinder with a food processor. It looks elegant and sophisticated. But does its performance match its elegant appearance? How good is its built quality and safety features? Is it noisy? We will explore it all in this in-depth review.
Summary
With fairly good built quality and excellent grinding performance, Philips HL7707 is a good option for those who need a mixer grinder with a food processor. However, you will have to forego the wet grinding jar.
The noise levels are moderate and it is fairly easy to handle. However, just like most other food processors available in the market, it doesn't have a proper storage solution for the blades and attachments.
How We Test?
To test the mixer grinder, we used it in a regular Indian kitchen for 7 days. We subject it to everyday rigours like making batter, curry paste, chutney and slicing, chopping and grating vegetables. Then, we conducted a few measured tests whereby we grind a particular quantity of various spices, batter etc to make a comparative analysis of how it performs in comparison with models from other brands. We also measure the noise level, RPM and other aspects to understand how well-built and user-friendly the appliance is.
Related reading: Best Mixer Grinders In India
Jars
The mixer grinder comes with 4 jars. They are-
400 ml chutney jar
1 litre multi-purpose jar
1.5 litre juicer jar
2.1 litre food processor jar
The two main jars are made of stainless steel. They have a plastic lid and a polycarbonate lid which can be used interchangeably. The 1.5-litre juicer jar comes in the standard design which is common to Preethi and Philips.
The 2.1-litre food processor jar comes with a polycarbonate body. It is permanently fixed to the jar lock, unlike Preethi Zodiac, which can be unlocked from the jar lock, making it easier to move around.
Along with the food processor jar, you get a citrus juicer attachment, atta kneading blade, chopping blade and attachments for grating and slicing.
The built quality of the mixer grinder and its parts seem fairly good. The jars are thin measuring just 0.6mm in thickness. So, they get heated rather quickly. However, it doesn't affect its durability or performance.
The blades of the main jars have 1.4mm thickness, which is pretty much the standard. You can remove the blade of the multi-purpose jar using the spatula you get with the mixer grinder.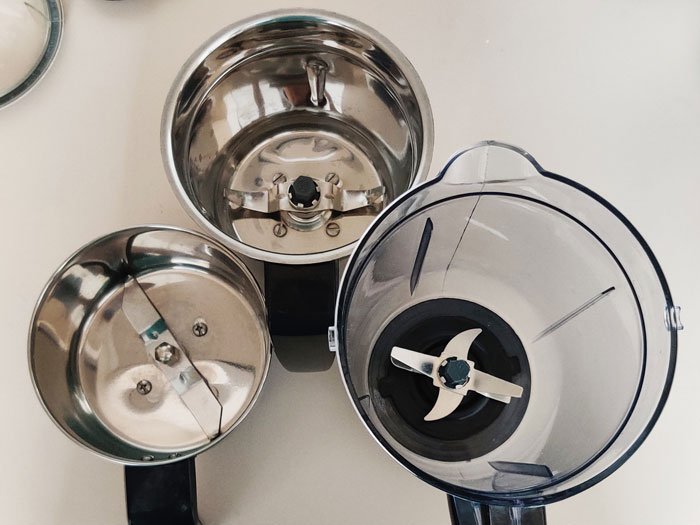 A drawback, however, is that you don't get a wet grinding jar. So, if you need to grind idli/dosa batter for 4-6 people, you will have to grind it in batches in the multi-purpose jar.
Related reading: Preethi Zodiac Mixer Grinder Review
Motor Housing
The motor housing of Philips HL7707 is compact and elegant. It looks pretty much the same as what you see in Philips Viva Collection HL7701, except for the colour.
The housing doesn't have a power-on indicator. Also, it has a two-pin plug, unlike Sujata, Preethi and Bosch which comes with 3 pin plugs.
As we have mentioned in our other reviews, Preethi and Philips have a minor design flaw. You can observe in the below picture that they all have a spillway at the top where you fix the jar. This helps to clean the area around the coupler. And in cases of spills, you ought to be able to clear it properly. But, the width of this spillway is quite narrow. So, it is difficult to clean this gap with your fingers or even an old toothbrush.
Performance
The mixer grinder does a pretty neat job of grinding various wet and dry ingredients.
You can make powders of spices like garam masala and turmeric pretty easily. The leftover residues after sieving less and infact, fine enough that you can add them to the sieved masala and use it all together.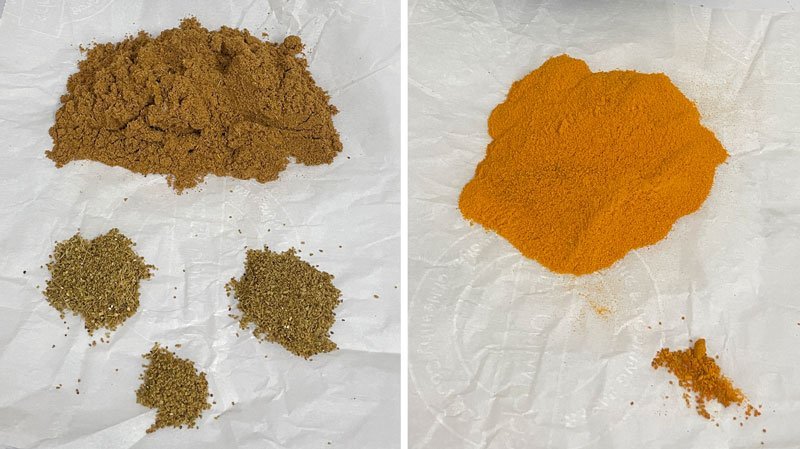 Even the wet grinding efficiency of the mixer grinder is commendable. You can make various masala paste with ease. Making urad batter for Medu Vada or dosa batter is all quite easy and quick. However, as mentioned earlier, when you need to make a medium-sized batch for a family of 4-6, you have to grind in 2-3 batches.
We also tried making a ginger-garlic paste using the chutney jar. Typically, when you need fresh ginger garlic paste for a dish, you make it with just about 10-15 cloves of garlic and 1-2 inch sized ginger.
We replicated the same to see if it could make a smooth paste. We also added a Tablespoon of oil to it. Though it was able to grind into a paste, it wasn't consistent throughout. You were able to find small pieces of ginger and garlic that were not ground properly.
The juicer jar design is pretty much the standard. It can make the juice of watermelon pretty well and in no time. But, it is not recommended for extracting coconut milk as a large part of the milk remains in the pulp. So, you have to pass it through a sieve to extract the milk completely. In the end, you will take more effort and also end up with more utensils to wash. Overall, it is not as efficient as regular centrifugal juicers.
Related reading: Bosch Truemixx Mixer Grinder Review
Food Processor Performance
The food processor jar is pretty decent in terms of its performance. The built quality of the attachments seems good. The attachments and design of the food processor are pretty similar to that of Preethi Zodiac.
Using the citrus juice extractor, you can make a glass of juice in about 1.5-2 minutes. It is quick and fairly easy to use.
The kneading blade is made of plastic. Though it appears to be strong, we doubt if it will be durable enough in the long run, especially if you plan to use it on a regular basis to knead a large quantity of dough.
The pusher comes with markings for water and the atta needed for kneading the dough. However, if you take water as per the measurement, the dough may end up a bit loose with a tad extra moisture. It is rather better to drizzle water little by little to get the dough of desired consistency.
The main advantage of using the kneading function of the food processor is not for making plain dough, but rather for options like Methi Paratha and Paneer Paratha. You can shred methi and paneer finely using the chopping or grating attachment and then in the same bowl, add atta, oil, salt, water and other spices if required, to make dough of excellent consistency.
A drawback we found was that sometimes when kneading dough, the unit vibrates and the lid may get a bit loose.
Talking about the other options like slicing and grating, the blades need to be fixed onto the plate you fix at the top of the food processor bowl. It does pretty neat job grating vegetables like carrot and beetroot for side dishes. It can also slice vegetables for salads, onion for curries and biriyani with ease. The slices are thin and uniform. Grated vegetables don't become a mushy mess either.
Using the chopping blade, you can coarsely chop vegetables for Raita, Salsa or other dishes. But, the water in vegetables like onion get exposed if you pulse for long, and it may become either pulpy or the taste could be off after a while.
Overall, it is definitely a huge time saver in any kitchen. However, if you want to dice vegetables, you may have to opt for Preethi Zodiac Cosmo which comes with a dicing blade. But, it costs almost double.
You may also like our article on Best Food Processors in India
Safety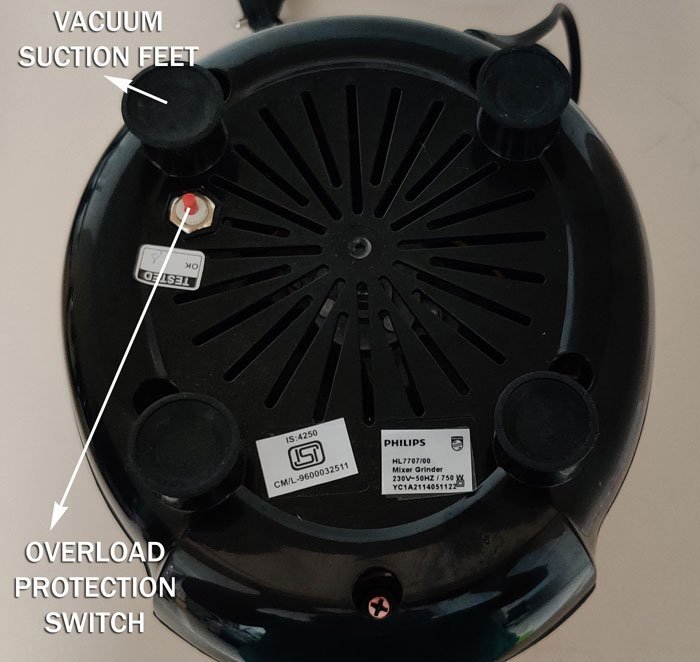 The mixer grinder has standard safety features like a shockproof body, vacuum suction feet and an overload protection switch.
But what we found lacking was a proper storage solution for the food processor blades. They are all pretty sharp and you have to handle them with care. You get a plastic mould to keep the sharp chopping blade. The grating and slicing attachments are just bubble-wrapped.
Given the premium price, they could have provided a more sustainable storage solution for the blades.
Noise
The mixer grinder is moderately noisy, producing around 80 dB. The noise is almost at par with Preethi mixer grinders. But, a lot more comfortable than Bosch and Hamilton Beach.
Ease of Cleaning
The mixer grinder jars are fairly easy to clean. The black lid does not show stains and so retains a fresh look for a longer time compared to white ones. But, after a year or two, it starts fading. The polycarbonate lid is prone to discolouration.
You have to take special care while cleaning the blades and other food processor attachments, else you may cut yourself. The bowl, being wide, is easy to clean.
But they are not dishwasher friendly per see. You can of course put them in the dishwasher. But in no time, the polycarbonate food processor bowl will have scratches all over. The sharp blades could nick the dishwasher interiors and end up as a rusty patch on the dishwasher. The jar locks will accumulate water and it may damage the coupler in the long run.
Durability
The mixer grinder jars are fairly durable. However, the plastic gaskets tend to get loose over a period of time. So, you may have to replace it.
The food processor attachments and blades are fairly durable. However, the kneading blade could break if you try to make a tight dough with little water.
Warranty and Aftersales Service
The mixer grinder comes with a 2-year overall warranty and a 5-year warranty on the motor. Unlike Preethi and Vidiem which have the majority of their aftersales services in South India, Philips have after-sales centres across the country, making them more accessible.
In some places, they even offer at-home service. You can also opt for the extended warranty from OneAssist at a nominal cost if you want hassle-free service and repair at your doorsteps.
Comparison With Other Models At Similar Price Range
Preethi Zodiac is the closest contender to Philips HL7707. They both have almost similar food processor attachments. Even the chutney jar and multi-purpose jars are similar in design and size. The main differences are that Philips HL7707 doesn't have a wet grinding jar and the 3-in-1 extractor jar.
Preethi Zodiac's extractor jar definitely is a good option for those who make juice on a regular basis. However, the majority of the homemakers tend to stow it away after the initial rush of having a new appliance.
So, if you don't mind the lack of a wet grinding jar, you could opt for Philips HL7707/00 which is far more budget-friendly too.
Now, if you don't want a juicer jar at all, then, Preethi Zion would be a much better option. It comes with a 1.5-litre wet grinding jar too.
PHILIPS Hl7763/00 is also an option worth considering if you are keen on having a food processor. But, the built quality of its jars isn't as good as 7707/00.
Conclusion
Overall, Philips HL7707 is a good pick for those who need a mixer grinder with a food processor attachment and are willing to forego the wet grinding jar. It has fairly good built quality and performance, making it a dependable choice too.
Was this post helpful?
Let us know if you liked the post. That's the only way we can improve.