A lot of people are turning to cast iron and stainless steel in a bid to lead a healthier lifestyle. But still, most households have nonstick cookware because they offer convenience unlike any other. They are the go-to option for making eggs, frying delicate fish or reducing gravies. You needn't worry about food getting stuck to the pan. Also, cleanups are extremely easy.
But, it is not all hunky and dory with nonstick cookware. The main danger associated with it is that when overheated above 260°C, the PTFE ( Polytetrafluoroethylene) coating on nonstick cookware breaks down and emits toxic fumes which are harmful. And it is not that difficult to overheat these cookware too. We have found that many of the 20 cm pans overheat in just 1.5 minutes and 24cm pans in about 1.45 minutes on a high flame. So, it is important that you buy nonstick cookware that are thick because thicker pans take a longer time to heat up. Thus, they have a lower possibility of overheating.
For this review, we have tried seven nonstick pans from various brands. Taking into consideration their built quality, sturdiness, cooking performance and other aspects, we have our top recommendations.
Our Top Recommendations
If you are looking for a safe, yet budget-friendly option, then the Hawkins Futura range of cookware is the best for you. We have tried their frying pans and Tawas as a representative of the entire range and have really loved their performance and durability. Comparatively, they have a thicker construction ranging from 3.25 to 4.88mm. The built quality is excellent and they have ergonomically designed handles too. As they have a hard-anodized aluminium base and are fairly durable too. You can get Kadhai, frying pans, Dosa Tawa, saucepots and various other cookware in this range. A drawback however is that not all of their cookwares are induction compatible. You have to look at the product description and ensure whether they are suitable for induction cooktops or not. Also, note that Hawkins sells plain hard anodized cookware as well. Such cookware won't be as stick-resistant as the ones with nonstick coating.
If you are willing to splurge a bit, then Carote is an option that is also an option worth considering. It is a mid-segment option that is more expensive than Hawkins Futura. Just like Hawkins, Carote also has a sturdy build quality. Its base is thicker than other options on the list, which helps with better heat retention. The nonstick coating is superior in quality too. Moreover, it is induction friendly. A drawback however is that its handles have a tendency to become loose over a period of time. Just like Hawkins, you get frying pans, Tawa, Kadai, etc in the Carote Granite range.
You may also like our article on Best Air Fryers In India
Best Nonstick Cookware In India
How We Tested?
As it wasn't a practical option to buy each and every cookware of a given range, we bought just the frying pan as a representative of the whole range. The nonstick coating, the base material and thickness are usually the same in the whole range. To check for the cooking performance, durability and other aspects, we subjected each cookware to rigorous testing. We followed many tests that are done by America's Test Kitchen for testing nonstick pans. But, of course, we had to adapt them to the Indian cooking style.
After measuring the physical parameters like size, thickness, weight etc, we spread an even layer of flour to see how uniformly each of them conducted heat. We then heated each of them on a high flame and checked how long it takes for them to breach 260°C, which is the temperature at which the coating starts disintegrating.
To check the cooking performance, we tried making eggs without oil and see how well they released food. We also fried fish, paneer and stir-fried vegetables and many other dishes over a period of time.
As we had to test for durability in a short span of time, we subjected it to many abuse tests to simulate its use for years in a regular kitchen. We plunged hot pans into the water, used them in the dishwasher and occasionally used metal spoons and even dropped it from a height. In the end, we checked for warping, dents and damage to the coating.
How To Choose Nonstick Cookware For Your Needs?
Size
Size is perhaps one of the most important considerations when choosing a nonstick cookware suiting to your needs. 18 and 20 cm pans are suitable for making omelettes or frying just 2-3 pieces of fish or chicken. A 22-24cm pan would be ideal for a family with 3-4 members and a 26-28cm pan is suitable for frying food in larger quantities.
Similarly, when it comes to Kadais, 3-litre Kadais can be used for making pulao and curries for 3-4 people, while a 5-7 litre Kadai would be apt for a larger gathering.
Thickness
The thickness of the material plays an important role in determining the safety of nonstick cookware. Thicker cookware are naturally heavier and takes a marginally longer time to heat up, thus reducing the possibility of overheating. Also, thicker cookware do not warp easily. This means chances of oil pooling at the edges will be very less.
This is also the main area where cookware manufacturers penny-pinch. Cheaper cookware usually has a thinner gauge of around 2.5mm, while expensive options have 3-5mm thickness. So, ideally, opt for something that is thicker than 3mm.
Nonstick Coating
Cookware manufacturers don't manufacture the coating. These coatings are made by chemical companies that supply them to cookware manufacturers. These coatings are applied during the manufacturing process in 2-5 layers.
The manufacturing process of nonstick cookware is many a time harmful to the environment. Manufacturers of Teflon, ( Dupont) had come under the scanner for causing damage to the water bodies nearby their plants in the US. Comparatively, coatings made by EU manufacturers are manufactured in an environmentally conscious manner.
Popular nonstick coating brands are Telfon, ILAG, GMM, Weilburger etc. Check the number of coatings as this is indicative of the durability of the coating. Unfortunately, most cookware manufacturers don't disclose the nonstick coating they use. Exceptions are Circulon, Carote etc.
Price
No matter how much you pay for nonstick cookware, they do not last for more than 2-3 years. So, it is not in your best interest to spend a hefty amount only to be disappointed later. Expensive options like Stahl, Bergner etc, come with a triply stainless steel base. While it does have minor advantages like better heat retention, overall, you don't find it to be worth spending twice or even thrice a regular nonstick cookware.
Handle Design
Be it frying pans or Kadai, the handle should be ergonomically designed so that you can toss food and carry around heavy Kadai with curry easily and without spilling them. Ideally, the frying pans should have handles that are as long as their cooking surface. The handles of Kadai should be round, thick and wide enough so that you can carry them around with ease.
You may also like: Best Pressure Cookers In India
Best Nonstick Cookware In India
Hawkins Futura Nonstick Cookware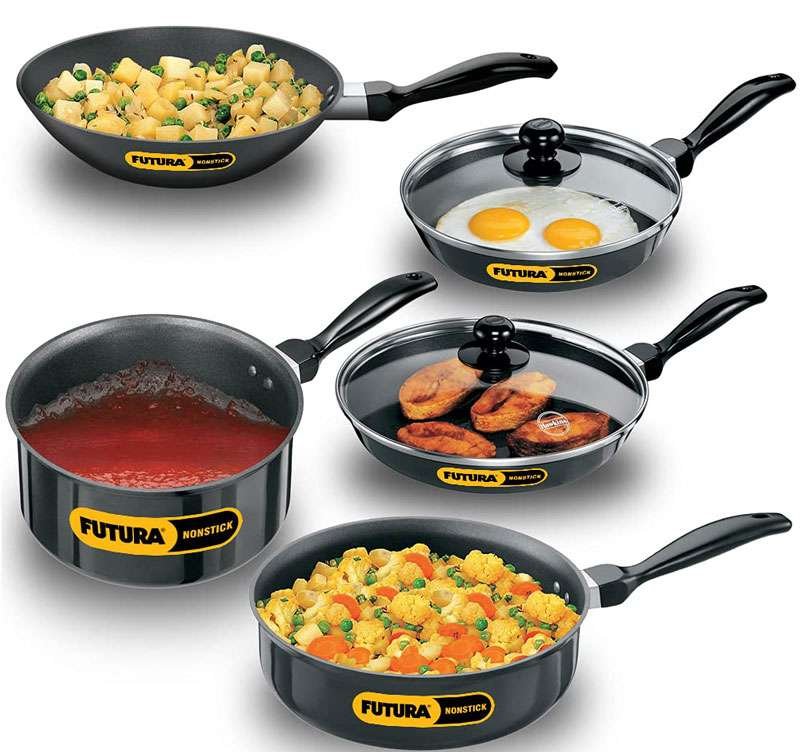 Check the latest price on Amazon
Hawkins is a brand that sells durable cookware. Their Hawkins Futura range of nonstick cookware is among the best. The pans and Kadhais measure 3.25mm in thickness, while the Dosa Tawa measures 4.8mm in thickness.
While most other ranges we have tried have an aluminium base, Hawkins Futura has a hard-anodized base on which the coating is applied. Hawkins claims that the coating is from a German manufacturer. However, they do not disclose the specific brand.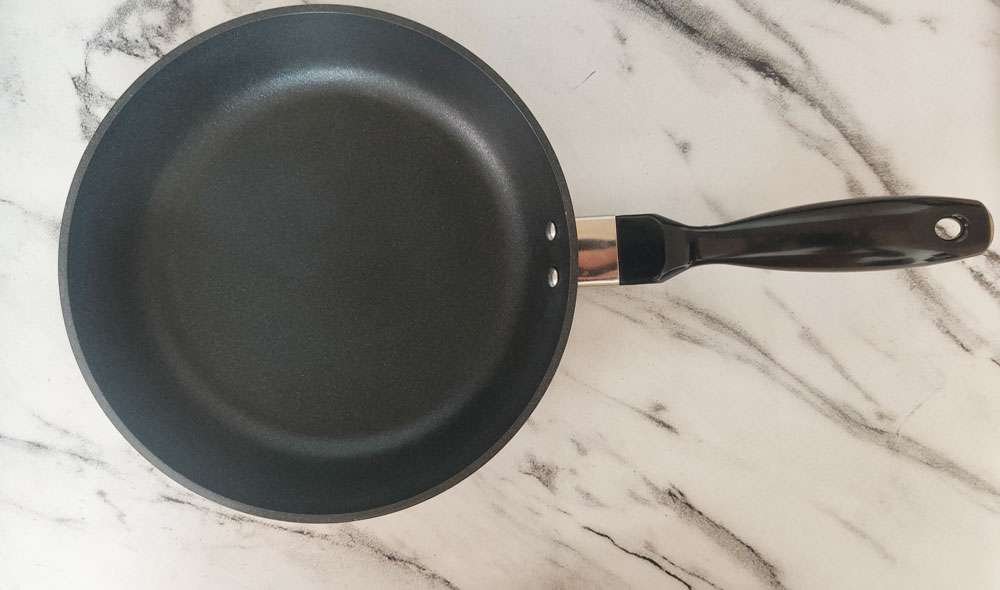 The built quality of the pan is pretty good. It has stainless steel rivets to firmly hold the handles in place. But, the rivets are not coated with nonstick. So, it may gather stubborn oil stains over a period of time.
The cooking performance is adequate. We tried making an egg on the pan without oil to check how well it releases the food. And it was satisfactory. While frying fish, paneer and stir-frying vegetables, it browns evenly and barely any food gets stuck to it.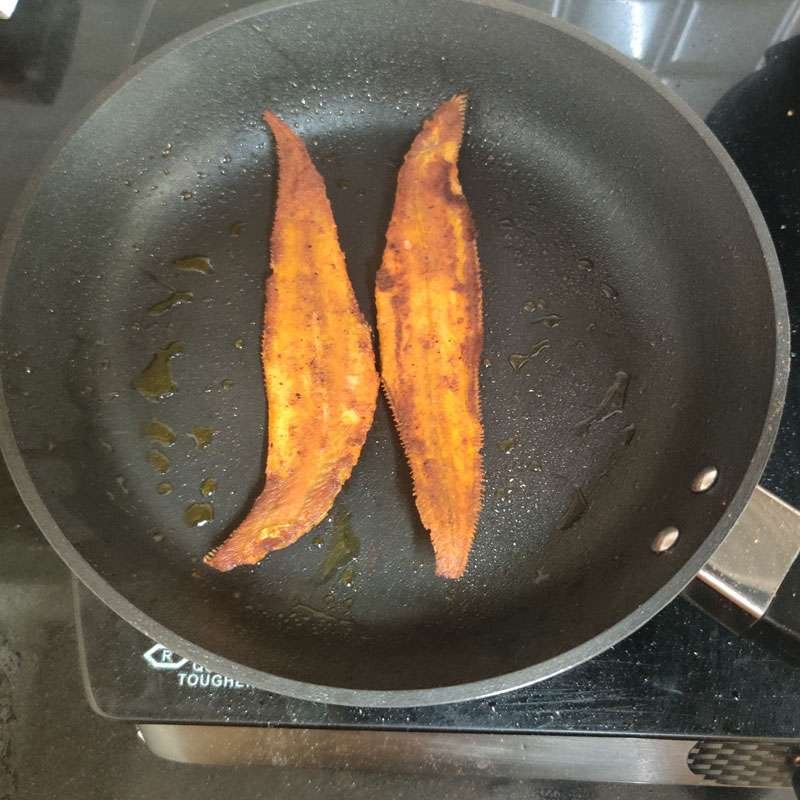 The pan stood the abuse tests too pretty well. Even after many rough uses, the cookware did not warp. The coating lasts fairly well and would be good to go for 2-3 years.
A drawback of Hawkins Futura Nonstick cookware is that they are not all of their cookware are compatible with induction stoves.
Hawkins nonstick cookware is available as a set comprising pans, Kadai, casserole etc. or you can buy pans, Tawa, Kadai etc separately too. An added advantage of Hawkins Futura Kadai is that they have four rivets to hold the handle in place. So, you needn't worry about the handle getting loose after a while.
Carote Granite Nonstick Cookware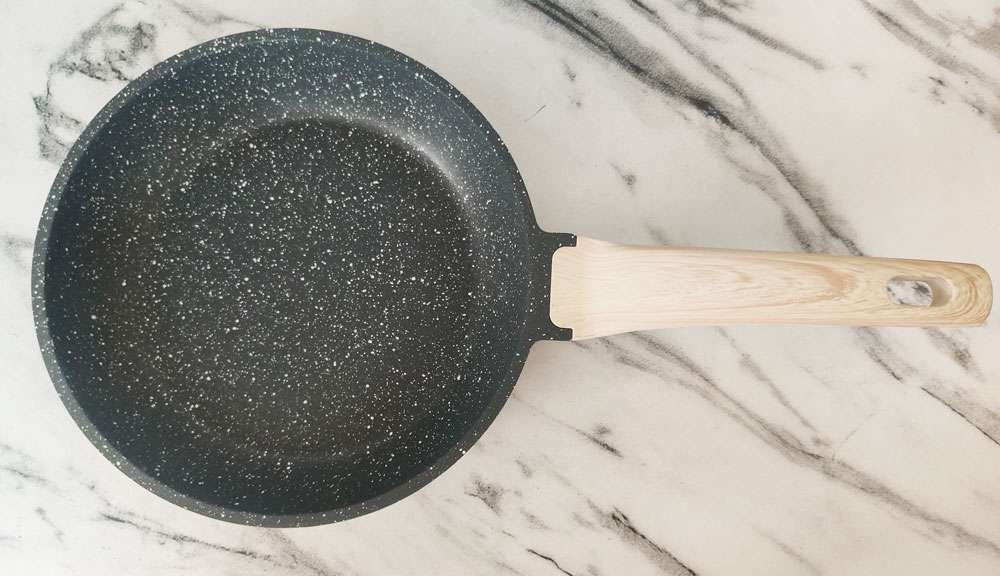 Check the latest price on Amazon
Carote is a comparatively new entrant in the Indian market. But their cookware have pretty good built quality and are aesthetically pleasing too.
The Carote Granite cookware comes in two colours- Grey and White. Other than the colour, you don't really find much of a difference in terms of its performance. Though they call it Granite coating, it is PTFE just like every other option. Granite is just in its appearance and not in the material.
Just like Hawkins, Carote also has good built quality. They are moderately heavy and have a thick base, almost like a disc bottom pan. But the sides are thin. The coating used on Carote pans is made by Swiss manufacturer ILAG. But, the cookware is made in China.
The handles have a wooden finishing. But they are made of bakelite. They are long, with a raised angle which makes them ergonomic. It is fixed to the cookware by screwing from the outside. Unlike Hawkins Futura, it doesn't have rivets. While this gives an unobstructed cooking surface, the drawback is that the handles get loose quickly.
The pan has a moderate slope, which allows for easy evaporation of steam. So, the food browns well without getting steamed. The heat distribution of the pan is also even. When making omelettes without oil, you can release them with ease. Food doesn't get too stuck on the pan.
Carote too withstands plunging into cold water without warping. However, note that this is something you shouldn't do during regular use.
Carote doesn't come in sets like Hawkins Futura. Rather, you have to pick and choose and make sets of your own. In addition to pans, you get Tawas, casserole, Kadais etc with and without lids.
Stahl Never stick Triply Frying Pan
Check the latest price on Amazon
While Hawkins Futura has an anodized aluminium base and Carote has an aluminium base, Stahl Neverstick cookware has a triply stainless steel base.
When you look at nonstick cookware with a triply base, you find that most of them have coating in a honeycomb design without covering the complete cooking surface. The edges often are left bare, exposing stainless steel. A disadvantage of this design is that when frying food, stubborn oil stains may get stuck on the edges. These yellowish-brown residues can be removed only with rigorous scrubbing. If in case the coating too get scrubbed that way, it could get damaged.
That is why we preferred Stahl Neverstick pans which have an edge to edge nonstick coating. You will also notice that hybrid pans with nonstick coating in hybrid design has raised stainless steel surface and the nonstick coating lies at a lower level. This makes them friendly to metal spoons. But on the flip side, you need to add sufficient oil to release food. These options are usually an alternative to stainless steel pans and not to regular nonstick pans.
The first nonstick pan we bought from Stahl was damaged with the coating at the edges peeling off. We had to get it replaced.
Stahl Neverstick has fairly good stick resistance like Hawkins and Carote. We were able to release fried eggs with minimal hassle. Even when frying fish, chicken etc, the browning was uniform. But, the crust wasn't as deep as what we found in Hawkins Futura. This is probably because the pan measures just 2.5mm in thickness, while the Hawkins pan measured 3.25mm. Cookware with a thicker base usually have better heat retention, even though the material is different.
While all other options have handles made of bakelite, Stahl has a handle made of stainless steel in a hollow, rounded design. An advantage of this is that it is microwave oven-safe. But, the disadvantage is that the handles tend to get warm when cooking. We fried food for less than 15 minutes and the handle was hot till around half its length.
Yet another advantage of Stahl over other options is that triply stainless steel doesn't warp as easily as aluminium. So, you won't find oil pooling to a side- something we found in Prestige, Wonderchef and Amazon Solimo within just 2-3 uses.
Overall, it is a fairly good option for those who need a nonstick pan that is microwave safe and can be put in the dishwasher without any worry. But, it costs about 2-3 times a regular cookware. Considering most nonstick coating peel off after 2-3 years of use, you wonder whether it is worth splurging on it.
While other options mentioned have Kadai in the same range, Stahl has a hybrid model Kadai which comes with a honeycomb design nonstick coating.
Wonderchef Granite Nonstick Cookware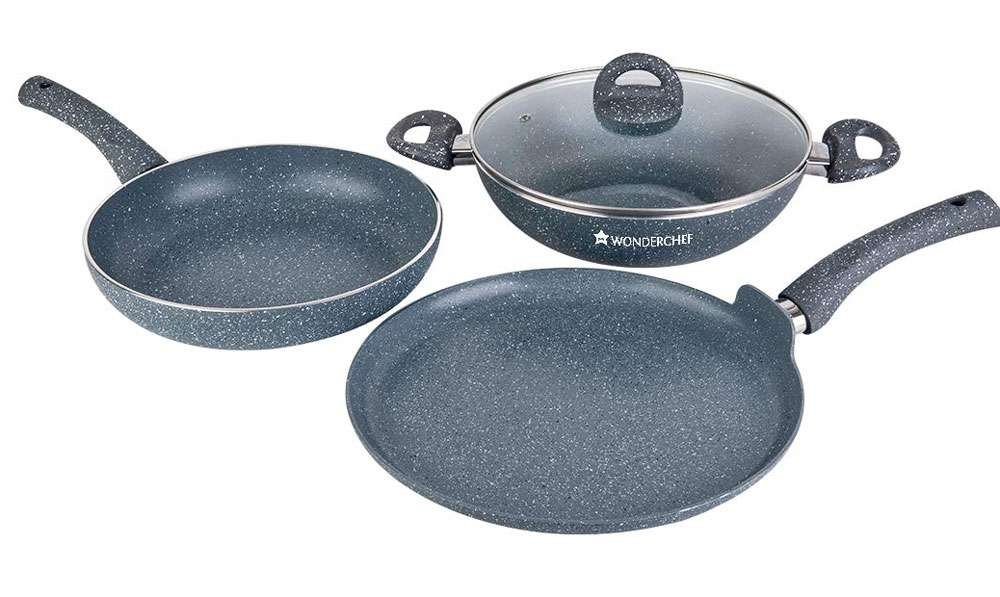 Check the latest price on Amazon
Wonderchef Granite is yet another option that is worth considering. It has a fairly good build quality and an ergonomic design.
The cookware measures 3.5mm in thickness, which is better than what you find in Hawkins. As a result, it is marginally slower to heat up. The pans have a wide flared slope which is conducive to evaporation. But the drawback is that its cooking surface is lesser. While Hawkins' 20cm pan has a cooking surface of 16cm, Wonderchef Granite's 24cm pan has just a 17cm cooking surface.
Further, talking about the design, the handles are quite ergonomic. It is soft and has an indent where your thumb would be, thus giving it a good grip.
The heat distribution of the cookware is uniform. It releases food quickly too. The cookware is fairly durable as well. But, we feel that it has a tendency to warp easily, resulting in oil pooling at the edges.
Overall, it is definitely a good option worth considering. But, after using it for several months, the handles started becoming loose.
In addition to the pan, you get Casseroles and Tawas in the Wonderchef Granite range.
Prestige Omega Deluxe Nonstick Cookware
Check the latest price on Amazon
Prestige is one of the best selling brands in the nonstick cookware segment. They are competitively priced. But when it comes to durability and built quality, it falls behind Hawkins and Carote.
Comparatively, Prestige Omega Deluxe cookware are lightweight than Carote and Hawkins Futura. For example, when comparing the 20 cm pans, Carote and Hawkins weighed around 570 and 575 gm respectively. But Prestige Omega Deluxe weighed just 480 gm.
While the low weight makes it easy to manoeuvre and toss vegetables while stir-frying, the drawback is that it has a higher tendency to warp. Within just a few uses, the centre bulges and oil tends to pool around the edges.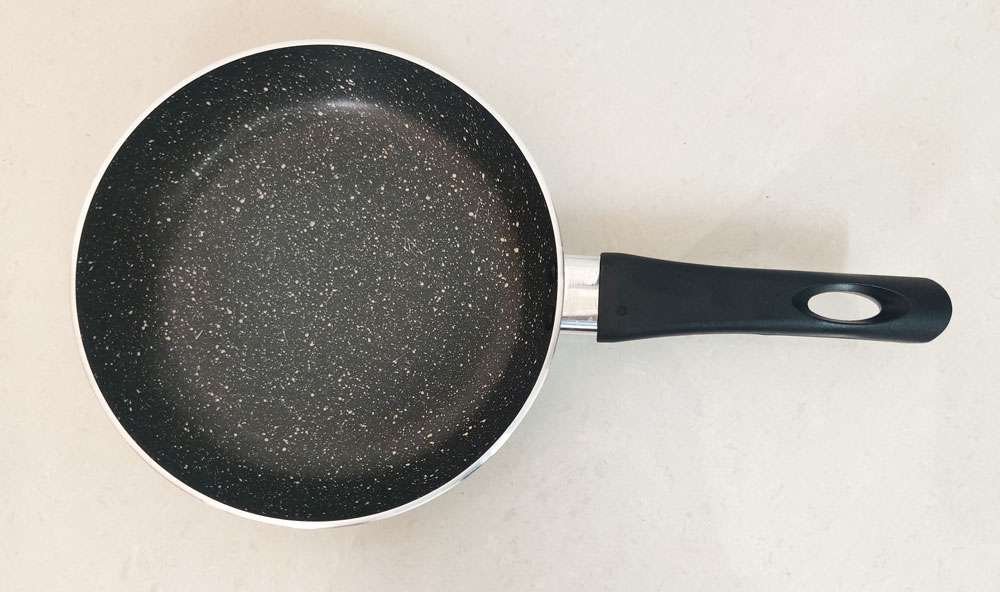 Also, the Prestige Omega Deluxe pan took a shorter time to breach 260°C compared to Hawkins and Carote.
Its stick resistance initially is pretty good. But, within a year's use, the coating starts to flake off.
Overall, it is an apt choice for those who are looking for a budget-friendly option. But if you are looking for durability, Hawkins Futura or Carote could be a better choice to consider.
Prestige Omega Deluxe is sold as cookware sets as well as individual pieces of pans, Tawas, kadhai, saucepan etc.
Tefal Delicia Powerglide Cookware
Check the latest price on Amazon
Tefal cookware are generally considered durable. Their Delicia Powerglide range is a mid-segment option with 5 layer coating that has a fairly good built quality and stick resistance.
One of the distinguishing features you note in Tefal cookware is the patented thermospot technology which becomes completely red upon reaching optimal cooking temperature. But when we checked using an infrared thermometer, we found that it reached around 240-250 °C, which is dangerously close to the temperature at which PTFE starts emitting harmful fumes.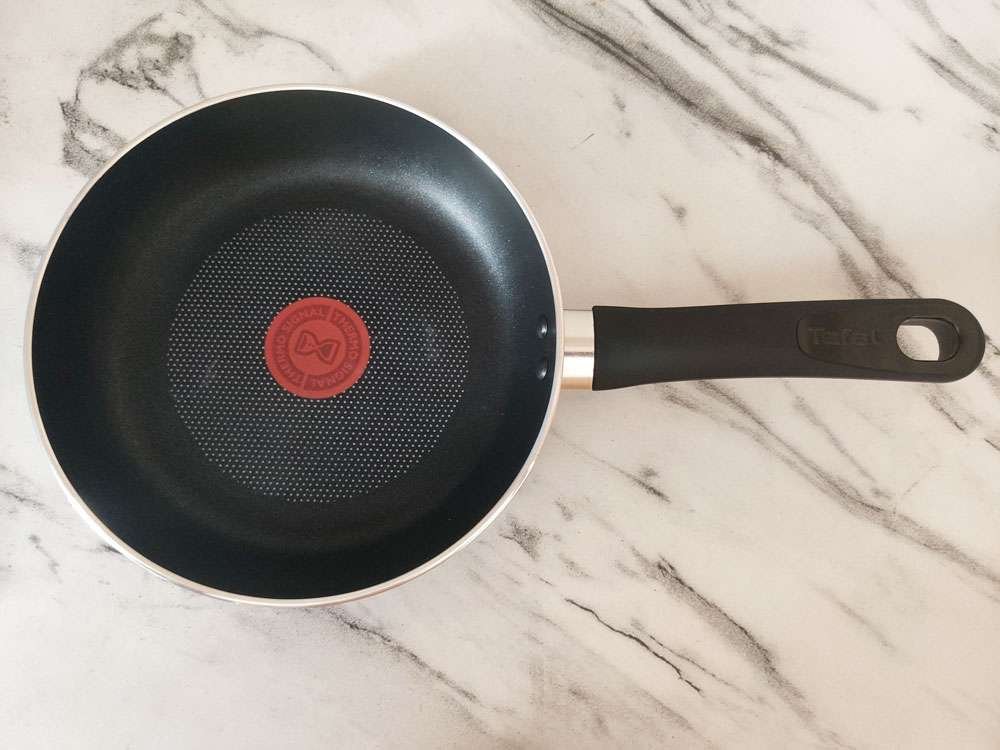 Like other options, Tefal Delicia Powerglide too has a 3 mm thick body. But, it weighs the least among the options we tried. So, it is more prone to warping than other options.
When it comes to other aspects like stick resistance and ergonomic design, Tefal is as good as other options.
Tefal Delicia Powerglide comes in sets and you can also opt to buy individual pan, kadhai or Tawa.
Amazon Solimo Nonstick Cookware
Check the latest price on Amazon
Due to the massive purchase capacity of Amazon, they are able to buy and sell good quality products are highly competitive pricing.
Amazon Solimo nonstick cookware is the most affordable among the various options we tried. Also, compared to other options, it is the thinnest, measuring just 2.5mm in thickness. The weight is also less. As a result, just like Prestige Deluxe Omega, it is prone to warping.
The pan design is pretty good. It has ergonomic handles and the pans have a good balance between the slope and the cooking surface area. It has a sufficient slope to allow evaporation without steaming the food. At the same time, there is a sufficient cooking surface area too. For example, the 24 cm pan has a 20cm cooking surface area, which is better than what Wonderchef offers.
Talking about other aspects like stick resistance, the cookware performs fairly well. The coating too appears to be durable in our tests. But, within just 3-4 uses, oil started pooling at the edges. How it performs over a longer period of time is to be seen.
So, if you are looking for a balance between budget and performance, Amazon Solimo is an option worth considering.
The cookware is available as separate pieces of pans, Tawas and Kadhais.
FAQs
Which are the best brands of nonstick cookware in India?
Some of the best brands of nonstick cookware in India are Carote, Hawkins Futura, Wonderchef Granite, Tefal and Amazon Solimo
What are the important aspects to consider when buying nonstick cookware?
Size, thickness, quality of nonstick coating and overall built quality are the important aspects to consider when buying nonstick cookware.
Are nonstick cookware safe?
Nonstick cookware are not as safe as cast iron and stainless steel. If overheated to above 260 C, it emits toxic fumes. But, if you don't overheat the cookware, they are relatively safe. You can read our article on the same topic to know more.
What are the base materials used in nonstick cookware?
The base materials used in nonstick cookware are aluminium, hard-anodized aluminium and triply stainless steel.
What type of nonstick cookware is the best?
Options with a nonstick coating over thick hard anodized base are the best as they have pretty good durability.
Is ceramic better than nonstick ( PTFE)?
It is true that ceramic don't pose any health hazard when overheated. But, if not from a reliable manufacturer, they may have lead and cadmium contamination. Also, ceramic coatings have lesser durability than PTFE.
Is nonstick cookware healthy?
Nonstick cookware pose a health hazard when overheated. Their manufacturing process has also come under the scanner for being hazardous to the environment. So, it is not really the healthiest cookware available on the market.
What are the disadvantages of nonstick cookware?
Nonstick cookware when overheated can be a health hazard. They are very delicate and should be handled with care to minimize abrasion and extend their lifespan. You should avoid stacking them one over the other, avoid using metal spoons and not wash them in the dishwasher.
How do you maintain nonstick cookware?
Nonstick cookware should not be washed in the dishwasher. Ideally, clean it with warm water, using a sponge and dishwashing liquid. Avoid stacking them one on top of the other. Even if the manufacturers state it is metal spoon and dishwasher friendly, prevent doing so to extend the lifespan of the coating.
Was this post helpful?
Let us know if you liked the post. That's the only way we can improve.