If you are looking to get rid of non-stick pans and opt for healthier alternatives, then stainless steel and cast iron are the best way to go. Cast iron is comparatively high maintenance. And that makes stainless steel more preferable to many.
There are basically two types of stainless steel pans available in the market. They are the layered pans and disc-bottom pans. Let us take a look at them both in detail and also go through the best stainless steel frying pans in India in detail.
Table of Contents
Layered pans
They have two layers of stainless steel at the top and bottom with a layer of aluminium sandwiched in between. They are also called tri-ply stainless steel pans.
Stainless steel as such has a very low thermal conductivity of 14 W/m.K ( Watts per meter Kelvin). Once heated, they retain the temperature for a longer period. Aluminium on the other hand has a fairly high thermal conductivity of 205 W/m.K. So, when layered together, aluminium conducts the heat evenly and stainless steel sustains the heat, making it vastly superior cookware.
Disc-bottom pans
They have literally a thick disc of aluminium attached to the bottom of a thin stainless body. When you cook in them, the food gets scorched around the edges. Moreover, they are not as well-constructed as 3 ply stainless steel pans. So, they lack durability. While 3 ply stainless steel cookware lasts for decades, disc bottom pans usually last for 5-6 years at the most.
For our best list, we have only considered 3 ply stainless steel pans as they are better constructed, high performing and durable compared to other options.
How We Test?
To find out the performance, durability and other aspects, we used each of the pans for 10 days in a regular kitchen. We fried fish, chicken, omelette and other delicacies to see how well and evenly it cooked and browned food.
To detect hot spots, we spread a thin layer of flour on the pan and heated it on the stovetop. Then, we checked if there were any part(s) that were more burnt than the other. Hot spots are a huge deal breaker for frying pans because it would result in certain parts of the food getting burnt, while the rest remains uncooked.
We also checked whether the pan is well-balanced and flared enough so that you can toss the food effortlessly.
After we finished our tests, we gave the pans to our friends and family and asked their opinion and checked them a year later to see the wear and tear. This gave us a much better understanding of its durability and performance in the long run.
Related Reading: Stainless Steel Frying Pans Are Safe. But Not If You Do This.
Which Are The Best Stainless Steel Frying Pans In India?
Brand/Model*
Size
Weight
Cooking Surface
Area
Available Sizes
Bergner Argent
22cm
775 gm
15 cm
20, 22, 24, 26cm
Meyer Trivantage
20cm
715 gm
15.5cm
20, 24, 26, 28 cm
Vinod Platinum
22cm
870 gm
18cm
18, 20, 22, 24 cm
Stahl Artisan
22cm
915 gm
( without lid)
18cm
20, 22 cm
Hawkins
22cm
825 gm
16.5cm
22, 26cm
Prestige
22cm
800 gm
16.5cm
22, 24, 26 cm
*Purchase links
Best Stainless Steel Frying Pans In India
Bergner Argent Tri-ply Stainless Steel Frying Pan
Stainless steel frying pans from Bergner are moderately priced. The frying pans are available in sizes ranging from 20 to 24cm. We tried the 22cm variant.
A 22 cm pan is sufficient if you use it just to make omelettes and fry just 3-4 pieces of fish or chicken at a time. A 24cm pan would be more apt for a nuclear family.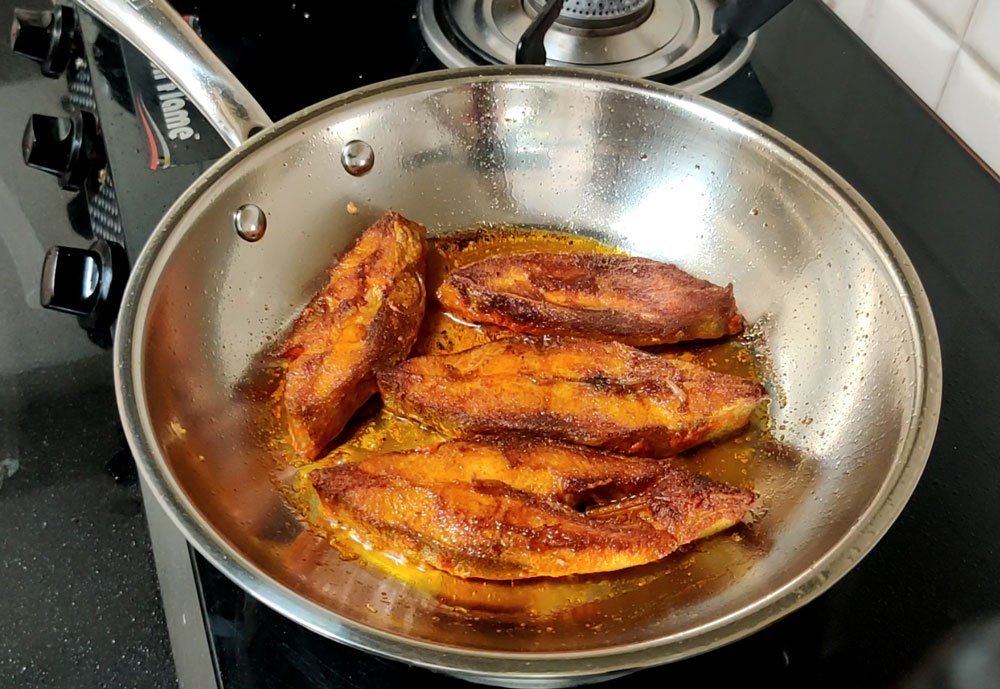 The first thing you notice about the Bergner pan is that it has a really good slope. The pan is flared well enough that water evaporates effectively. Also, it helps when you are tossing the food. If pans don't flare enough, the food will get steamed instead of browning. But on the other hand, it shouldn't be too small that the food gets crowded either.
The 22cm pan we got had an outer diameter of 24cm. But the cooking surface was just 15cm in diameter, which is a letdown. Comparatively, Vinod 3 ply stainless steel frying pan was much better with an 18cm cooking surface.
The construction is quite top-notch. It is stable and doesn't wobble. The handles are long enough and the pan itself is fairly thick.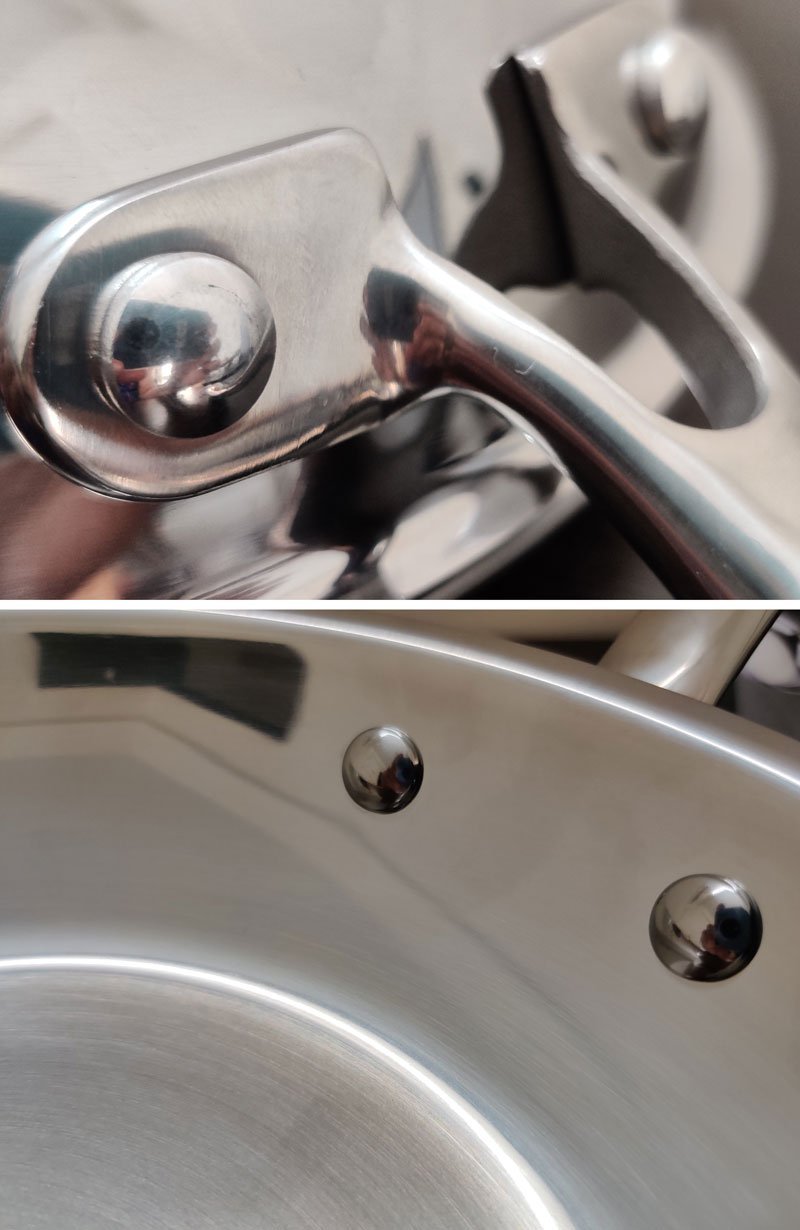 There were no hotspots. The browning was even and thanks to the excellent slope, it was easy to flip food too.
The pan has a pretty smooth surface that is well-polished. If you heat the pan sufficiently and use an appropriate quantity of oil, too much food doesn't get stuck to the bottom either. This makes cleaning easier too.
The handles are rounded and hollow. So, it doesn't get too warm even if you cook continuously for 30-45 minutes. But, owing to its rounded shape, it had a tendency to slip.
Cleaning is fairly easy. The food stuck at the bottom comes off with minimal scrubbing. But, you may have to take care not to scrub it too hard as the polished surface may get scratched resulting in food getting stuck at the bottom. You could rather check our best methods for cleaning burnt pans and use them instead.
Overall, it is priced competitively and has fairly good construction and durability, making it one of the best options to consider.
You may also like our article on Best Air Fryers In India
Meyer Trivantage Frying Pan
Cookware from Meyer are comparatively expensive. Their Trivantage range of cookware is made of 304-grade stainless steel which has 18% chromium and 8% nickel. But, if you are concerned about the nickel in it, you can opt for Meyer Select range, which is nickel-free and premium priced.
Meyer Trivantage pans are very well constructed. We initially thought it wasn't worth the high price tag. But, now, even after almost 2 years, the pan looks as good as new. It hasn't warped. The handles are still intact. Other than the scratches, it is still as good as new.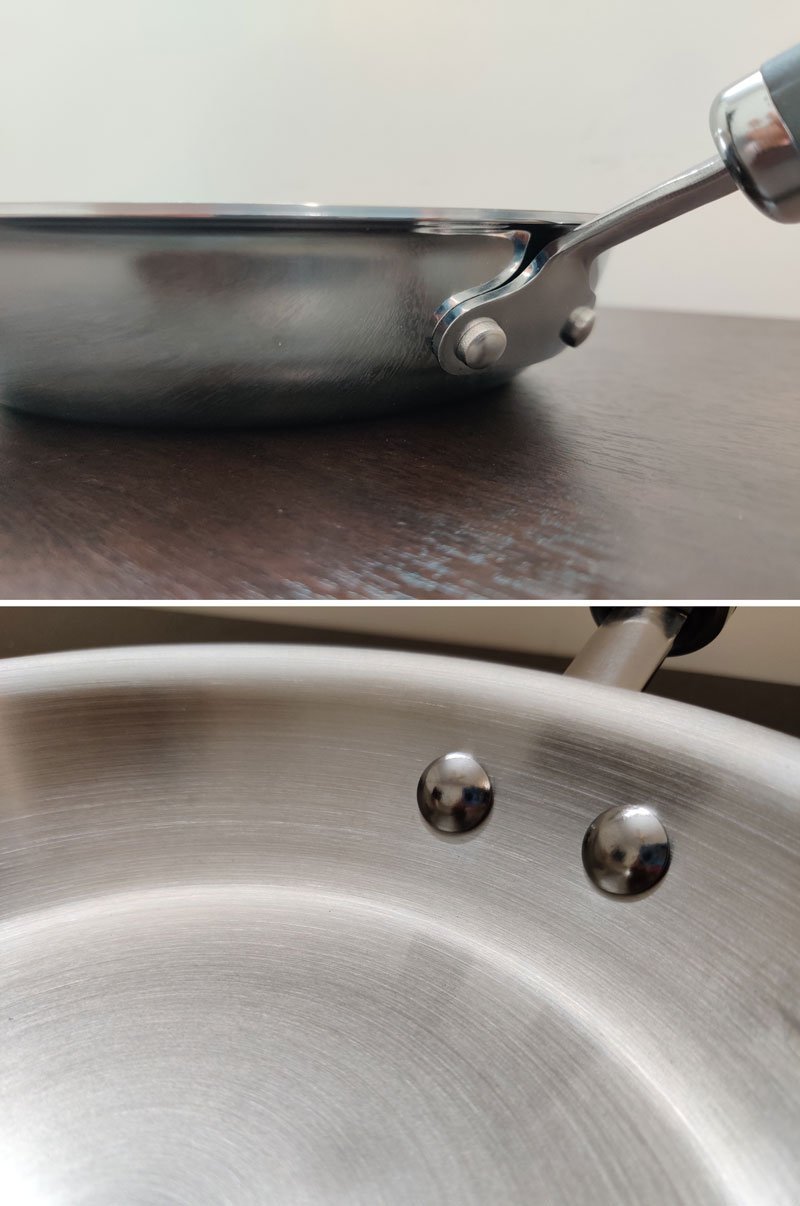 A problem we see frequently in stainless steel cookware is that rivets ( screw that attaches the handle to the pan) are not made of the same quality stainless steel. So, the rivets and the pan expand and contract at a different rate when heating. Hence, after a while, there will be a significant gap between the rivet and the pan and food gets stuck in between.
But Meyer Select did not have this problem even after continuous usage on an almost daily basis for 2 years.
In terms of cooking performance and durability, you won't find anything to complain about. There were no hotspots. The pan is sturdy and doesn't wobble at all. And as mentioned, it has excellent construction quality too.
The cooking surface is also sufficient. We bought a 20cm pan and it had a 15.5cm cooking surface, which is a tad better than the former 22 cm Bergner pan. The outer diameter measured 21.5cm and the depth was around 4.5cm.
Another advantage is that the handles have a silicone covering. So, they remain fairly cool to touch. It is long enough to give sufficient leverage to toss the food. The slope is also sufficient that you can easily flip the food using a spatula.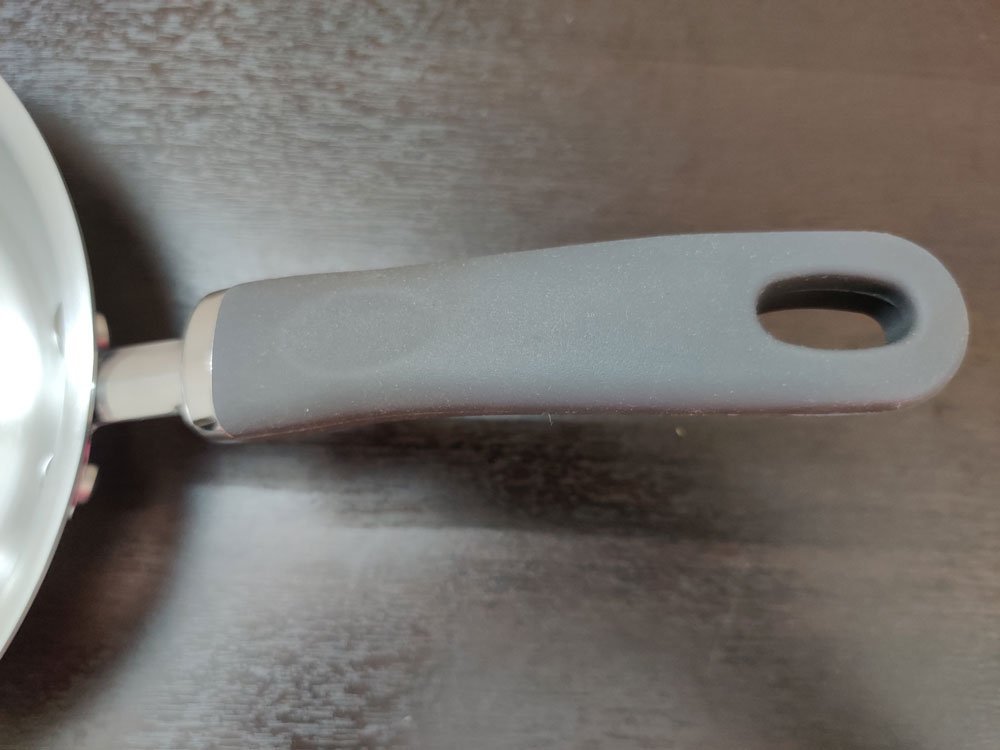 A drawback however is that compared to Bergner and Vinod, food tends to stick more on the surface. Cleaning isn't exactly a breeze either.
Check price: Amazon | TataCliq
Related Reading: All You Need To Know About Nickel-Free Stainless Steel
Vinod Platinum Stainless Steel Frying Pan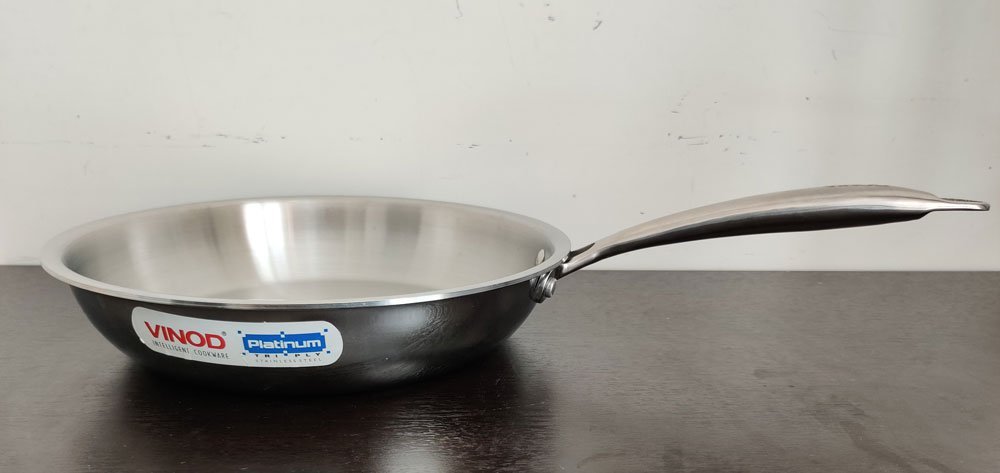 Vinod stainless steel frying pans is yet another excellent option available in the market.
What we really loved about it is that it offered the maximum cooking surface area of close to 18 cm diameter. This is much higher than what Bergner has. The outer diameter is about 24.2cm, which means it is sufficiently tapered towards the bottom to allow easy tossing and flipping with the spatula.
The built quality is fairly good. It is heavier than Bergner. While most of the options mentioned here are 18/10 grade, Vinod is 18/8, which means it has lesser nickel content. This means a lesser possibility of nickel leaching into your food.
Even after using it for almost a year, there was no gap between the pan and the rivets, which is good. However, a drawback is that the pan wobbles a bit. Its bottom is not completely flat. After a year's use, the wobbling has aggravated too. This isn't much of a problem on the stovetop. But, on an induction stove, this will result in uneven heating.
On the stovetop, you don't notice any evident hotspots. Food doesn't stick too much to the bottom. The pan retains the heat well enough and the food browns and cooks evenly.
Cleaning it is also quite easy.
The handles are fairly long. Owing to its round hollow design, it doesn't get too hot even after being on the stovetop for 30+minutes.
If it weren't for the wobbling, we would have definitely rated it as the best among the lot.
Check price: Amazon | TataCliq
You may also like our article on Best Thermos Flasks In India
Stahl Triply Stainless Steel Artisan Frying Pan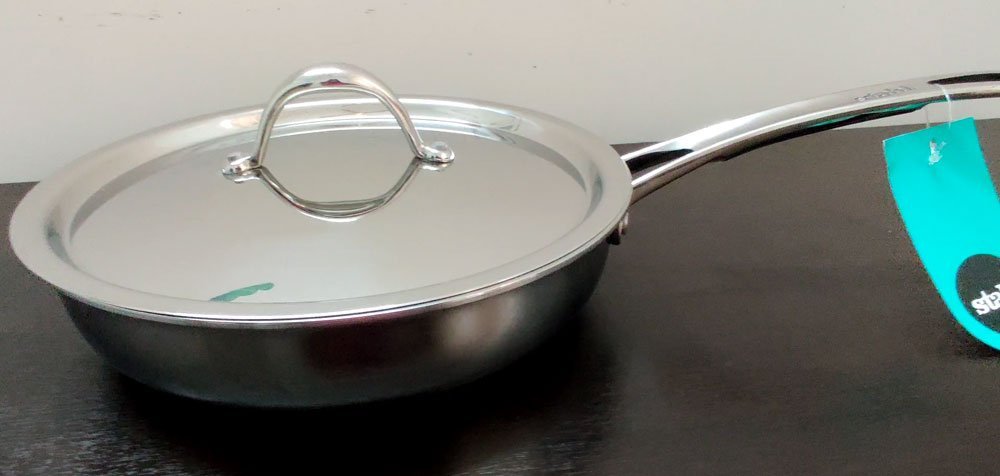 We have had Stahl Kadai for over 2 years and it is pretty great. Their frying pan is sturdy, heavy and well-built. But, its design resembles more of a saute pan rather than a frying pan. It doesn't flare much.
Just like Vinod, the pan has a cooking surface of 18cm in diameter. But, the outer diameter is just about 23cm.
The edges are at almost 90 degrees to the bottom base. So, it is difficult to flip the food from the corner using a spatula. You notice it specifically when trying to make omelettes. Even trying to flip fish, chicken or paneer pieces along the edges is a tad difficult.
The pan comes with a lid. As mentioned earlier, the built quality is pretty sturdy. Without the lid, it weighs close to 925 gm. Heavier the pan, the better its heat retention. So, food gets cooked evenly and thoroughly and creates a beautiful searing.
The handles are short. It had a comparatively higher tendency to get hot, especially when used continuously for a longer stretch. But, what we liked is the handle design is not round and hollow. There is also a silicone pad underneath the handle. It curves down in such a way that you get a fairly good grip. This is quite helpful as the pan is a tad heavy.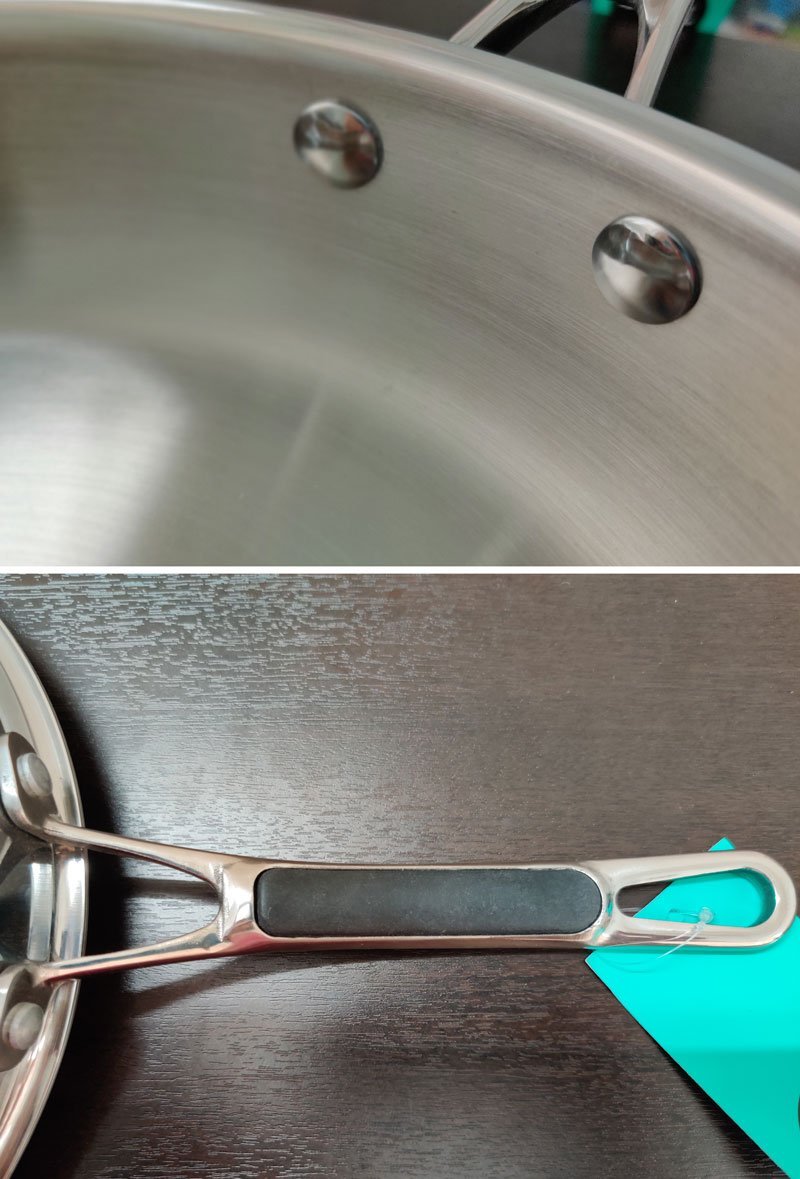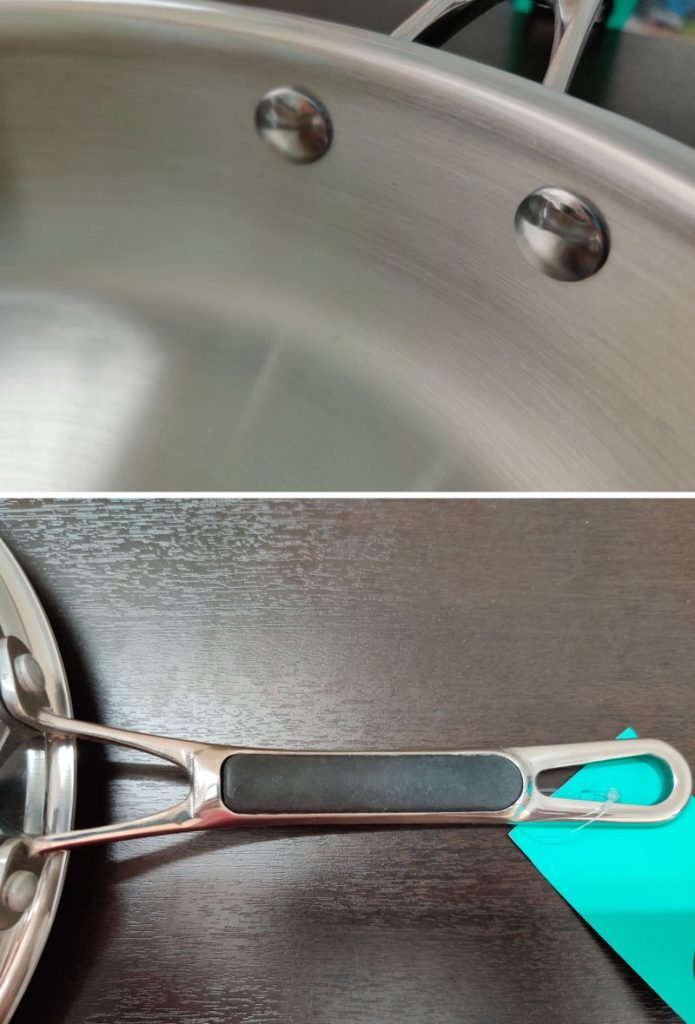 Though the construction quality as such seems great, it developed a gap between one of the rivets and the pan after almost 2 years of use. This is a drawback. However, its base doesn't wobble at all. Stahl also sells pressure cookers which come with triply construction. They are among the best options you can choose from in the market.
Read our complete review of Stahl Cookware
Hawkins Triply Stainless Steel Pan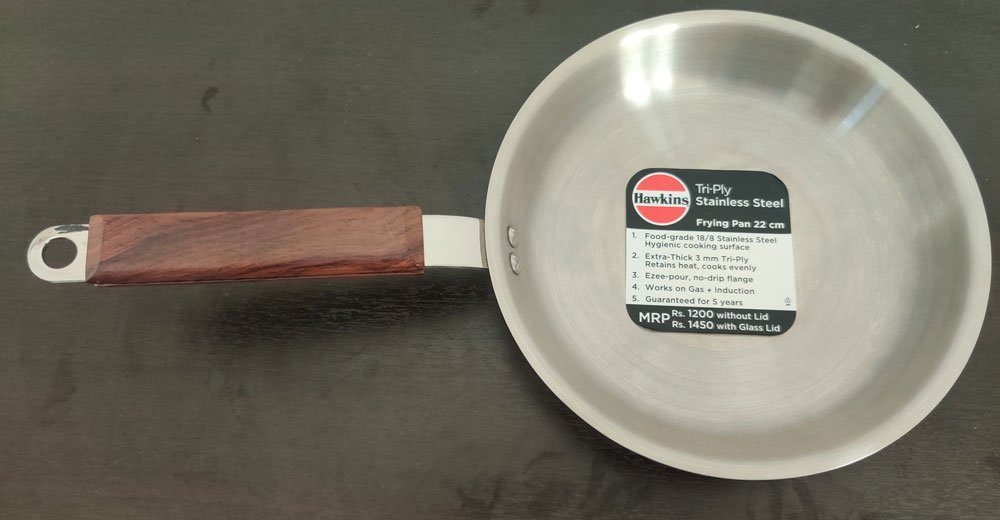 Hawkins generally sell excellent quality cookware. Their stainless steel pan too follows suit.
It has a fairly good built quality and compared to the rest of the options is extremely well-priced.
Just like Vinod, it uses 18/8 stainless steel, which means it has 18% chromium and 8% nickel.
The built quality is fairly good. The stainless steel is thick enough. It heats evenly without any hot spots too.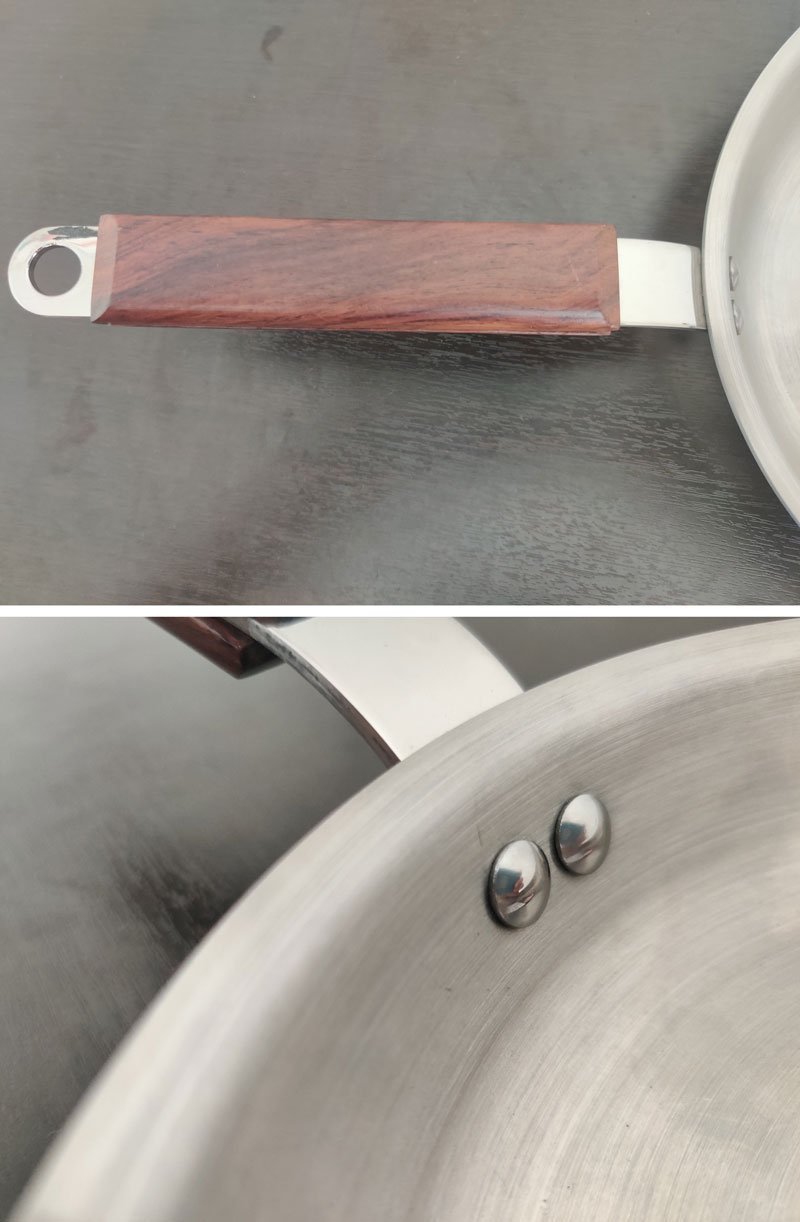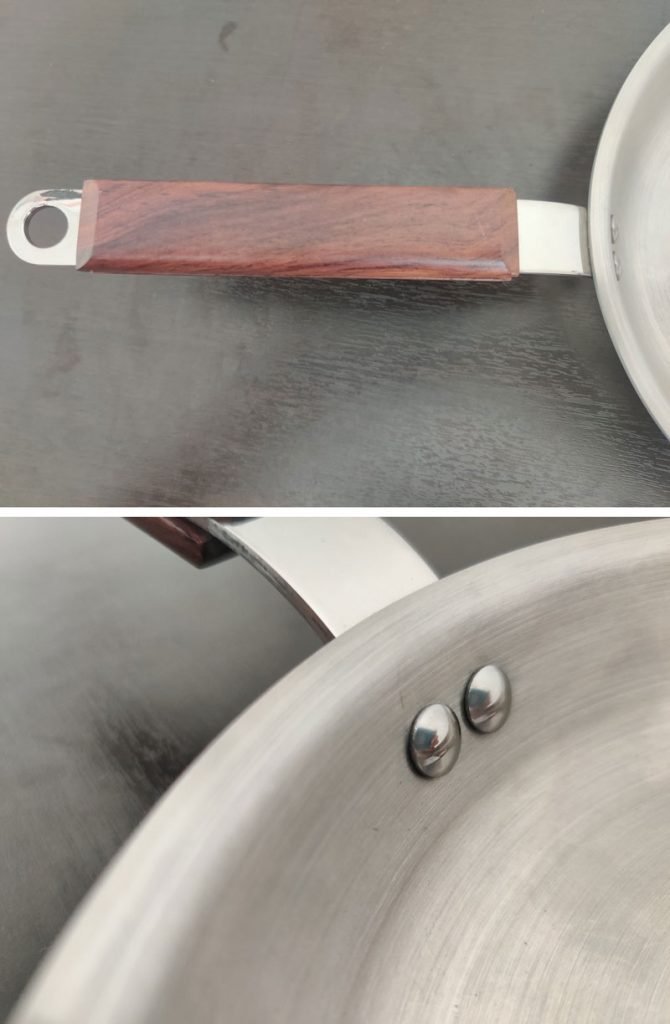 But just like Stahl, the pan doesn't have sufficient slope. So, flipping food with a spatula and tossing isn't as easy as Bergner or Vinod.
While all the other options had an outer diameter in excess of what they mentioned in the product description, Hawkins was precisely 22cm in diameter. The cooking surface was 16.5cm in diameter. This is of course higher than many other options on the list, but it is because of the lack of slope. At 3.8cm depth, the pan is too low in height too.
As mentioned, the pan heats uniformly. You can fry fish, nuggets etc uniformly. Food doesn't stick too much to the bottom. Cleaning is also easy.
As the handle has a wooden piece attached to the top and the bottom, it doesn't get too hot. It remains cool to touch and you don't have to use any mitts to hold it.
A drawback however is that like Vinod, it wobbles a bit as the base is not completely flat.
Even so, it is an excellent option for those who need a budget-friendly frying pan.
Check price: Amazon | TataCliq
Prestige Triply Stainless Steel Pan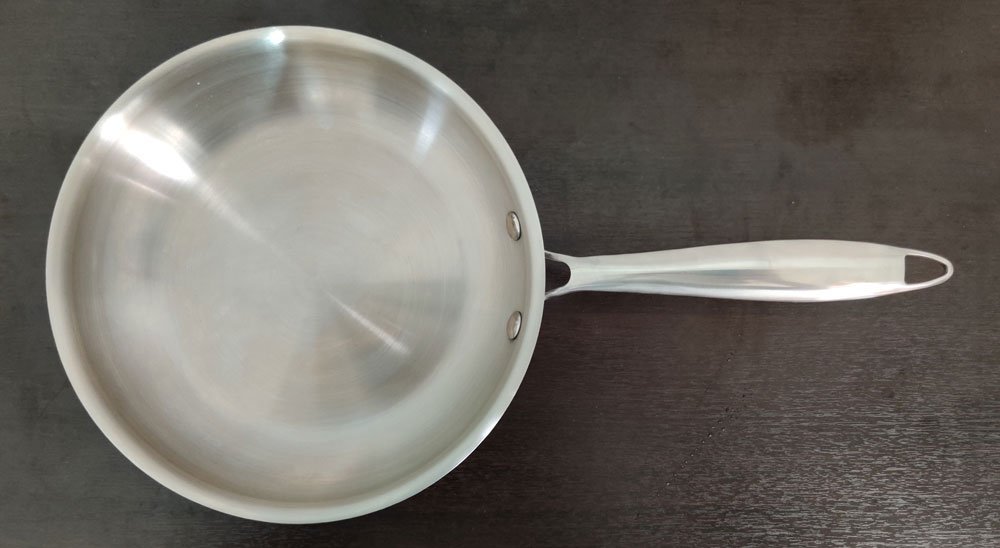 Prestige is one of the market leaders in the cookware industry. Their products are fairly priced and moderate in terms of quality.
The Prestige triply stainless steel frying pan has a fairly decent cooking surface of 16.5cm in diameter. The outer diameter measures 23.5cm. As there is sufficient slope, it is easy to flip and toss food.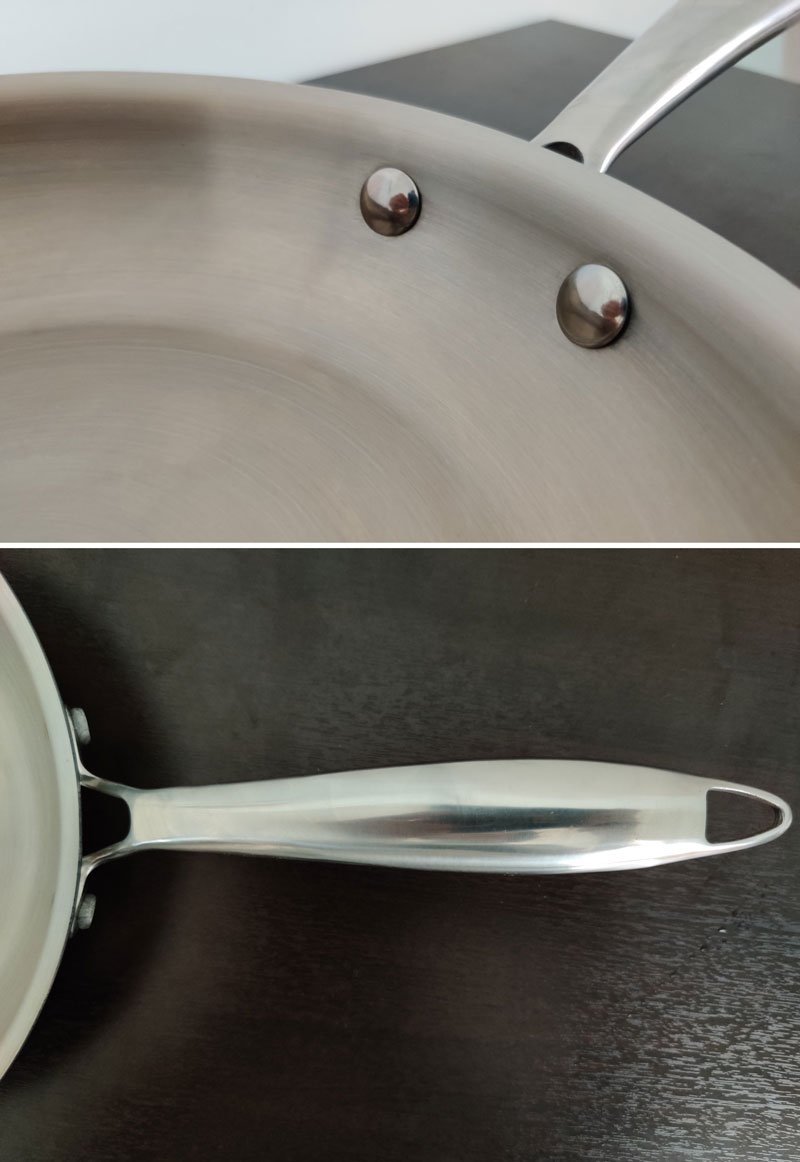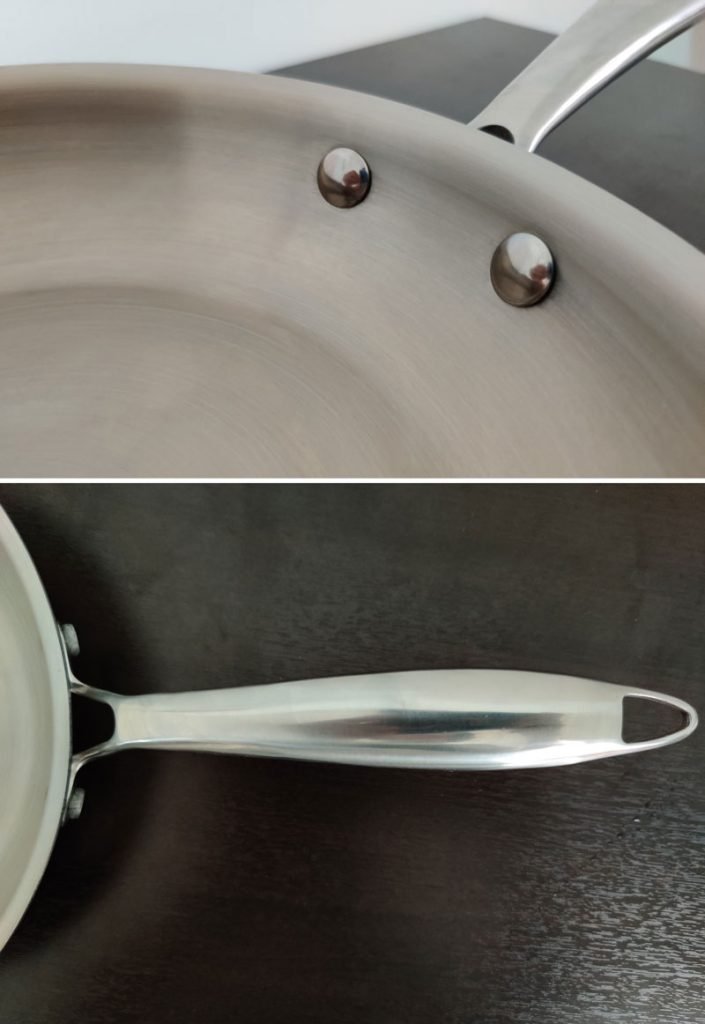 The pan is well-balanced and fairly well-constructed. It heats up evenly without any hotspot. Even though the cooking surface has a matte finish, cleaning up is quite easy as food doesn't stick stubbornly to the bottom.
Like most other options on the list, the handle is hollow and doesn't get too hot.
What we did not like was the packaging. There was a sticker on the cooking surface that was stuck using a poor quality adhesive. So, when you remove it, gummy residue remained on the cooking surface. You had to apply oil and leave it for a while and then scrape it gently so that the surface did not have any scratches.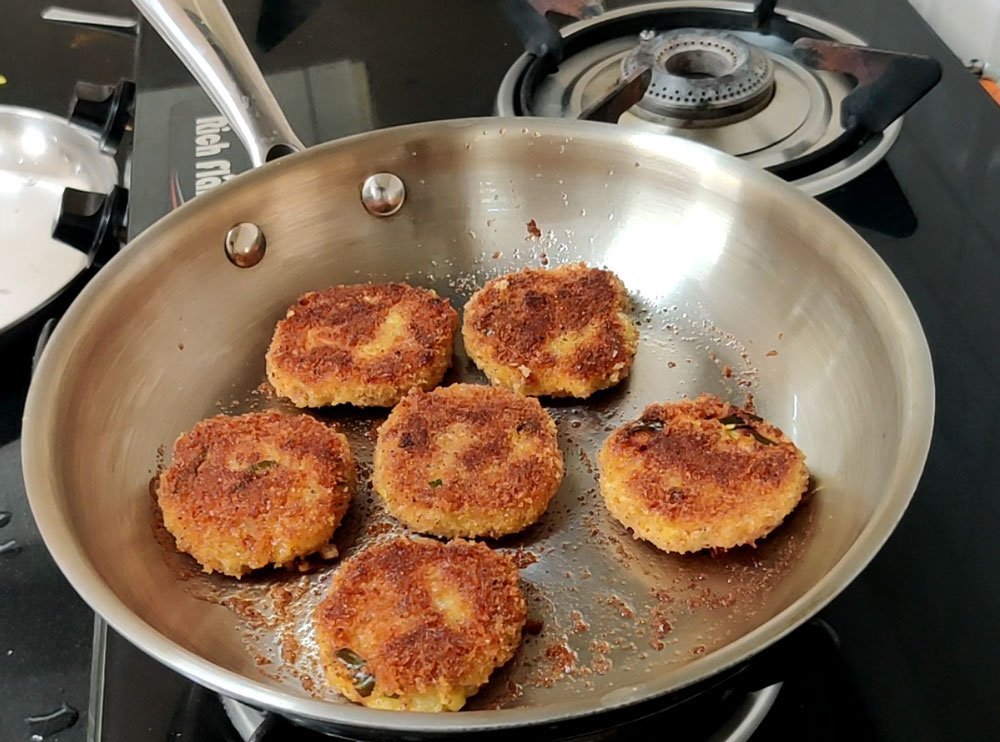 Also, the pan warped a little bit when we tried the durability test. We plunged the hot pan into water and there was a visible gap between the pan and the rivet. After a year, the gap aggravated.
The pan's surface did not develop any pits. Neither did it warp. But, the gap between the rivet and pan was a letdown. Even so, considering the competitive pricing, it is an option worth considering.
Check price: Amazon | TataCliq
Conclusion
Overall, taking into consideration various factors like built quality, durability and performance, Meyer, though expensive is an excellent option to consider. Though the cooking surface was less, we really loved Bergner too as it was easier to use in terms of design and finishing.
Was this post helpful?
Let us know if you liked the post. That's the only way we can improve.