Almonds are one of the healthiest nuts and snack options. But when you look out to buy them, you are often confused by the numerous brands and varieties available. How do you choose the best almonds? Which brand is the best? Which almonds are the healthiest? Let us explore this in detail.
Almond Varieties
Mainly, three varieties of almonds are found in India. The most popular among them is the California Almonds. As the name suggests, they are produced in California and form around 80-85% of global almond production. They are mass-produced and hence the most affordable variety of almonds. Comparatively, it has a lesser oil content of 25-30%. But, they are sweeter in taste.
Gurubandhi is another variety of almonds sold in India. It is comparatively more expensive than California almonds. Also, it has a higher oil content. But this makes it slightly more bitter than California almonds. Gurubandhi ( a.k.a. Chota Giri) almonds are produced mainly in Afghanistan.
Mamra is the most expensive variety of almonds among the three. It has the highest oil content and is rich in antioxidants and minerals. But, just like Gurubandhi, it is also bitter in taste.
For this article, we have mainly looked at California almonds, the most popular and affordable of the three.
How To Choose Almonds?
To understand the parameters of the purchase requirement and know how almonds are graded, we looked at the resources from the Almond Board of California. According to them, the most important considerations for grading almonds are their size and damages like chips, scratches, splits, and broken almonds. The best quality almonds have less than 5% chipping and scratches and less than 1% split and broken almonds. Foreign materials like shells, dust, etc.
To find the best almonds among the ones, we analyzed 7 of the top-selling brands on the above-mentioned parameters like size, chips, scratches, splits, and broken pieces. We also considered the packaging and taste of the almonds. To find out the general preference, we did a blind taste test among our teammates. However, taste is subjective and preferences may vary from person to person. Usually, the size of almonds is measured as the number of kernels in an ounce ( 28.3 gm) of almonds.
Note that this analysis is based on a particular batch from each brand. Being a commodity, even if the brand is the same, the quality may change from batch-to-batch.
Our Recommendation
Out of the seven brands we tried, we found almonds from Vedaka to be the best. Its kernel size is the largest among the lot and though there are some chipped almonds, it is quite lesser in number compared others. It is also quite crunchy. A drawback however is that its packaging is not resealable.
Related reading: Are There Benefits to Soaking Almonds?
Best Almonds in India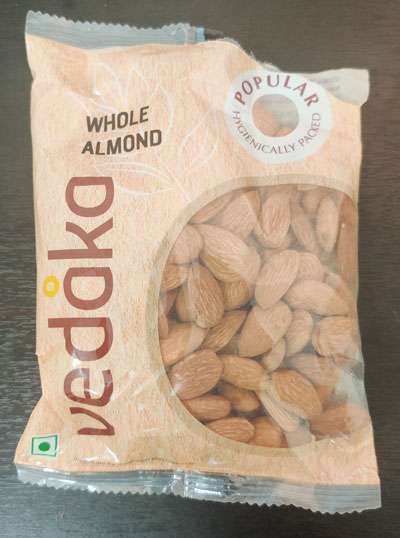 Vedaka almonds are sold in packs of 100 gm, 200 gm, 500 gm, and 1 Kg. In addition to raw, they sell roasted and salted almonds too.
The first and foremost aspect we checked was the number of kernels per ounce ( 28.3gm). This helps us understand the size of the almonds in general. For this, we randomly pick an ounce of almonds repeatedly and find the average. We found that there are around 28 almonds in an ounce. This signified that Vedaka almonds are comparatively larger in size than other options. Also, we found that most of the almonds are uniform in size.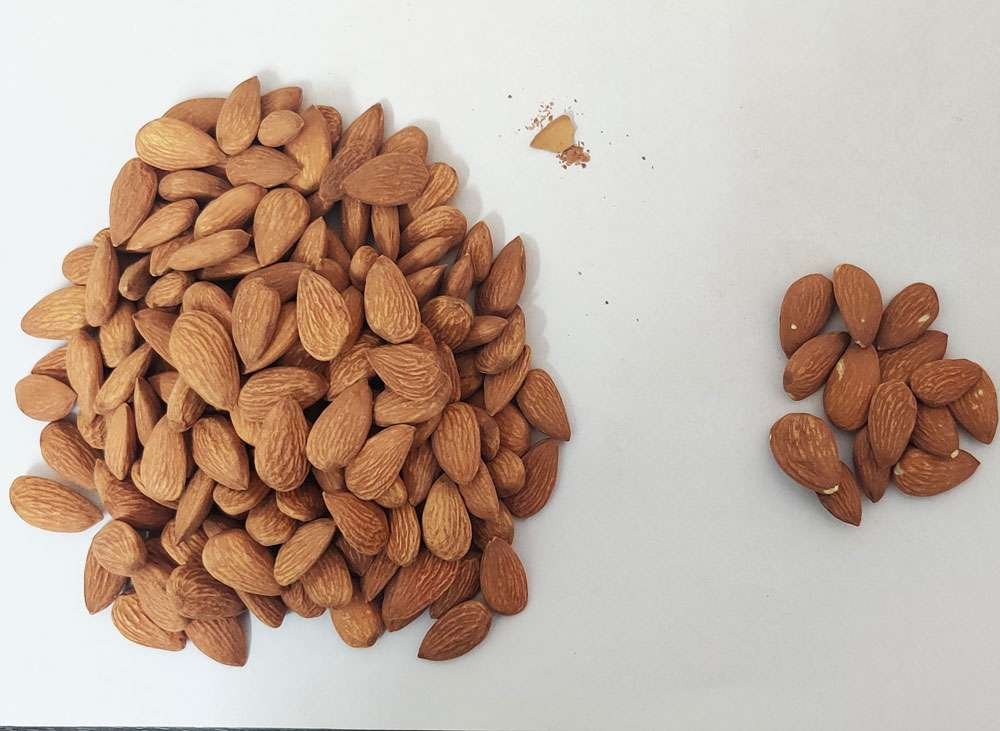 There were some almonds in the lot that were chipped. But nothing was excessively damaged. Out of 200 gm, 15 gm had slight chips and scratches on them, which is around 7.5%. The damages were not as drastic as what we found in Happilo almonds. However, we did find a piece of shell in it.
Price-wise, it is slightly more expensive than other brands like Happilo. But, considering the quality, it is definitely worth it.
You may also like our article on Best Smoothie Blenders In India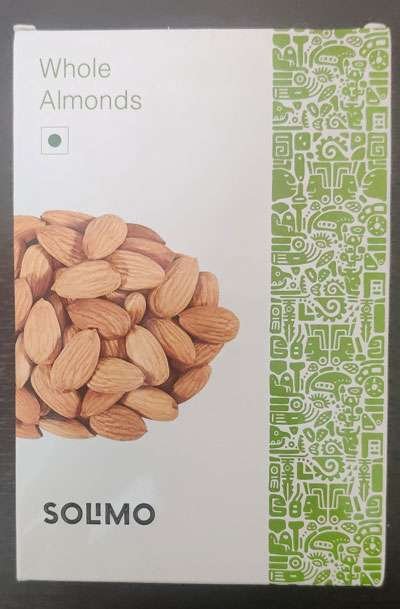 Both Vedaka and Solimo are Amazon brands and they are both packaged in the same facility. Probably that is why the quality of both is almost the same.
Solimo almonds are packaged in a regular plastic packet and then put in a carton. They do not have a resealable opening, just like Vedaka. Hence, you will have to transfer it to an airtight container after opening it.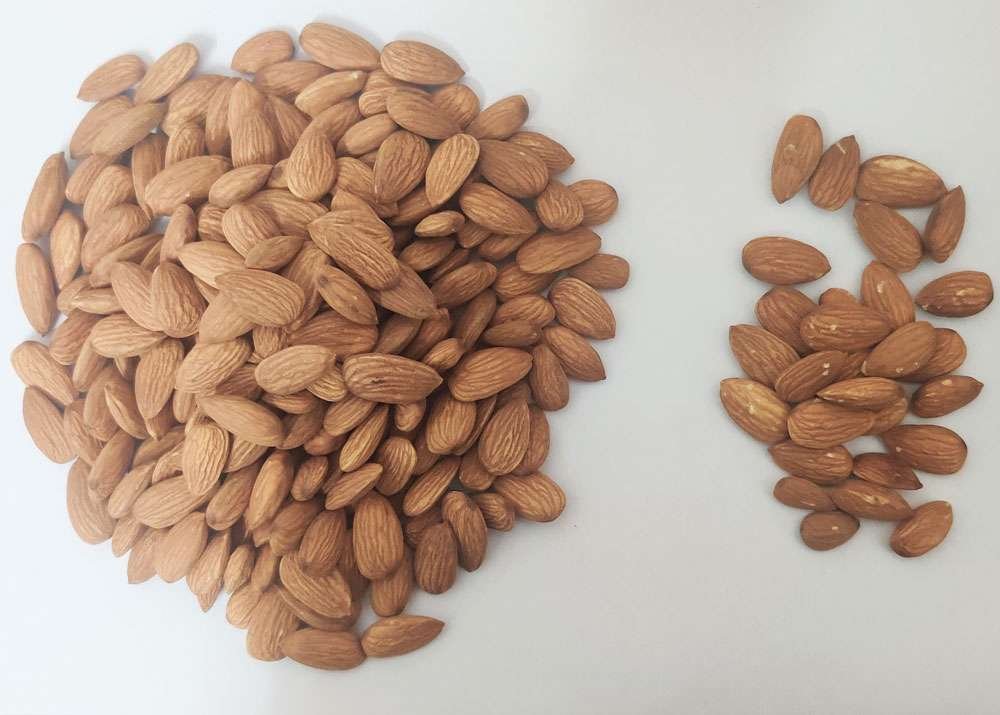 Just like Vedaka, we found some of the almond kernels chipped. In the 250 gm pack, around 19 gm was slightly chipped, which comes to 7.6%, which is pretty much an acceptable range. However, there were no shell pieces or foreign particles.
But, the kernel size was a tad smaller than what we found in Vedaka. We counted mostly 29-30 gm of almonds per ounce.
Price-wise, at the time of publication, Solimo is a bit more expensive than Vedaka. So, overall, we find Vedaka to be a better buy than Solimo.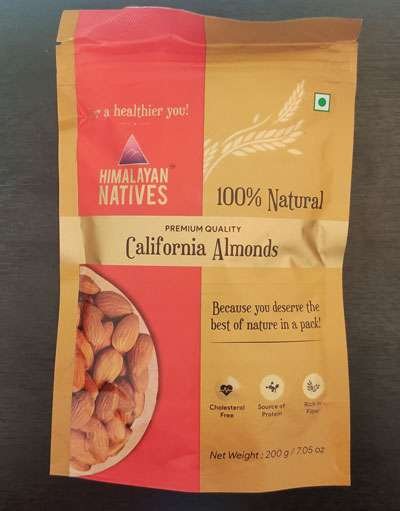 Himalayan Native almonds are comparatively more expensive than the other options we tried. Their packaging is excellent with a resealable seal that makes it convenient. Moreover, they mostly sell in packs of 200 gms. So, if you buy a kilo of almonds, you get 5 packs of 200 gms. Thus, you get better pricing and each pack retains freshness for longer as they remain sealed till you use them.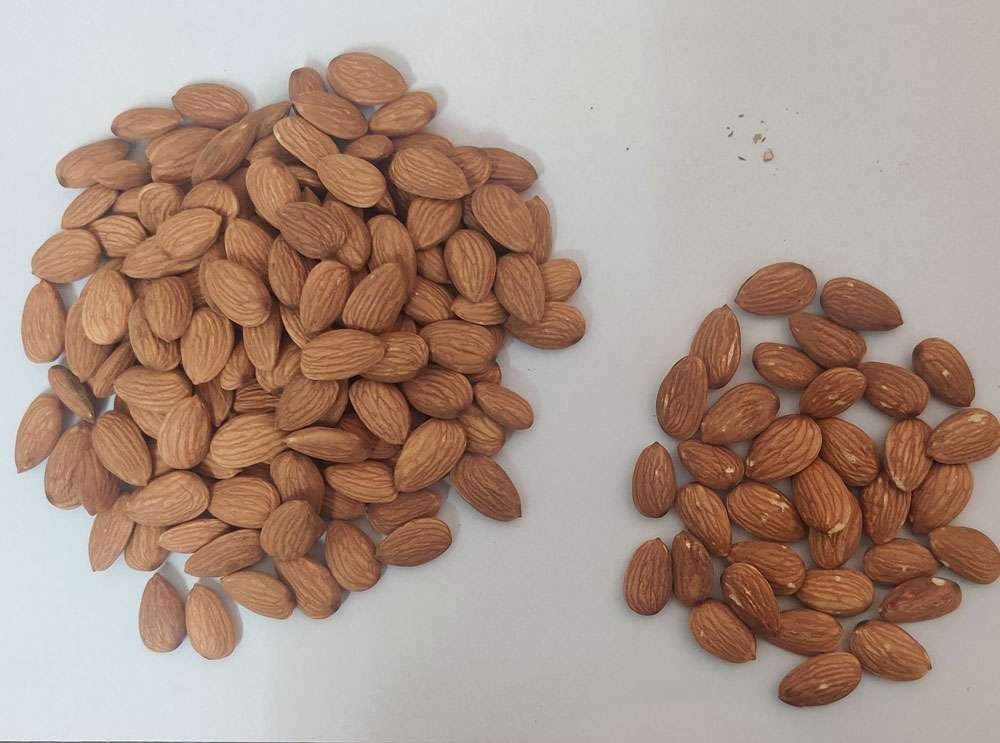 Quality-wise, they fall a bit behind the former options. An ounce of almonds contains around 29 almonds on average. There were no broken or split almonds and hardly any dust or foreign particles. There were chips and scratches. But, even then, it is just slightly chipped. Out of the 200 gm of almonds, about 30 gm were chipped. Taste-wise, it is very crunchy and has a nice nutty flavor to it.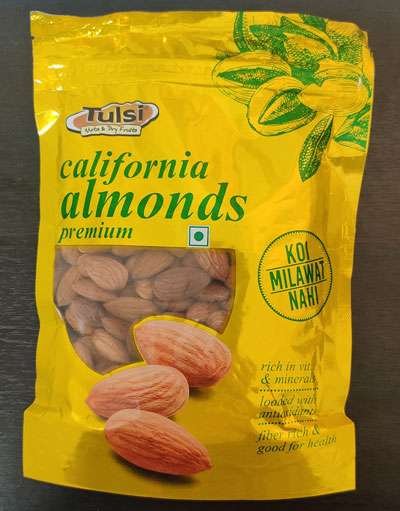 Tulsi is yet another top-selling almonds brand in India. It too comes with good quality packaging with a resealable seal. The almonds come in packages of 200 gm, 500 gm and 1 Kg. Tulsi sells Gurubandhi and Mamra almonds too.
Tulsi California almonds are comparatively a bit smaller in size. We found about 30 almonds per ounce. But the size was more or less consistent. The skin is a bit darker in shade and taste-wise, they are fairly crunchy and sweet.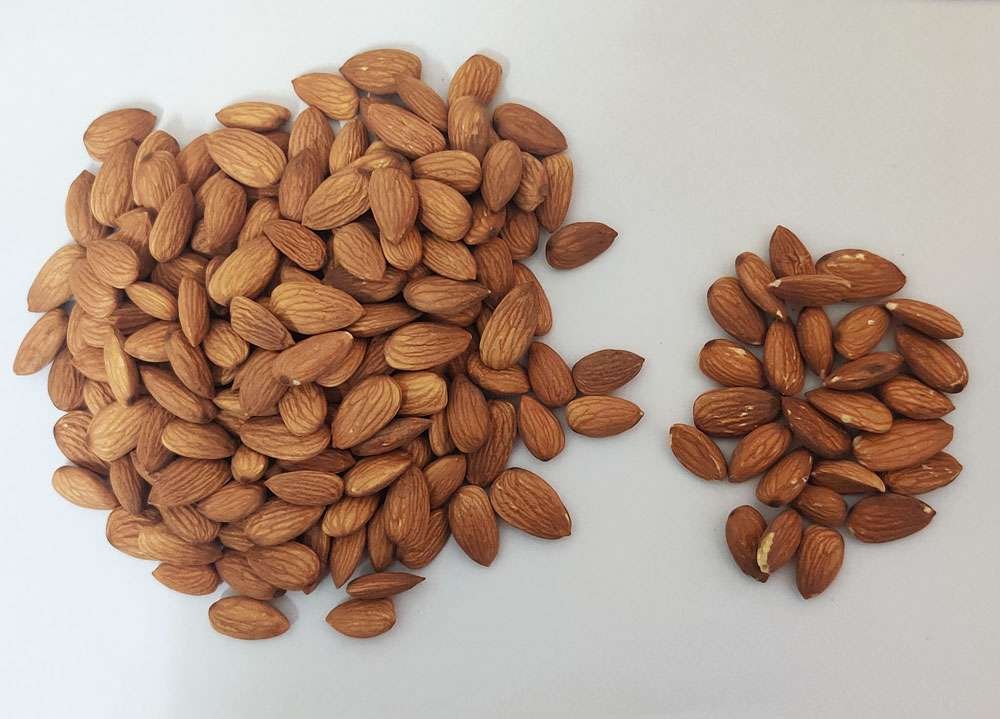 There were a bit of chipped and scratched almonds in the lot. Out of 200 gms, we found around 28 gm to have some chipping or scratches. But there were hardly any foreign particles or split or broken almonds.
Mr. Nuttz almonds are sold in packs of 250 and 500 gm. They come in resealable packet and in paper cartons.
The almonds are fairly large in size with about 28 almonds per ounce. The number of scratched and chipped almonds is almost like what you find in Tulsi and Himalayan Natives. But, there was a little bit of a shell in the packet. But, none of the almonds were split or broken. The skin is a bit wrinkled and taste-wise it isn't as sweet as Vedaka.
With 30,000 plus customer ratings and competitive pricing, Happilo could easily be the best-selling almond brand online in India. But, when it comes to quality, it falls behind all other brands.
Happilo sells in packets of 200 gm, 500 gm, and 1 Kg. They are all sold in good quality packaging with resealable opening.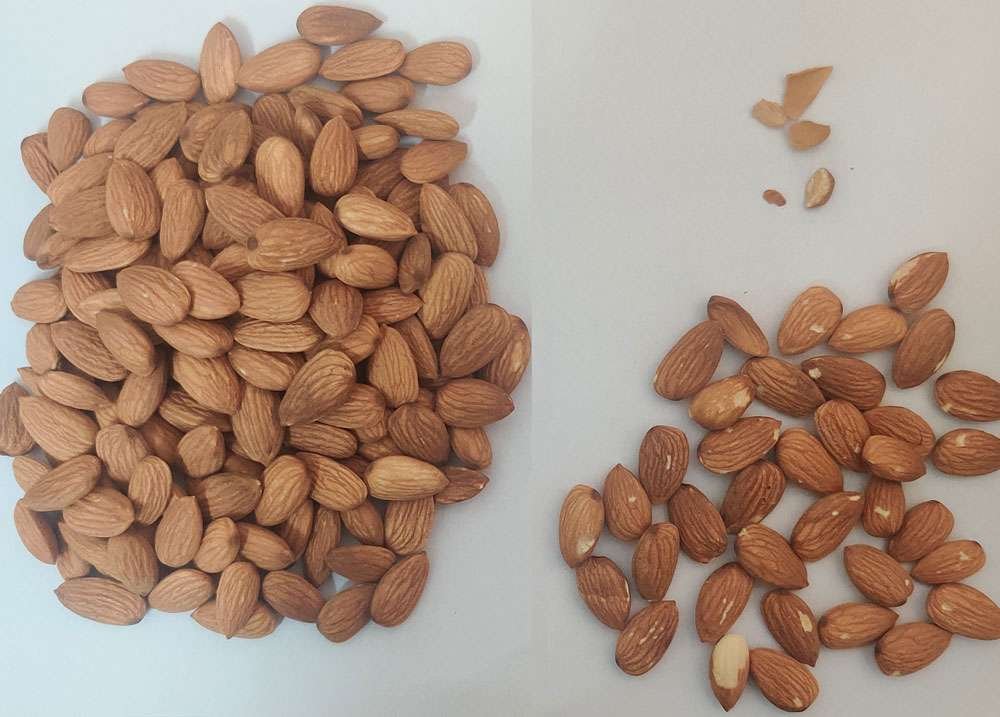 Size-wise, we found there were around 29-30 almonds per ounce in Happilo. But, a lot of almonds were damaged with chipping, scratches splits, and being broken. In 250 gms, we found about 36 gm to be damaged, which comes to 14.4%, which is among the lowest grade in the California almond classification. 2-3 pieces of almonds were broken and we found a few pieces of shells too.
Even taste-wise, we found it to be not as crunchy or nutty as Vedaka or Himalayan Native.
Overall, it is a brand that sells mainly because of its competitive pricing. But if you are looking for quality, you would be better off opting for other brands.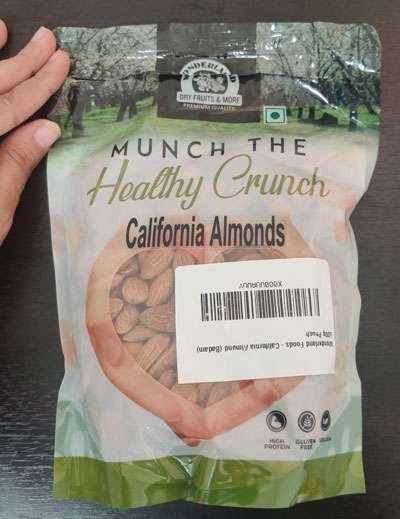 Wonderland Foods sells almonds in pouches and plastic containers of 200 gm, 500 gm, and 1 Kg. They too sell Gurubandhi and Mamra almonds. But, the 500 gm packet we bought did not have a resealable opening.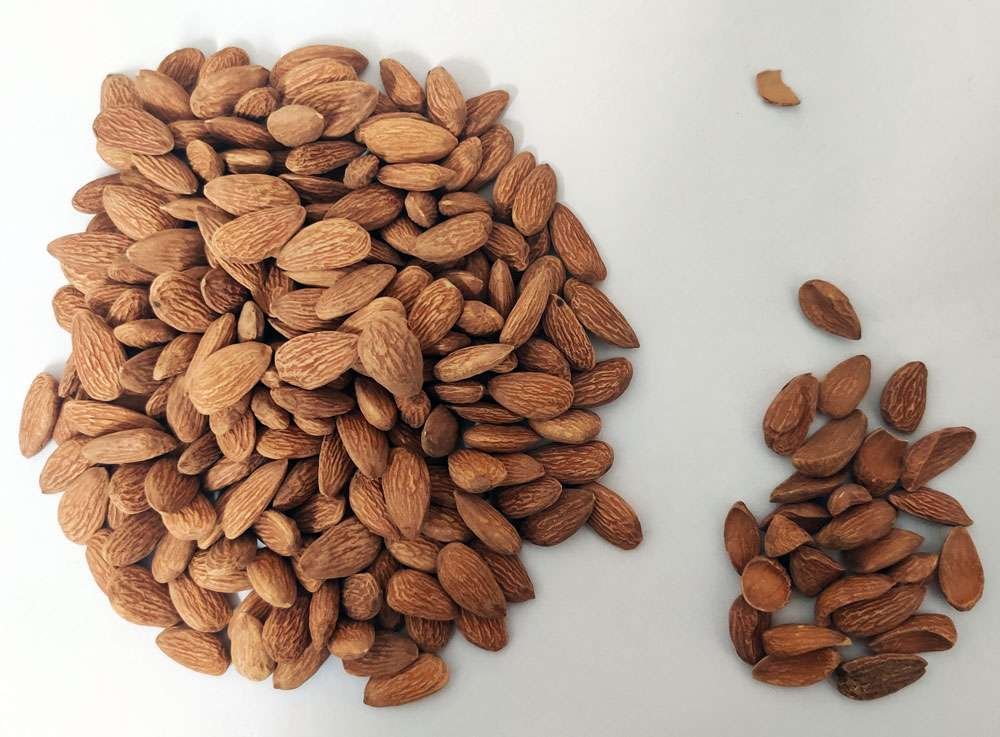 Size-wise, you find about 29-30 almonds per ounce. The skin is dark in colour and highly wrinkled. Just a very few of them had chipping and scratches. But, about 15% of almonds were deformed. Taste-wise too, they lacked the crunch and sweetness typical of California almonds. We also found a piece of shell in the packet.
Though moderately priced, quality-wise, it isn't really up to satisfaction.
Was this post helpful?
Let us know if you liked the post. That's the only way we can improve.