Prestige has a significant share in the mid to budget-friendly segment of the mixer grinder market. Out of the several options, Prestige Delight Plus, which is priced at around Rs. 4300 ( at the time of publishing) enjoys an excellent user rating. It is also among the top sellers online.
In this review, we look at its design, built quality, performance, noise levels and other aspects to help you make an informed buying decision.
Summary
With fairly good built quality, comparatively lower noise levels and decent grinding performance, Prestige Delight Plus is a fairly good option to consider. Its grinding efficiency is good. The dry grinding jar is better than other options. But, the chutney jar and the wet grinding jar takes more time comparatively for grinding. Its juicer jar design is flawed. But, if you are looking for a comparatively less noisy option, it is for you. That being said, don't expect it to be silent. Just that it is comparatively less noisy.
Jars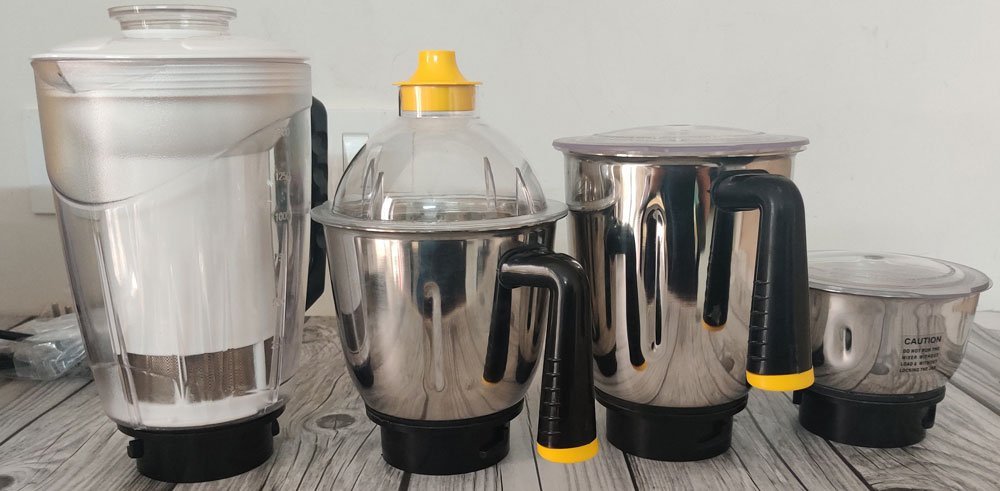 The Prestige Delight Plus comes with 4 jars. The three main jars are made of stainless steel with polycarbonate lids. The chutney jar has a capacity of 450 ml, while the dry grinding jar has a capacity of 1 litre and the wet grinding jar measures 1.5 litres in capacity.
The juicer jar which comes with a cylindrical sieve at the centre too has a 1.5-litre capacity. It is made of polycarbonate and has a polypropylene lid. The lid has a small opening through which you can pour water, but not large enough to drop in fruits as you juice. But, the sieve inside too has a closure. So, the water you pour will get mixed only with the juice and not with the pulp that remains inside.
The jars have a pretty good built quality. It measures 0.8mm thickness and appears quite durable. Talking of the blades, as you can see from the image below, the chutney jar has two-prong blades but with different lengths for grinding ingredients thoroughly. The wet grinding jar has 4 prong blades on different axis.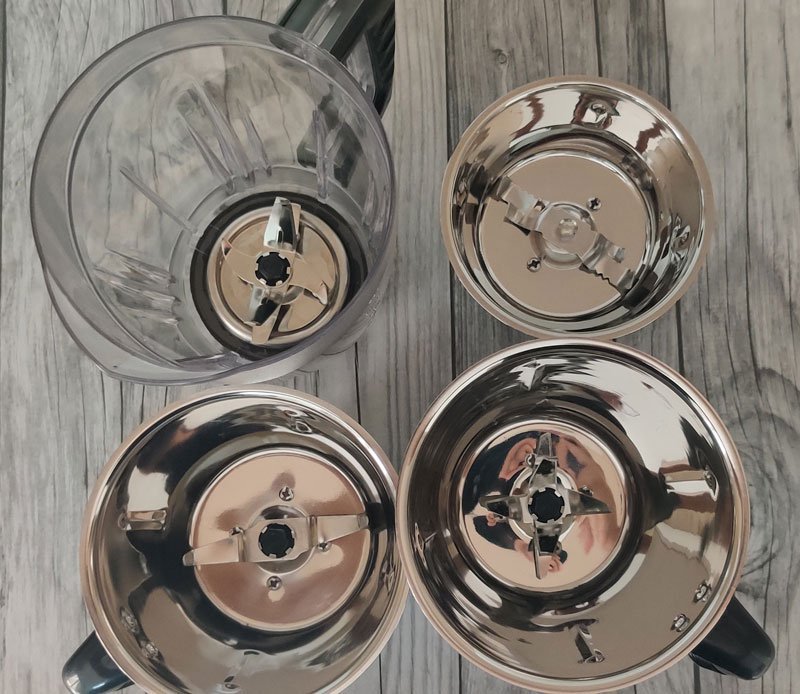 The blades are different from what you normally see in Preethi, Sujata and Philips. But it doesn't really enhance the grinding performance over the other brands.
Initially, you may find that the lids pop open on their own as the gasket don't fit snuggly. But, with use, it fits correctly.
Related reading: Best Mixer Grinders Under 5000
Motor Housing
The Prestige Delight Plus comes with a 750-watt motor. Its RPM ranges from 18-20K cycles.
The motor housing of Prestige Delight Plus comes in a bold yellow and grey colour. It looks appealing. But the grey is prone to smudges. The locking mechanism of the jars to the motor housing is the same as what you find on Vidiem. In fact, compared to Preethi and Philips, it is a lot easier to lock and remove the jars from the housing.
The motor housing comes with vacuum suction feet and has an overload protection switch too.
Related reading: Best Juicer Mixer Grinders In India
Performance
To analyse the performance of the mixer grinder and compare it with the other options, we tried grinding a set quantity of various spices, masala and batter.
First, we tried grinding around 50gm of garam masala in the dry grinding jar. We pulsed it 5 times and ground it at the maximum speed for 1 minute. The results were quite promising. After sieving the garam masala powder, we were able to get just 1.5 tsp of rough residue. This was a lot better compared to Preethi and Philips.
Next, we tried grinding 30 gm of turmeric in the chutney jar. The results were not as good as expected. There was 1.75 tsp of coarse residue, which is higher than any other mixer grinders we tried so far.
To further check the grinding performance of the chutney jar, we tried grinding 20 gm of ginger-garlic paste- which is what you may need for making a single dish. But, instead of grinding to a paste, it was just coarsely chopped.
Next, we tried making a paste of coconut, ginger, chilly, curd, jeera and other ingredients for a buttermilk curry. It was filled to more than half the capacity of the chutney jar. Here, though it took some time, the ingredients were ground to a smooth consistency.
So,you should fill the chutney jar at least to half its capacity for proper grinding.
We also tried grinding idli-dosa batter in the wet grinding jar. Urad dal was ground to a fine consistency in just about 45 seconds. But, it took about 1.5 minutes to grind rice smoothly. Compared to other options, it took more time to grind the batter.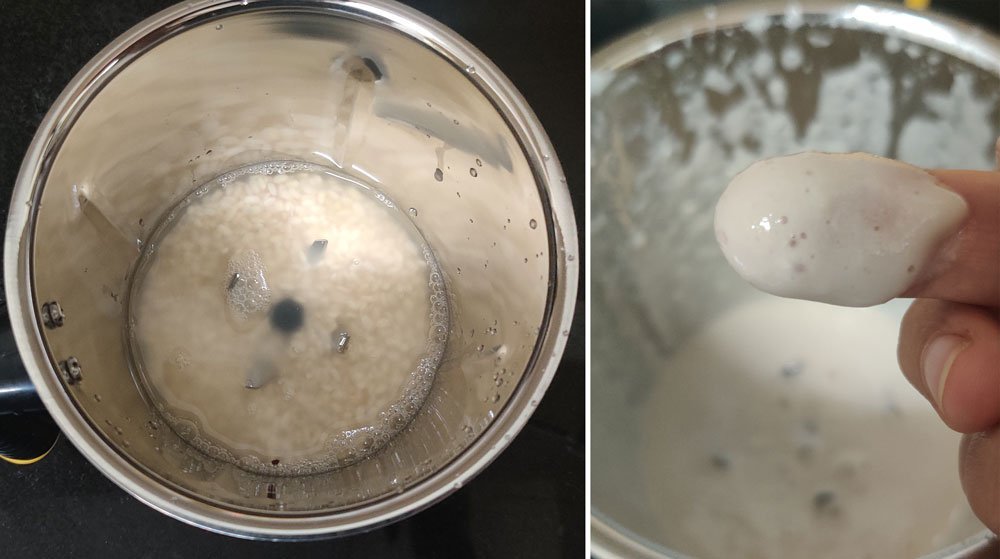 Overall, the dry grinding jar has pretty good grinding efficiency. But when you compare the chutney and wet grinding jars, it grinds fairly well but takes a longer time compared to other options.
Juicing Performance
The juicer jar that comes with mixer grinders is not really the best option out there for juicing. It works well with water-rich fruits and vegetables like watermelon and cucumber, which leaves little to no pulp. But, with other fruits like pineapple, apple, pomegranate etc, the juicing efficiency is not good enough. The pulp at the centre of the sieve retains a lot of juice. If you are serious about juicing it is better to opt for a centrifugal or cold press juicer instead.
In Prestige Delight Plus, we found that the pulp tends to mix with the filtered juice when you pour it out as the jar spout is almost non-existent. When you run the juicer jar a few times in a row to extract larger quantities of juice, the sieve moves whenever you pour the juice. As a result, you have to pass the juice through another sieve defeating the whole purpose of a juicer jar. We would rather recommend you to opt for Prestige Delight, which doesn't come with a juicer jar.
Safety
One of the aspects we really liked about Prestige Delight Plus is that its jars are easy to lock to the base, compared to other options. You most likely won't go wrong there. However, they don't have any double lock mechanism like Panasonic.
The unit has standard safety features like an overload protection switch, ABS shock-proof body, insulated cord and three-pin plug.
Noise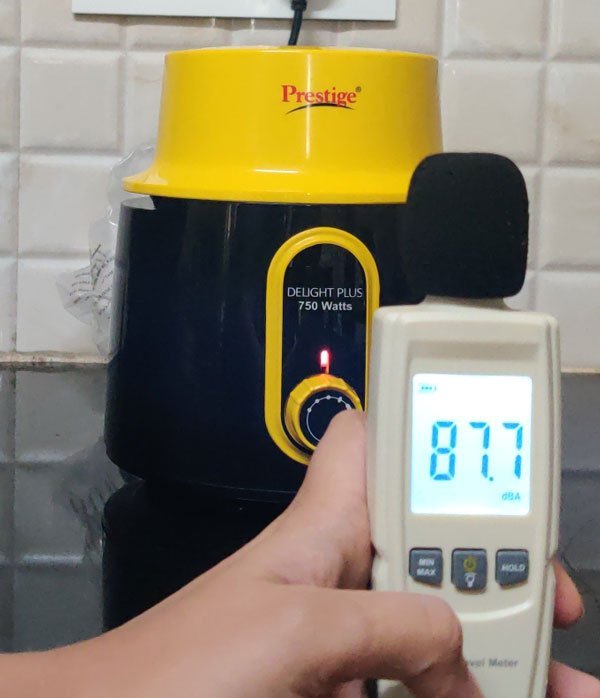 Noise level is one aspect where Prestige Delight beats every other competitor. Compared to other options, it makes less noise. We don't mean to say that it is silent. Just that, comparatively, less annoying. It makes around 87-92 dB noise, while most other options make around 90-95dB or more.
Ease of Cleaning
The jars and the lids have a neat design without many grooves that make it easy to clean. The wet grinding jar has sharp blades pointing upwards. So, you need to be careful while cleaning up the bottom.
The jars are not completely dishwasher friendly, owing to two reasons. First of all, when put in the dishwasher, the blades lose their sharpness over a period of time. Next, the dirty water gets accumulated in the jar lock after every wash. This may affect the durability of the coupler. This isn't applicable just to Prestige Delight Plus, but to almost all mixer grinder jars out there.
Durability
The built quality of the mixer grinder appears fairly good. The jars are solid and the handles are firm. The motor housing too appears durable. The overall reviews from other users are also positive.
Warranty and Aftersales Service
Prestige offers a 2-year warranty on the product and a 5-year warranty on the motor of the mixer grinder. Prestige has a fairly wide network of aftersales service centres in North and South India. Moreover, there are numerous dealers in every town.
However, there is a catch. In the product manual, it says that the 5-year motor warranty is valid only if the mixer grinder is inspected on a yearly basis at their service centre. This may not be something everyone does, and it may result in warranty lapses.
Comparison With Other Models At Similar Price Range
A few other models which we tried in a similar price range are from Philips, Preethi and Vidiem. We find the built quality of Prestige Delight Plus at par with the other options like Vidiem MG521A and Philips HL7701. When it comes to grinding efficiency, especially wet grinding, Vidiem fares better. Prestige is more or less an average option. But, if noise is something you are concerned about, then Prestige Delight Plus is definitely what you need.
If you don't need the juicer jar, you could opt for Prestige Delight Mixer Grinder which comes in a grey colour. It has a more subtle look.
Conclusion
Overall, if you are looking for a good quality mixer grinder with comparatively lesser noise and fairly decent grinding performance, then Prestige Delight Plus is a good option to consider. As most people don't use the juicer jar extensively, you could also consider Prestige Delight, which sells about Rs. 500 cheaper.