When you are in the market to buy a mixer grinder, you are sure to be allured by its upgraded version- a food processor. If you are confused about whether it would be a piece of useful kitchen equipment or yet another bust, this article will help you decide.
What Is A Food Processor?
A food processor is an appliance with a wide bowl and a motor housing similar to that of a mixer grinder. The bowl comes with various attachments that allow you to chop, mince, slice, dice and grate vegetables, fruits and meat.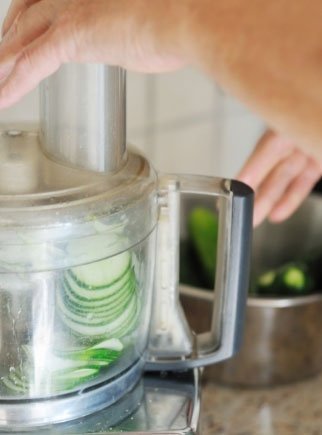 You get food processors starting from Rs. 4000 onwards. The budget-friendlier options have a single bowl with a limited number of blades/attachments. The higher-end versions cost around Rs. 10,000+ and come with a food processor jar, a plethora of attachments, and also have 2-3 jars for blending and liquidizing. They are more of a food processor cum mixer grinder.
Related reading: Hand Blenders Vs Mixer Grinders
Functions of Mixer Grinder Vs Food Processor
A mixer grinder, as the name suggests, can be used for wet and dry grinding various ingredients. You can make curry paste, chutney, puree, smoothies, shakes and batter using a mixer grinder. Options like Sujata Dynamix also come with chopping and whisking blades. Using it, you can coarsely chop vegetables, whip eggs, buttermilk and cream.
A food processor, on the other hand, is a multi-functional appliance that helps with all basic prepping work. It is an immensely helpful appliance when you are hosting a large party or for joint families.
You can mince meat; chop, dice, slice and grate vegetables for side dishes, salads and salsa. Most of them also have kneading blades for making dough. Other than making plain dough for chapati, you can use a food processor to make dough for paneer paratha, methi paratha etc as you can chop the vegetables finely and knead the dough in the same jar.
Most of them have attachment for citrus juicing and some models like Usha FP3811 has centrifugal juicer too.
Brands like Vidiem have also come up with a wet grinder with a food processor jar. Using the wet grinder, you can make batter and with the food processor, you can chop, grate and slice vegetables, knead dough and even scrape coconut. Yet another advantage is that Vidiem has a stainless steel food processor jar, which is more durable than the ones made of polycarbonate.
You may also like: Ultimate Guide To Cold Press Juicers
Storage
Mixer grinders usually come with 3-4 jars. Out of them, three are for grinding, liquidizing and blending; and the fourth one is a juicer jar. The motor housing is usually compact and doesn't take much space for storage.
Food processors on the other hand have a main jar that has a capacity anywhere between 1.5 to 3.5 litres. Even the motor housing is huge and space-consuming. Moreover, they come with 6-12 attachments and blades. Being sharp, you need to be especially careful while storing them.
Out of the available options, what we liked about Usha FP 3811 Food Processor is that it has a small pull-out drawer in the motor housing, where you can keep the blades. But most manufacturers haven't given much thought to storage for the food processor attachments.
Related reading: How To Whip Cream In Mixer Grinder?
Cleaning
Jars of mixer grinders as well as food processors are generally not dishwasher safe. As they are kept upside down in the dishwasher, water gets accumulated in the jar lock and it could damage the coupler.
The blades and attachments of the food processor too shouldn't be cleaned in a dishwasher as it reduces the sharpness. Also, the sharp blades could nick the racks or sides of the dishwasher, which could expose the inner metal and in the long run, cause rusting.
Of course, we know a lot of people who wash the food processor jar and attachments in the dishwasher. Just that, it is generally not recommended as it can affect durability.
It is better to handwash the jars and accessories. They are fairly easy to clean. But you need to be careful not to hurt yourself with the sharp blades.
Related reading: How To Maintain Mixer Grinder As Good As New?
Whom Is It For?
Mixer Grinders are meant for those who need an appliance for grinding, blending and liquidizing. You can make spice powders, batter, chutney etc using a mixer grinder.
A food processor is apt for those who need an assistant to quickly get done with slicing, chopping, kneading and such prep work. It is an incredible time-saver. But, it takes up quite a lot of storage space. You also need to be careful while washing them.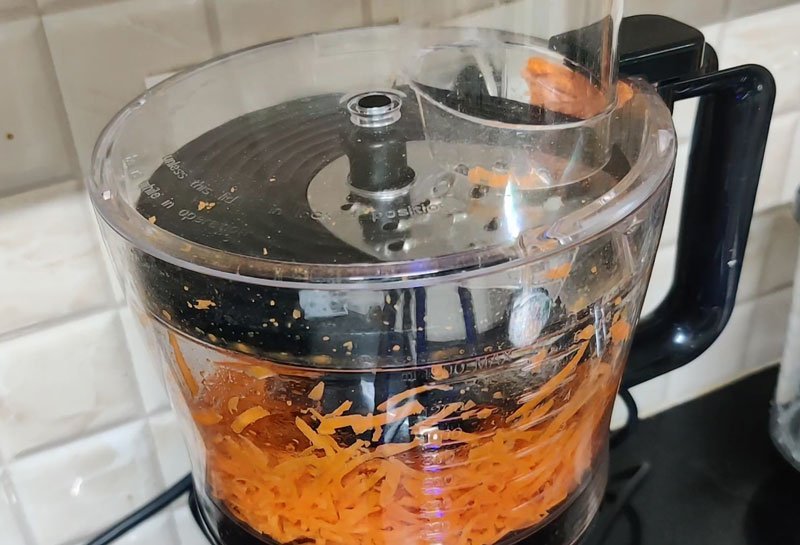 Depending on how much you cook, you may need both. In such cases, it is better to opt for food processors that come with extra jars, like Preethi Zodiac or Preethi Zodiac Cosmo.
Mixer Grinders We Recommend
Food Processors We Recommend
Related reading: Preethi Zodiac Review
Mixer Grinder Vs Food Processor
| Function | Mixer Grinder | Food Processor |
| --- | --- | --- |
| Wet Grinding | Yes | No |
| Dry grinding spices | Yes | No |
| Chopping | Sometimes | Yes |
| Blending | Yes | No |
| Slicing | No | Yes |
| Grating | No | Yes |
| Mincing | Sometimes | Yes |
| Citrus juicing | No | Most often |
| Centrifugal juicing | Sometimes | Sometimes |
| Coconut Scraping | No | Sometimes |
| Atta Kneading | No | Yes |
| Whisking | Sometimes | Sometimes |