After a hectic day at work, the last thing you want to see is a dirty messy kitchen. But if you are willing to invest a bit of time, then you can organize the kitchen in such a way that the cooking and cleaning becomes easier and effortless. By designating specific space, investing in the right products and with the right planning, you can have a kitchen that always stays clean and organized.
With this in mind, we talked with many professional organizers, chefs and bloggers on their favourite hacks that help them maintain an organized kitchen. Here they are…
Keep In Mind The Workflow While Organizing The Kitchen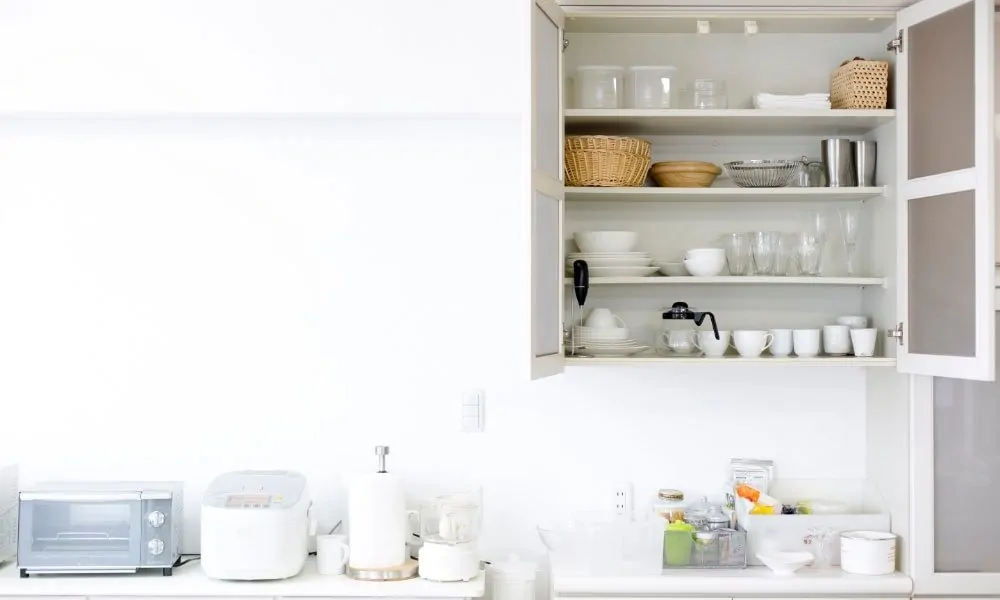 Being a workspace, the kitchen should be organized in such a way that everything that you need is within reach. Michele Sidorenkov, a registered dietitian and nutritionist who owns My Millennial Kitchen, suggests following a brigade system of sectioning the kitchen for a logical flow and organizing everything accordingly.
She says, " The left of your stove can be designated as the food prepping area where all chopping, measuring, food prepping, takes place. Things like your cutting boards, measuring spoons, knives, seasonings should all be within reach from that designated area. Then, the active cooking stove station should have all of your spatulas, cooking oils, and pans located within reach. Lastly, to the right of the stove would be your designated plating station where all bowls, plates, and silverware can be kept." This way, instead of walking all over the kitchen to get things, you can save time, reduce frustration and improve efficiency in a kitchen.
Label Everything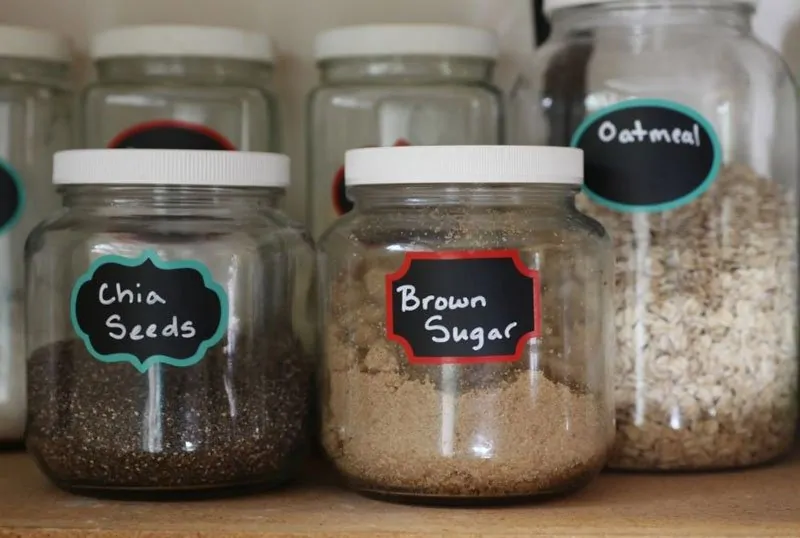 Nancy Meck, Atlanta based home organizing expert who owns Meck Organizing, advises putting labels on containers and shelves as it helps you keep things organized and easy to find. An added advantage is that other members of the house won't constantly bother you to find things for them.
Focus On Aesthetics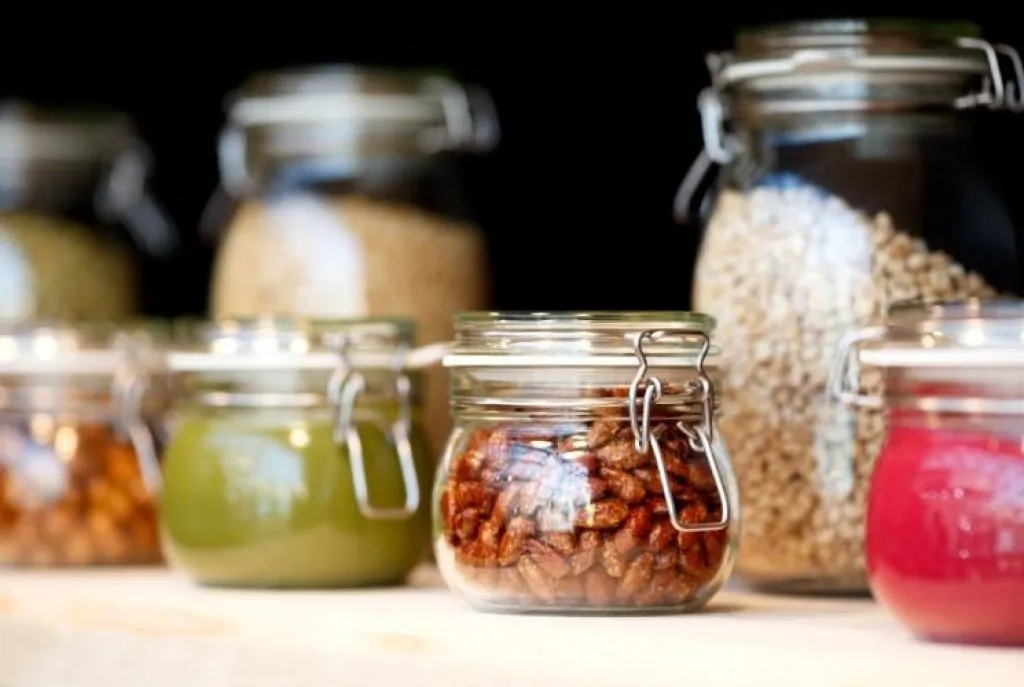 Organizing the kitchen is not just about efficient space, but also about aesthetics. Sarah of Sandiego based Get It Dunn recommends buying matching sets of containers that are aesthetically pleasing. This is an especially useful tip if you have an open storage space in the kitchen.
Make The Most Of Vertical Spaces
Di Ter Avest, professional organizer and owner of Di Is Organized encourages to efficiently utilize the vertical space in cabinets and pantry. She says, " The easiest DIY solution available in the market that we use most of the time to improve our clients' kitchens is shelf risers. They are great for dishes, but you can also use some bins underneath to store kid's snacks, for example. Everything stays organized, visible, and easy to reach since you don't have to move everything out to get the items on the bottom."
Related reading: How I Made My Kitchen Almost Plastic-Free?
Store Away Things That You Don't Always Need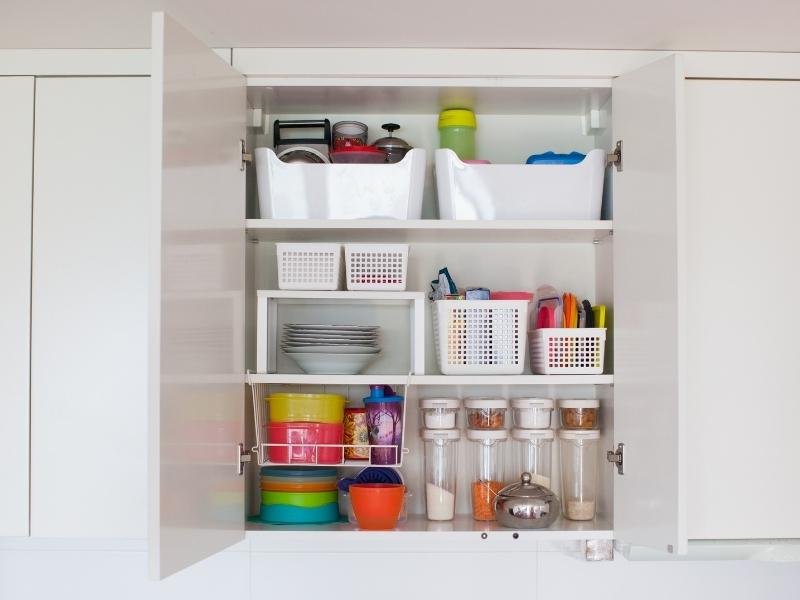 It doesn't matter whether you have a huge kitchen or a tiny one, space is always precious. That is why it is important to prioritize and keep within reach only what you need.
Ben Soreff, a professional organizer who runs House To Home Organizing says, " Think about how often you use an item to determine the best place for it to live in your space. We want items to go in easy but also come out easy. Those high kitchen shelves seem like a perfect space saver but if the system is not easy you won't use it. Think about using high open shelves for only decor."
Focus On Why You Have Clutter and Waste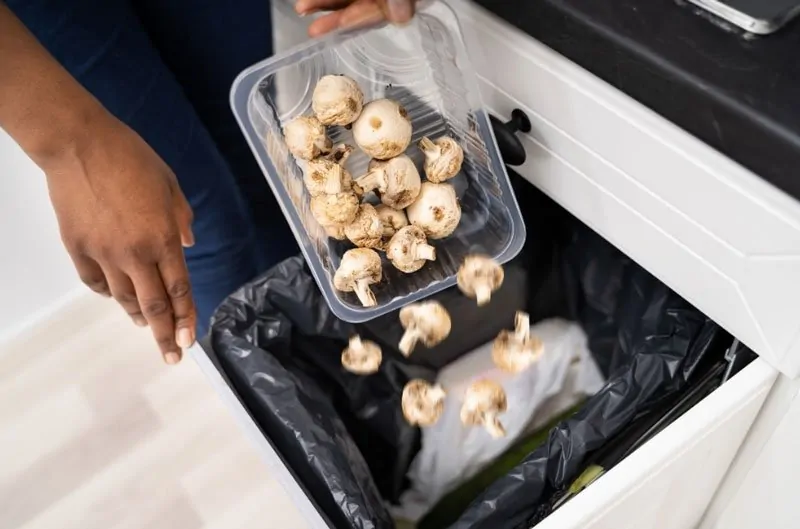 We often throw away food that has gone past the expiry date. But have we thought about why and how to avoid it? Stressing on the importance of identifying the cause of clutter and wastage, Ben Soreff says, "When it comes to food and spices don't focus so much on tossing if the best buy date has expired rather ask why it hasn't been used in so many years. Perhaps the recipe is too time-consuming or was an experiment if so don't punish yourself rather toss. When a pantry is crowded so many items go unused and the vicious cycle of multiple purchases continues."
Get Control Over Plastic Containers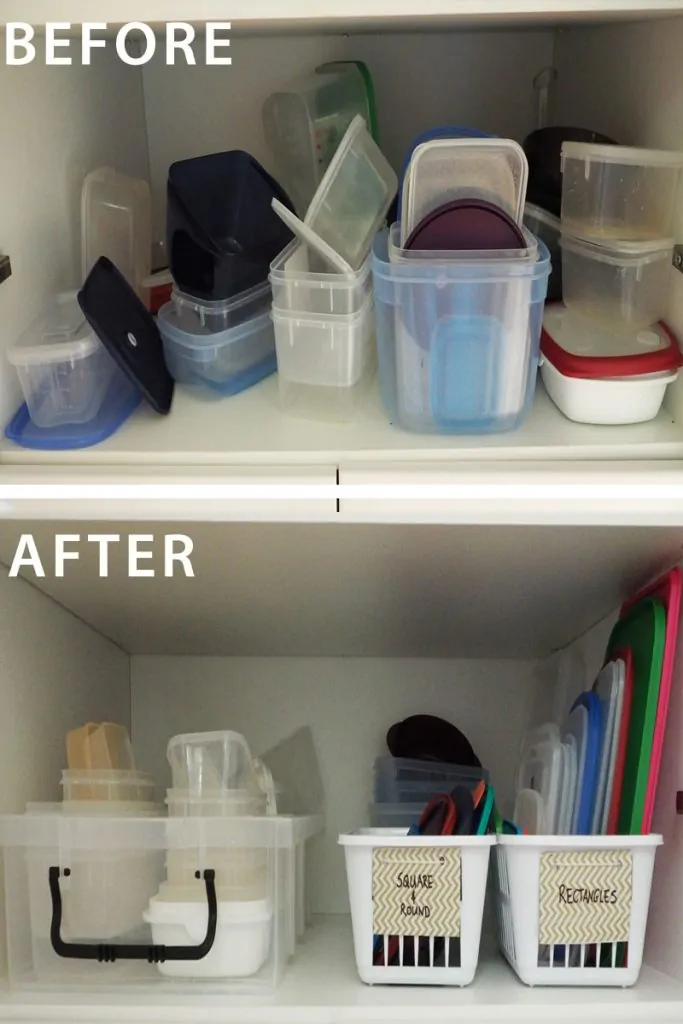 Many of us have a tendency to hoard plastic containers- often causing the biggest mess inside the drawers. Monica Friel, founder of Chicago based Chaos to Order advises being ruthless with them. She says. " If you've lost a lid or a container is without one, it's time to eliminate it. Be ruthless with your plastic ware, especially the "disposable" ones that tend to linger beyond their disposable time."
Choose Containers Of Right Size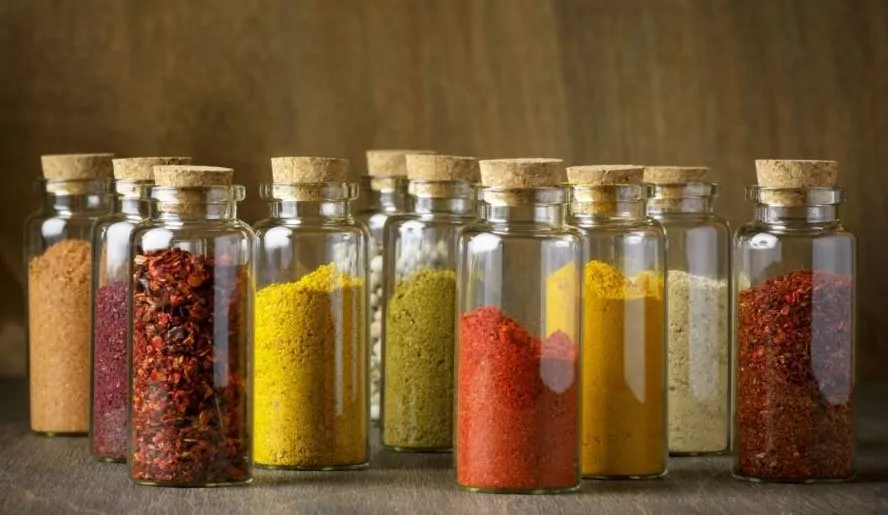 When storing spices and condiments, choose airtight containers of the right size. You should find the balance by using a container that is large enough that you won't have to constantly refill it, yet small enough that the spices don't lose their flavour and essence due to prolonged exposure to air. Jessica Randhawa, owner and head chef of The Forked Spoon suggests buying multiple-sized airtight storage containers apt for each spice.
Ideally, a smaller quantity of the commonly used spices should be kept in a smaller container that is easily accessible and the bulk quantity should be stored away to maximize its freshness for long.
Repurpose Existing Space
Break the conventions and use an existing space for different purposes. Spice drawers are a common feature in modular kitchens, but are often underutilized. If you have a better space for keeping spices, use the spice drawer for keeping glasses and snacks for kids so that they can help themselves. Or as Sharon of Thyme and Place Design has done, you can use it for keeping oil, vinegar and other bottles.
Hang Your Pans
Make the maximum of your countertop space without obstructing the flow by using wall-mountable pan hangers. They save your cabinet space and also keeps things you frequently use within your reach.
Hang Mugs Underneath the Cabinet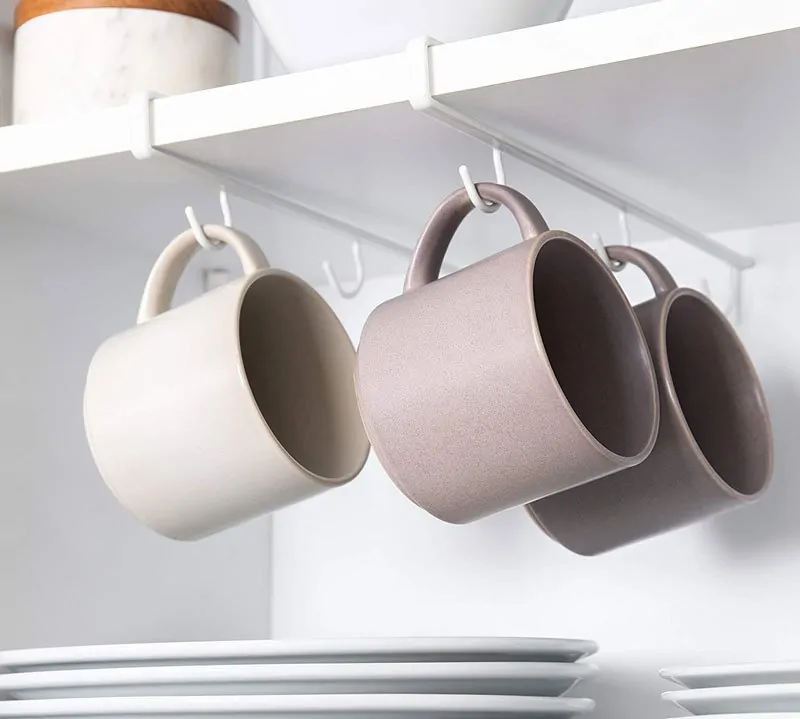 Mugs can be a beautiful showpiece that adds character and aesthetics to a kitchen. Organize them efficiently using mug hooks which utilize the space underneath the cabinets in the kitchen.
Organize Lids By Using Racks
Lids can be tricky to store in a drawer unless you use a dedicated lid rack which makes them easy to access and organize.
Related reading: How To Organize Refrigerator In An Indian Kitchen?
Keep Pans and Pots In Racks
You know how it is a task to dig and take out a pan from the bottom of a pile. This is why expert organizers always advise investing in height-adjustable pan rack holders that reduces the mess and efficiently utilizes the space.
Use Over The Sink Utensil Organizer
An over the sink utensil organizer is an excellent option to keep plates, spoons and cutlery that are frequently used. The best thing about this rack is that the excess water on the plates drains into the sink. So you needn't worry about the cupboards getting damaged due to the moisture.
Drawer Divider Trays For Keeping Tools, Ladle And Spatula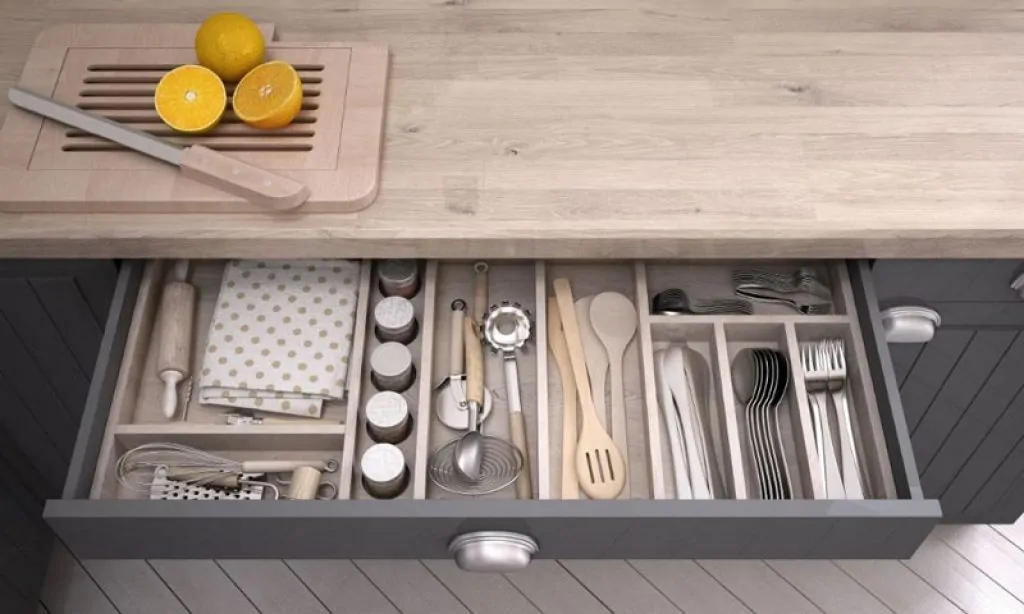 Drawer dividers are an excellent way to keep knives, ladles, spatula and other kitchen tools organized. It designates a specified space that is easy to maintain and access.
Use Baskets And Hangers To Store Cleaning Supplies
Cleaning supplies kept under the sink are often cluttered. Being damp, it is musty and prone to mold and fungus. Jessica of Moms4Real utilizes tension rods to hang spray bottles, brushes, sponges and gloves so that they dry out. Other cleaning supplies can be segregated and kept in a drawer system or baskets so that they are easy to access.
Make Use Of Plastic Bag Dispensers
Though plastic bags are banned, we still have a huge bag hung in the utility area for putting all the plastic bags. You can remove this eyesore and instead use a container or a hanging dispenser to store all the plastic bags.
Convert Open Walls To Vertical Storage Space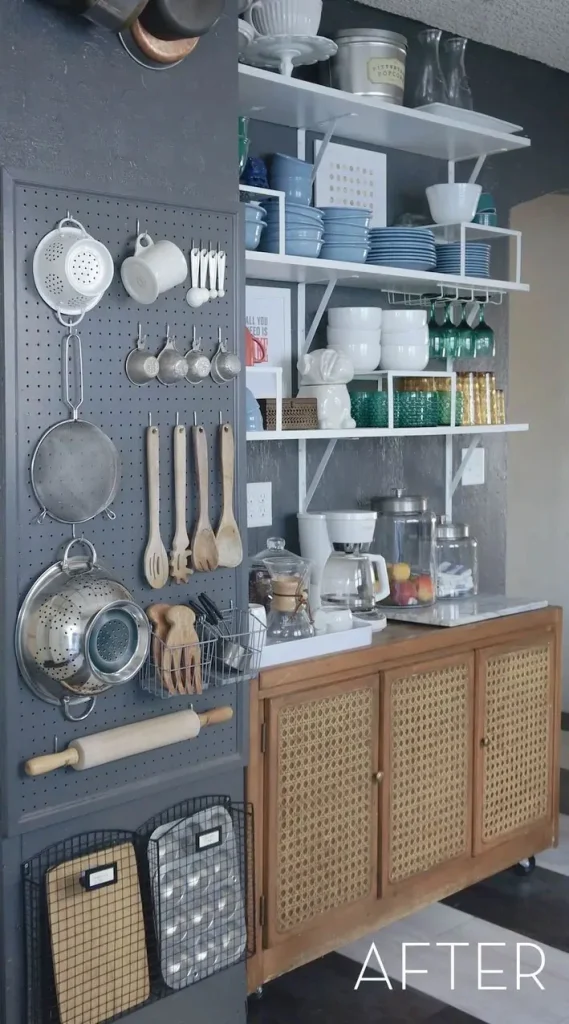 Open walls in the kitchen can be converted to storage space by using hooks, rails and hanging cabinets. But take care to hang lighter items like spoons and spatulas at the top and heavier items like cutting boards and pans at the bottom so that there won't be any harm if in case anything falls.
Utilize Space On Top Of The Oven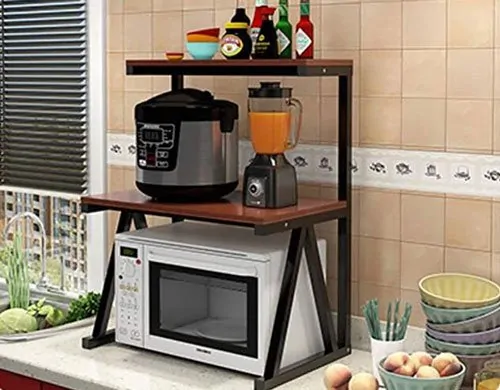 Keeping things directly on top of the oven can be dangerous as it obstructs the airflow. Instead, utilize an oven stand so that you can hang spoons by the side and light-weight appliances on top of the oven.
Make Maximum Out Of The Doors
You can fix hooks or holders behind the cabinet doors so that you have sufficient space to hang kitchen tools. However, take care to fix the hooks in such a way that the tools don't prevent you from closing the door shut.
Store Root Vegetables In File Folders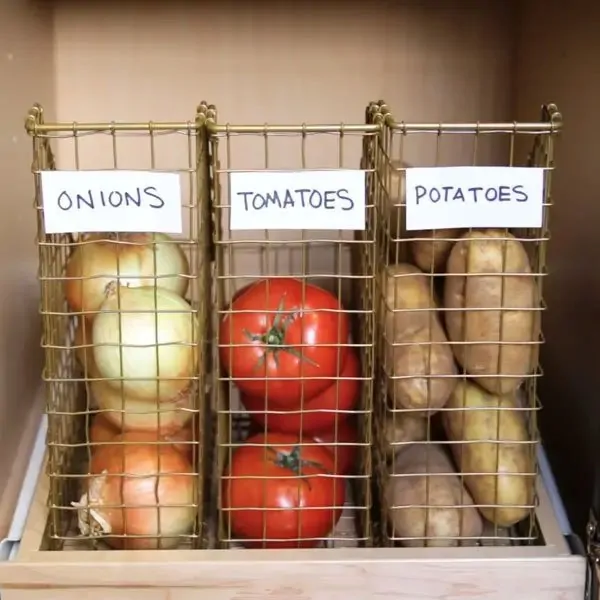 Old file folders can be repurposed as storage space for root vegetables like potato, onion, garlic and ginger. Due to their vertical nature, it is space-saving and a clever solution for small kitchens.
Utilize Mop Holders To Tidy Up Utility Area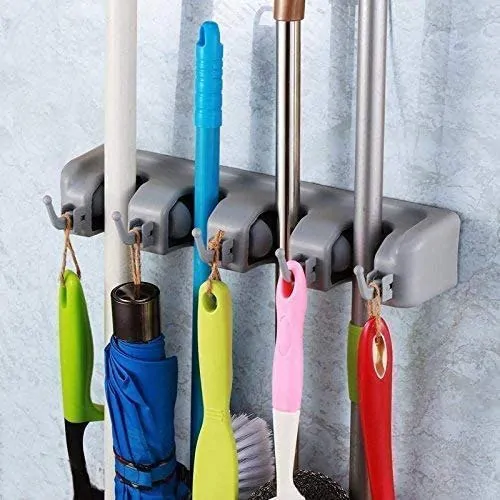 Mops and brooms scattered in the utility area are unhygienic and a major cause of clutter. Organize them using a mop holder- which is a cheap and efficient way of hanging brooms, mops, squeegees and brushes.
Use Lazy Susan To Store Your Cleaning Supplies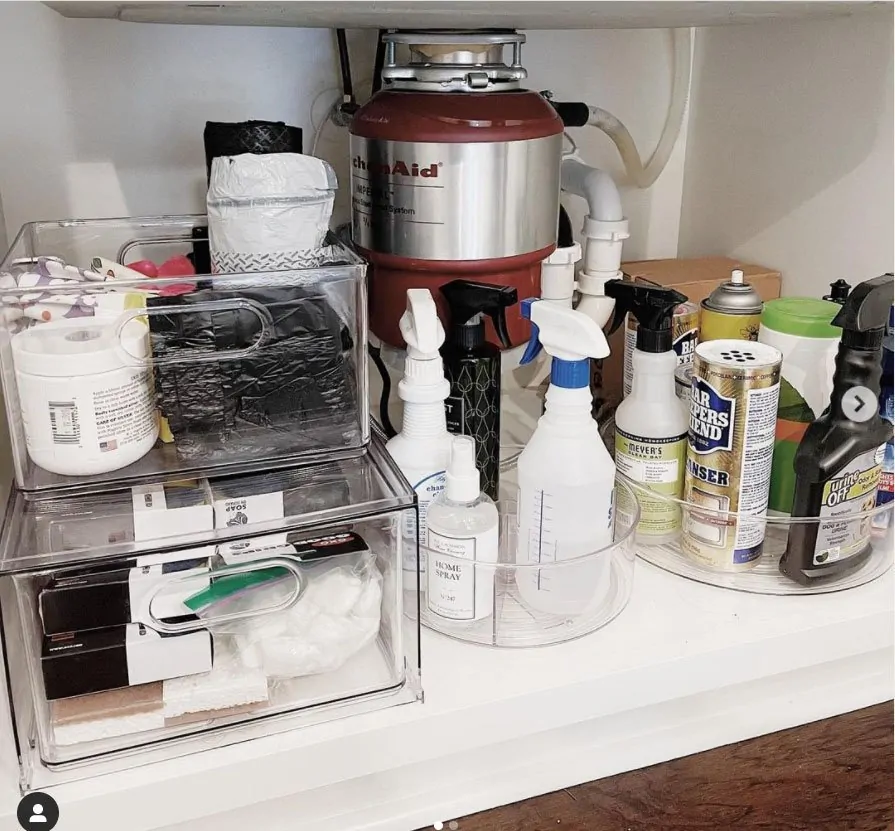 As Neatly Designed, has done, you can utilize drawers and lazy susan to maximize space and improve access to cleaning supplies stored underneath the sink.
Utilize Pull-Out Racks To Store Pans and Ladle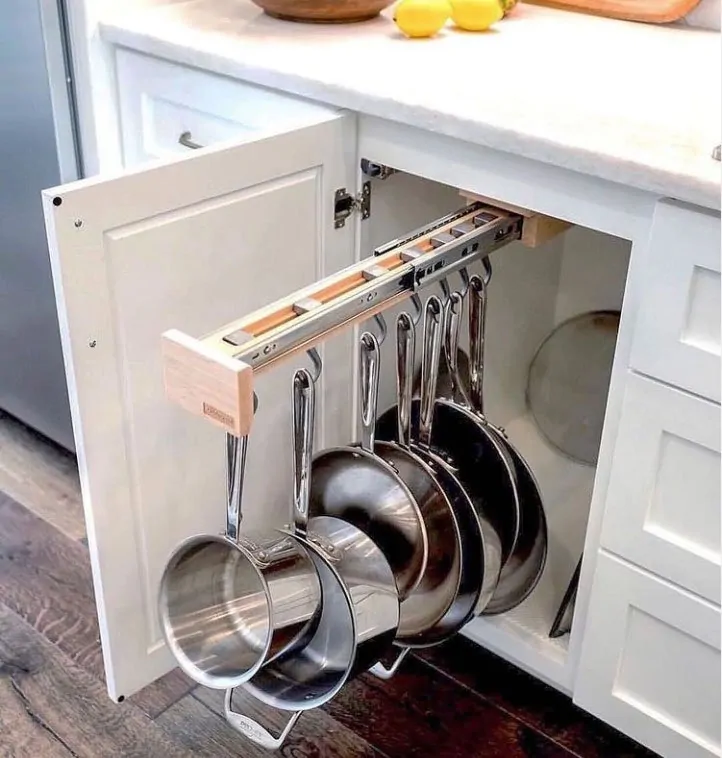 Pull-out racks are an incredibly useful idea to keep pans, ladles, spatulas and other hangable utensils easy to access.
Maximize Corner Space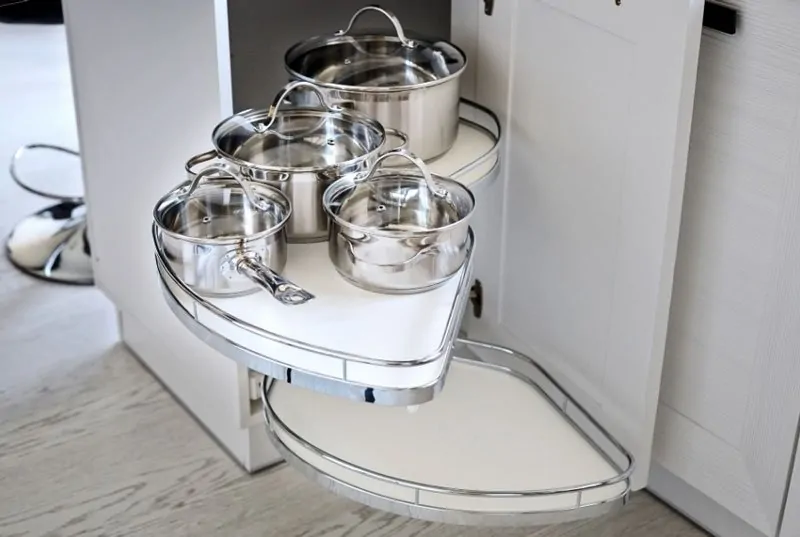 Corner spaces inside the shelves and on the countertop are often underutilized. You can manage a clutter-free corner space by utilizing corner shelves that are easily available online.
Did you like these tips? If so, let us know which one? Or if you have a useful tip to share, let us know in the comments. The best ones will be featured in the list in the next update.
Originally appeared on Smart Home Guide