Wakefit is one of the pioneers of mattress-in-a-box technology in India. We bought our first Wakefit mattress in 2018. We loved it so much that we bought another one next year for the guest room. Based on our experience using it for over 5 years, here is our in-depth review.
Construction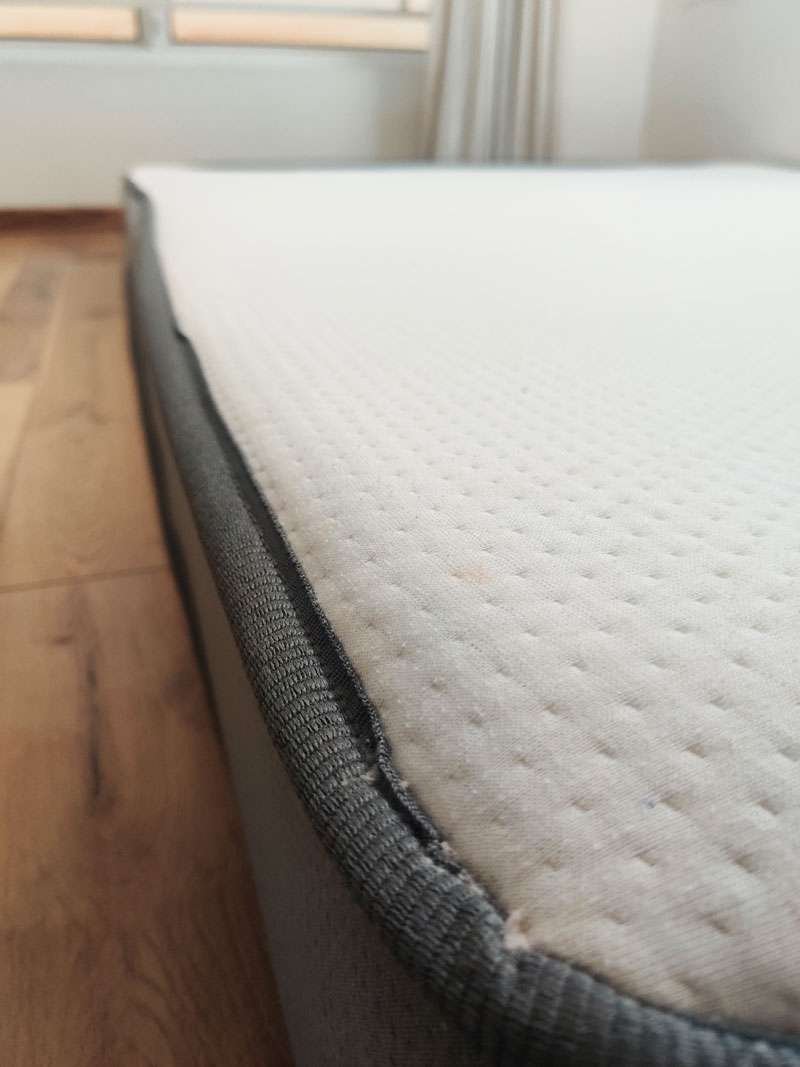 Wakefit Dual Comfort mattress comes in single, double, Queen and King sizes. They are available in thicknesses ranging from 4 to 8 inches. 4-inch thickness would be enough for a single bed. If the mattress is for individuals who are on the heavier side, opt for 8-inch thickness. Medium-built people usually are comfortable with a 6-inch mattress.
As the name suggests, both sides of the Dual comfort mattress can be used. The white colour side is medium soft and the grey colour side is medium firm. The medium-firm side has high-resilience foam which provides support and prevents the mattress from sinking. On top, there is a responsive foam that is soft, yet firm. And further, on top, knit fabric is used as a cover. We use just the soft side as the medium-firm side is too hard for our liking. Also, the fabric on that side isn't very comfortable too.
According to the manufacturers, their mattresses are hypoallergenic, which makes them resistant to bed bugs.
Let us now take a look at other aspects of the mattress.
Motion Isolation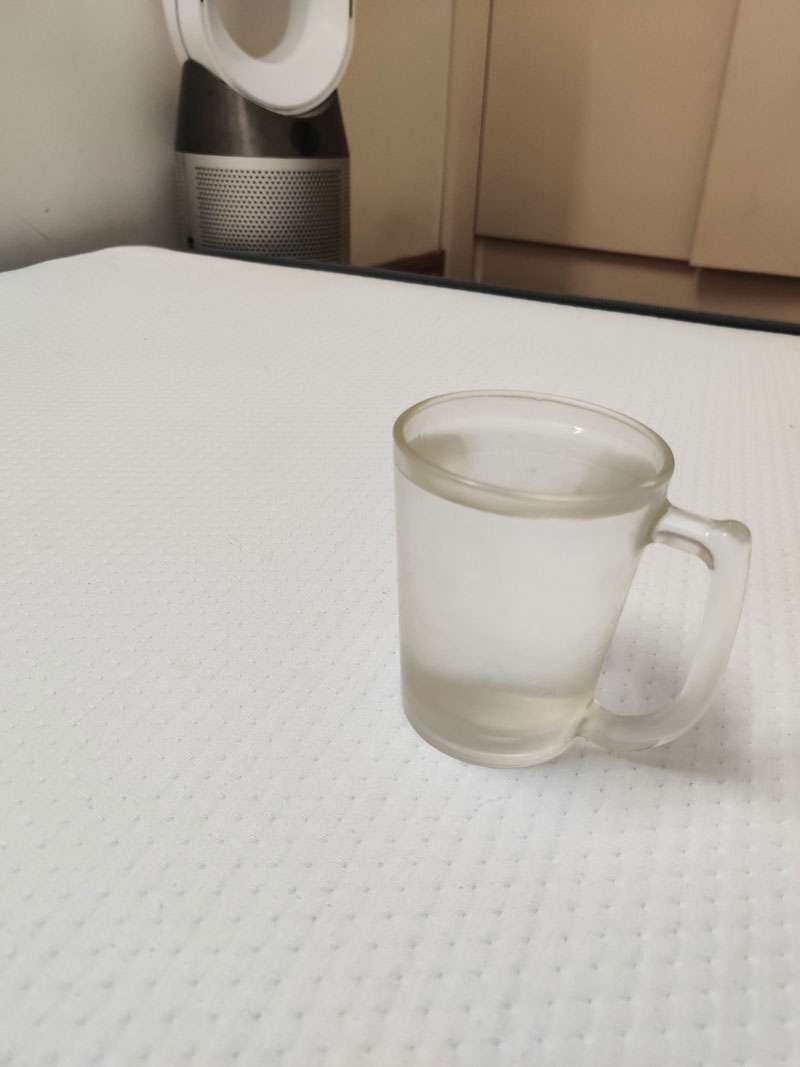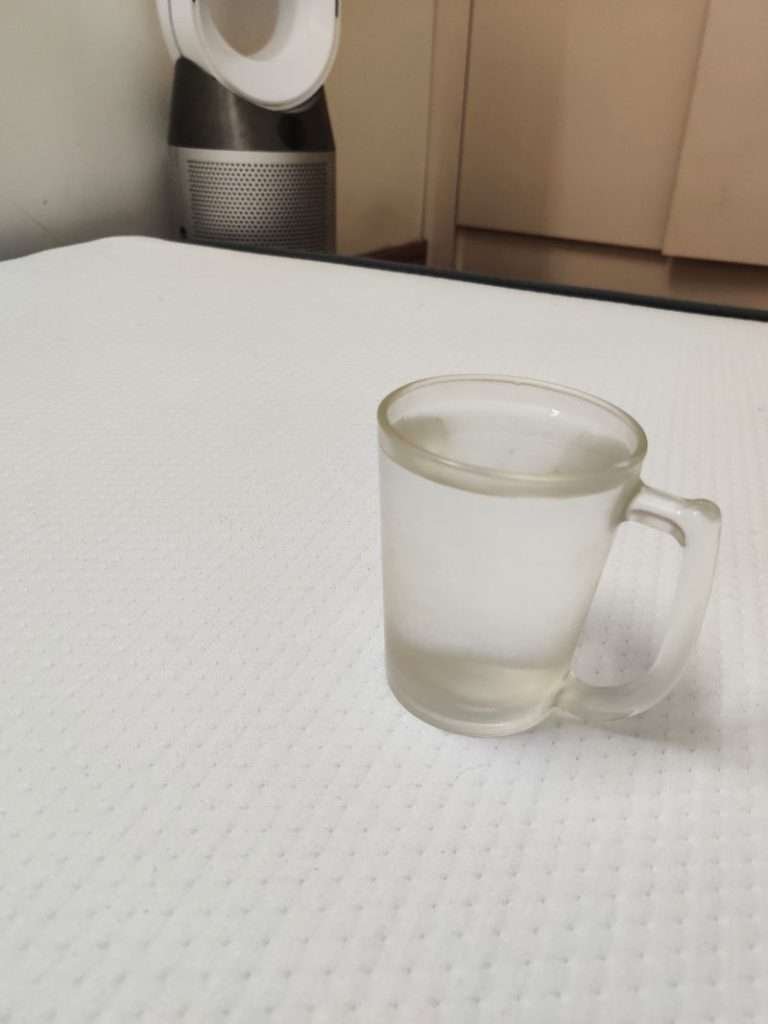 When one person moves in the bed, the other person shouldn't be affected by it. That is, movement on one side shouldn't be felt elsewhere. This is especially important for light sleepers who get disturbed when the other person on the bed moves.
Motion isolation is usually tested by keeping a glass of water on one side of the bed and checking if movement on the other side spills it. We tried it on the Wakefit Dual Comfort mattress and it was highly satisfactory. The water did not spill even though we jumped on one side of the mattress. This shouldn't come as a surprise as foam mattresses are generally excellent at motion isolation. Spring mattresses on the other hand are not the best in this aspect and are hence best avoided by light sleepers who share the mattress.
Pressure Relief
Shoulders and hips which are wider parts of the body and hence heavier put more pressure on the mattress. If the mattress is too hard and doesn't contour according to the body shape, it will put a lot of pressure on these body parts. You often feel sore after sleeping on mattresses that don't provide enough pressure relief.
Wakefit Dual Comfort mattresses can be rated excellent in this aspect. The mattress contours just enough to support the pressure points and prevent any pain. This makes it a great choice for side-sleepers too as the mattress contours snuggly for a comfortable sleep. I have hardly had any days when I woke up feeling sore because of the mattress.
Temperature Control
Foam mattresses generally aren't the best when it comes to temperature control. Heat gets trapped in the foam and as a result, you feel warm on foam mattresses. Many models have a cooling gel layer to overcome this drawback. Wakefit sell 7-Zone Latex mattress and XpertGrid mattress which come with a layer for better air circulation. The construction of the 7 Zone Latex mattress is similar to that of Dual Comfort. Just that there is an additional layer of latex foam for better temperature regulation.
That being said, sleeping on Wakefit Dual Comfort wouldn't be uncomfortable if you live in a place with mild summers. Living in Bangalore, we haven't really found the bed getting excessively warm while sleeping. However, many users in cities like Chennai with harsh summers have found this to be a drawback of Wakefit Dual Comfort and Orthopedic Mattresses.
Edge Support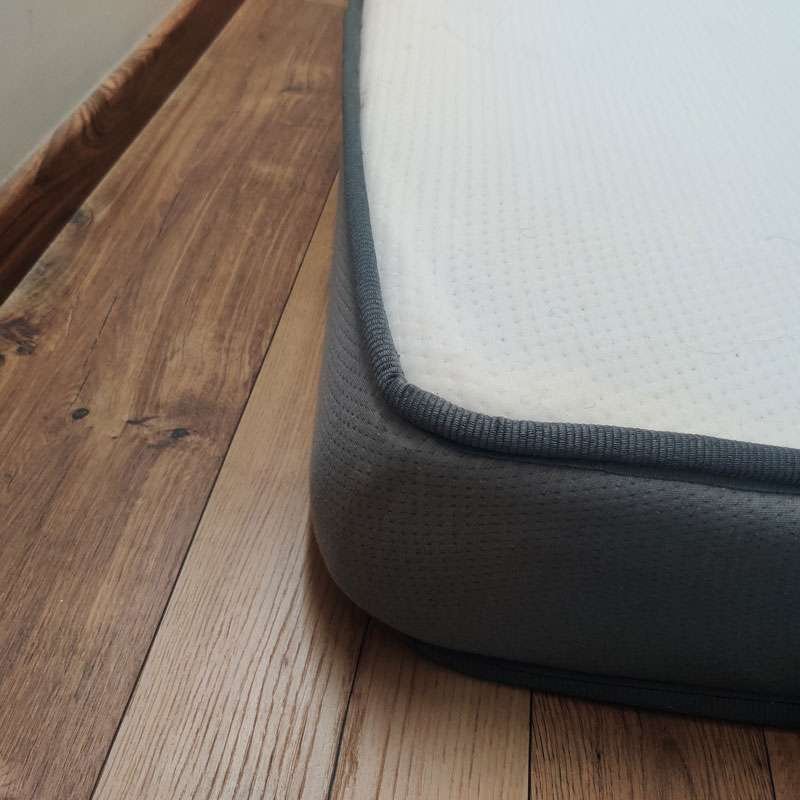 You are often advised to never sit on the edge of the mattress. This is because it will result in the edges sagging. Newer mattresses come with reinforced edges. So even if you sleep on the edge of the mattress, something often experienced by parents, you won't find yourself sinking or getting pushed out of the mattress.
After 5 years of use, you find a substantial bulge at the sides of the mattress. Especially at the edge from which you climb on the mattress. But the side adjacent to the wall hasn't bulged, thanks to the support from the wall. Even so, as the bulge is at the center, you do not feel any substantial discomfort sleeping at the edge of the mattress.
Ease of Movement
It is important that mattresses contour to your body to relieve pressure for a comfortable sleep. However, if it contours too much, you will find you feel trapped and struggle to move from side to side on a mattress. So, the right balance is important, especially for those who are heavier.
In our experience, we have found that Wakefit does have this perfect balance. The bed is used by two people weighing 60 Kg and 80 Kg. Neither of them has found any trouble moving while asleep or felt trapped in the contours.
Warranty
Wakefit Dual mattress comes with a 7-year warranty. When bought through Wakefit's website, they offer 100 days trial on their products. However, you cannot avail of it on Amazon.
Wakefit's other popular models like Orthopedic Memory Foam, XpertGRID and 7 Zone Latex come with a 10-year warranty. Comparatively, they have a premium price too.
Flaws, But Not Dealbreakers
One of the flaws we found is the lack of temperature regulation, which makes it unsuitable for those who live in places with harsh summers.
Next, as you would have noticed, the top cover of almost all Wakefit mattresses is white. Hence, they get dirty quickly. To prevent this, you have to use a mattress protector. Wakefit's mattress protectors are excellent in quality. The terry cotton top is comfortable when sleeping and the PU layer underneath prevents spills and dust from dirtying the mattress. You can check our article comparing mattresses with and without protectors to know more.
Other Models From Wakefit
Wakefit sells around 10 models of mattresses in various constructions. Each of them is available in single, double, queen and king sizes. Let us take a quick look at the popular ones.
Wakefit Orthopedic Memory Foam Mattress– This mattress comes with a memory foam layer at the top in addition to the responsive foam and high resilience foam underneath. As a result, it provides better support and pressure relief, making it a better choice for those with hip, knee, back, and shoulder pains.
Wakefit XprertGRID Mattress– Here, underneath the top cover, there is a layer with air channels that provide better air circulation. Below that, there is a layer of memory foam followed by a layer of high-density foam. The mattress is less firm than the Dual Comfort mattress.
Wakefit Ortho Plus Mattress- This mattress uses superior quality memory foam and anti-bacterial fabric for better comfort and sanitation. It also has a premium-quality fabric cover at the bottom, which is durable and aesthetic. It comes with a 15-year warranty, while the two previous options we talked about come with just 10 years of warranty.
Wakefit 7 Zone Latex Mattress– The structure of this mattress is similar to the Dual Comfort Mattress. Just that, to improve temperature regulation, there is a top layer of latex foam.
Conclusion
Checking almost all boxes, Wakefit mattresses offer superior comfort at affordable pricing. Comparatively, brands like Sleepwell and Kurlon come with a more expensive price tag. All these make it a preferred choice for those who want a good balance of quality and affordability in their mattresses.
Was this post helpful?
Let us know if you liked the post. That's the only way we can improve.