Priced at around Rs. 9000, Philips PowerPro FC9352/01 is one of the best-selling vacuum cleaners in India. It comes with necessary attachments and a compact design that makes it an attractive option for those who require a versatile and powerful canister vacuum cleaner. With an aggregate user rating of 4.4/5, it looks quite promising too. Let us explore if it really lives up to the hype in terms of its performance, design, ease of use, noise, and other aspects.
Pros
Excellent suction performance for removing dust, small debris and pet hair.
Easy storage
Well-designed providing easy access to the accessories.
Cleans edges effectively.
Cons
Doesn't remove pile of large debris effectively.
16A plug makes it inaccessible for some people. Philips could have optimized power consumption to make it apt for 6A.
Noisy
Design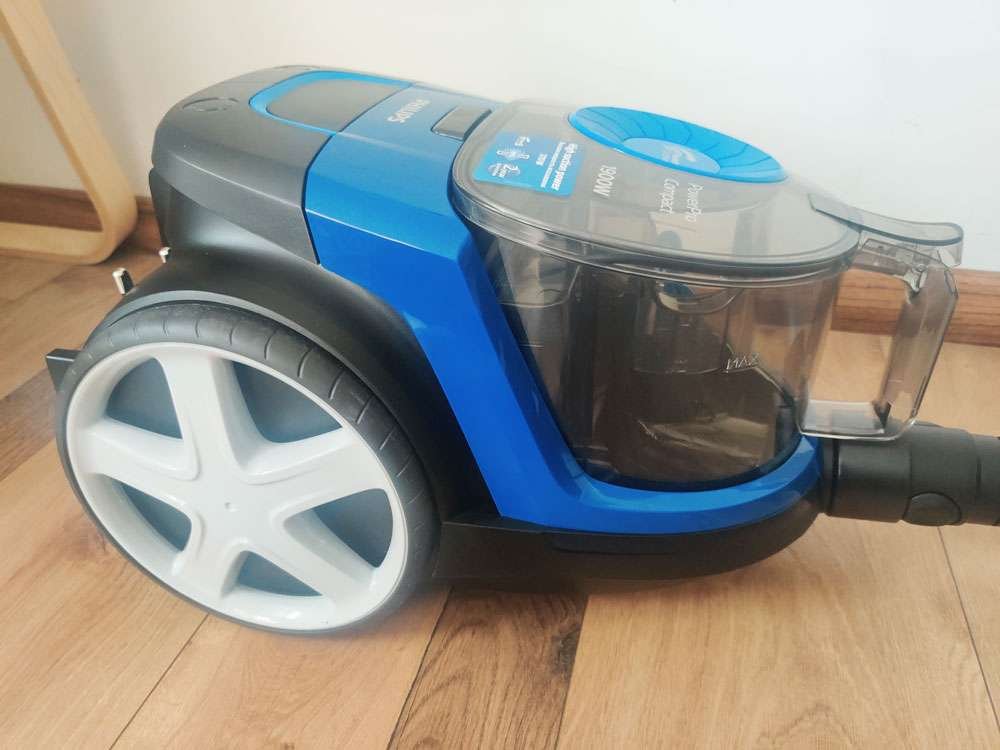 Weighing around 6 Kg, Philips PowerPro FC9352/01 is a compact vacuum cleaner. It is meticulously designed keeping in mind a regular user's behavior. For example, the accessories- crevice and brush tool are integrated into the vacuum cleaner in such a way that it is always within reach and easy to access.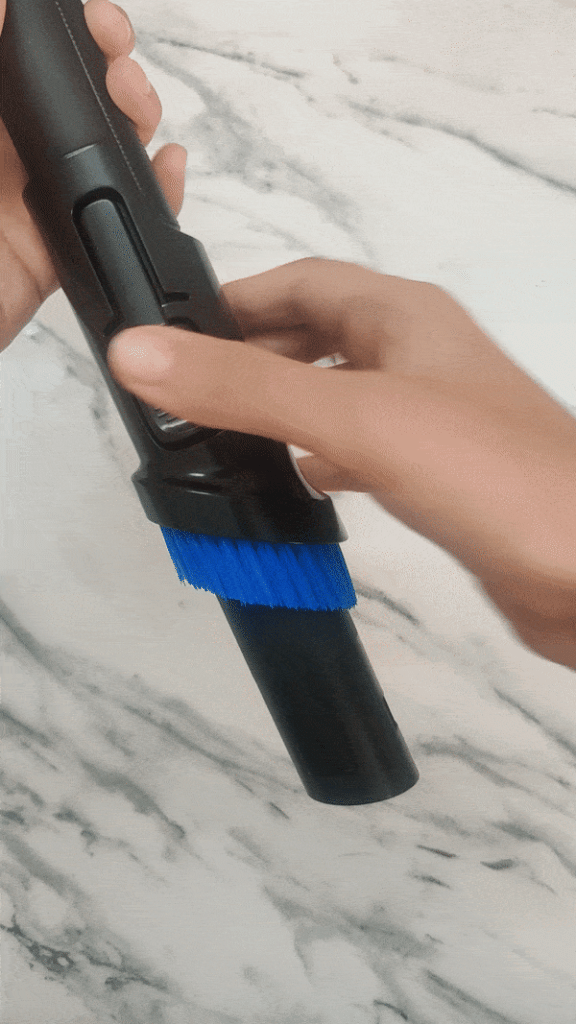 So while vacuuming the living room, if you see that there are cobwebs in the ceiling that needs to be cleaned, you can use the crevice tool in the wand immediately and attend to it. In most other vacuum cleaners, as there are no such storage options for tools, you will have to dig into the cupboard to find the necessary tools. In all likelihood, you would put away cleaning the cobwebs rather than searching for the tools.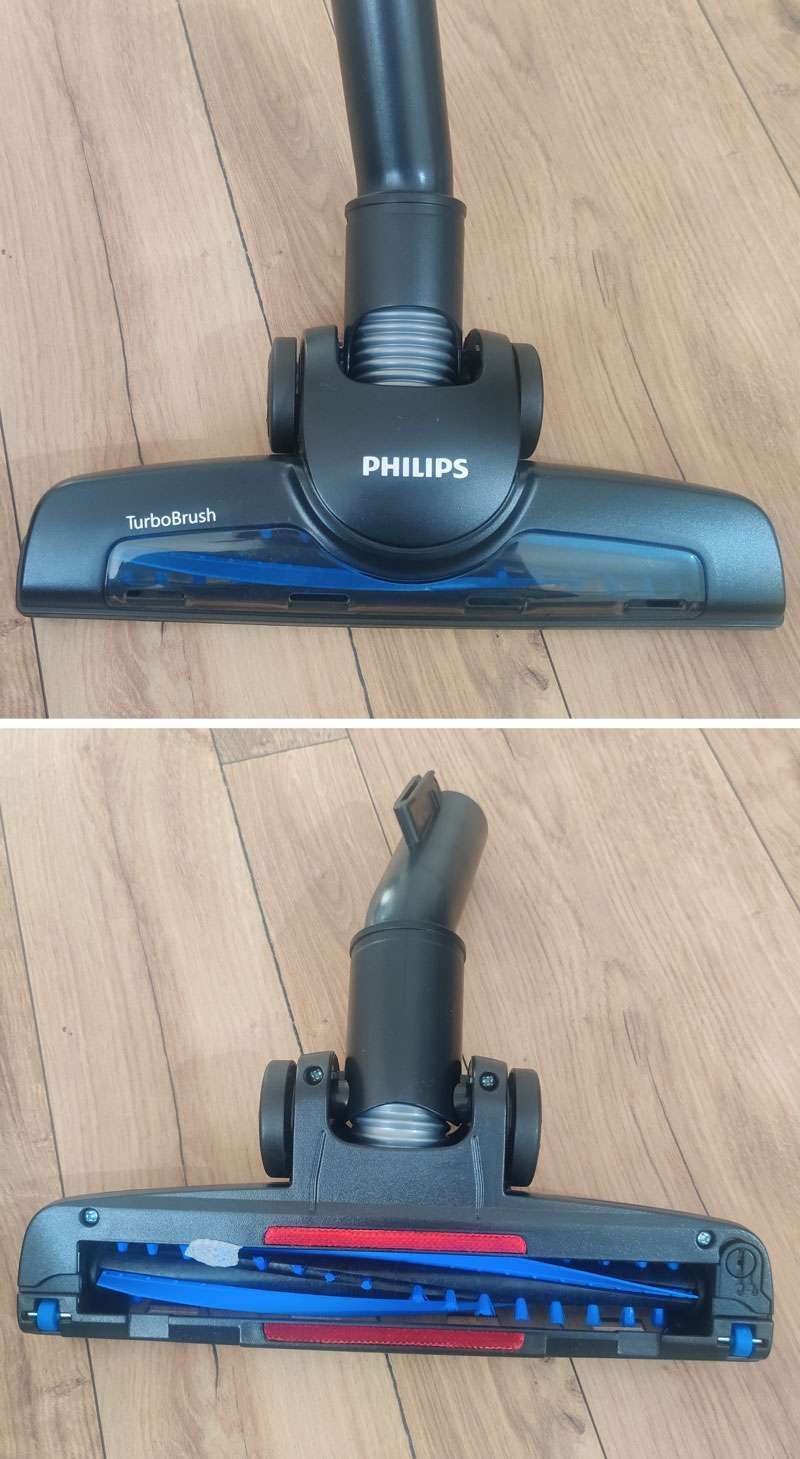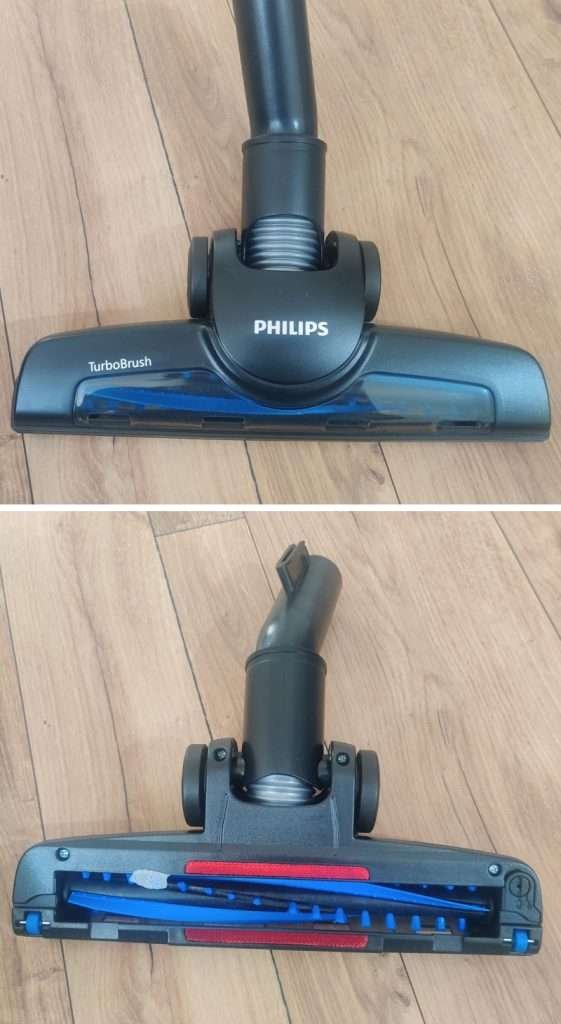 The Philips PowerPro FC9352/01 comes with 2 heads- one for hard floors like tiles and wooden flooring. The other is a motorized brush for carpets and for cleaning pet hair and fur. The brush rotates pulling in the hair and slightly agitating the carpets to get rid of the dust and dirt.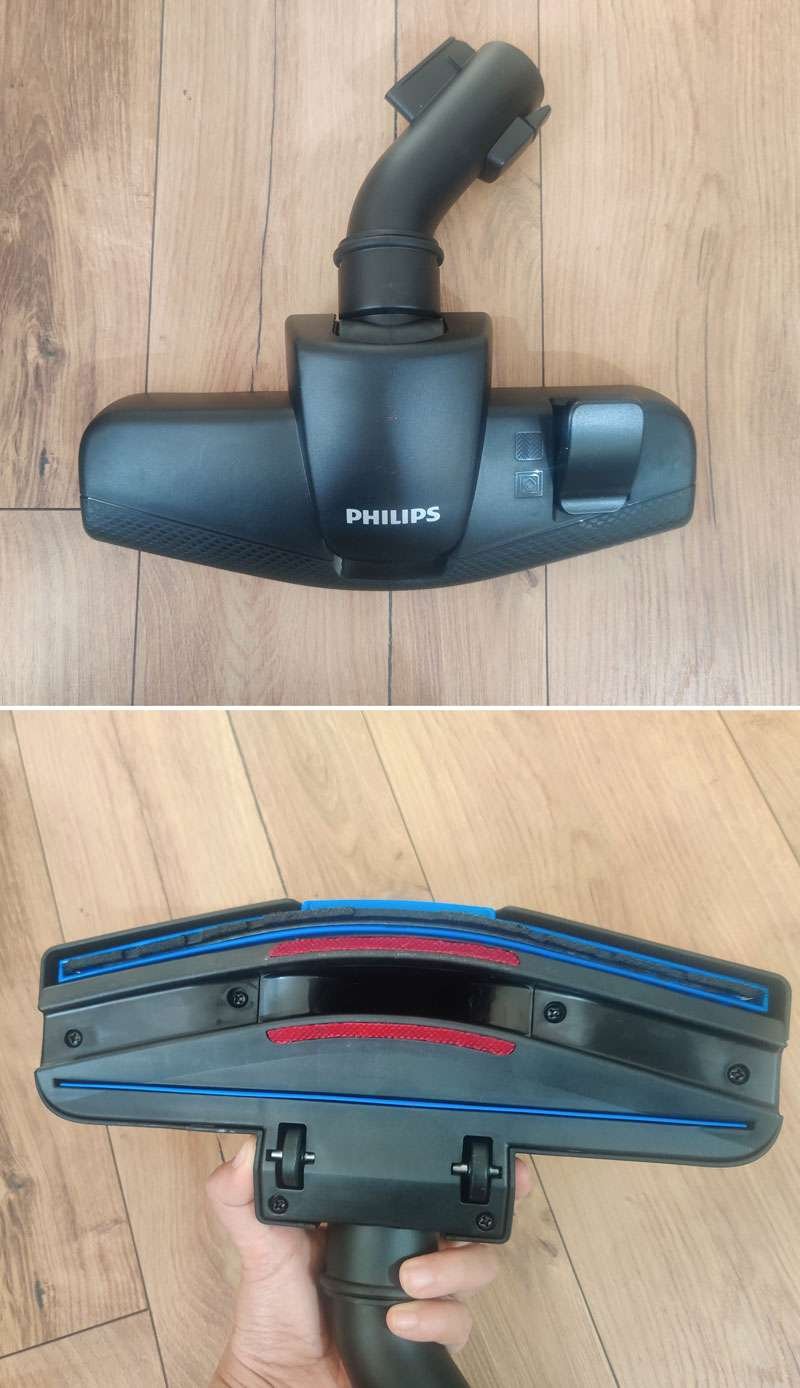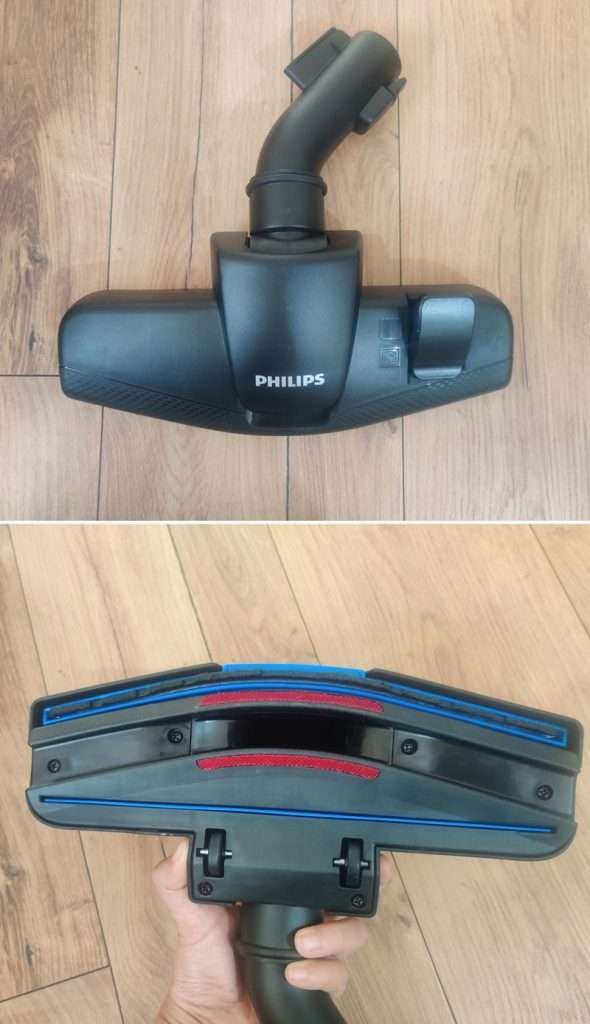 The main body has two huge wheels at the sides and one rotating wheel at the center which makes it easy to maneuver. The cord measures 6 metres. A drawback of this model is that it uses a 16A plug. This is because it consumes 1900 watts of power. So if you do not have 16A plug points at different parts of your home, you better not buy this vacuum cleaner. A 6 metre long cord is usually not enough to reach all parts of the house from a single plug point.
The unit is designed to be easy to use. You can easily eject the dust bowl from the body and discard the collected dust and debris. It has an EPA filter that captures even minute dust and lets only clean air back into the room. Further, the steel wand can be extended to easily reach the ceiling.
Related reading: 6 Best Vacuum Cleaners In India
Performance
We had a two-prong approach to test the performance of the vacuum cleaner. We used it for several weeks in a regular Indian home with two small kids, which means there is no dearth of food debris, dust, and dirt on the floor. Then, to make a quantitative comparison between different models, we spread different types of things on the floor to clean them up using the vacuum cleaner. We used soil; rice and pencil shards to replicate larger debris; pet hair, which we got from a local groomer, and human hair for the tests. Then, we spread a specific quantity of these on wooden flooring, tiles, carpet, and upholstery. After this, we ran the vacuum head over the debris once and checked how much it was capable of vacuuming. This helps us make a fair comparison between different models.
Soil, Dust, and Smaller Debris
The vacuum cleaner is pretty effective at cleaning dust, soil, and such smaller debris. We cleaned the hard floors using the regular head and the carpet using the turbo brush. In both cases, the vacuum cleaner did a thorough job. We had spread about 10 gm of soil on each surface and the vacuum cleaner sucked it all without leaving any behind. Note that you do need to use the right floor brush for effective cleaning. Upon using the regular floor brush on the carpet, the results were not satisfactory as a lot of minute particles were left behind embedded on the carpet.
Pet Hair
First of all, do not use the regular floor brush for pet hair. The results will be pathetic. But, the roller brush does an outstanding work of removing pet hair from all types of surfaces. Be it hard floor like tiles or wooden floor or carpets, the roller brush removes pet hair effectively.
We spread about 2 gm of pet hair sourced from a local groomer and spread it on various surfaces and the roller brush did an excellent job. However, at times, when cleaning large chunks of hair, it may get entangled in the bristles of the roller brush which you may have to manually clean up.
Larger Debris
We have found that compared to the regular brush, the roller brush is more effective at cleaning larger debris. The regular brush mostly pushed away the debris. So, you have to lift and place the floor brush on top of the debris for removing it. But, the roller brush was able to remove larger debris like rice effectively. It cleaned up 90-95% of rice at the first go from both carpets and hard floor.
However, it is important to note that the roller brush on this vacuum cleaner may not be suitable for regular use on hard floors. This is because the brush scatters away sand and other fine dust particles instead of removing them.
It is worth mentioning that the vacuum cleaner performs well when it comes across individual larger debris items, rather than a substantial pile. In such cases, it is able to effectively remove them without any issues. Therefore, while it may be considered a minor drawback, it shouldn't be a major concern when considering this vacuum cleaner for your needs.
Accessories
You get two accessories with the Philips Powerpro vacuum cleaner. A round brush and a crevice tool. The steel pipe has a telescopic extension. So, you can extend it to easily vacuum clean the ceilings.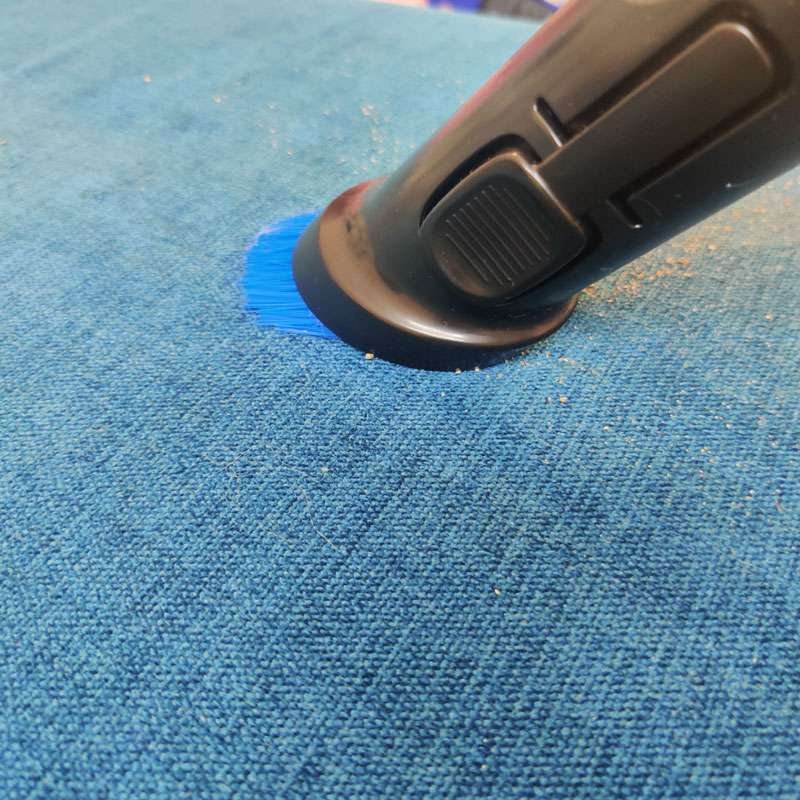 The round brush is useful in cleaning upholstery, shelves, and other flat surfaces. Using it, we were able to effectively remove pet hair, soil and other debris from the upholstery. It is also extremely effective at cleaning dusty shelves.
The crevice tool is useful in cleaning the edges of shelves, behind the chairs, and for removing cobwebs from the ceiling. As it has a narrow opening, the suction power is higher through the crevice tool, resulting in a much louder noise, but better effectiveness too.
How Well It Performs on Different Types of Flooring
The vacuum cleaner, as mentioned earlier, comes with 2 different floor brushes for cleaning hard surfaces and carpets. This is quite practical and useful. The roller brush can effectively pick up pet hair, dust, and sand from low-pile carpets. However, both aren't that effective at cleaning up larger debris.
You may also like: 6 Vacuum Cleaner Hacks That Work
Noise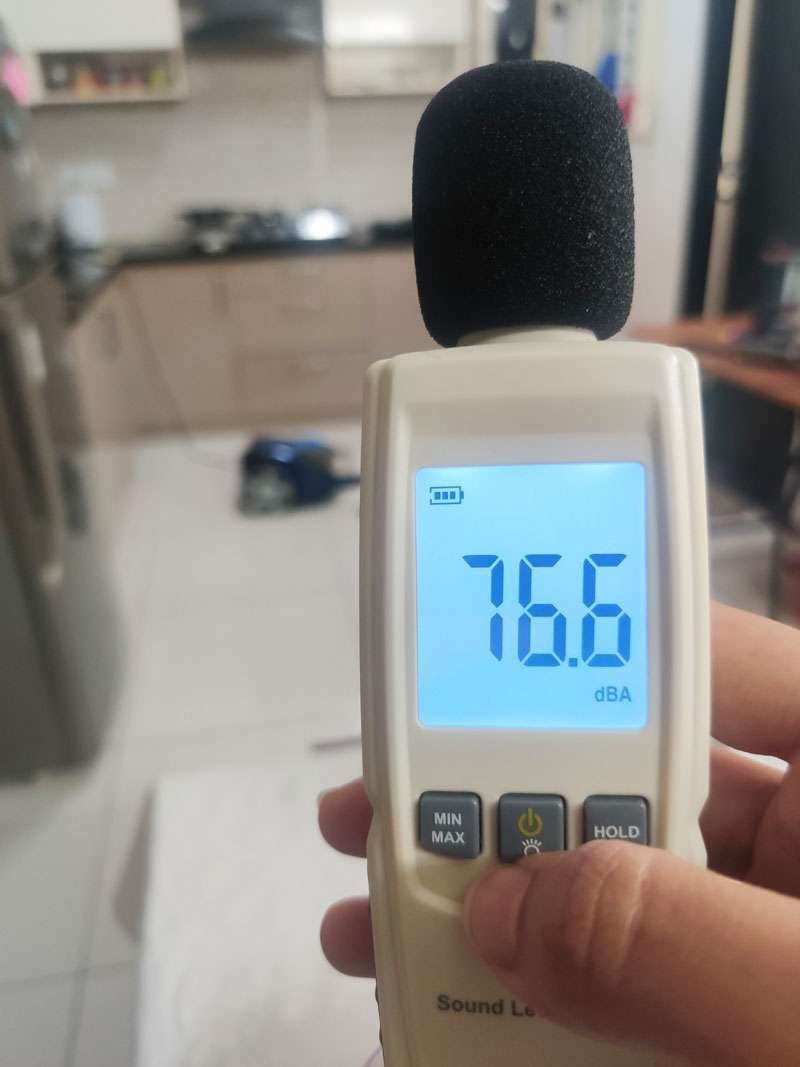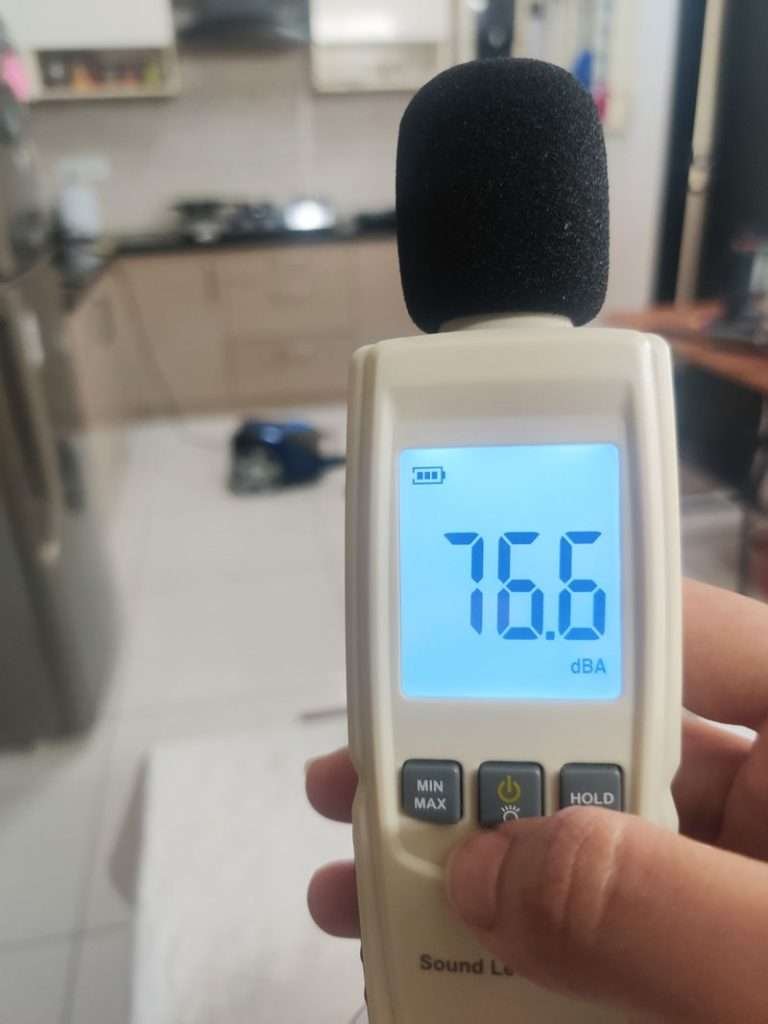 The vacuum cleaner is fairly noisy. When we measured the noise keeping a decibel meter adjacent to the vacuum cleaner, it measured around 86dB. But at 10 feet distance, the noise was just around 76dB.
Also, note that the vacuum cleaner's body and cord heats up when used for an extended duration. This isn't anything you need to worry about as it is common with devices using high-power motors.
Ease of Cleaning the Dust Bowl
Being a bagless vacuum cleaner, it is fairly easy to clean the dust bowl. The bowl is completely plastic with a filter at the side. You can remove the filter and clean it using water. Similarly, you can wash the dust bowl too with water. Just that you need to ensure the filter and the bowl are thoroughly dry before using.
Using it in a 1200 Sq.Ft apartment, it took us about 4 days to fill the dust bowl to the maximum. This may of course vary depending on the level of dust and size of the house.
Ease of Storage
I still remember our first vacuum cleaner. It was grey in colour and always stored under the bed. The hose is away from the body and occupying a lot of space. But, Philips has cleverly designed the vacuum cleaner so that you can store it away neatly. The hose and the steel wand locks vertically on the body, as shown in the picture. So, it stays neatly in the corner of your room without being an eye sore.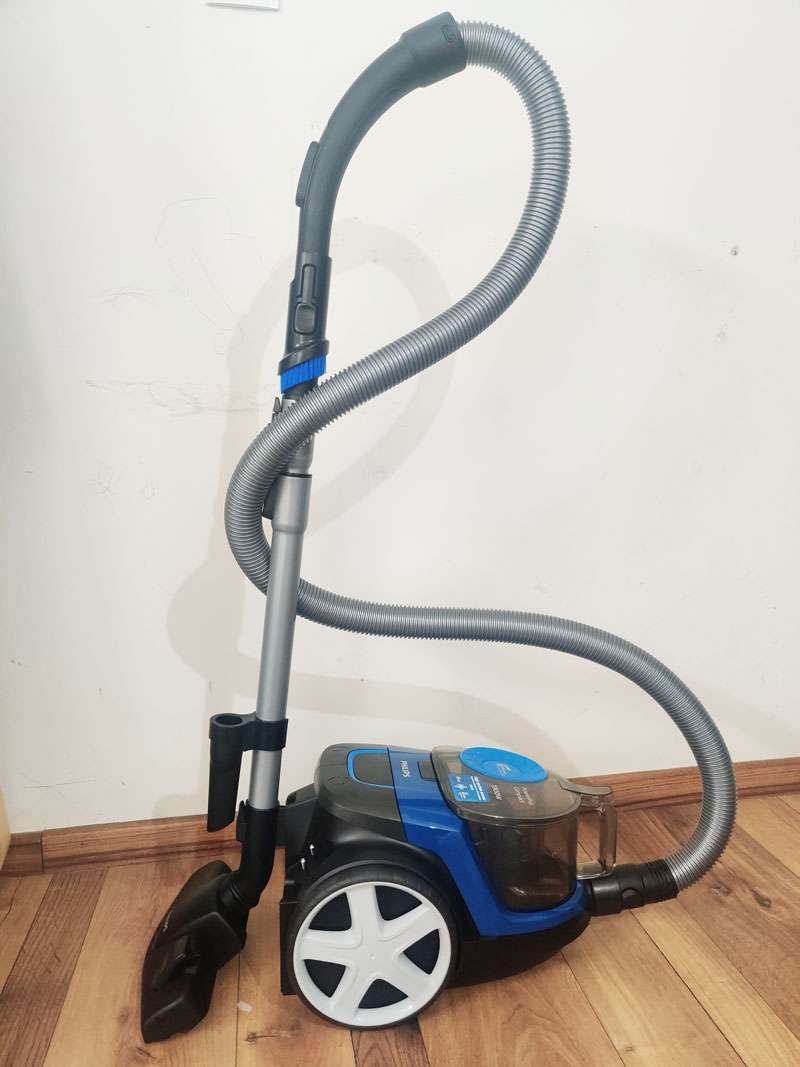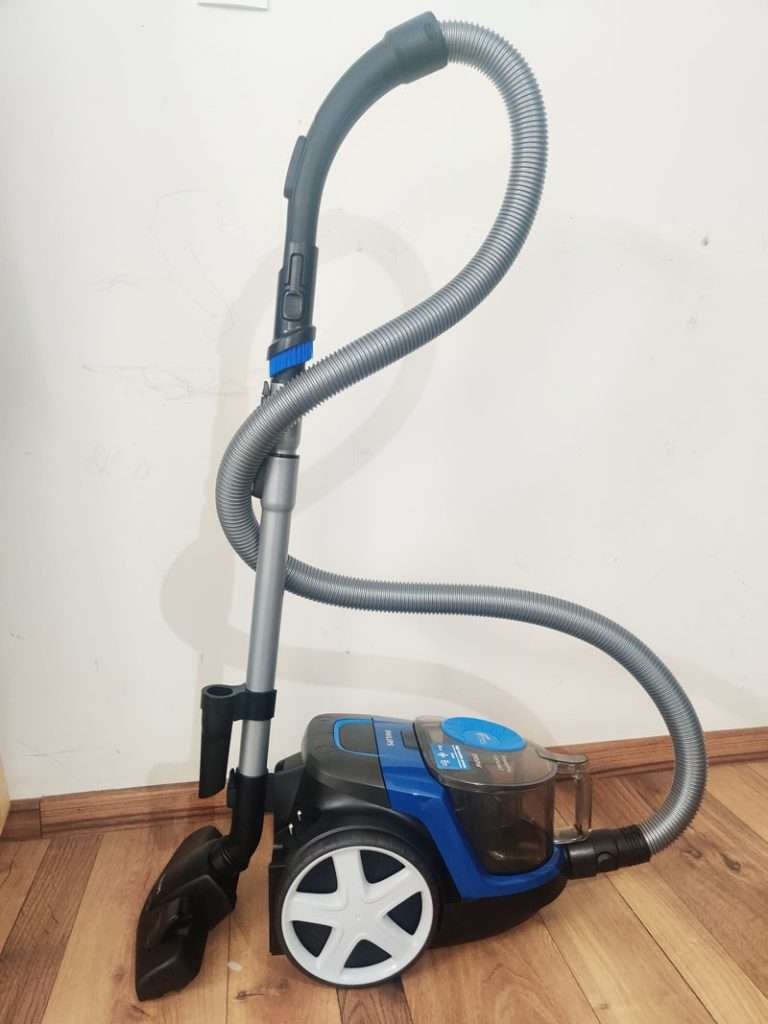 Built Quality
The main aspect that differentiates a cheap vacuum cleaner from an expensive one is its built quality. Here, Philips Powerpro excels. The large wheels, sturdy body, and easy-to-clean reusable dust bowl are all major positives. The wand is made of metal and they don't get scratched easily. In cheaper models, they are made of plastic and often develops a lot of scratch and even breaks after a few years of use.
As it is built of sturdier materials, it is comparatively heavier than other cheaper options like Inalsa Spruce and Eureka Forbes Quick Clean DX. So, it may take a toll on your hands and shoulders after continuous use. However, the positive is that it lasts for several years without much problem, while Inalsa and Eureka Forbes Quick Clean tend to develop problems within 2-3 years of usage.
Observations From Daily Use
Our observation using it in a 1200 sq.ft apartment was quite positive. It was able to effectively remove pet hair, human hair, food crumbs and other dust and debris. The vacuum cleaner also cleans the edges and corners of the rooms too without any fuss. Being a canister vacuum cleaner, you have to tug around the body all through the house and this definitely isn't as pleasant as having a cordless vacuum cleaner. But, as Philips Powerpro has huge wheels, they are comparatively easier to move.
The noise level is high. So you are not likely to hear other conversations or sometimes your phone ringing when operating the vacuum cleaner. The dust bowl fills to around 25% upon using it once. So, you may have to clean it once every 4-5 days or earlier.
Is It Apt For Those With Allergies?
As you know, vacuum cleaners suction in air along with dust and debris. This air goes out through the vent behind the body. Ideally, the filter behind the dust bowl captures dust and lets only clean air outside. But, if the quality of the filter is poor, dust will recirculate back into the room. This could trigger allergy attacks in sensitive individuals.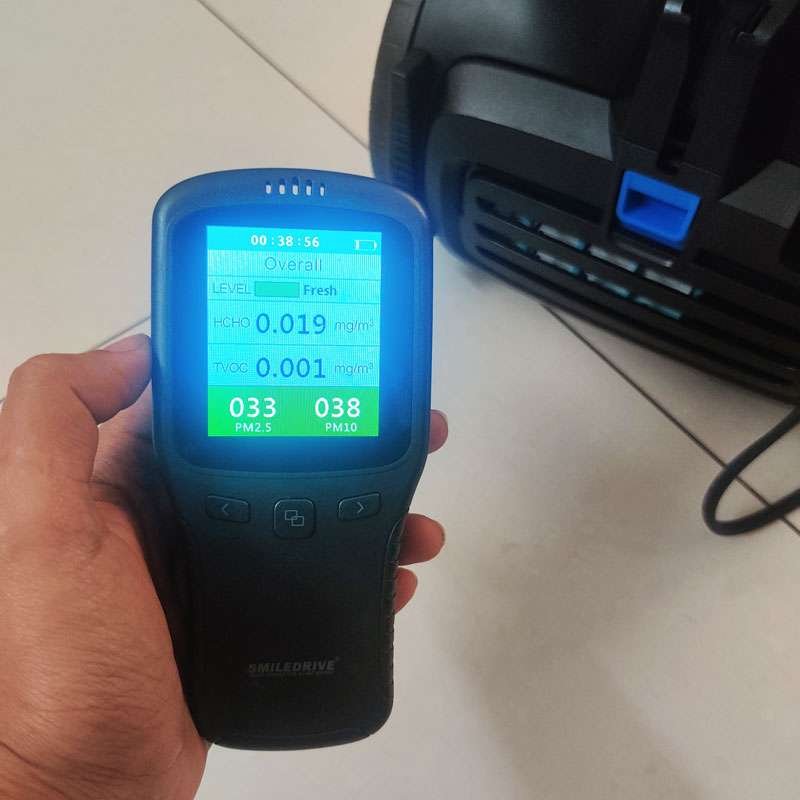 To understand whether the vacuum cleaner causes such a problem, we measured the PM 2.5 level using an air quality monitor. The air quality was unaffected while operating the vacuum cleaner. Hence, it would be an ideal option for those with dust allergies.
Conclusion
Overall, with a fairly powerful suction capacity, thoughtful design and effective cleaning capacity, the Philips PowerPro is an apt choice for those who need a versatile vacuum cleaner. It is adept at removing dust and pet hair, but not the best at removing larger debris. Even so, we were satisfied using it on a daily basis around the house. This makes it an option we highly recommend.