Hestia as a brand focuses on selling appliances that help lead a healthier life. In line with their vision, Hestia has introduced a range of air fryers. Hestia Nutriview is one of their offerings which comes with an innovative design and features suitable for Indian cooking. Through this hands-on review, let us take a look at how well it performs in cooking various types of food.
Design
Hestia Nutriview Digital Air Fryer comes with a 5-litre capacity and has a heating element of 1100 watts. Compared to other options from Inalsa and Philips, it has a lower wattage, which results in a longer cooking time.
The design of the air fryer is unique. While most air fryers have a basket with a handle that has to be pulled out, Hestia has a top load design whereby it has a transparent lid which can be lifted to access the food basket. The heating element is attached to the lid. The unit starts working only if the basket is properly in place. Yet another advantage is that it has memory function. So if in case power goes off in between, the air fryer will resume from where it stopped.
The food basket has narrow handles at the sides to take out the food. It gets slightly warm when the air fryer is run for 20 minutes or so. Even so, you can hold it. As the handles are on opposite sides like a typical Kadai, it is easier to toss food like french fries and vegetables. But just like Inalsa Nutrifry, the food basket has a tray on which the food items are placed and it may move off from place when you toss the food.
Yet another positive of the Hestia Nutriview air fryer is that it is compact in design. It takes just around 28 x 32 cm space on your countertop. The food tray inside has a diameter of 21cm, just like Inalsa Nutrifry.
The digital interface at the top of the lid looks sophisticated. You can set the temperature and duration and choose the preset functions using the interface. It also has a time delay function for up to an hour- something that most other air fryers don't have.
Related reading: Best Air Fryer In India
Preset Functions
You can set the temperature of the air fryer from 80 to 200 °C and the duration from 1 to 60 minutes. The manual and the product description on the e-commerce platforms mention that the temperature can be set up to 210 °C. But, that is not accurate.
There are 8 preset functions in the air fryer. Let us take a look at the temperature and duration of each preset.
| Preset Function | Temperature | Duration |
| --- | --- | --- |
| Defrost | 115 °C | 12 min |
| Fries | 200 °C | 14 min |
| Paneer Tikka | 200 °C | 10 min |
| Samosa | 180 °C | 25 min |
| Pizza | 180 °C | 15 min |
| Nuggets | 180 °C | 20 min |
| Chicken Tikka | 180 °C | 40 min |
| Muffins | 160 °C | 25 min |
The air fryer has a time delay function too which can be set for 30 minutes.
Cooking Performance
The air fryer's heating element works on and off at a constant interval of around 10 seconds. To check the cooking performance of the Hestia Nutriview, we tried a variety of food items. In addition to the usual set of food that we try, we also checked out the preset functions by making pizza and paneer tikka.
Chicken Fry
To make chicken fry, we used half a kg of chicken that we marinated overnight. Then, we used the chicken tikka preset which runs the air fryer at 180 °C for 40 minutes. It is important that you preheat the air fryer, else, the air fryer may take a longer duration for cooking. You would also run the risk of drying out the chicken.
After cooking for 25 minutes on one side, though cooked, it did not brown as we would have liked. Even so, we flipped over the pieces and ran the air fryer for the rest 15 minutes. After 40 minutes, the chicken was cooked. But it wasn't browned. So, we ran the air fryer at 200 °C for 5 minutes on each side.
After 50 minutes of total cooking, the chicken was browned. But not as well as what we got from Inalsa and Philips. The inside was close to getting dry too.
Fish Fry
To make fish fry, we set the air fryer at 200 C for 12 minutes. After 8 minutes, we flipped it over to the other side. Though it was cooked, it was not browned at all. Philips was the only option that browned the fish at least a little bit. Other options like Inalsa and Hestia failed to achieve that much desired browning.
French Fries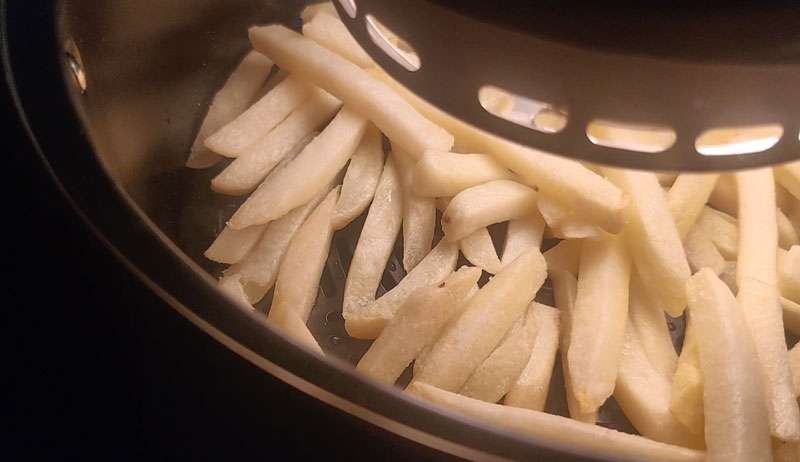 While most air fryers have separate functions for frozen and fresh air fryers, Hestia Nutriview has just one that sets the temperature to 200 °C for 14 minutes. We used 400 gm of frozen french fries for testing how well it makes french fries. As always, we drizzled around a tablespoon of oil and mixed it thoroughly before loading it into the air fryer. We paused and tossed around the fries every 4-5 minutes to cook them uniformly.
After 14 minutes, it was cooked thoroughly and soft inside. But, the surface wasn't as crunchy as we would have liked. So, we ran it for 4 more minutes. It was still not as crunchy as we would have liked.
Vegetables
To make stir-fried vegetables, we drizzled a tablespoon of olive oil and garlic paste on sliced potatoes, carrots, broccoli, beans and cauliflower. We set it at 200 °C for 20 minutes, tossing the vegetables in between.
Frozen Samosa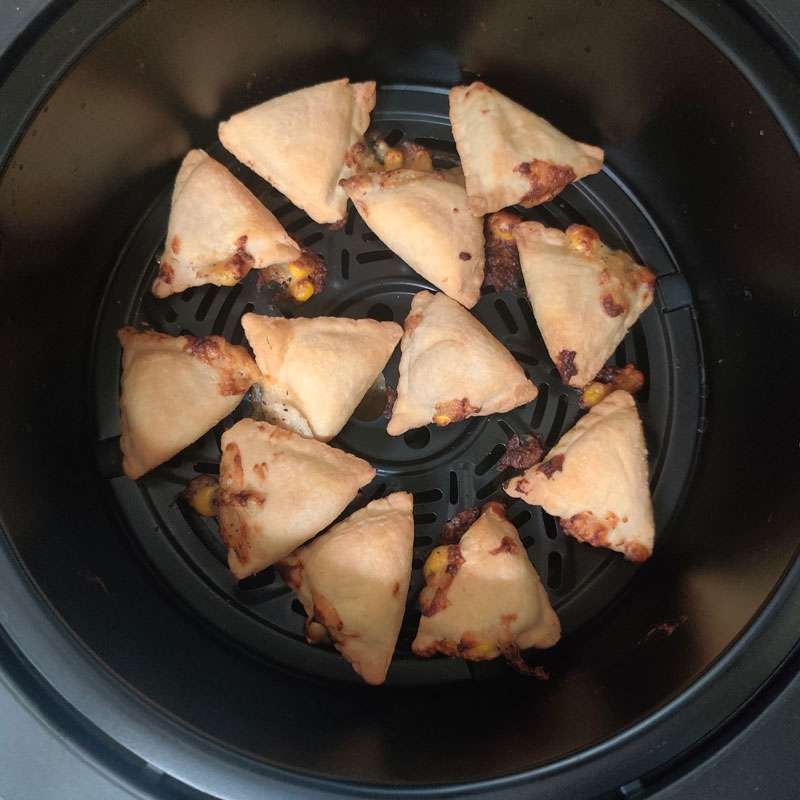 We used Mc Cains frozen mini samosa with cheese and corn filling for trying the Samosa preset function in the air fryer. First, we preheated the air fryer at 190 °C for 2 minutes. We then applied a thin layer of oil using a silicone brush and started the air fryer. After 13 minutes, one side was browned. So flipped to the other side and again brushed oil on the surface.
The results were satisfactory. The samosa was crunchy and flaky and the inside was cooked through. Overall, the results were pretty much similar to what we got from Inalsa and Philips.
Baking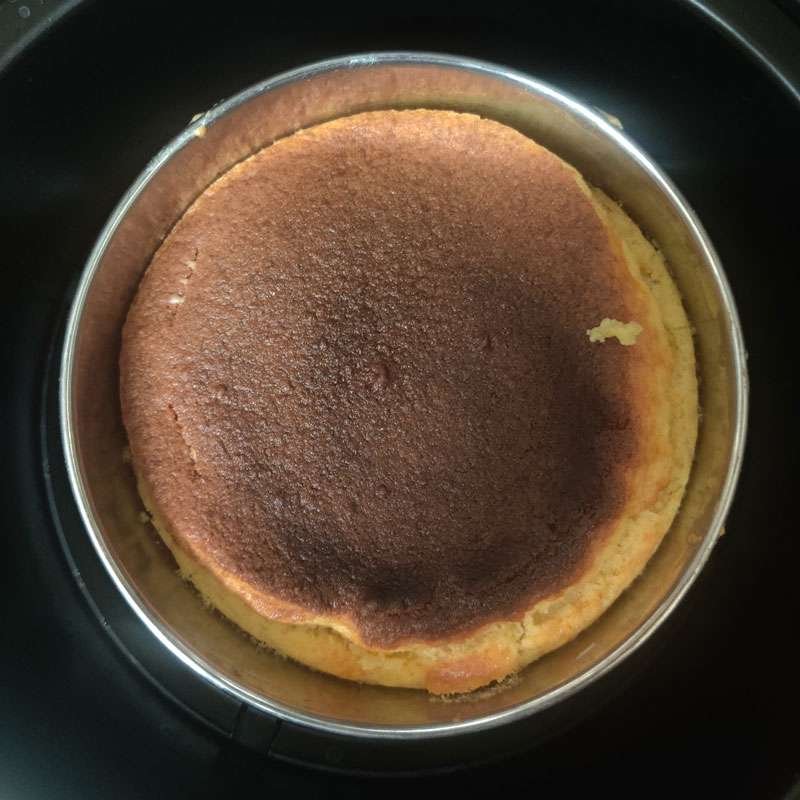 To bake a cake, we used Pilsbury cake mix and added water, egg and butter into it and placed the cake pan into the air fryer after preheating for 10 minutes.
Inalsa Nutrifry which gave us the perfect fluffy cake takes 35 minutes at 160 °C for baking the cake. Hestia Nutriview's baking preset is for muffins/ cupcakes and not for cakes. It calls for just 25 minutes of baking time. As cupcakes are smaller in size, 25 minutes would be enough. But that wouldn't be the case for a whole cake.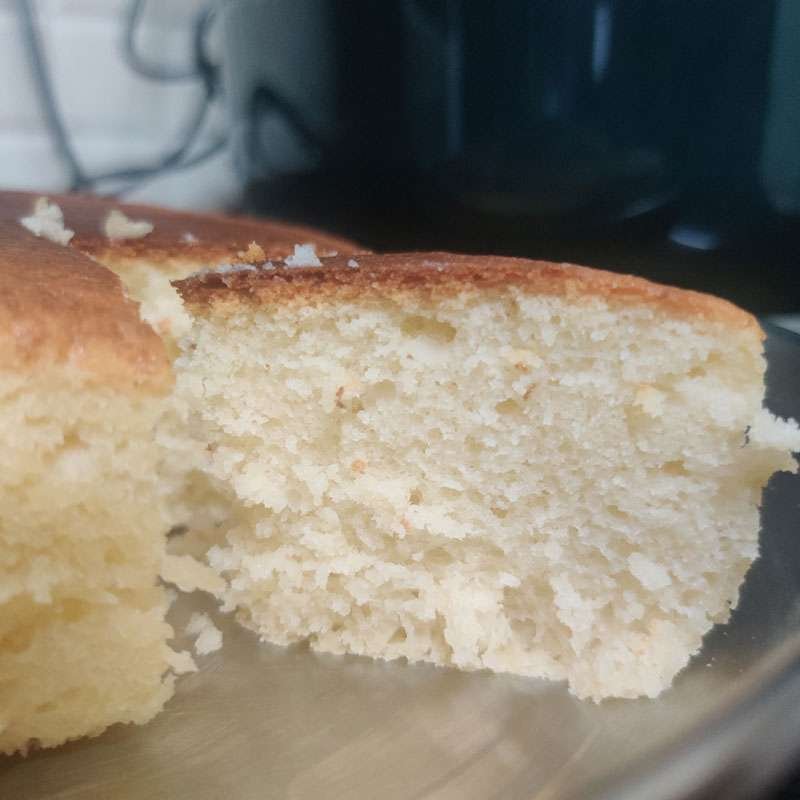 We initially set the duration to 35 minutes. Though the surface was brown, the inside was not cooked properly. So, we set the temperature to 150 °C and ran it for another 10 minutes, after which the cake was cooked properly. However, the crust was almost burnt as the heating element is closer to the food in the Hestia Nutriview. The insides were however cooked properly.
So, we would recommend that you make cupcakes or use a flatter cake mould while making cakes in Hestia Nutri-view.
Ease of Use
The air fryer's transparent lid is one of its USPs. This becomes especially helpful when you are cooking without using the preset functions or when you are cooking smaller quantities of ingredients.
The interface is easy to use and the digital panel is highly responsive. But when opening the lid, you need to be careful as it gets extremely hot. So, you may scald yourself if you are not careful.
The side handles of the basket, though narrow is helpful when you need to toss around food. It gets warm while cooking. But not excessively hot that you cannot touch it.
Just like Inalsa's tray, it too has rubber beading pieces at the edges which hold it in place. But, the tray moves when you try to toss around food like french fries or stir-fried vegetables.
Overall, the design is different. It is compact and you can know the progress of the cooking. But otherwise, it is just like any other air fryer. Easy, convenient and hands-free.
Ease of Cleaning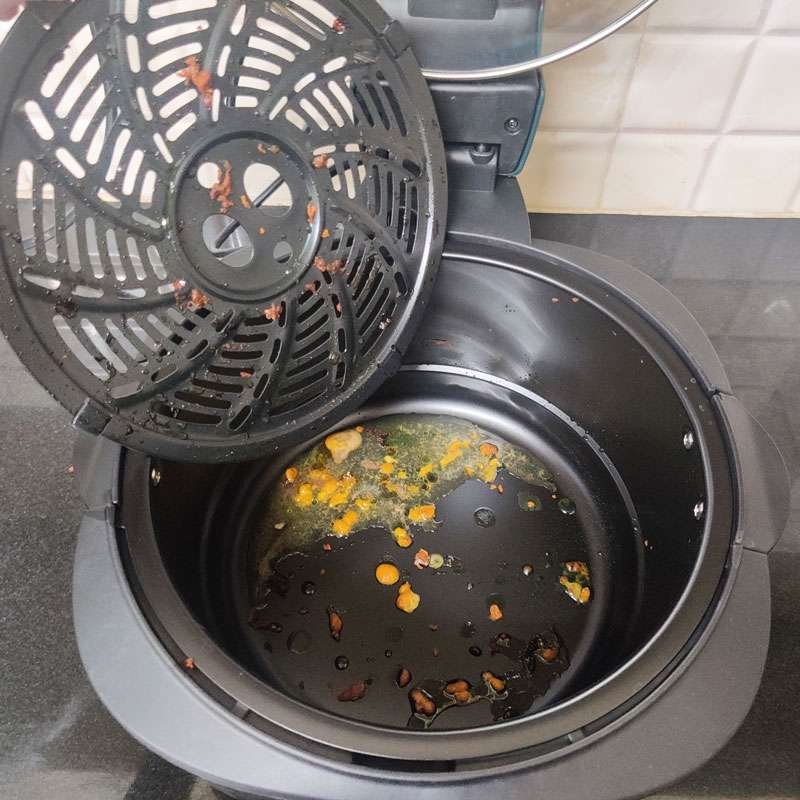 The food basket and tray are easy to clean, just like any other air fryer. You just need to soak it in soapy water for a while and clean it using a soft sponge. Avoid using steel wool or cleaning in a dishwasher as it could damage the nonstick coating.
Flaws That Could Have Been Better
For better cooking performance, the air fryer could have had a higher wattage. Also, if the handles of the basket were larger, it would have been easier to toss around the food.
Other Models From Hestia Appliances
In addition to Hestia Nutri-view, they sell two more models of air fryers. The first is the 4-litre Hestia Nutriwave which comes with a 1200-watt heating element. The preset functions are almost the same in both. In addition, they sell a 12-litre air fryer oven with 1800 watt heating element which has a rotisserie function too.
Conclusion
The main advantages of the Hestia Nutriview digital air fryer are its budget-friendly pricing, fairly good cooking performance and aesthetic design. Also, as the name suggests, you can see the cooking in progress. If budget is a concern and you need a medium-sized air fryer for a nuclear family, then Hestia Nutriview is definitely right for you. Otherwise, we would recommend that you opt for Philips HL9252/00 or Inalsa Nutrifry.