Inalsa is a D2C ( Direct To Consumer) brand that is gaining immense popularity owing to its budget-friendly offerings. The Inalsa Nutrifry Digital Air Fryer is one such appliance that is among the best sellers in leading e-commerce platforms. So how well does it perform compared to other options? Is it easy to use and clean? Let us explore this in detail through this hands-on review.
Design
The exteriors of the Inalsa Nutrifry Digital Air Fryer are pretty much similar to Philips HL9252. It has a boxy design with a black glossy finish. They are both prone to smudges.
The air fryer is controlled through a digital touch screen which has power button, temperature and time controls and preset functions. We will look at the preset functions in detail in the next section.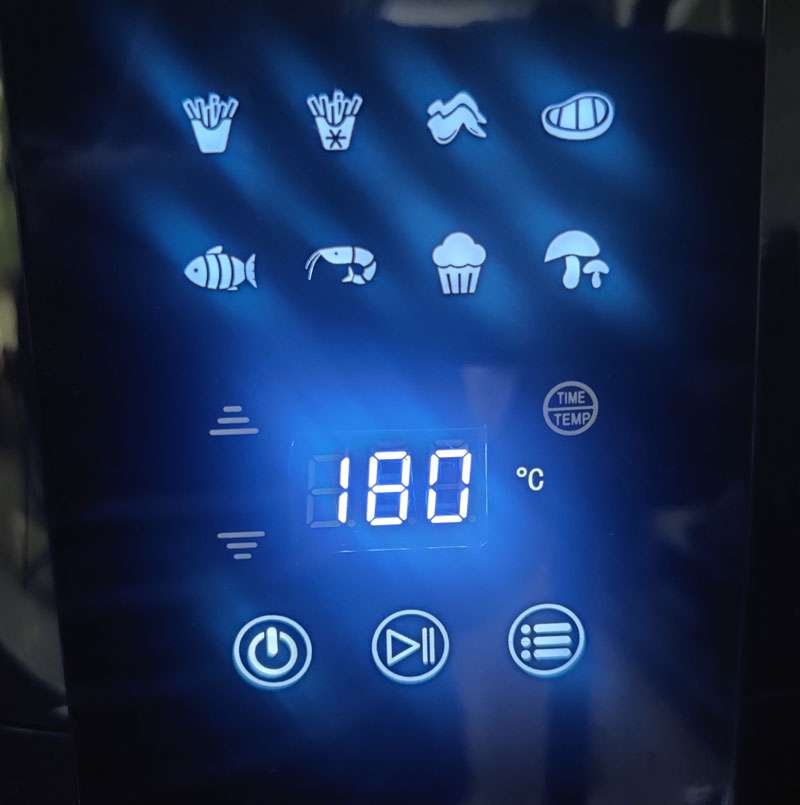 The food basket of the air fryer is circular in shape, measuring around 21 cm in diameter, which is larger than Philips HL9252. Inside, there is a tray on which food can be kept and the grease drips down into the basket while frying. In Philips HL9252, the handle is attached to the food tray and not the basket. So, you can eject and toss around food like french fries easily. But in Inalsa, the food tray is just a thin perforated rack that is placed an inch from the bottom surface. It is held in place with rubber beadings along the edge. When tossing food in the middle of cooking, the tray comes out of place, which is a hassle.
Related reading: Best Air Fryers In India
Preset Functions
The Inalsa Nutrifry comes with a 1400 watt heating element. Its temperature can be set from 40 to 200 °C in increments of 10°C and the timer can be set up to 60 minutes. In addition, it has 8 preset functions. The manual does not give detailed information about the presets. We had to check the product description given on e-commerce sites to find what exactly they stand for.
The presets are french fries, frozen french fries, chops, steak, fish, prawns, baking and roasting. The duration and temperature of each preset function is as follows-
| Preset Function | Duration | Temperature |
| --- | --- | --- |
| French Fries | 10 mins | 200 °C |
| Frozen French Fries | 12 mins | 180 °C |
| Chops | 12 mins | 180 °C |
| Steak | 12 mins | 180 °C |
| Fish | 8 min | 180 °C |
| Prawns | 5 min | 160 °C |
| Baking | 8 min | 160 °C |
| Roasting | 7 min | 160 °C |
The preset functions of the air fryer don't really perform to expectations. As you can see, frozen fries, chops and steak are all cooked at the same temperature and duration. Anyone who cooks knows that the temperature and duration for fries won't be sufficient for cooking steaks which are a lot denser.
So, with Inalsa Nutrifry, you will have to go freestyle and adjust the temperature and duration to cook food properly. Fortunately, Inalsa provides a recipe booklet that gives a good idea about the time and temperature settings for various food items.
Cooking Performance
As mentioned, in Inalsa Nutrifry, it is best to adjust the time and temperature depending on the food you cook, rather than depending on preset functions. Even then, you notice that the air fryer takes more time compared to Philips HL9252. We have tried cooking a variety of foods in the air fryer. And this is what we found.
Chicken Fry
As there was no preset function for chicken fry or drumsticks, we decided to air fry it at 180 °C for 22 minutes. This is the preset function found in Philips air fryer of similar capacity.
Just like Philips, Inalsa too doesn't have an alarm or setting whereby it alerts to flip food in the middle of the cooking cycle. Hence, you have to set an alarm on your phone to alert you.
We were able to fry half a kg of chicken cut in small pieces at a go in the air fryer. We drizzled a tablespoon of oil on the chicken. When we checked the chicken at the 11-minute mark, it wasn't seared at all. Hence, we had to continue further. Only after 20 minutes was it browned properly. Then, we flipped and let it cook for 13 minutes after which it was seared to perfection. The flip side cooks quicker because heat circulates from the coil at the top through the sides to the bottom. So, the bottom side gets cooked in the first 20 minutes but is not browned. After 33 minutes, it was browned and cooked perfectly.
The chicken had a crispy surface and was soft and succulent inside. Even after leaving it for 2-3 hours, the chicken retained its succulence and did not get dried. Overall, we were quite delighted at its performance.
Fish Fry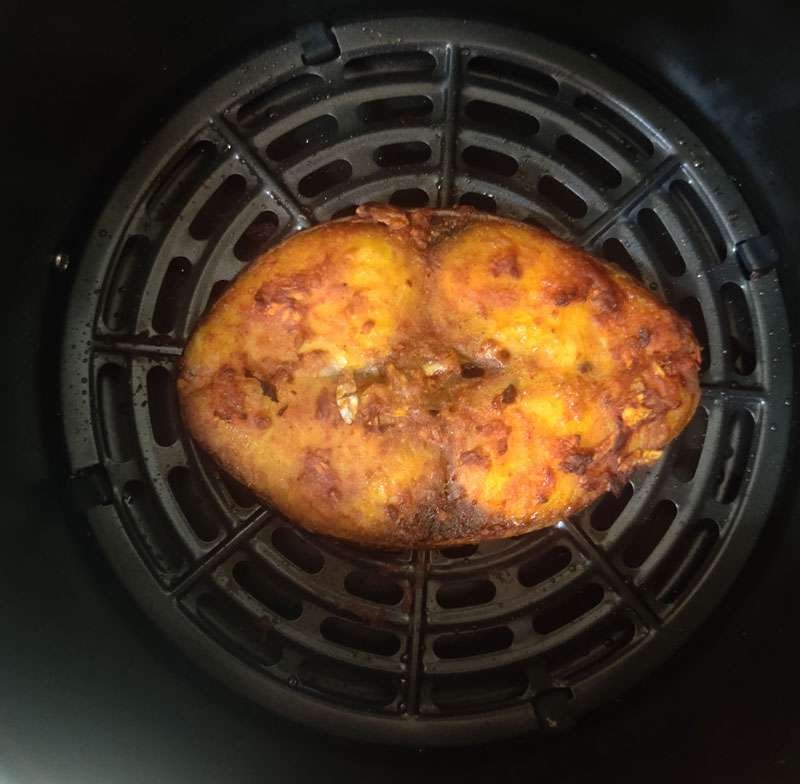 We tried frying a large slice of seerfish that was marinated with ginger garlic paste, chilly, turmeric, garam masala and salt. The preset function for fish was enough to cook it. But, the surface was not browned like what we could get with chicken. We tried further frying it at 200 °C for another 2 minutes on each side for searing the surface. But still it wasn't as browned as we would have liked it to be. That being said, the inside was cooked perfectly retaining the moisture and succulence of the fish.
Compared to pan-fried fish that retains crispy exteriors, air-fried fish is a letdown. But of course, with minimal oil, air-fried fish is the healthier way to go.
French Fries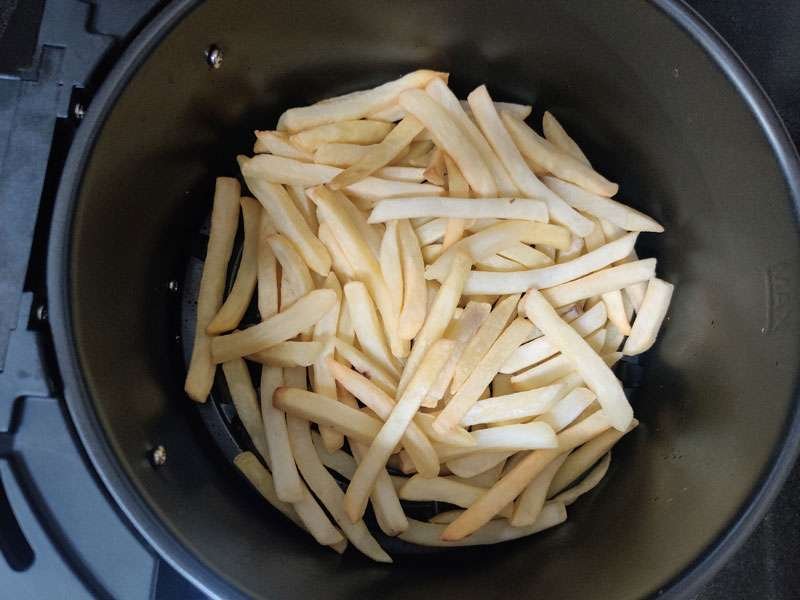 To standardize the performance, we used McCain's frozen french fries for our tests. The preset function runs the air fryer at 180 °C for 12 minutes. You have to drizzle 1-2 tablespoons of oil to cook the fries properly.
We tried making 400 gms of french fries. After 6 minutes, we tossed the fries so that it gets cooked uniformly. As mentioned by many users in the user review, the tray at the bottom gets displaced in the process, which is a hassle.
After 12 minutes, we found that it was not cooked as uniform as we would have liked it to be. While some pieces had a crispy surface and were soft inside, many did not form the crispy surface we desire. We cooked it for a few more minutes and it got a tad better. But even then, it is not as uniform as what you get from Philips.
Vegetables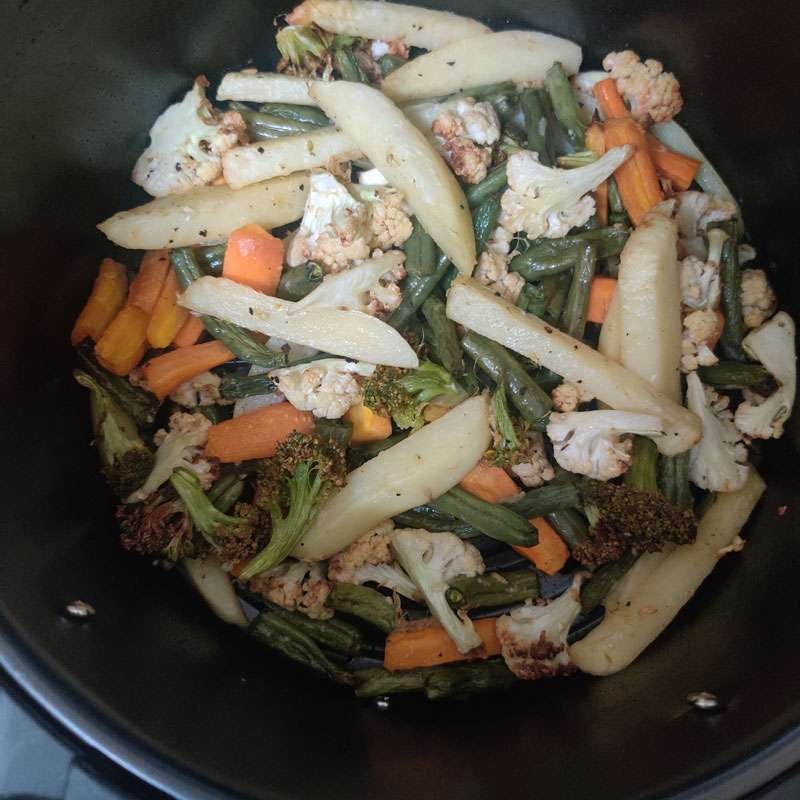 As the air fryer doesn't have a dedicated function for vegetables, we decided to set the temperature at 180 °C for 15 minutes. We used about 500 gms of mixed vegetables like potatoes, carrots, cauliflower and broccoli. Every 5 minutes we tossed the vegetables gently so that they get evenly cooked. After 15 minutes, the vegetables were cooked to our satisfaction. It was mildly charred, with crispy skin and evenly cooked inside.
Frozen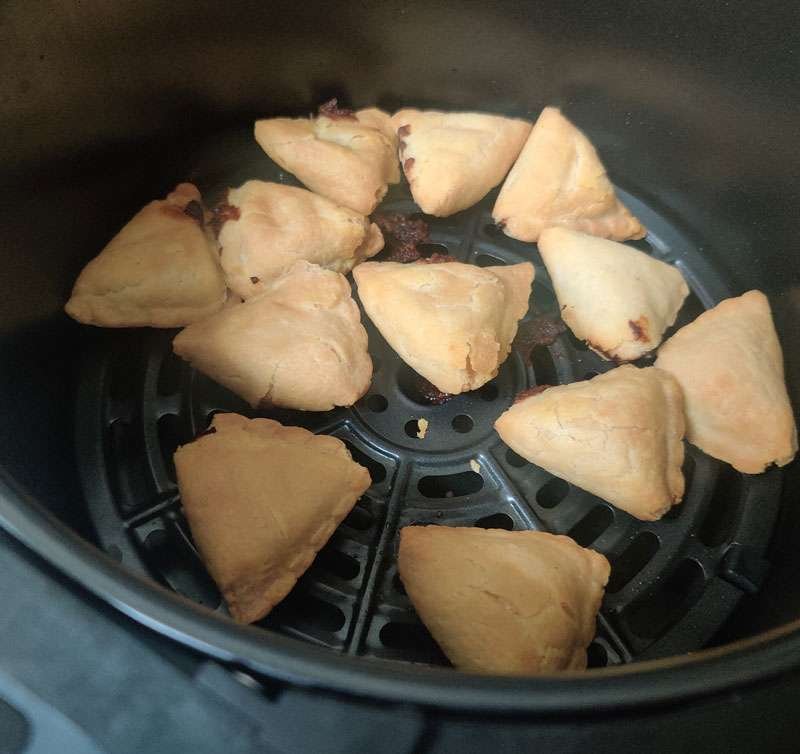 We used frozen samosas from McCain to see how well it gets cooked. We applied oil on the surface using a silicone brush and set the air fryer at 180 °C for 22 minutes. At half-time, we flipped it over. We used a cheese and corn samosa and some of its fillings oozed out. This happened with other air fryers we tried too. The oozed-out bits got burnt by the end of the cooking cycle. But, otherwise, the samosa was cooked well and the dough was brown and flaky. Overall, it was fried to satisfaction in the Inalsa air fryer.
Baking
It is funny that the baking preset runs at 160 °C for 8 minutes, but the recipe booklet says to set 160 °C for 35 minutes for baking chocolate cake. Obviously, within 8 minutes, the cake doesn't get cooked at all. But, when set at 160 °C for 35 minutes, the air fryer bakes cake perfectly.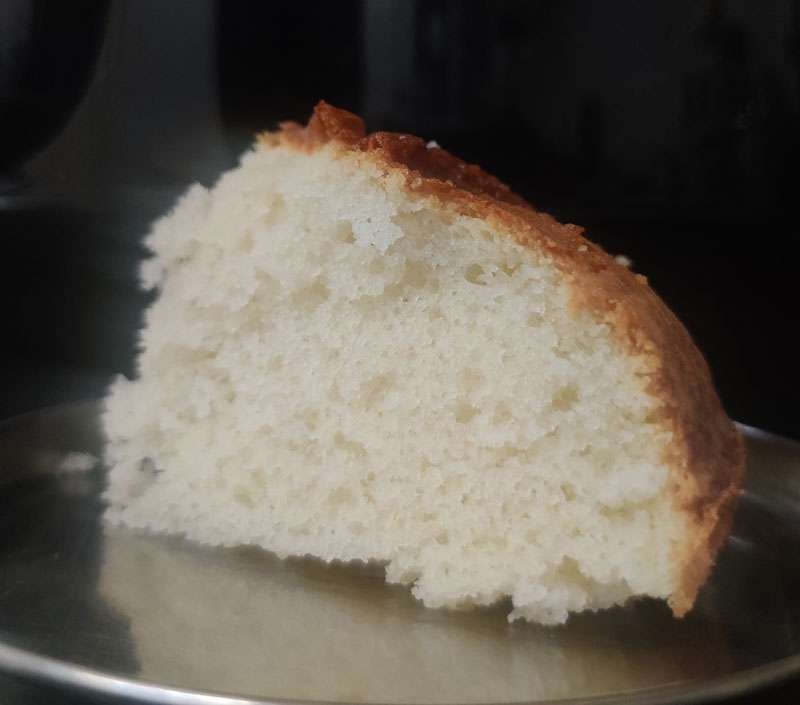 It was soft and spongy with a nice crust on the outside. Comparatively, Philips' air fryer's baking preset did not work optimally. In fact, when you compare the results, the cake baked in Inalsa is better than Philips.
Ease of Use
The air fryer is fairly easy to use. However, it is not without flaws. The main positives are that the handles remain cool to touch. The touch display is responsive. But, you have to refer to the websites to understand what the preset functions stand for.
The drawbacks are that the presets don't cook optimally. Also, as mentioned by many users, the food tray gets dislodged when you toss food like french fries and stir-fried vegetables. Comparatively, it takes more time than Philips to cook food too.
Ease of Cleaning
The food tray has small pieces of rubber beadings around the edges to hold itself in place. Often crumbs and bits of fried masala gets stuck around it which can be a hassle to clean. Of course, the thought of heating rubber in close contact with the food is also a bit disturbing.
Otherwise, if you soak the basket in soapy water immediately after use for an hour, then scrub it with a soft sponge, that would be enough to clean the tray and food basket. Inalsa says the basket and tray are dishwasher safe. But cleaning in the dishwasher may cause the nonstick coating to flake in the long run.
Electricity Consumption
Just like Philips HL9252, Inalsa Nutrifry too consumes 1400 watts of power. Frying 500 gm of chicken takes about 30 minutes which results in 0.7 units of energy consumption, while 400 gm of fries takes about 0.35 units of electricity. If used on a daily basis, it would definitely bring a substantial increase in your electricity bill.
Flaws That Could Have Been Better
A flaw common to Philips HL9252 and Inalsa Nutrifry is the absence of an alarm mid-cycle that can indicate when it is time to flip food to the other side. The Inalsa Nutrifry's preset functions could have been better too.
Yet another flaw is the design of the food try which fails to stay in place when tossing food. Something that Kent Hot Air Fry is able to manage, despite having a similar design. Also, heating rubber beading with food doesn't seem quite appealing either.
Other Models
Inalsa sells several models of air fryers. Inalsa Fry Light ( purchase link) comes with mechanical controls with a rotary knob for setting the temperature and duration. It also has a slightly larger capacity. As the controls are mechanical, the pricing is slightly lower.
Inalsa Nutrifry is yet another model that looks exactly like The Digital Nutrifry, but with mechanical controls.
Inalsa also sells smaller models with 2.3 and 2.4-litre capacities respectively. They are the Inalsa Crispy Fry Air Fryer and Inalsa Air Fryer Digital Compact. While the former has mechanical controls, the latter has a digital touch panel. They both have 1200-watt heating elements. But they may be too small for a nuclear family.
Conclusion
Overall, Inalsa Nutrifry Digital Air Fryer (purchase link) is a good option if it is not your first air fryer. First-time users may need more hand-holding and will find presets quite helpful. For such people, Philips HL9252 would be a better option as most of its presets work just fine. Also, Philips is quicker than Inalsa Nutrifry. Otherwise, it costs lesser than Philips and has a slightly larger surface cooking surface and has a pretty good cooking performance too.
That being said, given a choice between the two and if budget is not a concern, we would recommend that you opt for Philips HL9252.
Was this post helpful?
Let us know if you liked the post. That's the only way we can improve.