Philips launched air fryers in the present-day size and shape in the early 2010s. The simple technology packages a convection oven into a compact countertop device that has a heating coil and a fan that circulates air to cook food without oil. In this article, we review the Philips HD9252/90 air fryer, their best seller, which comes with a 4.1-litre capacity, 8 presets and 1400 Watt power.
Design
The Philips HD9252/90 air fryer comes in a black glossy finish. Its design is superior to most other air fryers in the market. In most other air fryers, the tray inside is a single sheet which is held in place using rubber beadings along the edge. But, in Philips, you have a pull-out basket with a food tray with handle that can be detached by pressing the button. The food tray measures around 18 x 18 cm. The basket has a star-fish-like design which allows hot air to circulate thoroughly inside the food tray. Measuring around 25 x 30 cm, the unit takes up quite some space on your countertop too.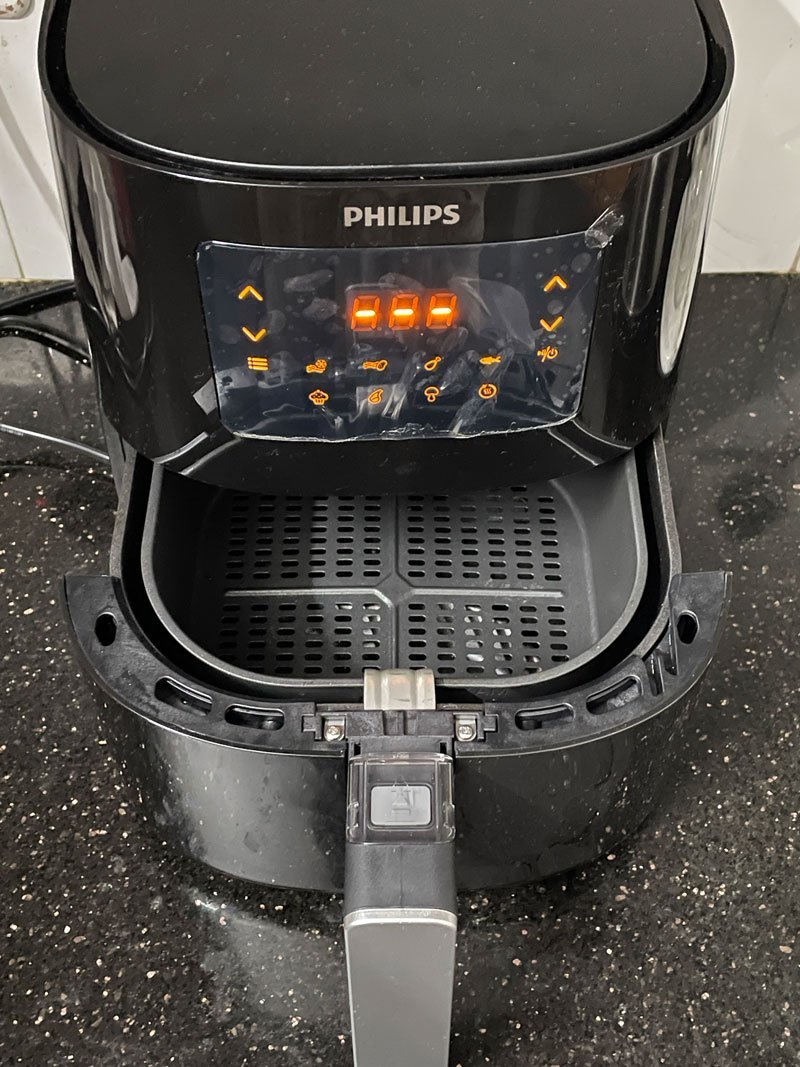 The food tray has perforations at the bottom and while placing food, you should take care not to close them completely. For the same reason, you should not line the food tray with aluminium foil or parchment paper. If at all you want to line it, consider using air fryer parchment paper which has perforation.
The heating coil of the air fryer is at the top, above the food tray and the fan is further above the heating element. The fan blows hot air on the food, which helps cook it. In effect, an air fryer is like a mini-convection oven.
Related reading: Best Air Fryers In India
Preset Functions
The Philips HD9252 air fryer has a 1400-watt heating element. It comes with 8 preset functions. To be honest, we found it a bit difficult initially to understand what the manufacturers meant by each function as it is all indicated using icons.
The eight functions are frozen, fresh french fries, chicken drumsticks, vegetables, fish, roast, bake and defrost. The temperature and time presets are as follows-
| Sl. No | Presets | Temperature and Duration |
| --- | --- | --- |
| 1 | Frozen French Fries | 180 °C for 22 minutes |
| 2 | Fresh French Fries | 180 °C for 23 minutes |
| 3 | Chicken Drumstick | 180 °C for 24 minutes |
| 4 | Fish | 160 °C for 23 minutes |
| 5 | Bake | 180 °C for 13 minutes |
| 6 | Roast | 200 °C for 13 minutes |
| 7 | Vegetables | 180 °C for 20 minutes |
| 8 | Defrost | 80 °C for 30 minutes |
Certain presets like baking is enough, while ones like vegetables overcook. The preset functions that work perform best when the basket is fully loaded to its capacity. Else, you may have to open the basket 2 or 3 times in between to check and adjust the timing so that the food doesn't get burnt.
If you want to cook freestyle, without using the preset functions, you can set the temperature from 60 to 200 °C in increments of 5 °C and the timer can be set from 1 to 60 minutes.
Cooking Performance
We tried making a variety of food using the Philips HD9252 air fryer. Whatever you cook, you need to apply a thin coating of oil on the food. Else, the food gets way too dry and chewy. Here is an example to understand its significance better. In the below image, the picture on the top shows fish that is fried without applying any oil at all. And at the bottom, we applied a thin layer of oil on the surface using a silicone brush tool. As you can see, the fish on the top is extremely dry, whereas the one at the bottom retains some of its succulence. Of course, it cannot match the juiciness of pan-fried fish. But, it is still better than oven-baked fish.
Chicken Fry
One of the first dishes we tried was a chicken fry. As the air fryer has just a 0.8 Kg capacity, you may not be able to grill a whole chicken.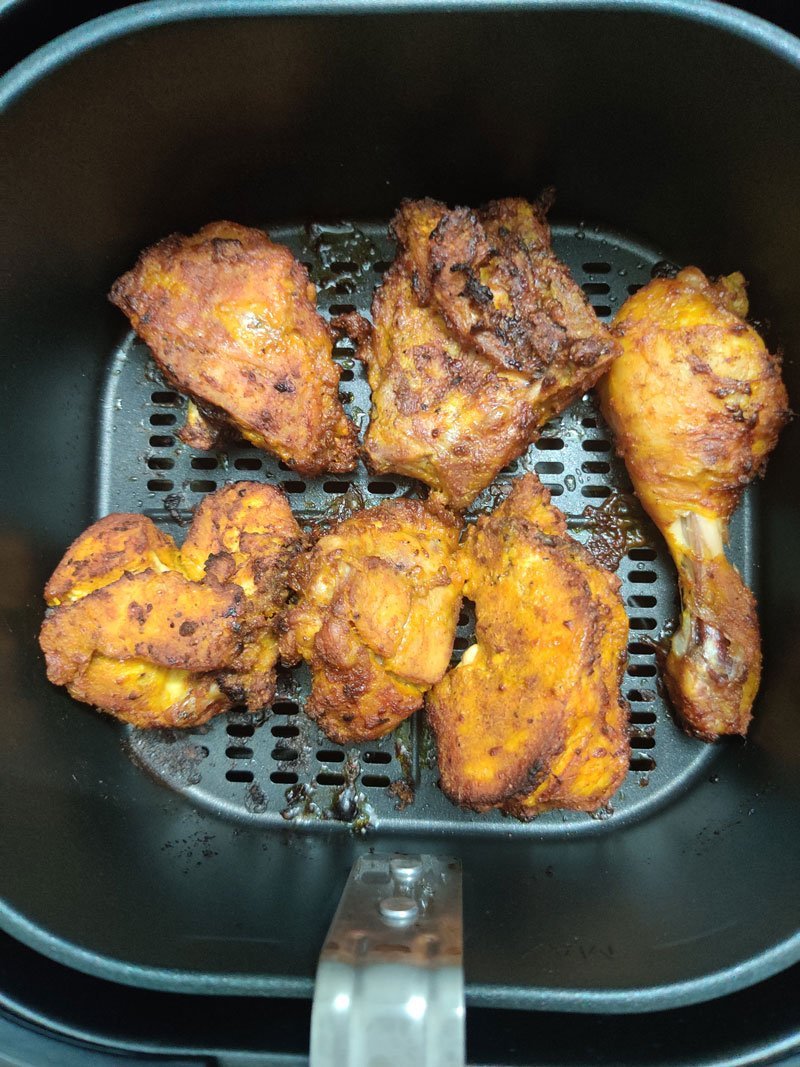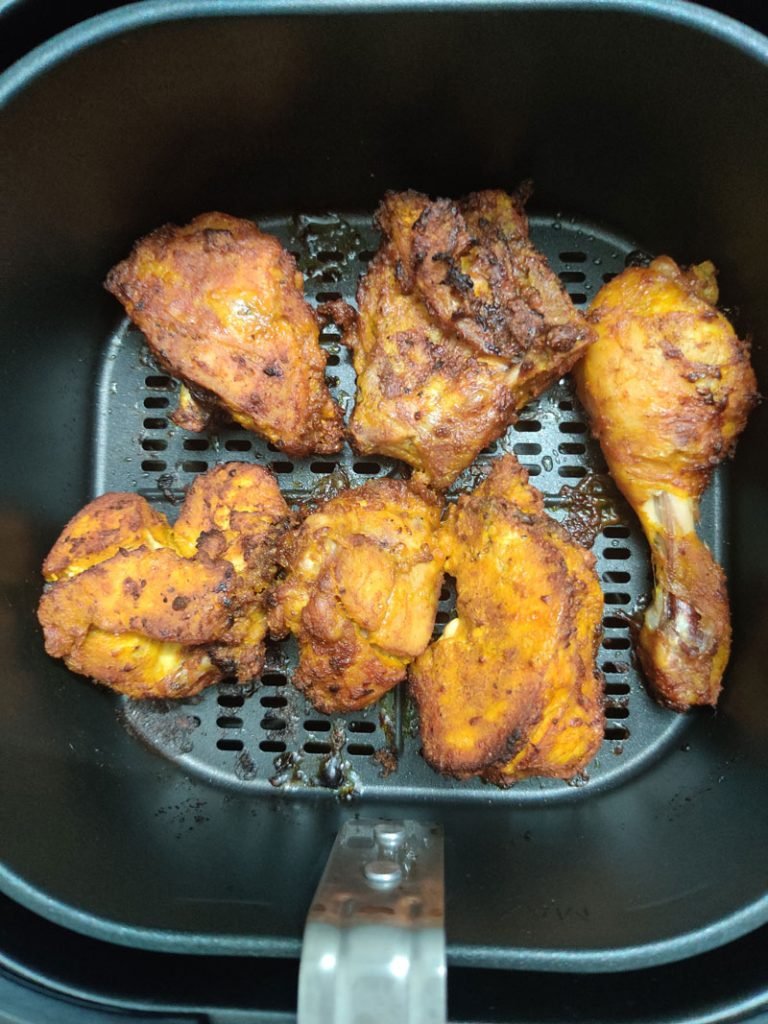 The basket holds a little over 500 gm of chicken at a time. After applying a thin layer of oil, we used the chicken drumstick function to fry the basket full of chicken that was cut into medium-sized pieces. Midway, we had to flip it over. A drawback is that there is no indicator or alarm to alert you that half-time has lapsed. So, you have to keep an alarm on your mobile or use a kitchen timer so that you don't forget to flip it.
The chicken was fried perfectly. The browning was even and the chicken retained its juiciness and succulence. In fact, it was just as good as a pan-fried chicken. But, if you don't apply oil or leave it for a long time, cooking it in the noon and consuming it at night, you will find the chicken dry.
Fish Fry
Next, we tried frying fish using the pre-set function. Ensure that the fish is properly defrosted. Else, the preset timing won't be enough. Also, grease the food tray and spray oil on the fish so that it retains succulence. The fish did not sear well enough like pan-fried fish. You can see the image below comparing air-fried fish and pan-fried fish. The pan-fried fish developed a nice searing and a crust, while the air fried fish, though cooked perfectly, did not develop a proper searing. Increasing the temperature to 200°C for the last few minutes could help sear better.
French Fries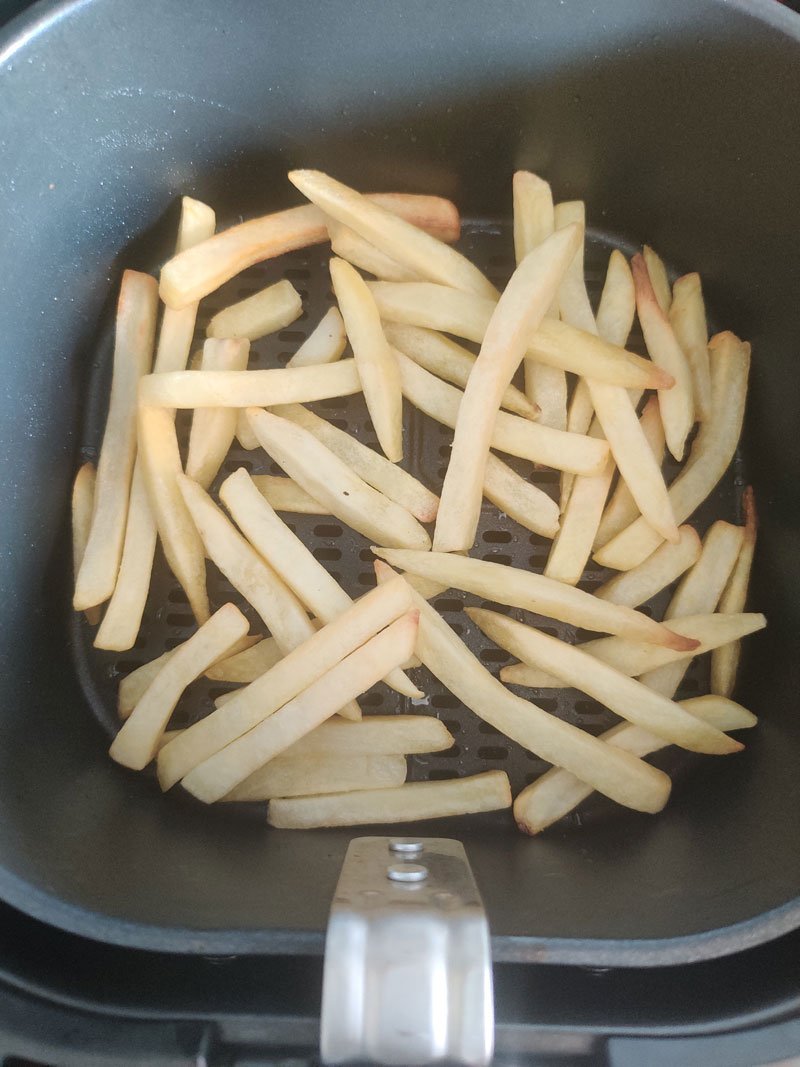 How can we test an air fryer without frying french fries? So, obviously, our next try was air-fried french fries. We drizzled oil, sprinkled salt and tossed it so that the french fries were coated with oil and salt thoroughly. Though the basket can easily hold around 500 gm of fries, we air-fried just around 200 gm of fries using the frozen fries function. Though the preset function has a set duration of 22 minutes, it took just around 8 minutes to cook the fries. In between, we tossed the content in the basket once. It was cooked perfectly with crusted exteriors, retaining the softness inside. However, fat adds flavour and you obviously find a noticeable difference in taste between deep-fried and air-fried fries. But, it isn't that bad considering it is a healthier alternative.
Vegetables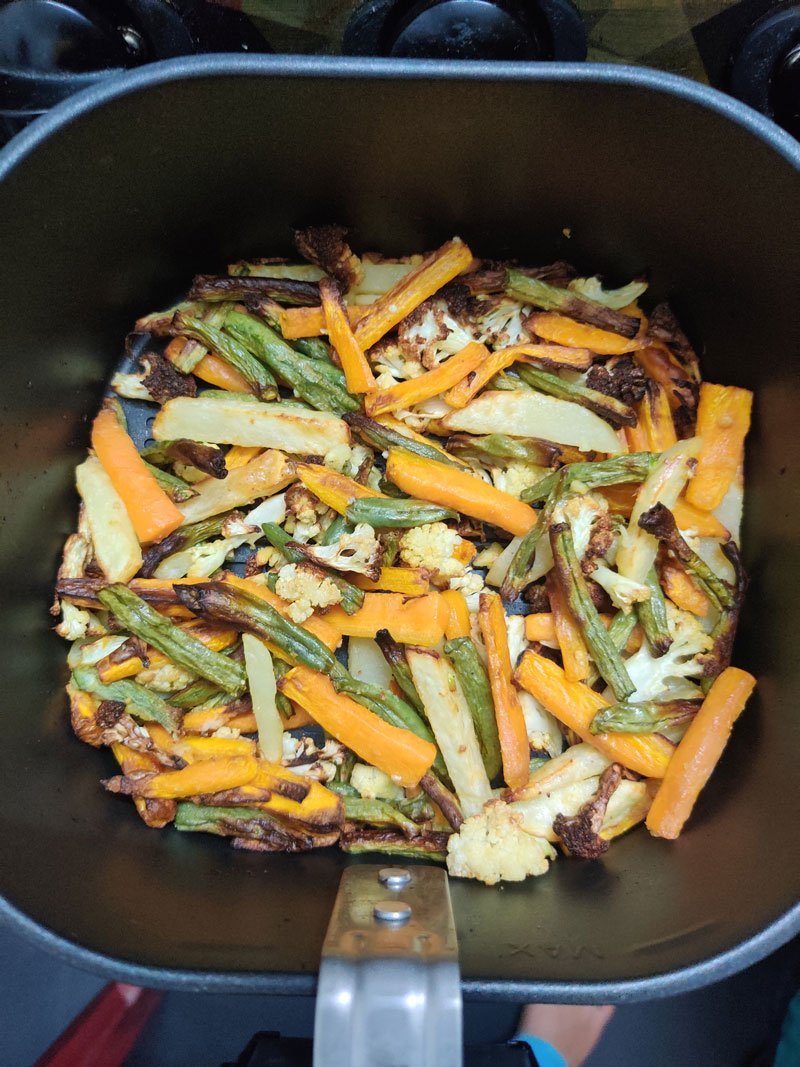 Using the vegetable function, we tried air frying about 500 gm of vegetables, hoping to recreate the stir-fried vegetables you get with steak. But, the preset function overcooked the vegetables. So, there is a learning curve when using air frier and sometimes, you have to set the temperature or duration differently, depending on your cooking style.
Frozen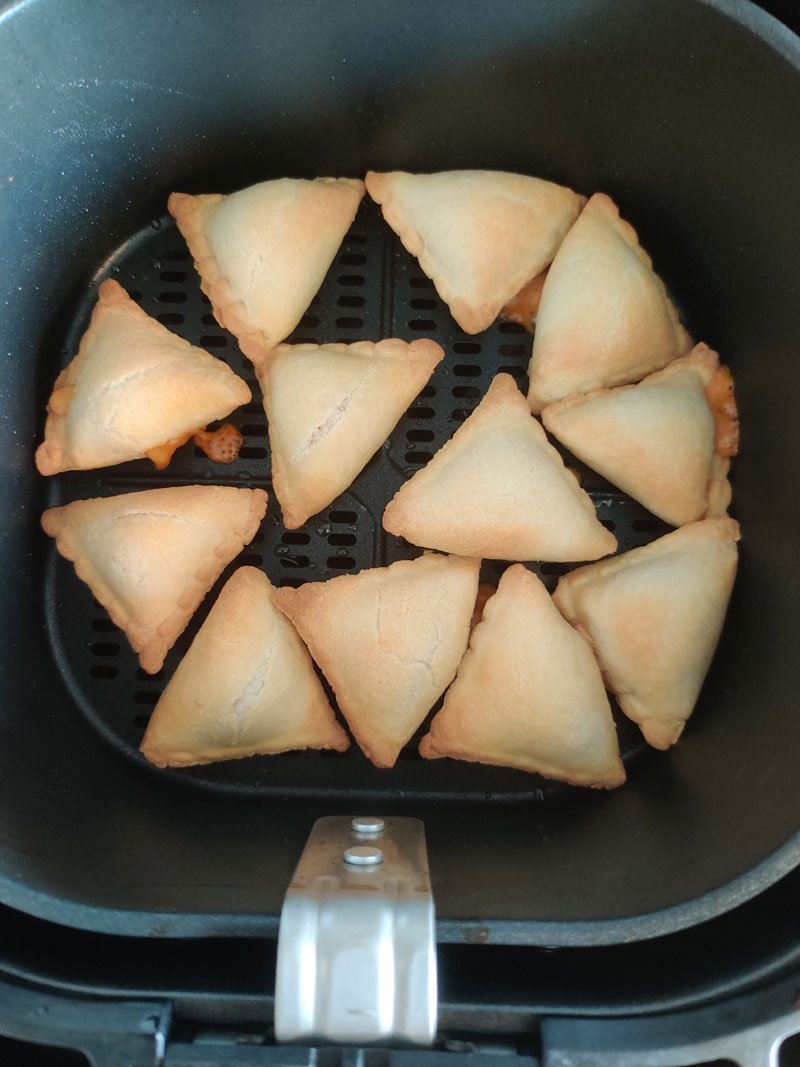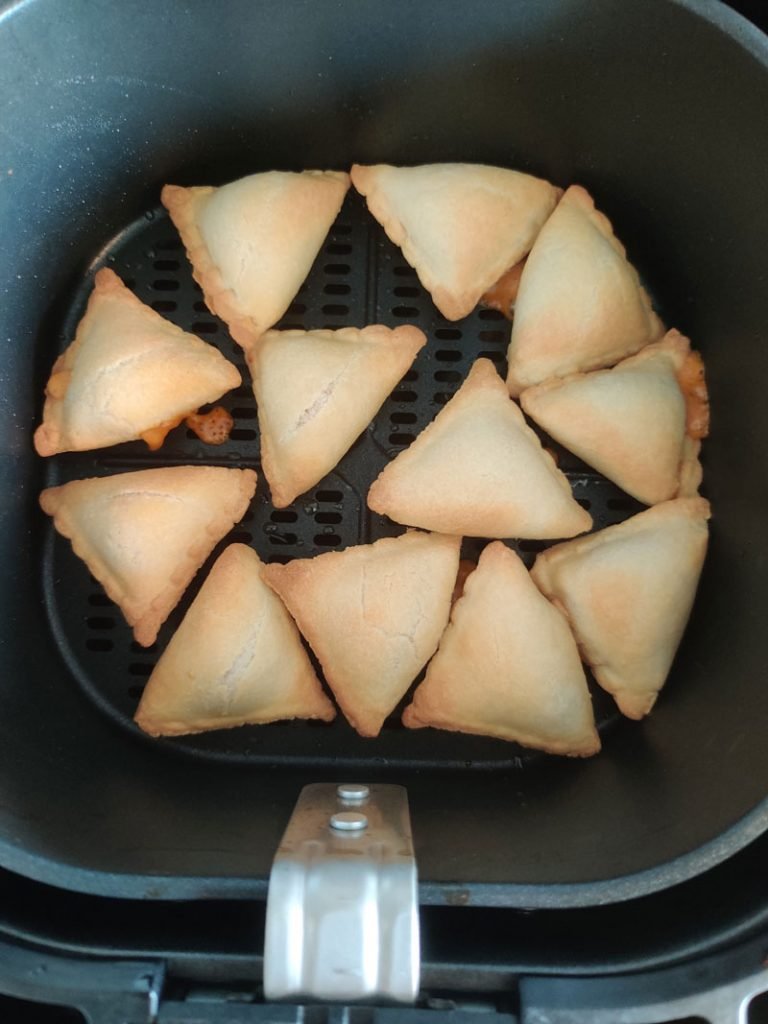 To try out the frozen function, we tried making frozen mini-samosas. About 12 samosas weighing a total of 200 gm were laid on the tray. Though the function has a duration of 22 minutes, it was cooked in about 12 minutes. We applied a layer of oil. But even so, the samosa developed just a slight browning. It did not get too dry either. It came out far better than cooking in a convection oven, but obviously, not as tasty as deep-fried samosas.
Baking
We baked a cake using the Baking presets which run at 180 °C for 13 minutes. To standardize the process, we used Pillsbury mix and added butter, egg and required water. Then, we poured the batter into a borosilicate glass container and baked it. After 13 minutes, the top was brown, but it was uncooked inside.
In a bid to save the cake, we set the temperature at 80 °C and ran it for another 35 minutes. This saved the cake from being a total disaster. Rather than using the preset function, we would recommend you to set the air fryer at a lower temperature of 150-160 °C and run it for about 20-35 minutes. The heating coil in an air fryer is closer to the food compared to oven. So, it is ideal to set a low temperature and run for a longer period so that you don't burn the surface and under-cook the insides.
Ease of Use
The air fryer overall is fairly easy to use. One of our reviewers was using it for the first time and it did not take her long to figure it out. You do not get a detailed recipe booklet with Philips, like what Inalsa and Hestia provide. Rather, they have just provided a leaflet with basic Dos and Donts. Of course, you can check out Philips' NutriU app for more recipes too.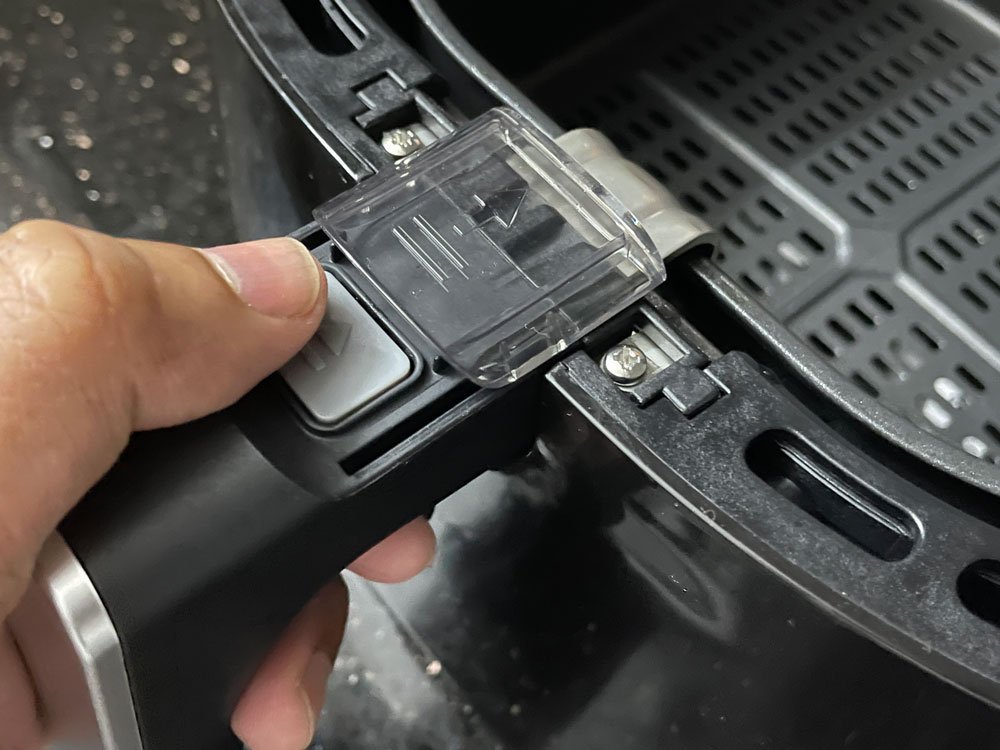 The basket and the food tray are easy to remove. Adding and removing food is also quite easy. In fact, it is a lot better than Inalsa and Hestia which has a food tray that moves about when you toss french fries.
A drawback however is that, as mentioned earlier, the icons of the preset functionalities are not that intuitive. You may also sometimes have doubts about the right presets to use.
If you use the air fryer to cook 2-3 batches of food one after the other, the body gets fairly warm. In such a case, you may have to wait for a while before cleaning up.
Ease of Cleaning
The food tray and the basket of the Philips air fryer come with a nonstick coating. As the temperature of the appliance never exceeds 200 °C, you don't have to worry about the coating breaking down and emitting toxic fumes.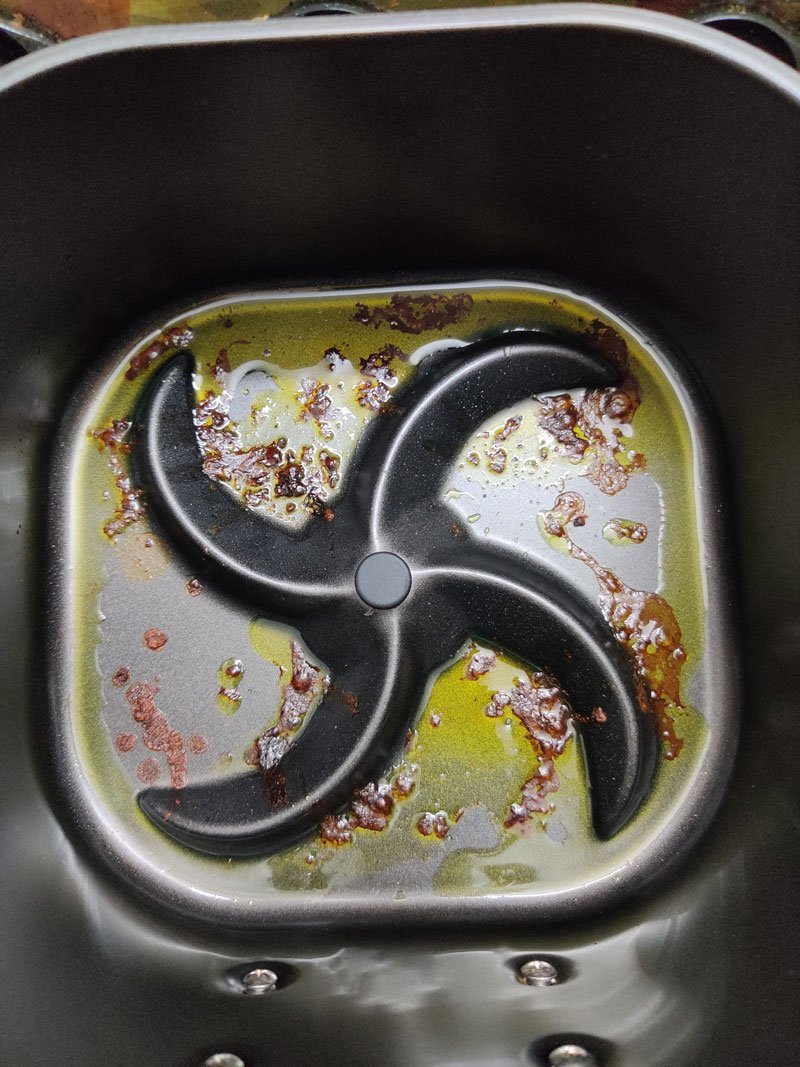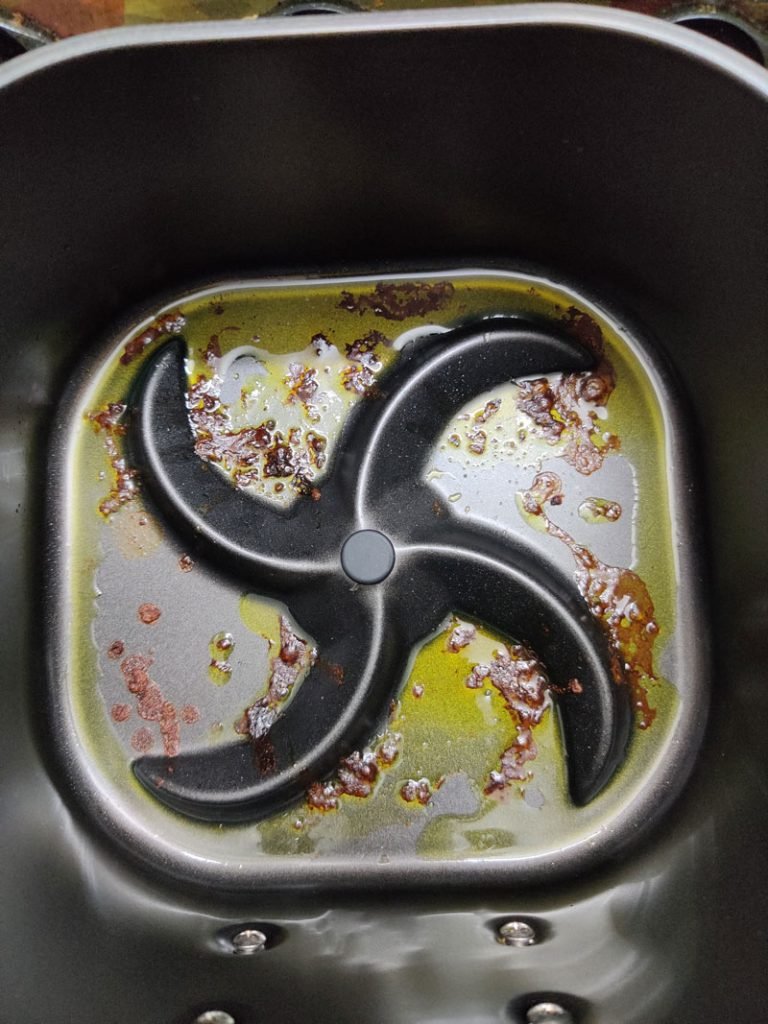 The nonstick coating makes it effortless to clean. If at all, cheese or any gooey food gets stuck on the surface, simply fill the baskets with soapy water. In just an hour or two, the baked-on food residue gets dislodged, making it easy to clean.
Just like any other nonstick cookware, avoid using steel wool or abrasive scrubs to clean the tray.
The black exteriors of the air fryer have a glossy finish which attracts smudge and fingerprints. It is prone to scratches too. So, you may have to wipe it down using a microfibre cloth gently and frequently.
The basket and pan are dishwasher safe too. However, we would recommend caution against it as it may damage the nonstick coating in the long run.
Electricity Consumption
Using 1400-watt power, air fryers do consume a lot of electricity when in use. At 180 C for 20-25 minutes, the appliance uses around 0.4-0.5 units of electricity for cooking a batch of food. This however is more efficient than many other convection ovens which take up 1800-2000 watts of power and also have a longer duration to cook.
Flaws That Could Have Been Better
When frying fish, chicken, paneer and meat, you need to flip the food almost midway to the other side so that both sides get browned evenly. But, there is no alarm or indicator that alerts you that it is time to flip. Adding a buzzer midway through the cooking cycle would have made it much more easier to use. This is something most other air fryers too lack.
The presets, though effective, works optimally only when food is filled to its capacity. So, you need to be careful and check the food frequently to ensure the food doesn't get overcooked. After using it for a while, you will get a better idea of the right temperature and time setting and then, you can go freestyle instead of depending on presets.
Other Models
Philips HD9252 is one of the popular models available online. A similar model is HD9200, with 4.1 litres and 0.8 Kg capacity. But, it has just 6 preset functions and the temperature and time can be set only using knobs and not digitally. If you want an air fryer with a higher capacity, PhilipsDigital XL air fryer is available. It comes with a whopping 6.2 litre and 1.2 Kg capacity. Other presets and functionalities are the same.
Conclusion
Being fairly easy to use, with moderate energy consumption and providing healthier alternatives to fried food, air fryers are definitely a good-to-have appliance for health-conscious folks.
The Philips HD9252 is an apt choice for nuclear families who want to fry food for a single meal at a time. It is fairly easy to use. But, you may have to adjust the duration settings if you are cooking in little quantities at a time.