Though Kent started off selling water purifiers, they have slowly developed as a full-fledged kitchen appliance brand selling blenders, kettles, air fryers, vacuum cleaners and more. The Kent Hot Air Fryer is one of their offerings that fall in the mid-segment of air fryers as they are cheaper than Philips and Havells. How well does it perform? Does the food become crispy enough? Are they easy to use and clean? Let us explore this in detail through this hands-on review.
Design
The design of the Kent Hot Air Fryer is pretty much the standard you find in all air fryers. It has a black, glossy finish and a 6 A plug that is less than a meter long.
The air fryer has a 4-litre food basket with an inner tray of 20cm in diameter. Unlike Inalsa and Hestia which comes with an inner tray, Kent's tray fits tightly in the basket. So it doesn't move even when tossing around food like french fries.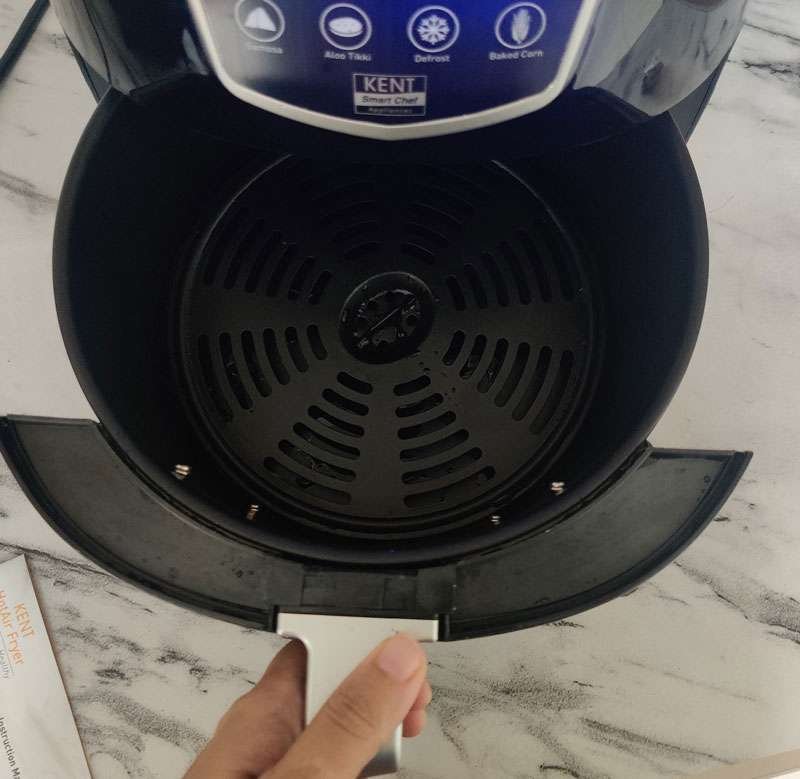 The air fryer has a digital display showing the time and temperature. But the buttons are not touch control. Instead, they are membrane buttons. The controls are large in size and as the presets functions have their name mentioned along with the icon, it doesn't confuse you.
Related reading: Best Air Fryers In India
Preset Functions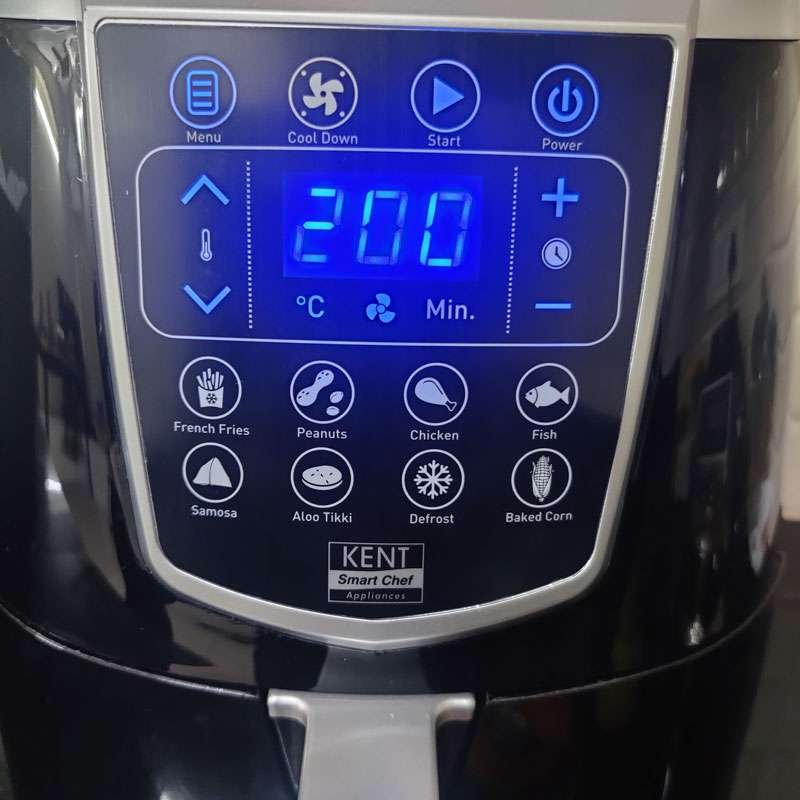 The presets of the Kent Hot Air Fryer are the ones typically used in an Indian kitchen. But, just like Inalsa and Hestia, most of them don't give optimal results. You may have to adjust the time and temperature manually for the best results. Just like every other air fryer in the market, you can set the timer to up to 60 minutes and the temperature from 80 to 200 C in this air fryer. As it has a 1350-watt heating element, cooking is comparatively quicker than Inalsa Nutrifry and Hestia Nutriview.
Here are the presets available on Kent Hot Air. Now, something we really liked about it was that along with the icon, it properly mentions the name of the food as well, thus avoiding any confusion.
| Preset Function | Temperature | Duration |
| --- | --- | --- |
| French Fries | 200 C | 15 min |
| Peanuts | 160 C | 15 min |
| Chicken | 200 C | 15 min |
| Fish | 160 C | 15 min |
| Samosa | 180 C | 10 min |
| Aloo Tikka | 180 C | 15 min |
| Defrost | 200 C | 5 min |
| Baked corn | 200 C | 10 min |
Cooking Performance
Just like Inalsa Nutrifry, the presets of the Kent Hot Air Fryer are not long enough to cook food thoroughly. So, you may have to run it for a few extra minutes to cook it to satisfaction. You get a manual with the air fryer and in it, you have just a few recipes. Inalsa and Hestia provide a much more elaborate recipe booklet and Philips has an app for recipes. That you don't get such elaborate recipes could be a drawback, especially if you are a first-time user.
Let us take a look at how it cooked different types of food.
Chicken Fry
The chicken fry preset in the Kent Hot Air Fryer runs at 200 C for 15 minutes. But, this doesn't prove enough to cook through and develop a crust on the outside. So, we had to flip the chicken pieces to the other side after 15 minutes and run it for yet another 15 minutes. Then, we drizzled a teaspoon of oil and ran each side for 3 more minutes after which the outsides were crispy, but not browned. The insides were well cooked, yet soft. So, it took a total of 36 minutes to fry half a kilo of chicken, which is its maximum limit at a go.
Fish Fry
The preset function of the air fryer cooks the fish at 160 C for 15 minutes. We were not convinced about the preset. The key to a perfect fish fry is getting it browned on the outside and succulent inside. As fish fry is sliced thinly, cooking it for a long duration at a low temperature may make it dry. Also, it wouldn't brown the surface.
So, instead of using the preset function, we ran the air fryer at 200 C for 15 minutes. After 8 minutes, we flipped the fish to the other side. The fish was perfectly cooked inside. But, it wasn't browned. It is not just Kent that has the problem with browning the outsides of fish. Most of the air fryers we tried, except Philips, were not able to brown the fish sufficiently.
French Fries
We used 400 gm of frozen french fries to try out this function. The preset calls for running the air fryer at 200 C for 15 minutes. But, we had to run it for 22 minutes to get it crispy on the outside and soft inside. In between, we tossed the basket every 5 minutes to get the french fries uniformly cooked. Compared to other air fryers, we liked the texture of french fries made in Kent Hot the best. Others did not cook the fries as uniform as Kent.
Paneer Tikka
The air fryer doesn't have a preset for paneer tikka. So, we decided to run it at 180 C for 15 minutes, rotating the skewers in between for uniform cooking. The capsicum and onions were crisp. And the paneer was well cooked. But as expected, it did not brown like pan-fried paneer.
Peanuts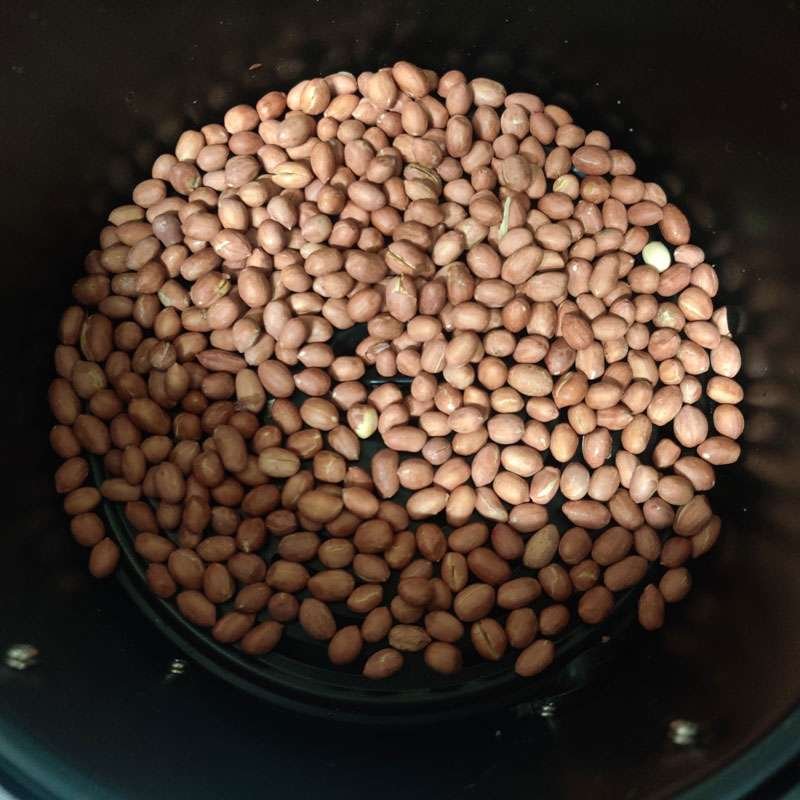 The air fryer has a preset for peanuts which runs it at 160 C for 15 minutes. We preheated the air fryer for 5 minutes and then spread peanuts on the tray in a single layer to ensure uniform heating. You can fry about 200 gm of peanuts at a go. After 15 minutes, we switched off the air fryer and was delighted at the results. The peel crumbled off easily and the peanuts were perfectly fried.
Baking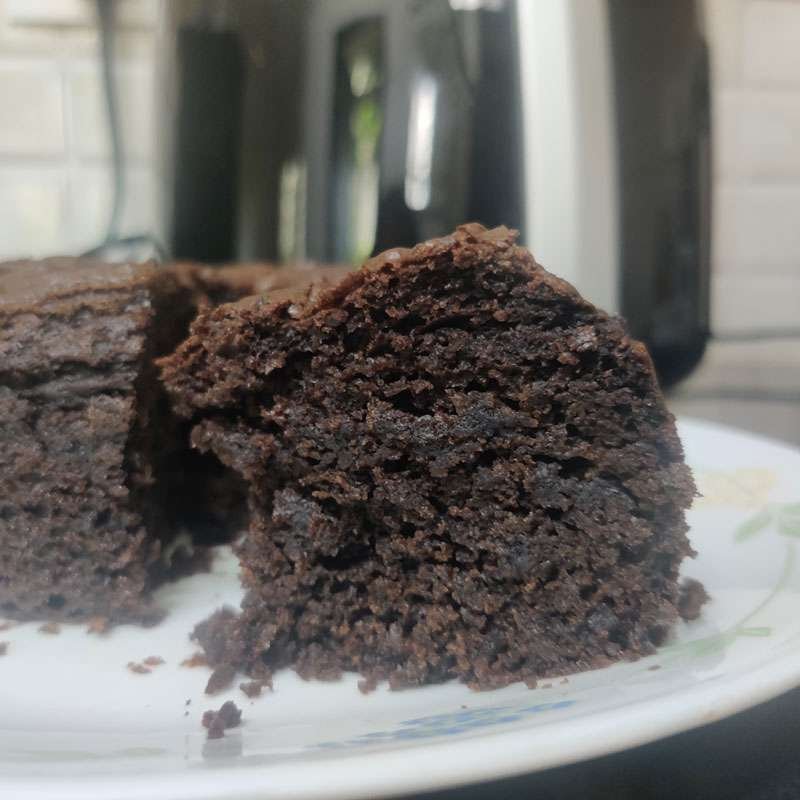 Kent Hot Air doesn't have a preset function for cakes. Even so, we tried making a cake using Pilsbury mix, setting it at 160 C for 35 minutes, which was the settings on Inalsa Nutrifry. Probably because Kent Hot Air Fryer has a lower wattage, it took a bit longer to cook it through. We ended up taking around 45 minutes to bake it perfectly.
Ease of Use
The air fryer design is just like any other model available in the market. But, they seem to have paid attention to a few details, making it easy to use. First of all, the food tray inside the basket does not move around when you toss french fries or stir-fried vegetables. This is an aspect where Hestia Nutriview and Inalsa Nutrifry lag. The control panel is easy to use, and the preset functions' icons are properly labelled to avoid confusion. The only drawback we found was that sometimes the basket doesn't properly fit in the groove when we try to put it back into the air fryer body.
Ease of Cleaning
Just like every other air fryer, as the basket and tray have a nonstick coating, they are fairly easy to clean. All you need to do is soak it in soapy water and scrub it with a soft sponge. But ensure that you clean it immediately after use, as soon as it cools down.
As the exteriors of the air fryer are prone to smudges, clean it with a microfibre cloth often.
Flaws That Could Have Been Better
The main flaw that we found was that the presets were short in duration to properly fry food. It would have been easier for first-time air fryer users if the presets were of the right duration. Next, the basket could have glided into its groove in the body with better ease.
Other Models
In addition to Kent Hot Air Fryer, they sell a model, Kent 16096 Classic, with mechanical controls. It has a knob each for controlling temperature and duration. It costs about Rs.1000 lesser.
Conclusion
Kent 16033 Hot Air Fryer is a fairly good budget-friendly air fryer to opt for. As it has 1350 watt heating element, it is quicker than Hestia Nutriview at achieving the desired temperatures. Also, it is easier to use.