Just like most of the other building construction materials, you get a plethora of options for flooring too. Depending on your requirements, taste and factors like cost and durability, you can opt for one that best suits your lifestyle. While marble and tiles are the most popular options, many are unaware of the other options available.
Out of the available options, the most popular ones are tiles, marbles, wood, granite, cork, vinyl and terrazzo. In this article, we talk about each in detail to help you make an informed decision.
Types of Flooring Material
Tiles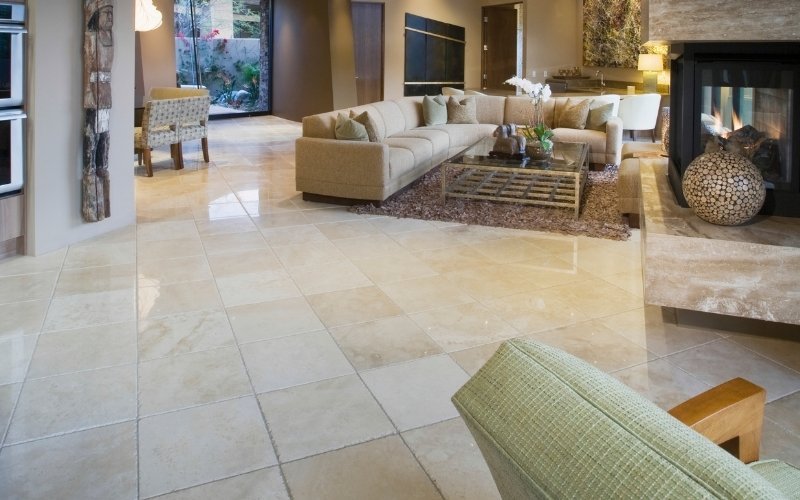 Vitrified tiles are considered the most popular choice amongst tiles available in India for flooring.
Pros
Being dense and tough, they are quite resistant to stains and scratches.
They are available in a wide range of options, including – glazed, full body and double charged.
Perfect for heavy footfall.
Cons
Sometimes they can prove to be problematically slippery. More so when wet.
Area(s) to use in
Vitrified tiles are best-suited for the living room, bedroom and dining room as they are strong enough to withstand the pressure caused by heavy furniture in these areas as much as footfall.
Marble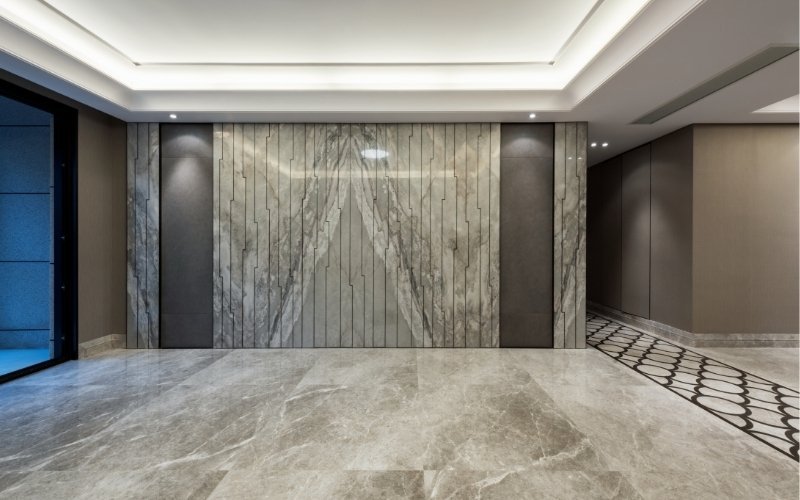 Marble flooring is a considerably durable option that also looks grand and elegant.
Pros
Appearance brimming with grandeur and elegance.
Natural material.
Easily polishable.
Good conductor of heat.
Adds to the sale-purchase value of the building.
Available in a broad array of colours and styles.
Cons
It needs sealing, given the porosity.
Prone to stains and scratches.
It can prove to be extremely slippery and brittle.
A rather expensive choice.
Sometimes too cold to be stepped barefoot on.
Area(s) to use in
Given its adequate heat resistance, it proves to be apt to use in the kitchen, or fireplace for that matter. At the same time, it possesses decent porosity which makes it waterproof if suitably sealed and polished. This enhances its ability to serve well in bathrooms as well. Nevertheless, it's good enough to use in other rooms too.
Wood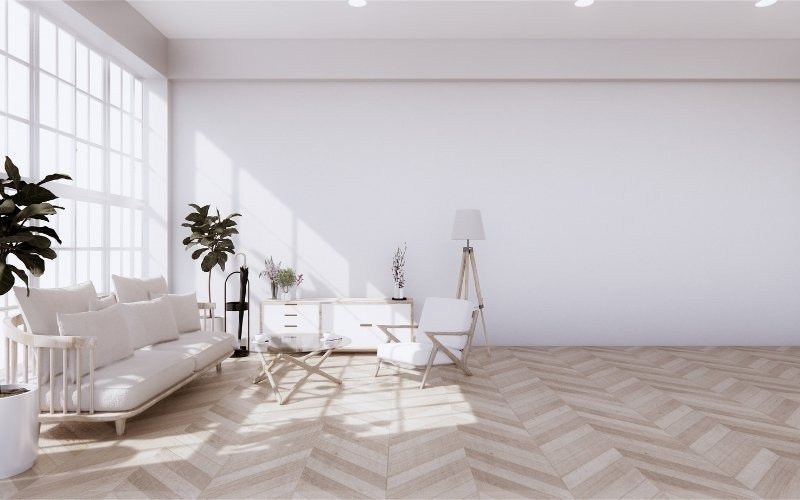 Any flooring material manufactured using timber is called wood flooring. It could be designed for either structural or aesthetic purposes.
Pros
Appealing aesthetics.
Variety of options are available
Easy to maintain.
Gives a hike to real estate value.
Keeps the room warm in winters and cool in summer.
Cons
Water can cause damage easily. Also, it is prone to scratches.
It's a bit expensive
Noisier as compared to other options. Rugs may be needed to help absorb the sounds of footsteps.
No humidity absorption.
Area(s) to use in
Best used in bedrooms. Also goes well for dining and living rooms.
Granite
Granite is made from cooling a molten rock (igneous) in the ground. This rock is basically strong and solid. Composed of minerals like feldspar and quartz, the natural stone called 'granite', can be used in almost any part of the house. It is available in the form of matte slabs as well as shiny tiles.
Pros
Granite stone is a flooring material that boasts superb durability. More often than not, it lasts a lifetime.
Its incredible hardness helps it withstand even heavy footfall.
Its natural beauty is the main reason that makes it a popular flooring material. No two slabs of granite look alike, thus giving a complete range of beautiful, diverse patterns and designs. Furthermore, granite is offered in highly polished, glossy slabs as well as muted and brushed, rustic textures.
Almost maintenance-free.
Cons
It is one of the most expensive flooring options. Consequently, it may prove not to be the perfect option for those with a low budget.
Installing granite is usually long, tiring and costly. Hence, it may not be the best option for users looking for an easy, short and inexpensive option.
It can be slippery. Therefore, it is not advisable to install it where toddlers, kids and/or the elderly will also be using it.
Needs periodic resealing for proper protection.
Area(s) to use in
While mostly considered for countertops in the kitchen and bathroom, they make a perfect flooring material too. With an installation process properly taken care of, that is.
Vinyl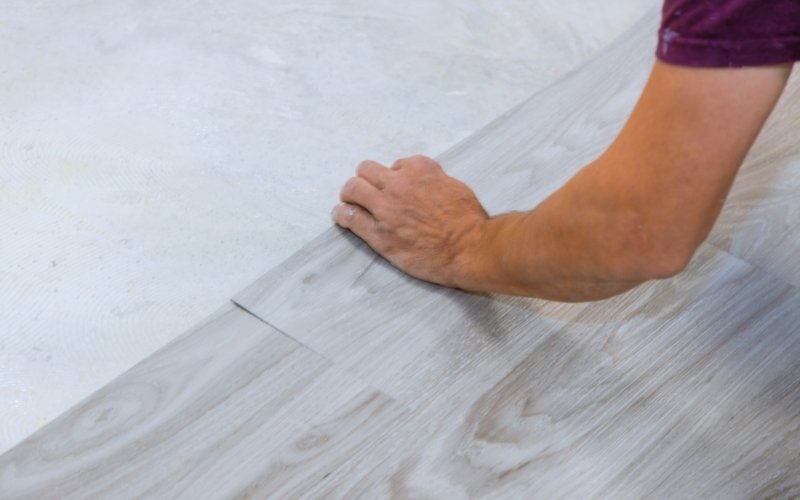 Vinyl (Polyvinyl Chloride) flooring material is available in sheets and tiles which are neither soft like carpet nor tough like laminate/tile flooring. Furthermore, vinyl flooring has a coating on it which works for its protection. This type of flooring is easy to install on another existing flooring without having to dismantle it.
Pros
Vinyl flooring is light in weight and high in durability. Its life can span as long as 10 to 20 years with proper maintenance and care.
It's not very slippery and offers good resistance to water. This makes it good for bathrooms.
It is fairly easy to maintain. For regular cleaning, using broom-and-mop or a vacuum cleaner would be enough. 
It has a protective coating on the top to keep it safe from stains. Thus, it is fairly stain resistant.
Users can stand on this flooring for a longer time compared to other types. The reason being the thin foam supporting layer provided.
Products made of glass are less prone to breakage if they fall on vinyl flooring.
Available in a whole array of colors and designs.
Cons
It's not recommendable to use this flooring in the kitchen because it can catch fire comparatively easily and emit toxic fumes.
In a newly installed vinyl floor, the PVC radiates volatile organic compounds (VOCs) and can also transmit a slight odour.
Although it is resistant to stains, it gives in to damage caused by strong chemicals. Prolonged exposure to sunlight can also cause discolouring and fading of the flooring.
Its performance is based on the smoothness of its subfloor. If the subfloor is not smooth or has grain particles over it, lumps develop on the surface of the vinyl flooring. Also, if the vinyl flooring is laid on the top of an old flooring, the texture of the lower one can become visible after some time.
If a sharp object drops on the surface, it can cause damage to the flooring.
Prone to scratches from moving furniture.
Area(s) to use in
Being water-resistant, it is good for bathrooms. Also being soft on feet and demonstrating good sound absorption, it is a good fit for home gyms. Being soft, you can use it for kids rooms and play areas too. However, It is not at all advisable for kitchens as they can easily catch fire.
Terrazzo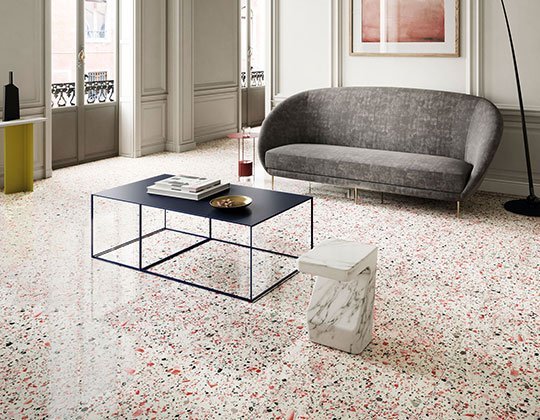 Terrazzo flooring material is composed of quartz, glass, marble and granite chips. It appears luxurious and is one of the popular options for Indian homes.
Terrazzo is made by a simple process. The chips to be used are laid out in a select pattern on a surface. The final finish comes by just pouring concrete over that surface and smoothening it out.
So, there is a lot of scope for experimenting with colours and designs in this type of flooring.
Pros
High durability, water and stain resistant. Doesn't chip away like other materials. This flooring material is gaining more and more popularity these days as it can withstand high traffic and also due to its aesthetics.
Given its preparation process which is simple and can be experimented with, an infinite number of designs are possible.
Terrazzo is a good choice to add to sustainable designs of buildings.
Cons
It is a comparatively expensive option. Even though it can prove to be a money-saver in the long run, the initial costs are high.
This type of flooring is cold in nature. While this is a huge blessing in the summers, it is not an apt choice for places with harsh winters. So much so that it is difficult to walk barefoot on the floor if there is no heat insulator beneath the flooring.
Lack of professional installation can result in damages and it may end up a hassle in the long run.
Area(s) to use in
It can be used anywhere in a house – be it bathroom, kitchen, bedroom, or even living room for that matter.