If tears while chopping onion bother you or if you don't have the patience to mince ginger and garlic finely for your chilly paneer, an electric chopper is what you need! Compact and immensely utilitarian, an electric chopper is an apt choice for those who want to chop onions, carrots, beetroot, ginger, garlic, nuts, and mince fish, and meat in a jiffy.
Through this article, we look at some of the top-selling electric choppers in India and review them so that you can choose the one that best suits your needs.
How To Choose An Electric Chopper?
First and foremost, let us talk about what to expect from an electric chopper. As the name suggests, it chops ingredients finely. But, don't expect it to dice beans, capsicum, or other ingredients as shown in the manufacturers' product images. It can finely chop ginger, garlic, onion, chili, and herbs for the masala base of various dishes, mince meat, and chop carrot, beetroot, and nuts.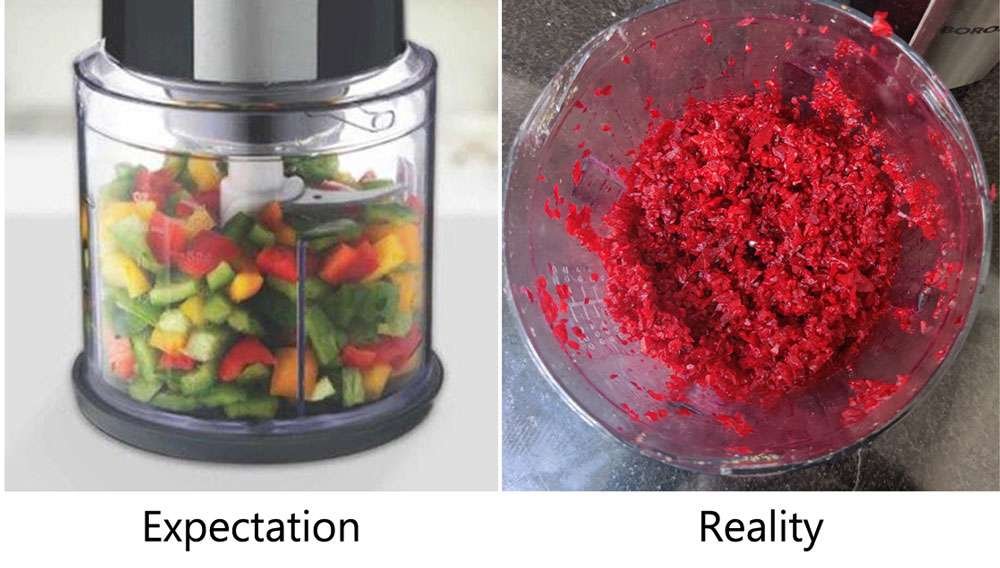 Now, let us take a look at the important aspects to look at when buying an electric chopper.
Power and blade design are the most important aspects to consider when buying an electric chopper. Ideally, a 500 ml chopper should have at least a 300-watt motor so that the blades can power through tough ingredients like nuts smoothly and without overheating the motor. But then, going over the top and having a 1000-watt chopper doesn't really offer a significant benefit either.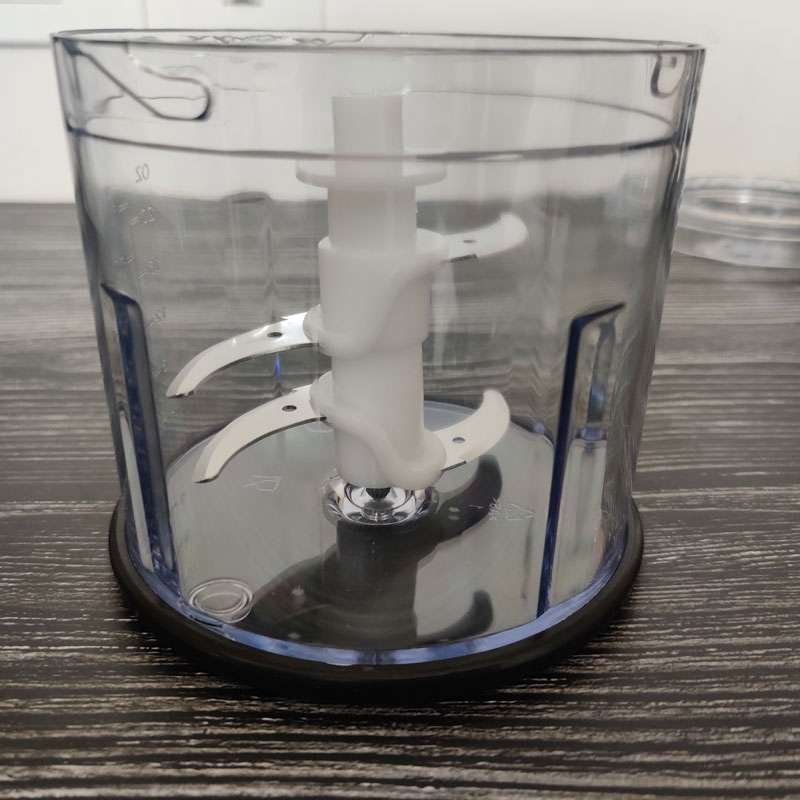 The next important factor is the blade design. Most options available online have two dual blades at different heights which ensure even chopping. This is especially helpful when you have to chop more than 50-100 gm of ingredients at a go. But when chopping fewer ingredients, a significant factor affecting performance is the gap between the lower blade and the bottom surface. When this gap is higher, chopped ingredients stay in this gap and do not get finely chopped. This was something we found in Borosil as there was around a 1 cm gap between the blade and the bottom. But, on the other hand, Inalsa had hardly a 2 mm gap, resulting in finer chopping.
Yet another aspect that many people ponder over is whether to opt for a rechargeable chopper or not. Rechargeable options are smaller in size and last for significantly lesser time. They also have a 30-watt motor which means it chops a bit coarser compared to wired electric choppers. But, it can be used for all ingredients, including beets, carrots, and nuts. If you are a bachelor or if you need a chopper on the go for camping or a picnic, then a rechargeable option may be suitable for you. It costs almost 60% of a wired electric chopper. But, if on the other hand, you have a full-fledged kitchen, then opt for an electric chopper which is far more powerful and versatile.
Our Top Recommendations
If you are looking for an electric chopper capable of finely chopping up to 200-300 gm of various ingredients into a fine consistency, then Inalsa Chopper Bullet Inox is the best option. It comes with a 450-watt motor, dual blades, and a bowl with a 900 ml gross capacity. Moreover, as mentioned earlier, its blades are close to the bottom and thus ensure finer chopping than most others. Brayden Chopro too has a similar design and is equally effective and more economically priced too.
If on the other hand, you are looking for a rechargeable chopper, the Instacuppa chopper is a much better option. It comes with a lid so that the motor doesn't come in touch with the ingredients, thus, making it easier to clean. This is something that the Rico mini-chopper lacks. Moreover, Instacuppa's motor is stronger and the blade rotates faster and hence chops finer.
Related reading: Best Hand Blenders In India
Which Are The Best Electric Choppers In India?
How We Tested?
To find the best among the options, we tried them for chopping a variety of ingredients like ginger, garlic, beetroot, nuts, chicken, and so on. We tried chopping them in small quantities of 10 gms and in larger quantities of 100-250 gm. This helps us understand how it performs in various scenarios. To understand their durability, we tried using them in a regular kitchen for an extended duration too. Also, to know how long the rechargeable choppers last, we ran them for numerous 1-minute stretches giving breaks in between to prevent overheating. We also analyzed aspects like blade design, power, ease of use, and cleaning to understand the overall performance of the options.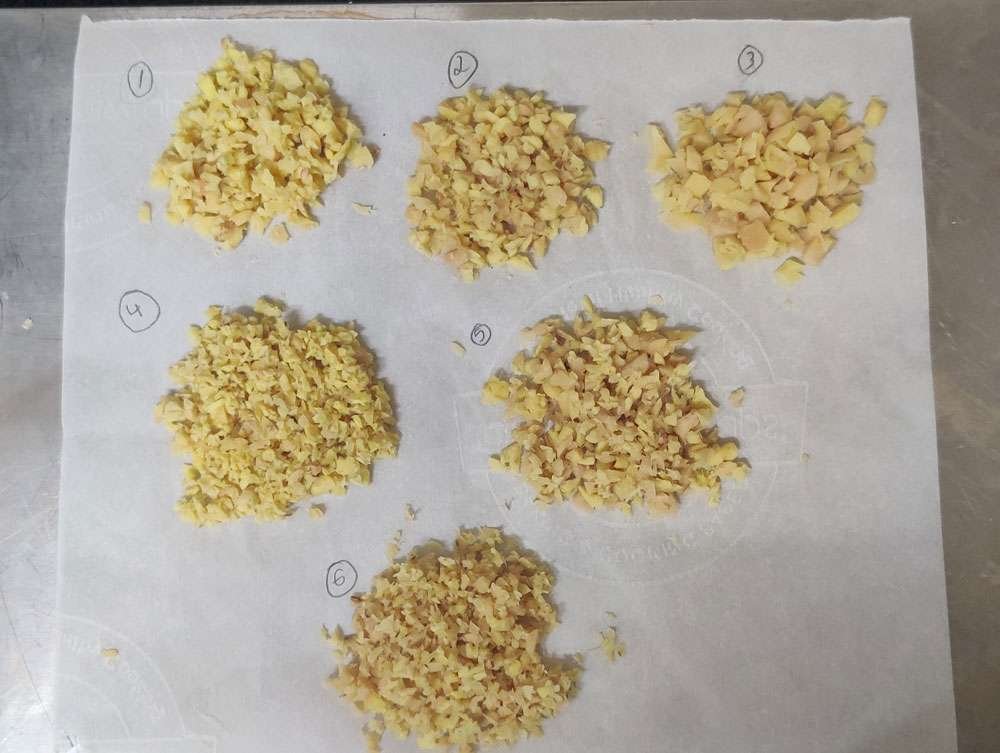 You may also like our article on Best Food Processors in India
Best Electric Choppers In India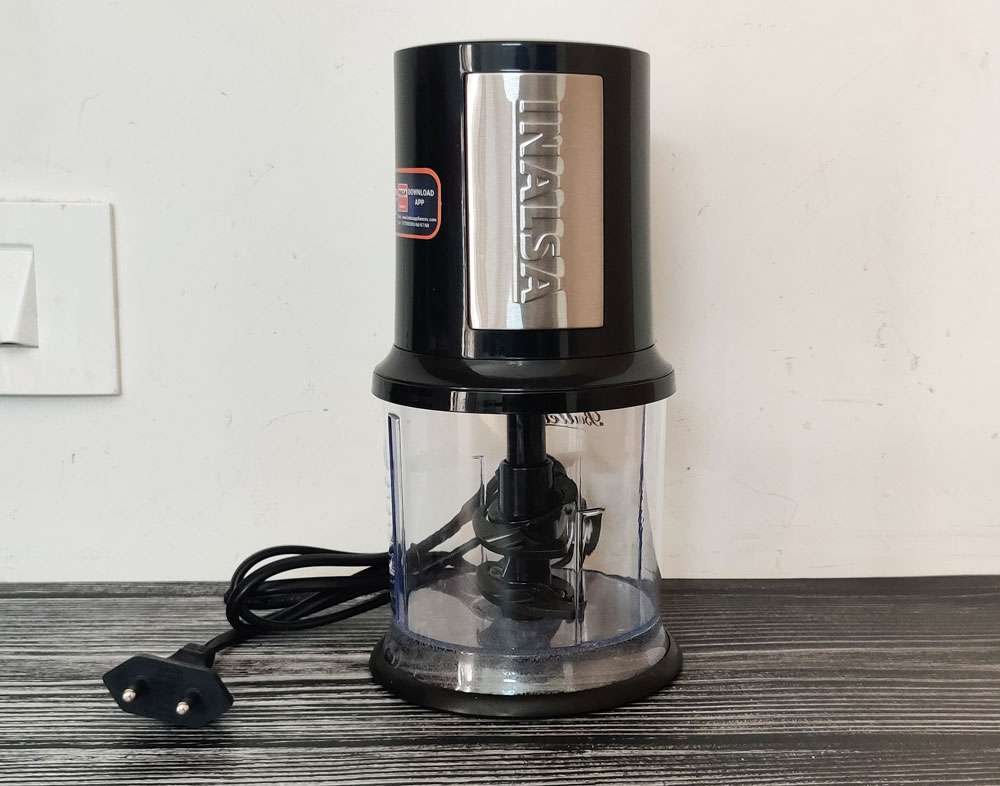 Check the latest price on Amazon
Inalsa Bullet Inox Electric Chopper is a compact and handy option that is capable of chopping a variety of ingredients finely and in a matter of seconds. The bowl comes with a gross capacity of 900 ml and a net capacity of 500 ml.
Just like every other chopper on the list, it has dual blades at different height levels. The bottom blade is perfectly placed to mince small and large quantities of ingredients into a fine consistency. Yet another advantage of the Inalsa Bullet Inox is that the blades come with a guard which you can put on when not in use, thus ensuring better safety.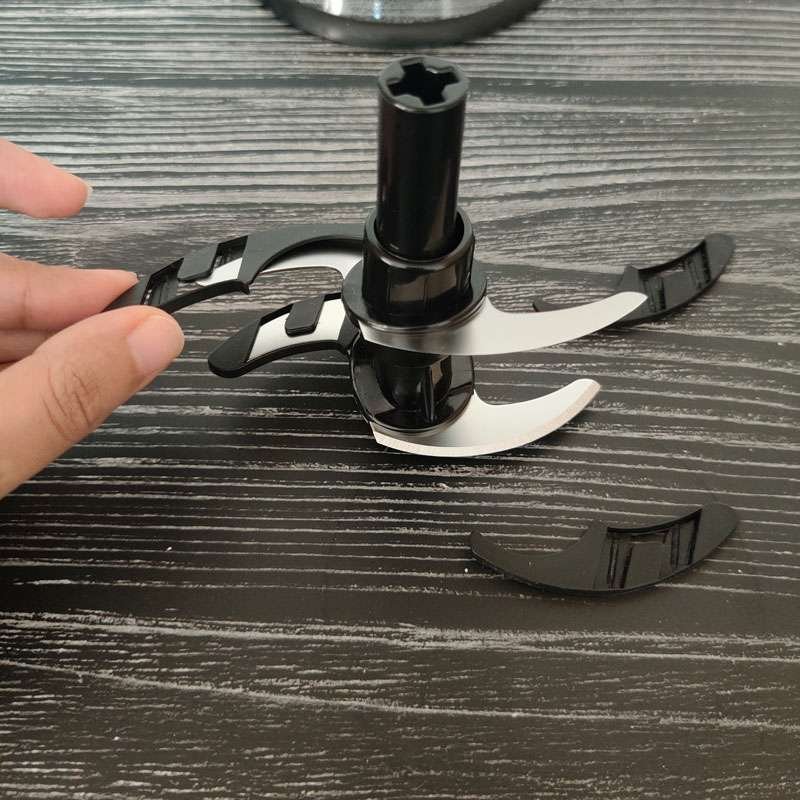 We tried chopping ginger and garlic using the chopper. Whether it is 10 gm or 100 gm, the chopper does a neat job in just 10 seconds. If you want the consistency to be coarser, you could run it for a lesser duration. It is also capable of finely chopping beetroot, carrot and such firm vegetables to a fine consistency. When chopping nuts, it has a tendency to powder them rather than chopping them.
The power cord measures 1.5 m, which gives flexibility in where you place the chopper on the countertop. Just like every other option, the bowl has a lid and the motor unit is placed on the lid. Hence, you don't have to worry about the motor coming in contact with the food or water seeping into it while you clean it. All you have to do is wipe it with a clean towel.
Brayden Chopro Electric Chopper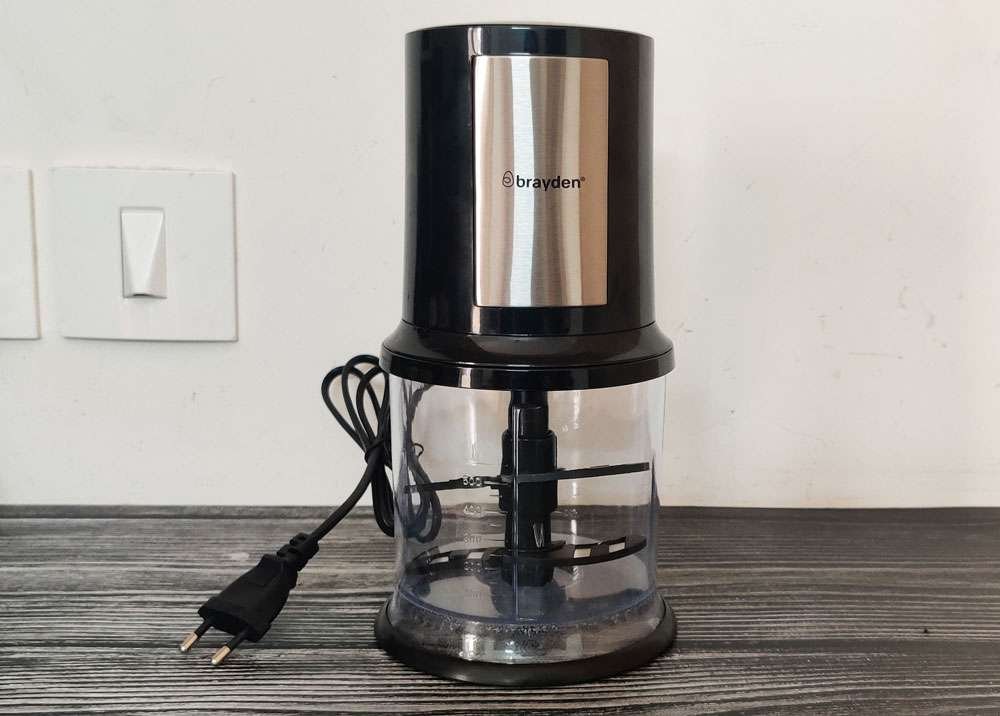 Check the latest price on Amazon
Brayden Chopro has pretty much the same design and performance as Inalsa. Though as per the product description, its motor rating is 400 watts and that of Inalsa is 450, you hardly find any difference in their performance. Its size is also at par with Inalsa.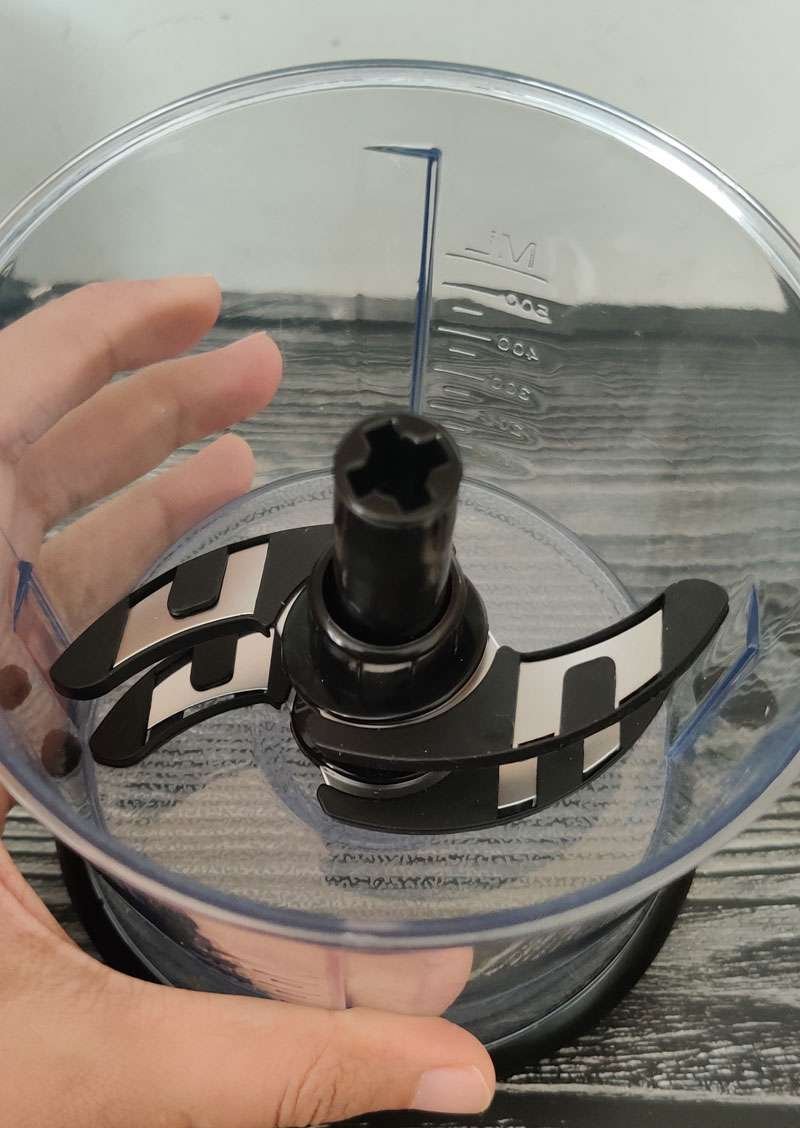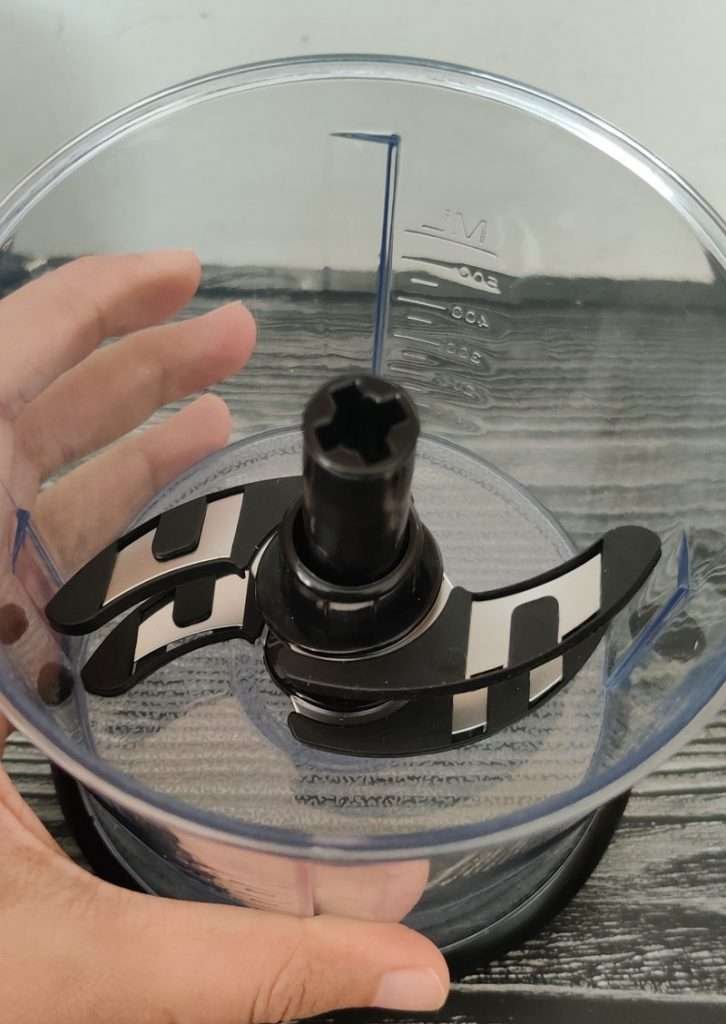 Just like Inalsa, it too chops ingredients into a fine consistency with the lower blades close to the bottom surface. The design and operations are also similar.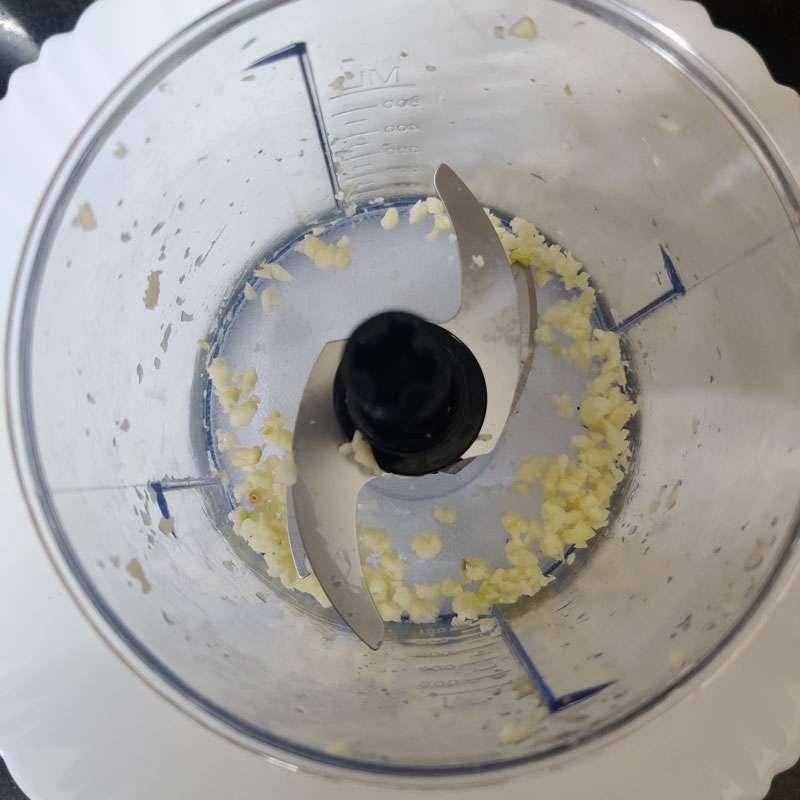 An advantage of Brayden over Inalsa is that it is priced a lot more competitively. But, when it comes to the aftersales service, Inalsa is better than Brayden. Though we sent mail to Brayden with a complaint, there was no response.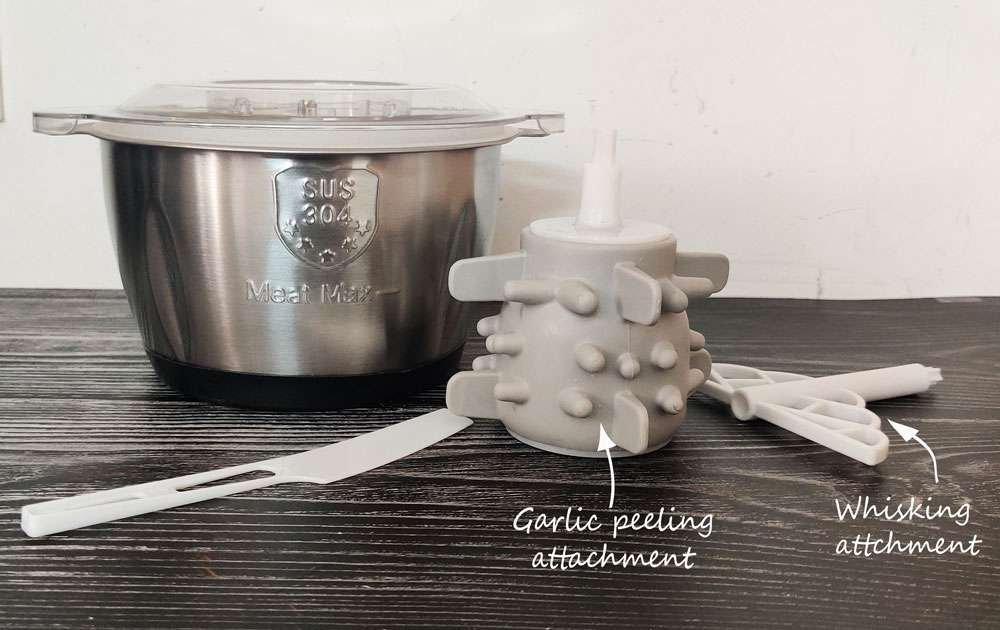 Check the latest price on Amazon
The first thing that caught our eyes about the Instacuppa Premium Electric Chopper is its garlic peeling attachment. Essentially, it is a cylindrical rubber attachment with spikes of different sizes that turns to beat the garlic pieces and thus peel them. Unfortunately, we were rather disappointed with the results because sometimes it crushes the garlic and otherwise, they remain unpeeled.
If you run it for too long, a lot of garlic cloves get crushed and some of them remain unpeeled. And if you run it for just 4-5 pulses, a lot of them remain unpeeled. Overall, this is an attachment we wouldn't really use ever.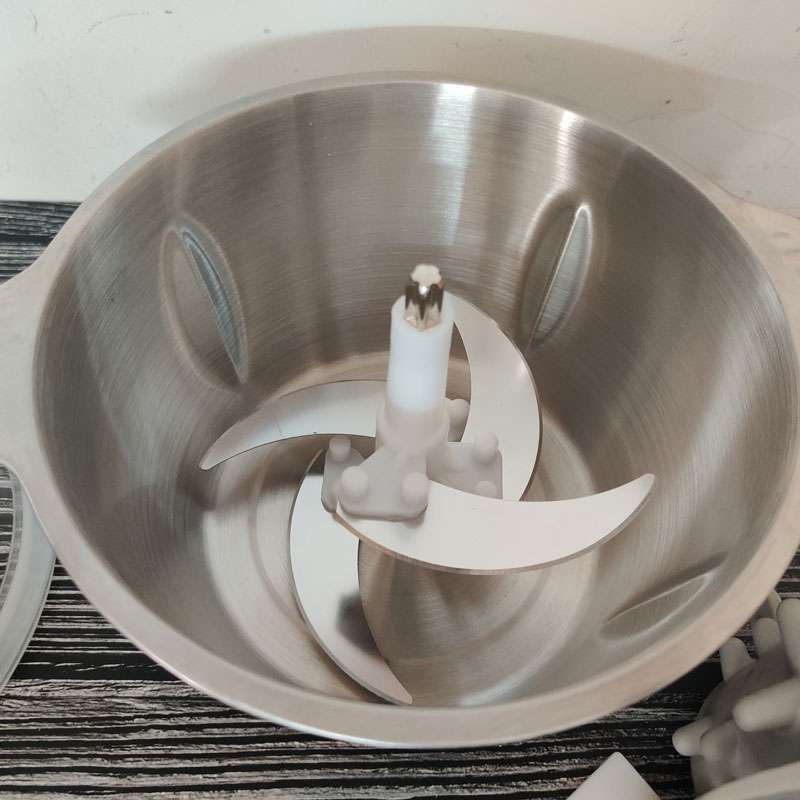 Compared to other options, Instacuppa Premium Chopper has a larger bowl made of stainless steel. This makes it more durable compared to other options. The blades are larger and come with a protective casing, just like Brayden and Inalsa. But, comparatively, it makes more noise as the ingredients hit on the stainless steel surface instead of polycarbonate. Also, the anti-skid base needs improvement as the unit vibrates a lot when functioning
Coming to the performance, Instacuppa Premium does a pretty neat job. It comes with 2-speed levels, while other options have just one. The blades are placed with minimal gap from the bottom surface and it does an absolutely great job chopping tough and soft ingredients in just seconds.
Being made of stainless steel, you don't have to worry about the bowl discoloring or getting cloudy after a few uses.
You also get an attachment for whisking eggs for omelets and there is a separate button for it. But, note that it cannot be used to beat egg whites to a stiff peak.
Overall, except for the garlic peeler, the Instacuppa Premium Chopper is an excellent pick. If you need a chopper for processing, say, 200-300 gm of ingredients at a go or just a few grams, then Instacuppa Premium won't disappoint you.
Check the latest price on Amazon
Borosil Chefs Delight comes with a 300-watt motor and looks pretty much similar to Brayden and Inalsa. Though it is a best-seller on many e-commerce platforms, we did not find it to be as good as the other options.
First of all, there is a significant gap between the blade and the bottom surface, as a result of which ingredients don't get finely chopped. We chopped 10 gm of ginger and garlic separately by pulsing them 10 times each. After 4-5 pulses, the ingredients were chopped into a coarse consistency and fell between the blade and the bottom. As a result, the blades were not touching the ingredients on pulsing further. This has a significant effect on the consistency when you chop small quantities of ingredients. But when you chop larger quantities, it doesn't impact much.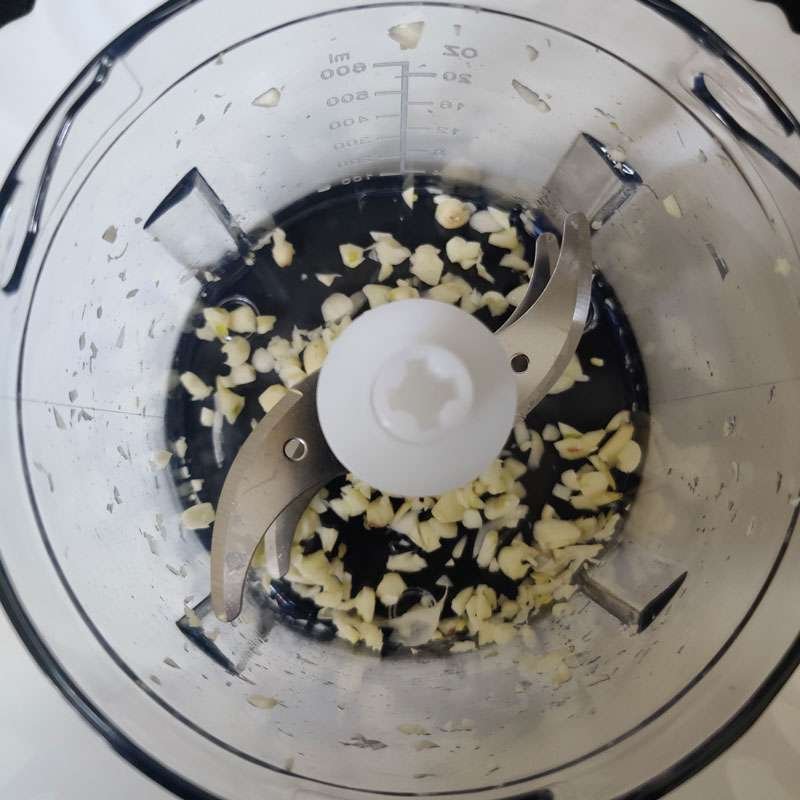 While Inalsa and Brayden have a plastic lid for the bowl, Borosil comes with a polycarbonate lid which has to be locked in place. Comparatively, we found the ones from Inalsa and Brayden easier to use.
Overall, we would definitely recommend Brayden or Inalsa over Borosil, especially if you want to chop ingredients into a very fine consistency.
Check the latest price on Amazon
Instacuppa rechargeable mini chopper comes with a 30-watt motor and 250 ml capacity. It comes with a USB cable measuring… cm which can be used for recharging. It takes about 3-4 hours to fully charge the motor. While charging the light glows red and once charged, it doesn't glow anymore.
The chopping bowl comes with a lid and the motor is fixed on top of it. So, you don't have to worry about food coming in contact with the motor. This makes it way easier to clean.
The chopper comes with 3 blades and design-wise, it is quite similar to Rico, which we talk about next. But, Rico's bowl seems tougher, while Instacuppa's breaks if you drop it lightly.
When it comes to performance, Instacuppa does a much better job. It chops much more finely than Rico and is quicker too. This is probably because of higher power owing to which blade spins faster.
You can chop ginger, garlic, onion, beetroot and other ingredients into a fairly fine consistency in a jiffy. But as it has a gross capacity of just 250 ml, you will be able to chop just about 50-100 gm of ingredients at a go. Also, it won't be as fine as you chop in a wired electric chopper. Moreover, when it comes to the batter backup, Instacuppa lasted for just 24 minutes. Rico on the other hand lasted for more than 50 minutes.
Check the latest price on Amazon
Rico rechargeable chopper comes in a similar design to Instacuppa. It too has a 30-watt motor and the blade design is the same. The motor stops after 30 seconds of continuous operation for a brief second and you will have to press the button again to resume chopping.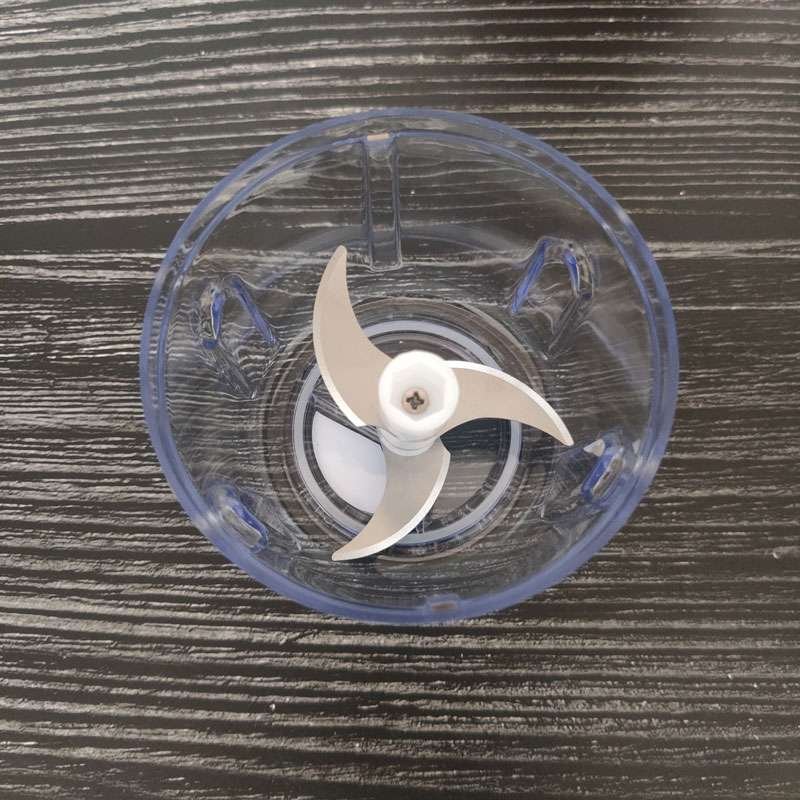 Compared to Instacuppa, ingredients get chopped in a much coarser consistency in Rico. This is because the chopper blade doesn't spin as fast as Instacuppa. Also, yet another disadvantage is that the chopping bowl doesn't have a lid. So, food comes in contact with the motor unit at the top which needs to be carefully cleaned and wiped ensuring water doesn't come in contact with the delicate parts like the charging socket and buttons.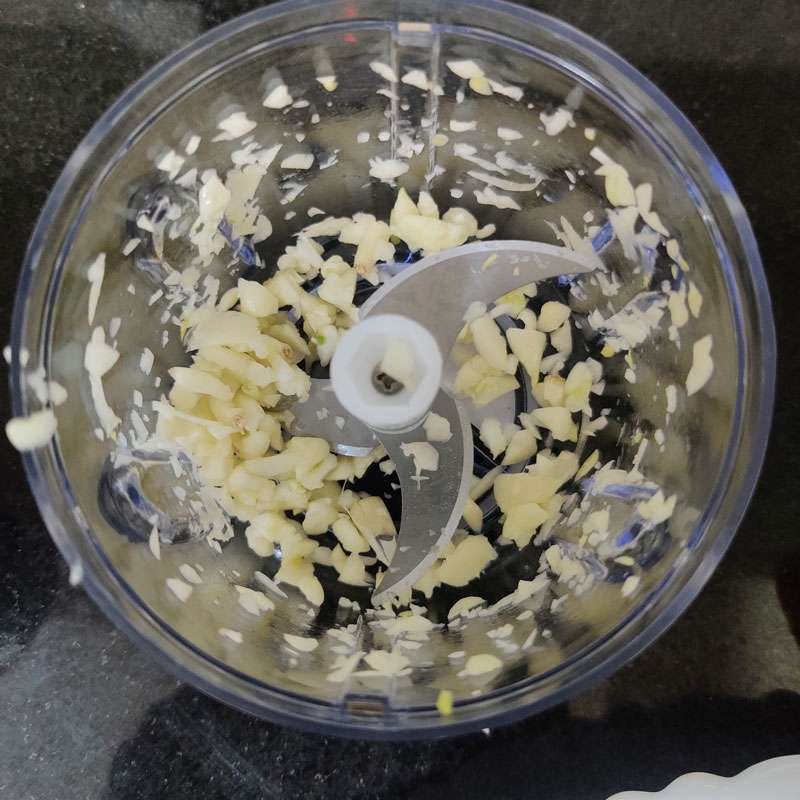 Overall, if you were to choose between Instacuppa and Rico, we would definitely recommend Instacuppa.