I am a huge fan of 3-ply stainless steel cookware. I have 2 stainless steel pans from Meyer and Stahl and a Kadai from Stahl, which I use almost on a regular basis.
Though I have been using it for almost 4 years, they are still as good as new, except for some scratches on the polished outer surface. And what I really love is that they haven't warped and their riveted handles are all in perfect condition. 
Before I turned to stainless steel and cast iron cookware, I was almost exclusively using nonstick cookware for about 3 years. When I became aware of the dangers of nonstick cookware, I chucked them out and switched to healthier options.
My mother-in-law has been using cast iron cookware in her kitchen for decades. So, it was my go-to option. Then, I became aware of the positives of stainless steel from a few fellow home chefs. But, turns out, stainless steel is not completely safe as I thought.
Composition of Stainless Steel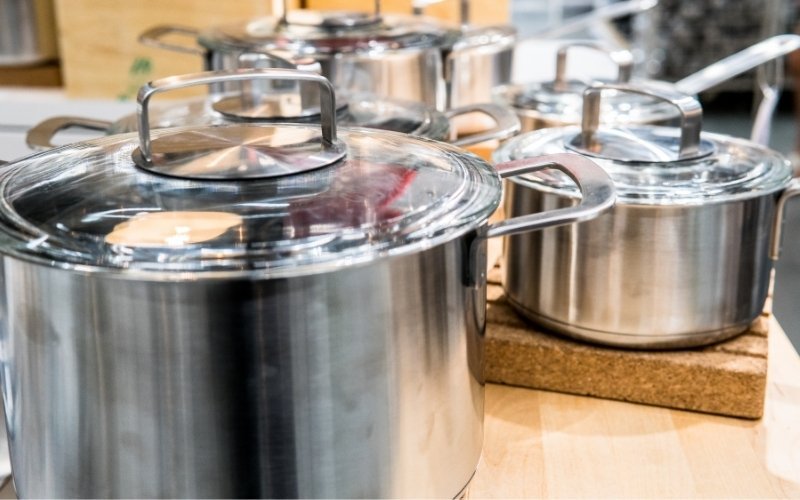 As you might know, 304-grade stainless steel, which is food-grade stainless steel is an alloy that has 18% chromium and 8% nickel. Chromium helps make the steel corrosion-resistant, while nickel adds stability and strength to it. You might also see grades like 18/10, 18/8 and 18/0 stainless steel- they all essentially refer to the percentage content of chromium and nickel respectively.
Out of these options, 18/10 is considered the best owing to its excellent strength and stability. But now, researchers have proven that there is a downside to it.
As per studies, stainless steel leaches nickel and chromium into the food cooked in it. This happens significantly when acidic food is cooked in it.
Related reading: Best Stainless Steel Frying Pans In India
The Research
Scientists boiled different commercial tomato sauces in the 304 (18/8) and 316 (18/10) grade stainless steel for durations ranging from 2 to 20 hours. The results of the tests showed that new stainless steel cookware leaches a high quantity of chromium and nickel into the food. As much as 6 mg/kg of Nickel and Chromium was leached into the food. This tends to stabilize after the 6th cooking cycle.
Nickel and chromium can sometimes cause adverse health effects. As per FDA, the maximum intake level of Nickel is 1,000 μg per day. Ingesting Nickel in higher quantities may result in reactions like dermatitis. Chromium is a trace element necessary for humans. But, its overdose can result in stomach problems, low blood sugar, kidney and liver damage.
You may also like: 7 Best Pressure Cookers In India
So, does this mean you have to throw away your stainless steel cookware?
Fortunately, no. Though stainless steel leaches nickel and chromium, the levels are high only in the first few uses and when you cook acidic food in them for an extended duration.
In another study, where researchers boiled tomato sauce and lemon marmalade in stainless steel cookware for an hour, they found significantly high levels of chromium and nickel in new unused pans compared to older ones.
Moreover, when non-acidic food like soups, rice etc. are cooked, the nickel and chromium leached was well below the daily in-take limit.
So, rather than avoiding stainless steel altogether, you need to exercise care while cooking in them.
Related reading: 5 Ply Stainless Steel Cookware in India: Is It Worth It?
How To Use Stainless Steel Safely?
Avoid cooking acidic food with tomato, tamarind or a lemon base in stainless steel, especially when it is brand new.  You can use clay pots or even cast iron to cook acidic food. Though it affects the seasoning of cast iron, it can be re-seasoned. Moreover, cooking acidic food in cast iron increases its iron content, which is beneficial to your health.
Preferably, use 304 or 316-grade stainless steel cookware, as they leach lesser nickel and chromium compared to 200-grade stainless steel.
After 10 cooking cycles, you can cook acidic food like Puliyogare, Butter Chicken etc, in stainless steel cookware. But even then, avoid using it if the cooking duration is more than an hour.
That being said, if you are sensitive to nickel or chromium or have dermatitis, avoid using stainless steel cookware altogether. Else, opt for Nickel-less stainless steel varieties like Meyer Select.
Recommended Stainless Steel Brands
Some of the top stainless steel brands we highly recommend are-
Was this post helpful?
Let us know if you liked the post. That's the only way we can improve.