Hamilton Beach is a premium mixer grinder that has been receiving rave reviews from users. It is perhaps the most expensive domestic mixer grinder available in the market. And it has several USPs. It has preprogrammed functionalities, excellent design and robust built quality. In this review, we shall delve into these features in detail and explore whether it is really worth the huge price tag.
Product
Hamilton Beach Juicer Mixer Grinder
Power
1400 Watts
Jars
3 jars ( 500 ml, 1 litre and 1.5 litre)
RPM
18,000 RPM
Pros
Handsfree operation
Fairly good built quality
Above average grinding efficiency
Cons
Very noisy
Expensive
Price
Amazon
Jars
The jars of Hamilton Beach Mixer Grinder are solidly built. It comes with 3 jars of sizes 500 ml, 1 litre and 1.5 litres. They are all made of stainless steel with Tritan lids that have locks. The advantage of having Tritan lids is that they are shatterproof and quite stain resistant. They don't scratch as badly as polycarbonate lids you find on regular mixer grinders either.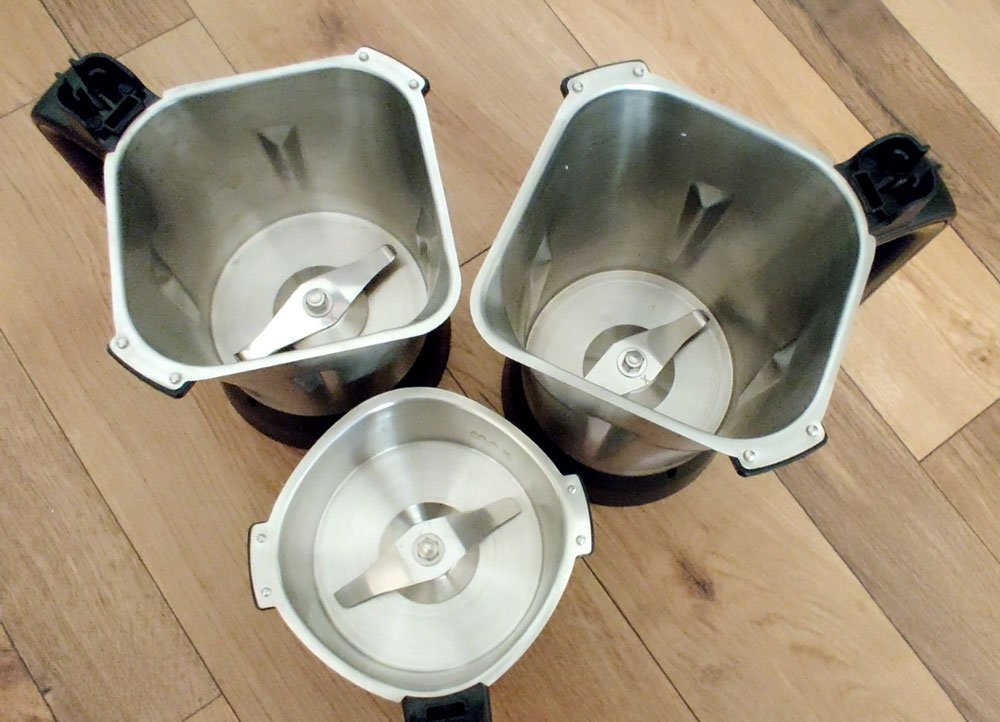 The jars have a clean design with handles and base attached without screws visible from the interiors. So, they are easier to clean.
The blades of all jars are of the same design. And they are not removable. All jars have lid locks and have to be locked onto the motor housing correctly in order to start working.
Motor Housing
Hamilton Beach Juicer Mixer Grinder has a 1400 watt motor. It has pre-built functionalities to grind a variety of ingredients in desired consistency. In addition, if you want to manually control the power and time, you have a knob with 10 speed settings with an RPM ranging from 5 to 18K cycles.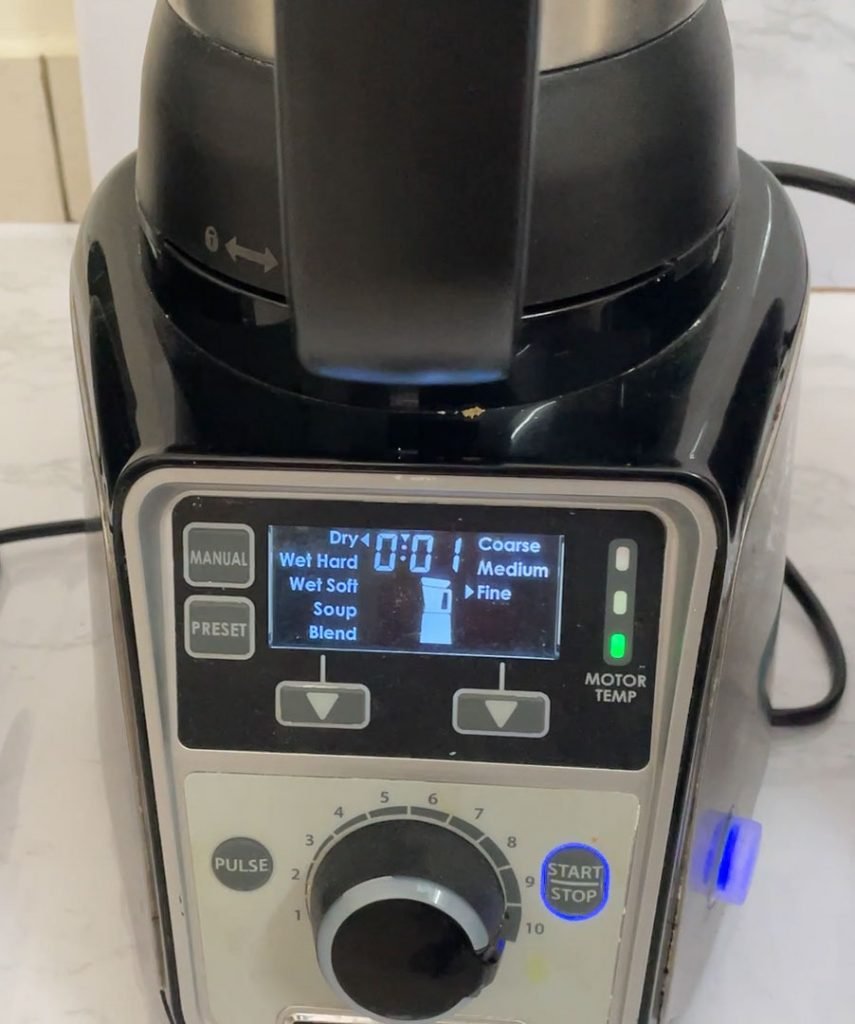 Talking about the preset functionalities, on the left side of the menu on the motor housing, you can choose from dry, wet hard, wet soft, blend and soup functions. On the right, you can choose the desired consistency as coarse, medium and fine. If you choose blend or soup functions, you have to choose from half or full depending on the quantity of ingredients added.
The dry setting is used for making spice powders. Using wet hard, you can make chutney, coconut paste, ginger-garlic paste etc and using wet soft, you can grind masala, onion and such softer ingredients. Blend function can be used for making smoothies and shakes. Finally, the soup function runs for about 5-7 minutes. As a result, the friction creates heat and warms the ingredients. But, it doesn't have any boiling function. It just becomes warm.
Depending on the function, the blades spin at varying speeds to grind to desired consistency for a preset time. For example, if you choose dry grinding in fine consistency, the mixer grinder will run for about 1.5 minutes. First at a low-moderate speed to break down the ingredients and then at the maximum speed to grind them into a fine powder.
So how well do these preset functions work? Let us explore.
Performance
To test out the Hamilton Beach Juicer Mixer Grinder, we tried grinding a variety of wet and dry ingredients into different consistencies.
With the smallest dry grinding jar, we made turmeric and garam masala powders. Turmeric has to be first broken down to pieces less than an inch in length.
We set them in fine consistency and within 1.5 minutes, we were able to grind them. Upon sieving them, we did get some coarse residue. But even so, its performance was fairly satisfactory.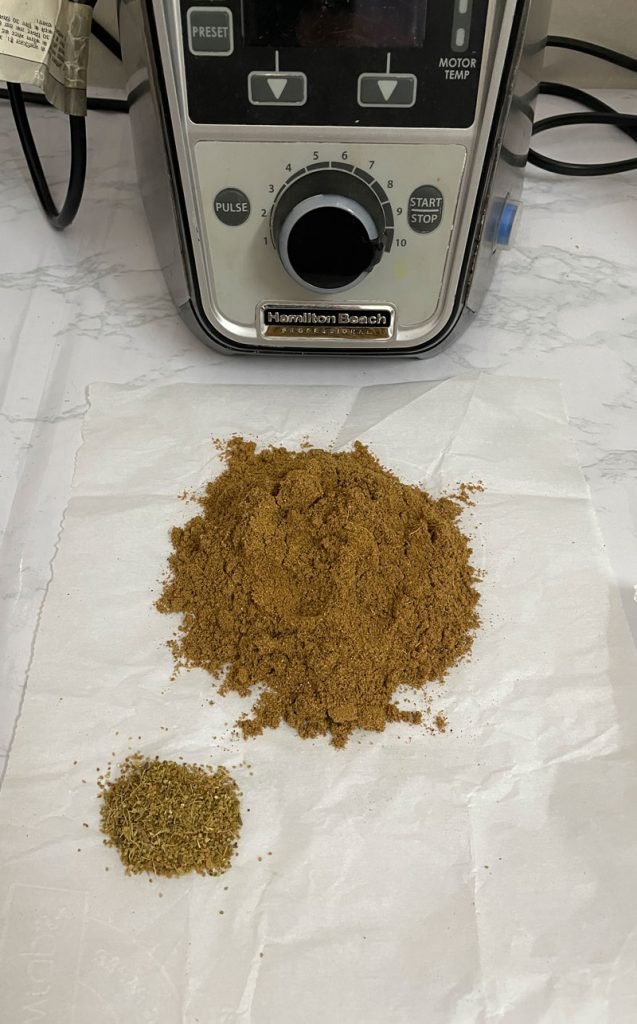 We have also tried grinding chutney, idli batter, mincing meat and so on using the wet hard and wet soft options and we got absolutely wonderful results. A drawback however is that it cannot grind smaller quantities of ingredients like Sujata Dynamix. When you try grinding a little bit of ginger-garlic paste (20 gm) for a dish, they get coarsely chopped instead of getting ground to a fine consistency.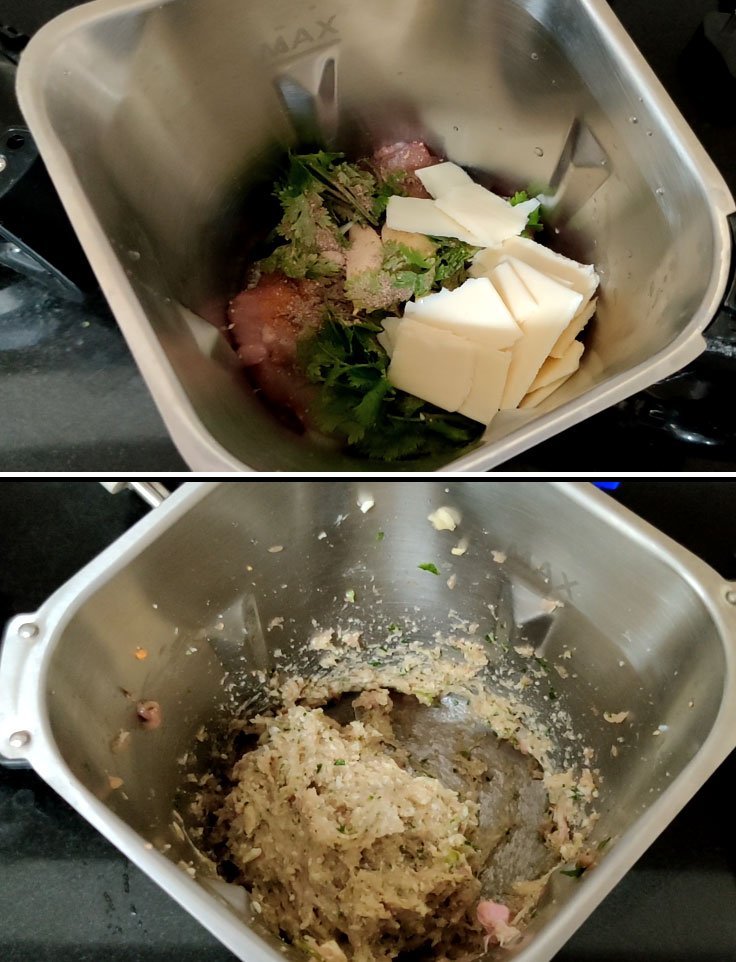 We have also tried grinding raw rice for making rice powder for puttu. We had to sieve and grind the coarse residue twice. But were able to make around 1 kg rice powder. In between, the motor heat indicator turned yellow for a while. So we had to give a break and continue after a 15 minute gap.
The blend function is also quite good and takes around 45 seconds only. It is one of the few options that come with a tamper. Using it, you can push the ingredients towards the blade and ensure all ingredients are blend to a uniform consistency. The tamper fits through the opening at the top of the lid and is just long enough so that it doesn't touch the blades.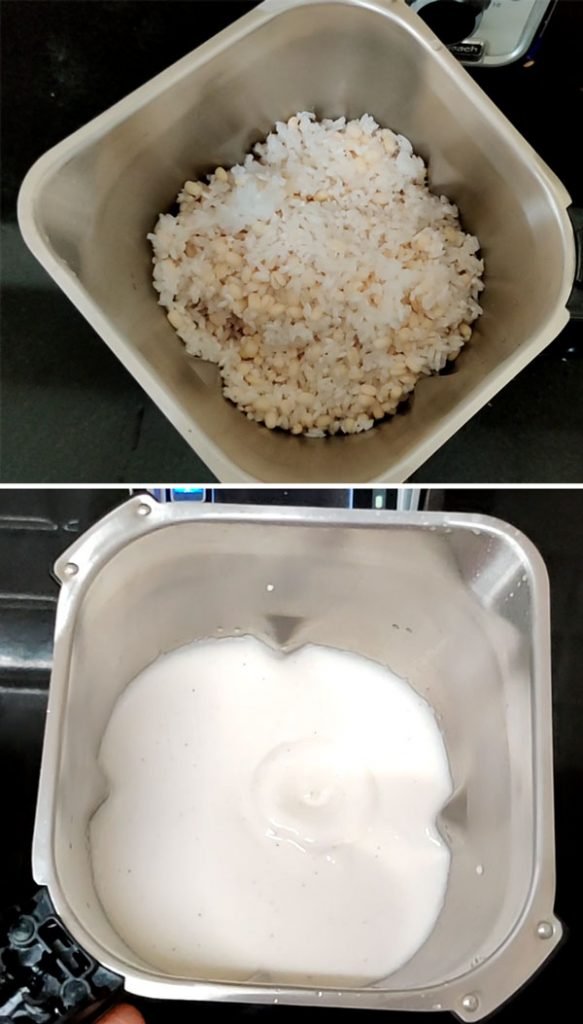 You get a recipe booklet along with the mixer grinder and it offers some insight on how to use the mixer grinder for various recipes. But, we weren't able to find any that uses the soup function. We however tried making tomato soup by blanching tomatoes and adding garlic, bay leaf, onion, butter etc. After 5 minutes, the soup was warm and alright in taste. But, it can't really compare to what you make on the stove top.
Though the product is sold as a juicer mixer grinder, you don't find any juicing attachments that you typically find in other mixer grinders. So, the product name is a bit misleading.
Overall, the mixer grinder is pretty good at grinding. Another aspect we really loved is that it offers absolutely hands-free operations. We will talk about it in detail in the next section.
You may also like our article on Best Hand Blenders In India
Safety
The mixer grinder is one of the safest options out there in the market. It has a power switch on the side of the motor housing. So you needn't necessarily switch on and off from the power plug everytime.
It has standard features like shock-proof body, three pin plug and overload protection switch that turns off the motor when it detects overload. Further, on the motor housing panel, you can see a motor heating indicator. It remains green when it's working normally. But when it gets heated, it turns yellow and finally when the overload protection switch gets triggered, it turns red. So, you can proactively switch off the machine when it turns yellow and prevent the overload protection switch from getting triggered.
Yet another aspect we loved is that it has double lock mechanism which ensures the mixer grinder doesn't turn on unless you lock the lid to the jar and the jar to the motor housing correctly.
As a result, it is one of the few mixer grinders that offer absolutely hands-free operations. You can choose the desired setting and switch on the mixer grinder and it stops after the preset time. This becomes quite helpful during the morning rush when you are multi-tasking. Preethi Cosmo and Preethi Zodiac 2.0 are other options that have such preset functionalities. But as they do not have a lid lock, you have to hold the lid which makes this feature pointless. I mean, if you are at the mixer grinder, you don't need to use the preset functions. We can just listen to the sound and decide when to switch it off.
Noise
Speaking of sound, the noise level of the mixer grinder is one of the worst. When running at the maximum speed, it makes around 100-105 dB, which is almost double that of a regular mixer grinder ( dB increases logarithmically. So a difference of 10dB means almost double the noise.) The only other option making comparable noise is Bosch Truemixx Pro Mixer Grinder
Ease of Use
Without a doubt, the Hamilton Beach Mixer Grinder is one of the easiest mixer grinder to use. You just need to load the ingredients and choose the setting and it takes care of the job without any hassle.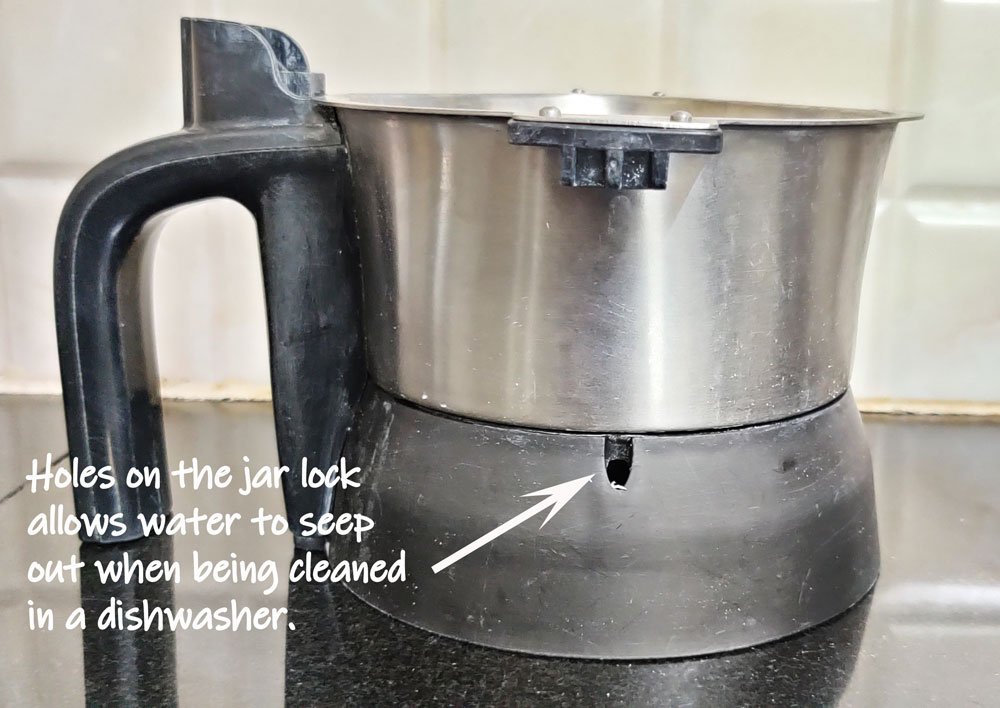 The jars are pretty easy to clean also. As mentioned earlier, the design is clean as the base and the handles are welded from the outside. So there are no screws inside the jar. So, you needn't worry about food accumulating around the screw heads and resulting in grime over a period of time.
Yet another positive is that the jars are dishwasher friendly. All other jars, when cleaned in the dishwasher, accumulate water in the jar lock. But in Hamilton Beach, there are holes in the jar lock so water seeps out and don't accumulate. So, you needn't worry about dirty water dripping on other dishes or the coupler getting damaged due to the accumulated water.
Conclusion
Hamilton Beach Juicer Mixer Grinder is one of the most expensive mixer grinders available in the market. But if you have it, you can make a variety of spice powders and grind a variety of ingredients without much hassle. Its grinding efficiency is quite good and the hands-free operation is immensely useful. The neat design also makes it easy to clean. The main drawbacks are its high price and loud noise that is enough to wake up your neighbour. Even so, considering the ease of use, it is definitely an option worth buying if you can afford it.
The product is available mainly on Amazon and you can check it out here.
Was this post helpful?
Let us know if you liked the post. That's the only way we can improve.