A hand blender is an easy-to-use and portable appliance to make smoothies, chutneys, soups, puree food etc. Out of the leading options available online, Kent 16044 is promising with a 400-watt motor, removable shaft and variable speed controls. Let us take a look at how it performs, its ease of use and other aspects to help you make an informed buying decision.
Pros
Lightweight and easy to use
Excellent blending performance
Fairly ergonomic in design
Cons
Ingredients sometimes get stuck in the blade guard.
Design and Features
Kent 16044 hand blender comes with a 400-watt motor. Its speed can be adjusted using a dial located at the top of the motor housing. On the sides, there are a power button and a turbo speed button.
The shaft which contains the blending blade is removable. This not only makes it easier to clean but also enhances the ease of use. In between blending, you can remove and keep the shaft vertically on a flat surface like a lid. This prevents it from touching any surfaces and getting contaminated.
That being said, the design is not without drawbacks. First of all, you need to keep pressing the power button to run the blender, which can be fatiguing. Next, as the speed dial is on the top of the body, you won't be able to adjust it while the blending is running. You need one hand to hold the blending jar and the other to hold the blender. So, you have to stop running it, adjust the speed and then restart. These are unfortunately minor inconveniences common to most hand blenders available in India.
Performance
Thanks to the powerful motor, the blender is able to blitz different ingredients with ease. However, it gets overheated when running for longer stretches. That being said, as you can blend shakes, soups, mayonnaise etc in around 2 minutes or less, overheating wouldn't be a huge issue.
One of the first things we tried with the blender was making mayonnaise. It requires sufficient speed and power to emulsify egg yolk and oil to make mayonnaise. And Kent 16044 was able to do that in just 1-2 minutes.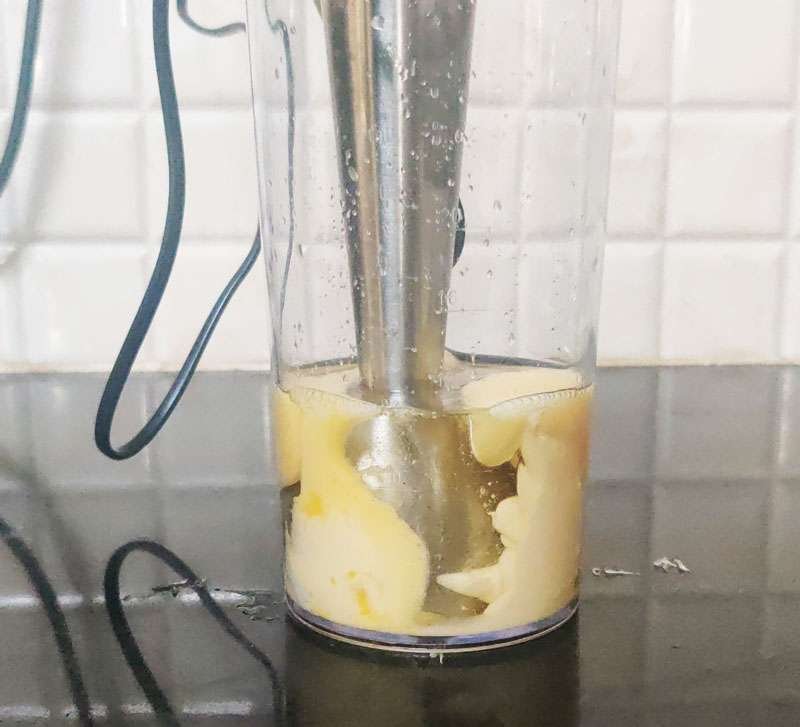 To see how well it can blend blanched tomatoes for soups, we tried blending 500 gm of tomatoes and filtered it to check the remaining residue. Here again, we were able to blend the tomatoes in 2 minutes and after filtering, we got just a little bit of seeds and fibre. This was pretty much the same level as what we got trying other hand blenders.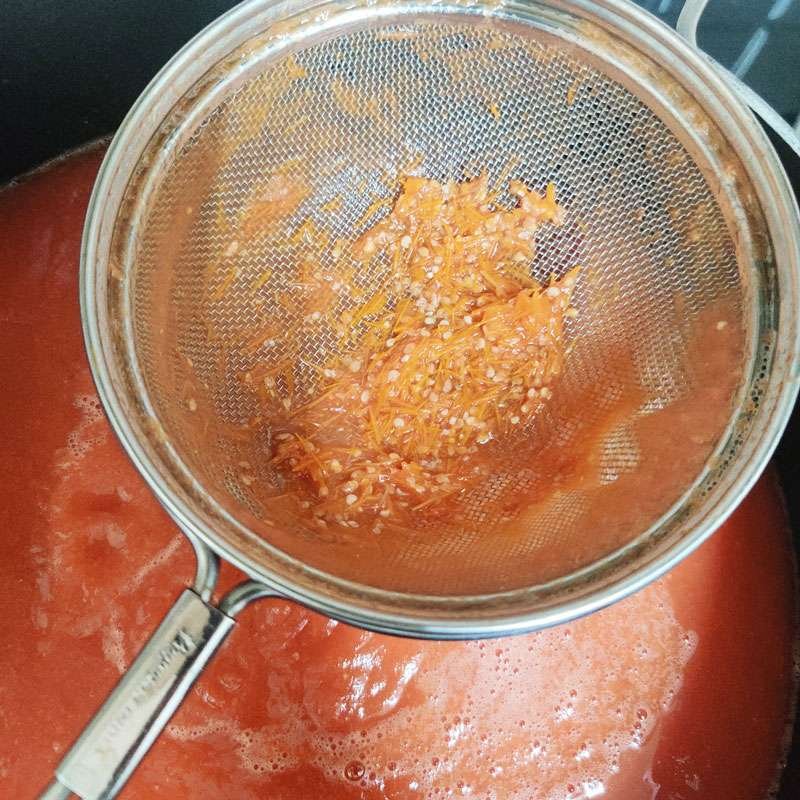 We also pureed boiled corn for making sweet corn soup. To blend properly, you need to add sufficient water to the boiled corn. Else, the corn pieces could get stuck in the blade guard. It took us about 2-3 minutes to blend the boiled kernels of one corn into a fine consistency.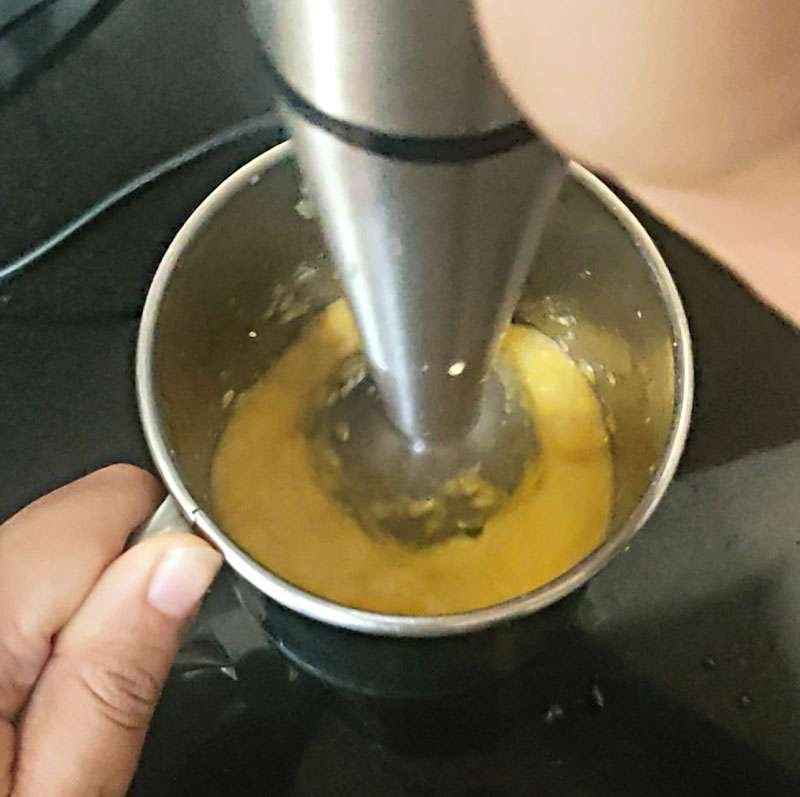 It takes around 1.5 minutes to make a milkshake with apple, banana, cashew nuts and dates. The consistency is fairly smooth, just like how you get with Inalsa Inox 1000 Robot hand blender. The nuts have a tendency to get stuck in the blade guard. So, you may have to take out the blending shaft in between to ensure nothing is stuck in it.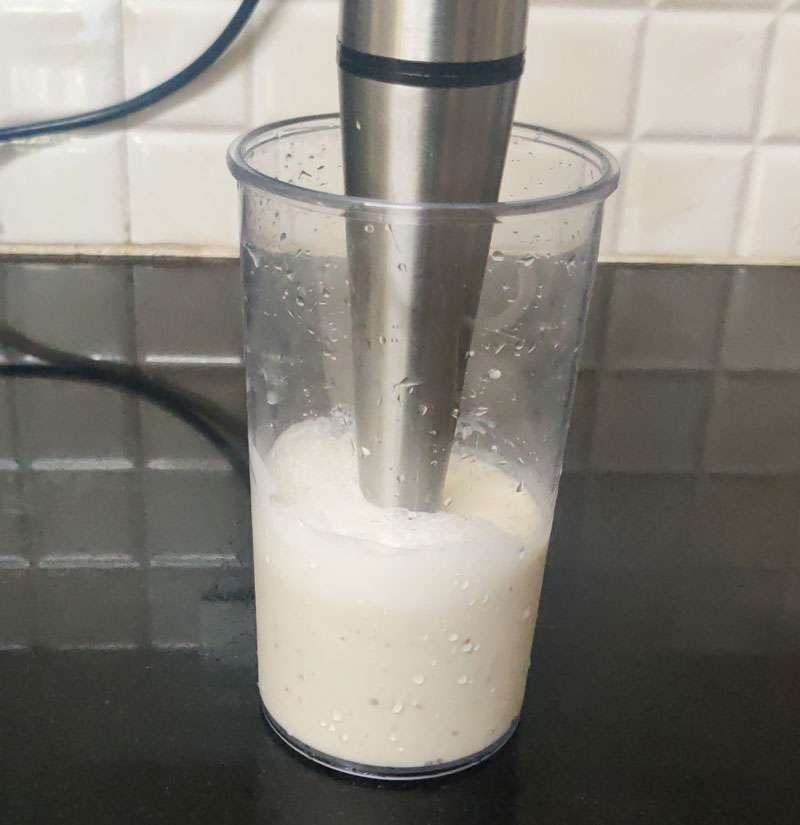 Related reading: Best Hand Blenders In India
Ease of Use and Cleaning
Weighing 690 gm, it was the most lightweight among the options we tried. But, not the best option if you need to use it for long stretches continuously. The blender is comparatively thinner than Inalsa Inox 1000 Robot, which makes it easier to hold too. But, the power button could have been wider.
The dial controlling the speed is out of reach during operations and that is a letdown. Also, you need to keep pressing the power button to run the blender. But then, unfortunately, it is the same with most other hand blenders available in the market too.
The unit is easy to clean as the blending arm can be removed from the body.
Comparison With Other Models
Compared to options like the Inalsa hand blender, it is lightweight, thinner and easier to use. Even when it comes to performance, though Inalsa claims to have a 1000-watt motor, we don't find any drastic difference in the time taken or consistency of the blended ingredients.
Philips HL1655 on the other hand, has more blades, making it more versatile. But, Philips costs higher than Kent.
Conclusion
Kent 16044 is an apt hand blender for those who are looking to make chutneys, smoothies etc on a regular basis. It is compact, powerful and thin, which makes it easier to use as well.