Balzano is a d2c company selling numerous home and kitchen appliances. Among the blenders they sell, Balzano High-Speed Nutriblender is one of the powerful options with a 1200 watt motor. It comes with 3 cups and leakproof lids for those who want smoothies on the go. In this review, we take a look at its design, blending & dry grinding performance, noise levels, ease of use and other aspects to find whether it is an ideal option for your needs.
Pros
Excellent blending and dry grinding performance.
Moderately compact unit
Easy to use.
Ideal for: Those who need a solution for making any variety of smoothies, dry grinding spices, making masala, mayonnaise, peanut butter and such grinding chores. It is an ideal option for bachelors or families with 2-3 members who don't want to make a large quantity of idli/dosa batter in a blender. Or if you have a wet grinder, it can be used for a family of 4 too for other grinding chores. The compact footprint makes it an attractive option for those with a small kitchen too. We have judged it as the best smoothie blender out of the various options we tried.
Design
Balzano High Speed Nutriblender is a compact unit that takes minimal space on your countertop. Compared to Nutribullet PRO, it takes more space however.
Many options, including expensive blenders like Nutribullet PRO come with an activator tab that switches on the appliance as soon as the jar is fixed. This could be a bit intimidating for new users who have only been used to mixer grinders. But, Balzano High Speed Nutriblender comes with buttons for on/off, blending and pulsing. This is much more convenient than what Nutribullet PRO offers.
Along with the unit, you get three cups made of tritan. The product description states the capacity of the cups as 350 ml, 600 ml and 700 ml. These are the maximum levels to which the cups can be filled. If you look at the gross capacity, it is actually higher. The gross capacity of the jars come to 700ml, 950 ml and 1.1 litres.
Along with the cups, you get two lids. One has a spout and other is sealable. Neither of them leaks, making them an apt choice for those who want to have a smoothie on the go. The spout makes it easier to drink compared to the thick lip rings which Nutribullet provides.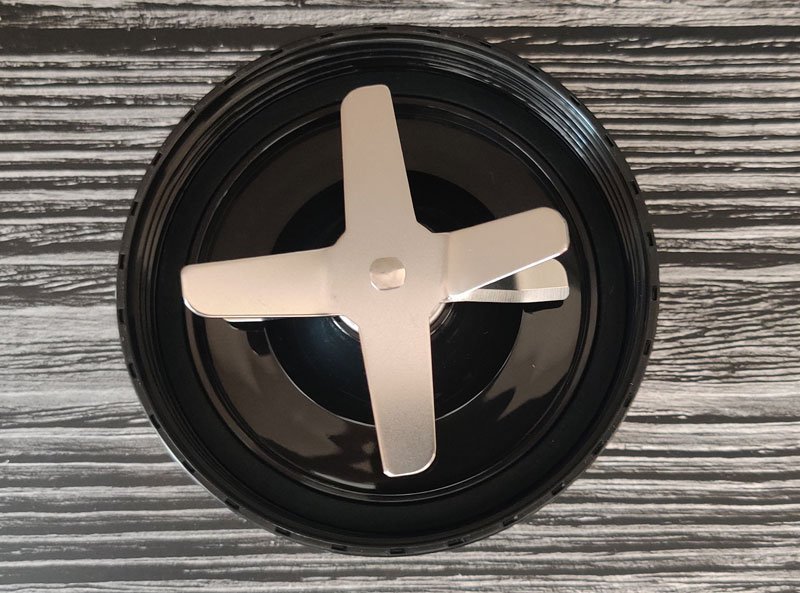 While Nutribullet comes with 2 set of blades, you get just the extraction blade with Balzano. The blade has a standard design with 6 wings that can be used for blending, dry grinding and other grinding chores.
Along with the blender, you get a recipe book and an instruction manual which helps you understand the basics of how to use a blender.
Blending Performance
The Balzano blender comes with an extraction blade and has a 1200 watts motor. Due to the high power and efficient blades, it is able to pulverize any ingredient into a smooth consistency in a minute or less.
There are three modes for blending ingredients. If you press on the ON switch, the blender runs at the maximum speed for a minute and then switches itself off. As per the manual, you need to wait for 3 minutes before starting the blender again. Upon pressing the "blend" mode, the unit runs at fast and slow speed at fixed intervals. Here again, it runs for a minute and then switches off. Finally, you have pulse mode too. The 1 minute cut off is useful as you can switch on the appliance and walk away for other chores and it will be done without you having to switch off the appliance.
We tested a green smoothie and a dry fruit shake to understand how well it blends various ingredients.
For the green smoothie, we used spinach, frozen banana, apple, ice and coconut milk. Within 45 seconds, it was able to blend the ingredients to a smooth consistency. There were no lumps or unblended chunks in it. The spinach was pulverized without leaving any grainy texture to the smoothie.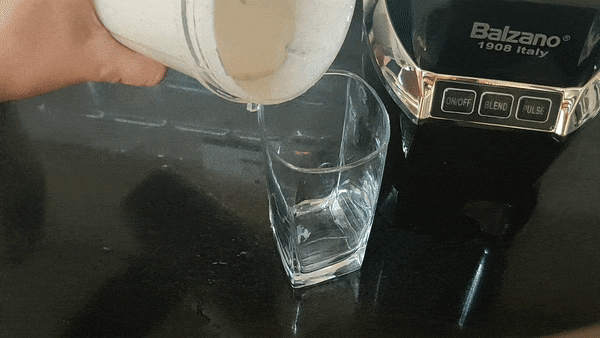 The next was dry fruit shake. The ingredients we used were apple, banana, 25 gms each of cashew and almond, ice and coconut milk. This too was blended into a smooth consistency in a minute.
Finally, we crushed 150 gms of ice using pulse function. Yet again, we got ice crushed without any uncrushed pieces in less than a minute.
Overall, the blending efficiency of the unit is top-notch. It is as good or even better than Nutribullet PRO because the different blending modes make it easier to use.
Related reading: 7 Best Hand Blenders In India
Dry Grinding Performance
To check the dry grinding efficiency, we tried grinding just 30 grams of garam masala. Larger quantities can be easily ground in mixer grinders. So, we wanted to check how it would perform for smaller quantities of ingredients.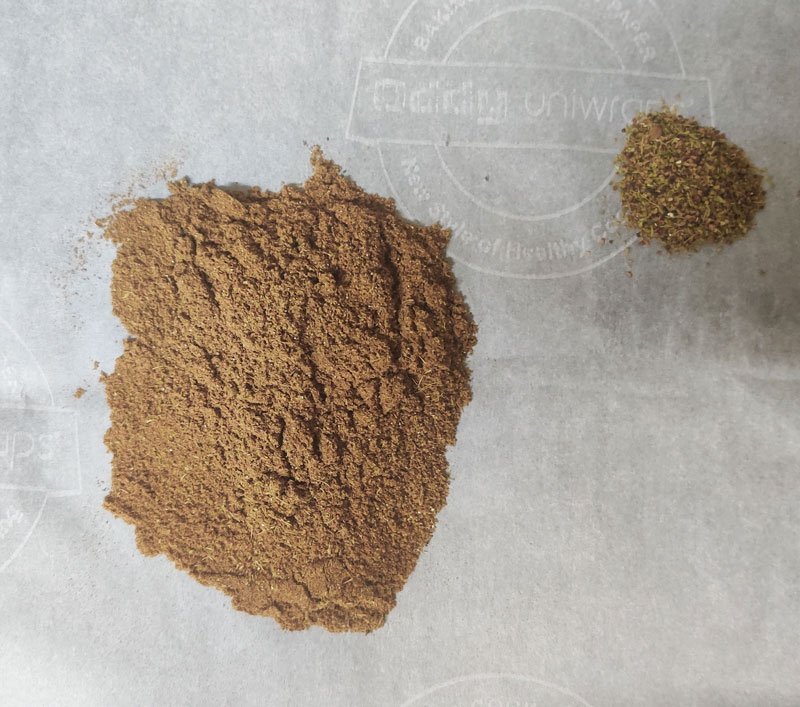 Nutribullet, Agaro and a few other options come with a milling blade. But Balzano has a single blade for all purposes. And that was sufficient. In a minute, the blender was able to grind the garam masala into a fine powder leaving just a teaspoon of coarse residue after sieving. This was again an impressive feat.
Multiple Functionality
When you pay around Rs. 5000 for a blender, you would want it to go beyond making just smoothies. Balzano doesn't disappoint. Be it making chutney, mayonaise, masala or even peanut butter, the blender does a neat job of it all and of course, in less than a minute.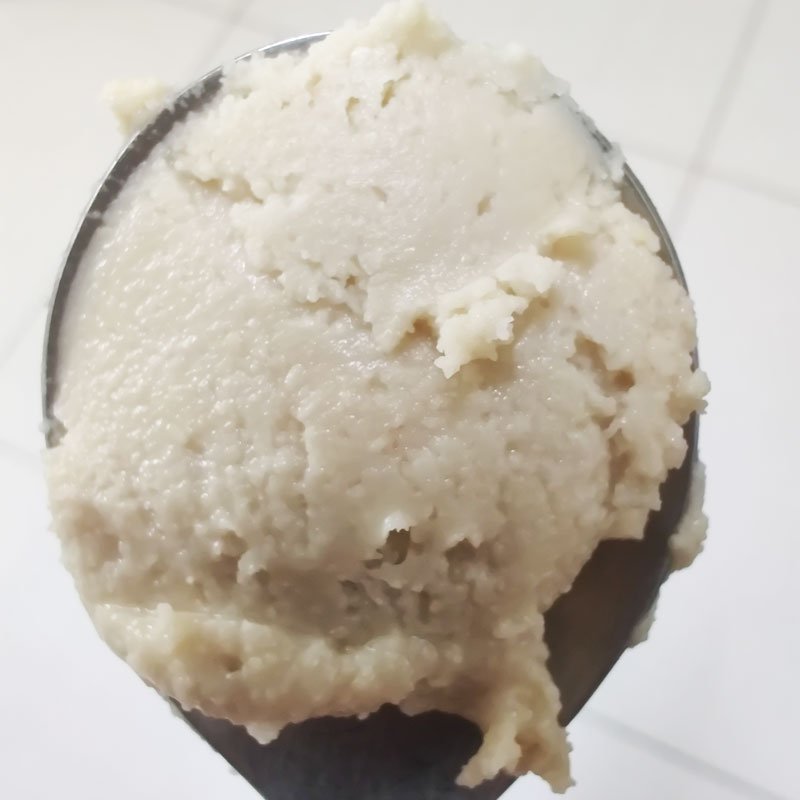 Making peanut butter in Nutribullet was not a pleasant experience as you have to push the jar to the base to pulse the ingredients. As Balzano has a dedicated button for pulsing, it gives a much better control. You can pulse in several short bursts and this allows the ingredients to fall back onto the blade again to get blend thoroughly. We made peanut butter using just 200 gm of peanuts. And without even scraping the sides and pushing it back to the blades, we were able to make it in desired consistency. The experience was delightful.
You can also make batter for idli or dosa. But as the cups have a low capacity, you won't be able to make it for more than 2 persons.
Noise Level
This is perhaps an area where Balzano lacks. The unit is noisier than Nutribullet PRO. It makes around 93-100 dB noise, which isn't really pleasant. The noise is a bit too harsh at the maximum speed.
Ease of Cleaning
The clean-up after making smoothies is quite easy. You can either add a few drops of dishwashing liquid and water and pulse a few times to clean up the cups and blade. Else, you can handwash it too.
But when you whip food with high fat content like mayonnaise or sticky food like peanut butter, the food gets stuck in the gasket, underneath the blades and on the grooves in the cup. At that time, you may have to remove the gasket and clean underneath and that is not an easy task.
A drawback with all blenders is that grinding garam masala in it can permanently discolour the plastic body and give it a cloudy appearance.
Flaws, But Not Deal Breakers
The high noise level is definitely the main drawback of the Balzano High Speed Blender. The only relief is that being quick, you don't have to tolerate the noise for a long time. Otherwise, you cannot really find any fault with the blender.
Aftersales Service
The aftersales service network of Balzano is rather limited. You need to contact them via mail or phone and get the product serviced. User reviews are fairly positive about the aftersales service. A few users say upon finding any damage, the service team arranges to replace the damaged piece.
Conclusion
Balzano has priced the high speed blender competitively compared to other options with 900-1200 watts. Though noisy, its performance is top notch and the design is user-friendly too. If it had a larger cup, it could have easily replaced a mixer grinder. But, if you rarely make idli batter and need a solution for smoothies, masala, dry grinding and such chores, Balzano High Speed Nutriblender would be ideal for you.
Was this post helpful?
Let us know if you liked the post. That's the only way we can improve.