A few years ago, when I moved to my new home, I decided to stop using all the nonstick cookwares and opt for healthier alternatives. That is when I came to know about triply stainless steel cookware. And prominent among the brands selling them was Stahl.
I was of course apprehensive about spending 2-3 times of regular cookware on these coveted pieces of utensils. To the extent, I even thought of returning it after getting it in my hand. But, I did not. And now, three years later, I realize that buying those Stahl cookware was one of the best decisions I took for my kitchen.
These versatile utensils can do it all. From making upma, soups, curries, fried rice to biriyani and even melting butter to ghee, these utensils are my go-to choice for everything.
In this review, we shall talk about its built quality, durability, cooking performance and other pros and cons to help you decide whether it is the right option for you.
Design And Build Quality
Over the past three years, I have bought Stahl Triply Stainless Steel Kadais in 24 and 28cm sizes and a Stahl Artisan Frying Pan with a lid. Recently, we also bought the Stahl triply pressure cooker for our best list of pressure cookers.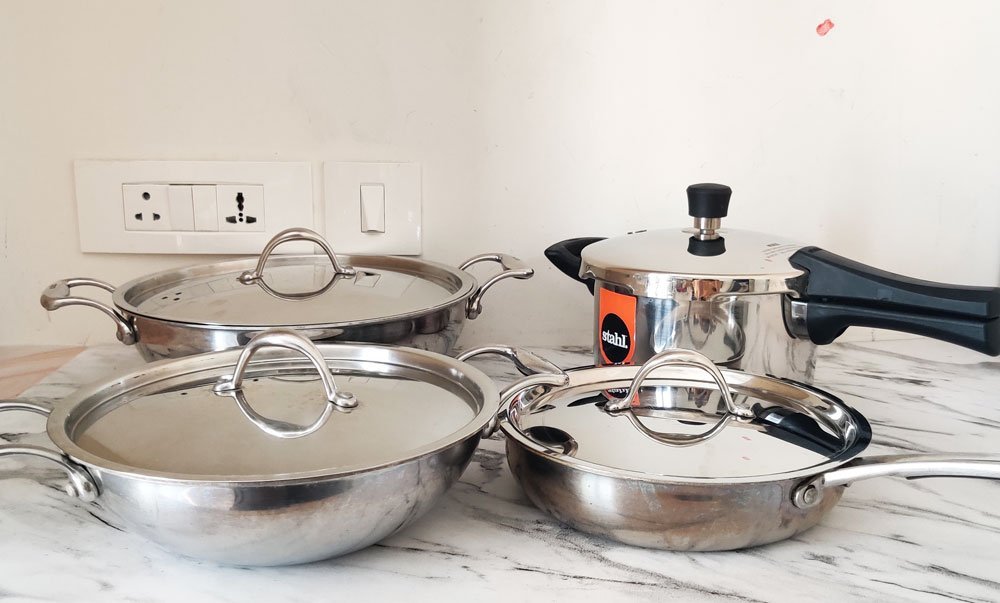 All of Stahl's products are made of triply stainless steel. This means the cooking surface is made of food-grade 304 stainless steel and the outer body is made of magnetic stainless steel which is induction friendly. In between these two layers, there is a thick layer of aluminium sandwiched. As a result, triply cookware combines the best of stainless steel and aluminium. It conducts heat quickly and evenly and doesn't scorch the food.
Stahl's Kadais are wide in shape and 2-4% more shallow than other brands. The triply stainless steel has a thickness of 2.5mm, which is pretty much the standard expected from all triply cookware.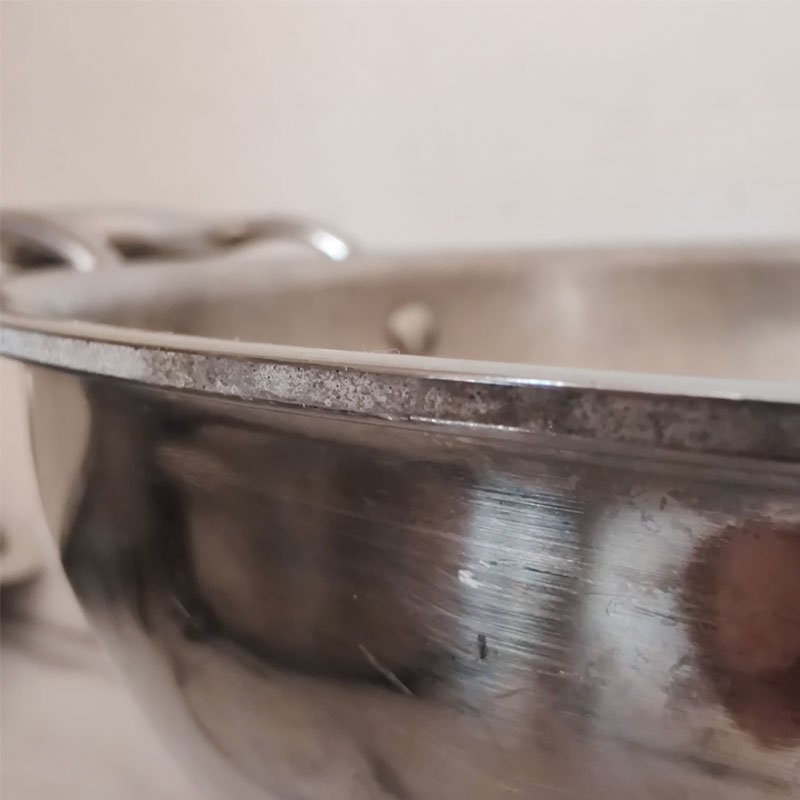 The 24 cm Kadai has a capacity of 2.4 litres and the 28cm Kadai has a capacity of 4.4 litres. Comparatively, this is marginally less than Bergner whose 24cm Kadai has a 2.5-litre capacity. It also costs more. Bergner also sells deep Kadais which has a much higher capacity. For example, Bergner's 28cm deep Kadai has a 5.7-litre capacity. But, Vinod's 28cm deep Kadai despite the name has just a 4.5-litre capacity.
The Stahl cookwares have mirror-finished exteriors and a matte cooking surface. This is better as the scratches on the cooking surface are not very prominent. But the exteriors fade off after a few years of use. This however doesn't affect the cooking performance in any way.
The Kadais have a short rounded handle with silicone padding underneath. Though it is an effort to keep the handles cool, it doesn't really work. After cooking for around 30 minutes in the Stahl Kadais, the handles do start getting warm. When making dishes like Biriyani which has a longer cooking duration, the handles get fairly hot. But then, this is common to most other brands, except for Meyer Trivantage Kadai, which is a bit better owing to the silicone clad handles, but still not completely cool to touch.
You may also like our article on Best Air Fryers In India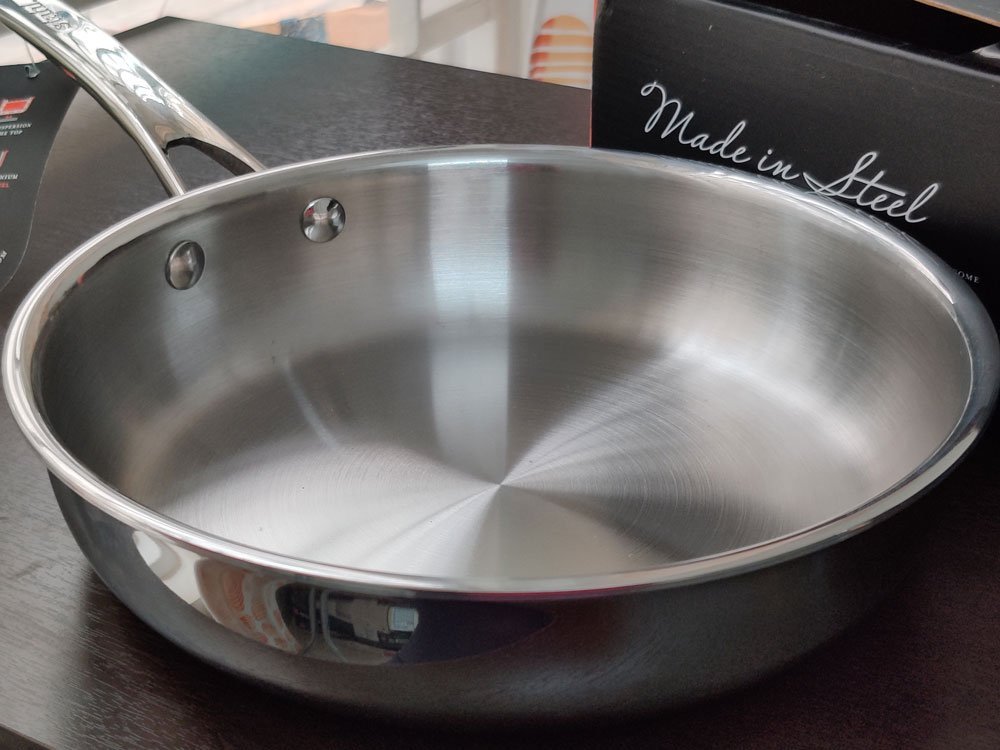 Talking about the frying pan, what we noticed is that its handles are short and thick and not very conducive for flipping food. Also, as the body doesn't have sufficient slope, it is a bit difficult to flip food with a spatula too. Also, the rivets have a tendency to expand and bulge from the body.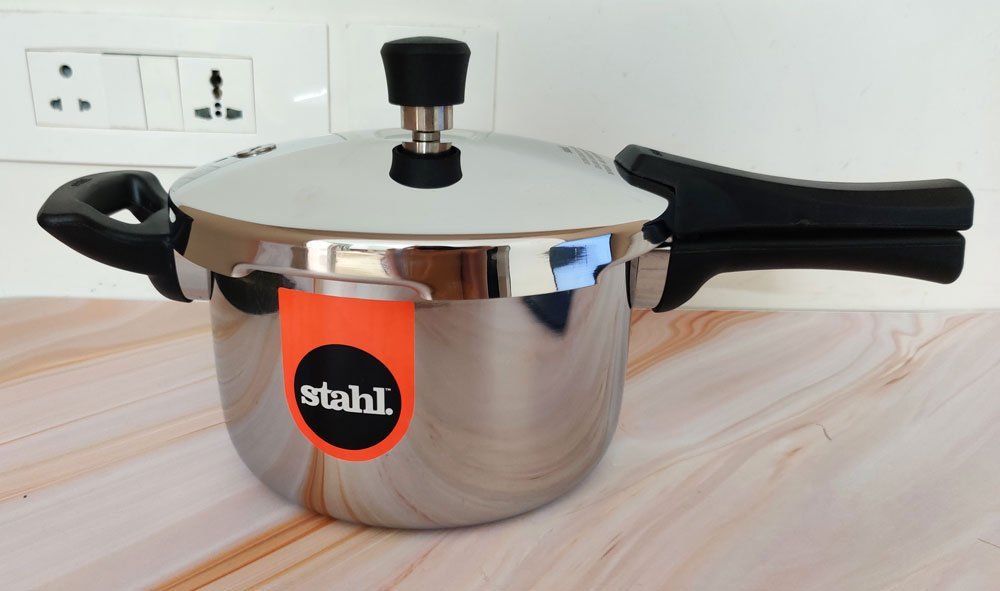 The Stahl Xpress pressure cooker has pretty good built quality. It is thicker than all other options we tried including Prestige and Hawkins. Further, the lids are smooth and can be fixed quite easily to the body.
Yet another option from Stahl is the Neverstick Frying Pans which come with nonstick coating. While most nonstick pans come with an aluminium base, Stahl Neverstick has a triply stainless steel base. The coating covers edge to edge of the cooking surface, unlike the Hybrid models where nonstick coating appears in a honeycomb design. In such pans, oil needs to be used liberally else food will get stuck to the pan. But, you can cook in Stahl Neverstick with minimal oil.
The built quality of the pan is pretty good and unlike aluminium, triply stainless steel do not warp. So, you needn't worry about pan wobbling or bulging at the centre. This is especially significant when you use the cookware on an induction stove as wobbly pans won't sit properly and won't heat uniformly as a result. The main disadvantage of Neverstick pan is the pricing. It costs almost 2-3 times a regular nonstick pan. Considering most nonstick coatings peel off with 2-3 years of use, it may not necessarily be the most cost-effective option out there.
Cooking Performance
Triply cookware have better cooking performance owing to its higher heat retention and even conduction of heat. As a result, we have noticed that all of Stahl's cookware require less oil and don't scorch food too much.
It is always recommended to cook on a slow to medium flame on triply cookware. When sauteing onions, masala or rice for making Biriyani and fried rice in Stahl, we have noticed that it doesn't scorch or get too stuck. Of course, it is not as stick-resistant as nonstick cookware, but no, it does not get stuck to the point of annoying the chef or ruining the dish.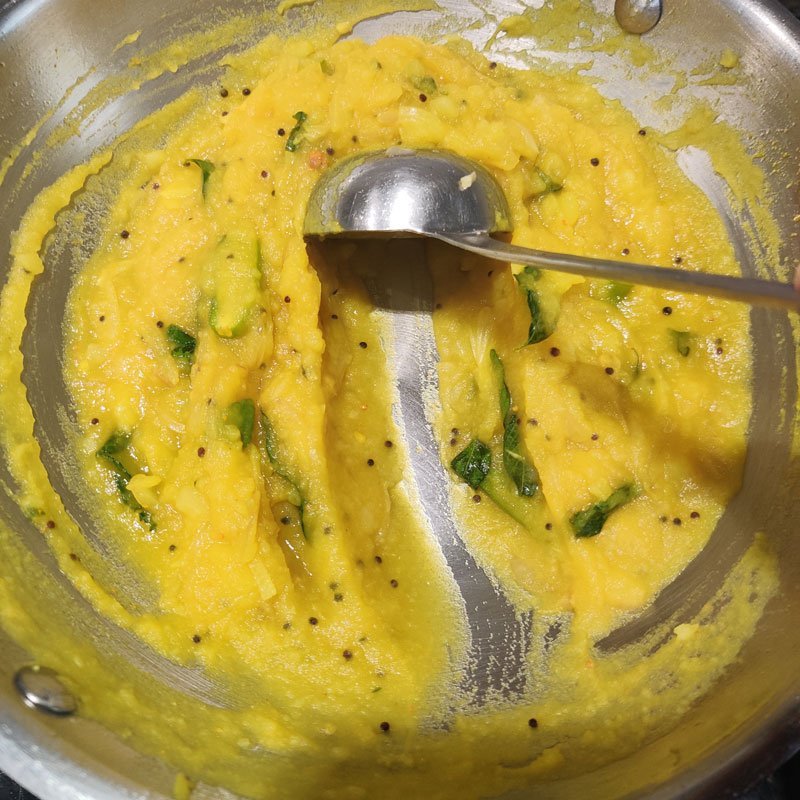 The excellent heat retention of the Kadais also means better fuel efficiency. Also, the residual heat slowly cooks the food even when you turn off the stove and keeps the food warm for serving. Better heat retention was also noticed in our comparison between Stahl and other pressure cookers.
Even when using the frying pan, we have noticed that compared to Meyer, it has a better stick resistance. The browning is also even.
The Neverstick pan too heats uniformly and the food gets evenly brown. As the nonstick coating is from edge to edge, you can cook using minimal to no oil too.
A drawback however with the pressure cooker is that a lot more starch and froth gets out through the vent tube, compared to Prestige and Hawkins.
Durability
Having used Stahl cookware for the past 3 years, we are quite happy with its durability. Over the period of time, it has lost the sheen and mirror finishing, but when it comes to the cooking performance and overall build quality of the Kadais, it is still as good as new. The frying pan however has developed a gap in the rivets after a year's usage.
The cookware are dishwasher-friendly too. However, if you want to preserve the mirror finishing, then it is recommended to handwash it. Also, take care not to bang the ladles and spatula on the edges as it may cause minor dents on the cooking surface.
As mentioned, the base of the Neverstick pan is triply stainless steel, which is highly durable. But, there is a high possibility that the nonstick coating could flake off after a few years of use.
Stahl Products We Recommend
Stahl 24cm Artisan Triply Stainless Steel Kadai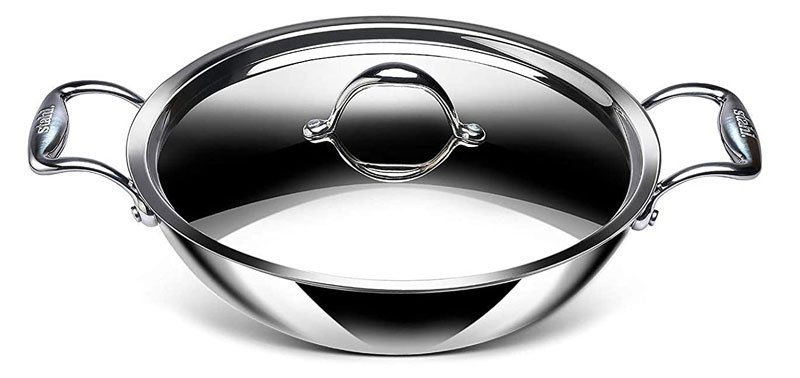 Check latest price: Amazon | Flipkart
Stahl 28cm Artisan Triply Stainless Steel Kadai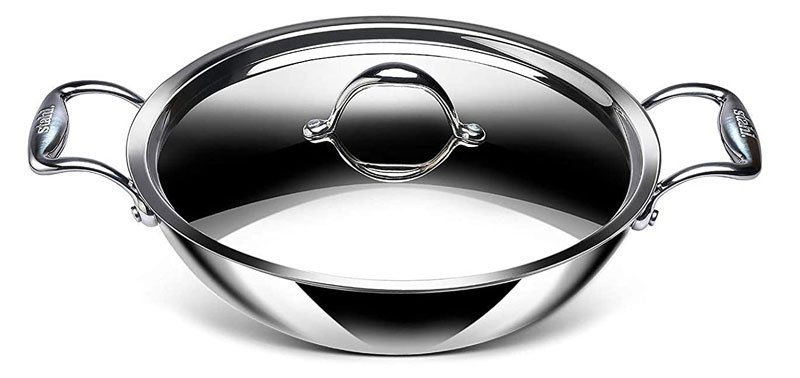 Check latest price: Amazon | Flipkart
Stahl 24cm Artisan Triply Stainless Steel Frying Pan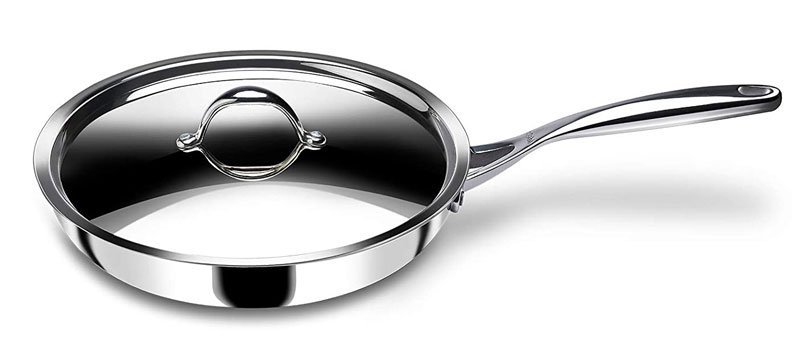 Check price: Amazon | Flipkart
Stahl Xpress Triply Pressure Cooker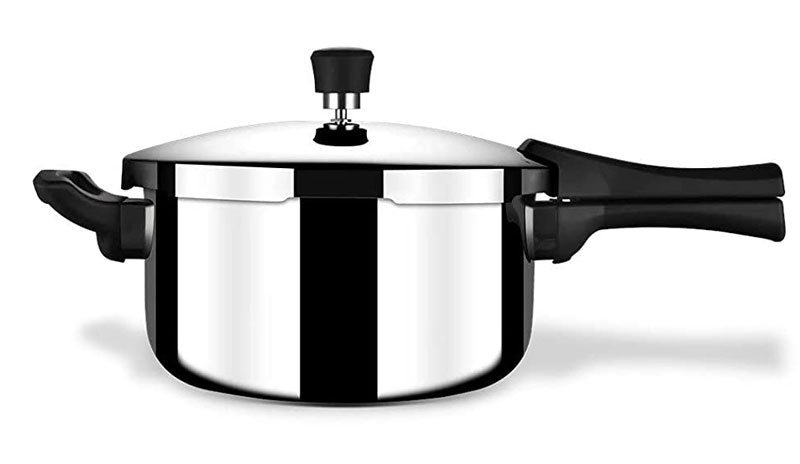 Check price: Amazon | Flipkart
Stahl Neverstick Triply Frying Pan
Check price : Amazon
Was this post helpful?
Let us know if you liked the post. That's the only way we can improve.