A plastic-free kitchen can be attained with a little bit of planning and effort.
One of my aspirations, when we shifted to our new home, was to have a plastic-free kitchen. But it wasn't an easy task. To be honest, there are a number of options available in plastic. They are versatile, airtight, and durable and you don't have to worry about them falling and breaking. The healthier alternatives are glass and stainless steel containers. But each has its own set of problems.
Stainless steel containers are opaque and often not airtight. Glasses overcome these problems, but they are prone to breakage.
So, it was after a lot of deliberations that I finally decided on the materials, the right sizes and fit. And we talk about all those to help you choose the right storage solutions for a plastic-free kitchen.
But first, a disclaimer. As you would have seen in the title, it is 'almost' plastic-free. Because I still buy groceries that come in plastic packaging. Then there are lids of the glass and stainless steel containers that come in plastic. And then of course like any typical Indian family, I have Tupperware from relatives who brought me food. Hopefully, there will be a day when I am able to eliminate all plastic like the retired village officer from Kerala. But till then it is going to be 'almost'.
Pulses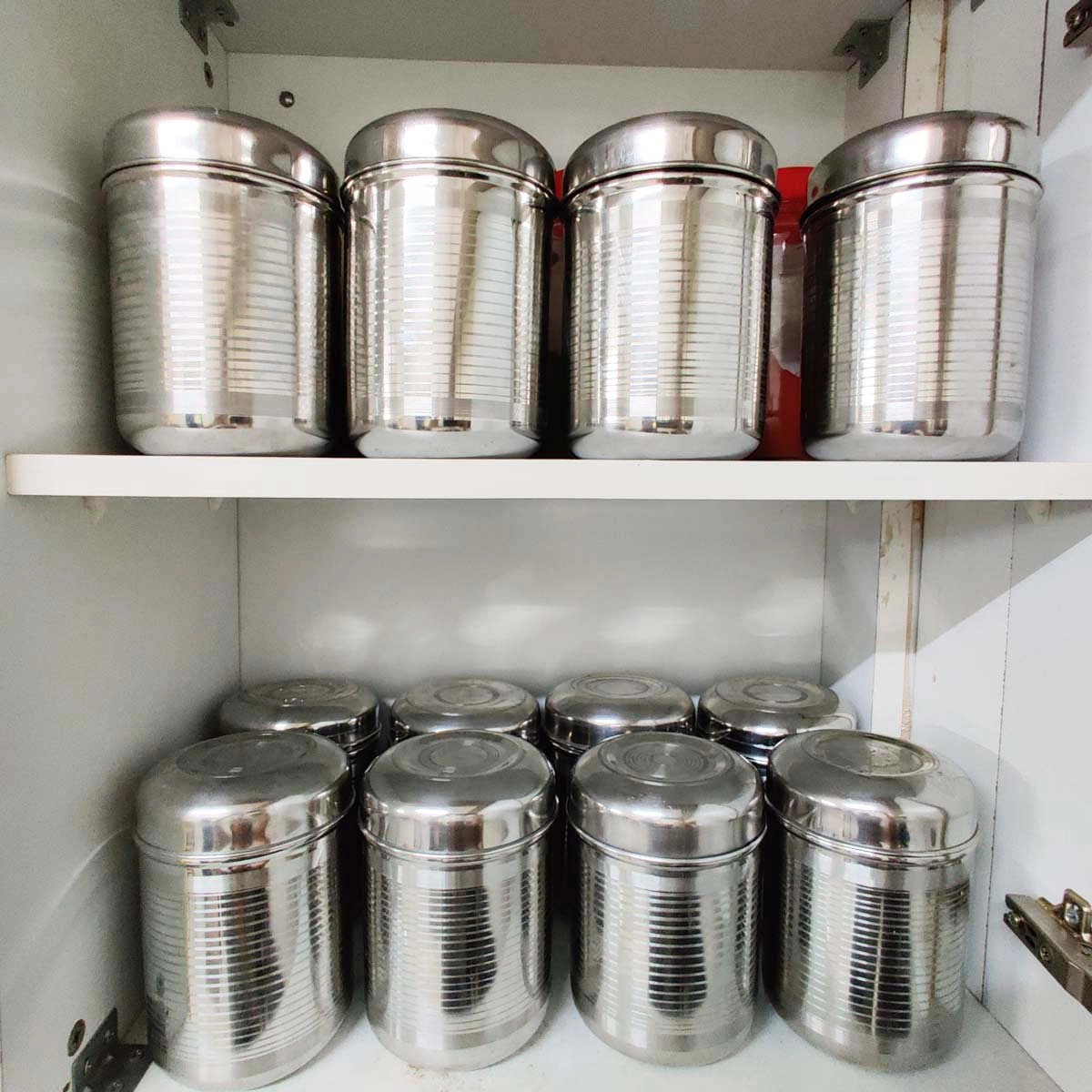 The first decision to be made while deciding on storage for pulses is whether to choose stainless steel or glass containers. We chose stainless steel because we wanted something durable and large.
Cooking during the morning rush inevitably leads to rough handling of these jars. So, we didn't want to opt for anything fragile. After all, broken glasses are the last thing anyone wants in a kitchen.
Next, comes the capacity. We wanted to store 1 kg of pulse in each container. Unfortunately, most containers come with a 1-litre capacity and that is not enough to store 1 Kg of pulses, especially larger ones like channa and black-eyed peas. So, after a few trials and errors, we rounded on 12 stainless steel containers with 1350 ml capacity. They perfectly fit 1 Kg of dal, channa, raw rice and every other pulse.
The main advantage of using stainless steel containers for pulses is that they are durable and can handle rough treatment. But on the other hand, they are not completely airtight; if you drop them, the lid is likely to pop open and make a mess, albeit without broken glass. Of course, being opaque, we had to label them too.
Related reading: How To Make Waterproof Labels For Containers and Tiffin Boxes?
Spices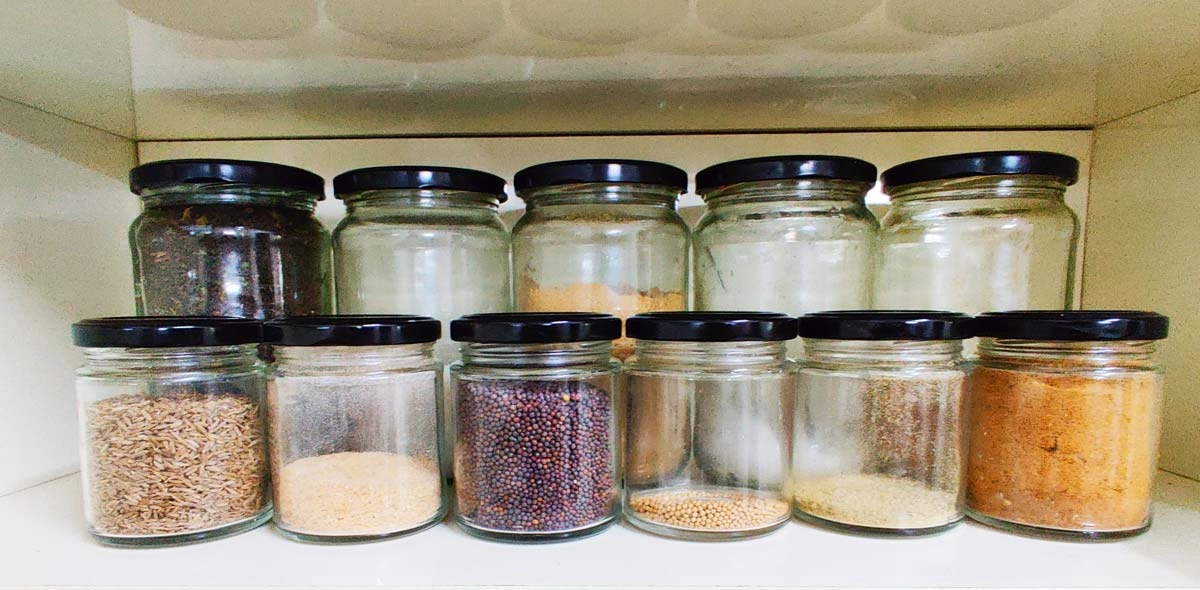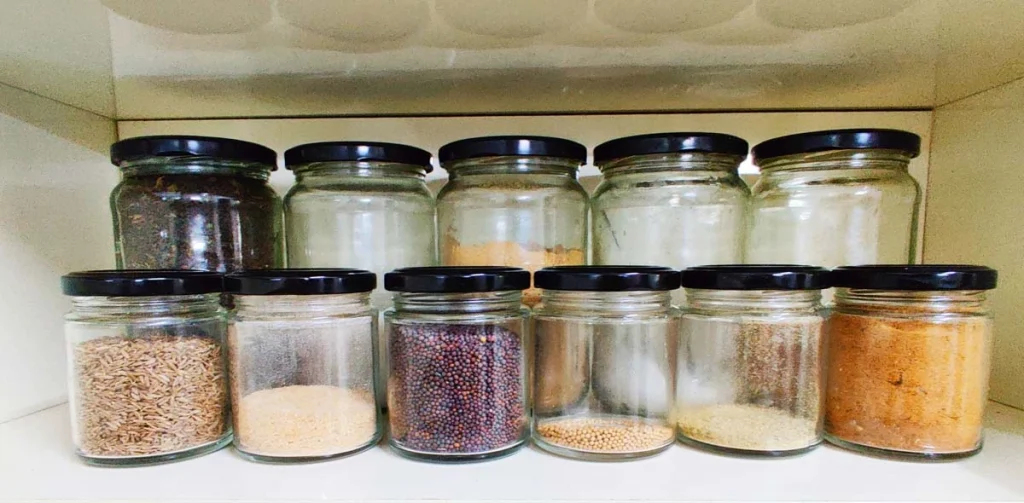 Spices have to be stored in airtight containers or else they lose flavour. As airtight stainless steel containers are hard to find, we used glass containers. We got six 200 ml jars for Fenugreek, jeera, ajwain, mustard and other spices used in smaller quantities. For chilly, turmeric, and coriander powder we got 500 ml containers.
We don't use store-bought masala powder. Instead, we get whole spices powdered in bulk from the mill. So we needed larger containers for turmeric, chilli and coriander powder. For that, we got airtight glass containers that measured 1500 and 1800 ml in capacity.
And just like any other Indian, I don't throw away glass bottles of jams and honey. In fact, I have a really huge stash collected over the years that is immensely useful for storing any extra or new ingredients.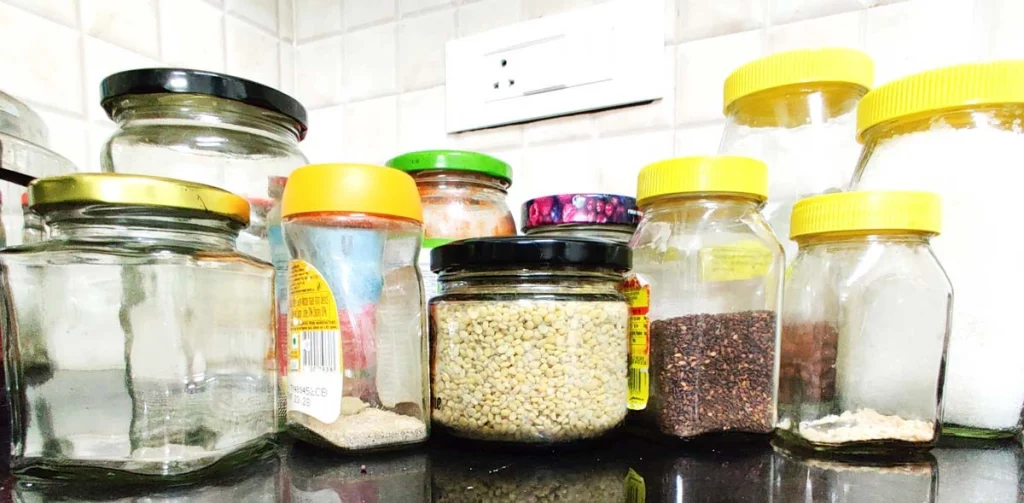 Tea and Sugar
For tea and sugar, we use airtight glass jars because most of the stainless steel jars we found are not airtight. Instead of buying new containers, we use Dabur 1 Kg honey bottles.
We find that 250 gm of tea leaves fit in a 500 ml bottle though. Unfortunately, 1 Kg of sugar doesn't fit in a single bottle. So, we use two bottles.
Leftover Food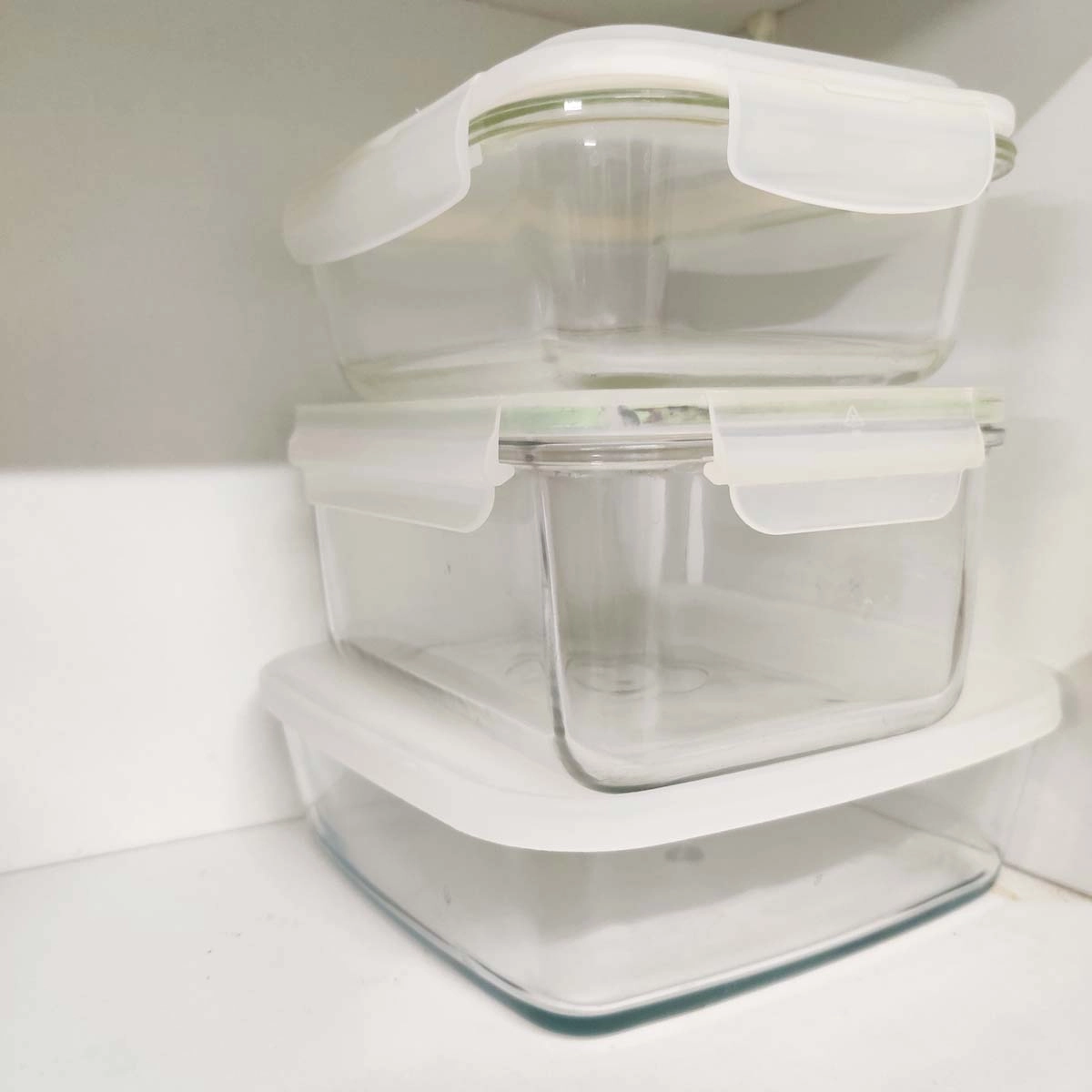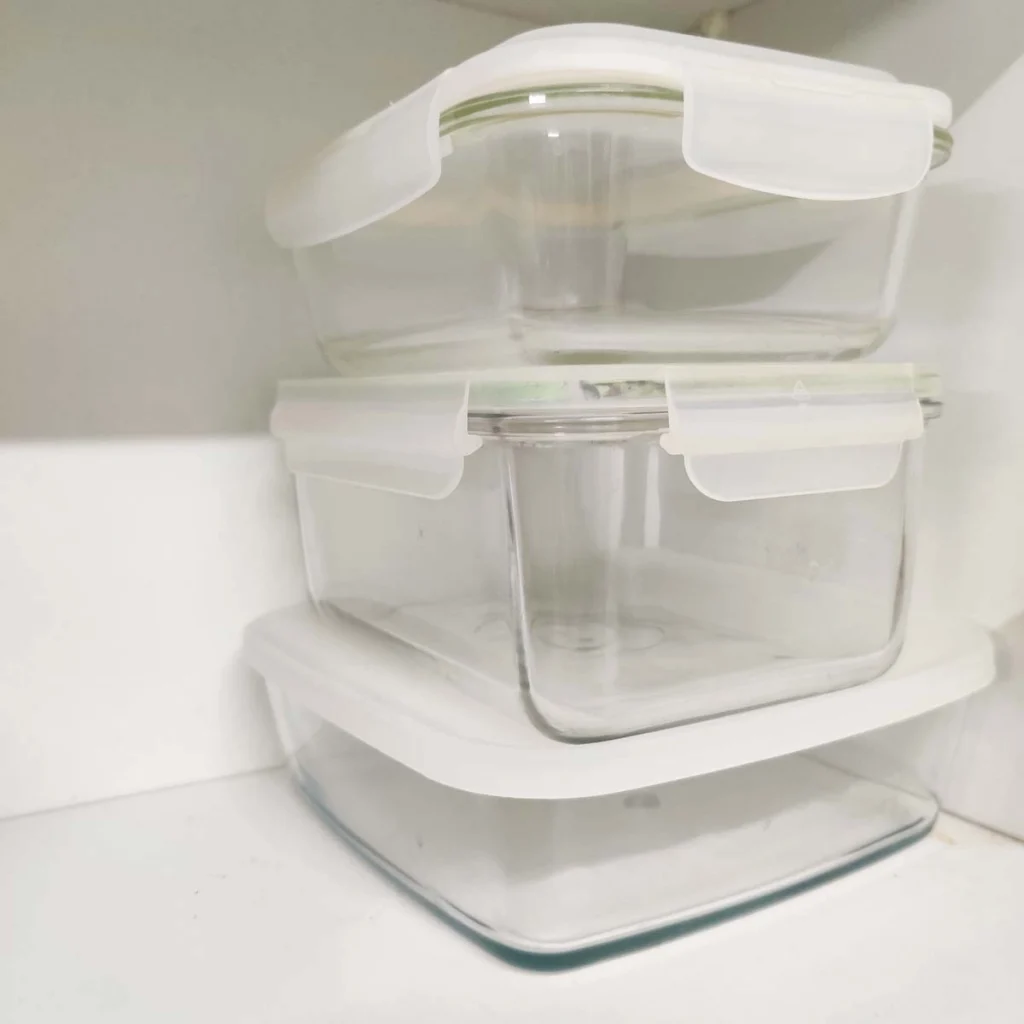 Instead of using Tupperware, we bought glass containers with airtight lids. We have a set of 4 containers of size 500 ml, 800 ml, 1 litre and 1.5 litres. They are usually sufficient. And the best part is you can directly microwave them the next day without transferring them to another container. So one less dish to wash.
Of course, when there is a lot of leftover food, we use stainless steel dabbas. But often the glass containers suffice.
Related reading: How To Organize Refrigerator In An Indian Kitchen?
Fish and Meat
Tupperware is quite useful when it comes to storing food in the freezer. Finding a freezer-friendly storage solution took a bit of time.
Thawing and re-freezing the fish in the same container is not conducive to retaining its freshness and taste. So, we needed to store the fish in separate containers for each day.
As glass tends to break in the freezer, we used stainless steel containers with an airtight lid. An advantage of stainless steel containers is that you can thaw their content easily by immersing in lukewarm water- something you shouldn't do with plastic containers.
A set of 4 containers with capacity ranging from 400 ml to 1 litre were sufficient to store marinated fish that last us for a week. In larger containers, we keep marinated fish for curry and in smaller ones we store fish for frying.
You may also like our article on Best Air Fryers In India
Fruits and Vegetables
We usually store vegetables in brown paper bags and keep them in the refrigerator crisper. This helps maintain optimal humidity so that the vegetables last longer.
But it is not possible to store coriander leaves and curry leaves this way as they could spoil quickly. So, we wrap them in a cotton cloth or paper towels and keep them in airtight glass containers.
We have in fact observed that coriander and curry leaves that are stored in airtight glass containers last longer than when stored in plastic containers. Just that you need to take care to remove excess moisture before storing them away.
Cookware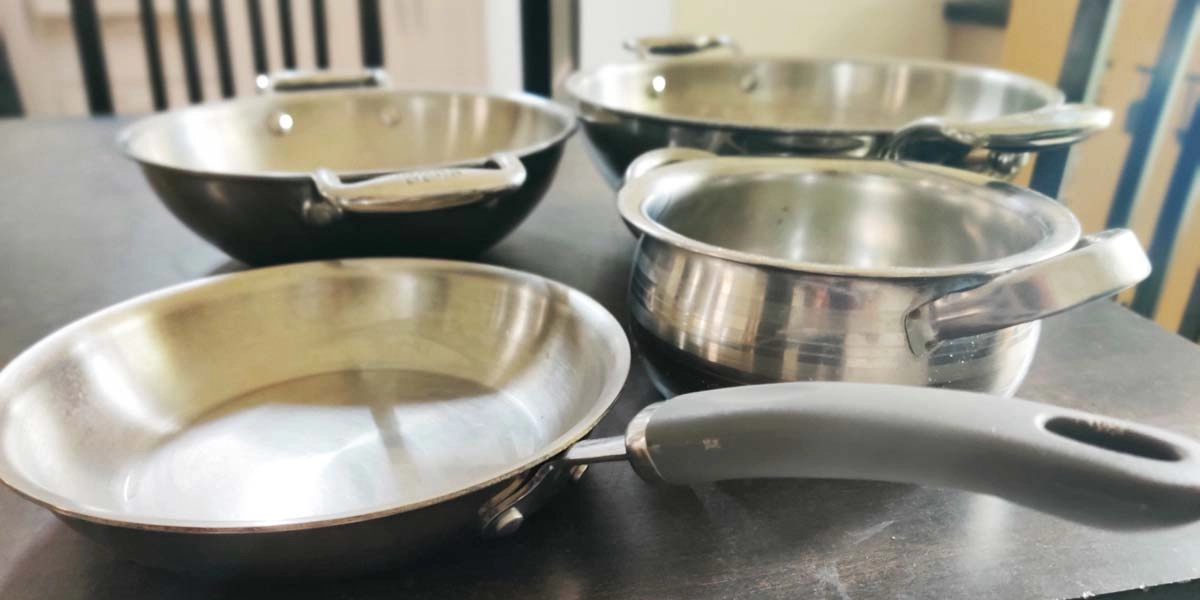 I had long back eliminated non-stick cookware from my kitchen. Now, we have only cast iron, stainless steel and clay cookware. The cast-iron Kadai was handed down from my MIL. It is pretty old and the best part is it doesn't need to be seasoned anymore.
The frying pans and Kadai are 304-grade stainless steel. The Kadai are from Stahl and the frying pan is from Meyer. They are pretty durable and have a great finishing. Being 304 grade, you can rest assured that they last without any problem for a decade at least. Meyer pans use stainless steel that doesn't have nickel in the selected range. This makes it safer than the 304-grade option. But they are more expensive too.
Being a non-veg and a fish lover, I do have a few clay pots to make delicious fish and chicken curry. They are made locally. A word of caution- don't buy clay pots with glazing as they sometimes contain lead and arsenic which could leach into your food.
Water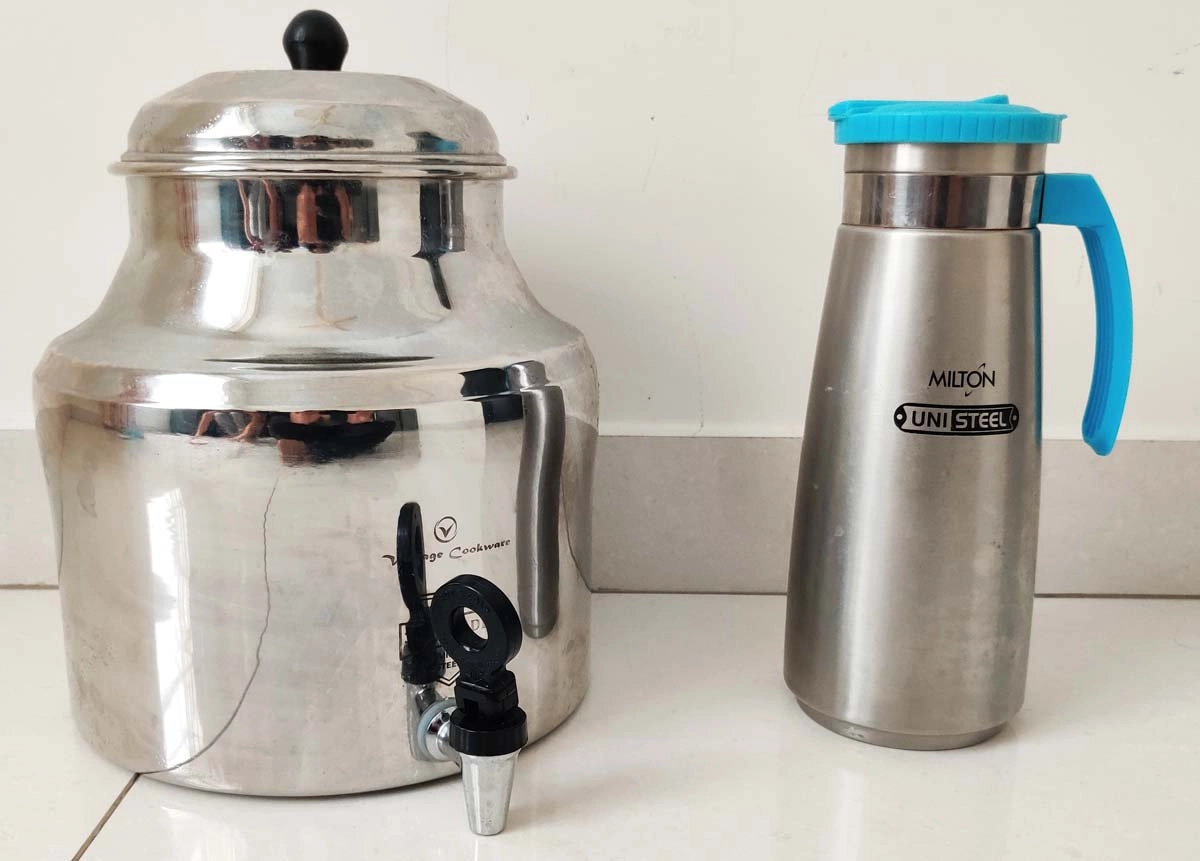 To store water, we have a 9L-litre stainless steel water dispenser. We also have a 1.5-litre stainless steel jug from Milton and a few 1-litre stainless steel bottles too. As we have small kids at home, we did not opt for glass bottles.
Oil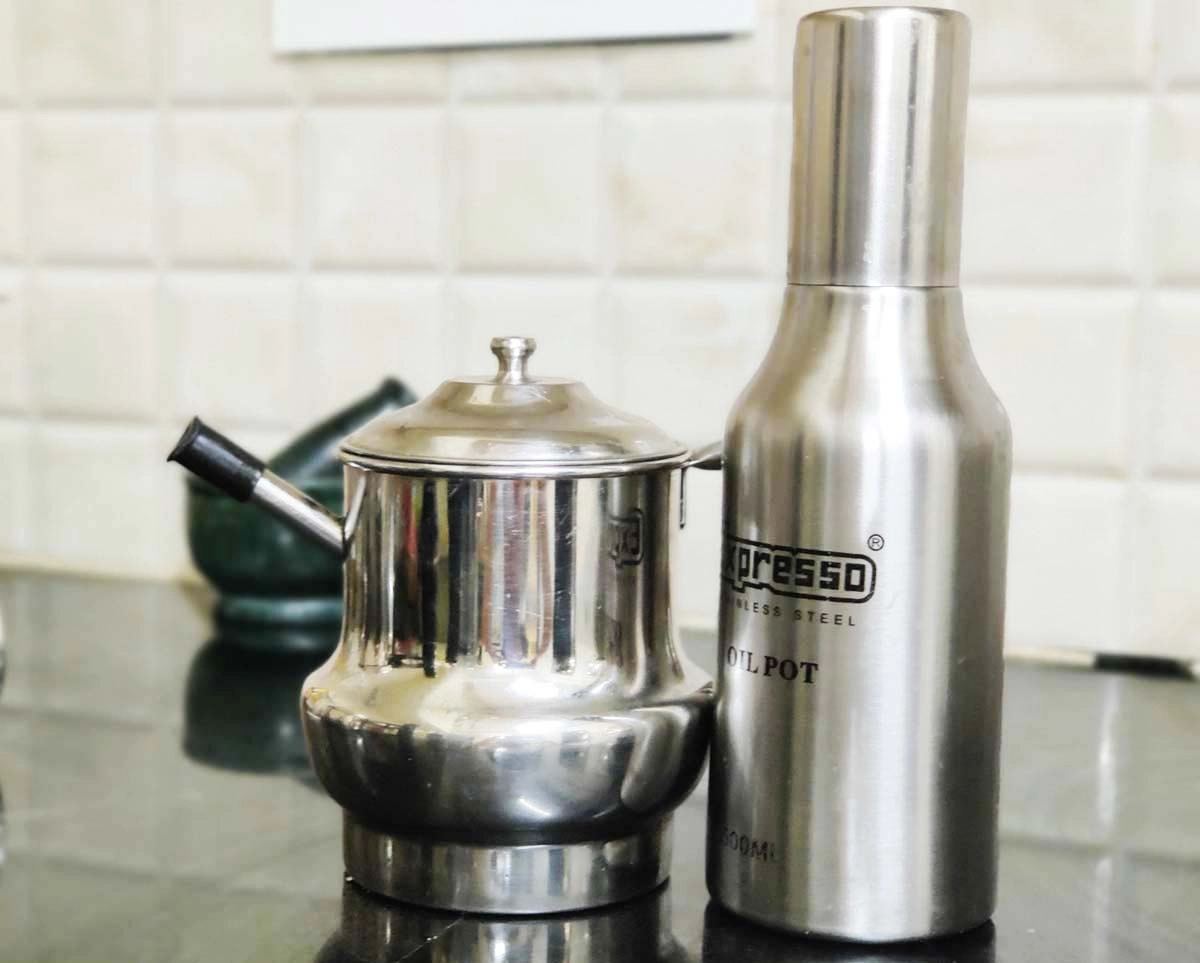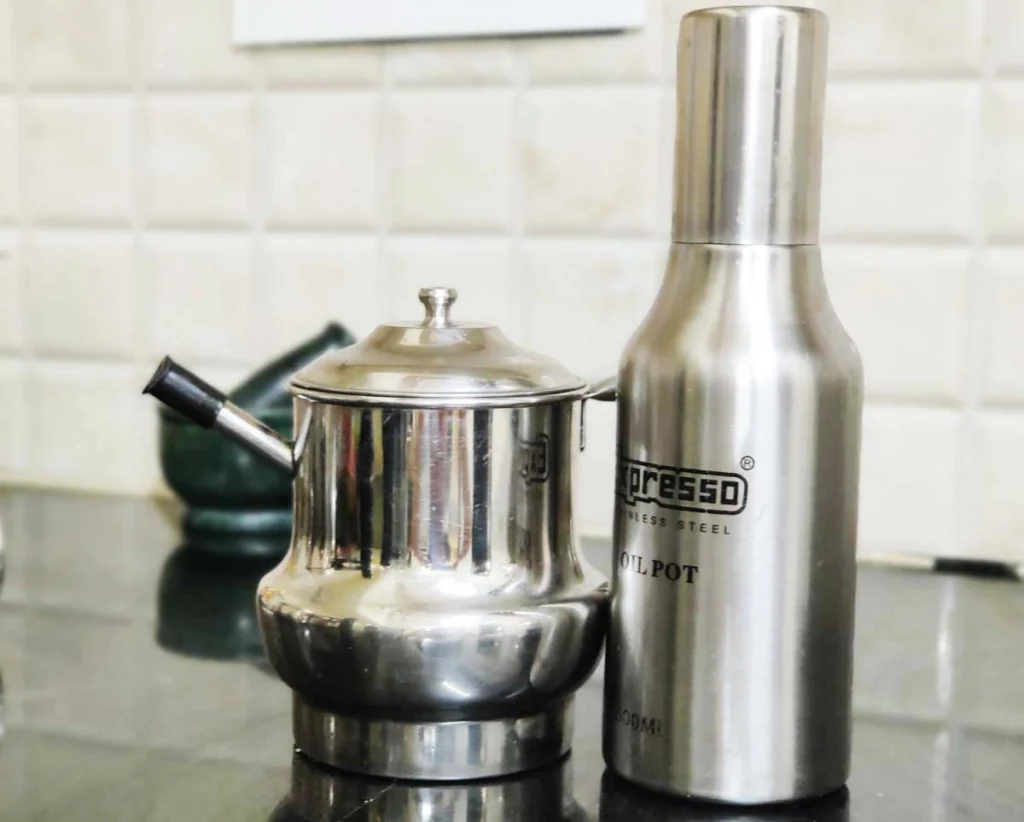 We mainly use coconut oil and it tends to solidify during the winters. So, we opted for two 500 ml oil dispensers. One is wide-mouthed, so we can scoop out solidified oil using a spoon. The other is almost like a bottle, and you can immerse the bottle in warm water to liquify the oil.
Bulk Storage
Rice, atta, and rice powder are some of the essentials that we buy in 5 Kg lots. Earlier we used to store them in plastic containers. But now, we have replaced them with large stainless steel containers. They are expensive. But much more durable.
To store 5 kg of rice, we use a large container with a 10-litre capacity. To store 3-5 Kg atta and rice powder, we use 7-litre containers.
Final Words
Overall, this has been quite a rewarding experience. The cabinets look neater and organized in containers that look alike. As for old plastic containers, I gave some of the 'food grade' containers to our helper and the others were given for recycling.
Considering the damages plastic make to the environment, it is quite advisable that you switch to healthier and eco-friendlier alternatives. But do take care to dispose of the older plastic jars responsibly.
Also, please do let us know in the comments the steps have you taken to improve your kitchen.
Was this post helpful?
Let us know if you liked the post. That's the only way we can improve.