Pigeon By Stovekraft Cruise Induction cooktop is one of the best-selling induction cooktops in India. It is economically priced and comes with all essential features and functionalities you expect from an induction cooktop. Let us explore in detail its design, preset functions, performance, and safety through this hands-on review.
Pros
Most inexpensive among the options we tried.
Fairly easy to use.
Cons
Takes much longer time to cook as it doesn't have 1800 watts coil as claimed.
Design
The Pigeon Cruise Induction cooktop is very basic in its design. It comes with push buttons which are not as responsive and pleasant as what you find in AmazonBasics or Philips. But, it does its work reasonably well. There are 7 preset functions and the stove works at a maximum of 1800 watts.
The induction plate measures around 17cm and cookware with base between 12 -24cm in diameter can be used on it. Like most other options, it comes with a 6A plug.
A drawback however is that we found that the cooktop wobbles a little bit on the countertop.
Preset Functions
As mentioned, the Pigeon Cruise induction cooktop comes with 7 preset functions. They are pressure cook, saute, curry, heat milk, dosa, chapati, deep fry and idli.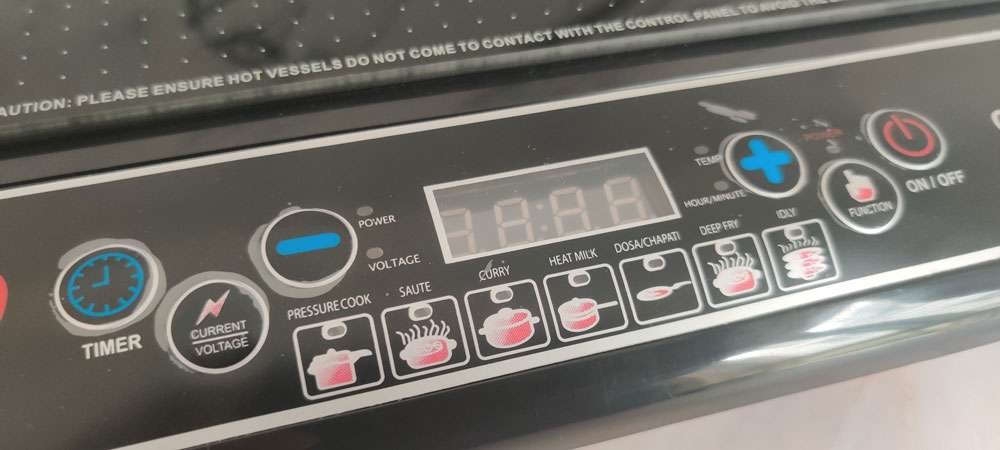 Out of these heat milk is an auto function where it self-adjusts the temperature to ensure that the milk doesn't boil over. Rather, it just gets heated to 75-80 C. This mode has a timer of 20 minutes. If you leave it on for 20 minutes, milk will get heated. But, won't be boiled.
Other modes just heat the stove to a default power and the power doesn't vary. The Pressure cook and Idili modes heats at 1000 watts by default, while deep fry mode runs at 1800 Watts. The Roti/Dosa mode runs at 1200 watts and the saute mode runs at 160 C. In all modes, the power range can be adjusted as per the user's needs.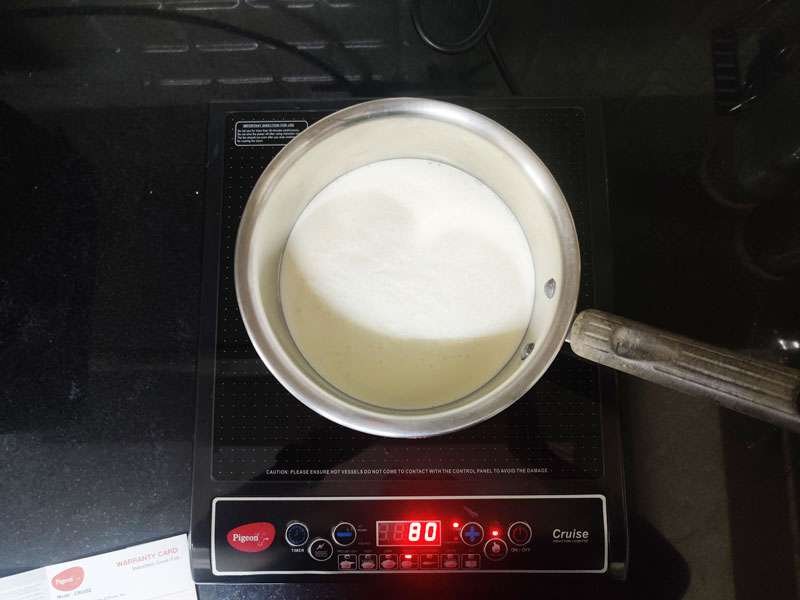 Upon pressing the current/voltage button, you can find the voltage, power and duration for which the stove has been running in the particular mode. You can set the timer up to 3 hours in this induction cooktop.
Related reading: 5 Best Induction Cooktops In India
Performance
Though the manufacturers claim that the induction cooktop has a maximum wattage of 1800 watts, we found it otherwise using a watt meter. The watt meter registered a maximum of 1200-1250 watts when we set the wattage at 1800. For the same reason, it took a much longer time to boil water. While Amazon Basics and Bajaj ICX Pearl with 1900 watts boiled water in 5.2 minutes, Pigeon took almost 7 minutes. Even when making chapati, it takes longer than other options we tried.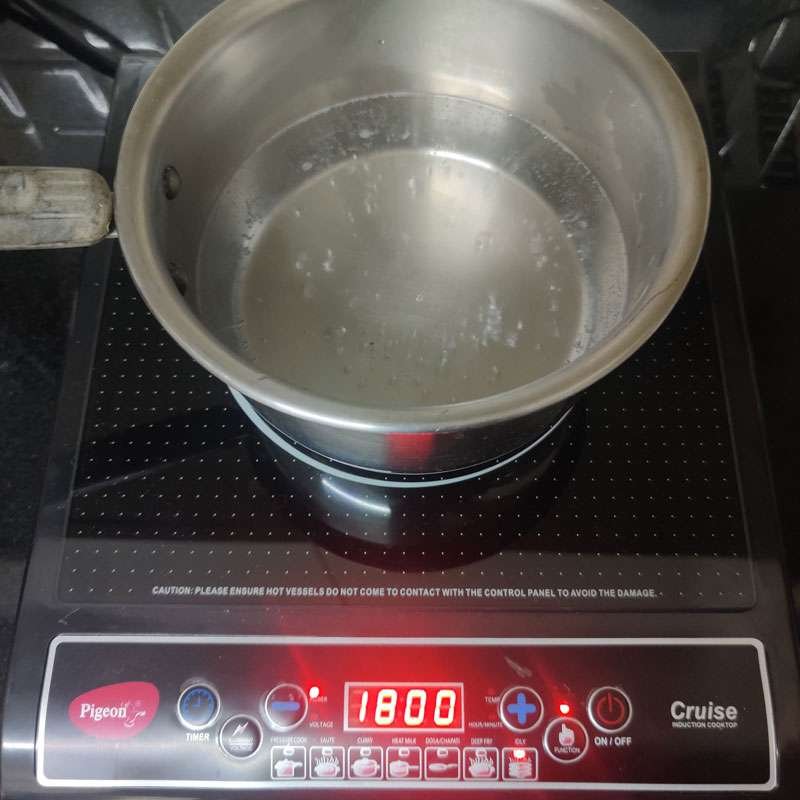 As the wattage doesn't vary while cooking, energy conservation is also not optimal, like Philips and AmazonBasics.
Ease of Use
The induction cooktop is reasonably easy to use. However, when you compare it with other stoves, you find a few flaws. First of all, the preset modes do not have individual buttons. Rather, you have to keep pressing the function button to change the mode. Frequent and repeated pressing of the same button may affect its durability in the long run.
In most stoves, you can find the wattage/power and timer side-by-side on the control panel. But, in Pigeon, you have to press the voltage/current button to know these details.
Other than these minor aspects, the induction cooktop is fairly easy to use.
Safety Features
The cooktop comes with basic safety features. Though the unit has a 6 A plug, the manual states that it should be used only in at least a 15 A socket. Had the manufacturers given a 16A plug, this would have been easy to enforce. Now, with 6A plug, it is highly likely that users will use on a 6A socket itself.
The error codes it shows are- E0 when the cookware used is not induction compatible and E1 when there is a general failure. Unlike AmazonBasics and Philips, it doesn't have error codes when the unit overheats or when there is a circuit failure.
Flaws That Could Have Been Better
The main flaw we find is that the unit doesn't seem to have 1800 watts as claimed. The watt meter was able to register a maximum of 1250 watts only.
Otherwise, being a budget-friendly model, the manufacturer has made some trade-offs between convenience and price. And honestly, it isn't something we should be complaining about.
Other Models
Other models from Pigeon in a similar price range are Pigeon Acer Plus which comes with 1800 watts coil and a touch panel. Rapido Cute is yet another model which comes with more safety features and error codes that alert when there are any issues. The higher-end option from Pigeon is Rapido Sleek which has 2100 watts coil, touch control, and a pause function.
Conclusion
Overall, if you are looking for a budget-friendly induction cooktop, Pigeon By Stovekraft Cruise induction cooktop is a fairly good choice. It has basic features and functionalities which is apt for most users. Though not without flaws, given the attractive pricing, it is an option worth considering.
Was this post helpful?
Let us know if you liked the post. That's the only way we can improve.