Philips HD4928/01 despite being expensive, is one of the best-selling induction cooktops in India. Philips generally is known for selling high-quality, durable appliances. And this induction cooktop too follows suit. Let us explore how well it works in terms of its design, preset functions, performance, safety features, and so on.
Pros
Quickest among the induction cooktops we tried.
Easy to use interphase
Cons
Expensive compared to other options.
Prone to smudges
Design
The Philips Viva Collection HD4928/01 induction cooktop is a compact option that looks elegant and sophisticated. It has a 2100-watt heating element and comes with a 6A plug. The induction plate measures around 20cm. Cookware with a base between 12-20cm can be used on it.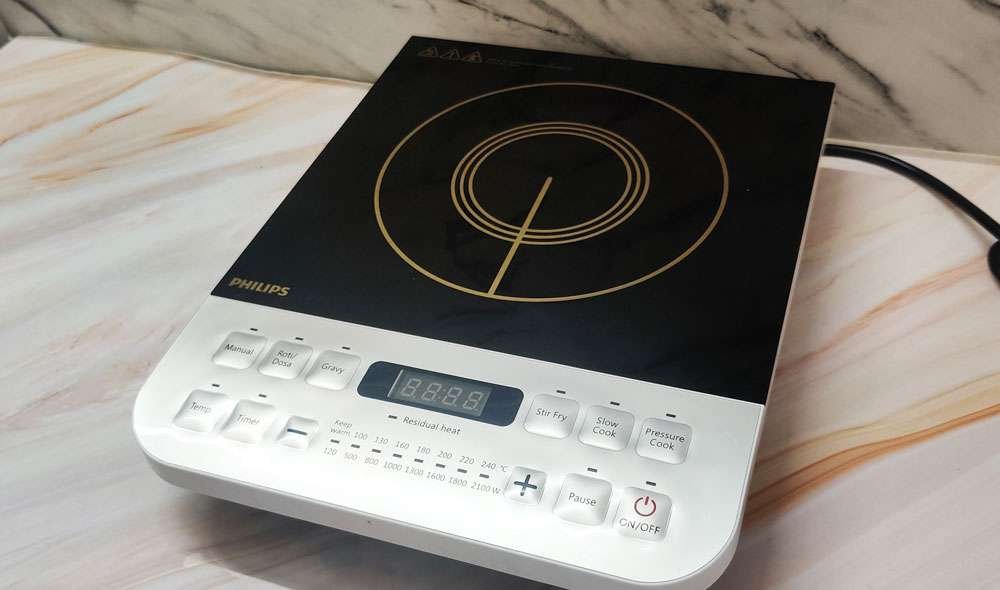 It comes with 5 functions in addition to a manual option. The control panel has lights that indicate the temperature and wattage at which the induction cooktop is running. You can set the timer and temperature manually and there is a pause function too.
The cooktop has a glossy finish and it is prone to smudges. You will have to clean it regularly using soap, a soft sponge, or a glass cleaner spray.
Related reading: 5 Best Induction Cooktops In India
Preset Functions
As mentioned, the Philips HD4928/01 has 5 functions. They are roti/dosa, stir fry, gravy, slow cook, and pressure cook. One of the main advantages of the preset functions of this Philips induction stove is that the wattage keeps varying to cook efficiently with optimal energy consumption.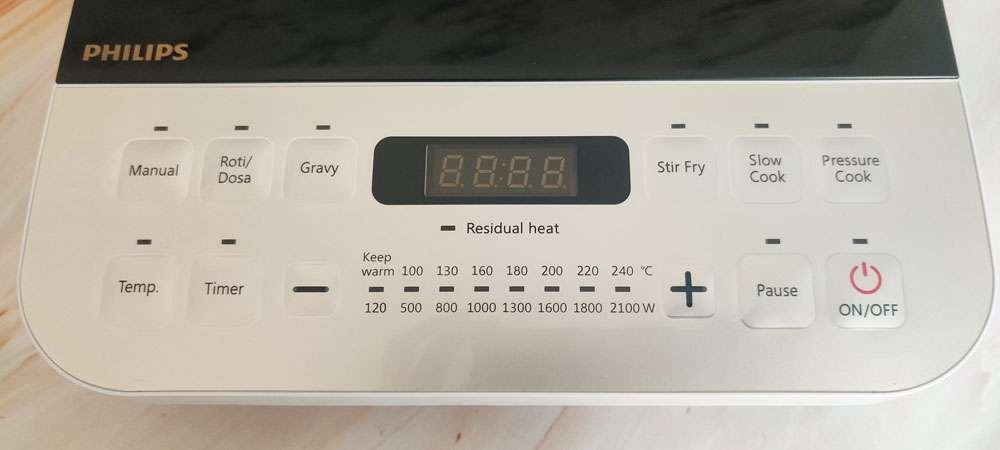 In the manual setting, you can adjust the temperature to a maximum of 240 °C ( 2100 Watts) and timer for up to 3 hours. The roti/dosa and gravy functions have a temperature upper limit of 180 °C, while the slow cook function can be set only at 100 C. The stir fry function similarly has an upper limit of 180 °C and the Pressure cook has an upper limit of 220 °C.
As mentioned, in each function, the induction stove runs at the maximum temperature for a few minutes. It then reduces the wattage to the lowest level. This cycle repeats constantly in an attempt to efficiently utilize the residual heat. Thus, energy consumption is optimized.
The gravy function is especially designed intelligently. Initially, it runs for 5 minutes at a moderate temperature during which you can do the tadka and saute onion/ tomatoes. Then, the power level increases to roast the meat or vegetables for 13 minutes. After this, the power level drops for 27 minutes to simmer and make a thick, creamy gravy.
Overall, the settings are cleverly designed to enhance the user experience.
Performance
The Philips HD4928/01 is one of the fastest and most efficient induction cooktops we tested. We boiled 1 litre of water in a Prestige Clip-on cooker's pot. It was able to boil water to 100 °C in just 4.2 minutes. But, on the other hand, when we tried to do the same in a 1.2 litre saucepot with a thinner base, it took us more than 5.5 minutes. In the thinner saucepan, the wattage was kept under 900 watts for optimal cooking, while in the larger pot with a thicker base, it ran constantly at 1800 watts. This shows that the temperature sensors work optimally to ensure not just efficient cooking, but also better safety.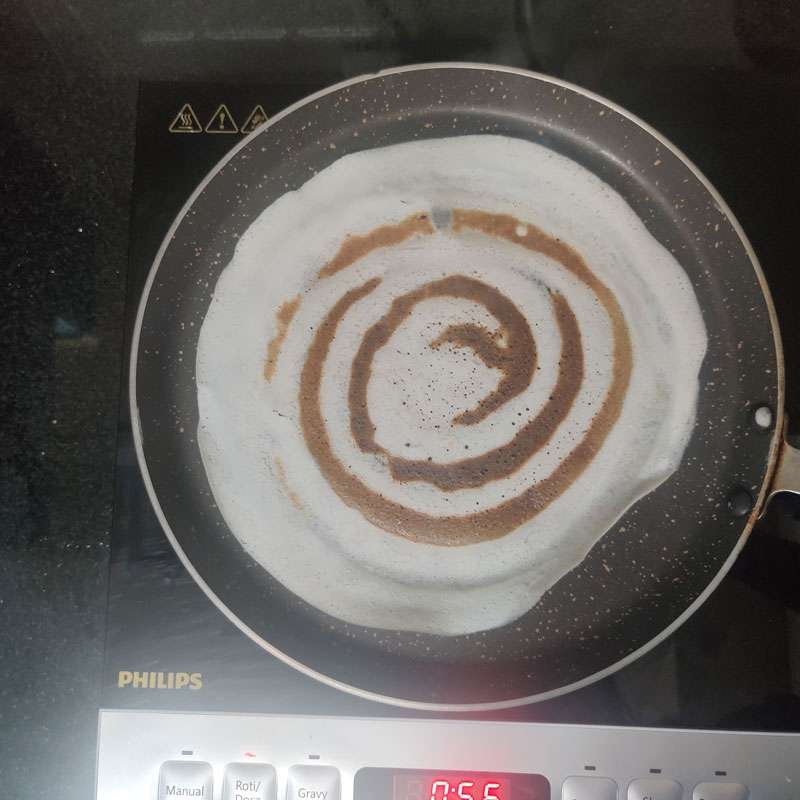 As with every induction cooktops, the heating element measures just around 7-8cm. So, heat concentrates in this circle and doesn't distribute evenly in the pan. This affects when you try to fry fish, chicken and paneer or when toasting bread. This is common to all induction cooktops we have tried.
Coming to the general cooking performance, as mentioned earlier, the presets work efficiently to optimize energy consumption and improve user-friendliness. Overall, it is definitely one of the most sophisticated induction stoves we have tried.
Ease of Use
The Philips HD4928/01 induction stove comes with membrane buttons that are easy to use. They are shallow, yet highly responsive. As the cooktop comes with a pause option, you have better control over the whole cooking process. The power cord measured around 120 cm, giving better flexibility on your kitchen countertop.
Overall, it is easy and intuitive to use, even without the manual.
Safety Features
The Philips induction stove comes with ample safety features. It has a residual heat indicator light which alerts you when the cooking plate is hot, warning you not to touch it. Further, the cooktop adjusts the wattage depending on the cookware's size, and base thickness to prevent overheating. It also alerts when there is no cookware on the cooktop or if the cookware is incompatible.
Further, it shows various error codes when there are serious issues that need attention. The E1 and E2 error codes are displayed when the main sensor develops problems. E3 and E4 error codes are shown when the heat sink sensors have issues. E5 and E6 codes indicate high or too low voltage. E7 error code shows the fan has malfunctioned. E8 error code shows the main sensor is not working. The E9 error code indicates that the fuse has malfunctioned. In all these cases, Philips advises taking the unit to the nearest service centre for repairs.
A drawback however is that it uses only a 6A plug and not a 16A plug despite heavy power consumption.
Flaws That Could Have Been Better
Though minor, one of the flaws we observed is that the cooktop is a smudge magnet owing to its glossy finish. Amazon Basics has a matte finish and comparatively, it doesn't attract too much smudge. Also, despite consuming high power, it doesn't use a 16A plug.
Other Models
Philips HD4929/01 is pretty much similar to HD4928 except that it has touch buttons instead of membrane push buttons. It costs higher too. A comparatively inexpensive option is the HD4920 costing a few hundred rupees lesser. But, its control panel is primitive in appearance and functionality.
A much more advanced and sophisticated option is the Philips HD4938/01 which costs around Rs. 1000 more than HD4928. It is much sleeker, with flat touch buttons like what you see on your mobile phone. It has options like child lock and additional heat milk/water function too.
Conclusion
With advanced safety features, high performance and built quality, the Philips HD4928 is one of the best induction cooktops to consider. It is a bit more expensive than options like Prestige and Bajaj. But, given the superior performance, it is well worth it.
Was this post helpful?
Let us know if you liked the post. That's the only way we can improve.