Priced at around Rs.6000, Eureka Forbes Supervac falls somewhere in the mid-segment. It isn't as expensive as the Philips PowerPro vacuum cleaner, but isn't as cheap as Inalsa Spruce or Eureka Forbes Quick Clean DX. So how well does it perform on different floorings? How easy is it to maneuver? Is it noisy? Let us explore all these and more through this in-depth review.
Pros
Excellent performance on hard flooring
Ease to use and maneuver, thanks to lightweight floor brush and tube.
Accessories can be attached to the vacuum cleaner's tube for easy access.
Cons
Not ideal for carpets.
Cannot reach ceiling as the wand( tube) is not extendible.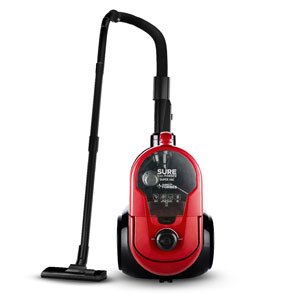 Eureka Forbes Supervac 1600 Watts Powerful Suction,bagless Vacuum Cleaner
Design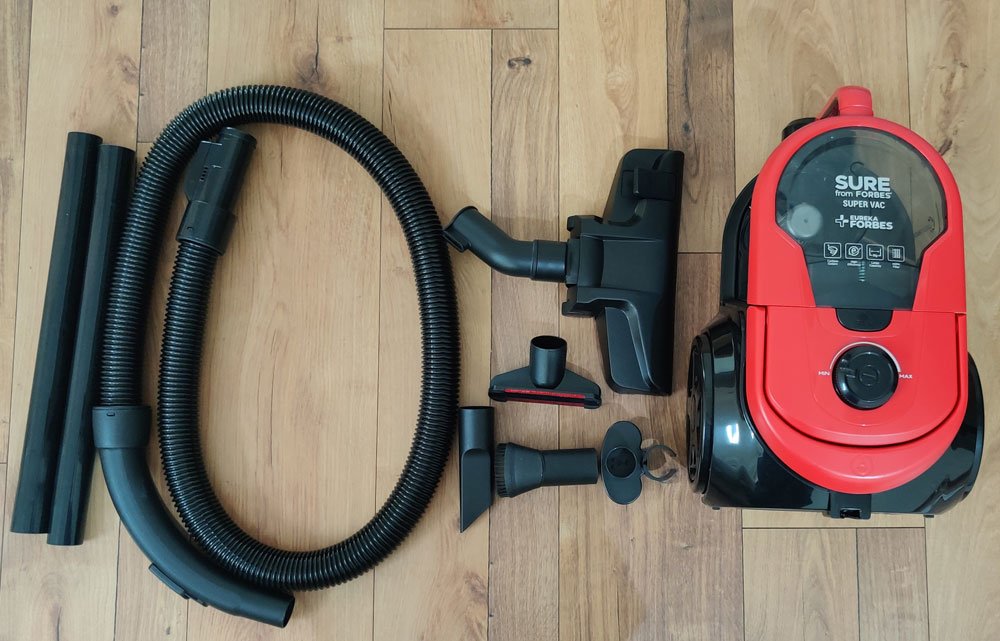 The design of Eureka Forbes Supervac has some semblance with AmazonBasics Cylinder vacuum cleaner. Its bagless by design and just like the AmazonBasics vacuum cleaner, comes with variable suction power. So, you can use it on delicate surfaces without having to worry about damaging them.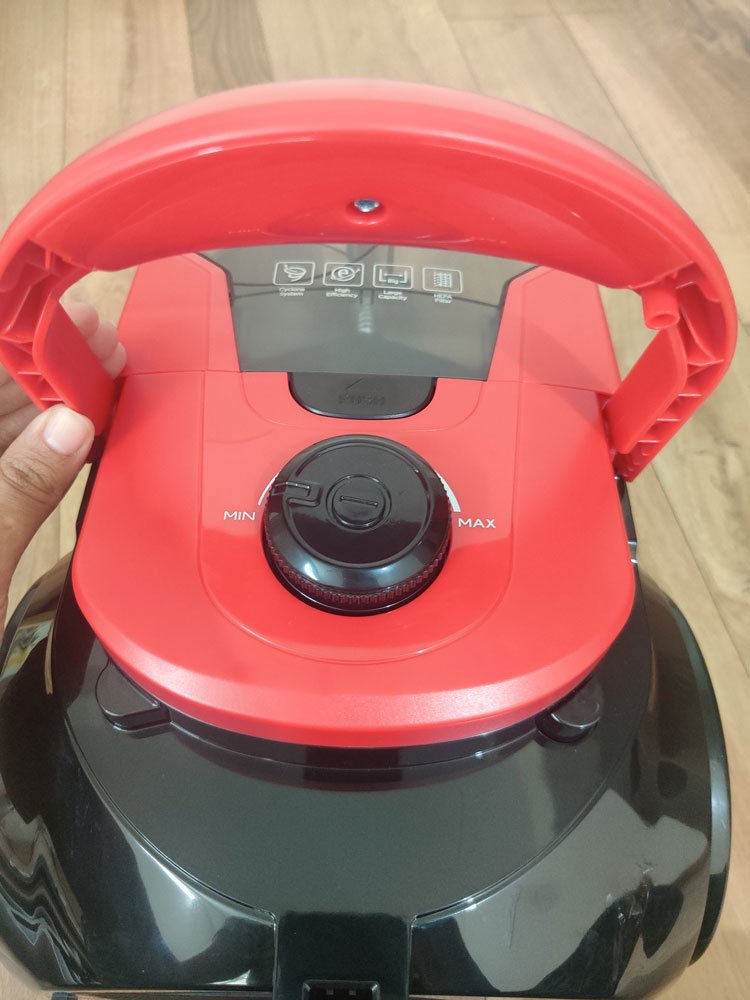 The vacuum cleaner consumes 1600 watts of power and has a 6A plug. Further, it has a 5.15 metre long power cord which enhances its user-friendliness. Eureka Forbes' inexpensive offering Quick Clean DX has just 3 metres long power cord, which is really short. On the other hand, an expensive vacuum cleaner like Philips PowerPro has a 6 metre cord.
The vacuum cleaner's tube is made of plastic. Unfortunately, it isn't long enough to reach the ceiling. AmazonBasics Cylinder, on the other hand, has tube made of stainless steel and it is extendible. So, you can reach the ceiling with ease. That being said, an advantage of the plastic hose is that it is lightweight and hence easier to maneuver.
The vacuum cleaner comes with 3 accessories, about which we talk in the next section. It also has a HEPA filter which prevents minute dust and particulate matter from entering back into the environment.
Accessories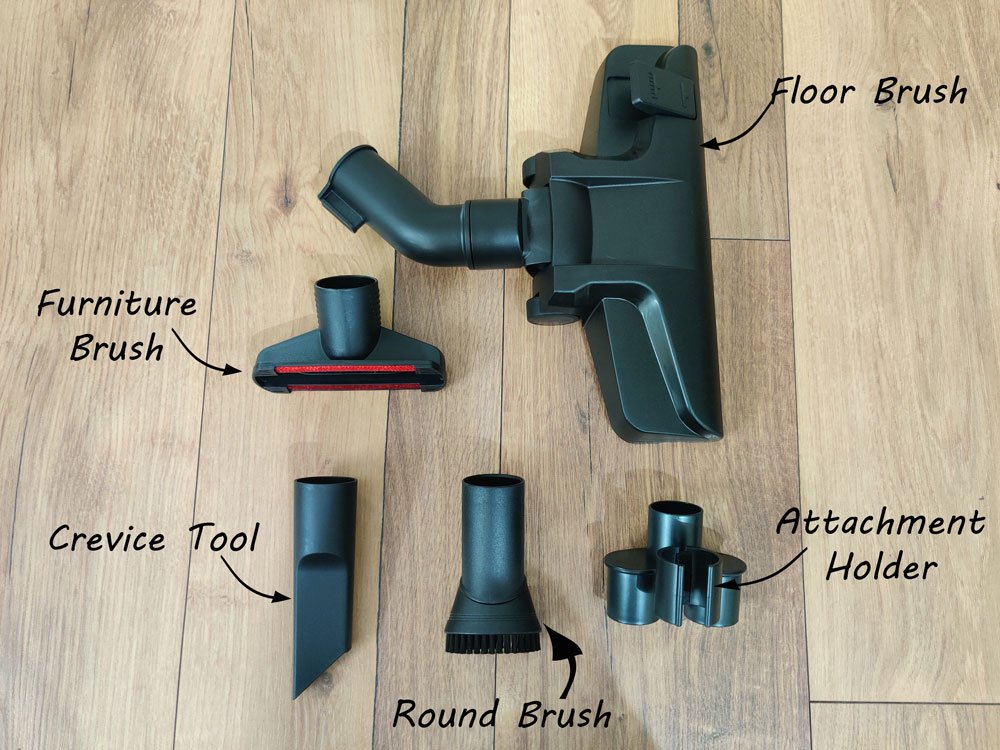 You get a round brush, an upholstery brush and a crevice tool with this vacuum cleaner. The accessories are made of average quality plastic. An advantage here is that just like AmazonBasics, you get an accessories holder which can be attached onto the tube. This ensures the accessories are always within reach. But on the flip side, sometimes, these accessories may fall from the holder as it doesn't have a strong locking system like what you find in Philips PowerPro vacuum cleaner.
Related reading: Best Vacuum Cleaners In India
Performance
Something we really liked about the Eureka Forbes Supervac is how easy it is to maneuver, thanks to the large wheels and lightweight tube. We use them on a variety of surfaces and this is what we found.
Tiles and Hard Flooring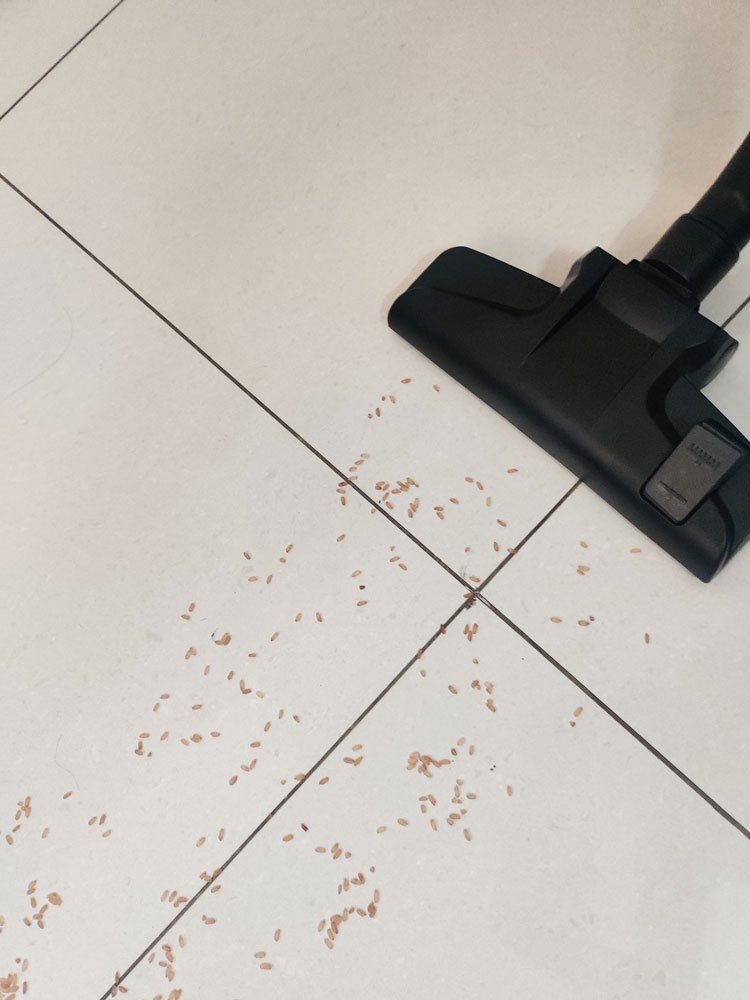 The vacuum cleaner is quite effective on tiles and hard flooring. You can clean up all sorts of debris with ease. We were able to remove around 95% of sand on first pass and a 100% of rice. It was even able to clean pet hair with ease. Many other models have a tendency to push debris instead of suctioning them- something which Eureka Forbes Supervac did not face.
In fact, we would rate it better than AmazonBasics Cylinder, and almost at par with Philips Powerpro.
Carpets
The vacuum cleaner is sometimes a bit difficult to maneuver on carpets. At the maximum level, the suction is too high that rugs tend to get stuck onto the floor brush. Setting it around 50-75% of its maximum capacity allows you to move the floor brush with better ease. And the results were not exactly the best. It was able to remove almost 95% of pet hair on a single pass. But, it removed just 80-85% of sand and 70-75% of large debris like rice on first pass. The floor brush tends to push the debris instead of suctioning them up.
Comparatively, Philips Powerpro with its roller brush does an excellent job. But, when you compare to AmazonBasics, they are almost at par.
Noise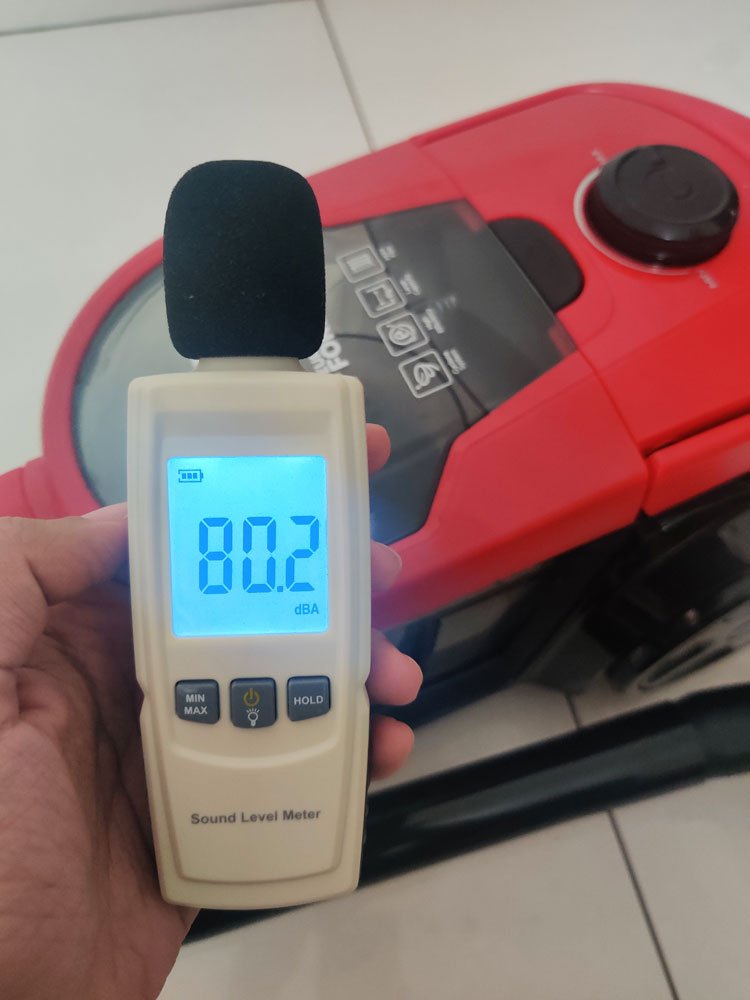 The vacuum cleaner is not too noisy. It makes around 78-80dB at maximum suction capacity and about 73dB at the minimum suction level. From a 10 feet distance, the noise measures just 70dB at the maximum level. So, you just have to move to the other room if you want to take a call when the vacuum cleaner is on.
Ease of Cleaning Dust Bowl
Being a bagless vacuum cleaner, it is fairly easy to clean. You can eject it from the main body and the dust bowl has a removable lid. After discarding the waste in the garbage, you can even wash the dust bowl and the filter. However, you need to ensure that both are dried up before use next time.
Ease of Storage
As mentioned earlier, the vacuum cleaner comes with accessories holder. So, you can keep it all along with the appliance. The wand and the floor brush can be hung on the hook on the vacuum cleaner body and you can keep it away in a corner.
Built Quality
The built quality of the vacuum cleaner is above average. You get what you pay for. The body is sturdy and so is the dust bowl. A few users say that the tube tends to get loose after a while. However, we weren't able to find so. Probably, this is something people encounter after months or years of usage. The accessories quality is just basic.
Observations From Daily Use
The large wheels and the lightweight hose makes it easy to maneuver the vacuum cleaner around the house. It is fairly good at cleaning edges and underneath beds and sofas. Most probably, you can use the vacuum cleaner 4-5 times at least before you discard the debris in the dust bowl. The HEPA filter needs to be cleaned just 1-2 times a year.
Is It Apt For Those With Allergies?
The dust bowl has a filter and in addition, the air outlet too comes with a HEPA filter. This is something we find in most bagless vacuum cleaners. As a result, the vacuum cleaner doesn't pollute the room by allowing dust back into it. Thus, it is an apt choice even for those with allergies.
Conclusion
Overall, if you are looking for a vacuum cleaner for hard flooring and 1 or 2 rugs at your home, Eureka Forbes Supervac would be an apt choice. But if you have a larger carpeted area, Philips Powerpro would be a better choice. AmazonBasics Cylinder is a much less expensive option. But if you value ease of use and maneuverability over price, go for Supervac.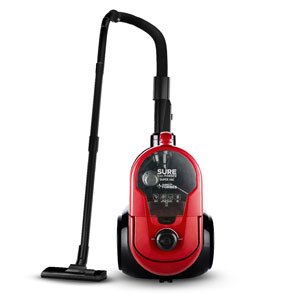 Eureka Forbes Supervac 1600 Watts Powerful Suction,bagless Vacuum Cleaner
Was this post helpful?
Let us know if you liked the post. That's the only way we can improve.