Inalsa Spruce is a compact, budget-friendly vacuum cleaner that has garnered a rating of 3.9 stars from around 11,000 reviews. In this in-depth review, we take a look at how well it cleans different types of debris and flooring.
Pros
Budget-friendly pricing
Good suction power
Cleans dust, sand and other small debris effectively.
Cons
Not effective for pet hair and larger debris.
The wand is not long enough to reach ceiling.
Inalsa Spruce 1200 Watts Vacuum Cleaner
Design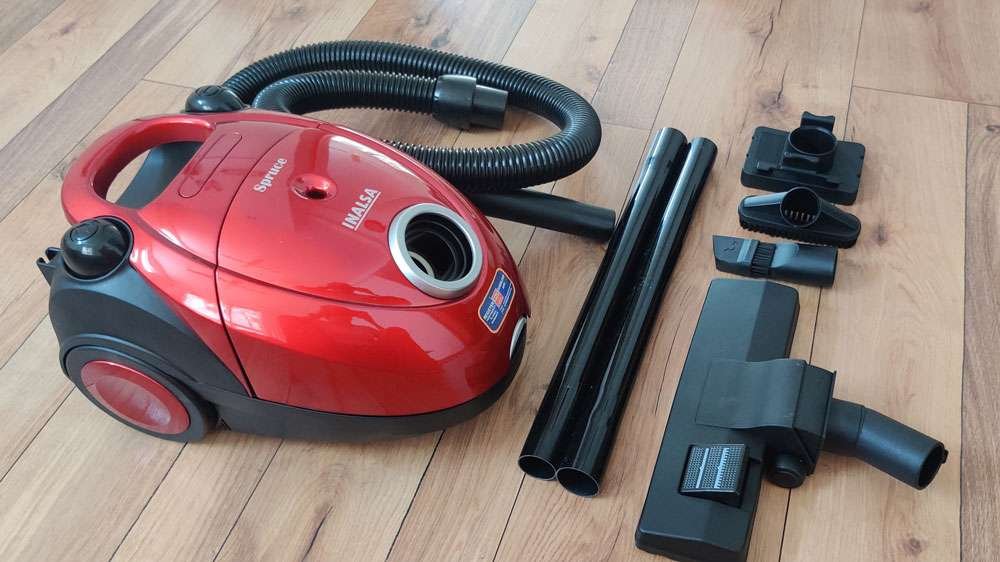 The Inalsa Spruce is a compact vacuum cleaner with a body taking just around 26 x 46cm space when stored. Its hose and handle together measure about 235cm and the cord measures 4 metres. Consuming 1200 watts of power, it uses a 6A plug. Unfortunately, the hose and handle together is not enough to reach the ceiling.
Along with the vacuum cleaner, you get an upholstery attachment that has bristles; a crevice attachment for cleaning corners between window rails; and a blower attachment.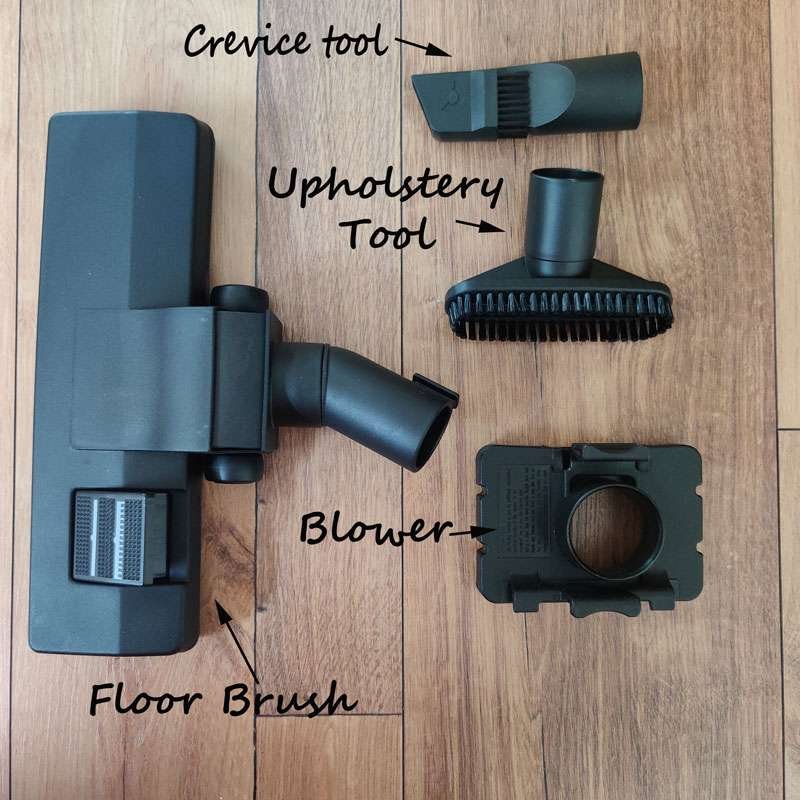 The body, including the extension tube, is made of plastic. Overall, it is lightweight, with the complete vacuum cleaner weighing just around 4 Kg.
Something to be noted is that the vacuum cleaner has a dust bag to collect the debris. It has an indicator that alerts when the dustbag is full. The dust bag is washable and reusable. But, you may have to replace it within 6-12 months of use. In this aspect, Eureka Forbes Quick Clean DX is better, as they offer 3 extra dust bags.
Just like every other vacuum cleaner, Inalsa Spruce too has a button each for on/off and cord retraction.
Further, there is a small hook on which the hose and floor brush can be hung.
Related reading: 6 Best Vacuum Cleaners In India
Performance
Soil, Dust and Smaller Debris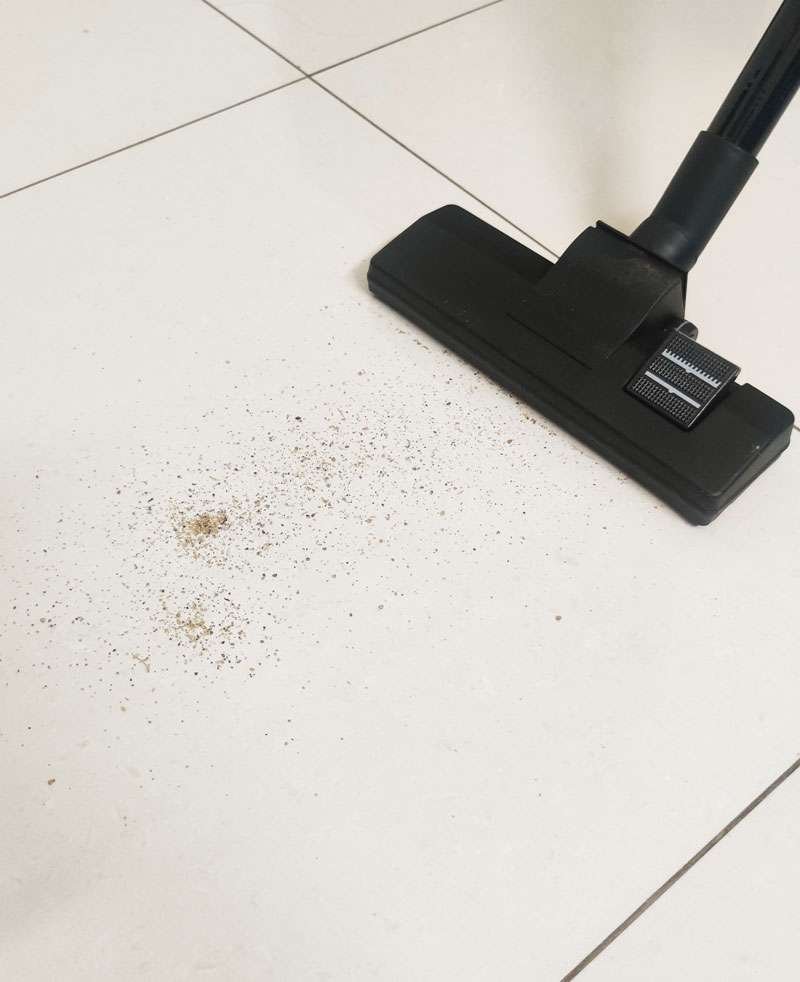 The vacuum cleaner has fairly good suction power to remove soil, dust and other smaller debris from tiles and wooden floor. We spread about 10 gm of sand and cocopeat on the tiles and it was able to remove it completely in one pass. But, the vacuum cleaner wasn't very effective on carpets. About 2 gm of the 10 gm of sand remained on the carpet. You also notice that sometimes you have to pass 2-3 times over the same space to clean the edges and corners of the room.
Pet Hair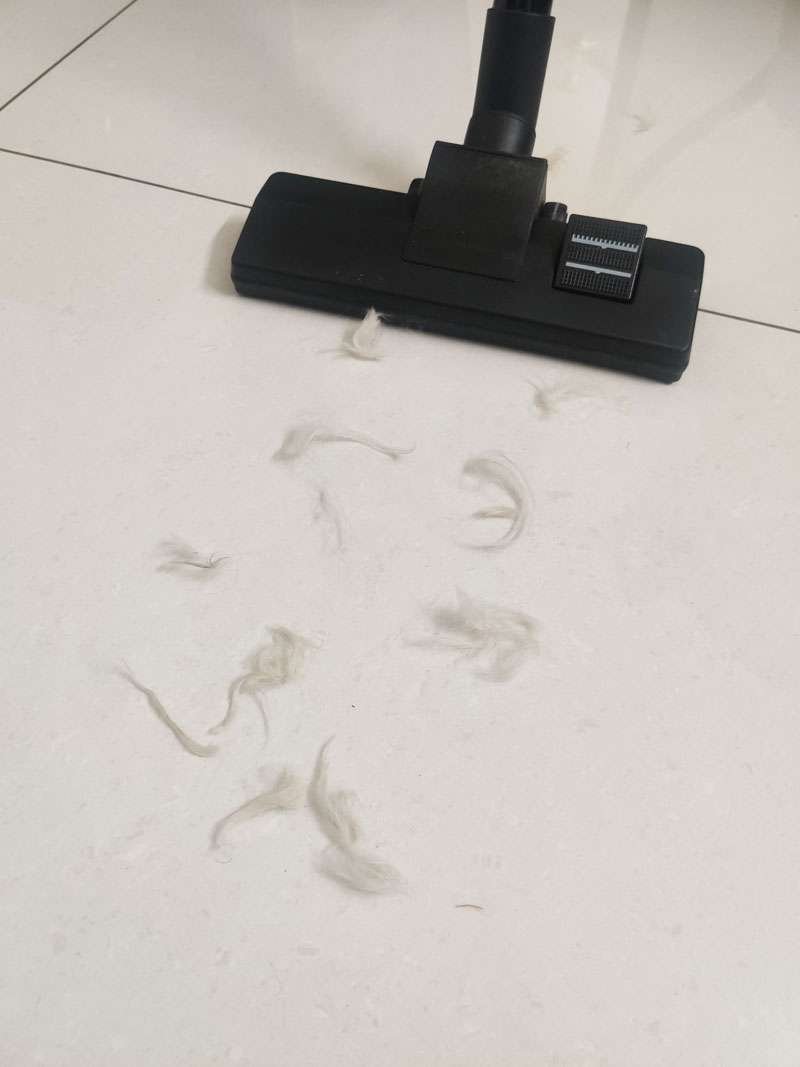 We wouldn't really recommend Inalsa Spruce for pet owners. The vacuum cleaner struggles to remove pet hair from both hard floors and carpets. The vacuum cleaner blows away some fur. Its floor brush pushes the pet hair instead of suctioning it. The only way to suction the pet hair is removing the floor brush and using the hose. There is also a high chance of pet hair getting tangled on the bristles of the floor brush.
Larger Debris
The Inalsa Spruce has a high tendency to push larger debris rather than suction it. Sometimes, you have to lift and place the floor brush on top of the debris for cleaning it. We tried cleaning up rice and pencil shards from both tiles and carpets and the results were alike. Out of 25 gm of rice spread on both surfaces, about 3-4 gm were left on the flooring.
Accessories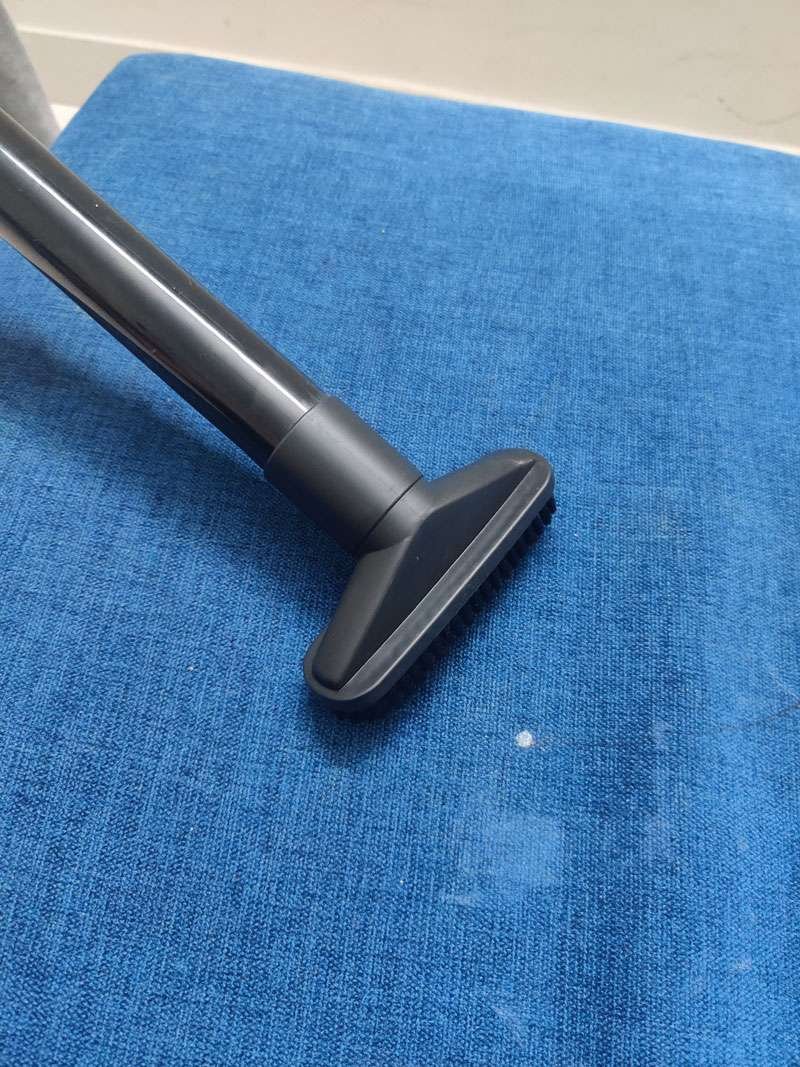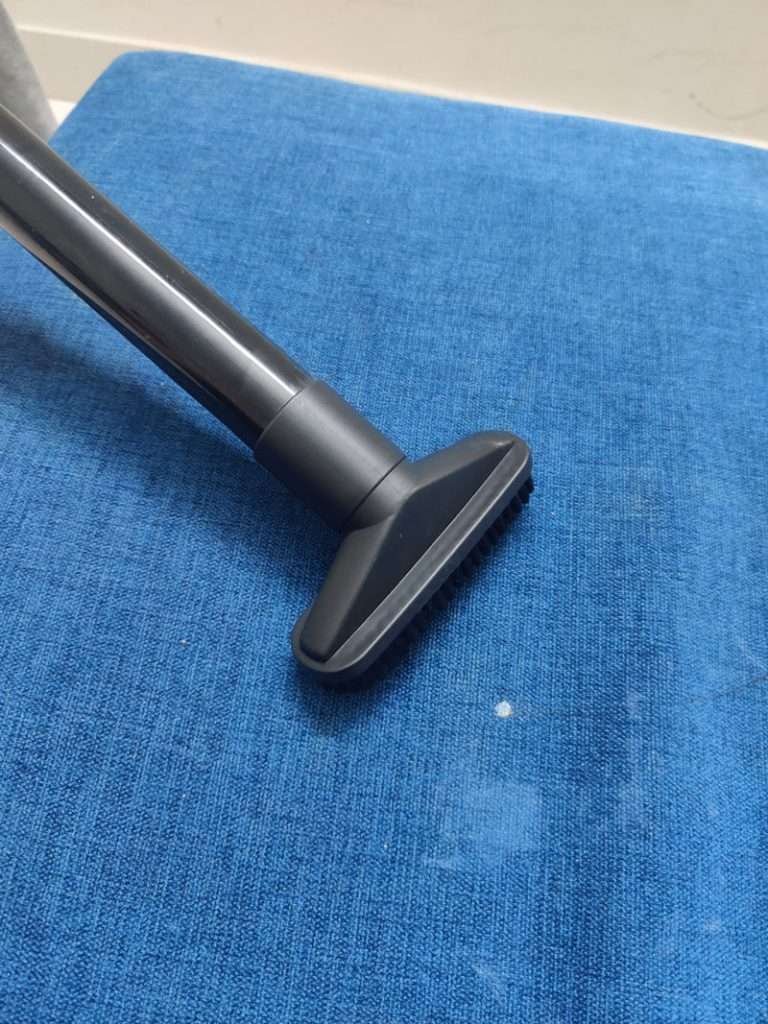 The vacuum cleaner comes with 3 accessories. The first is an upholstery brush for both sofas and curtains. It has bristles around its edges which can gently agitate the dust and suction them. However, this isn't enough for cleaning deeply embedded dust in the sofas. Also, it is highly likely that the bristles will come off after a while.
The crevice tool is foldable in such a way that you can use it with the brush or without. With the brush, it can be used to clean window sills and without the brush, you can clean the cobwebs on the ceiling.
The blower tool is effective in getting rid of dust and debris stuck in hard-to-reach places. But the manufacturers themselves suggest not using it for more than 4-5 minutes at a stretch as it will overheat the appliance.
How Well Does It Perform on Different Floorings?
The floor brush of the vacuum cleaner has a switch for carpet cleaning. It pushes down bristles which help remove embedded dirt from the carpet. On the hand grip, you have a small opening that can be closed to increase the suction power. This is supposed to be used when there is stubborn embedded dirt on carpets. But when you close it, the suction power becomes too high that it becomes difficult to move the floor brush.
The vacuum cleaner is fairly effective on hard flooring. It can pick up dust and small debris effectively. But, as mentioned earlier, sometimes the floor brush pushes larger debris away instead of going on top of it and suctioning it. On carpets, it isn't able to clean up minute-embedded dust and soil particles.
The accessories make it easy to clean upholstery. But, as the suction power cannot be adjusted, it sucks in curtains. You need to often pull the curtain out and then continue.
Noise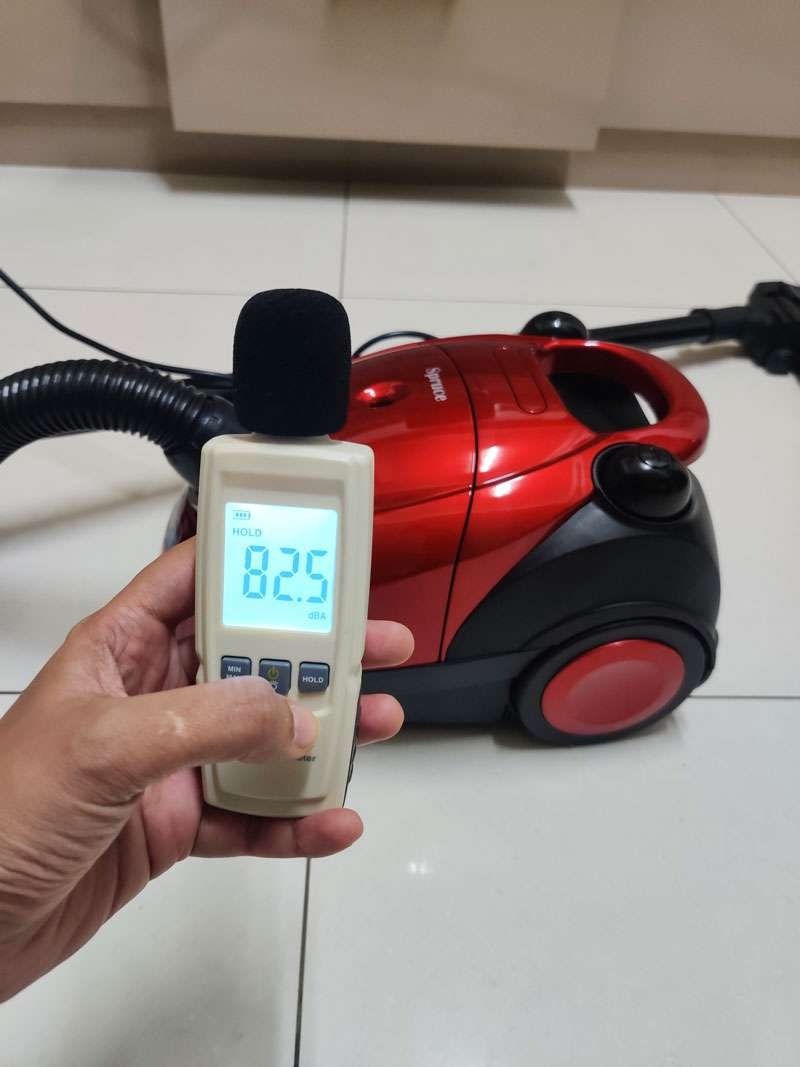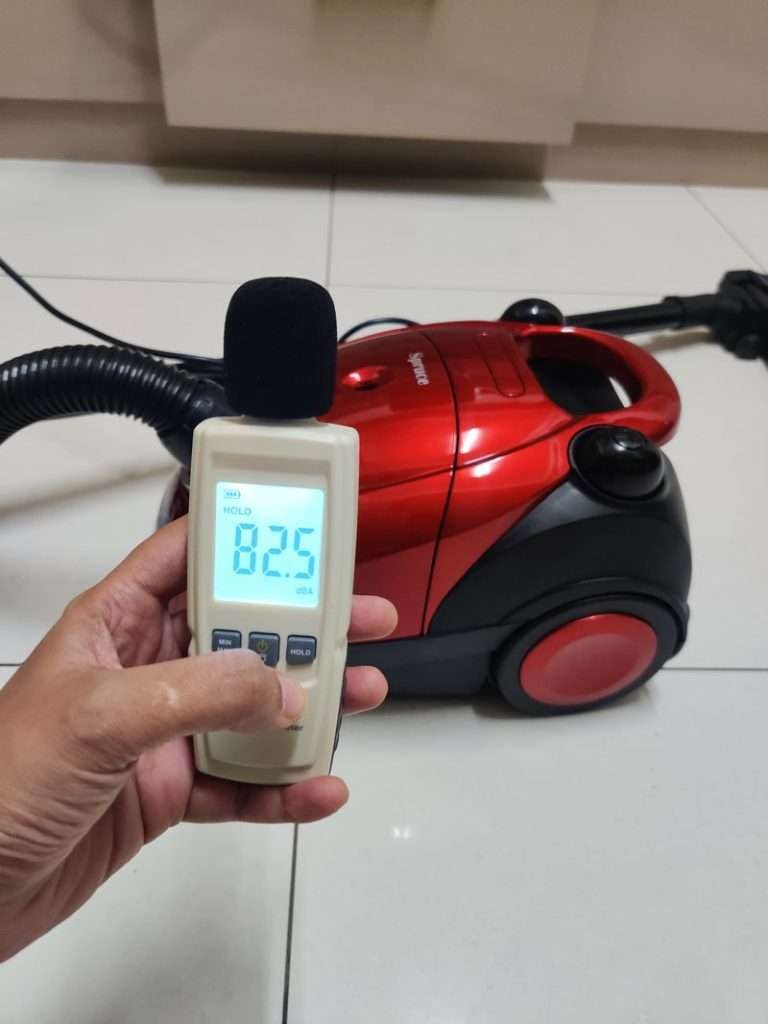 The vacuum cleaner is slightly less noisy than Philips Powerpro. It makes around 83 dB of noise from near and around 75dB of noise from 10 feet distance. But then, almost all canister vacuum cleaners make around this level of noise.
Ease of Cleaning Dust Bag
The dust bag is made of non-woven fabric which can be washed and reused. It is easy to remove and dispose the collected dust and debris. But, you get just one dust bag with Inalsa Spruce, while Eureka Forbes, which is a similar model sold at a comparable price provides 3 dust bags with the vacuum cleaner.
Ease of Storage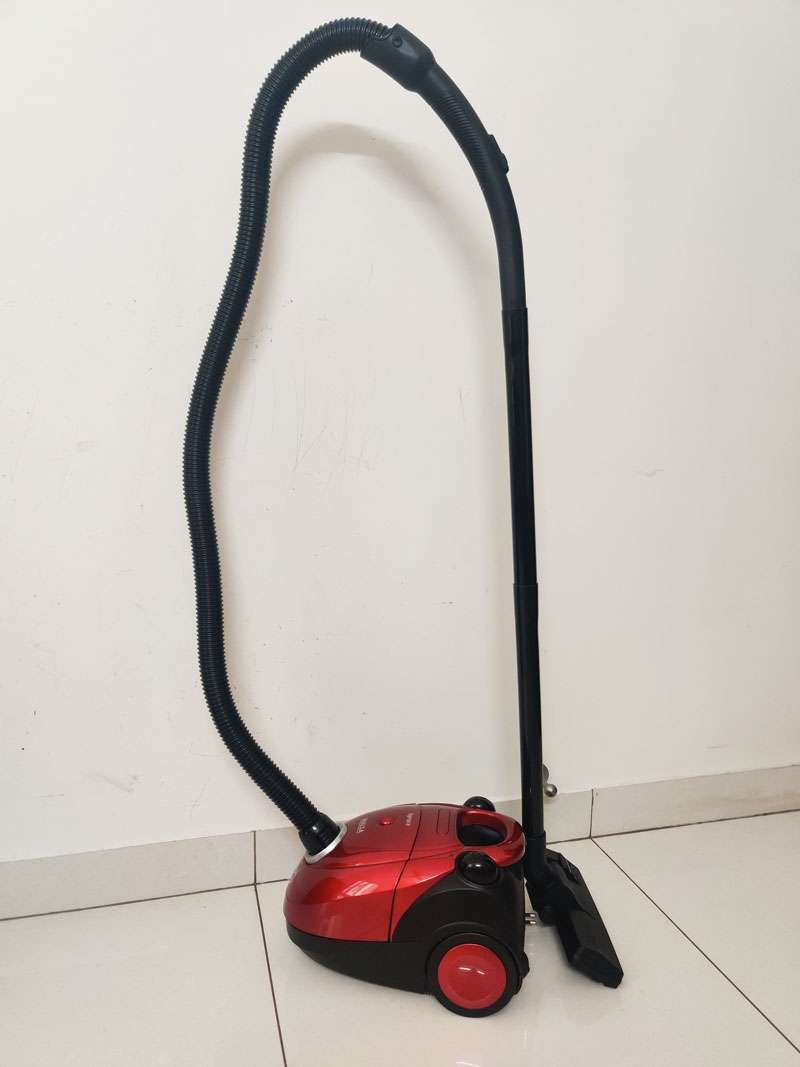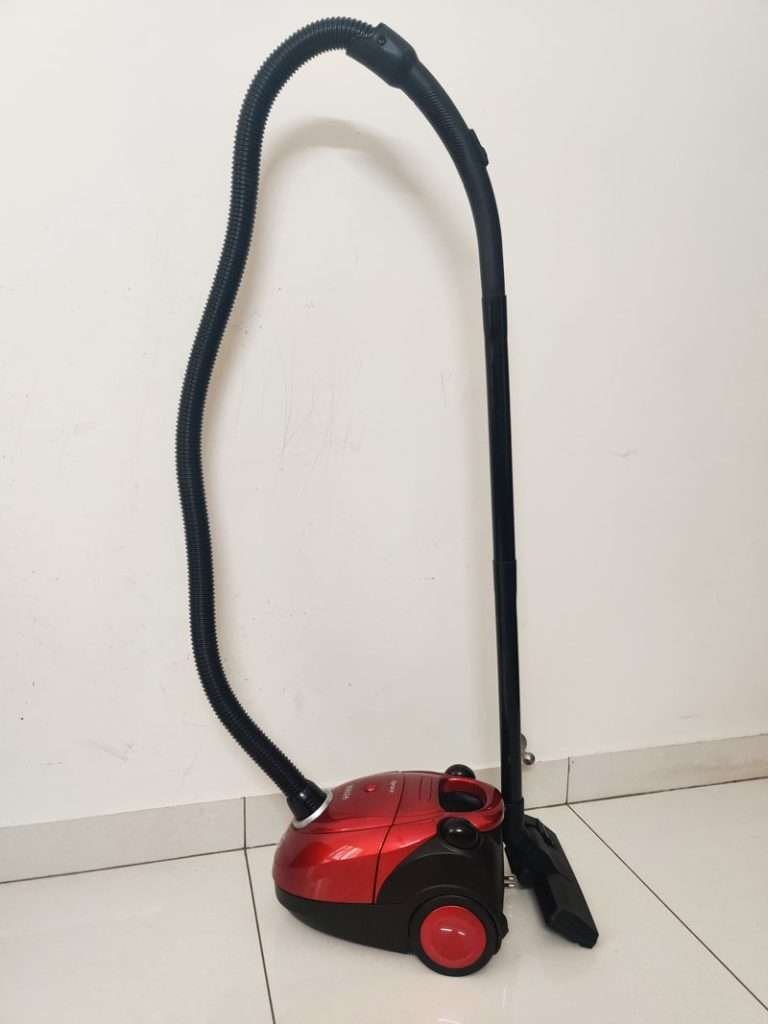 Being compact, the vacuum cleaner doesn't take up too much space. The hose and wand can be hooked onto the body so that it looks presentable. This feature is also available in options like Philips and Eureka Forbes.
Observations From Daily Use
We used the vacuum cleaner for weeks in our 1200 sq. ft apartment. The first thing we noticed is that the two-pin plug tends to come out of the plug often, even when the cord is not fully extended. Also, 4 metres isn't really sufficient. We had to plug it into sockets in 4 different rooms to clean the entire apartment. These factors affect its maneuverability a little bit.
When using, we found that sometimes you had to pass the vacuum cleaner 2-3 times over the same place to clean the edges and corners of the room. Also, sometimes it struggles to pick up small paper scraps.
Is It Apt For Those With Allergies?
Yes. Though inexpensive, Inalsa hasn't compromised on the filters of the vacuum cleaner. We kept an air quality monitor near the vacuum cleaner when it was running to check the vacuum cleaner throws out minute dust particles it suctioned it. The PM levels remained unchanged indicating the robustness of the filtration system.
Conclusion
Overall, the vacuum cleaner is an apt choice for those who are looking for an effective option at budget-friendly pricing. The built quality isn't as robust as expensive options like Philips Powerpro. Though not perfect, considering the above-average cleaning capacity and compact design, it is definitely an option worth considering.
Inalsa Spruce 1200 Watts Vacuum Cleaner