A wet and dry vacuum cleaner is an apt choice for an independent house with a garage, balcony, terrace, and large utility areas where dirty water and wet grime are common. Among the several options available, Agaro Ace Wet and Dry vacuum cleaner with 1600 watt motor is the best-seller. At the time of publishing, the vacuum cleaner costs around Rs.5500, which means it falls in the mid-segment range.
Let us explore through this hands-on review how it fares in terms of performance, maneuverability, design, noise, and other aspects.
Pros
Excellent suction power
Easy to maneuver
Fairly easy to use
Cons
Dust escapes from the cloth bag when cleaning the dust barrel.
Sometimes larger debris gets stuck inside the floor brush
Very noisy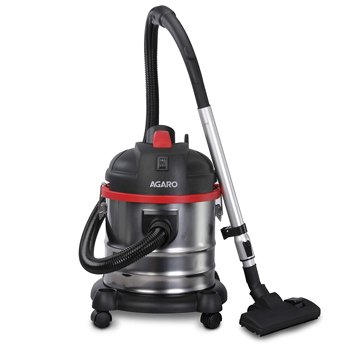 Agaro Ace 1600 Watts Wet and Dry Vacuum Cleaner
Design
Wet and dry vacuum cleaners are bulkier compared to regular canister vacuum cleaners. Agaro Ace comes with a large stainless steel dust barrel with a 21-liter capacity. It has a telescopic wand using which you can adjust the length of the hose+wand from around 240-270cm which is enough to reach the cobwebs in the ceiling.
The vacuum cleaner can suction dirt and debris and can act as a blower too. The blower function is especially useful to clean hard-to-reach places and outdoors. But, the motor gets heated up quickly when blower function is on.
The vacuum cleaner has sockets above the wheel on which the accessories can be held in place. The stainless steel wand too can be locked on the dust barrel for compact storage.
The dust barrel has a clip-on opening and inside, there is a cloth bag that prevents dust collected inside from escaping back into the room. This dust bag should be removed when suctioning wet debris. Note that the vacuum cleaner comes with a separate floor brush for wet cleaning.
The cord measures 5 metres which is enough. But unfortunately, it is not retractable. So you have to fold and tie it when storing it away.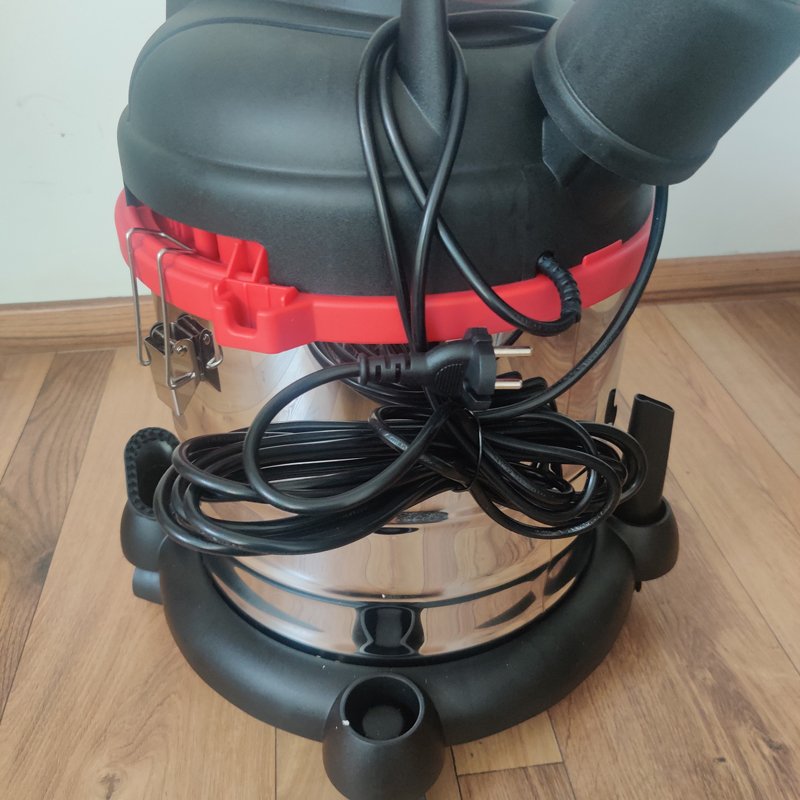 Performance
Soil, Dust, and Smaller Debris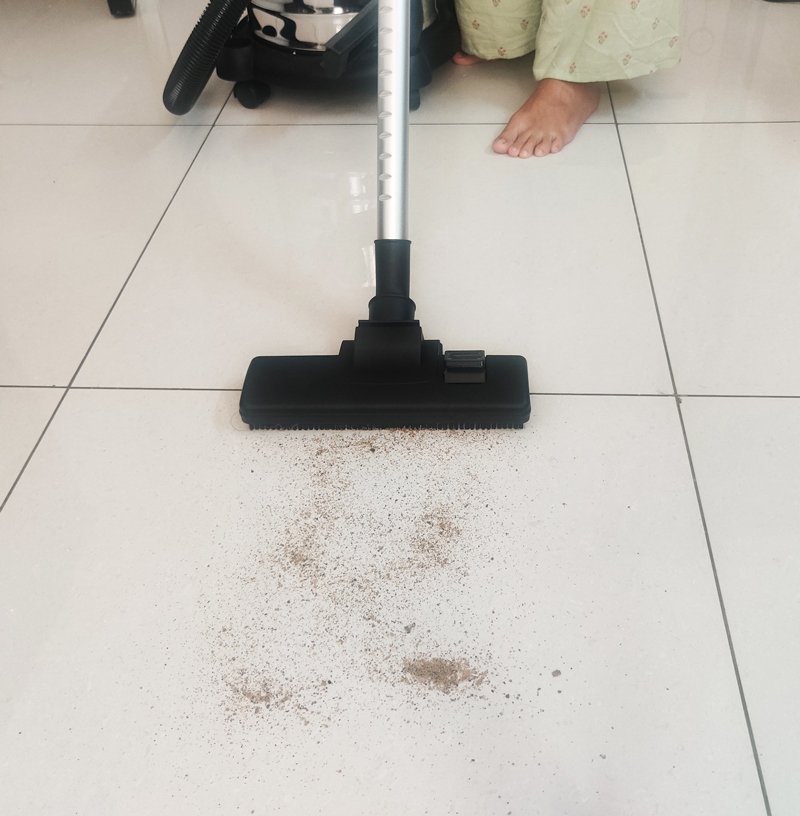 The vacuum cleaner works quite effectively on hard floors cleaning up soil, dirt, and such small debris with ease. The vacuum cleaner has a high suction power. Due to this, sometimes it is a bit difficult to drag the floor brush on the floor. Even so, it is quite effective at cleaning small debris from hard flooring.
On carpets, the vacuum cleaner was fairly effective in removing about 90% of the sand on the first pass. On repeatedly passing 2-3 times over the same spot, it was able to completely remove sand from low-pile carpets.
Related reading: 6 Best Vacuum Cleaners In India
Pet Hair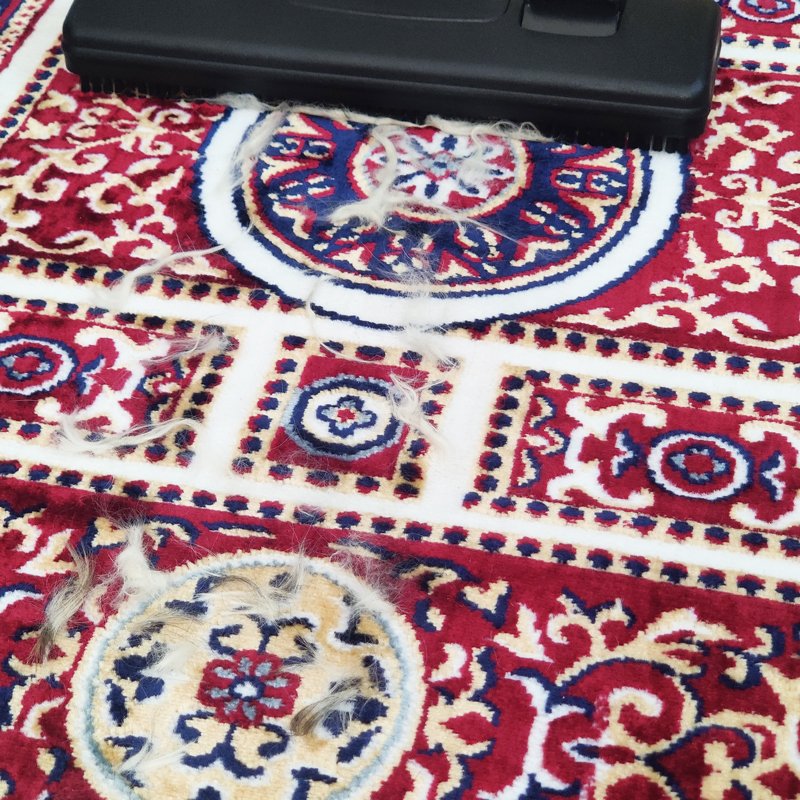 The vacuum cleaner is fairly effective at cleaning pet hair from hard floorings like tiles, marble, and wooden flooring. As mentioned earlier, it sometimes has a tendency to push larger chunks of pet hair instead of suctioning. But even so, at this price, it is one of the most effective options for cleaning pet hair.
Agaro Ace was effective at removing pet hair from carpets. On the first pass, it removed about 90-95% of the pet hair. But a few strands remained which were effectively removed on passing the floor brush 2-3 times.
Larger Debris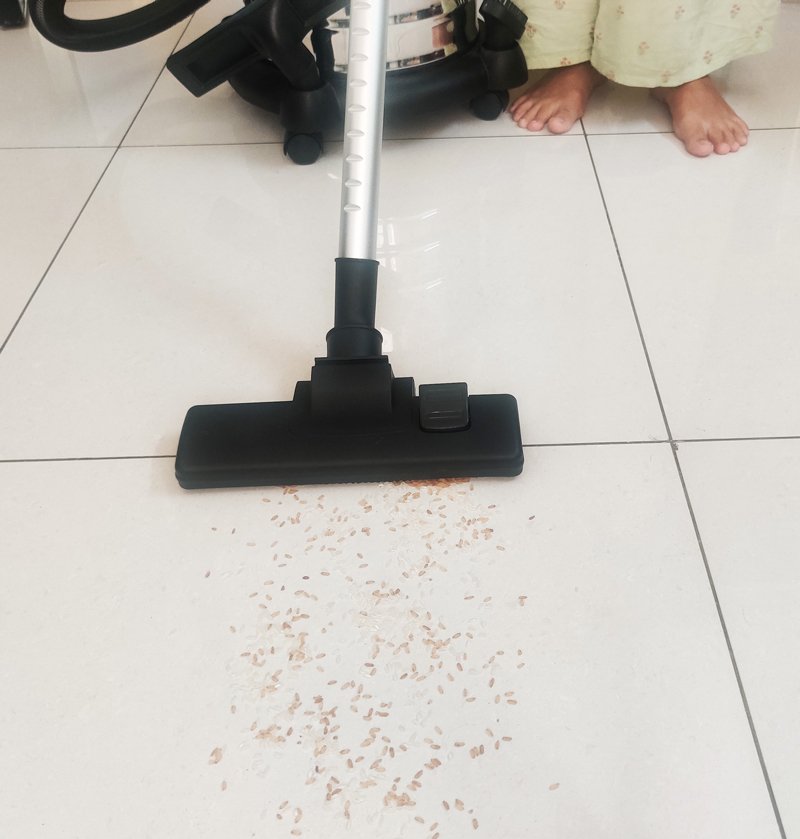 Just like other canister vacuum cleaners we tried, Agaro Ace too has a tendency to push larger debris instead of suctioning them up. This happens on both hard flooring and carpets but is more prominent on the latter. You can overcome this to a great extent by lifting the floor brush and placing it on top of the debris. However, something we observed with the Agaro Ace is that sometimes debris gets stuck inside the floor brush instead of getting deposited in the dust barrel. So, when you switch off the vacuum cleaner, some of the debris gets released from the floor brush and hose back into the floor.
Wet Debris and Dirty Water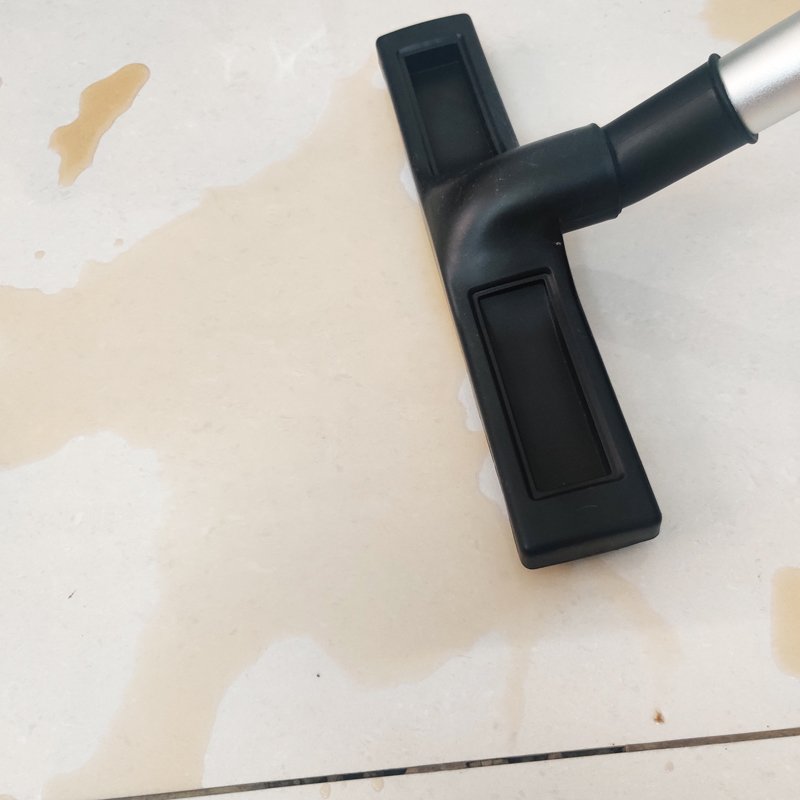 The vacuum cleaner comes with a separate floor head for absorbing water. It has rubber squeegees on both sides that helps suction water. First, we poured 500 ml of coloured water on the floor to test how well the vacuum cleaner suctions it up. And we were quite impressed with it. With just 2-3 passes, the vacuum cleaner was able to remove the water. But next, we spread some chilly sauce on the floor to understand the vacuum cleaner's effectiveness in cleaning up a gooey mess. And the results weren't that impressive. After a few passes, there were smudges left over on the floor.
Also, the squeegee floor head are a bit difficult to move on the floor. As a result, sometimes, the floor remains damp with residual water.
Related reading: Best Vacuum Cleaners In India
Accessories
The vacuum cleaner comes with 3 accessories. They are a crevice tool, a round brush, and a fat cylindrical thing that is used to close the suction hose when you want to use the blower function.
As the steel wand can be extended, it makes it easy to reach the ceiling to clean cobwebs. The round brush is effective in removing window mesh and upholstery, while the crevice tool is helpful for cleaning window sills. The built quality of the accessories is satisfactory too.
How Well Does It Perform On Different Floorings?
The vacuum cleaner has high suction power. So, sometimes it is difficult to drag the floor head on hard floors. It becomes noticeably hard on carpets and rugs. In fact, sometimes, rugs get stuck in the floor head making it difficult to use.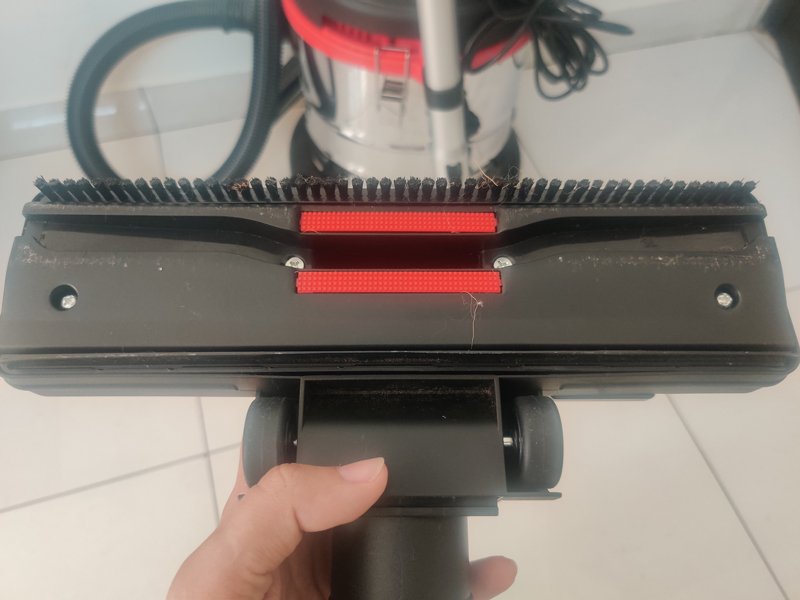 Just like every other vacuum cleaner, in Agaro Ace too, you can find a button that pushes out the bristles in the floor head. This setting is useful for cleaning carpets. Using it, you can effectively remove sand and other debris from carpets. But, as mentioned earlier, sometimes, you need to pass the floor head a few times for perfect cleanup.
Though there are a few flaws, overall, the vacuum cleaner is quite effective for its price.
Noise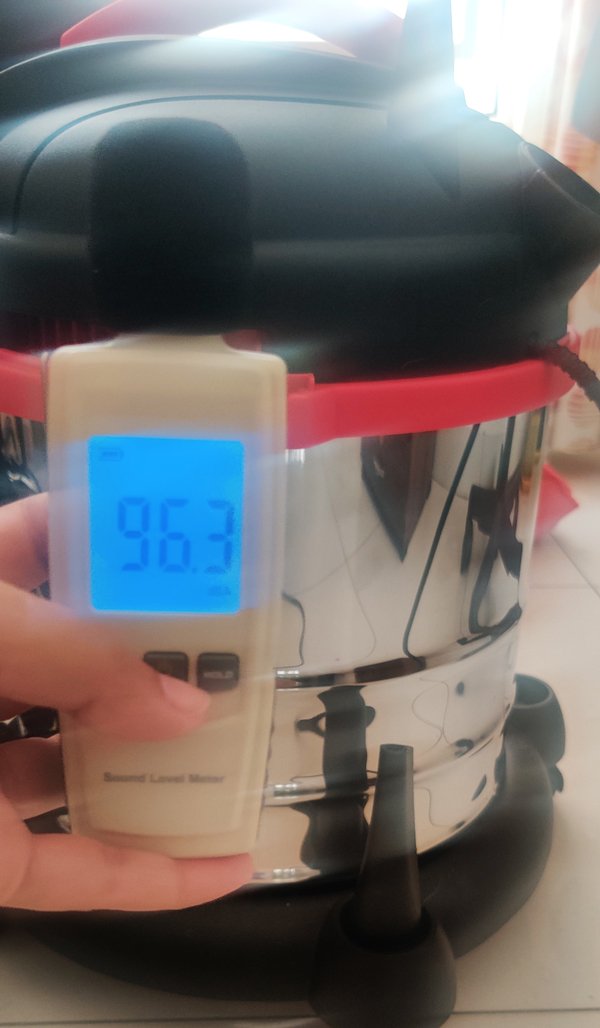 Agaro Ace is one of the noisiest vacuum cleaners we have tested so far. Keeping a decibel meter close to the vacuum cleaner, it recorded around 96 dB. 10 feet away, the decibel meter recorded around 86 dB. For comparison, Philips Powerpro which was the noisiest canister vacuum cleaner we tested produced just 86dB of noise.
Ease of Cleaning Dust Barrel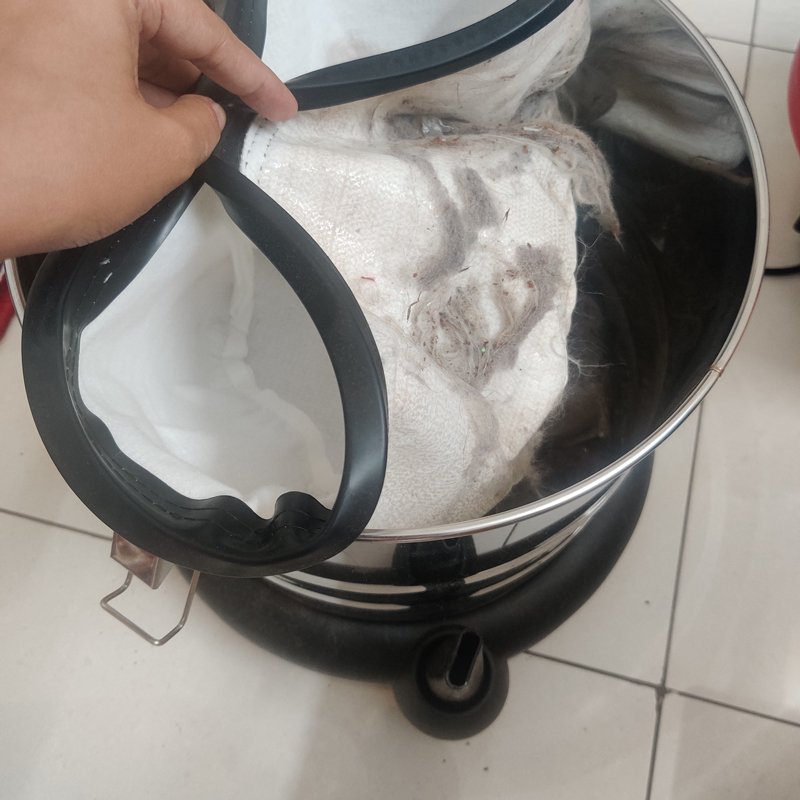 The dust barrel has a cloth bag with rubber beading around the edge. This prevents dust from escaping back into the room. When you open the dust barrel, you realize that a lot of dust, pet hair and such lighter debris gets caught behind this cloth bag. You have to tap the cloth bag several times to dislodge these dust particles and deposit them inside the dust barrel. But even then, when you lift the cloth bag a lot of dust falls out, making a mess which you again need to clean up.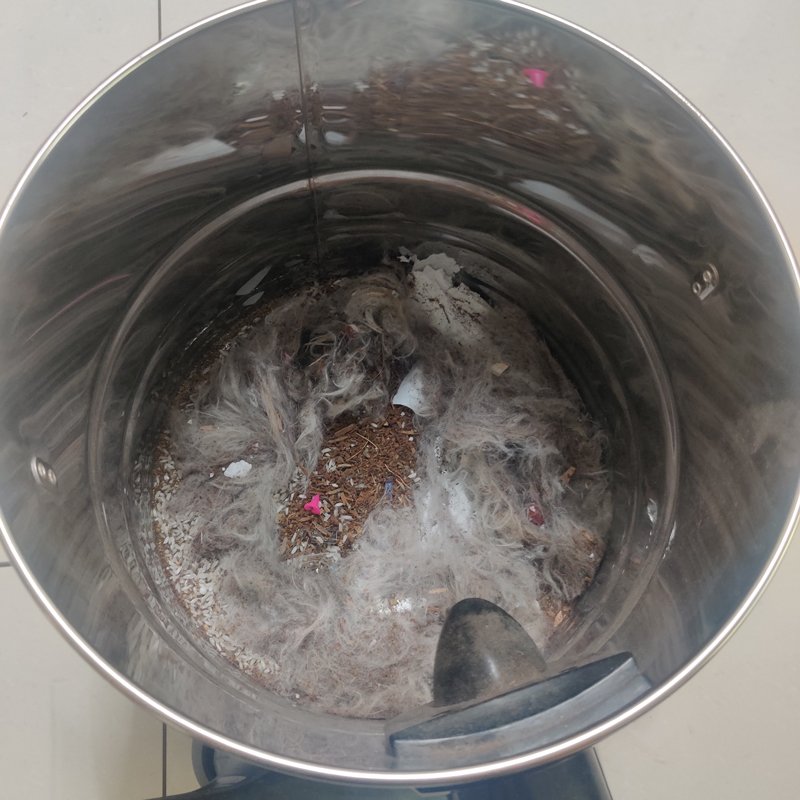 As the dust barrel is lightweight, you can easily dump the collected debris into the garbage or murky water down the drain. But, after wet cleaning, the filter, hose, and dust barrel need to be dried. Else, dirt and water could get mixed up together in the hose and affect its durability. As the dust barrel is made of stainless steel, keeping it wet for a long time may also result in rust formation.
Ease of Storage
Just like every other vacuum cleaner, Agaro Ace too has a small socket where you can hang the wand so that it stays erect. The vacuum cleaner has small round slots in its body. This can be used as a holder for keeping the accessories. So, though bulky, you can keep the accessories and the steel wand tidy and in place. However, that it doesn't have a retractable cord is a disadvantage.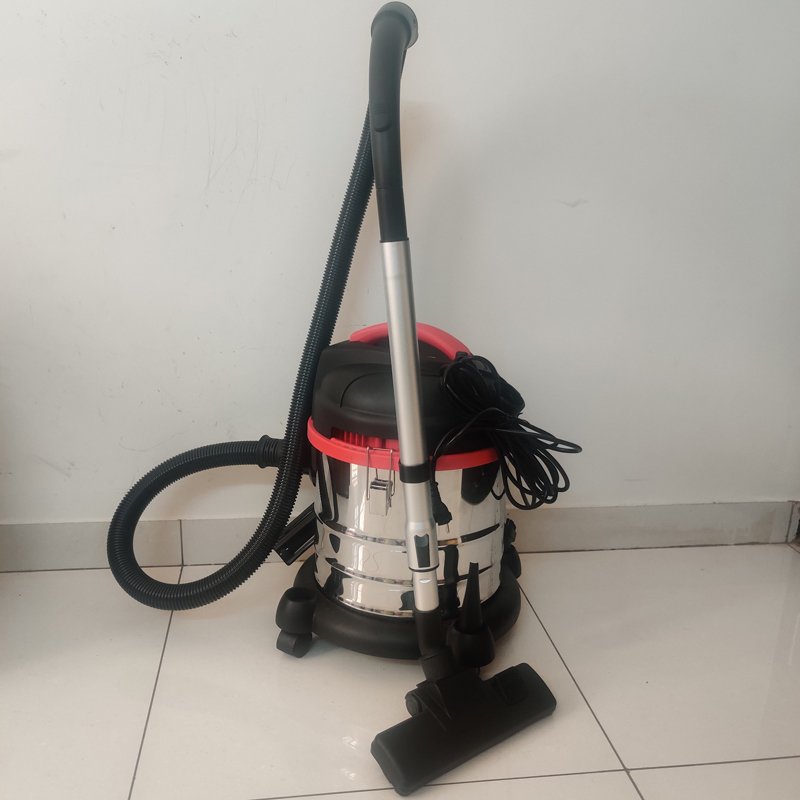 Built Quality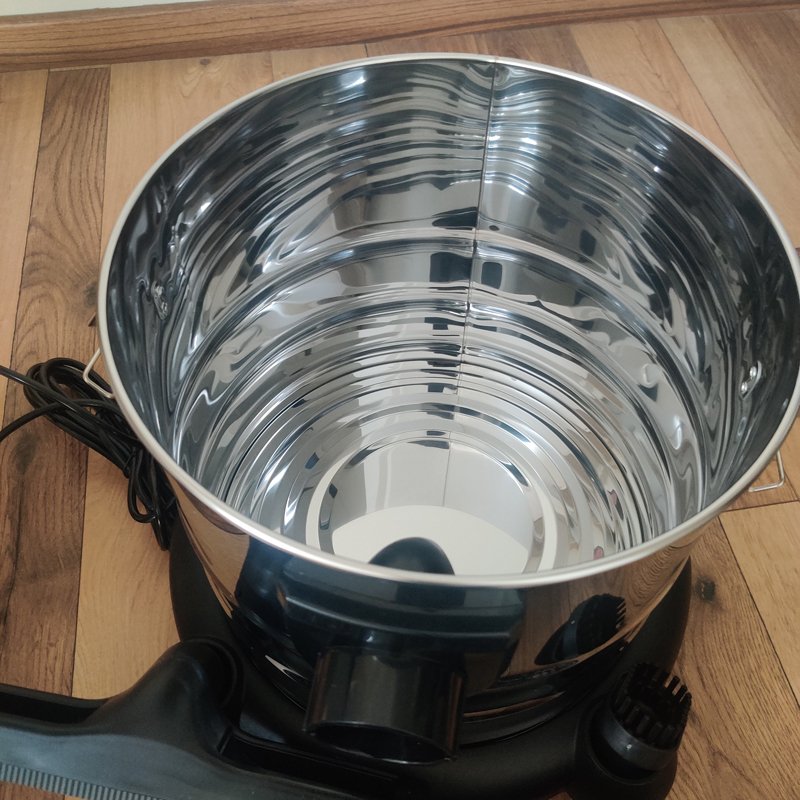 The built quality of the vacuum cleaner is pretty good. The dust barrel is made of stainless steel. Though lightweight, it appears durable. Even the other body parts seem sturdy. However, we have noticed that sometimes the hose tends to come off from the slot when it is in use. Otherwise, you do not find any problem with it.
Observations From Daily Use
The vacuum cleaner though bulky is fairly easy to maneuver, thanks to the swivel wheels. It has a 5-meter-long cord which makes it fairly easy to use in a 1200 Sq.ft house. You don't have to keep looking for a power socket every now and then.
As it is a wet and dry vacuum cleaner, you can use it in the kitchen too without any worry. The vacuum cleaner is pretty effective at removing liquid spills. But it isn't that effective for liquids of thicker consistency. Something we really liked is its effectiveness in cleaning the edges and corners of the room.
A drawback however is that being extremely loud, you often cannot hear others speaking or sound from the TV when the vacuum cleaner is running.
Is It Apt For Those With Allergies?
The vacuum cleaner has HEPA filters that prevent dust and particulate matter from escaping back into the room. However, unlike usual canister vacuum cleaners, when emptying the dust barrel, a lot of dust particles escapes into the room. If you are sensitive to dust, it will definitely trigger you.
Conclusion
Agaro Ace is definitely one of the best mid-segment wet-and-dry vacuum cleaners in India. It is highly effective at cleaning small and large debris and liquid spills. The built quality is also adequate. If you can bear with the noise it makes, it is definitely an excellent option to consider.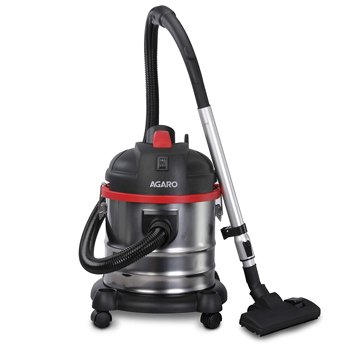 Agaro Ace 1600 Watts Wet and Dry Vacuum Cleaner
Was this post helpful?
Let us know if you liked the post. That's the only way we can improve.