LG and Bosch are two of the top-selling brands in the washing machine segment. While Bosch is focused more on front loaders, LG has a substantial share of the semi-automatic and fully automatic top load as well as the front load segments.
Based on my personal experience using both the washing machines as well as my previous experience as a service technician, here are the key differences between LG and Bosch Washing Machines.
Motor Technology
Motor technology is a key differentiator between LG and Bosch. While LG uses a direct-drive motor technology, Bosch has a belt-driven motor mechanism in their top and front load washing machines.
In a washing machine, the drum is connected to the motor for tumbling and spinning. How they are connected makes a huge difference in the performance of the washing machine. In LG, the motor is directly connected to the drum, while in Bosch, the motor is connected to the drum using a belt, resulting in a pulley-mechanism.
The main advantages of a direct drive motor are that it reduces friction, improves energy efficiency as there is minimal energy loss due to lesser components. Moreover, it reduces vibration and noise too.
We have noticed that comparatively LG is a lot more silent and vibration-free than Bosch.
Winner- LG
Drum Size
As LG has a direct drive technology, the motor is behind the drum. As a result, the drum is taller and shallow. In Bosch, however, the motor is at the side. So, the drum is deeper. This actually has an advantage as more clothes come in contact with the drum's surface, rubs against each other more efficiently and as a result helps in cleaning the clothes more efficiently.
Winner- Bosch
Noise and Vibration
As mentioned earlier, a belt-driven motor has a higher level of noise and vibration compared to direct drive mechanism. You will notice that even though Bosch claims to have anti-vibration technology, it makes significantly higher noise and vibrates more than LG. LG comparatively vibrates lesser.
Note that a key factor that influences vibration is a balanced load and ensuring that the washing machine is on an even surface. If you overload your washing machine or if the load is not balanced, meaning there is a single large piece of clothing that tends to sit on one side of the drum and there is nothing on the other side to counteract the weight, then, your washing machine will vibrate or even walk around.
Winner-LG
Wash Programs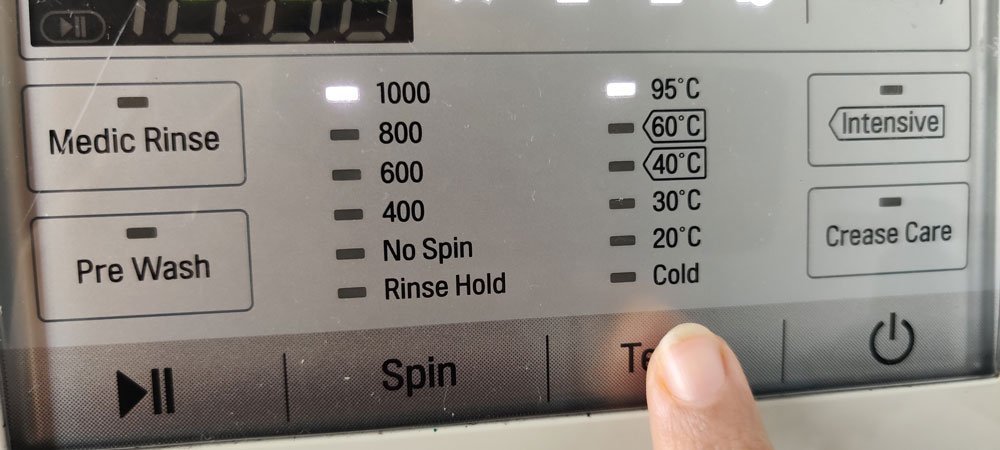 When it comes to the wash programs, both LG and Bosch washing machines offer a plethora of options that can cater to the different requirements of each family member. If you compare the front loaders, most of the models have the option to set the temperature anywhere between 20 to 90 °C. With the exception of a few models, most Bosch washing machines have a maximum temperature of 60 °C only. This may be important for those who have small babies as LG's baby care program that runs at 90 °C is particularly good for cleaning up poop and food stains.
You will also notice that LG has steam function and wi-fi connectivity in their mid-segment front-load models. But in Bosch, these are available only in the higher-end models.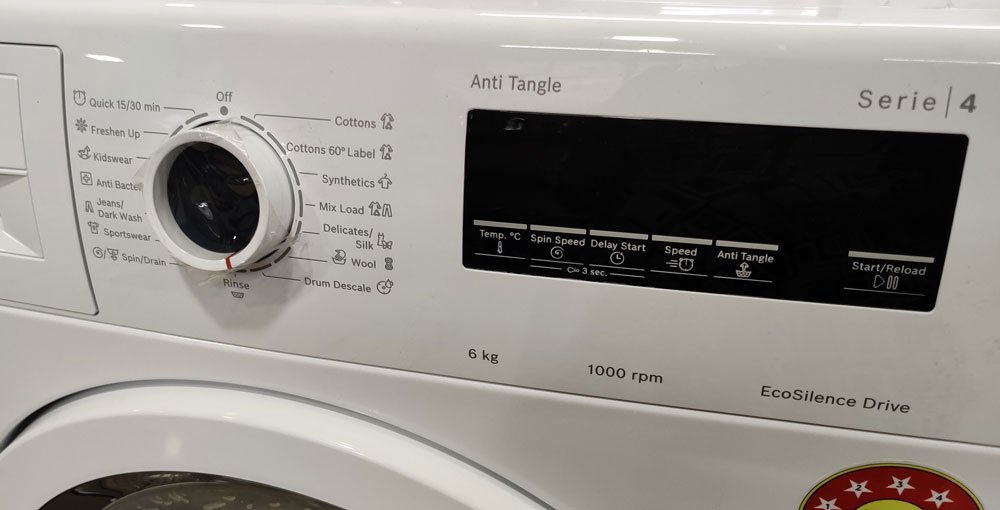 That being said, an advantage of Bosch is that its Speed Perfect function can be invoked for almost all wash programs. This drastically reduces the wash duration. While it may not be suitable for heavily soiled clothes, it is definitely a huge timesaver when washing regular clothes that are not too soiled.
When it comes to drying, both LG and Bosch have the same spin speed for their respective capacity. So, both do an equally good job.
Winner- Both
Energy and Water Consumption
LG and Bosch sell washing machines with 5-star ratings, attesting to their excellent energy and water efficiency.
But for a side-by-side comparison, if you consider a 7 Kg front loader, Bosch uses 7.2 Litres per Kg per Load, while LG consumes 8.28 Litres per Kg per Load. This will amount to a 7 litre higher water consumption per load for LG.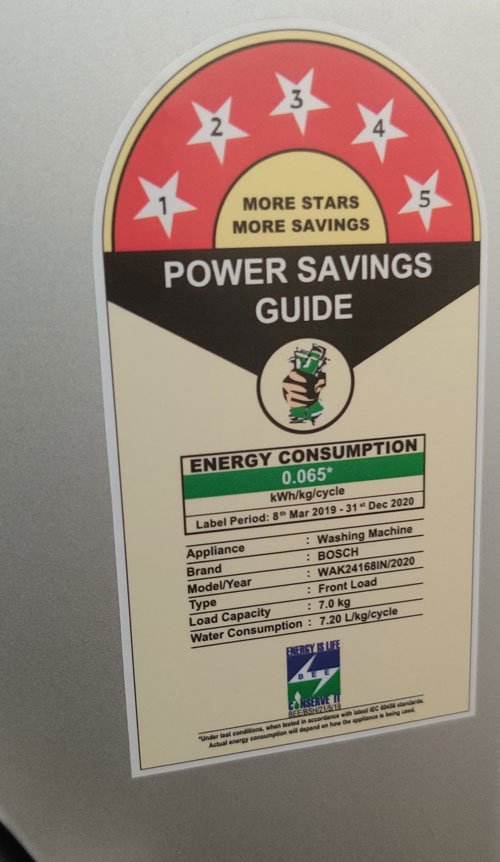 Even in terms of energy consumption, Bosch is better than LG. As per the BEE label, LG consumes 0.075 units of electricity whereas Bosch consumes 0.065 units of electricity per Kg load. This is when washing in normal temperature water. When the heater is involved, the energy consumption will be way higher.
Winner- Bosch( by a slight margin)
Ease of Maintenance
Both LG and Bosch washing machine needs regular maintenance like descaling every month depending on the hardness of your water supply.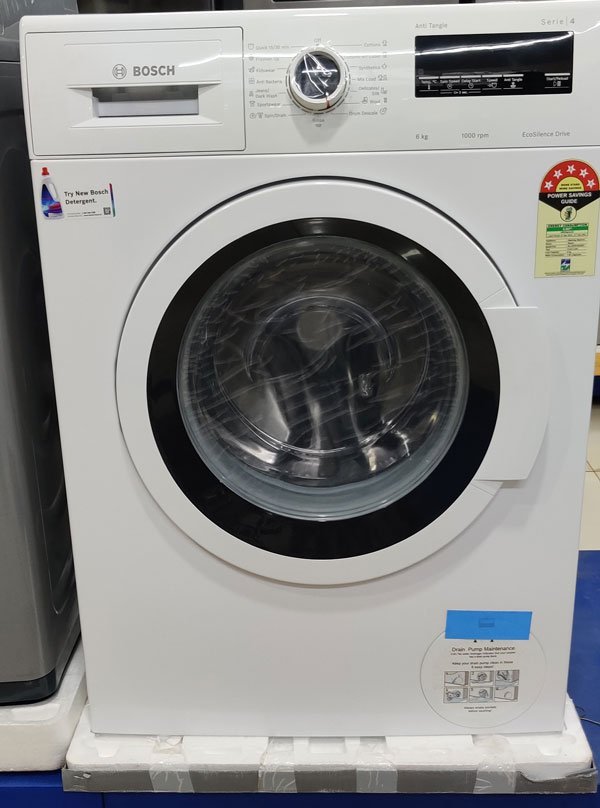 But LG has an edge over Bosch in its gasket design. The gasket a.ka. the door seal of LG's front loader is designed in such a way that it doesn't accumulate a lot of debris. Bosch, on the other hand, has a flap-like design underneath which hair, dirt, detergent residue and such debris accumulate. As a result, Bosch is much more prone to developing a moldy gasket compared to LG.
Winner- LG
Related reading: How To Clean A Front Load Washing Machine?
Aftersales Service
LG and Bosch have a wide network of aftersales service centres. Our experience with both has been equally good. However, when you look at the consumer forums and complaints, we can understand that LG is a tad better than Bosch.
Winner- LG
General Complaints and Maintenance Costs
Comparatively, LG's direct-drive technology is more prone to complaints like drum imbalance, motor failure etc after 7-8 years of use. You can reduce such occurrences by preventing overloading and balancing the load always. Bosch comparatively has lesser maintenance cost as the belt can be changed without incurring much expense.
Winner- Bosch
Popular LG Front Load Washing Machines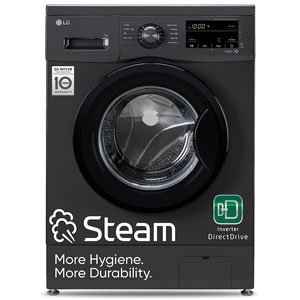 LG FHM1207SDM 7 KG Front Load Washing Machine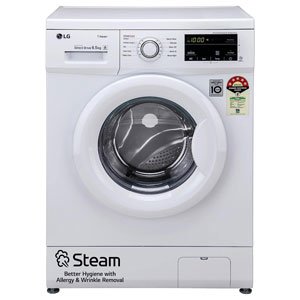 LG FHM1065SDW 6.5 KG Front Load Washing Machine
LG FHM1408BDL 8 KG Front Load Washing Machine
Popular Bosch Front Load Washing Machines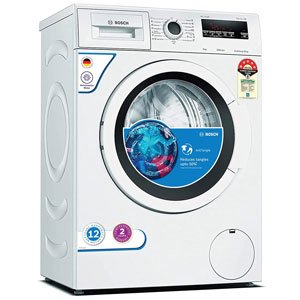 Bosch WLJ2016WIN 6 KG Front Load Washing Machine
Bosch WAJ2416SIN 7 KG Front Load Washing Machine
Bosch WAJ2426MIN 8 KG Front Load Washing Machine
Was this post helpful?
Let us know if you liked the post. That's the only way we can improve.